I visit Las Vegas at least once every year. I don't mind a bit of a flutter but the things that draw me back are the shopping, shows, spas, dining and attractions that lie in a relatively small area. (read my Las Vegas in luxury for less guide here). Plus hotels in Las Vegas are normally much cheaper than comparable hotels elsewhere if you time it right. I am gradually working my way through all the luxury hotels on the strip and my current favourites are the Four Seasons (review coming soon), Signature by MGM and Mandarin Oriental (soon to become the Waldorf Astoria). This time I tried the Encore which is part of the Wynn group.
Location
The Encore is at the North end of the strip at the finish of the main run of hotels. It is next to the Wynn and connected internally as well if you are there when it is very hot. The location is a bit remote compared with the other hotels I normally stay in but there are so many restaurants and facilities on site it wasn't a major issue. I liked the fact that I could easily walk to the Fashion Mall and it wasn't much further to a drug store which is always useful.
Check-in
I arrived in a taxi (do not take taxis in Vegas – I regret it every time and go back to Uber) and had my luggage taken by one of the doormen as they welcomed me to the Encore. I was given a ticket and told I had to call once I reached the room which I found slightly annoying. However, in this case, the front desk did it for me. One of the things I hate about casino hotels is the often long queue for check-in. Despite it being a couple of days before a major Bank Holiday weekend in the US, I was pleased to see that there was only a small queue at check-in. Alas, it was a short but very sloooow queue and I waited for about 15 minutes to check in. Once at the front, the receptionist was excellent though – very friendly and went through where everything was and what my benefits were.
I had booked through Virtuoso using my regular travel agents, Propeller. Virtuoso are a luxury travel agent network that gives you extra benefits at luxury hotels. It is always my first port of call when booking luxury hotels as it includes chains as well as independents. You still get your loyalty points too. Although the rates are sometimes more expensive than the advance purchase rate they are nearly always refundable and changeable plus the benefits normally outweigh the slightly increased price. The benfits here were fairly typical:
– Upgrade on arrival, subject to availability
– A $30 per person breakfast credit per day (max 2 people, in Tableau, The Buffet, Terrace Point Cafe, The Drugstore, The Lobby Bar, Society Cafe, excludes in room dining)
– A $50.00 USD Resort Credit & $50 Spa Credit, once per stay,
– Early check-in/late check-out, subject to availability
– Complimentary Wi-Fi
I did indeed get an upgrade to a Panoramic suite from the Resort Suite. There is little difference to the standard room apart from that they are on a higher floor. I can't say my view was overly exciting but I did enjoy seeing the mountains.
The Room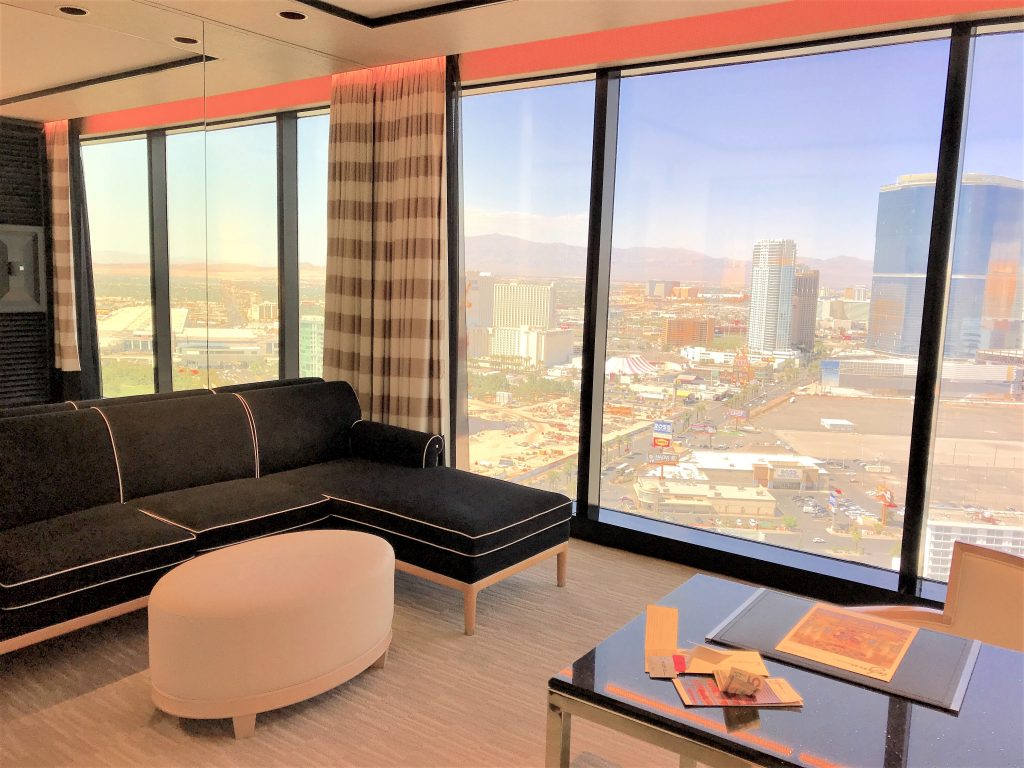 The room had the wow factor as I walked in, a bit like at Aria SkySuites, as the curtains drew back automatically to reveal the room and the view.
Post from RICOH THETA. #theta360 #theta360uk – Spherical Image – RICOH THETA
The rooms feature:
640 square-foot room.
One king or two double pillow-top Wynn Dream Beds with 507 thread-count linens and overstuffed pillows and shams.
Las Vegas strip or valley views.
55″ 4K UHD television.
Bedside mobile phone charging outlets and touch-screen curtain, lighting, room service, and privacy controls.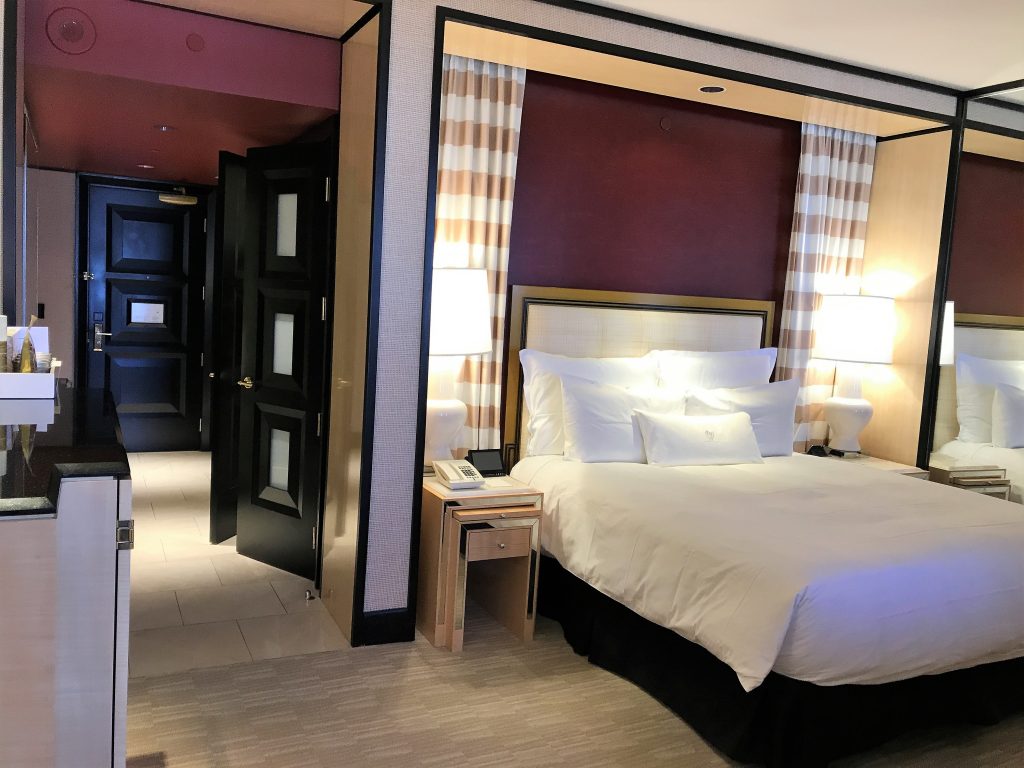 The room felt very large and it was nice to have separate bedroom and living areas. By the bed was a tablet that controlled all the essentials such as curtains, lighting and temperature. I found this easy to use and very handy. I also liked being able to use the USB sockets for charging by the bed. As usual for Las Vegas, there was no coffee machine in the room. This is one of the reasons  I often stay at the Four Seasons which is one of the few that do provide them. The decor felt luxurious and was fairly neutral unlike much of Wynn and Encore which is colourful, to say the least. I would say this was one of the nicest rooms I have stayed in during my visits to Vegas.
Post from RICOH THETA. #theta360 #theta360uk – Spherical Image – RICOH THETA
The bed was extremely comfortable and I found the room very quiet. I would have liked water to be provided as it is in some hotels with the resort fee. I hate resort fees and there was very little included in this one that I would actually use apart from the internet which was in my room rate anyway:
Access to the fitness centre for 2 people per day
In-room internet access: 4 devices per room
Unlimited local and domestic long distance calls
Access to more than 2,000 national and international digital daily newspapers and magazines
Priority access to Wynn nightclubs for tickets purchased through Wynn Concierge.
Considering it is an extra $39 it is very poor value in my opinion.
My only other complaint was the positioning of the TV. You could swivel it round to watch in the living area or in bed but it meant that it obliterated the view from the bed at the same time. Luckily my view wasn't that great but I thought this was poorly designed.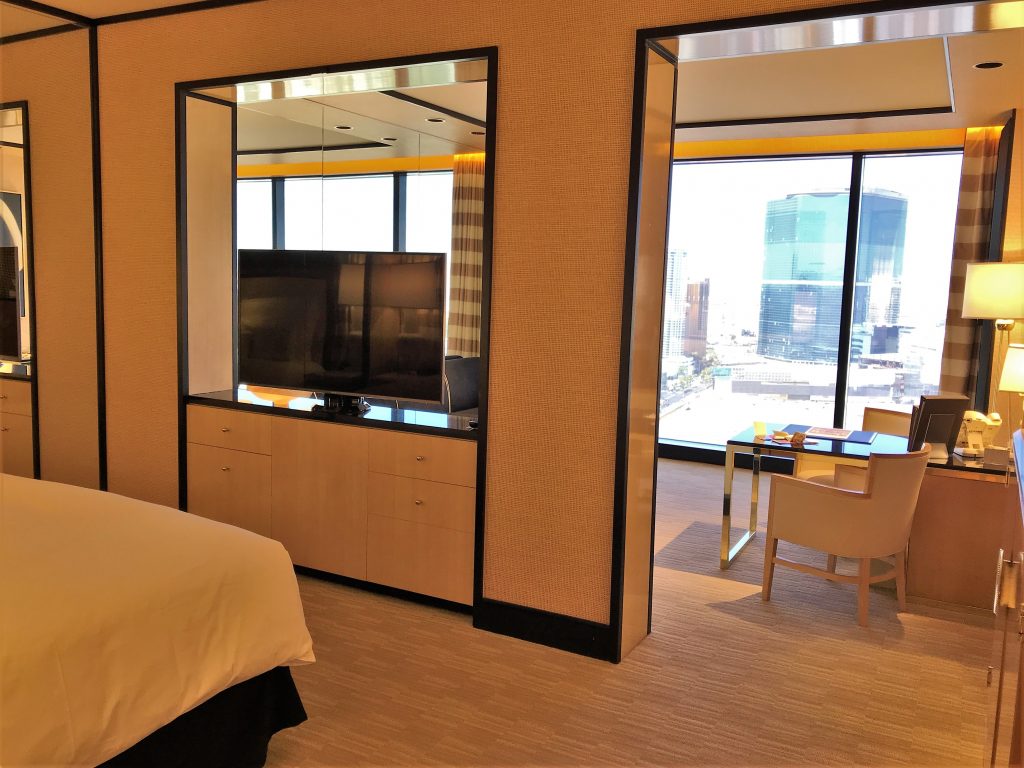 The bathroom was lovely and my favourite next to the Mandarin Oriental other than the bigger suites I have stayed in.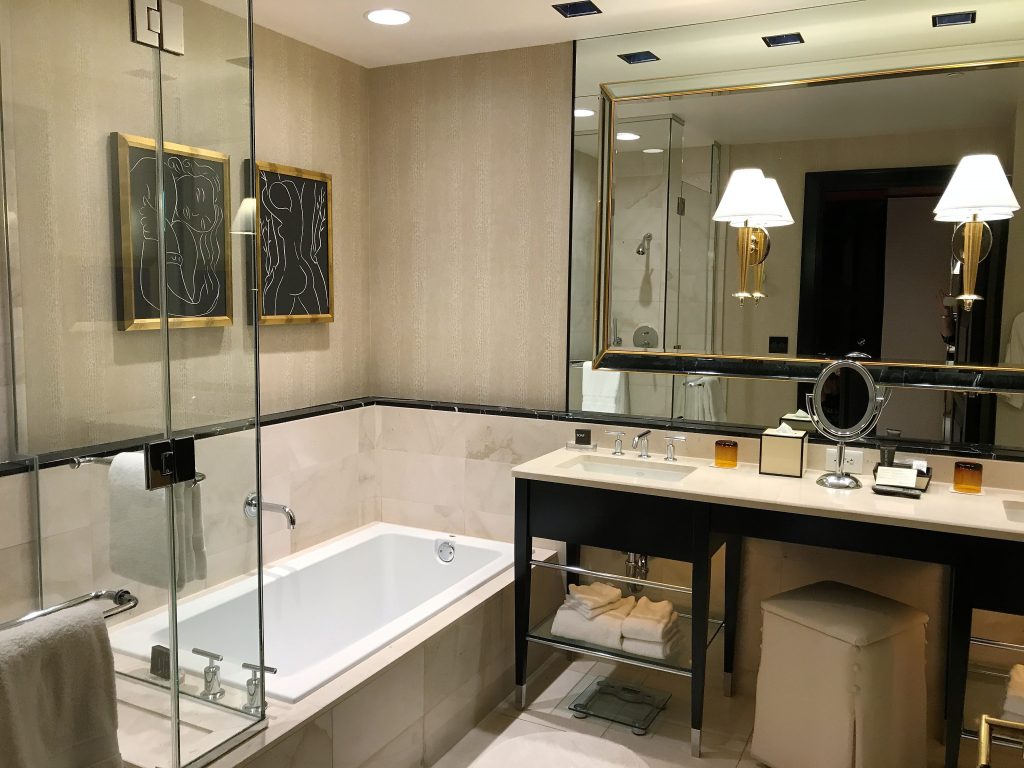 The bath was long and deep so great for soaking your weary body/ feet after trekking miles up and down the strip all day. If you were sharing a room having two sinks and a separate toilet would be very useful. They provided their own brand of toiletries which whilst rather dull in outward appearance were great quality and smelt good but not overpowering. You could also request extra amenities such as a toothbrush or razor if needed.
Post from RICOH THETA. #theta360 #theta360uk – Spherical Image – RICOH THETA
There was a large area for doing make-up with a stool and magnifying mirror although the height of it would not be so useful for shaving. The shower was the typical American hotel style and nothing to write home about. However, it was a nice large size with a small ledge for putting your toiletries.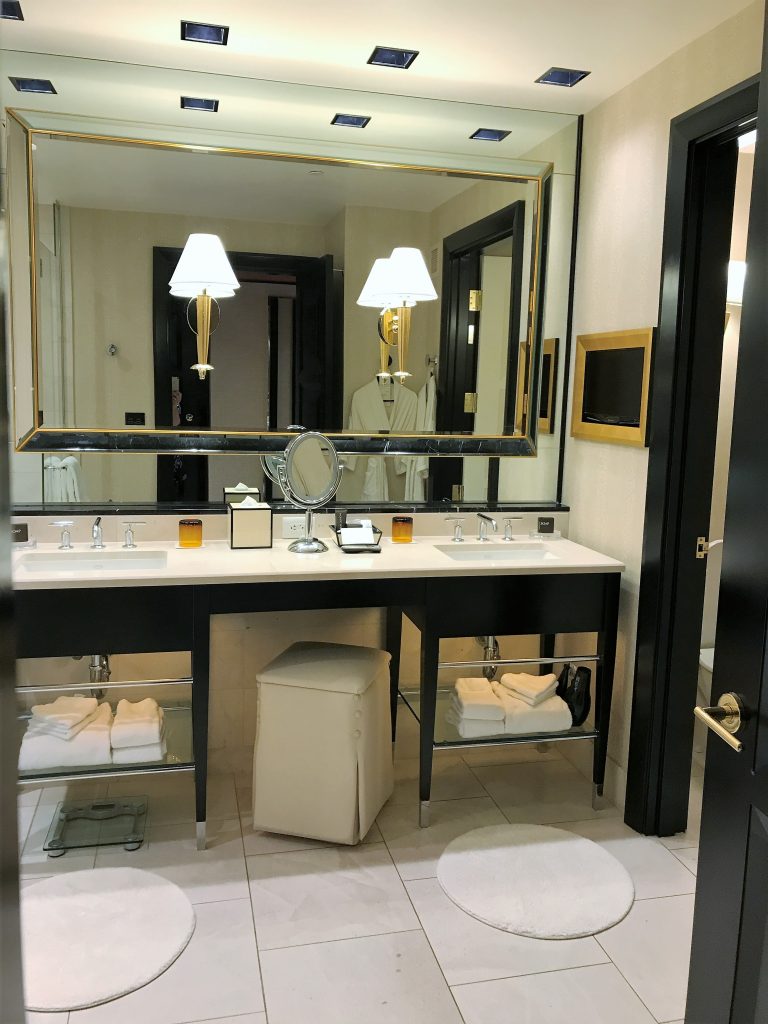 Food and drink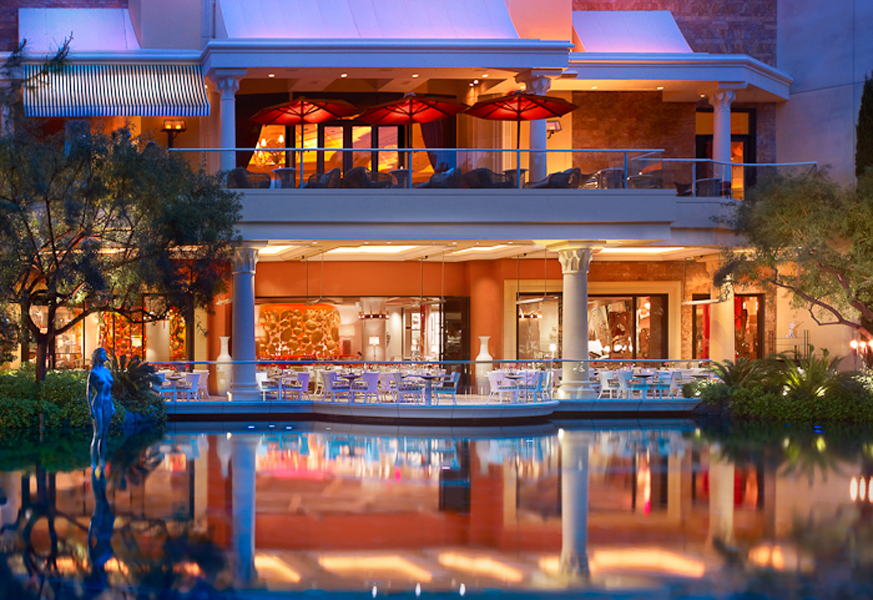 There is a huge choice of restaurants and bars at Wynn and Encore with 19 fine and casual dining restaurants and 6 bars across the two. On this visit, I only had breakfast and lunch in the hotel. Previously I have visited Lakeside at Wynn which I enjoyed. The food is high-end but fairly simple. The attraction is the location by the Lake of Dreams as there are few places in Vegas where you can sit outside somewhere relatively peaceful (except during the evening show which is rather surreal). Sinatra's is also worth a visit and for a bar, I would recommend Parasol Down where you can also sit outside.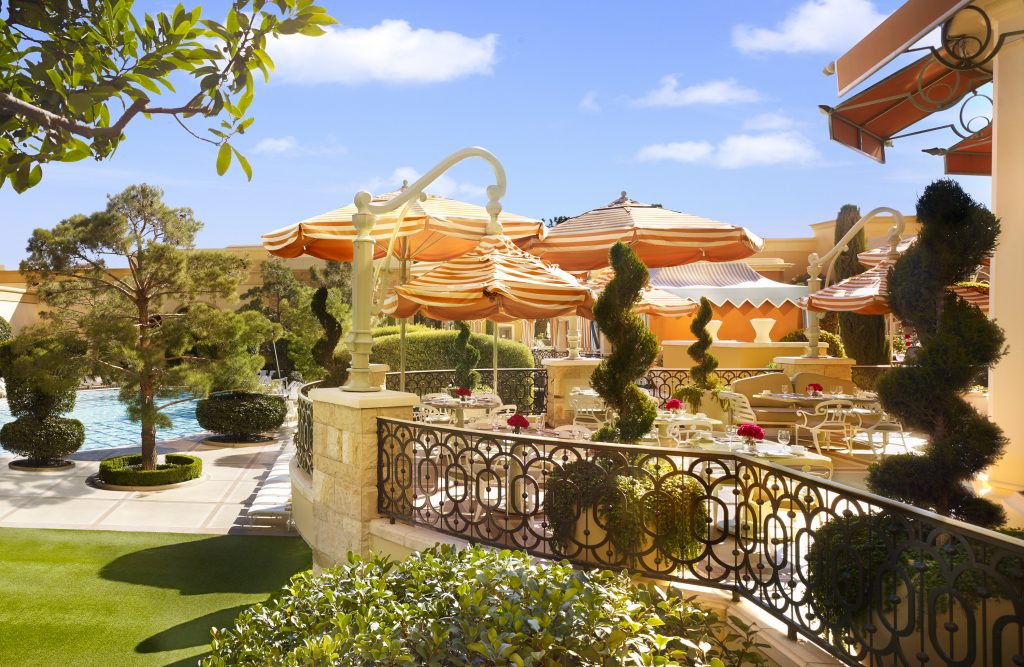 For my first breakfast, I had to visit Tableau which is one of the most high-end places to have breakfast in Vegas apart from Bouchon or the Four Seasons perhaps. The decor was not really to my taste, but that is the general feel of Wynn and Encore – bright colours and patterns. There was a lovely patio but there was a wait to sit outside so I opted to stay inside.
The menu had lots of interesting options like strawberry blintz buttermilk pancakes and Filet steak Oscar Benedict as well as the usual breakfast classics. The feel was fine dining and the service was excellent. I was offered a newspaper to read as I was on my own (my friends at ZorkFest were staying at Treasure Island but unsurprisingly I had decided to stay somewhere a little more 'me'!). There was even an amuse bouche which I have never seen at breakfast before! Trying to pick something that wasn't loaded with fat other than a plate of fruit was a little tricky. In the end, I went for the pancakes with the cream and butter on the side . These were pancakes with caramelised apples, pecans and syrup (might not have been heavy on the fat but it had enough sugar to put someone in a diabetic coma – got to love American breakfasts!). These were both enormous and delicious so I only managed half the portion. My normal place for breakfast at Wynn is the Terrace Point Cafe which I would probably stick with as it is a bit less formal.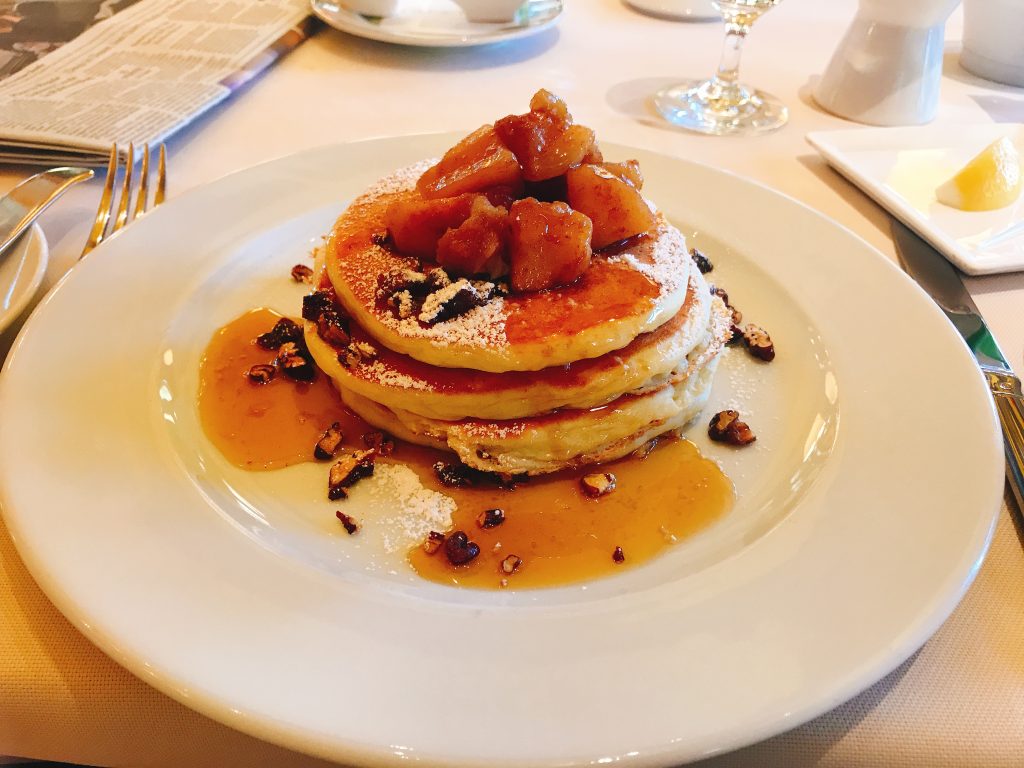 The next day I decided to try the newest restaurant at Encore, Jardin. I really liked Jardin as you could sit outside by the pool and the inside was slightly less garish than most of Encore! The menu had some interesting specialities such as short rib and egg sliders and Maine lobster Benedict. I was in a bit of a hurry so I just went for a smoked salmon bagel and some fruit. I definitely got my money's worth with this plateful. I loved how beautifully it was presented. The service was also excellent here. If I was staying at Encore again, this would be my first choice for a quick breakfast since it is not very far from the guest rooms and less formal than Tableau.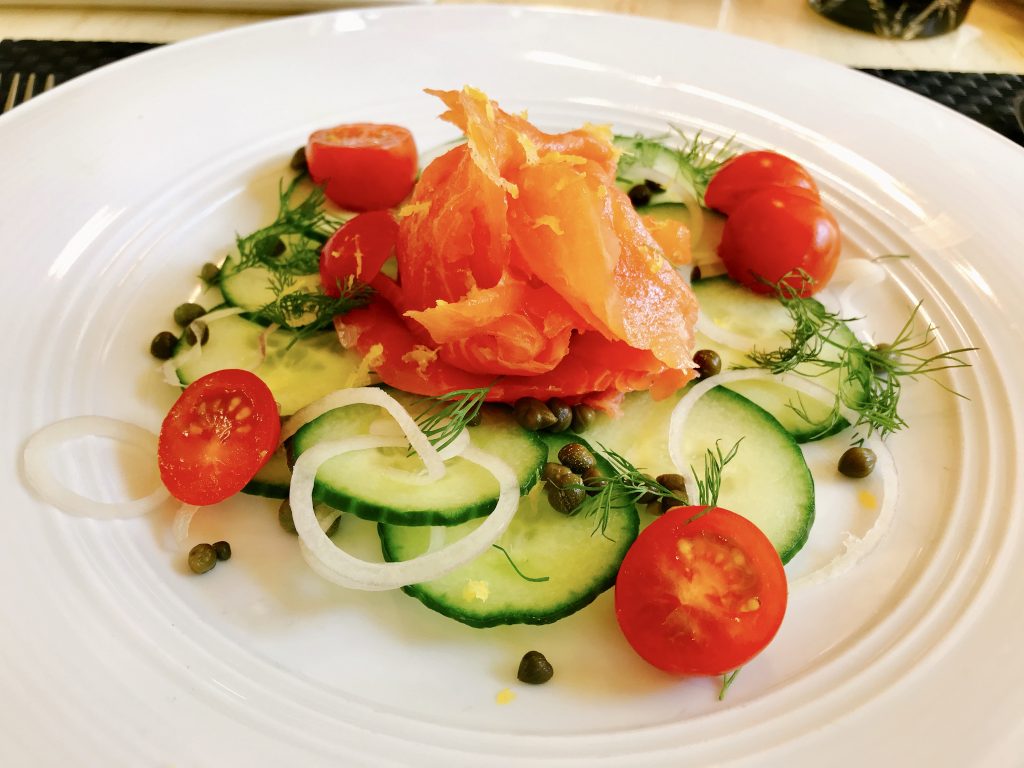 I also tried lunch at Jardin after the slightly disastrous pool service (see below). Being right next to the pool and having some nice fresh salads to choose from this was the perfect place for a light lunch.
Facilities and shows

Pools
One of the most important things for me in a Las Vegas hotel in the pool. Many of the casino hotels have cheap loungers all crammed close together even in some of the more upmarket ones. Encore has 2 swimming pools which are unusually open year round excluding closure for annual maintenance. I'm not sure I would be in the pool in the winter when it can be as cold as the UK!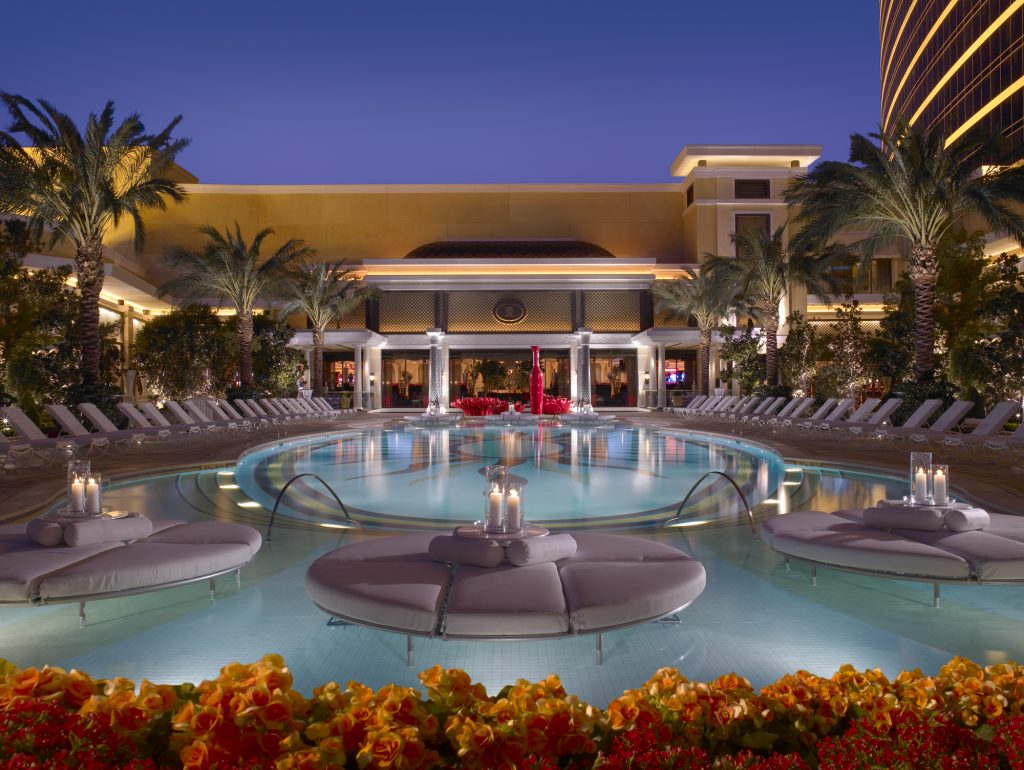 I was there on a very busy weekend but I managed to get a lounger quite easily. There were plenty of shaded areas which was just as well seeing as it was 38c! The loungers were reasonably comfortable and not too close together. You could get free water and towels from a couple of stations by the pools. I preferred the European pool as it was adults only and a bit quieter and cooler than the main pool. I found the main pool too warm in the heat as it is quite shallow and it was more like a bath on some days! There was a large hot tub too but it was a bit too warm outside to use it.
The service was a very different experience to the Four Seasons and the worst service I have had at a hotel pool in Vegas. For a start, they have a ridiculous new system where food must be ordered separately from drinks from a different person. Secondly, it took me nearly 30 minutes to get a waitress (who wouldn't do food) despite asking several times it was always the wrong person who couldn't help. I then had to ask again for someone to take a food order which I was informed would take an additional 30 minutes as it had to come from somewhere else despite the fact I was sitting next to a kitchen! I have heard of some ridiculous ideas in my time but this takes the biscuit. I could hear other guests complaining about it too. So it took an hour from sitting down to get some food by the pool. Guess what, I didn't even bother ordering anything the next day!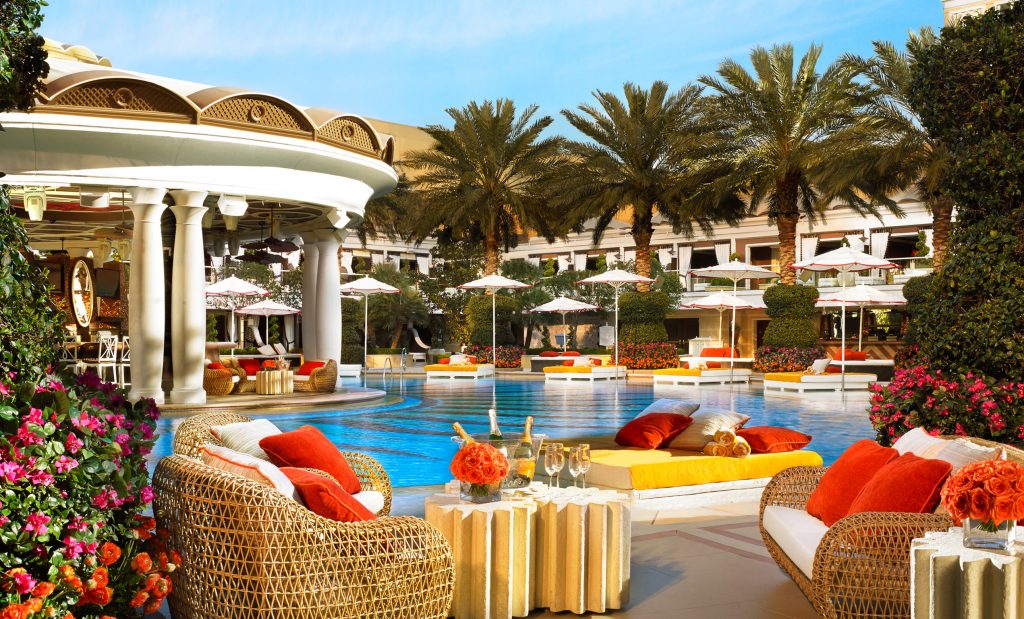 Entertainment
The main show at Wynn is La Reve which is a Cirque du Soleil style show in water. I highly recommend seeing this show if you have a chance. There are regular headliners too such as Diana Ross who will be there this year. If you want nightlife the Encore Beach Club and XS Nightclub are two of the biggest and best-known clubs on the strip but they don't come cheap (like most things in Vegas).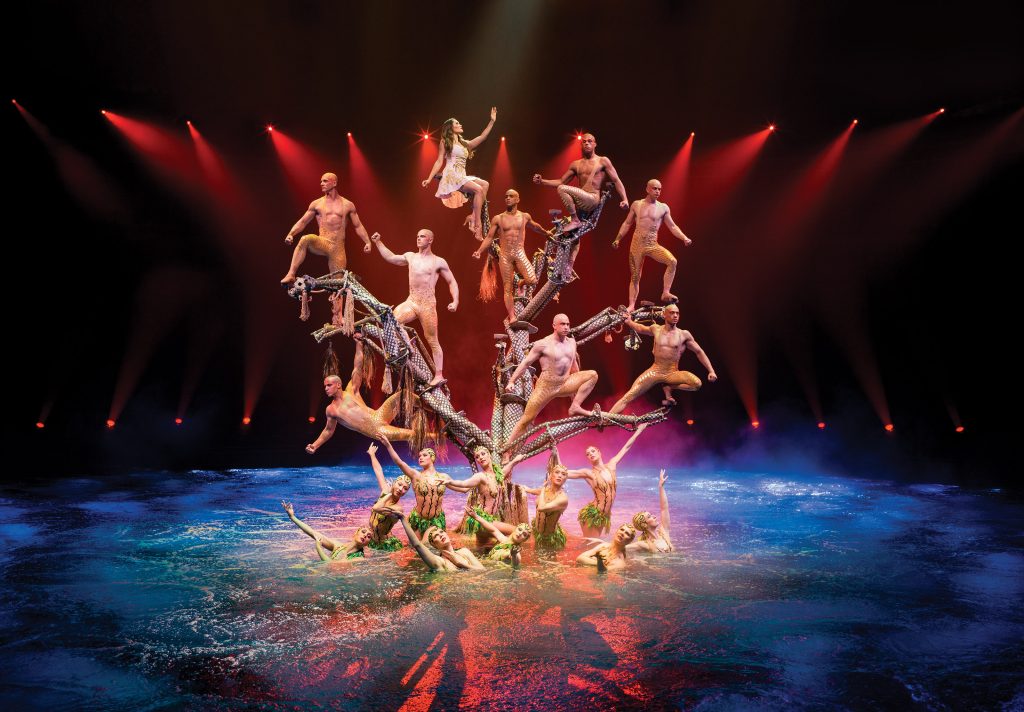 Spa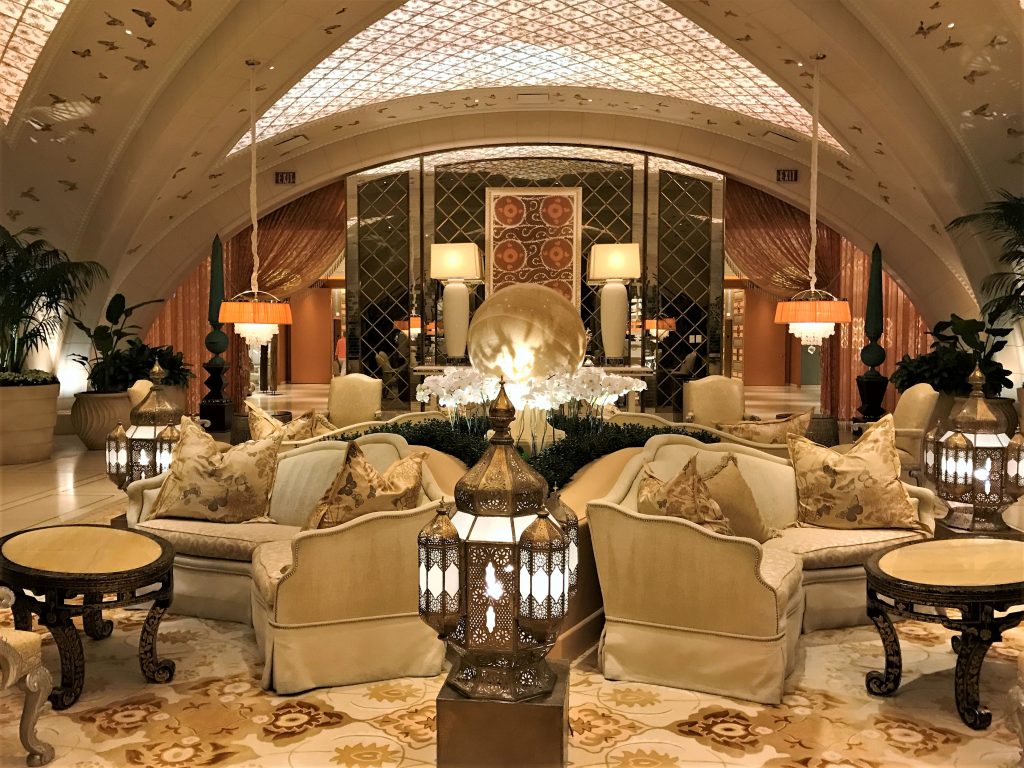 I am something of a spa junkie and I have been to most of the major spas on the strip. Encore is one that I visit semi-regularly. It does not have as many facilities as some of the others but it is usually nice and quiet plus the treatments are good. There are several small changing rooms which feel luxurious and private. The main women's area has 4 different pools, 2 hot with jets and 2 cooler ones. There are heated loungers and experience showers by the pool. A sauna and steam room are also available as well as a relaxation area.
I had a head, hands and feet renewal treatment which was very relaxing and the therapist was lovely.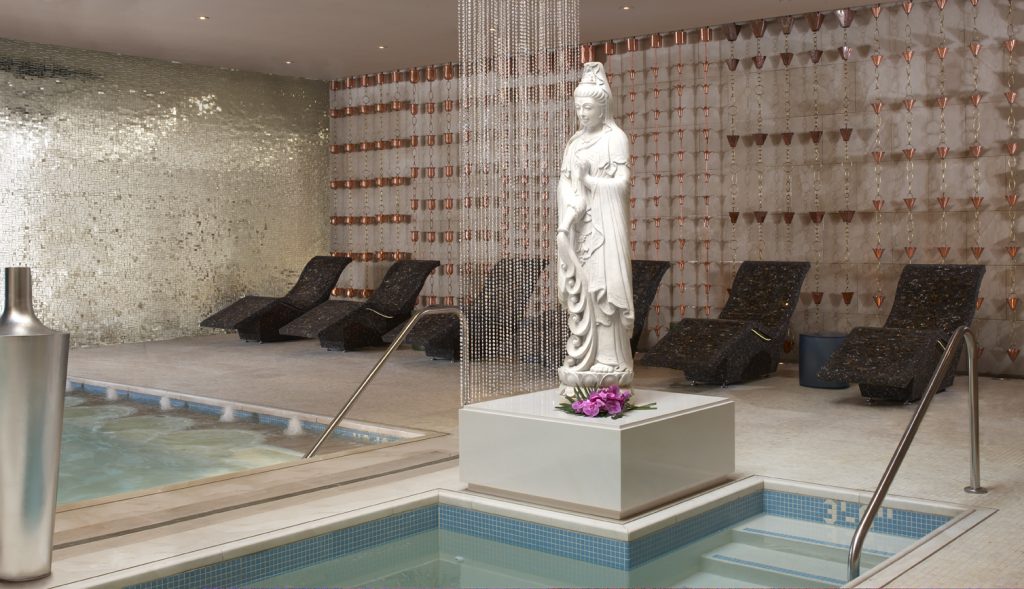 My current top spas to visit are Aria which has some mixed facilities and a great outdoor hot tub, Mandarin Oriental which is serene and does fantastic foot treatments at a good price and Qua at Caesars for the variety of facilities including a room with snow!
Conclusion
I normally avoid the casino hotels in Las Vegas nowadays apart from Aria (review coming soon). However, Encore was by far the best one I have stayed in and I would definitely consider staying again. The only real issue was the ridiculous poolside service which hopefully they will change back to something more logical if enough people complain! I liked the fact that I could get out of my room and to the door to get an Uber quickly. The room was probably one of the nicest  I have had in Vegas apart from the Mandarin Oriental although the pool was not at the standard of the top hotels such as the Four Seasons or the Aria Sky Suites. It would seem that the reviews on TripAdvisor back this up with 4.5/5 for the hotel.
As well as using Propeller to get Virtuoso rates, you could alternatively try booking direct with Wynn Insider which gets you:
15% off every room booking with no black-out dates.
The lowest price available anywhere, guaranteed.
Choose from any room, suite, or Wynn Exclusive offer available on the Wynn website and instantly save 15%. You can find more information about Wynn Insider here.