Today's review, Ethiopian Airlines Business Class, is from reader Jason. If you would like to submit a review, please email admin@ turning leftforless.com.
Ethiopian is often overlooked but they actually have a very young fleet with A350s and B787s. They often can offer bargain prices. Ethiopian have their own frequent flyer scheme and are also a member of Star Alliance. This would also allow you to use the miles on Virgin if you joined Singapore's KrisFlyer and credited the miles there.
Ethiopian fly from Heathrow with an A350 currently.
Booking
After a year and a half of no long-haul travel, as soon as the UAE was moved from the UK red list to Amber I booked a flight to Dubai from Paris using 42,000 Avianca Lifemiles and around €220 in taxes. I had options to travel via Frankfurt with Lufthansa or via Istanbul with Turkish but I've always been curious to try Ethiopian Airlines and as a plane geek a more circuitous route is not a bad thing so booked their flight via ADD.
Check in/boarding
Nearly all airlines are currently using Terminal 2 at CDG due to the reduction in air travel, my flight was departing 2E usually the domain of Air France. There were massive queues for Economy, most passengers with a huge amount of luggage and items to check-in. I waited briefly to check in all the way through to DXB at the Business Class counter and was on my way through security which was also very efficient.
There is no lounge access whilst Ethiopian is temporarily operating from T2E as the only lounges in the terminal are operated by Air France.
Boarding commenced on time. I couldn't see any dedicated Business Class signage at the gate but I did periodically hear one of the ground staff shouting out for Business Class passengers. Personally, I've never been one of those that has to get on the plane ASAP so I just waited for the Economy boarding queue to reduce and joined it towards the end. I was greeted at the door of the A350 by two crew. One in corporate Ethiopian Airlines uniform and one in traditional Ethiopian dress.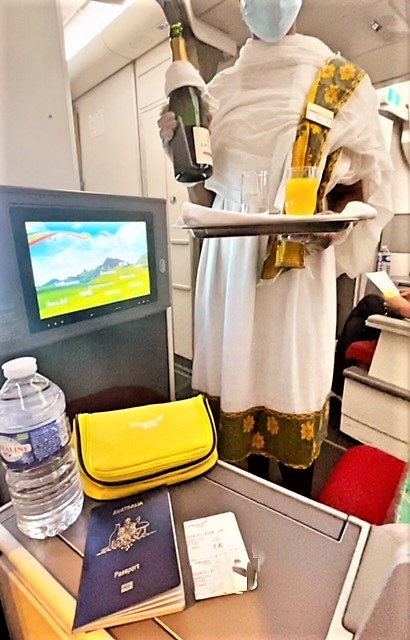 I settled into my seat 1A and was offered a glass of champagne and a washbag. There was also a bottle of water at the seat. The cabin was around 60% full which afforded most of those travelling solo like me an empty seat next to them. Meal orders for dinner were taken on the ground and also our preference of whether to be woken up for breakfast. We pushed back on time and were airborne shortly after.
Ethiopian Airlines Business Class Seat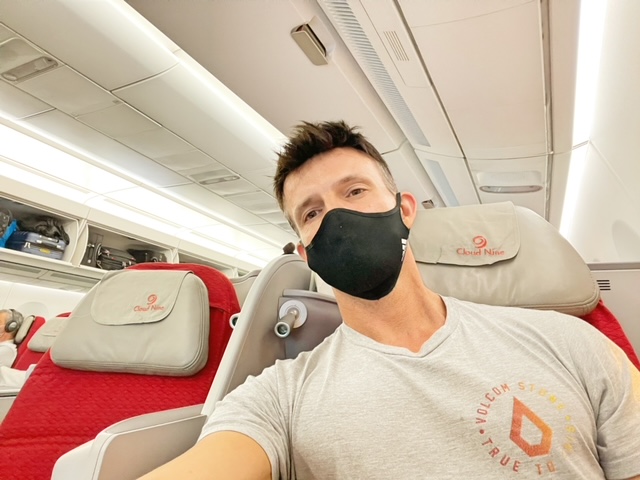 Ethiopian is a bit of a lucky dip when it comes to the type of seating you will encounter on their longhaul fleet of A350's, 787's and 777's. Most of the A350's and 787's feature 2 x 2 x 2 full flat seating, not ideal if the flight is full and you are travelling solo. A couple of the 350's feature 1 x 2 x 1 configured cabins. The 777's feature the dreaded Business Class middle seat still a 2 x 3 x 2 configuration.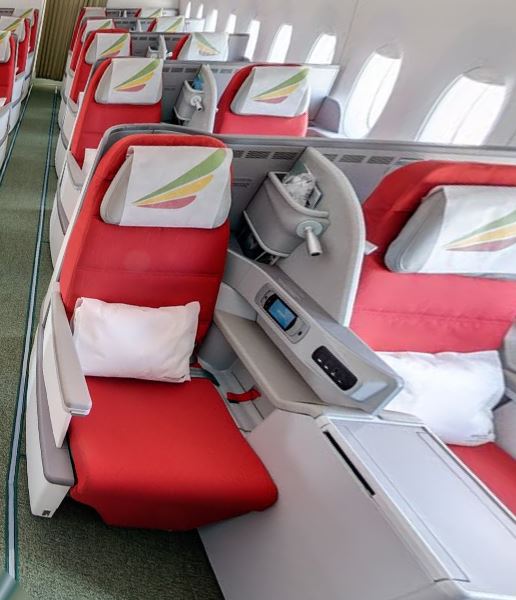 My A350 featured the Rockwell Collins 'Diamond' seats which is the same seat Lufthansa uses on the majority of their long haul flights. They are fully flat which is their main benefit. Cons to the seat include not all having direct aisle access, limited privacy, and pokey caverns for your feet when in bed mode. For this last reason, I chose a seat at row one where the footstool is much wider.
I was concerned about galley noise but this did not end up a problem. The IFE screen was large and bright and there was a universal plug charger. The aircraft also had wifi available for a charge.
You can see a virtual tour of the A350 business class here.
Ethiopian Airlines Business Class Service and catering
My flight departed at 22:15 so the after take-off service was quite quick. A combined dinner and drinks service was conducted swiftly once airborne. Meal orders were taken on the ground and this is where I discovered that menus are not provided on Ethiopian Airlines flights. I'm all for saving paper but there should be some alternative means to view the choices – such as via the IFE. But no. The crew simply ask you if you want 'beef, chicken, fish or pasta' and unless you want to have a conversation about each dish and how it's prepared and what accompanies the dish it really is pot luck.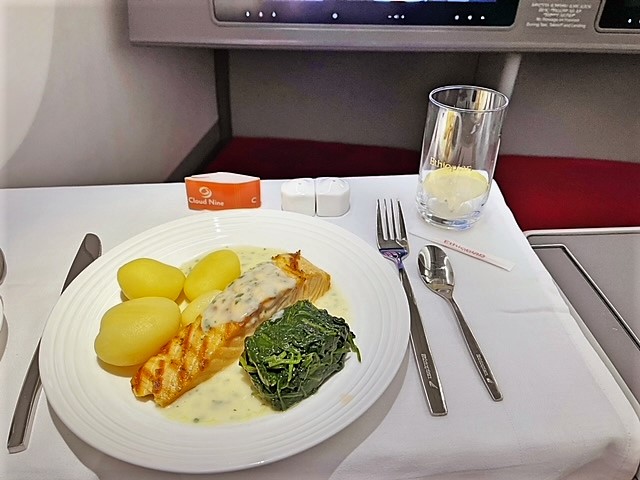 I chose the 'fish' which ended up being a very tasty salmon main course. I was also asked if I wanted 'soup or salad' to start. I chose the soup which was disappointing. Lukewarm and lumpy. Fortunately for me, the starter also included a smoked salmon dish for all (which without menus you don't know about) so all in all I was really impressed with the dinner itself.
Courses were served individually and the main courses were plated in the galley. Following the main course, a trolley that was nicely presented with tea and coffee silverware and some desserts were wheeled around. I did not partake, choosing sleep instead. I was asked if I wanted to be woken up for breakfast which I declined.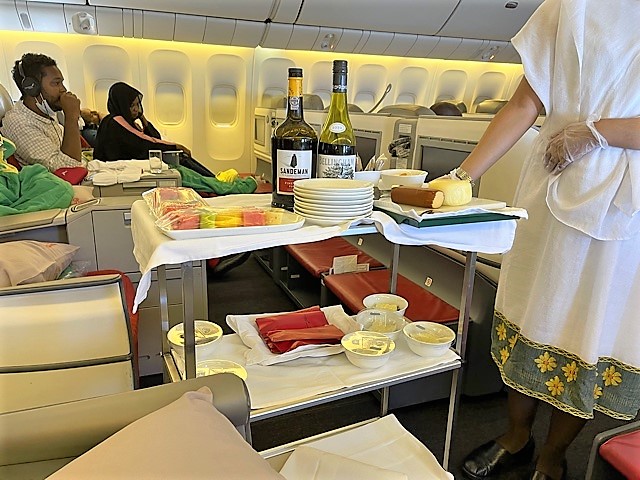 From what I saw in the morning, breakfast was just a pastry and coffee but without a menu, who knows. I slept well during the flight and when I woke up 40 minutes before landing the crew asked if they could get me anything and I had an espresso.
Service was efficient and polite, not particularly engaging, but I guess for most on these short flights most people just want to get to sleep.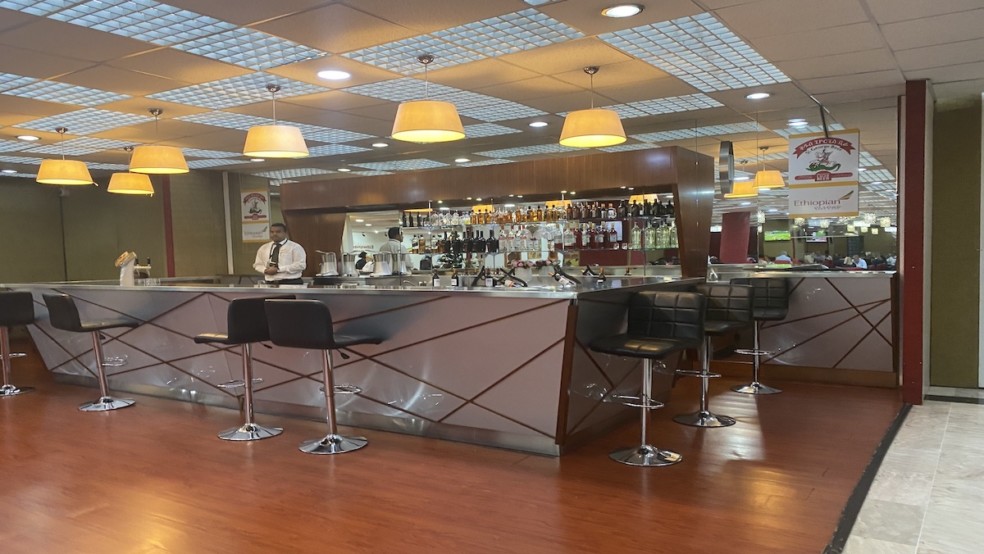 Upon landing in Addis I made my way to the 'Cloud 9' lounge for a couple of hours before my connecting flight to Dubai. I was really impressed with the lounge. It was bright, modern, spacious, and had excellent food and beverage facilities. I particularly enjoyed the 'Ethiopian coffee ceremony' they conduct every couple of hours in the lounge where an attendant slowly prepared ground Ethiopian coffee over hot coals.
I was impressed with Ethiopian Airlines overall and would definitely fly them again.
Like our Ethiopian Airlines Business Class review? You can read more flight reviews here.