This is part one of a review of Air Transat's A321LR Club Class (Premium Economy) from London-Gatwick to Toronto with some thoughts on my return flight from Montréal. The following flights were paid for by Air Transat. The airline has not received copy approval for this article and the first time they see it, is the same time you are.
Most travellers will have one airline in mind for travelling to Canada – the flag carrier, Air Canada or perhaps British Airways. The transatlantic market to Canada has traditionally been more stagnant with this duopoly compared to the flurry of activity the US-UK/EU market has. However, over the past five years, two carriers have entered into the UK-Canada market – namely WestJet and, the subject of today's review, Air Transat.
While WestJet previously offered services to the Pacific and Atlantic coasts of Canada from the UK, they have settled to focus more on their 787 hub in Calgary – effectively leaving Air Transat to challenge the flag carrier's dominance on the East coast.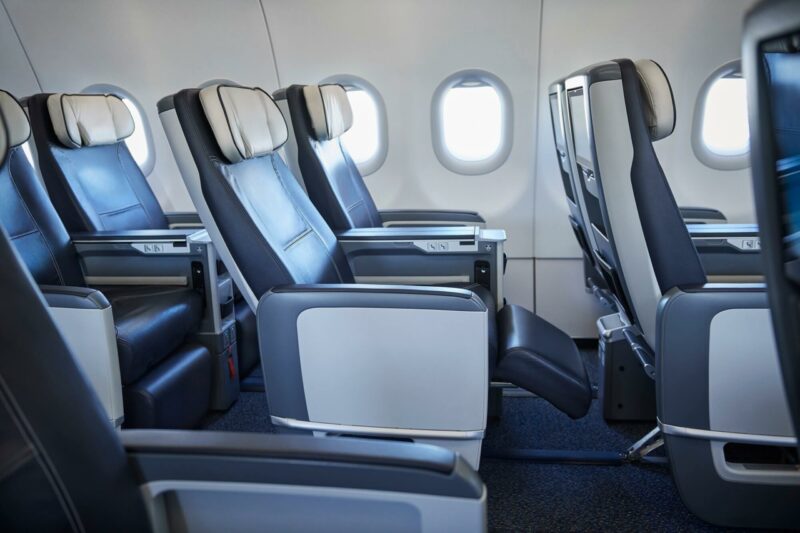 Air Transat exclusively utilise Gatwick's North Terminal as their gateway to the capital flying to Toronto daily and Montréal thrice-weekly year-round, as well as Quebec City once-weekly from June to September.
Outside London, Air Transat fly to the following airports in the UK and Ireland:
Glasgow to Toronto

Manchester to Toronto

Dublin to Toronto
These come with varying schedules as low as once-weekly in the winter season and as much as daily in the summer season.
I flew to Toronto on the outbound and from Montréal on the return.
Airport experience
Having arrived four hours prior to the flight, I swiftly headed to the Club Class check-in where I was greeted by a friendly member of the ground team. After confirming I had not entered any part of China within the past fourteen days, I proceeded to check my baggage in quickly and with ease without needing to use a self-service machine.
As a Club Class passenger, you are entitled to use the Premium Gatwick security queue, located just a few steps from Air Transat's check-in counters, which helped speed up the process a little. There were more than a few people faffing around in the queue to find their confirmation emails to use the premium security which probably evened out the benefit.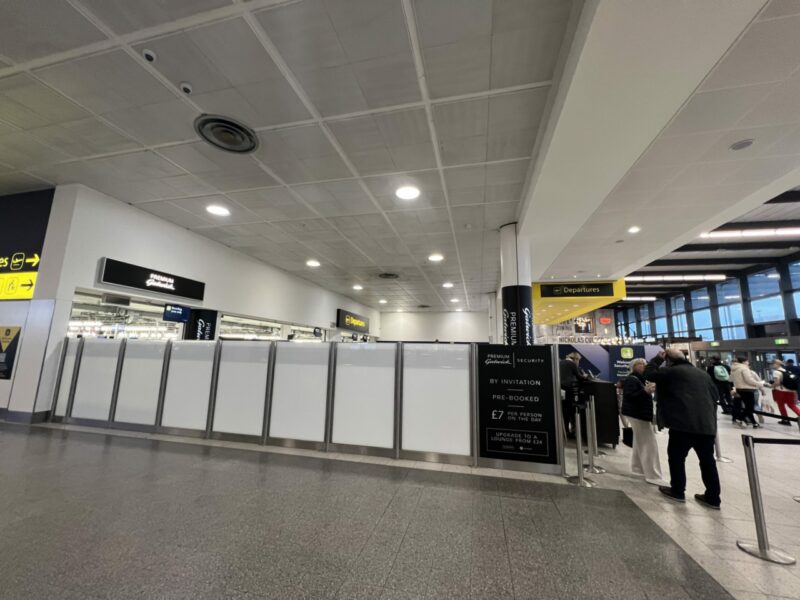 As Club Class is effectively a Premium Economy product, there is no lounge access available at Gatwick. I reserved space at the Clubrooms lounge using my LoungeKey which I'll publish a review for at a later date.
The boarding process started on-time and went smoothly with very little to report on the process. Akin to other airlines, Air Transat boarded by groups based on zonal priority.
On the ground, the Club Class experience is as expected and aligned with other Premium Economy products on the market. It's certainly not exceptional but they do a decent job considering this is not a hub airport for the carrier. Although, I will say the aircraft looked excellent on this sunny departure from Gatwick.
Cabin and seat
Club Class on the Airbus A321LR features a 2-2 seat layout with comfy US Domestic First-style recliner seats. This aircraft primarily replaces the ancient Airbus A310 that the airline was flying until a couple of years back, providing a superior in-flight experience for passengers.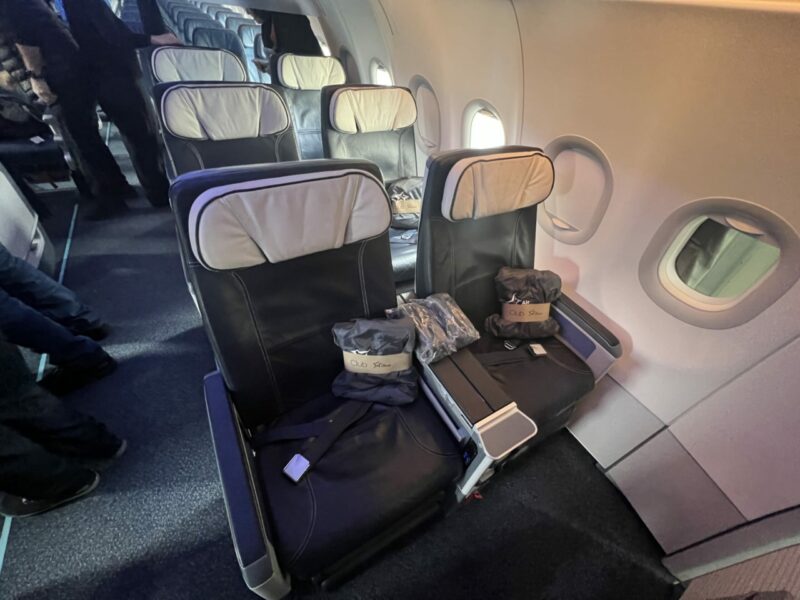 The premium cabin offers a total of 12 seats but on both flights, I took Club Class was lightly loaded suggesting that most passengers were not sold on the benefits of upgrading. As far as I could tell, the airline wasn't proactively selling upgrades at check-in or the gate. Since I was travelling solo, I was quite happy to find the seat next to me was free so I could spread out a little bit more than usual.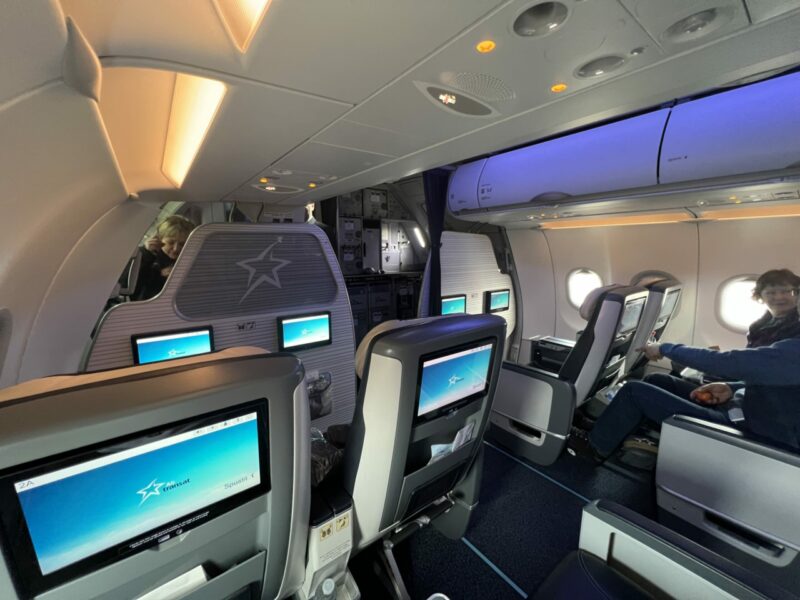 Club seats offer a pitch of 38 inches, which is akin to the legroom from BA, Virgin and Air Canada on Transatlantic routes. At 188cm tall (6ft2), I found the seat legroom comfortable and sufficient, especially on a daytime flight. I will note that window seats on row 2, and I suspect row 3, were slightly obstructed by the in-flight entertainment box beneath the seat. This could limit the space to place your feet slightly if you are a larger shoe size or wearing boots, for example. This did not seem to be a problem on the aisle seats.
Air Transat's Premium Economy seats are rather wide and recline a fair distance, which will come in handier on my return flight. As with pretty much any Economy or Premium Economy product, there are the drawbacks of reclined seats making it more difficult to exit from the seat when the seat is not in a fixed shell design. The same is the case here, but that wasn't too much of an issue with the load of passengers on this flight.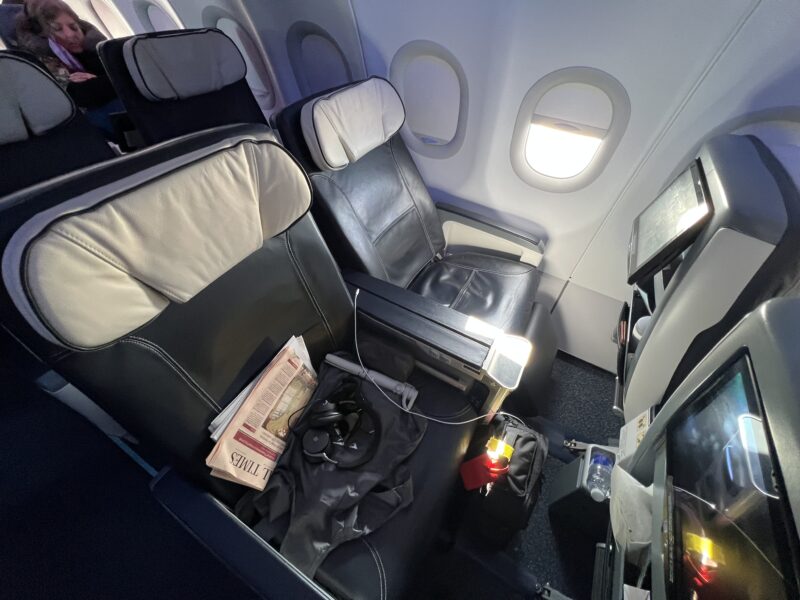 The seats are manually controlled through a button on the armrest. These enable passengers to recline back as well as get improved leg support, which I found made the seat a lot more comfortable. A foot rest can also be pushed down from the footwell for further comfort.
Underneath the display is two pouches for holding items. The small one at the front is perfect for smaller items such as a phone and wallet while the rear area is sufficient to hold a laptop and several other items easily. It's quite a neat design they've got with this.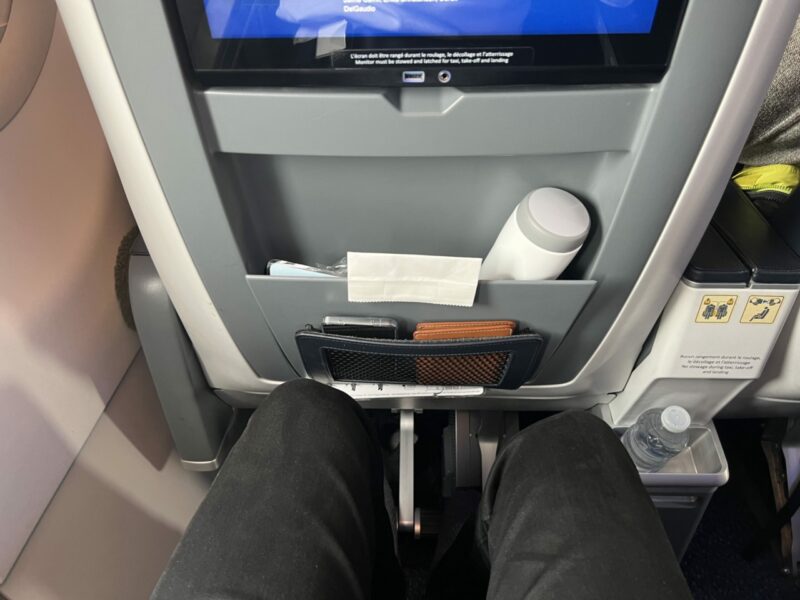 Overall, a comfy seat and enough legroom for the hop across the Atlantic – but the seat is only one part of the experience.
Part 2 of the review can be found here.
Like our Air Transat's Premium Economy review? You can read more flight reviews here.