This is part 2 of a review of Air Transat A321LR Club Class (Premium Economy) from London-Gatwick to Toronto with some thoughts on my return flight from Montréal. The flights were paid for by Air Transat. The airline has not received copy approval for this article and the first time they see it, is the same time you are.
Part 1 of the review can be found here.
Amenities and entertainment
Air Transat provide Club passengers with a rather substantial amenity kit which seems more premium than that offered by other Premium Economy products. Placed on the seat prior to boarding, the airline provides two key amenities.
The first is a smart leather-style amenity kit which features the regular eye mask, earplug, toothbrush combo but surprisingly also L'Occitaine lipbalm and facial moisturiser. Surprising because L'Occitaine is decidedly more premium than one would expect for a more leisure-oriented carrier such as Air Transat.
Second is a common amenity but delivered in a quirky method. Air Transat actively encourages passengers to take the durable shopping bag and blanket home to be reused – the latter which is currently being enjoyed by my dog. While I suspect most people will be leaving theirs on the aircraft, I like that the airline is trying to encourage passengers to be more thoughtful in reusing these items – particularly with a bag which is quite practical. The blanket itself is quite thin but does keep you warm.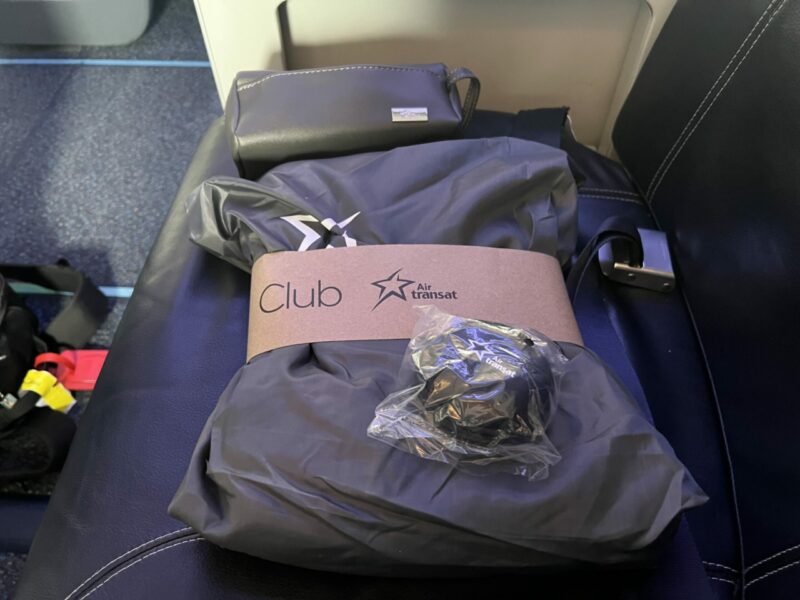 Entertainment was a bit more of a mixed bag. On the positive, the screen was 10.1 inches and could be moved to a different viewing angle when the person in front was reclined.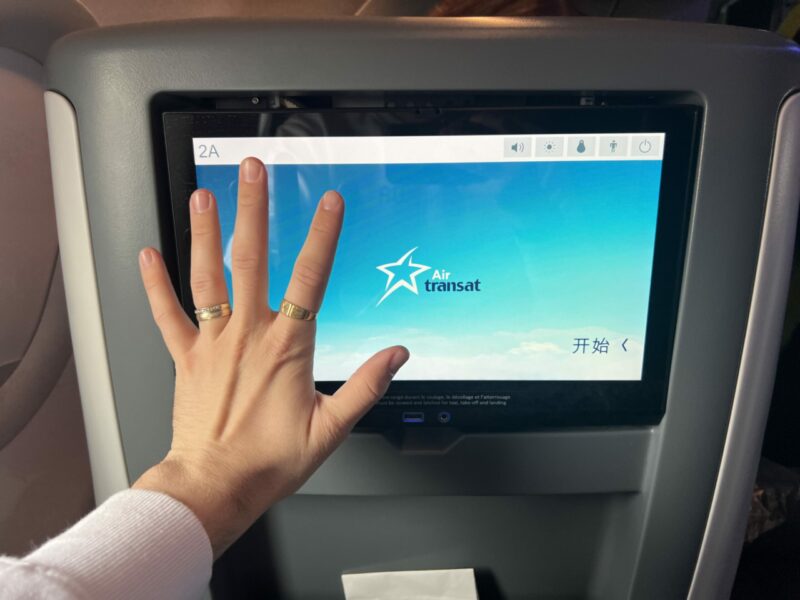 The Air Transat Club Class seat had sufficient power ports including easy access international socket, which provided enough power to meet the 60w charging requirement of my MacBook, as well as two USB ports. A small holder is also found next to the international socket where your mobile can be placed.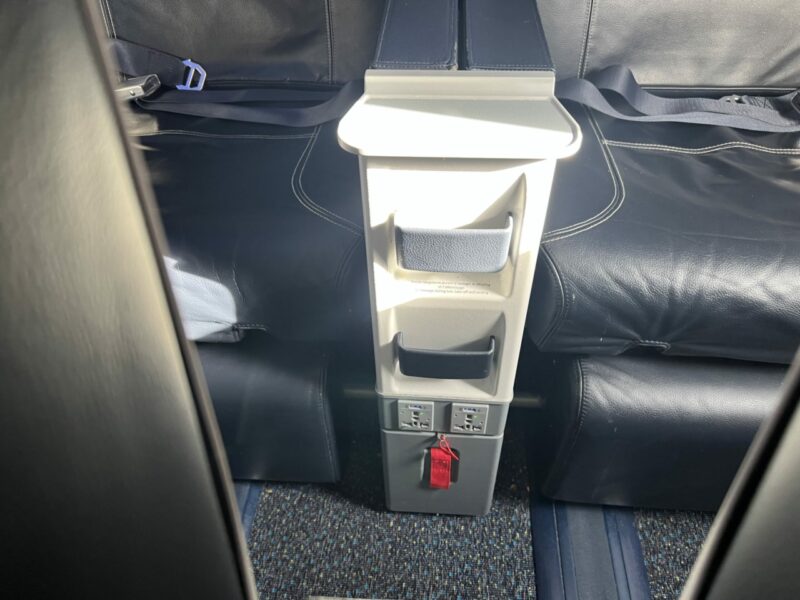 The airline provides in-ear headphones in a nice case to passengers in Club for free or a charge in Economy – they're about as good as you would expect. Bring your own.
After reaching cruising altitude, passengers were asked to close their window blinds to prevent glare on the screens. On a day flight, I quite like to keep it open which is a little annoying when it feels like the airline has made a poor choice in display technology for them to be less usable during daylight hours.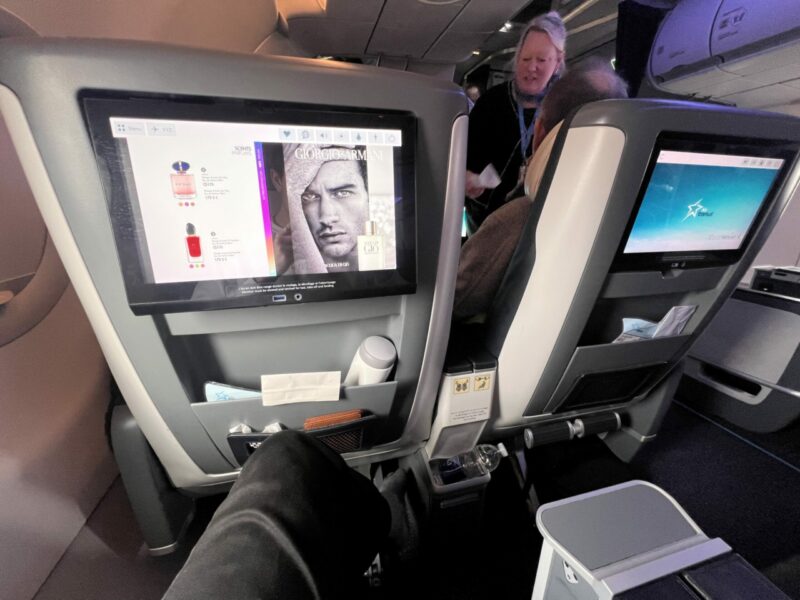 While I generally do not watch much while on planes beyond the moving map, which was not interactive on this aircraft, the selection was quite limited on both of my flights. While most people could probably find something, the selection was not extensive for films and TV shows were worse. Who really wants to watch Elf in the middle of February? This seems quite the oversight for a family and leisure-oriented airline such as Air Transat.
I instead spent most of the flight working from my laptop penning blogs for TLFL and my own site, although don't expect to stay connected. The equipment required for WiFi is not installed on Air Transat's A321LRs so it seems unlikely the airline is looking to provide this as a service any time soon. I did however find the disconnected time to be extremely productive and with the recline at the correct angle, the tray table position was comfortable and sturdy to work from.
The front bathrooms were dedicated exclusively to the Club cabin and, combined with the low load factor, were spotless throughout the flight. No additional amenities can be found in the bathrooms.
Food, drink and service
Here's where Air Transat shined brightest. I can say the service offered by Kimberley and Marcus was excellent – warm, genuine and consistent from start to finish. They were attentive to all passengers offering quick responses to requests and proactively offering top-ups throughout the flight. Together they pushed the whole Air Transat experience up a few notches.
"Bubbles" were offered in glasses, not plastic (!), after boarding. While not a premium champagne, the prosecco was decent although I didn't manage to get a glance of which brand it was. This was followed up with a drink and snack after departure.
The first meal service began around ninety minutes after departing from Gatwick. Options were offered off a card but you could also pre-select online a minimum of 72 hours before the flight. This didn't work for me although the options were very similar, but here was the on-board and 'Book the Cook' options:
Meals are served on a single tray. I opted for the Osso Buco for the 'gourmet meal option' on this journey, served alongside a flavourful salad and tasty tiramisu-esque dessert. Hot rolls were also provided. Real glassware, cutlery and plates are provided.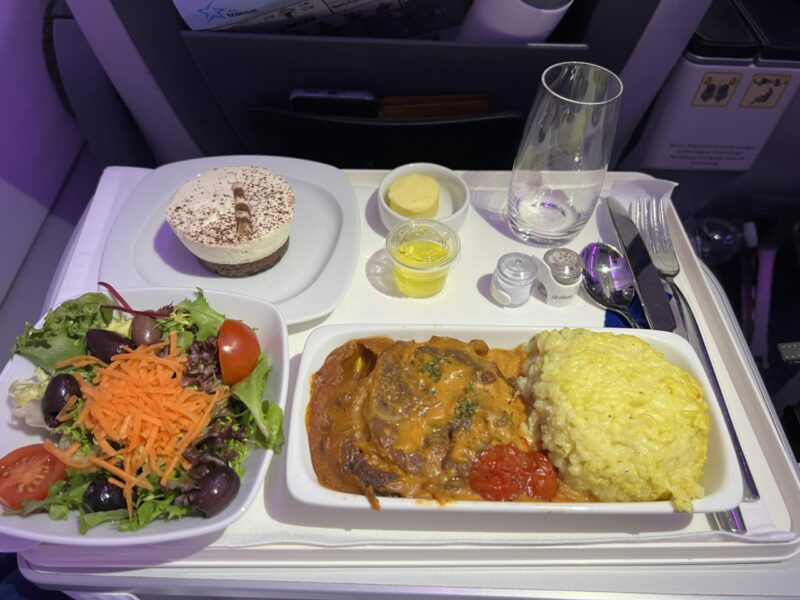 The Osso Buco was tasty and flavourful with a tasty sauce as well as tender pork meat while the risotto had dried out quite a bit but did make the whole meal a bit more filling. I would say the choice of pork shank meant that the initial impression of a large piece of meat quickly changed to a realisation there was bone there. In short, I could've done with more to eat even though the quality was decent.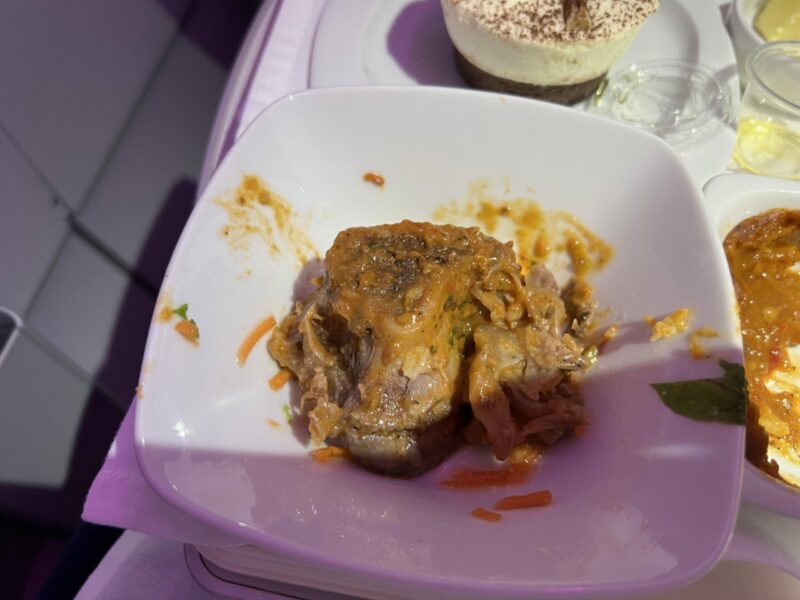 Only instant coffee and black tea, along with milk, were provided as hot drinks on this flight. Air Transat could do with improving their hot drink offering – whether that's offering alternative tea bag options or some kind of filter coffee. I can say I didn't enjoy this cup of coffee! A snack service was offered during the flight consisting of chocolates, crisps and other sweet or savoury options.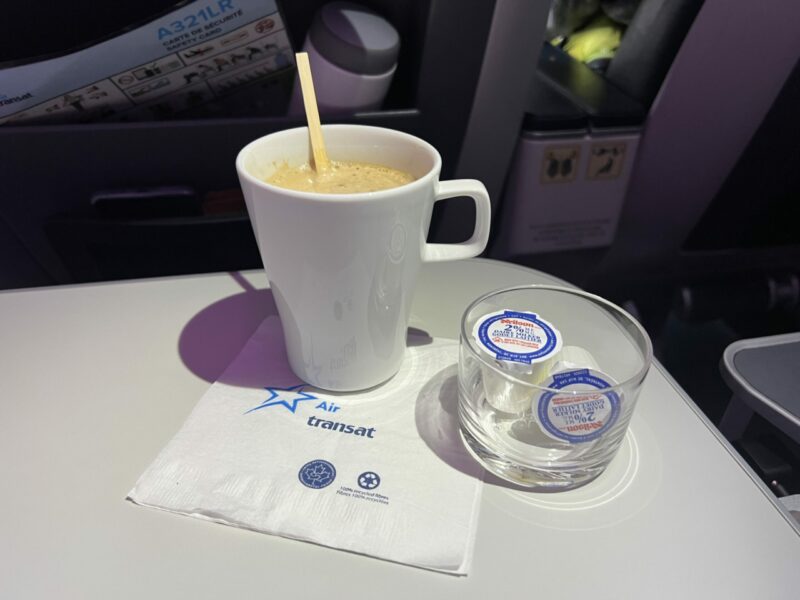 However, I did enjoy the home comfort of afternoon tea about six hours into the flight besides the cheese and pickle (personal preference). A warm scone with the excellent Rodda's clotted cream and Tiptree preserve was exactly the kind of sweet treat I was looking for this far into the flight. I loved it and the presentation was a little better than I have seen on reviews for Virgin and BA.
Red-eye return!
There's not too much to add on the return journey from Montréal to Gatwick, but I'll note a few points. First, the check-in experience at Montréal was sluggish despite not being particularly busy. There was nobody on the Club Class desk, which seems an oversight, and it was definitely faster to go to one of the Economy queues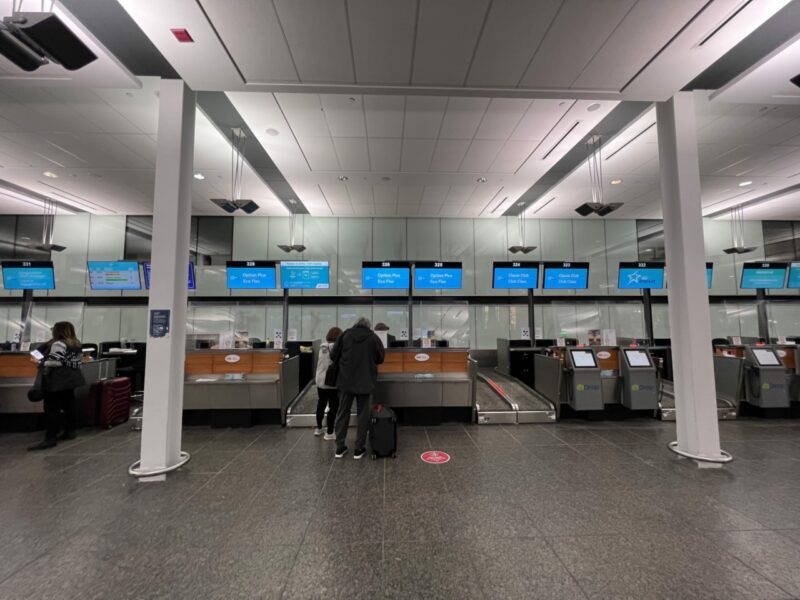 Premium security access came in extremely handy on this Sunday afternoon at Montréal-Pearson allowing me to zip through the queues and head straight to the scanners. Just make sure you head towards the far end of the terminal near Air Canada to avoid the space.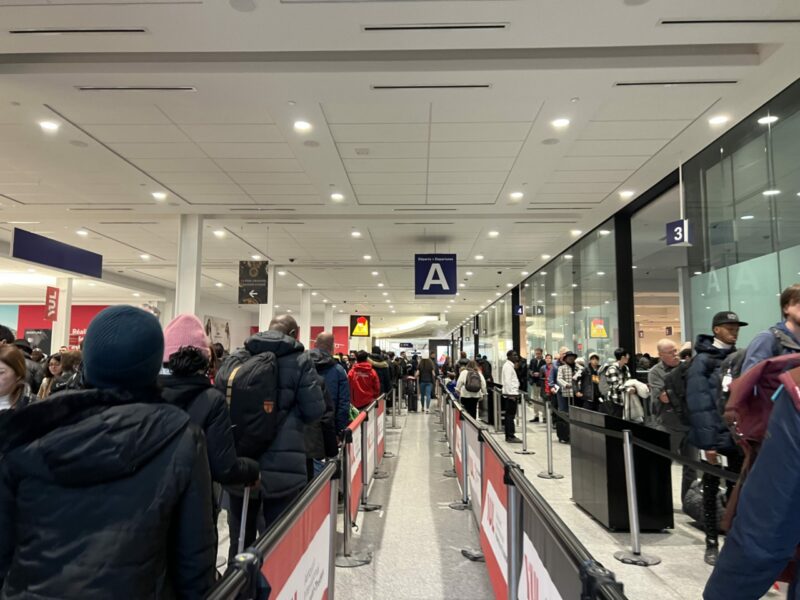 I have very little to report on the flight itself having gone straight to sleep following our ascent into the sky. It was a timely flight and I slept for almost six of the six-and-a-half-hour journey in this seat. No East Coast flight is ideal for getting plenty of sleep but I did quite comfortably, which meant that I missed the meal service and almost all interaction with the crew – but that had been my plan all along.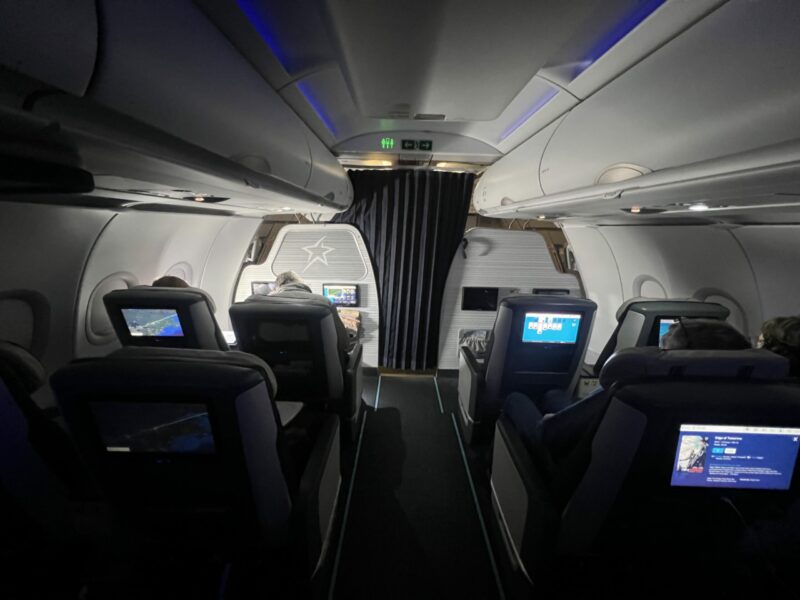 While a flatbed in Business is going to offer a better sleeping experience, this was suitable enough for my journey back home – particularly when considering the price difference.
Conclusion
Air Transat offers a decent Premium Economy product that I would class as slightly above average against peers operating between the two continents. With a comfortable seat, good food and great service, I enjoyed my flight. Pricing is extremely coming in less than half of Air Canada on many dates, who I doubt will be double the standard. I would say this is almost the best in class against its peers.
The product is not perfect though and there are improvements that can be made namely around the entertainment and WiFi. Additionally, the departures from Toronto and Montréal would be better if they departed an hour earlier for people to be able to make it to work for the day ahead – but I appreciate they are not targeting business travellers.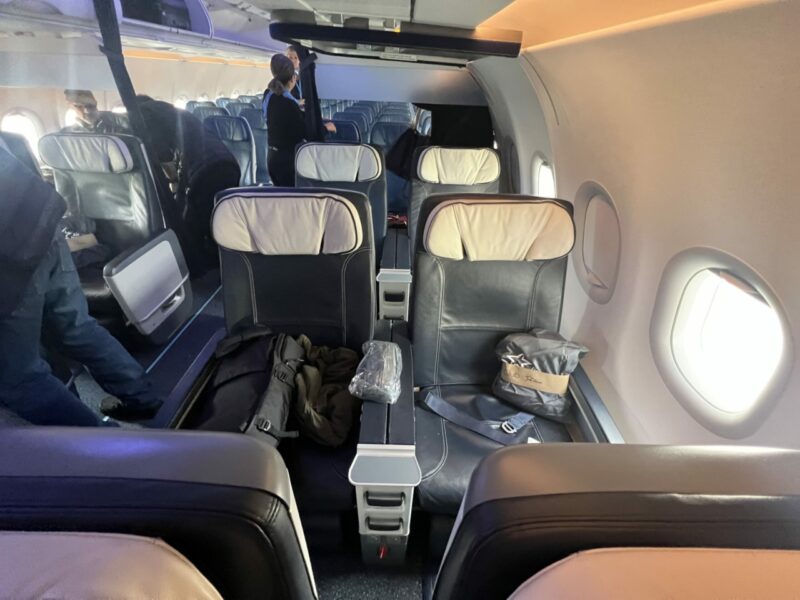 Although it is a minor thing to note, the single-aisle of the A321LR does make some service flows a bit more difficult than a widebody, particularly with passengers using bathrooms during meal service. A smaller jet does mean some compromises on aspects of the experience but I suspect that this is something we will get more used to on long-haul 'skinny routes'.
Air Transat offer a great quality premium product in Club Class that with a few tweaks could lead the transatlantic markets. It is great to see an airline provide genuine competition. While TLFL readers may be disappointed there is no option for points redemption or collection on Air Transat, the cash prices are attractive enough for travellers that they represent an excellent option over legacy carriers or using points.
Like our Air Transat Club Class Experience Part 2: Is it Worth the Upgrade- review? You can read more flight reviews here.