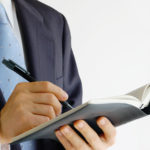 It's over to Roving Reporter today for his review of Gleneagles Hotel in Scotland. If you would like to find out about his second visit when he took the train instead of flying, you can read it here.
We were on a short weekend break in Scotland and hoping to eat at The Andrew Fairlie restaurant (2 Michelin stars) at Gleneagles. As it happened the restaurant is closed on a Sunday and this was the only night we could stay given our fixed itinerary. Andrew Fairlie remains on the bucket list. However, I found a good deal on the Gleneagles website:
Sunday Night Special
Includes full Scottish breakfast and the choice of a complimentary green fee on either the Kings or Queens course or 55 minute spa treatment per person
There were 4 of us travelling and we booked 2 rooms (an Estate Double (£505) and a Sovereign twin (£455). Given the cost of a spa treatment, I felt that this was good value.
Arrival
We arrived by car at 1230 and were impressed by the grounds and the long sweeping drive which leads past the Golf Clubhouse and round to the main entrance. It reminded me of the 'American Resort' estates, all very manicured. You can also arrive by train, even direct from Kings Cross, and the hotel will send someone to a Gleneagles station to pick you up. We then received a very cheery welcome from the Valet (Alisdair) who took our car keys and organised a porter to whisk out luggage away (it would appear in our room before we did).
The welcome was very lovely and then we were ushered into the impressive entrance and handed over to another member of staff. Reception was very busy at this time but we only had to wait about 30 seconds before a lovely chap (Colin) greeted us, led us off to the side and completed the initial paperwork. He was charming and apologised for our room not being ready (no need as it was still 2½ hours before official check-in). He also promised us "the finest breakfast in all of Scotland" (more on that later), gave us some maps and asked us to enjoy all the facilities. We would be called when the rooms were ready.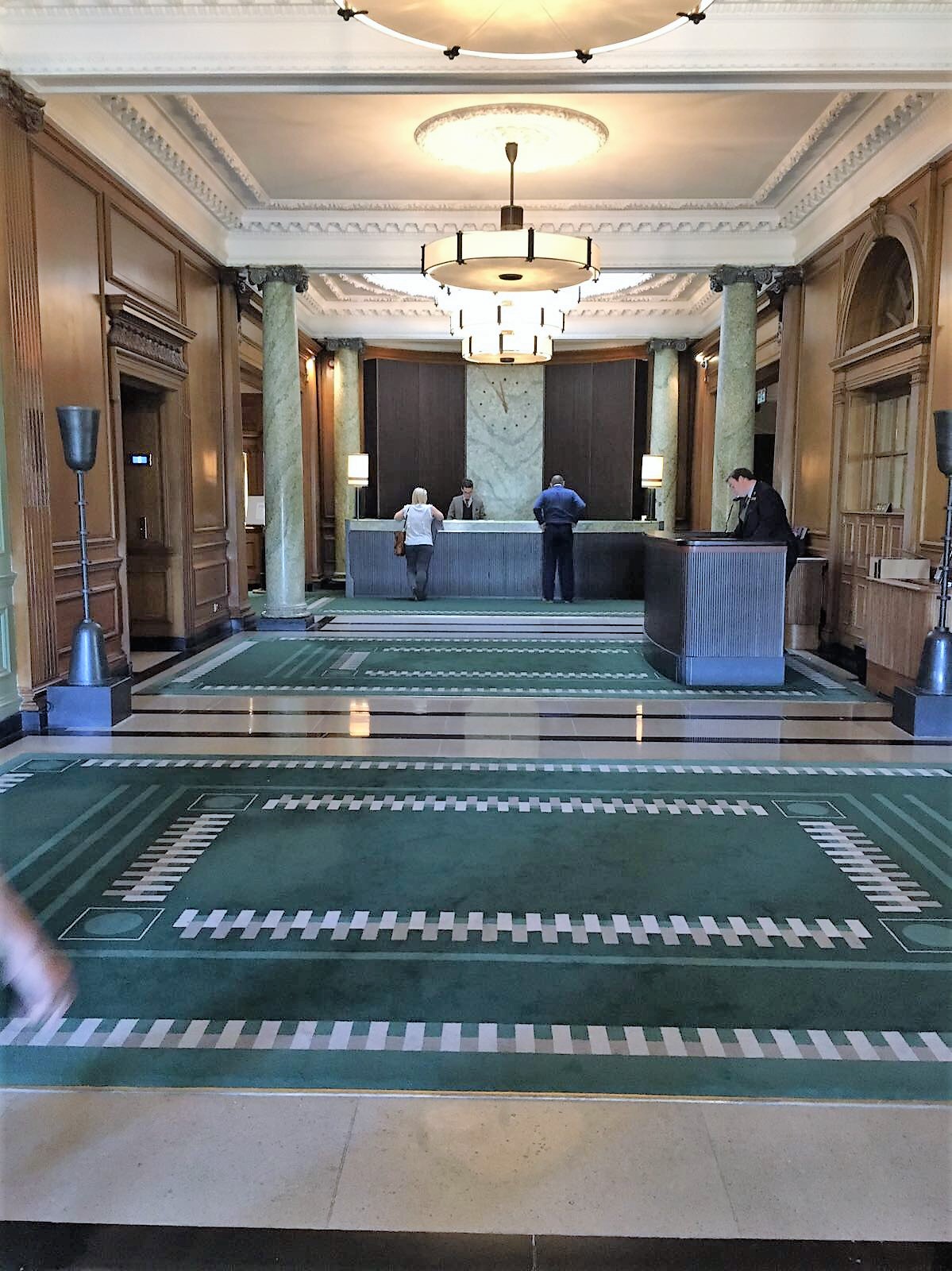 We had a walk around the main building to get our bearings and then decided to go to the Century Bar for a cocktail. The cocktail menu was inventive and we had 4 lovely cocktails (the highlight being the trio of martinis. After about 20 minutes I received the call to say the rooms were now available.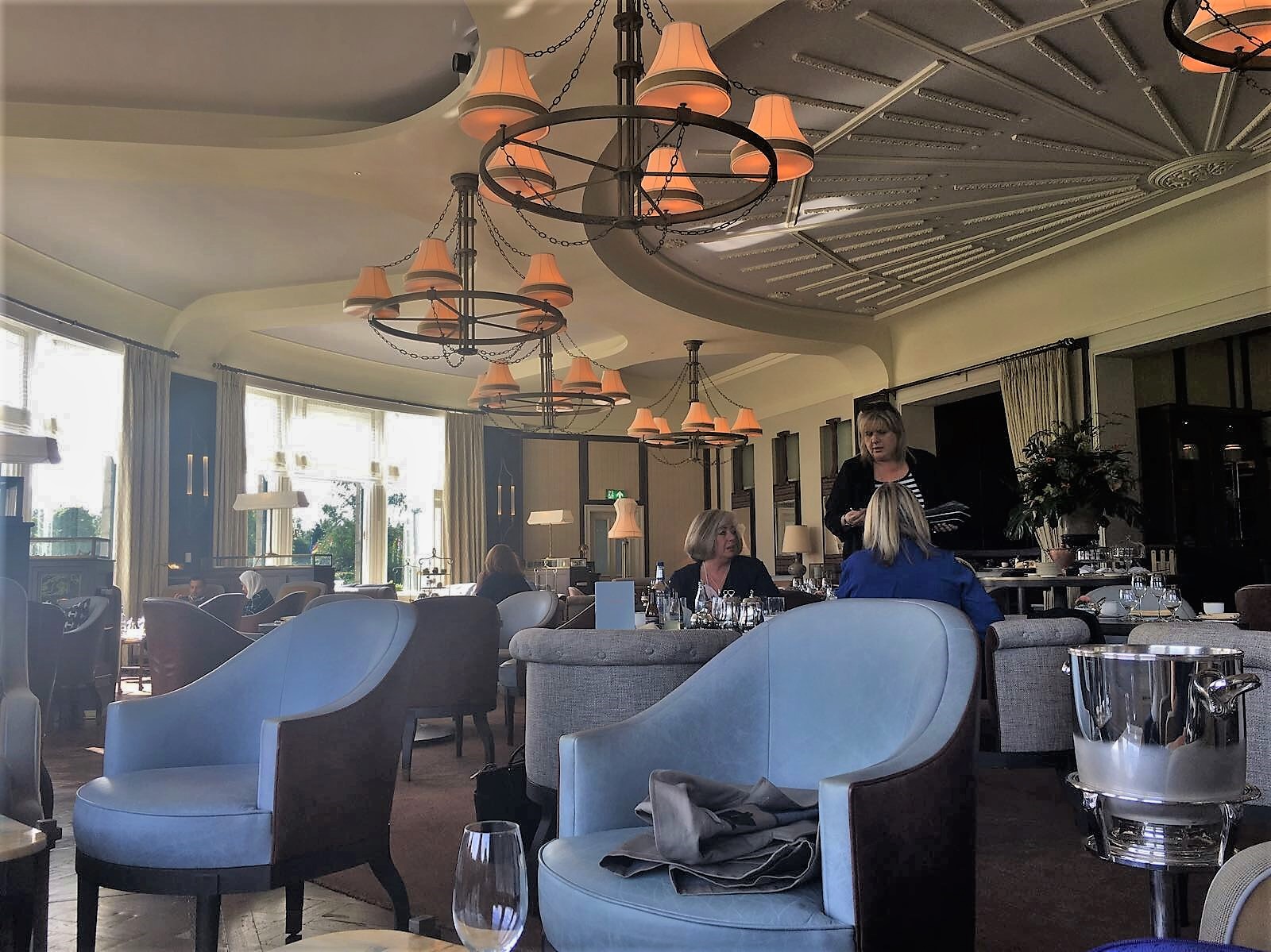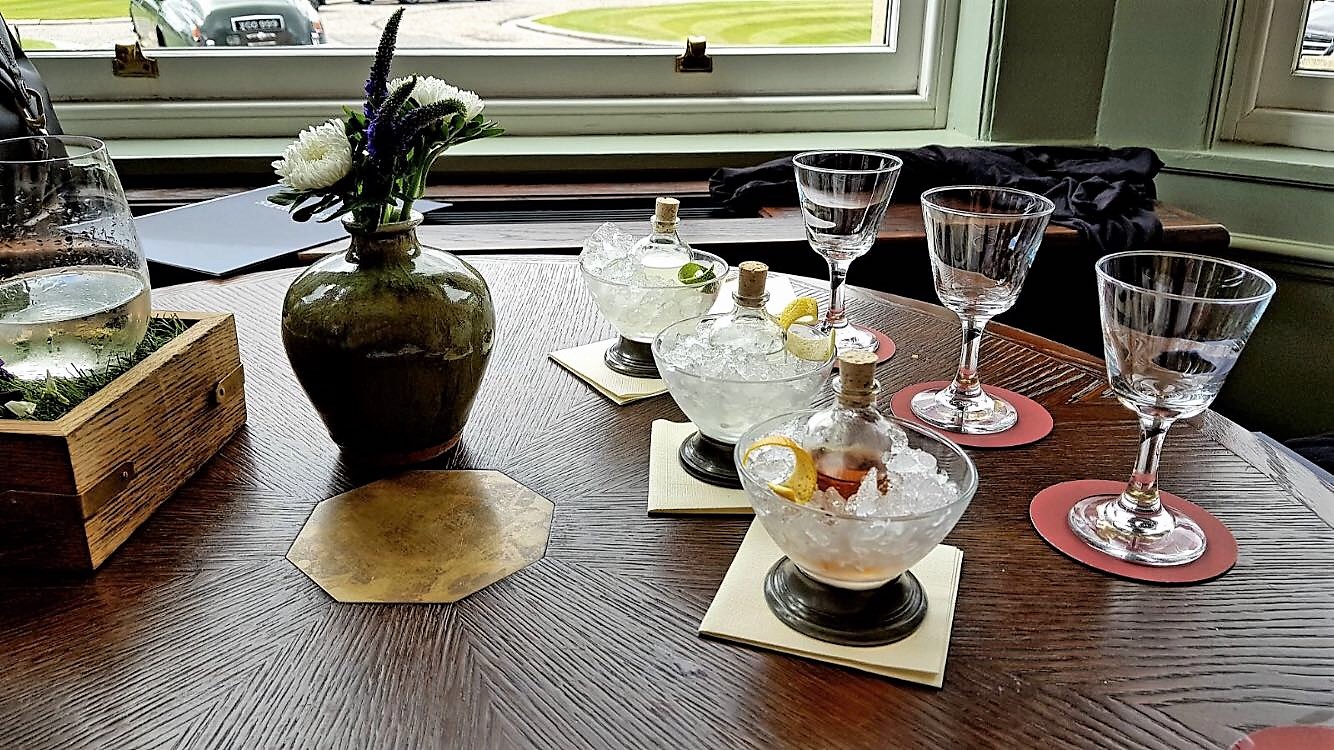 Lunch at The Birnham Brasserie
This is the newest dining area at the hotel. If you think Parisian café, you get the picture. It has a relaxed and informal atmosphere. We decided to sit at the marble bar. To eat we had:
A lovely Cos BLT salad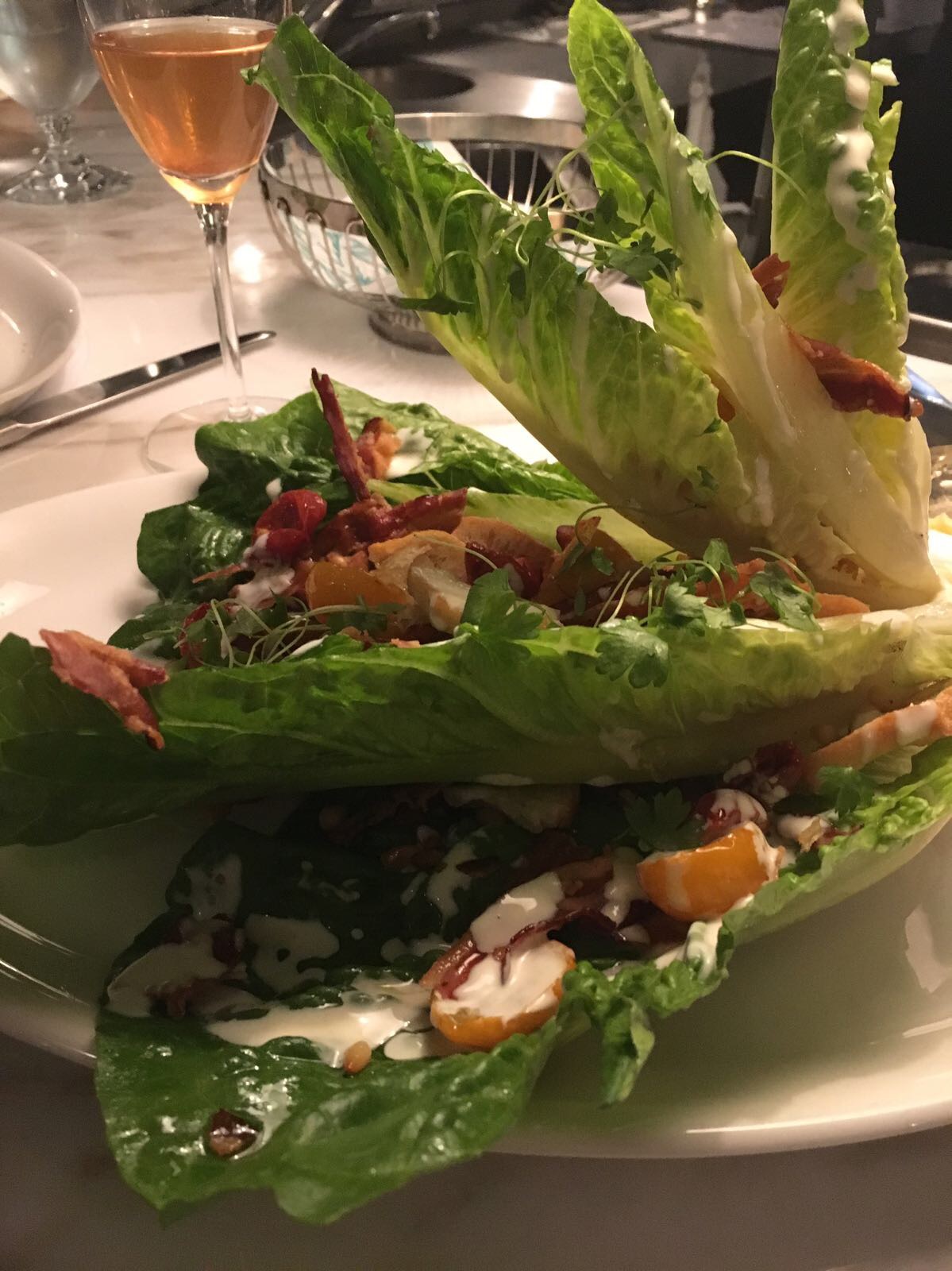 Shrimp Linguine Arrabbiata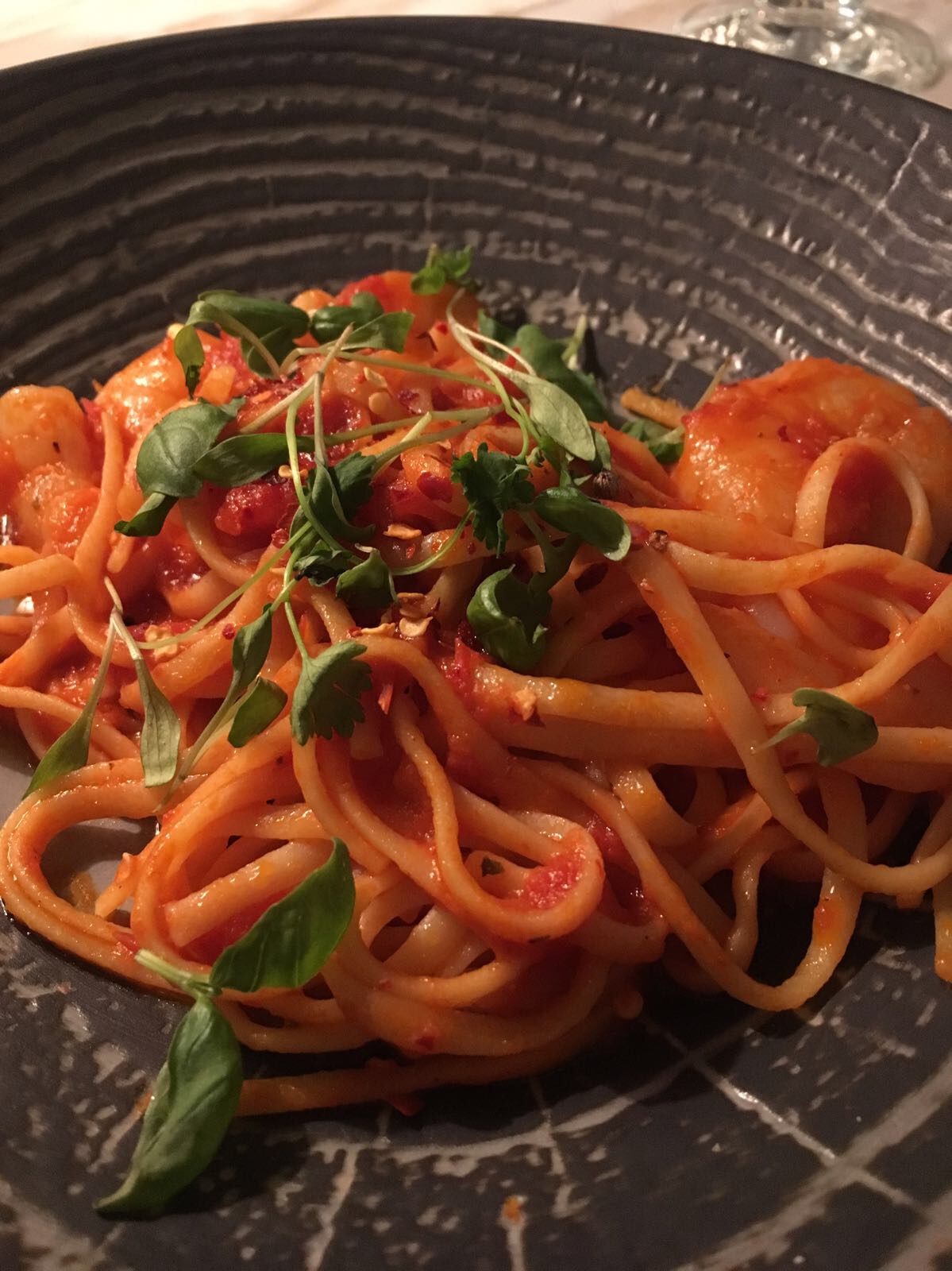 Cajun Blackened Snapper, Cotton Onions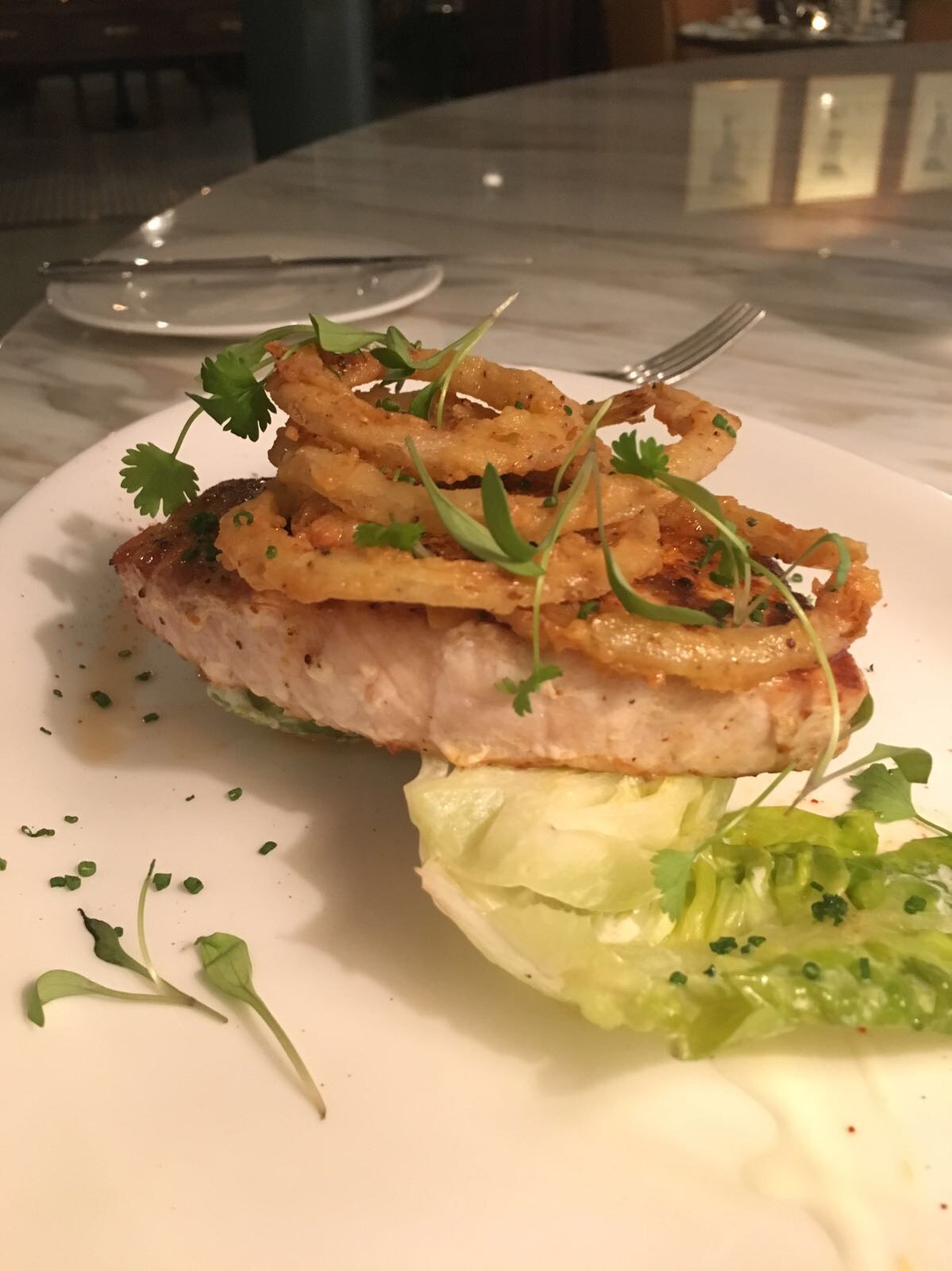 I thought this was great value for money.
Spa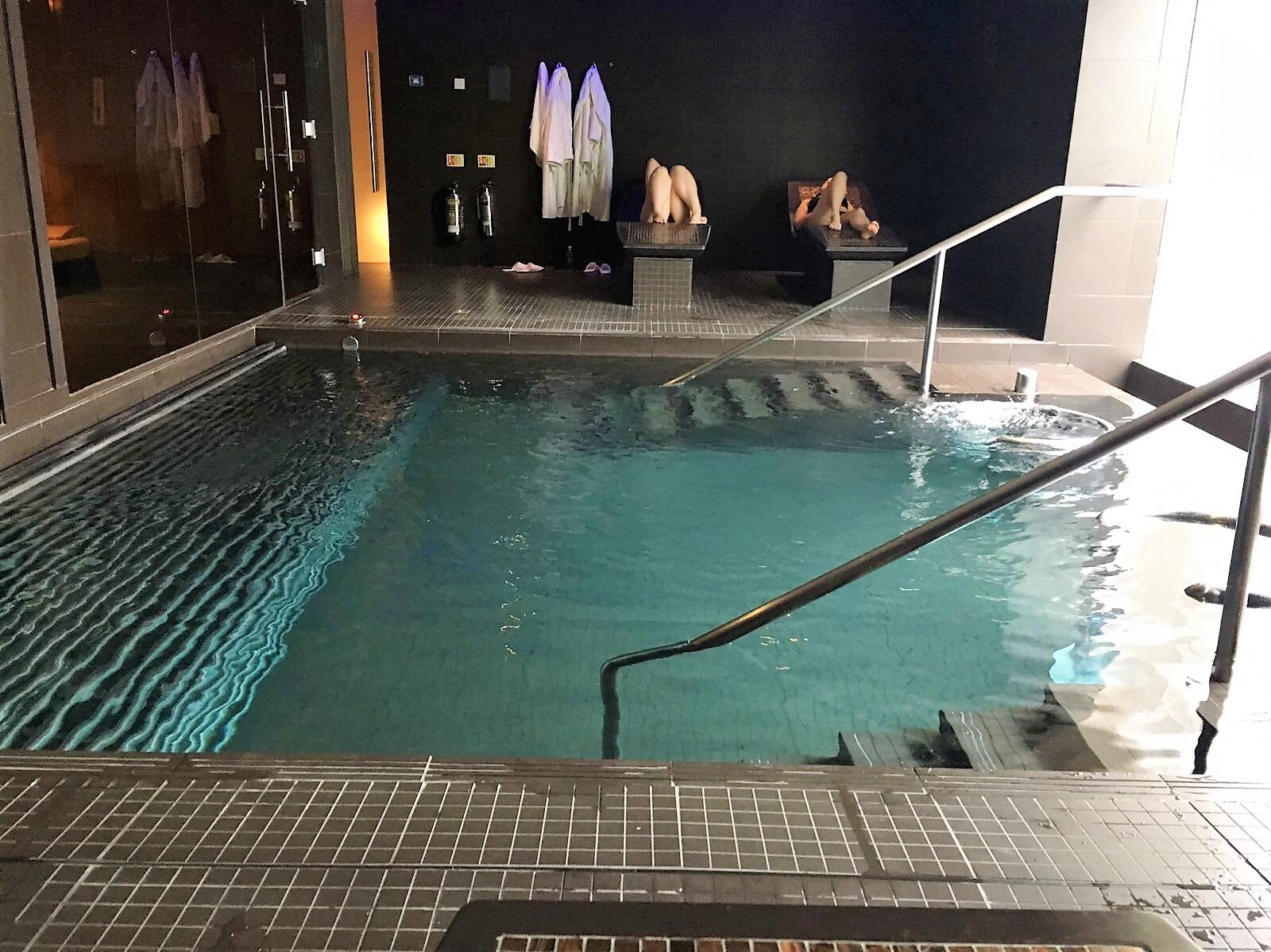 We spent the afternoon in the spa area which was fabulous. We had reserved our treatments a week before (managing to get all 4 at the same time which is rare in a spa these days) and they were all superb.
The facilities are beautiful and included male and female relaxation rooms (with hot teas, infused waters and snacks (granola squares, chocolate covered raisins and fruit), saunas, hot stone beds, steam and experience showers. There was a shared thalassotherapy pool. Everything looked brand new (even though the spa is now 10 years old). We have enjoyed many Espa treatments over the years and these were amongst the best.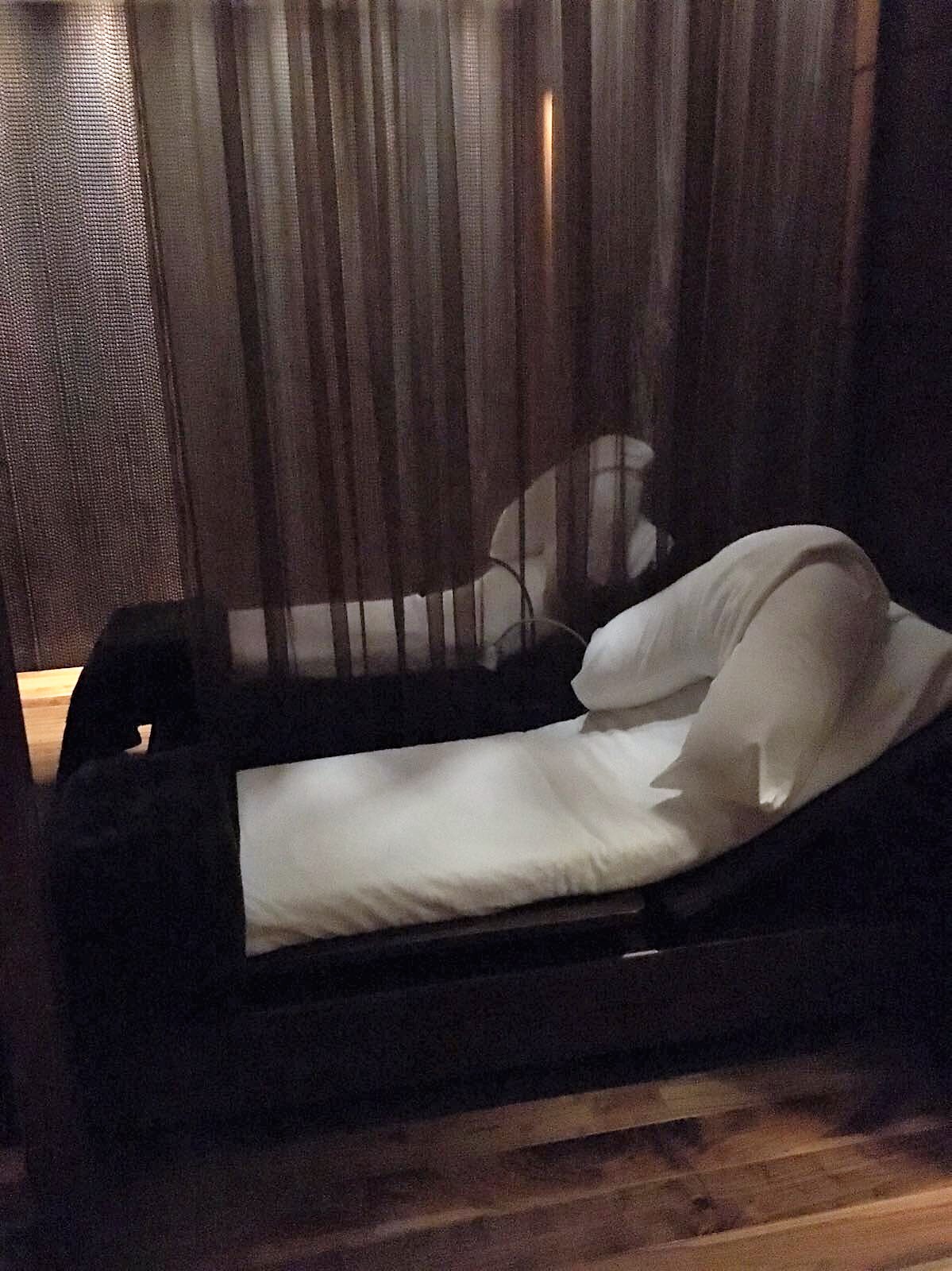 Again the staff here were excellent. Common throughout the hotel was the friendliness and 'nothing is too much trouble' attitude of every staff member we encountered.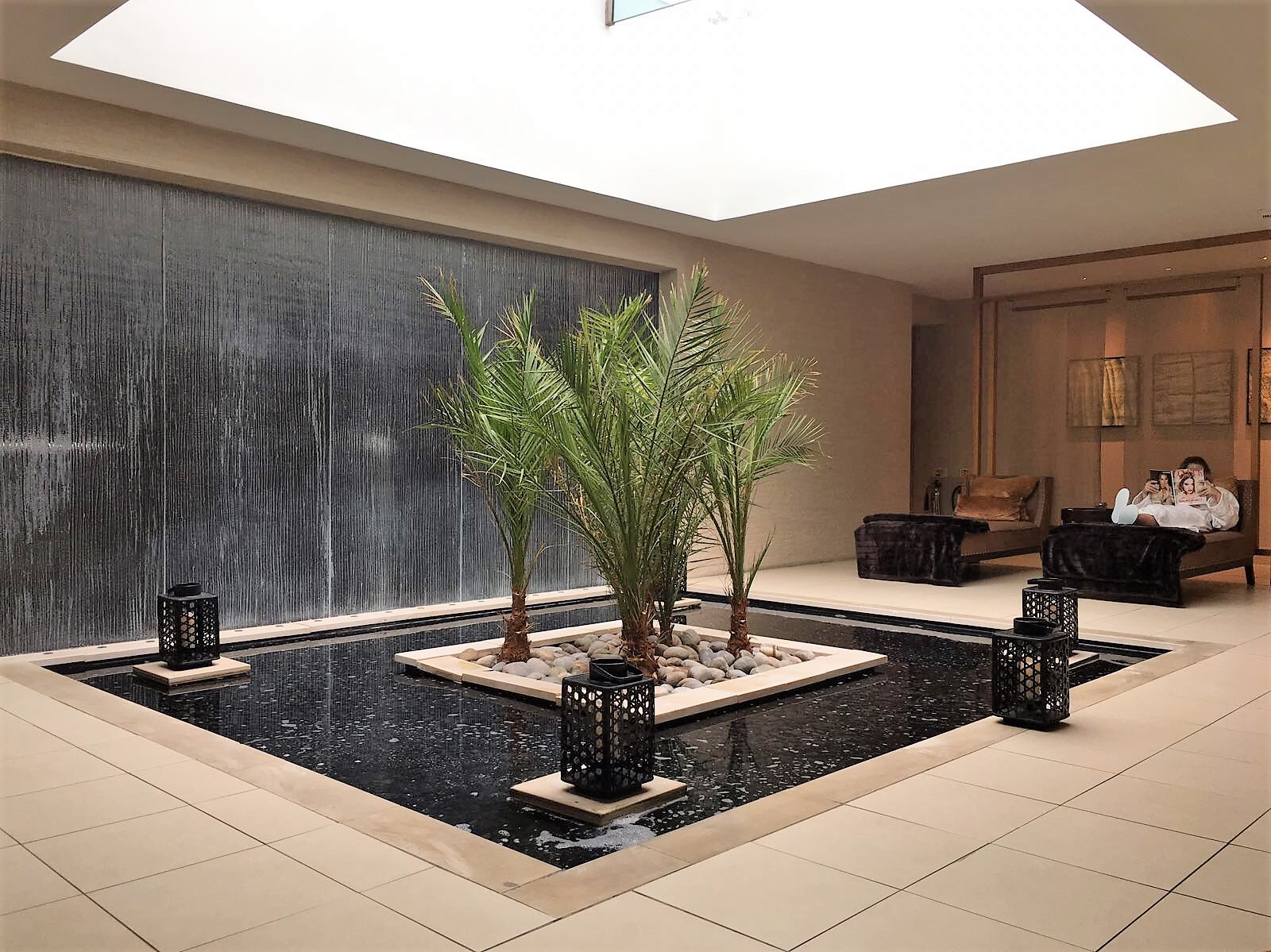 Dinner at The Strathearn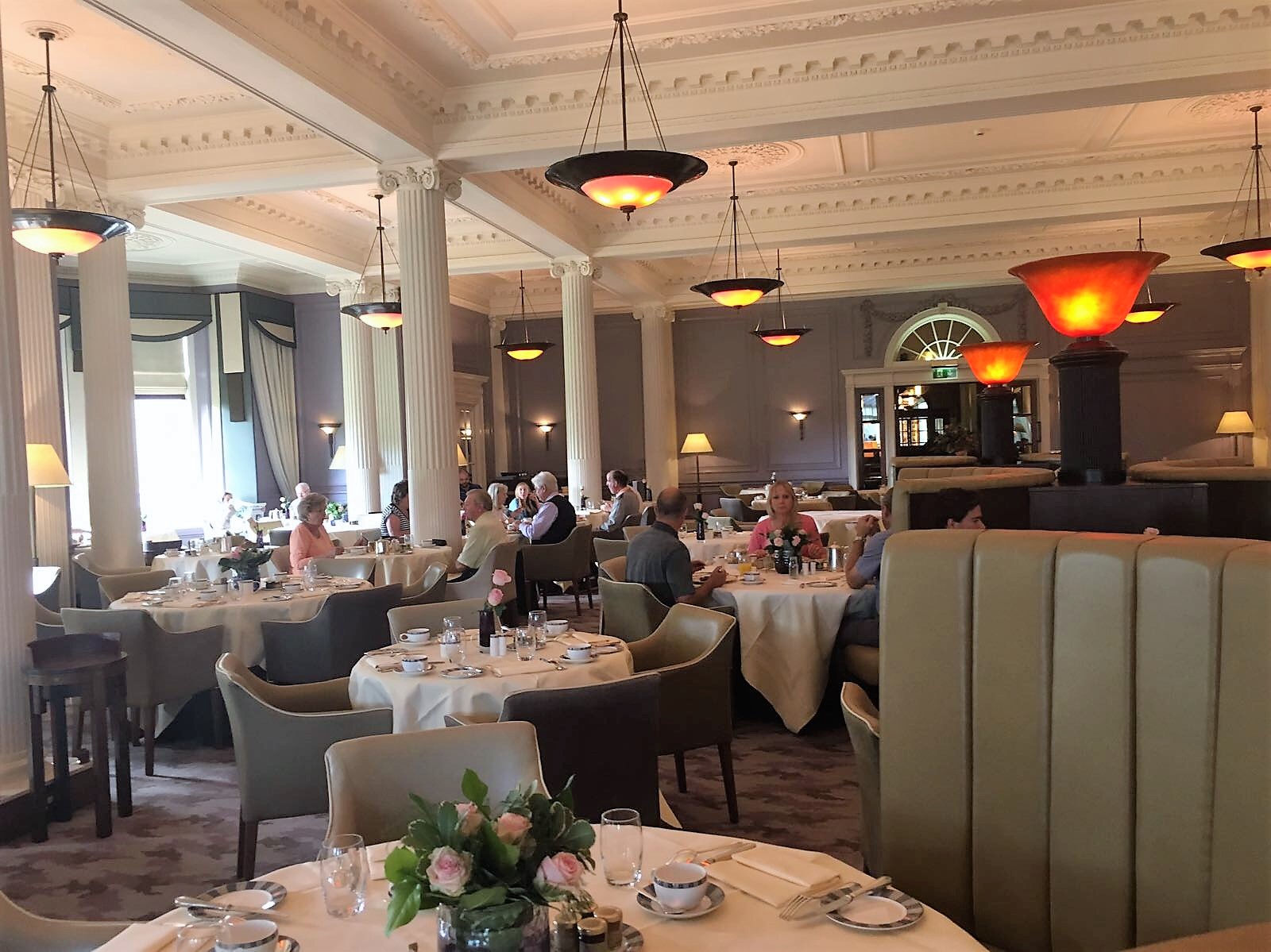 This is a very large restaurant with lovely views across the grounds. The restaurant had an 'old school' fine dining feel to it with starched table clothes and aproned waiting staff. The restaurant was bustling. Again all the staff were lovely. We were served by lots of people throughout the evening, mainly young, from all over the world. Dinner service was just right. We were really impressed by the quality of the food (3 courses were £65) and thought it was great value.
Langoustine Bisque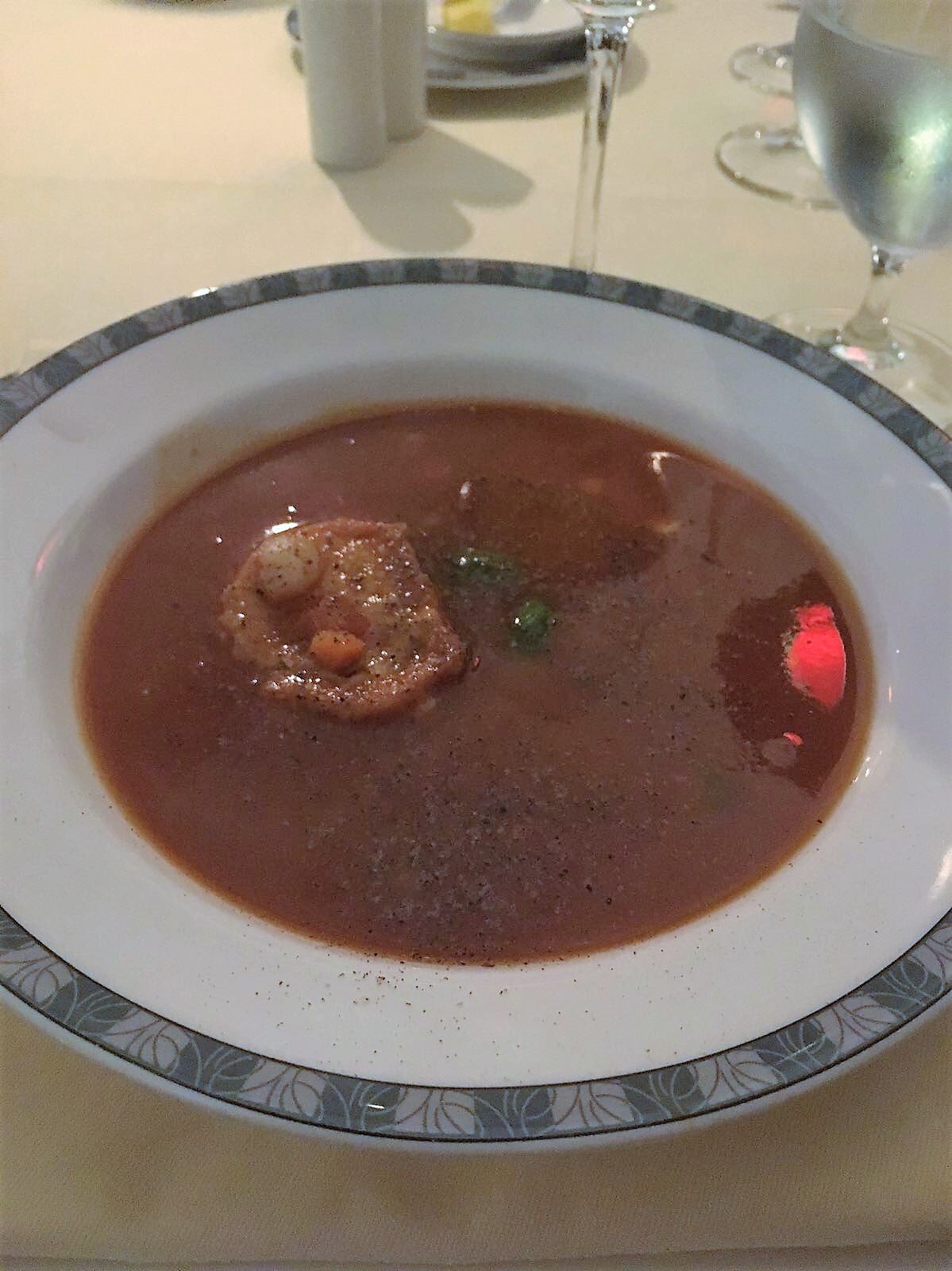 Crowdie Pannacotta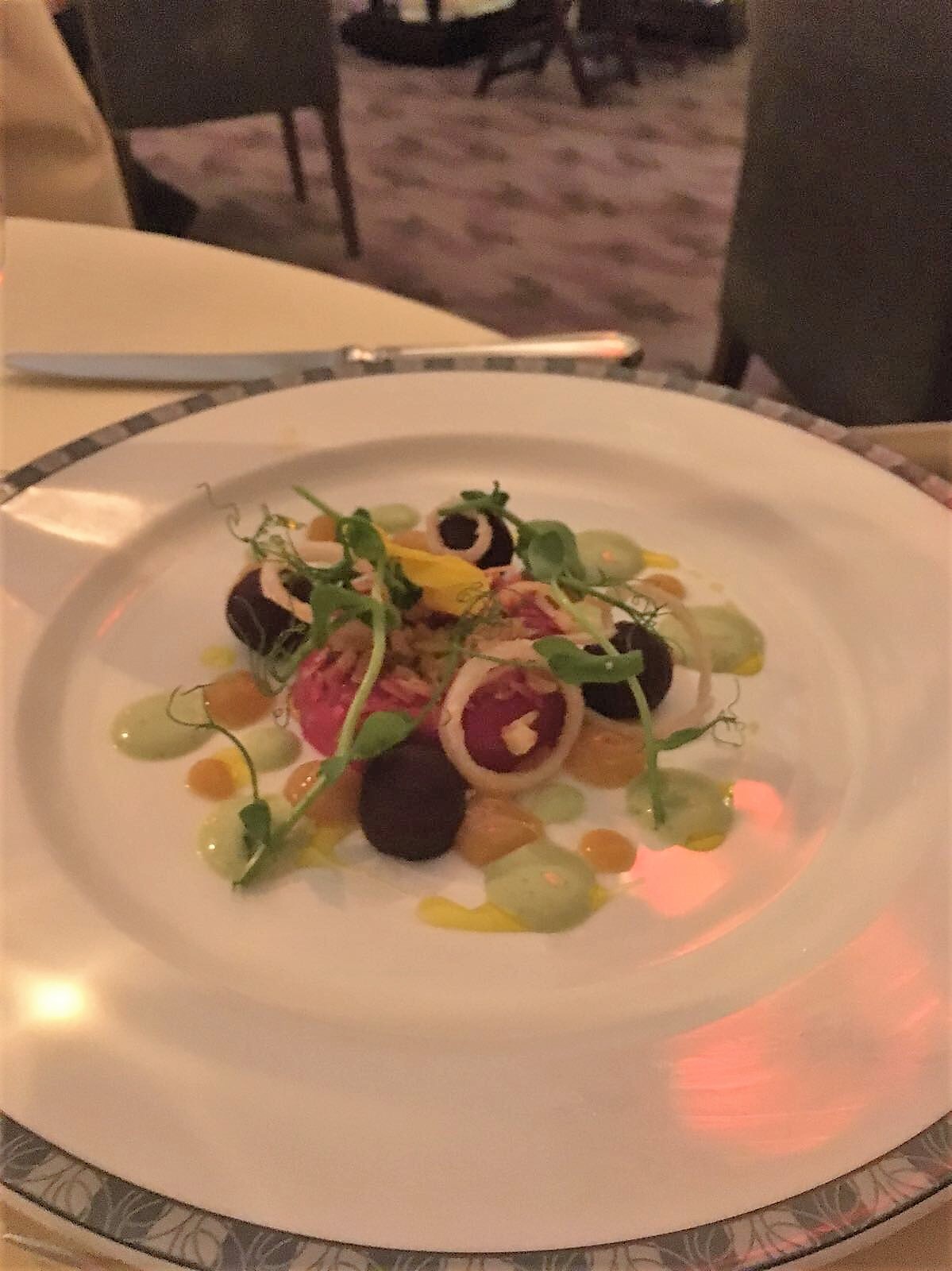 Prime Fillet of Scotch beef Rossini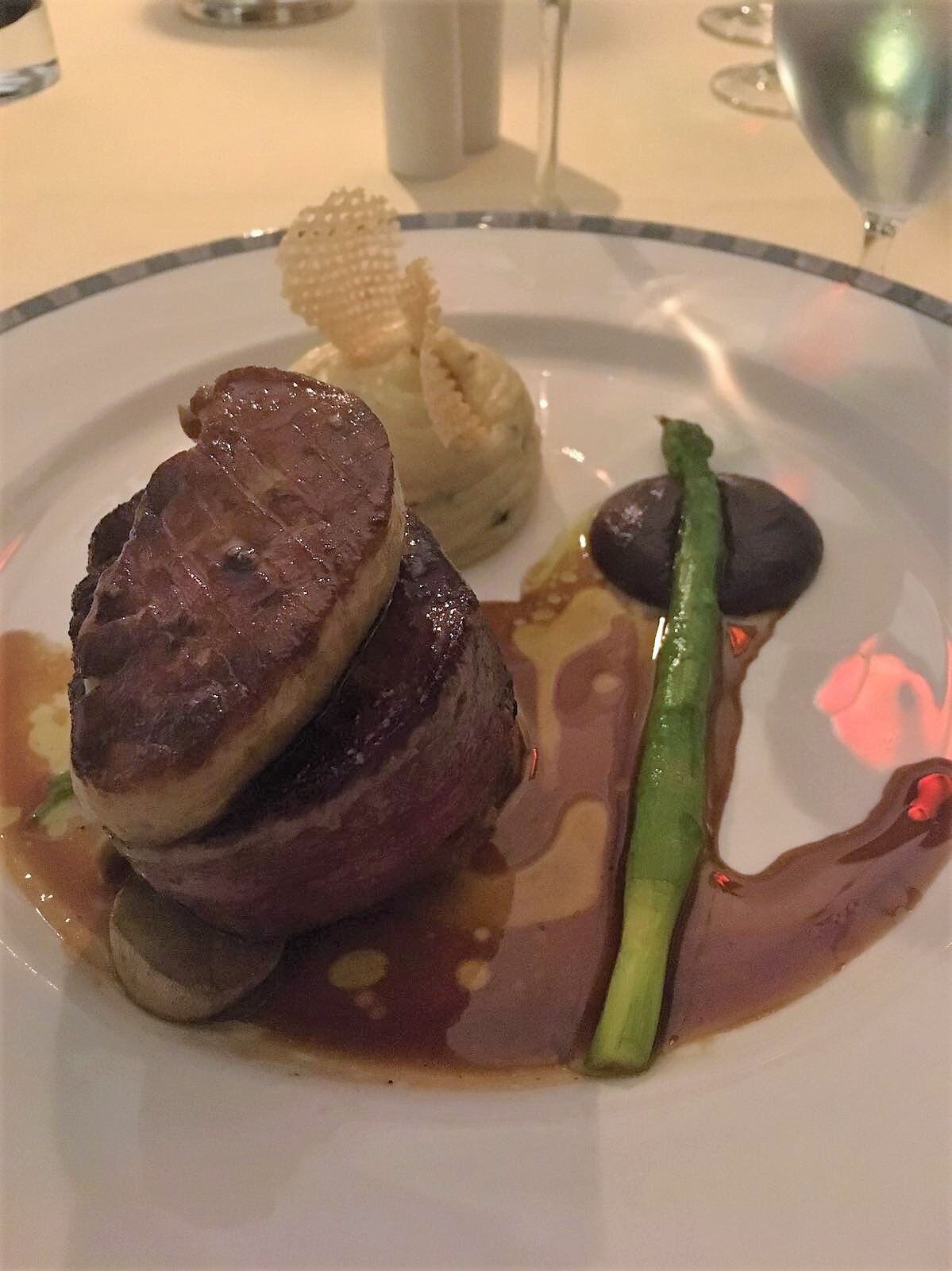 Stone Bass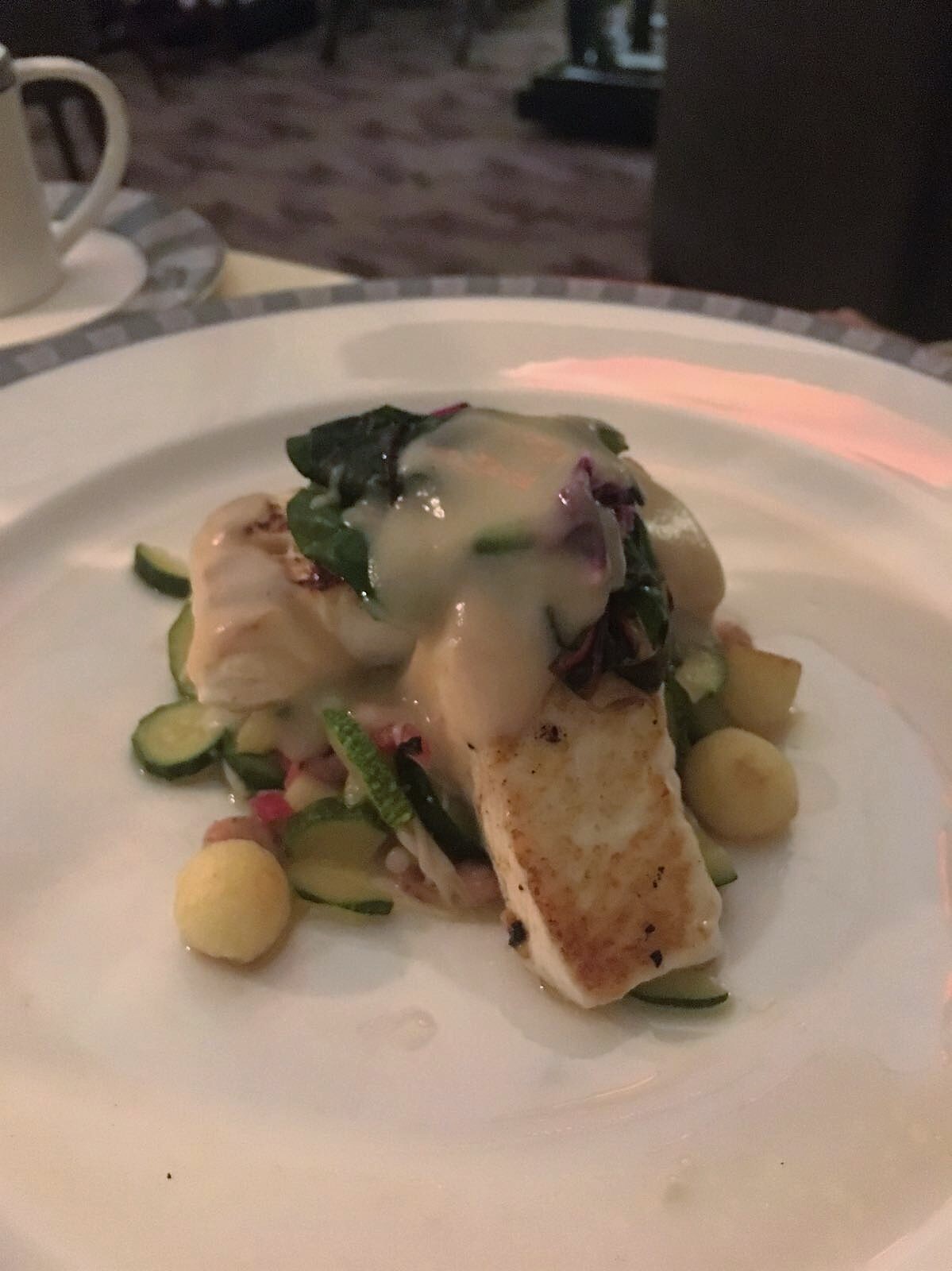 The American Bar (or Not)
After dinner, we went for a stroll around the garden before heading to the American Bar for a Digestif (or 2!) The entrance is very grand and reminded me of our trip on the Orient Express in May. The host was resplendent in a white tux.
Unfortunately for me, my shoes did not meet the dress code! Perhaps I had been lulled into a casual frame of mind by how relaxed I now was given an afternoon of cocktails, fizz, 2 hours in the Spa and a lovely dinner. I was wearing dark blue deck shoes with white soles, though I did have a jacket on as befitted the Strathearn. I was informed that "we do not permit white soled shoes of any description" which of course made my entourage howl with laughter! It was the first time I have been refused entry anywhere and whilst initially horrified, it now is a funny memory which I will treasure. I have to say, the way it was handled by the host was really impressive.
I insisted the others went in (for review purposes only of course) and I headed upstairs defeated. They had a great time at the bar (and reported that it was so dark that my shoes would never have been seen). Also, they were the only 3 people in the bar that evening!
Interestingly the dress code for the American Bar reads "informal clothing of any kind – including ripped denim, trainers, baseball caps, non-collared t-shirts and shorts – would be inappropriate". I will let you decide whether I met it or not. Still, it is a great excuse to go back (and have that dinner at Andrew Fairlie).
You can read what happened on his next visit to the bar in part 2 here.
Room
Our double room looked over the main entrance. It was absolutely lovely. We had a large bay window. The halls and the rooms looked freshly refurbished in shades of grey and the bed was a delight. They had Apsley Purple Water toiletries. We enjoyed a lovely nights sleep here and it was big enough to spend time in and not feel imprisoned.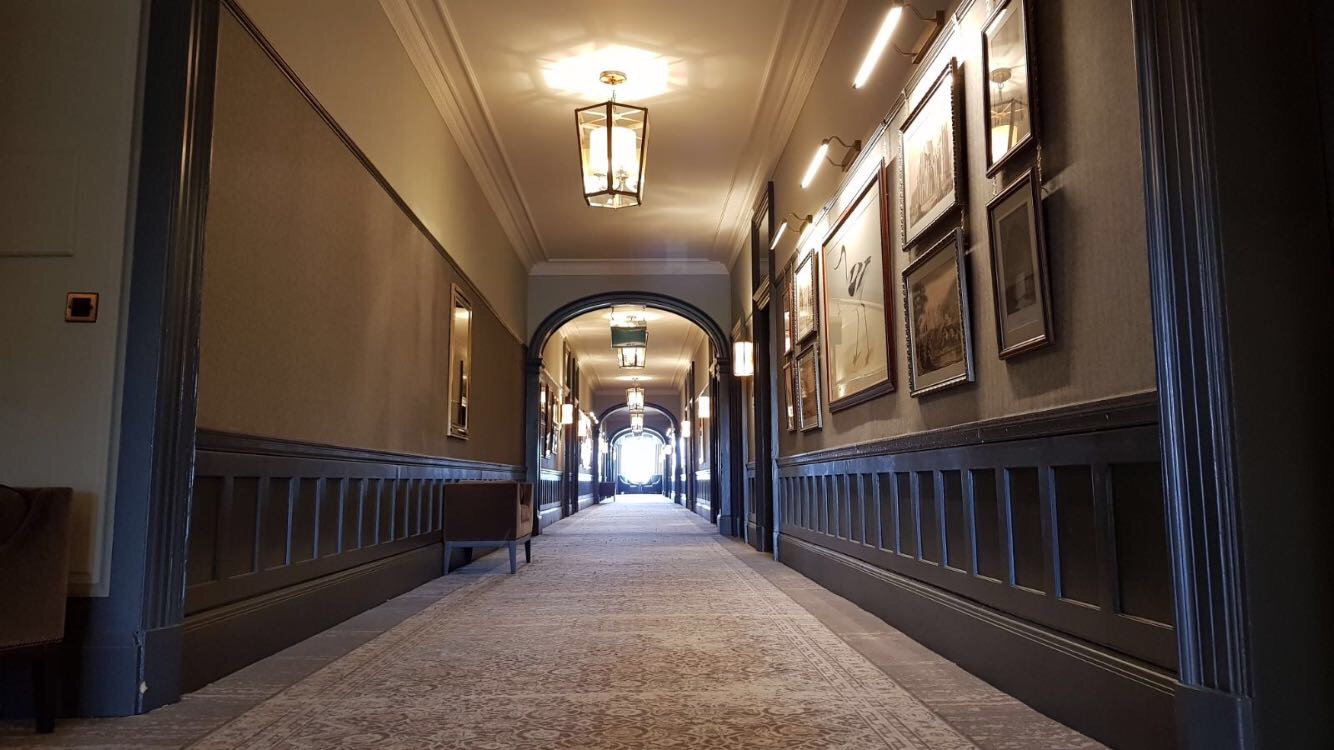 The twin room was slightly smaller but decorated similarly.
Breakfast
Having eaten my fair share of 'lovely' breakfasts all over the world, I was hoping that Colin's promise would be fulfilled. He wasn't wrong. The choice was astounding. Served in the Strathearn there was a choice of buffet and à la carte (£35pp). The buffet was superb. Lots of fresh fruits, 3 types of salmon, vast patisserie, hot items (all Scottish fare), omelette station, Bellini and Bloody Mary Bar. The quality was so fantastic that I would recommend driving from Glasgow or Edinburgh just to have breakfast. Colin kept his promise; this may be the best breakfast I have ever had ANYWHERE!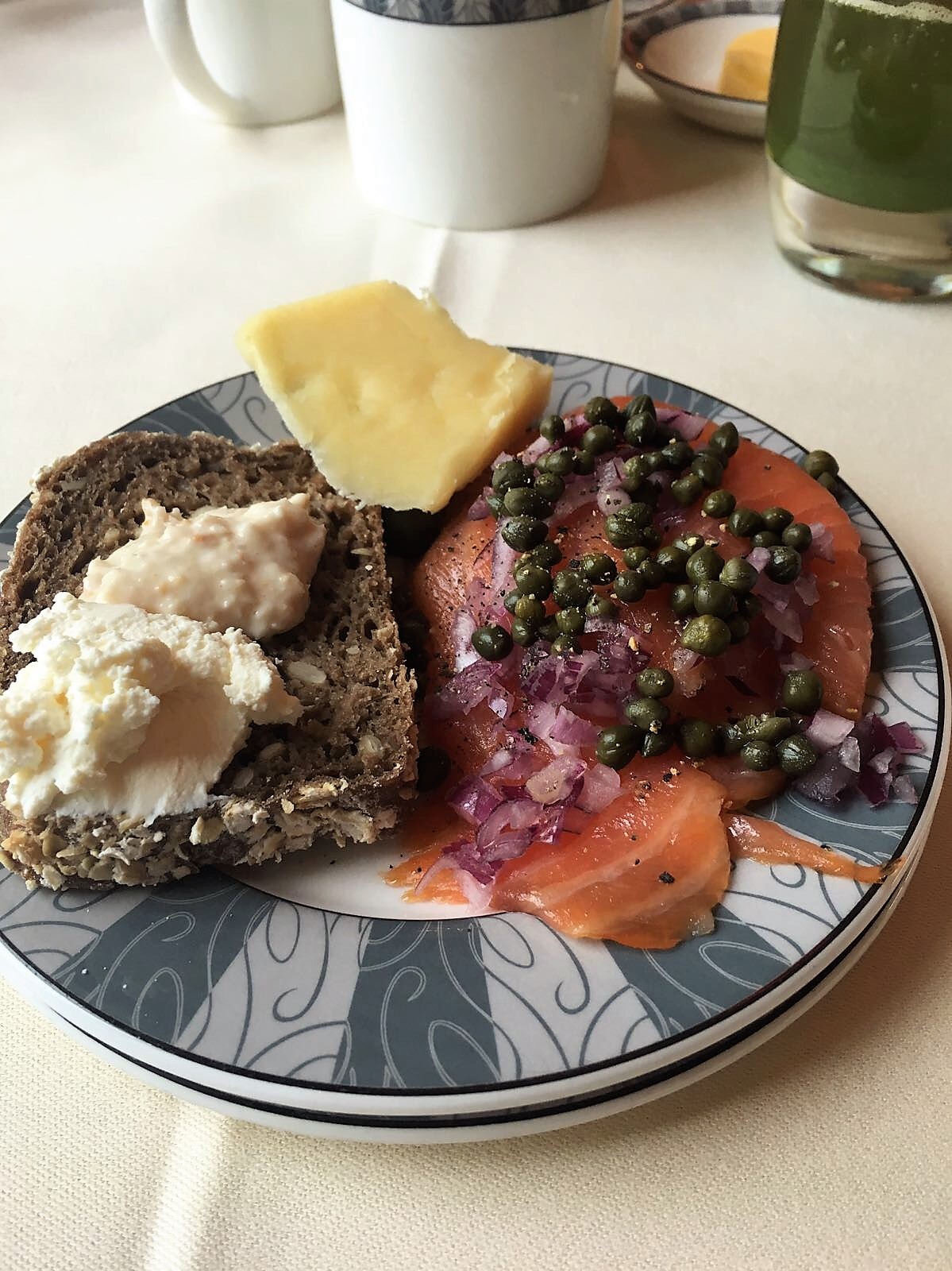 The Glorious Playground
There are tons of activities (with a price) to enjoy here. Clearly, the hotel is a draw for golfers. The swimming complex is also very smart (2 inside pools and an outside area), riding, gun dogs, the gardens and extensive grounds. We managed to fit in a walk round the golf course which was very invigorating.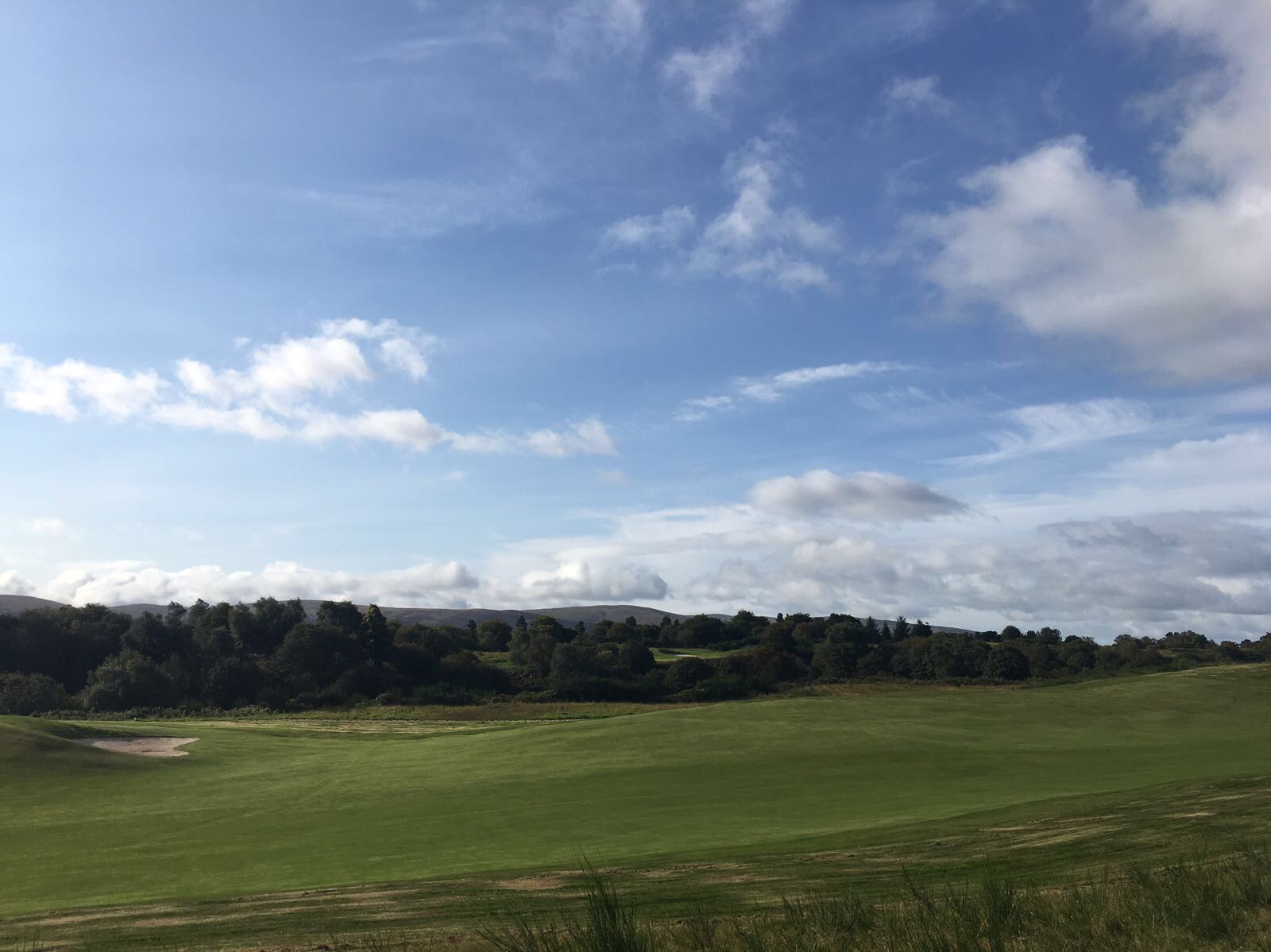 Conclusion and current offers
This is a lovely hotel. The grounds are breathtaking and the facilities top notch. It is an old building which is well cared for but more than anything it is the staff that make this place as special as it is. Everyone without question was a delight.
There are offers currently from 20% off or more when you stay a minimum of three nights. For more information and offers, visit Luxury Scotland or Gleneagles websites. The hotel plans to reopen on 15 July 2020.
If you would like to find out about his second more recent visit when he took the train instead of flying, you can read it here.