Today's review comes from Roving Reporter who recently headed for a short break to Madrid to celebrate a friend's birthday. if you haven't been to Madrid I highly recommend it for a short break, I would say it is probably my favourite Spanish city. It is less touristy than Barcelona but has fantastic restaurants and bars, great nightlife and plenty to see and do. Iberia currently have BA Club Europe for £319 if you fancied a break or you could see if BA holidays would be cheaper.
Location
The Gran Melia is on a quiet side street behind the Teatro Real Opera House and moments from the Royal Palace. It has an excellent central location. Whilst the entrance is subdued and understated and only marked by some flags above the door, once inside it is a revelation.
The hotel is housed in a former 19th century palace and a member of the "The Leading Hotels of The World"
Arrival and check-in

As we arrived we received a friendly welcome from the doorman. The lobby and communal areas were absolutely beautiful. The hotel smells of jasmine and the staff are all immaculate in striking uniforms, think haute couture star fleet command! Also whenever a staff member passes you they touch their chest and it feels like they are saluting you. It really makes you feel quite special.
At check-in we had a lovely welcome and were offered a choice of water or cava. We had booked via BA holidays on a flights + room only offer (B&B was £180 extra for 2 nights!). Fortunately they took my Melia Gold (from the Amex Platinum) details and said that if I paid for breakfast (€35) they would give another one complimentary – result! They also proactively offered a late checkout.
We were given an explanation of the various restaurants and bar then escorted to our Premium category room which had been upgraded from the entry level Classic.
The Room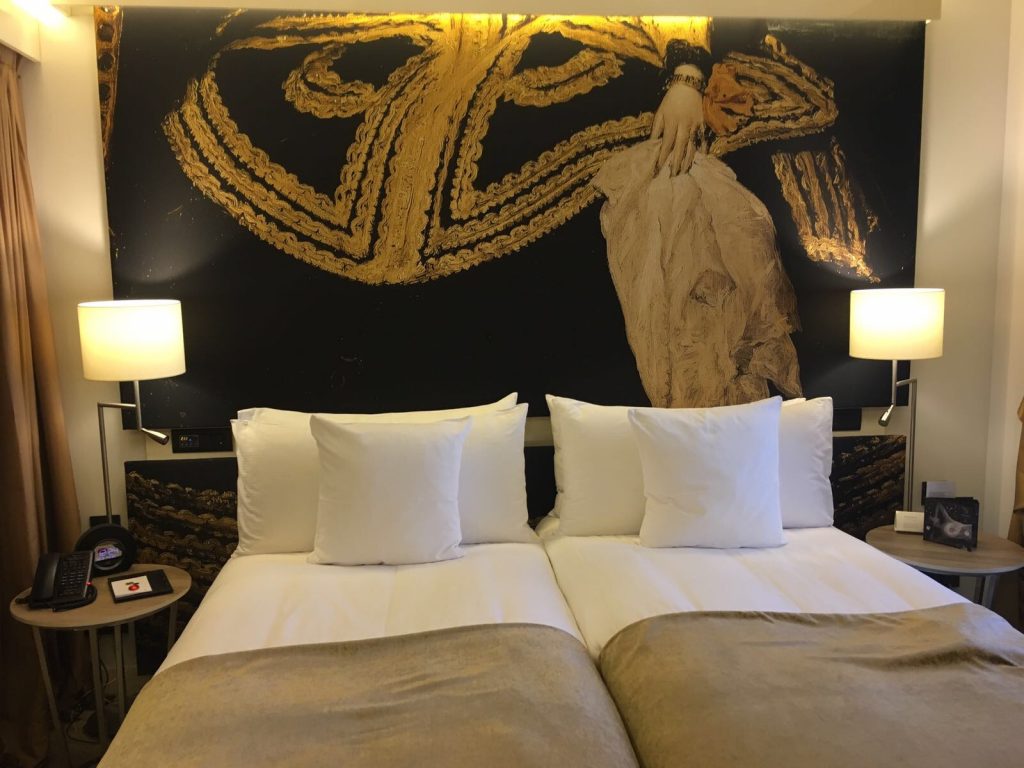 The room was lovely although pretty small, so goodness knows how small the Classic is! We had a room to the rear of the hotel overlooking the terrace at the rear.  Overall the room was very comfortable. We appreciated the very high quality linens and towels. I slept brilliantly in the very comfortable bed.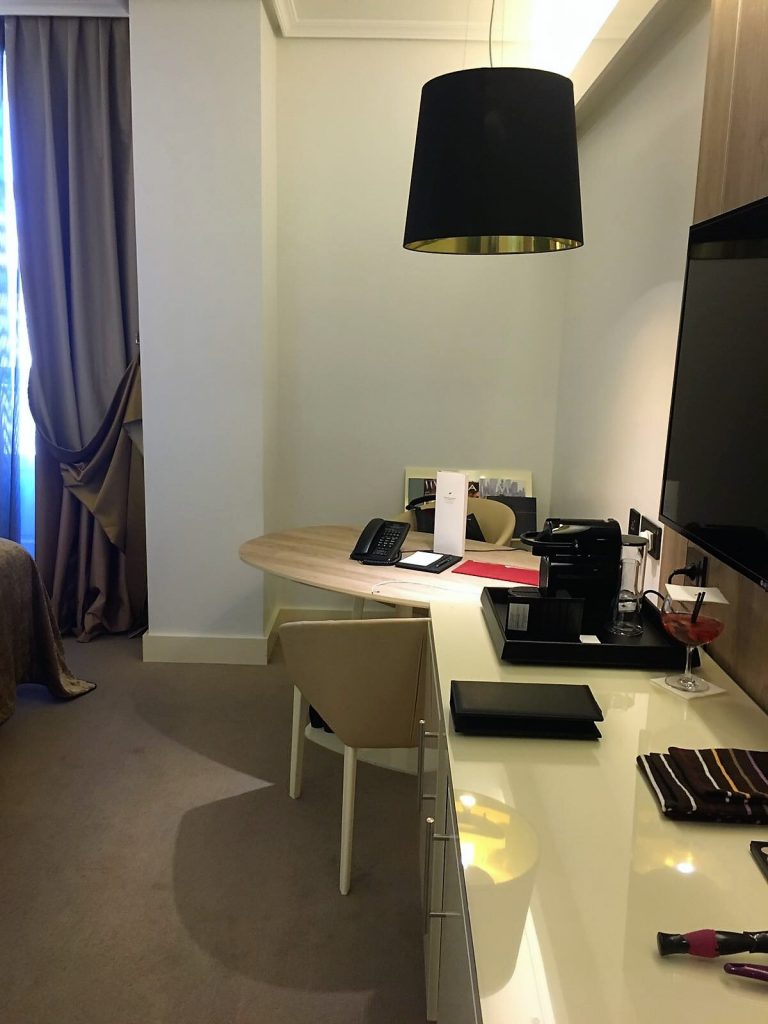 For some reason we didn't get turndown on the first evening but did on the second. This included lovely large bottles of water, chocolates and refreshed amenities etc.

Bathroom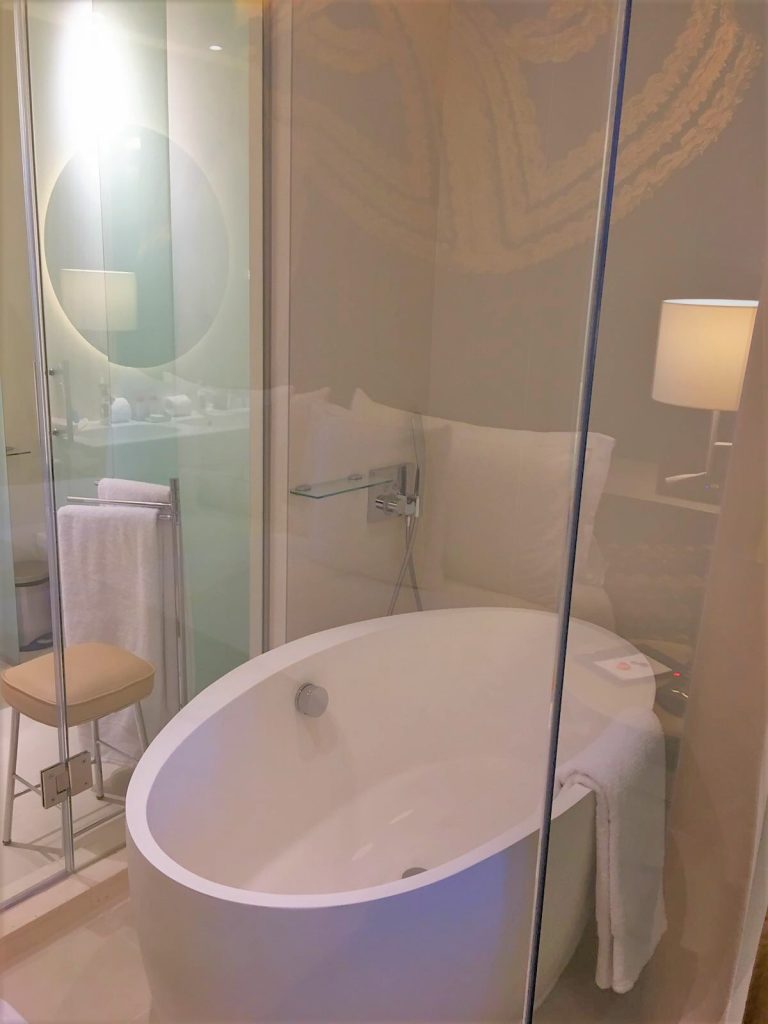 We particularly liked the decent sized Clarins amenities which even included an exfoliating body scrub. The bathroom was a slightly unusual arrangement. The shower was outside the bath but in an enclosed wet room.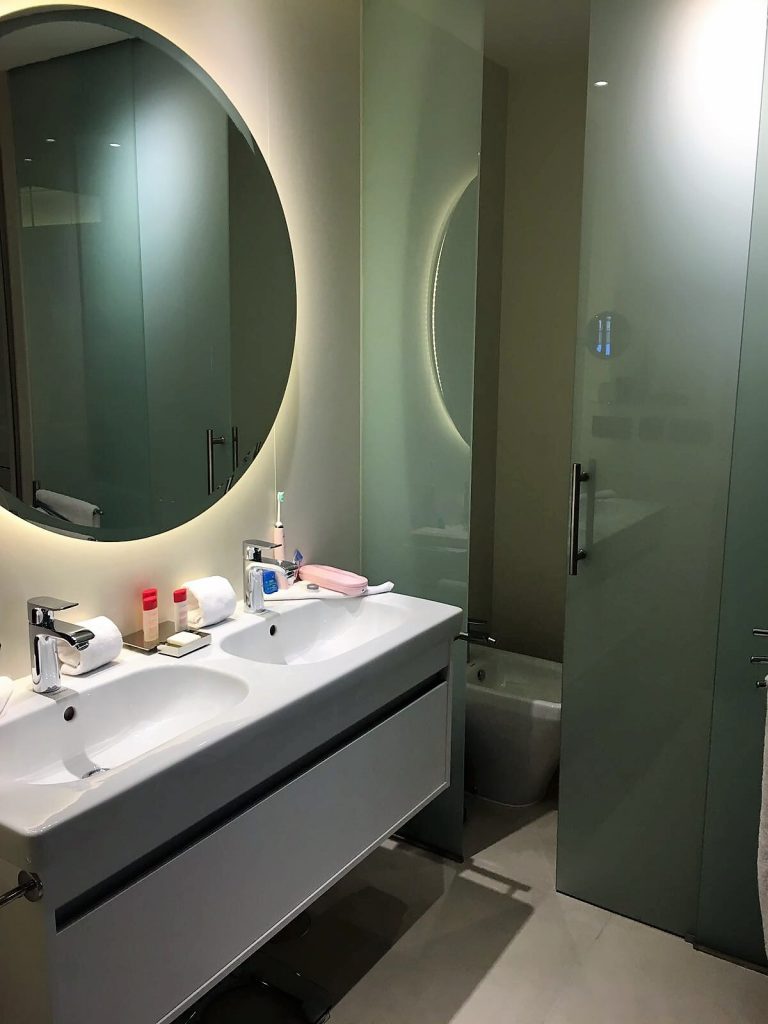 Food and drink
Bar
We had drinks here on both evenings but it was very quiet on the first evening. Initially, I had my usual Espresso Martini and a Strawberry G&T. On the second evening we asked for Grasshoppers which confounded the bar man! He didn't know how to make them but he found a Duty Manager who 'googled' the recipe and made them for us. He even admitted that it was his first time he had made this drink and if it wasn't to our taste we could have something else for free! They were delicious! Cocktails were between €12-14 each.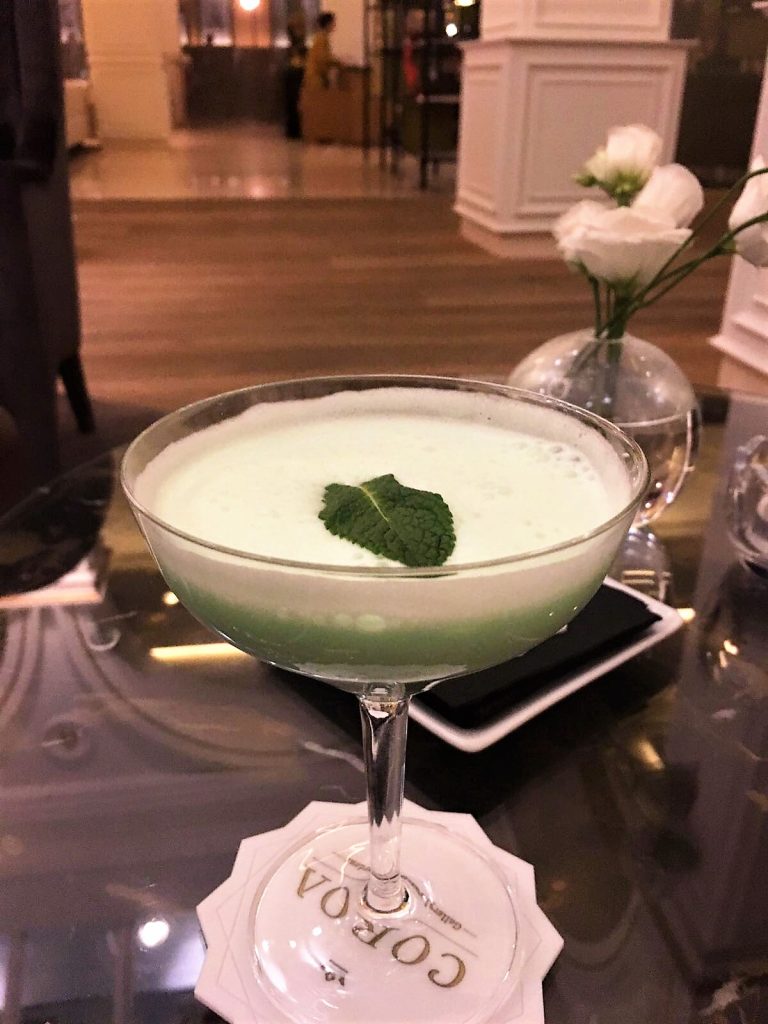 Restaurants
We didn't eat at the fine dining restaurant but it looked lovely.
Cielos restaurant is advised by the Torres brothers, who have one Michelin Star. Located in the area previously occupied by the Palace stables, and with an outdoor area in the historic garden that is open seasonally. The menu is comprised of some of the Torres' brothers most emblematic dishes along with a menu inspired by the area of Madrid of the Austrias.
Breakfast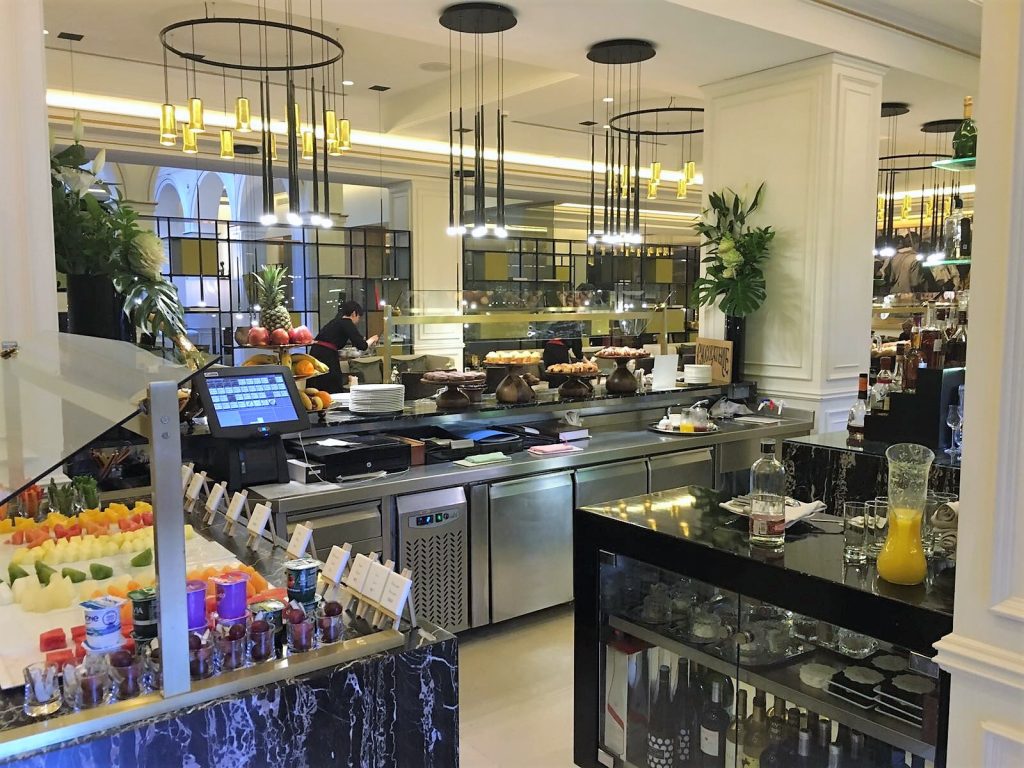 We had a lovely greeting  as we arrived for breakfast. This was typical for the hotel as we found that the staff were super friendly and unusually good looking – they could have all been models on the side!. We were shown around the extensive buffet. This had a large gluten free section, cut fruit, chocolate patisserie, regular pastries, lots of breads, the 'salty' section (savoury delights), Spanish hams/cheeses, and typical cooked breakfast items.
In addition there was a small a la carte section with eggs, omelettes etc and a great selection of energising or detoxing juices and smoothies. Cava was also available though we didn't partake unusually. The staff remembered and used our name throughout breakfast which was impressive.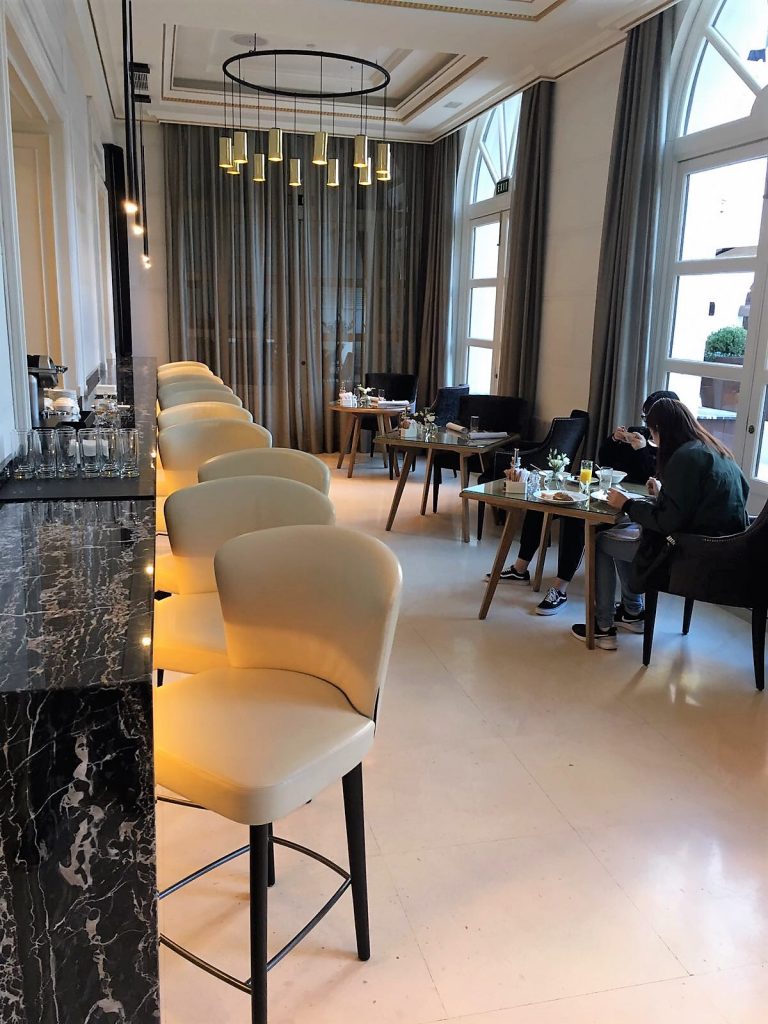 Facilities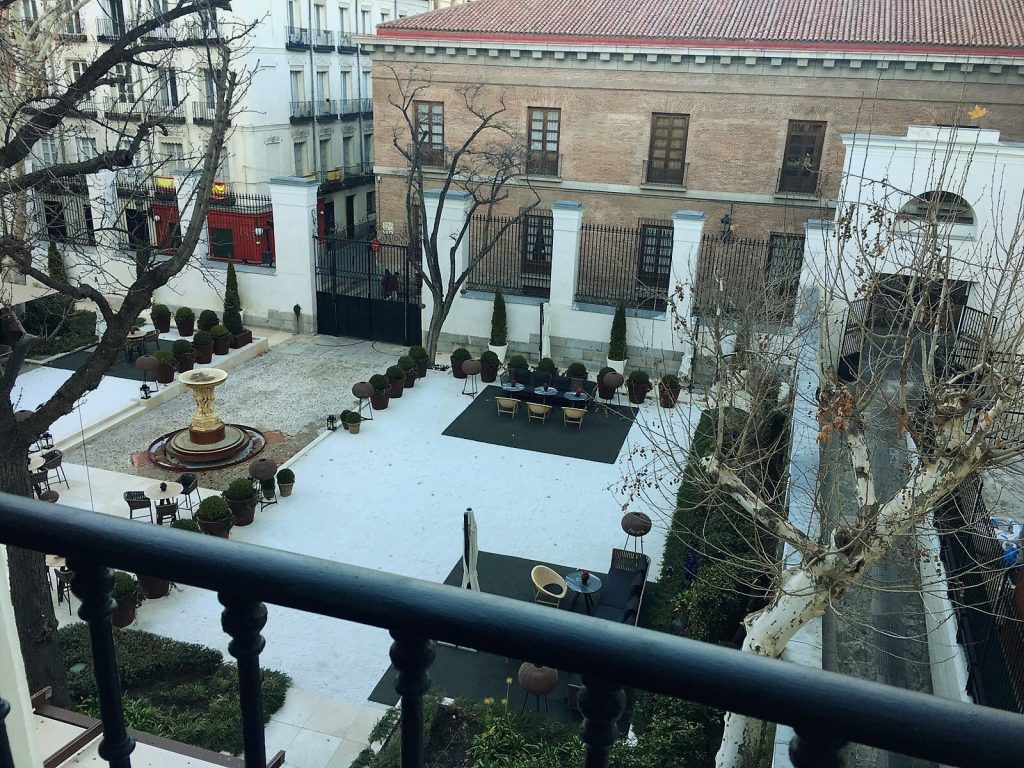 We visited in February so the Seasonal pool and whirlpool were not yet open. These would be lovely in the summer as they are on the top floor overlooking the Royal Palace, the Almudena Cathedral with a solarium and cocktail bar.
There is also a Spa – the Thai Room Wellness center offering all kinds of massages and treatments. As well as the pool there is a 24 hour Fitness Center.
Conclusion and pricing
This is a beautiful hotel in a great central location in Madrid. The staff have been trained highly in customer service and certainly looked the part. Although the rooms are on the small side they are well equipped, comfortable and quiet. I would highly recommend the hotel for luxury stay in Madrid.
We paid £1308 for 2 people for 2 nights through BA Holidays which included CLub Europe Flights (B777 out and B788 back) from Heathrow. You can read the review of the B787-8 Club Europe with First seats here.
You can also find more details on the hotel via Melia hotels.