In the second of the tier point breaks series I will look at my recent visit to Catania – is there enough to see and do for a visit to Catania itself or is it better to visit a nearby destination? Remember you can read my guide to tier point runs and the destinations with high tier points here.
The deal and tier points
I bought my Catania flight in the last BA sale for around £210 in Club Europe. This is an excellent deal for a 3 hour flight that gives 160 tier points return. Currently, prices start from £288 return with flights only operating for the summer schedule.
A BA holiday package may be a better deal. Prices start from £322 including 3 nights in a budget hotel. There is still an offer on but you would have to have a big group or be staying more than a few days to spend enough to qualify for the flight + hotel discount. The flight + car deal may be more achievable. You need to book before 1 May for the discount. The booking page is here.
The minimum spend and discounts are:
Flight + hotel
£2500 per booking can save £100 per booking
£1250 per booking can save £50 per booking
Flight + car
£2500 per booking can save £100 per booking
£1250 per booking can save £50 per booking
£600 per booking save £25 per booking
Where to stay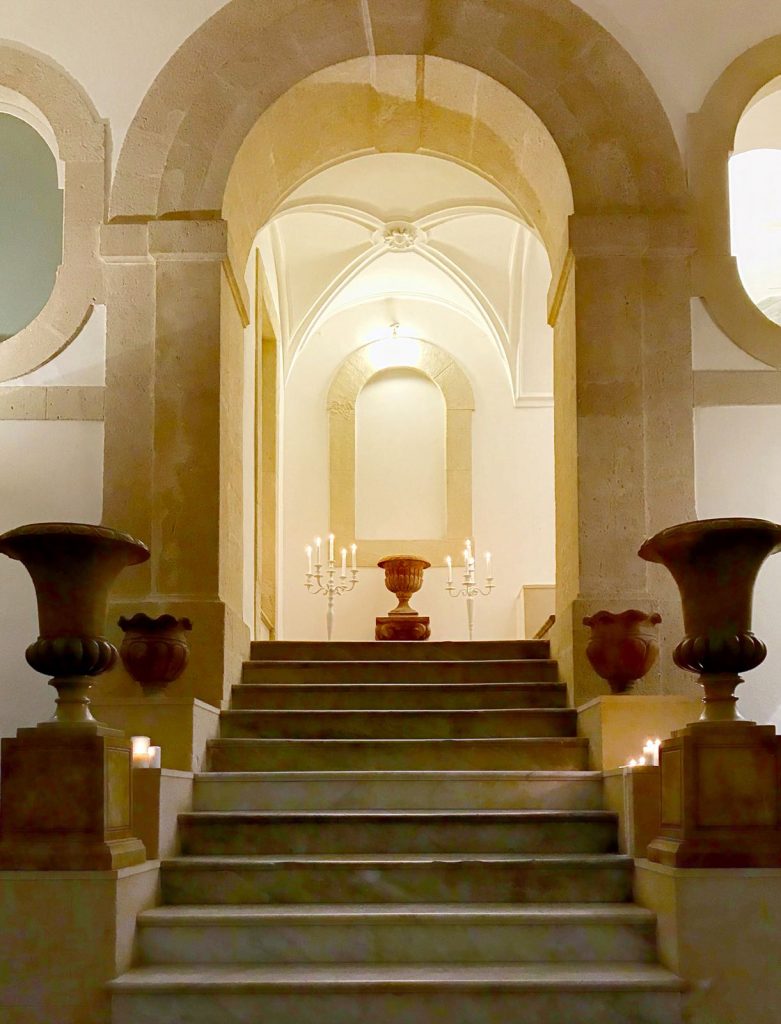 The first decision is whether to stay in Catania itself or head to Taormina or Syracuse. Both of these are around 45-60 minutes from Catania. From the airport to Catania centre is only around 10 minutes. If you only have a couple of nights there is enough to do in and around Catania. If you fancy a more relaxing or beach type holiday I would head up to Taormina.
Catania hotel – Asmundo di Gisira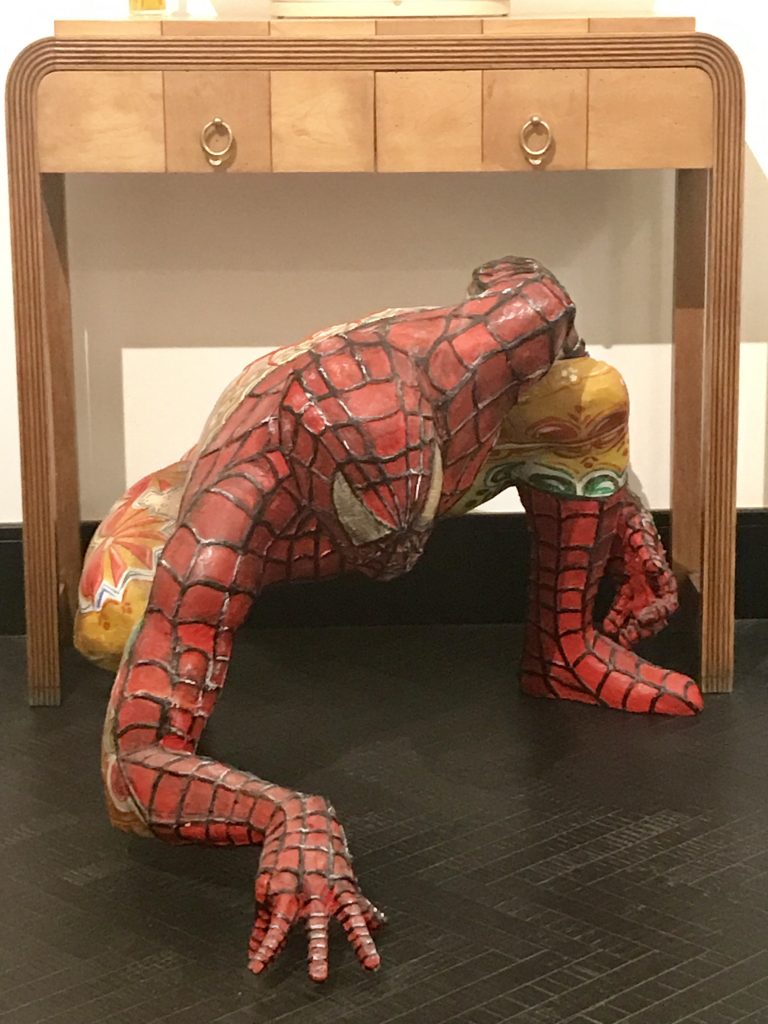 This is a boutique hotel right in the heart of the city with the market literally outside your front door. The hotel has been restored from an old Palazzo building from circa 1750 and was beautifully done but in a very quirky and individual style. From the giant flamingo overlooking reception to the life-size Spiderman trying to crawl out by the entrance, this is definitely a hotel with a difference! The rooms are inspired by different Catanian folklore and legends and are all very individual. I had a balcony room which had French doors onto the small balcony. My room was based around the Saint Agatha story.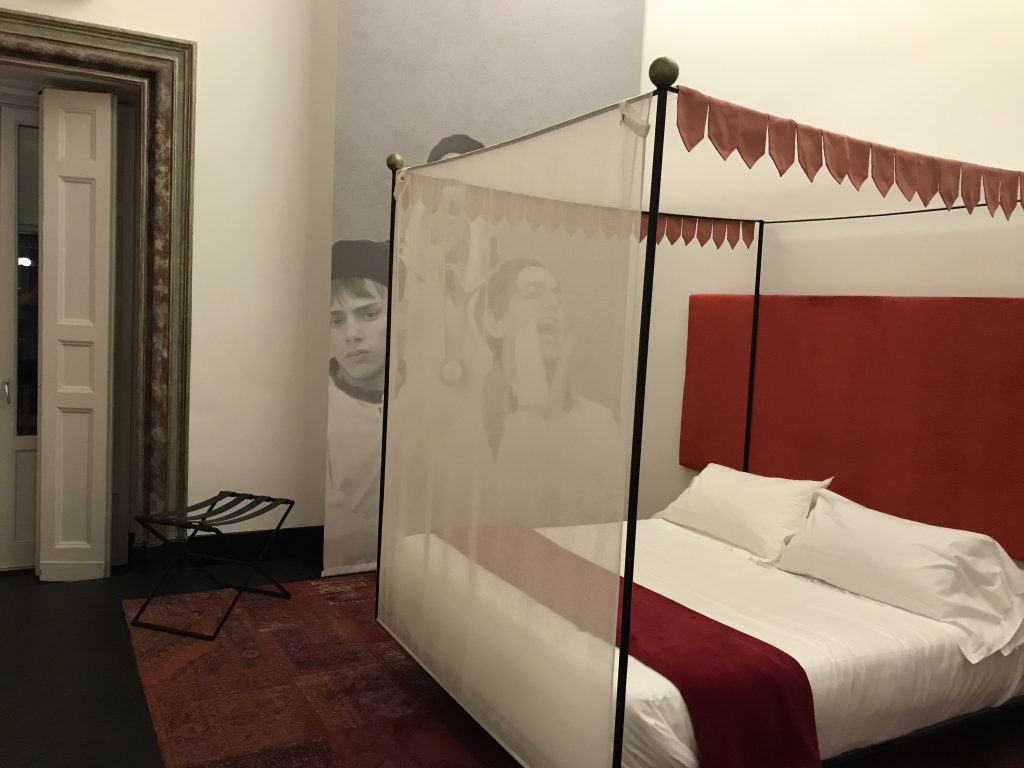 The room was well equipped to a high standard. There was a digital TV with Netflix, fridge/mini bar, safe and a small wardrobe. The lighting was definitely unusual with a control to have different coloured mood lighting as well as the beautifully designed ceiling lights.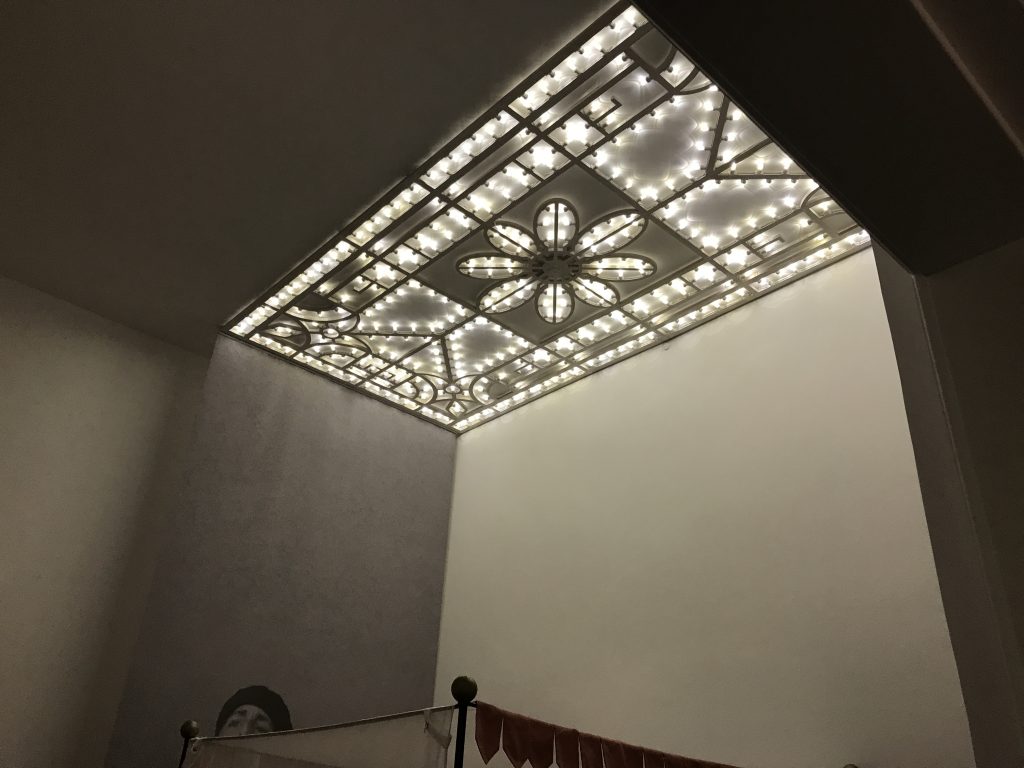 Despite being in the centre of the city I did not hear much noise from outside but there was a party in the hotel that was a nuisance. This is not a regular occurrence though as other people who have stayed there previously did not have an issue. The hotel are able to arrange transfers and tours. They were extremely helpful with planning our transport and I could not fault the service. There was a bit of a mix up with the rooms but they handled this well, letting us know in advance and giving us free transfers along with a welcome bottle of Prosecco and platter of cheese and meats.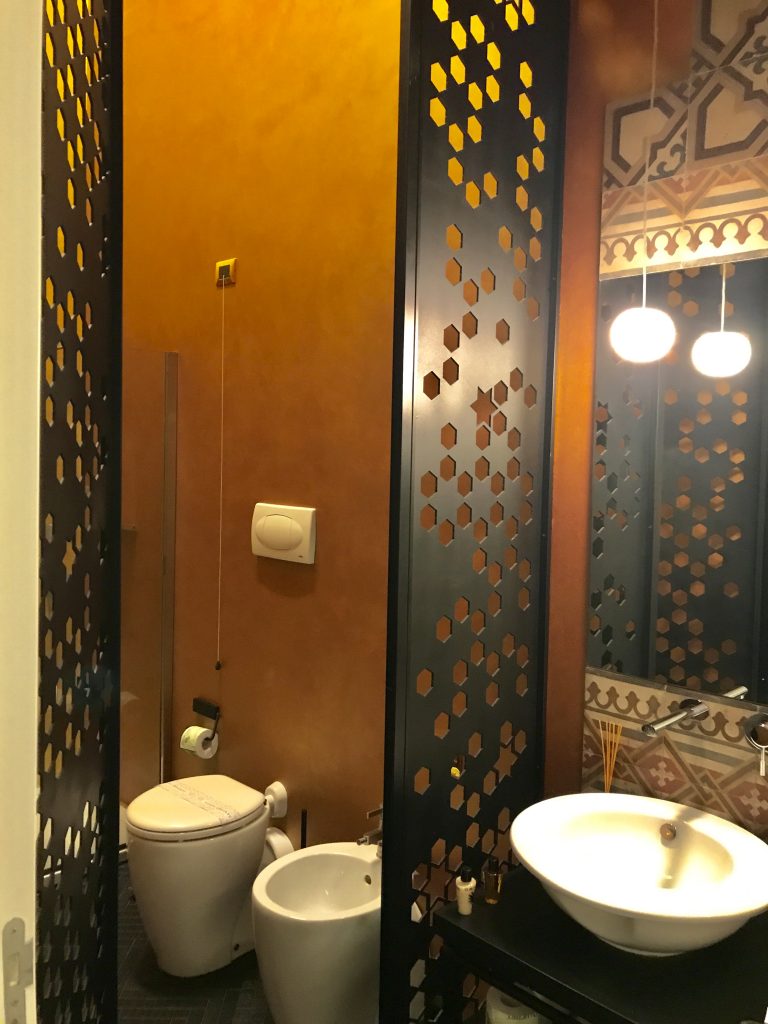 The bathroom had very high ceilings and amazing wrought iron doors leading to the shower. The toiletries were the same as the Four Seasons hotel in Oahu – Ortigia in large sizes. Every shower is slightly different – mine had an overhead shower and a waterfall shower as well.
Breakfast was included and although it was only continental it was excellent. It was full of beautiful local produce of very high quality and there were plenty of choices.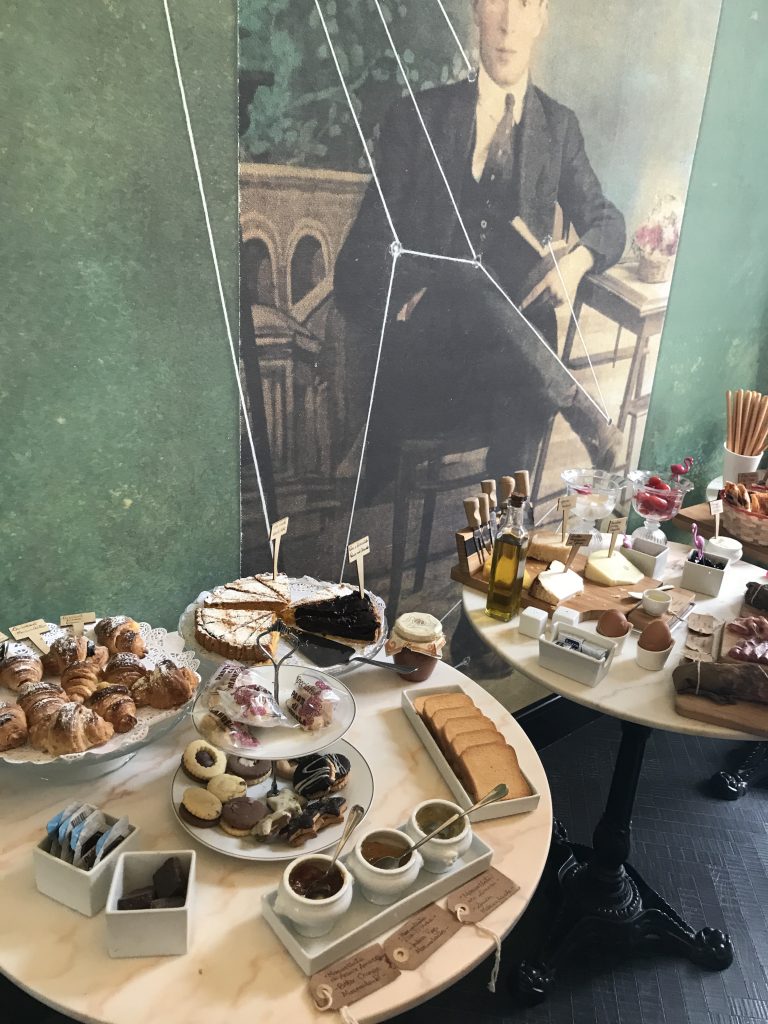 Prices start from around €100 off season per night for bed and breakfast. You can find more information here.
Also consider – Una hotel Palace
Taormina – VOI Grand Hotel Mazzarò Sea Palace 5*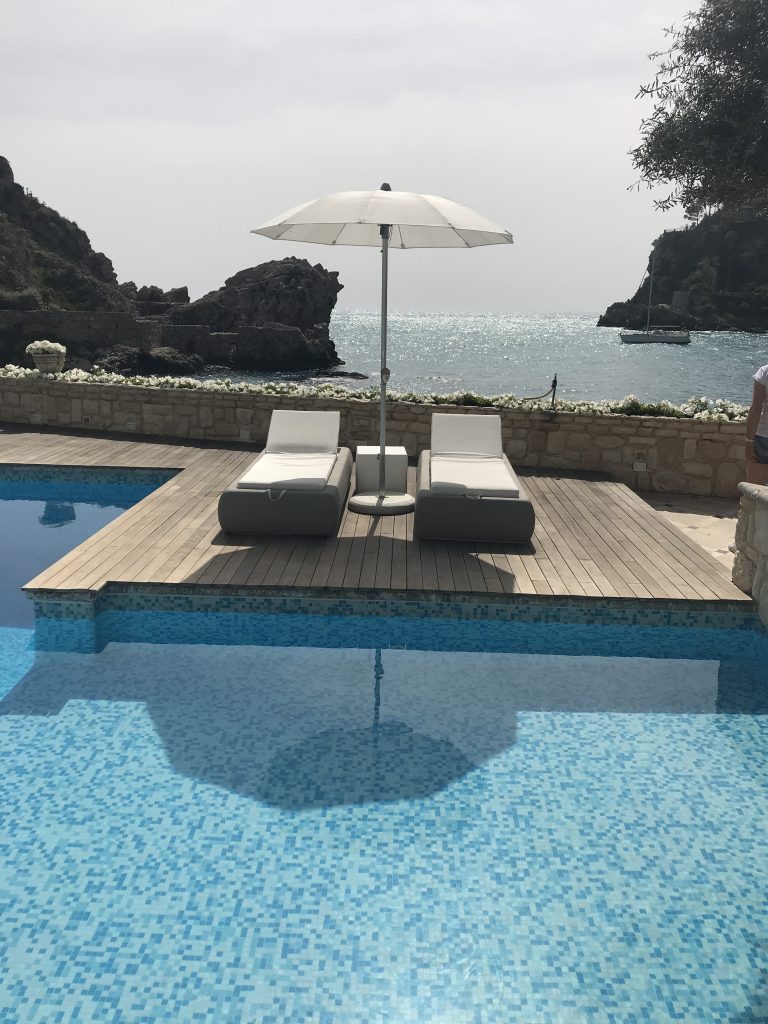 I headed up to Taormina for one night and loved the hotel I stayed in. It was right on the beach and my room had a large balcony directly overlooking the bay. The room itself was a bit of an odd mixture style-wise. They have updated part of the room with modern decor and beds but there are still remnants of more old-fashioned wood furniture and an odd armchair. The bathroom felt quite old-fashioned in a very traditional Italian marble style. It had everything I needed though and 2 complete sets of large size Etro toiletries. The odd decor didn't worry me as the bed was comfortable and the room quiet.
The swimming pool is not heated so it was too cold to swim during this time of year but it would be fine in the summer. The staff here were also excellent with the receptionist remembering my name every time she saw me. Breakfast was quite a feast with prosecco on offer and a lovely terrace by the sea to enjoy it on.
I tried a spa treatment too which was a bit average though the staff were very friendly. The poolside service was also great with chairs and umbrellas set up for you.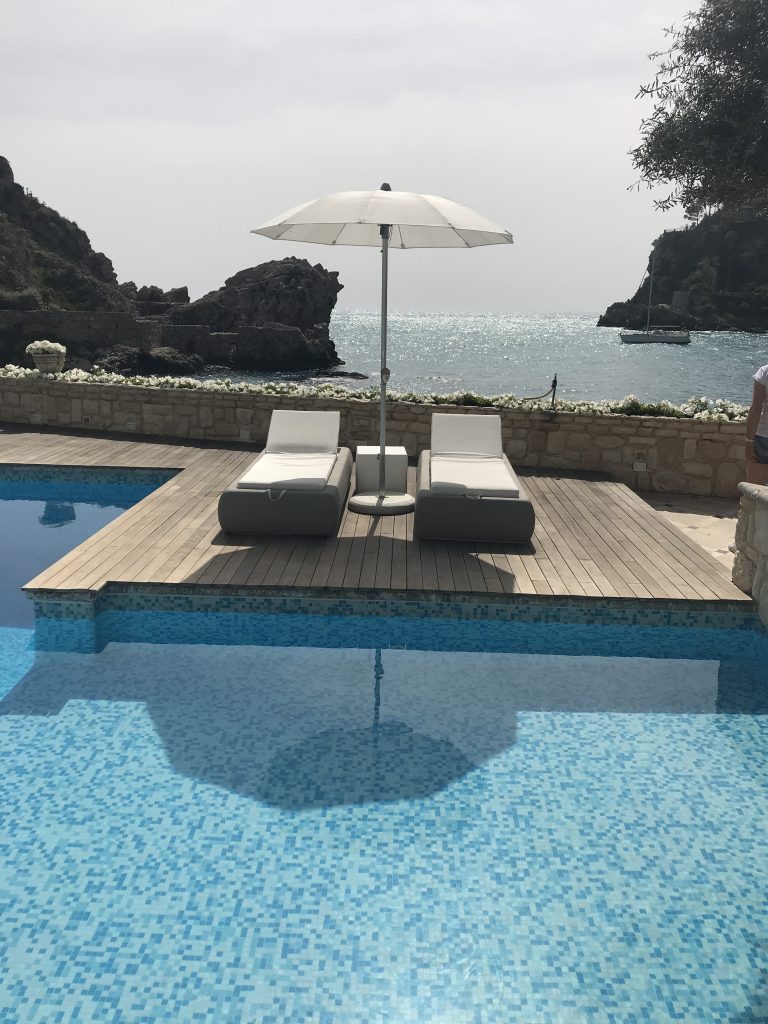 The hotel is in a very useful location within walking distance of a number of restaurants as well as a couple of minutes walk to the cable car up to the main Taormina city. Taormina is very picturesque overlooking the dramatic coastline and has a beautiful old town full of smart shops and restaurants. You can find more information about the hotel here.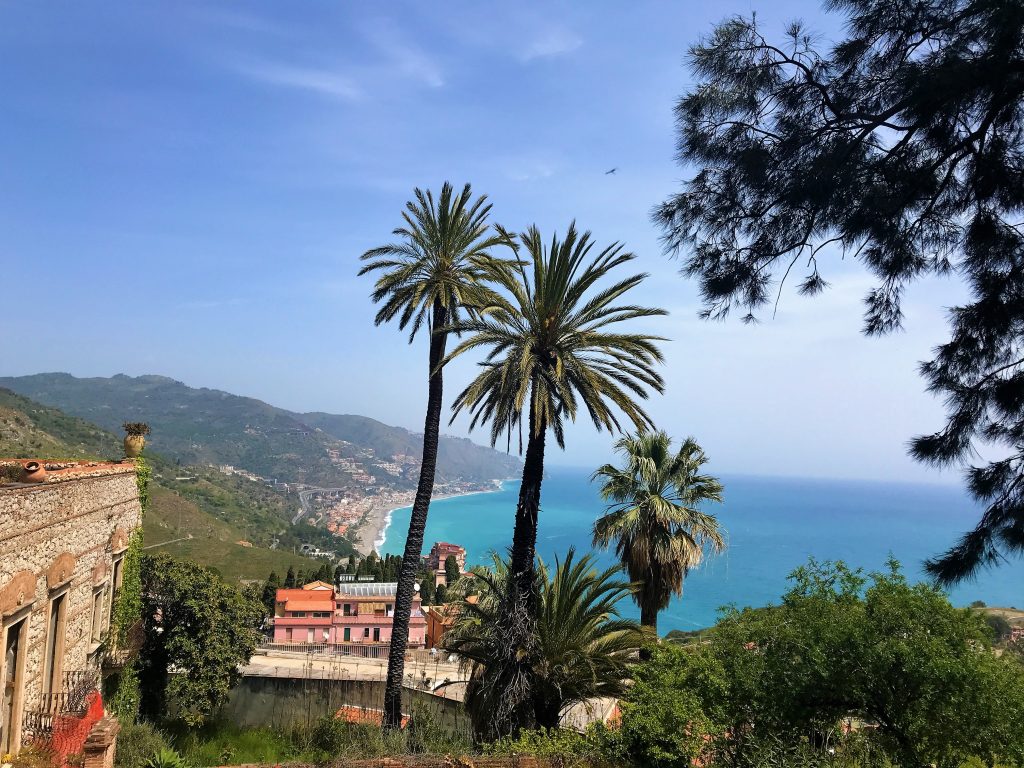 What to do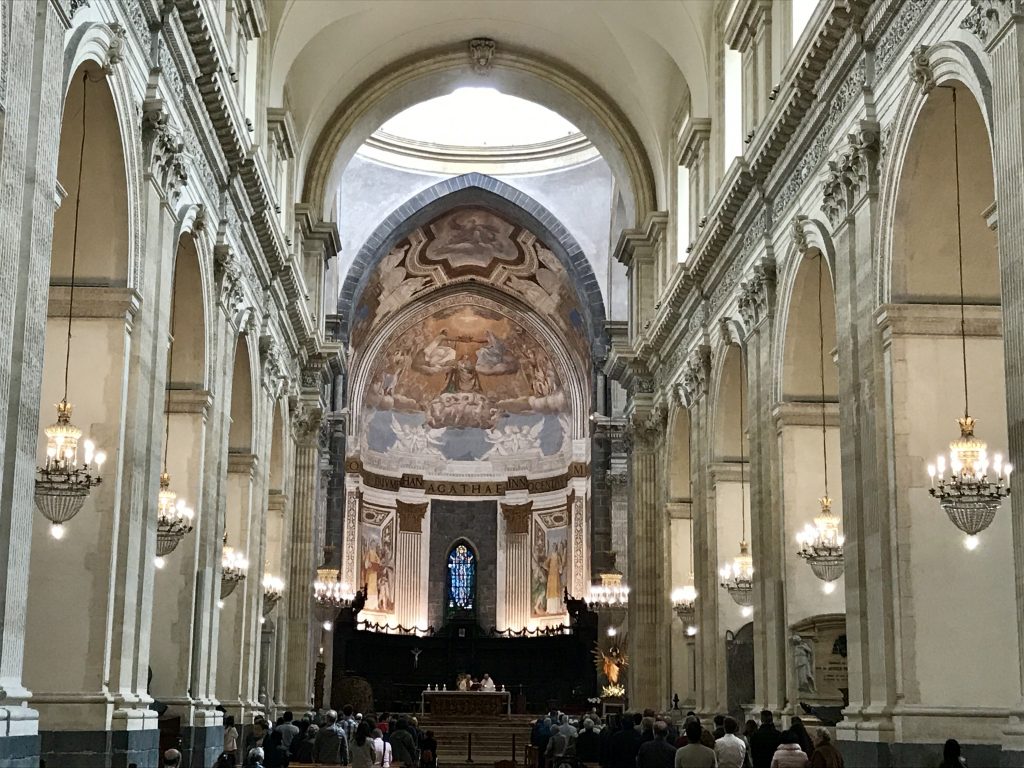 In Catania itself, there is not a huge amount to do but there are plenty of beautiful old buildings to wander round. There are the Cathedral and Piazza Duomo, the Castle and the Roman Amphitheatre. One way to see all the sites easily is with a hop on, hop off bus. There are 2 that go from the main square by the cathedral, Piazza Duomo. One is only €5 and just goes around Catania itself. We did the €15 version which went round Catania and then went up the coast to Aci Castello which is a seaside fishing town. This is a good place to get off and have a seafood lunch by the sea with a stroll along the rugged coast. The speciality was a seafood pasta dish served in a foil parcel – delicious!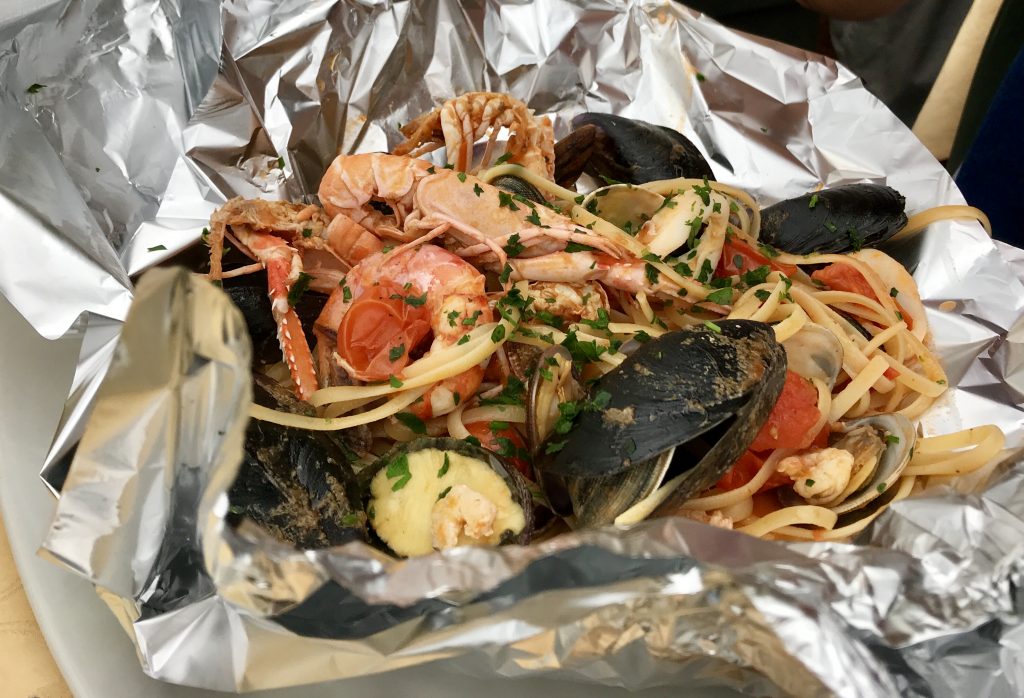 Catania market, which in on during the week, is worth a look too. The fruit and vegetables were amazing and you can stand with the locals overlooking the fish market watching the fishermen tipping out freshly caught seafood onto their displays.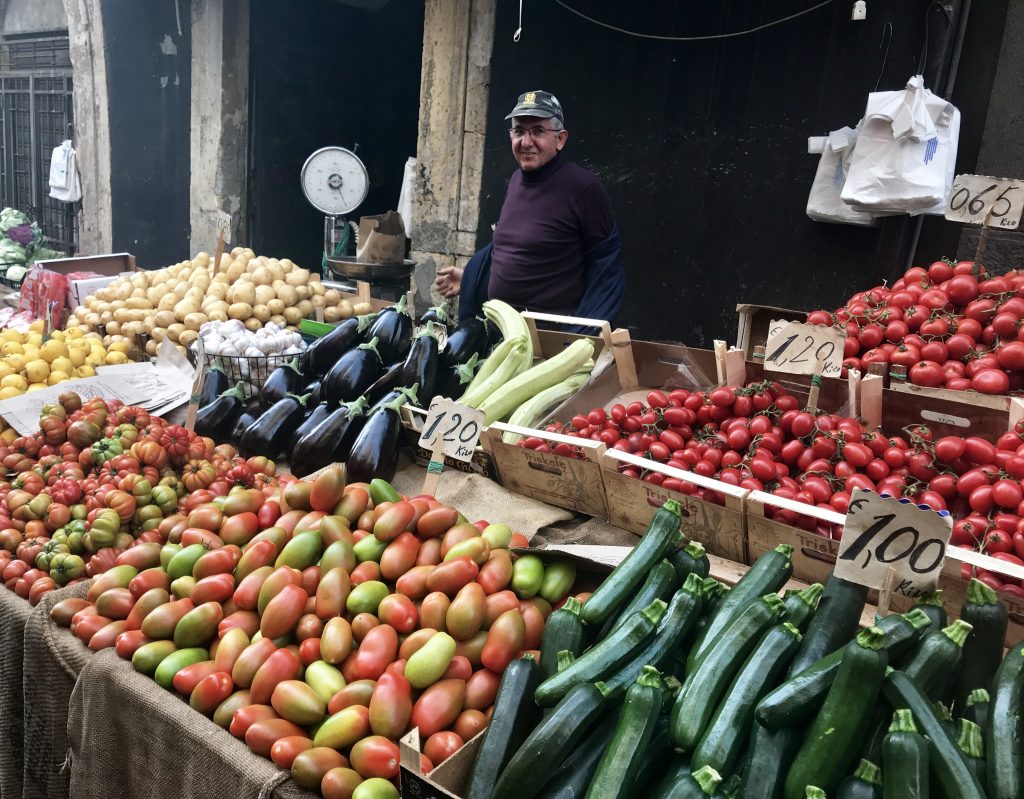 If you fancy venturing further afield the city of Syracuse is worth a visit. The city is a UNESCO world heritage site known for its ancient ruins including a Roman Amphitheatre. You can catch a train to Syracuse from Catania which takes around 50 minutes.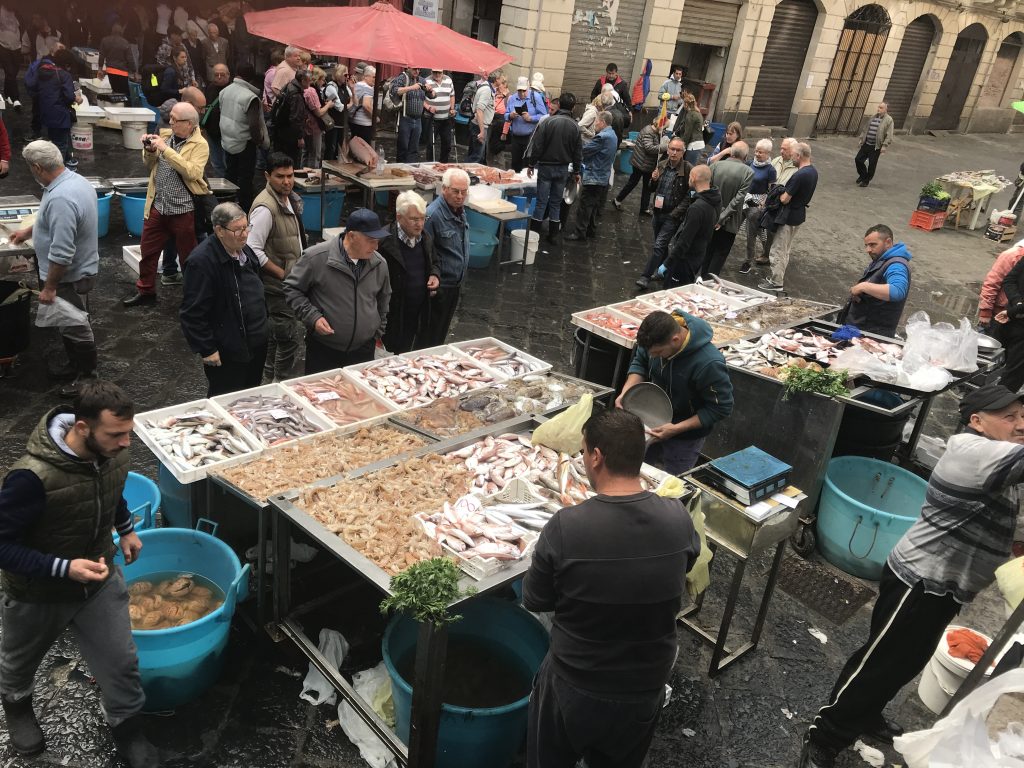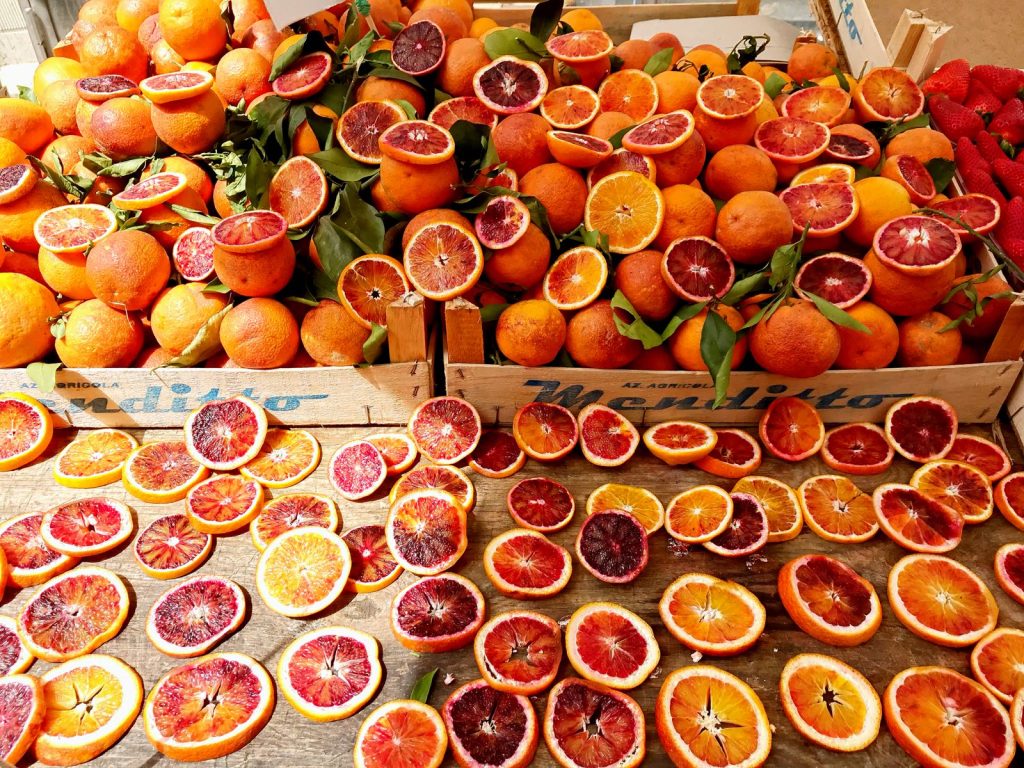 It is also possible to visit Mount Etna from Catania but you really need to do an organised tour to get to the top. Be aware most of the group tours spend a long time picking everyone up before they head up there but you can do private tours too. There are plenty of options for the Etna tours with some including hiking and others offering wine tasting. Bear in mind that temperatures at the top are considerably colder so pack accordingly. When we were there it was 22c by the sea but the top of Etna was still covered in snow. You can find more details on Mount Etna tours here.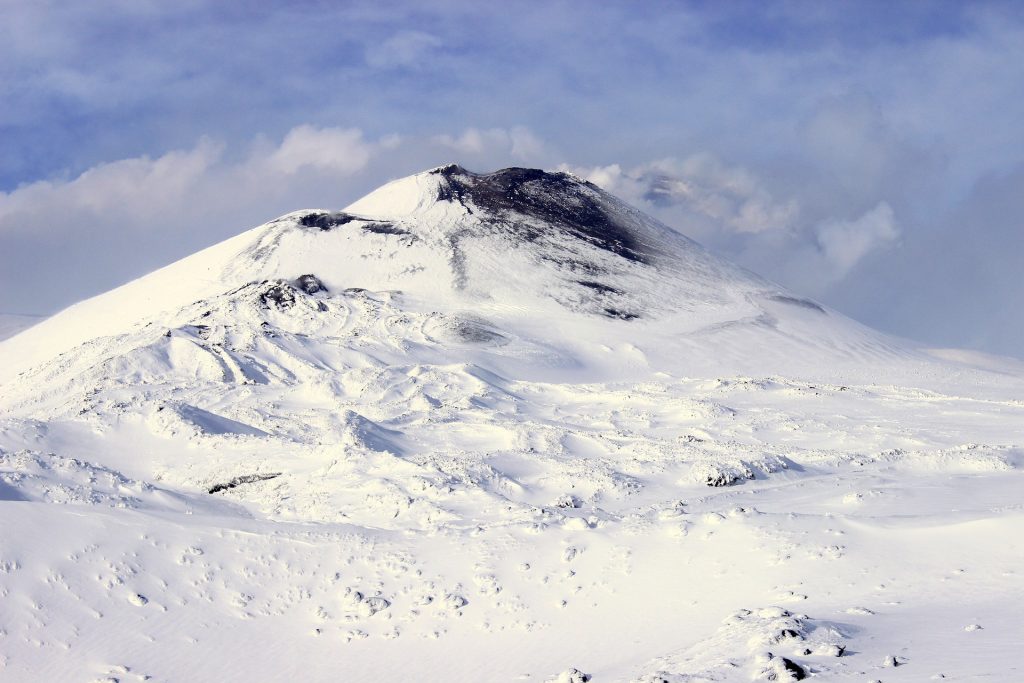 There are also a huge number of other activities and tours such as Godfather tour or a Sicilian cooking class, so there should be no shortage of ways to amuse yourself on a break to Catania.
Eating out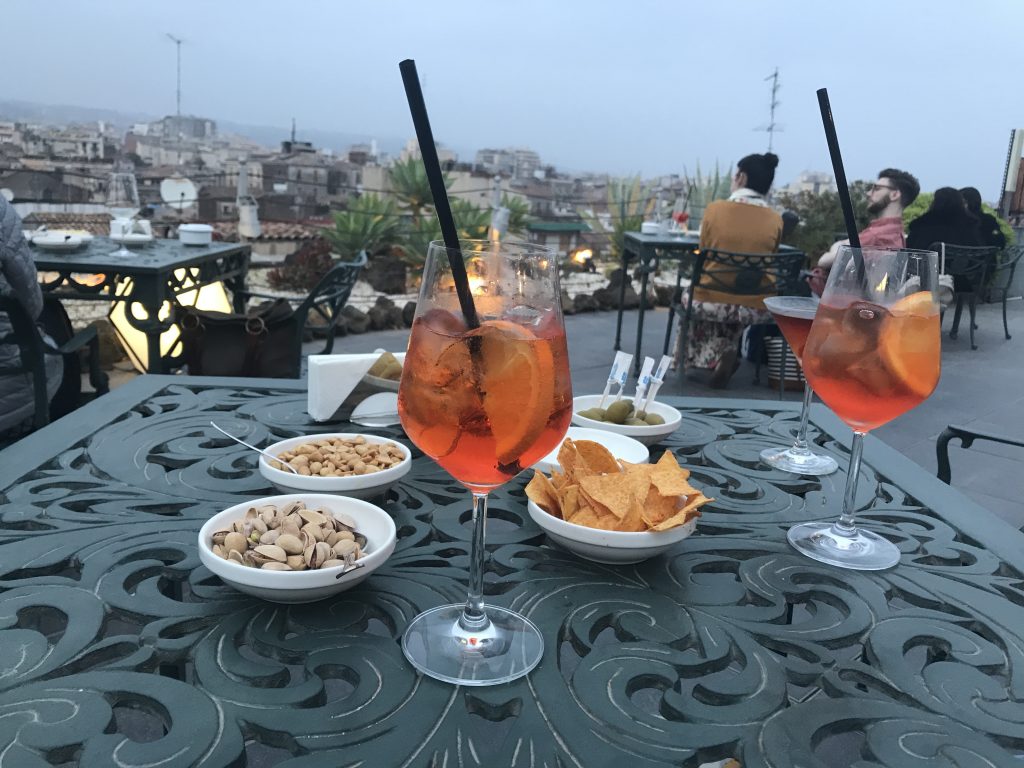 There are plenty of smart restaurants in Catania such as the Una Hotel Palace restaurant which is also a sophisticated rooftop bar. It is a great place to sip a drink overlooking Catania's rooftops and if it is a clear day you can see Mount Etna in the distance.
If you would rather have a more authentic casual experience, we ate at Il Borgo di Federico by the castle in Piazza Federico. There is always a big queue outside this popular local place so it is strongly advised to book. The restaurant has a great antipasto buffet as well as fish, pasta and pizza. Be aware one of their specialities is horse, so make sure you can understand what you are ordering if you don't fancy that!
Catania airport tips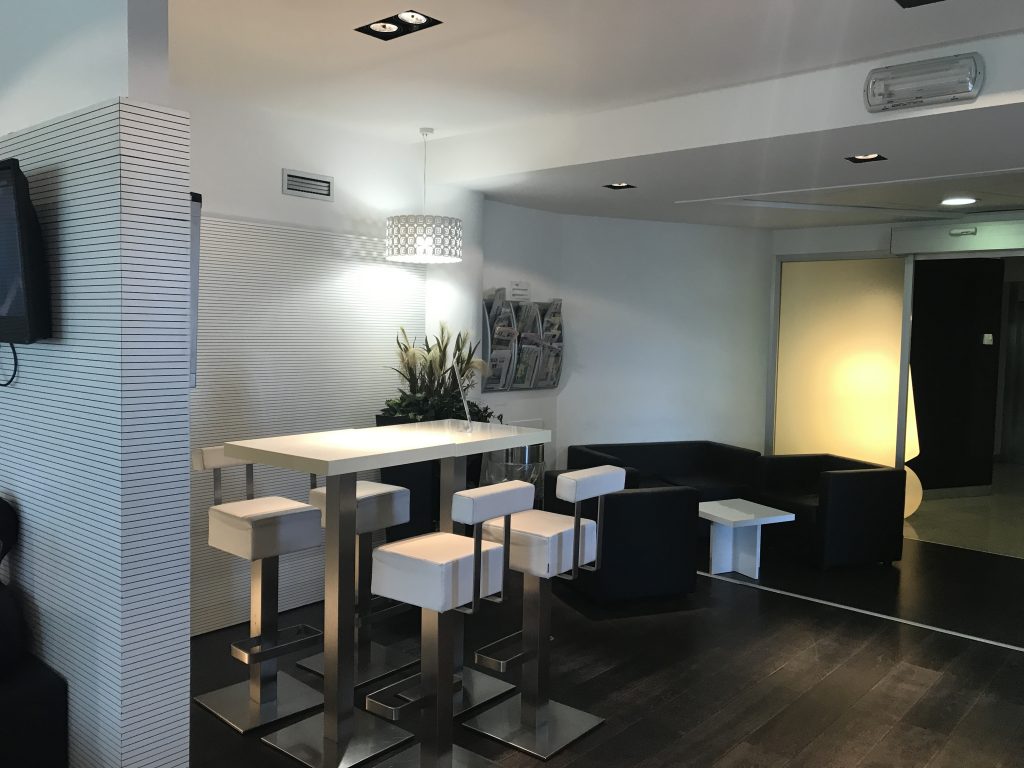 There are a couple of things to note about Catania airport. Firstly there is no BA lounge so don't bother arriving early. There is a Priority Pass lounge but in my opinion, it is not really worth visiting. It is tiny with a few soft drinks, a couple of rolls and some biscuits and crisps. The staff are friendly and the decor is modern but that is about all you can say. Charging points are not easy to find but there is wi-fi and a couple of computers.
You only go through passport control when you get close to the gate so allow a bit of extra time to get to the gate area. The group boarding worked in the sense that they called each group in turn and since there were no group boarding signs, there wasn't the usual scrum to fight through.
For some reason, BA do not use air bridges at Catania which is one of my pet hates. We boarded the bus by a row of 3 empty air bridges so I can only assume it is down to cost. Once on the bus, they have used a fetching striped sticky tape to section off a Group 1 area. This is not a great idea as it means you all get crammed into one end where you can see all the empty space and seats down the other end. You then stand there for ages waiting for the rest of the passengers to get on the bus. It wasn't my idea of a premium experience!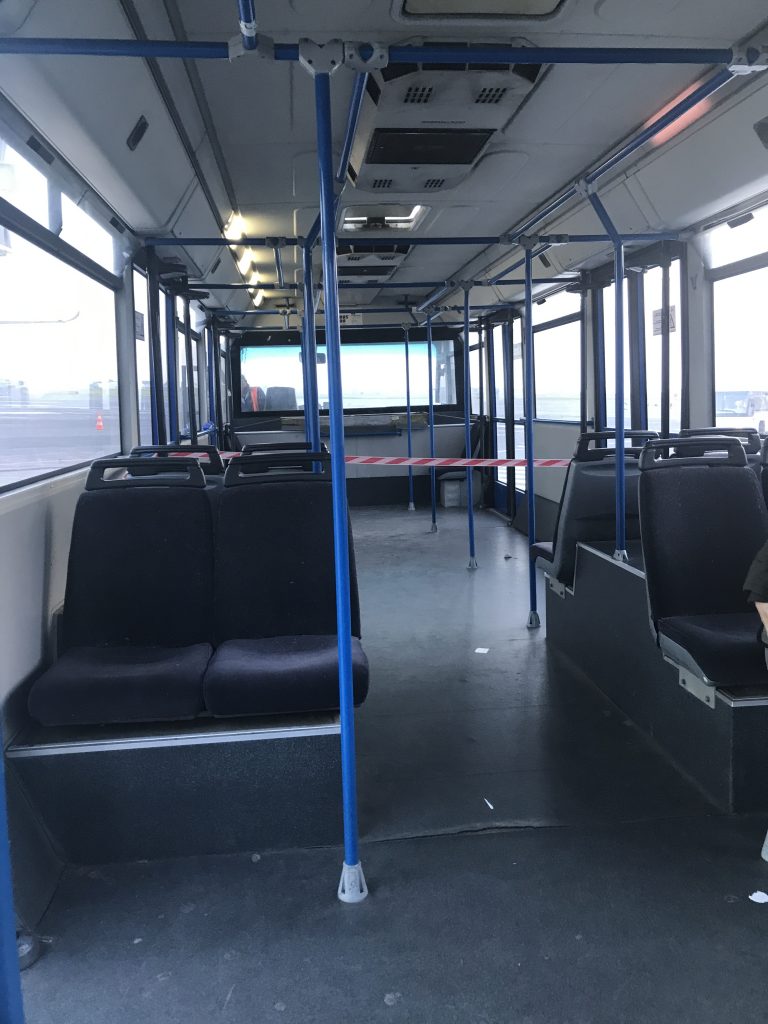 Being a long route you will get the full Club Europe meal service with a tray with your starter, dessert and cheese. You then will have a choice of 2 main courses. Wine and champagne are served from large bottles. You can read more about Club Europe catering here.