The Great Scotland Yard Hotel London is the first UK hotel in the Unbound Collection by Hyatt collection, a portfolio of premium hotel properties similar to the Curio Collection by Hilton or the Autograph Collection by Marriott. Each luxury hotel is individual, but you can still collect your points and perks with Hyatt.
Booking
I booked using my Hyatt points and paid a reasonable 25,000 points for a King Bed room (it's a category 6 hotel). If you don't want to book on points it's worth looking at a Hyatt Prive agent such as Debonair, which offers the following benefits:
$100 USD Property Credit
Room Upgrade
Breakfast for Two
Welcome Amenity
Guest Welcome Letter
Early Check-In
Connecting Rooms
Free Wifi
Rates are fully cancellable, and you usually do not have to pay anything upfront.
There is also a special offer currently:
Get every 3rd consecutive night free when booking a room or suite at Great Scotland Yard Hotel.
Must book by 31 August 2021 for stays between May 17, 2021 – April 18, 2022
Book or enquire about prices here.
Location
The hotel has a great location with 2 Tube stations – Embankment and Charing Cross within a short walk. It's also walkable to the Southbank and Waterloo as well as Trafalgar Square. The location is around the corner from the Corinthia hotel, which has Kerridge's bar and grill, so once you have exhausted the options at the hotel, you have another fantastic option nearby.
Check-in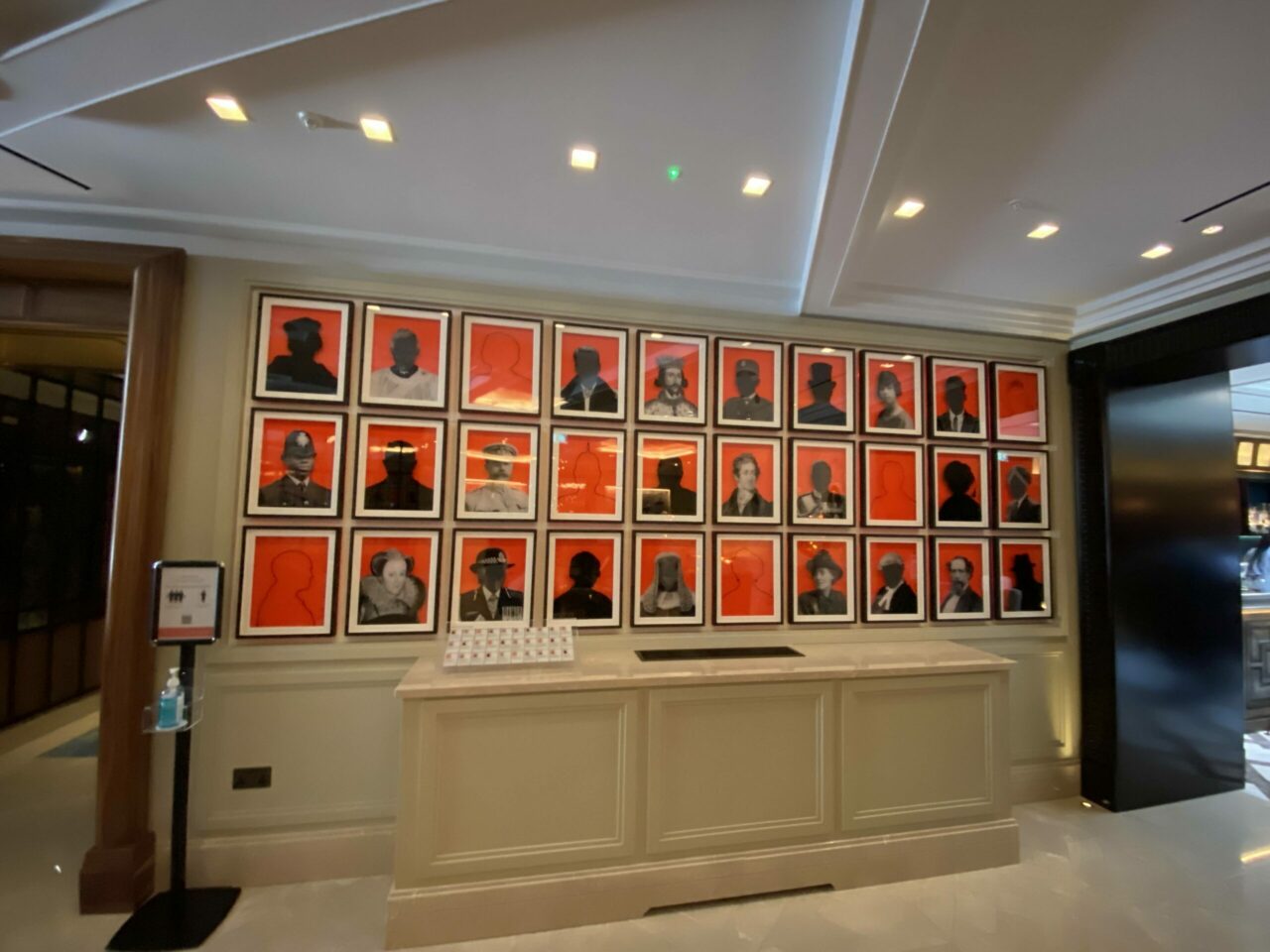 The hotel has a slightly inconspicuous entrance in terms of its name being visible, but it is quite obviously a hotel from the outside. The doorman helped me down the stairs into reception with my luggage, and I sat down in the stylish reception area to be checked in.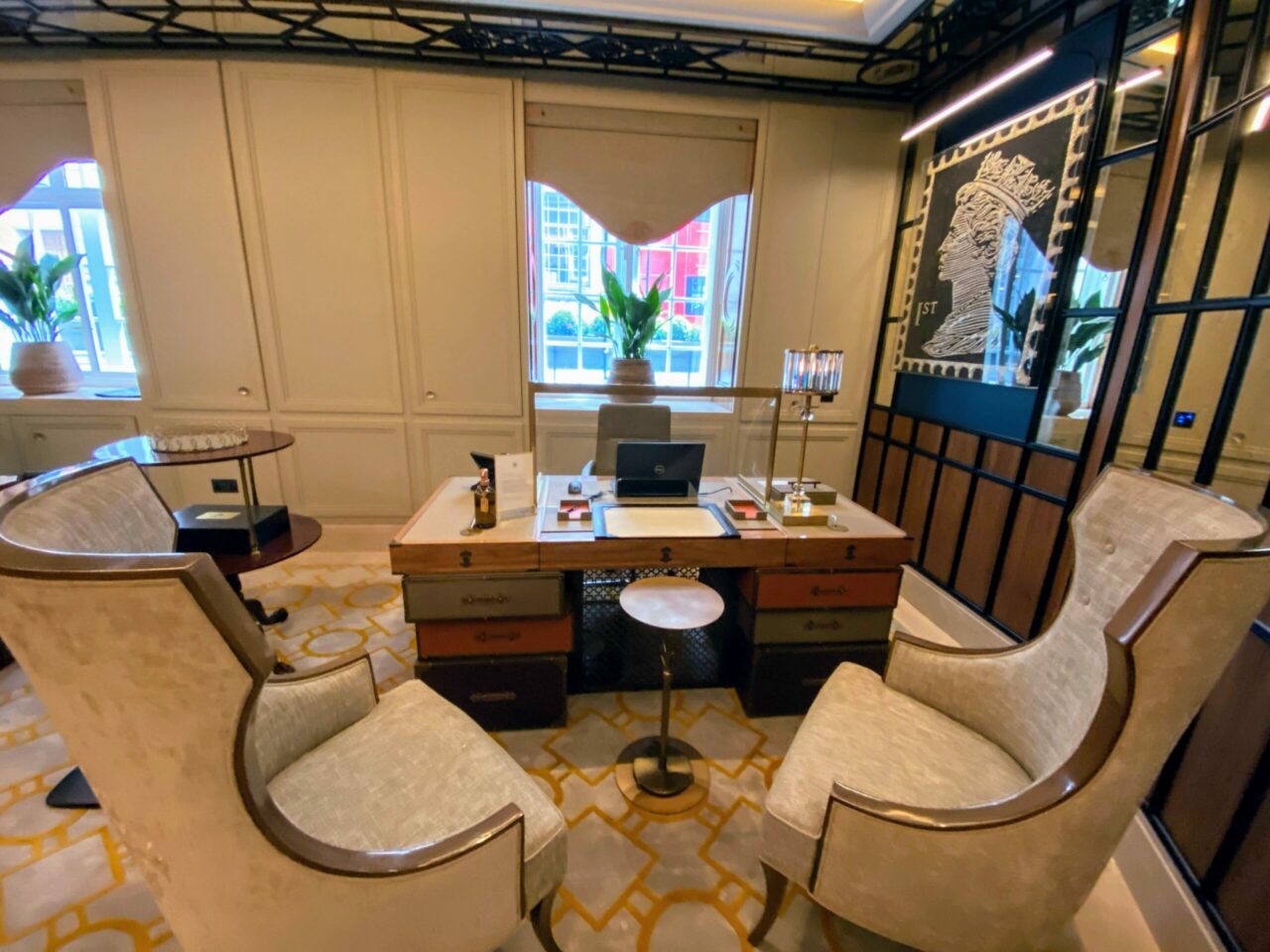 The steps are "magic" as if they have disabled guests, they can press a button, and they turn into a lift to get a wheelchair down to the next level! Very clever.
The first thing I noticed was the wonderful scent of their signature scent which is based on vanilla and sandalwood. I just wish I could buy it for my house!
I also saw that the reception tables appear propped up on suitcases which very much reflects the tone for the hotel's decor.
Before my arrival, I had received an extensive preference sheet.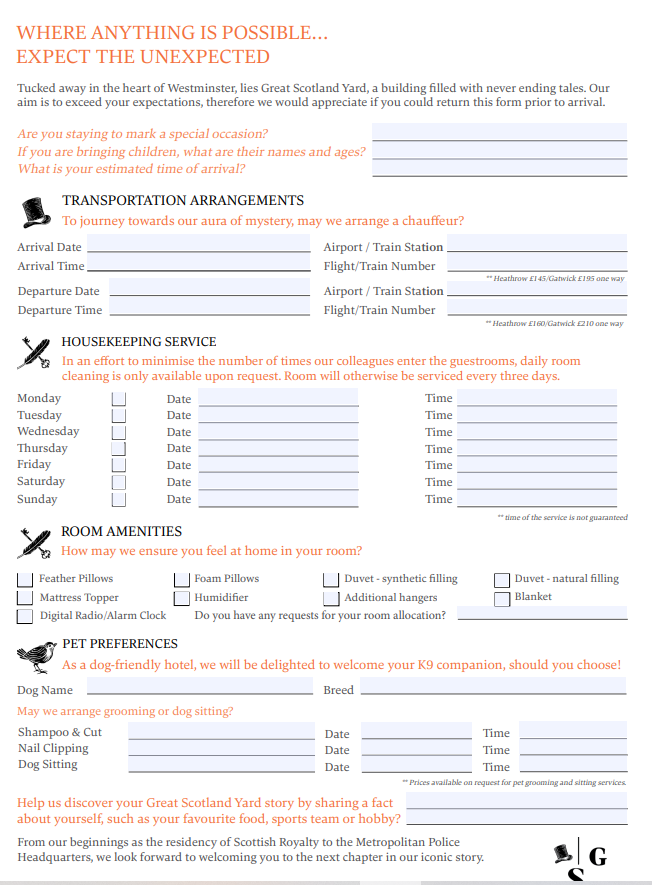 The receptionist was charming and asked if I stayed before. When I said that I hadn't, she gave me a short tour of the ground floor and all the quirky artifacts and art they have displayed.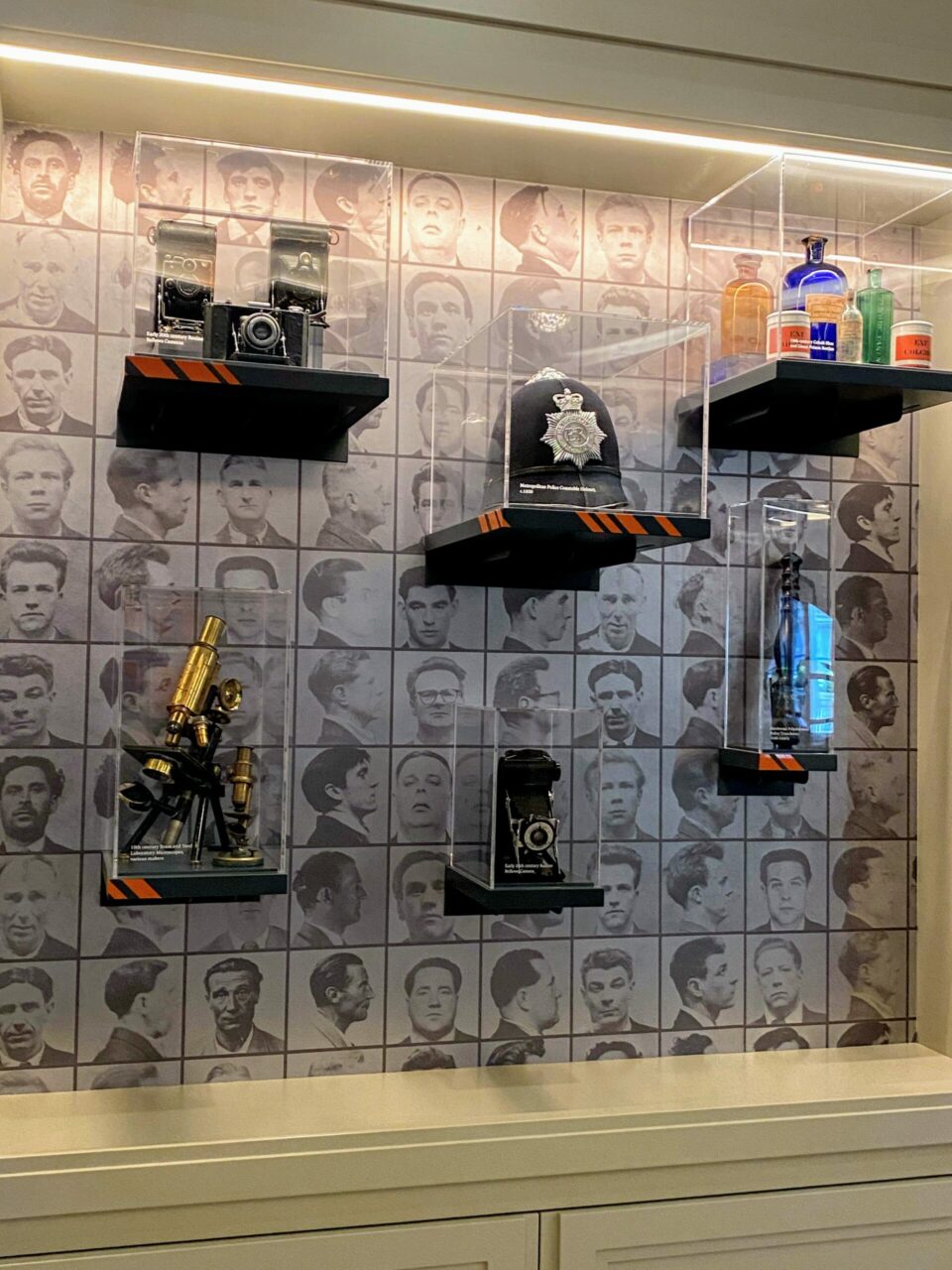 The hotel is set in a Grade II listed Edwardian building that has a fascinating history. In Tudor times, it served as an Embassy-style dwelling for the Kings of Scotland when they visited King Henry VIII and Queen Elizabeth I at neighbouring Whitehall Palace: hence the name Great Scotland Yard. In 1829, Home Secretary Sir Robert Peel selected Great Scotland Yard as the newly-founded Metropolitan Police force headquarters. However, in 1890 the police headquarters moved to a new location named New Scotland Yard.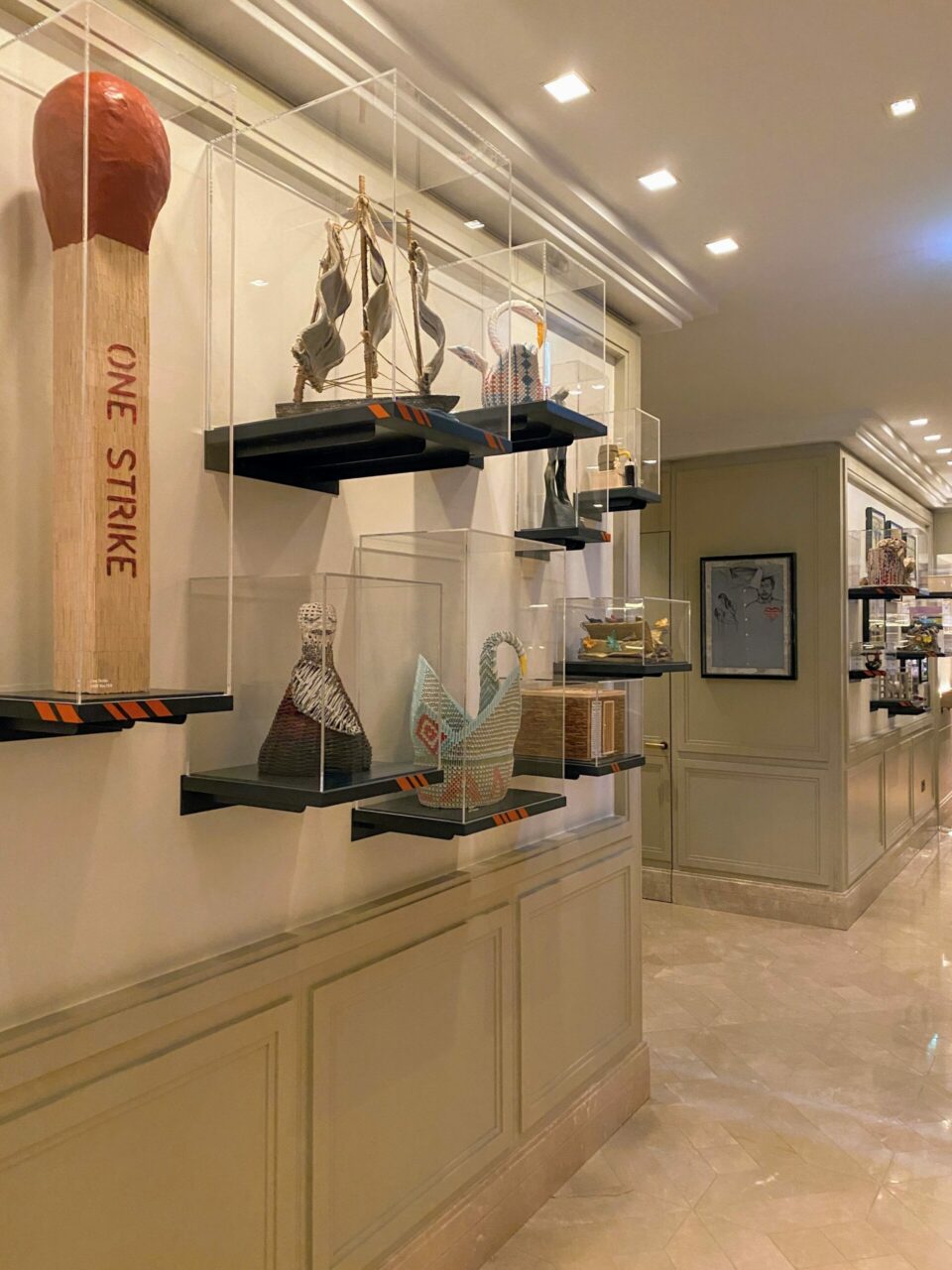 In 1910 the current Edwardian building was constructed on the site and served as the British Army Recruitment Office and Royal Military Police headquarters. In 1982 a refurbishment introduced a new atrium, and the building later became the Ministry of Defence Library until 2004.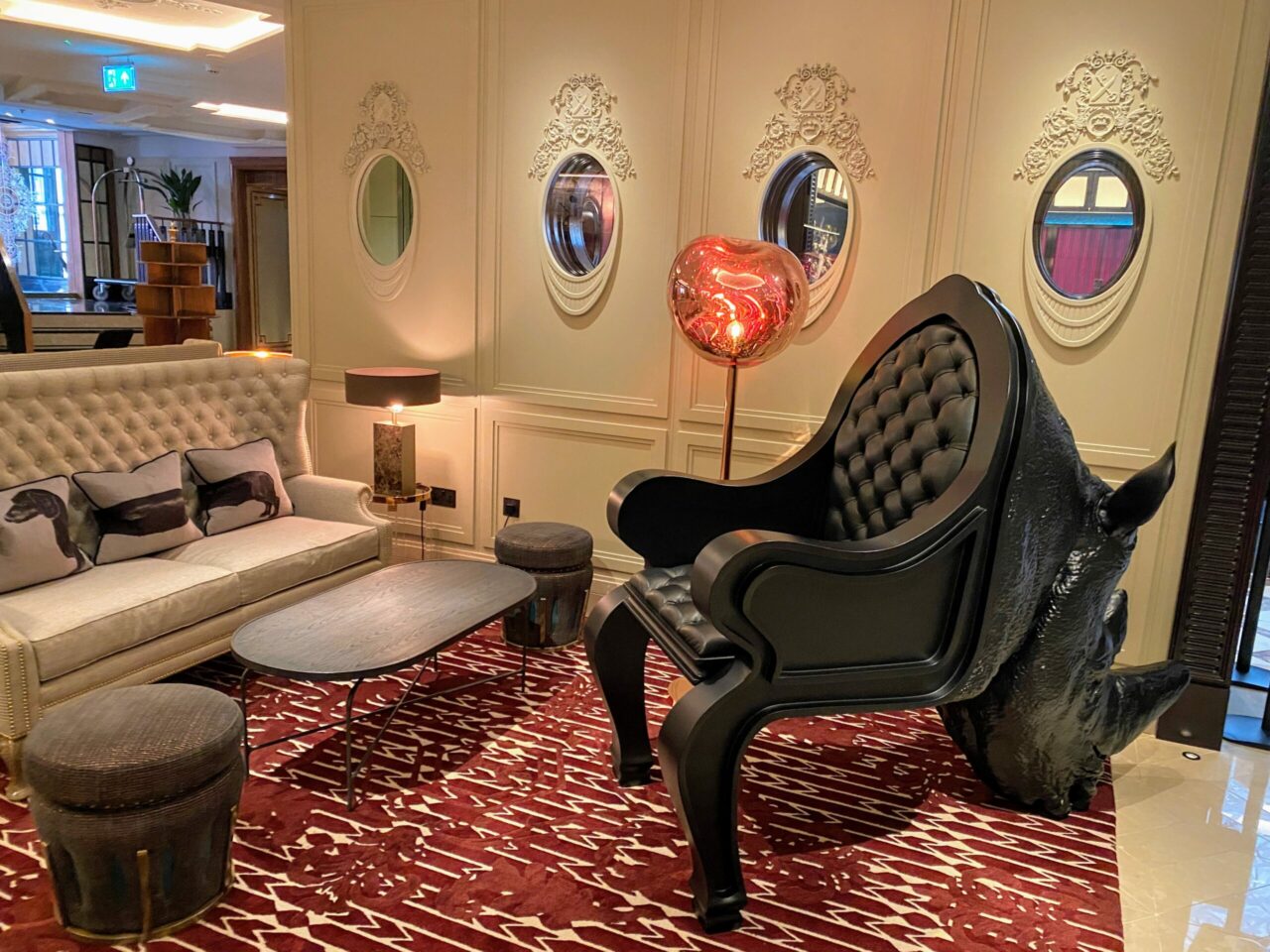 I love a hotel with a bit of history and a dash of offbeat style like the stunning Rhino chair above. (also loved the sausage dog cushions)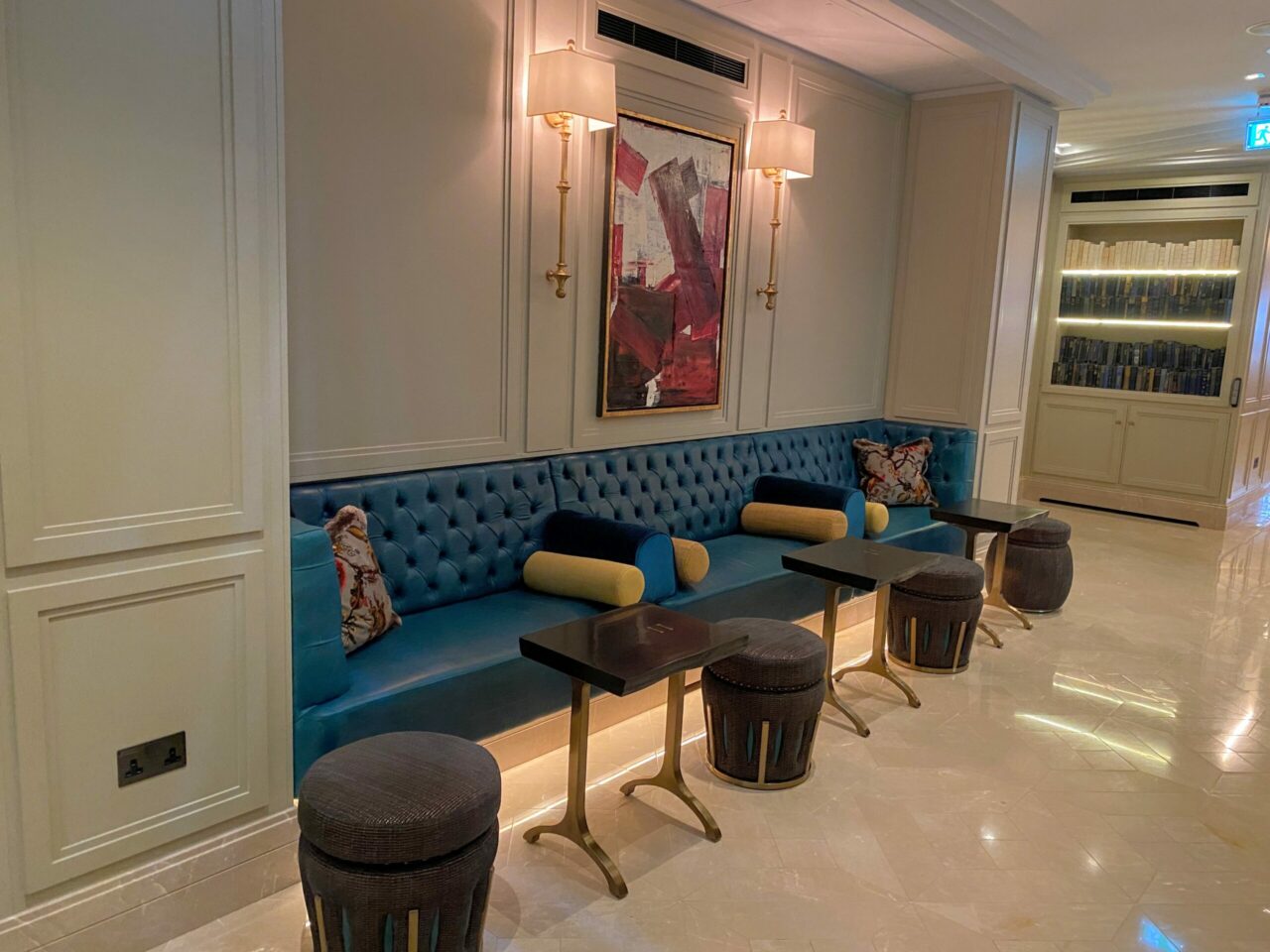 I was only there one night, but daily room cleaning was only available upon request, and there was no turndown service, but you can request additional items in your room if you need them.
Room
I had booked a 1 king Bed room and had been upgraded to a 1 King Bed City View room which is very similar but on a higher floor.
The door was very grand!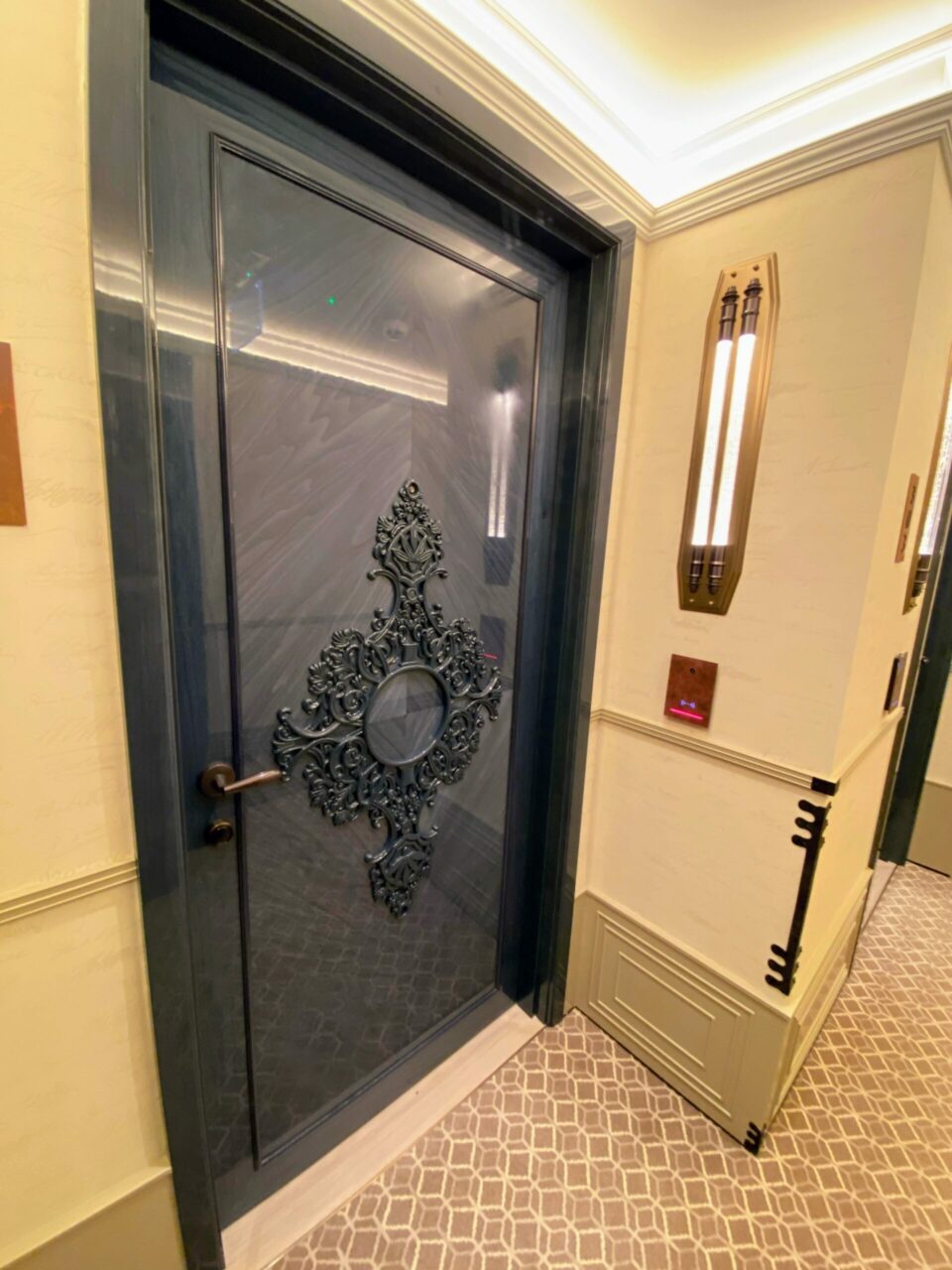 Inside, the rooms are a little on the small side, but if, like me, you were out most of the time, it wasn't really an issue. They also feel very light and airy due to their high ceilings and light decor. The rooms get better views and are slightly bigger as you go up the categories. Personally, I don't think it's worth paying for the views since they are mainly of the street until you get to the very top floors.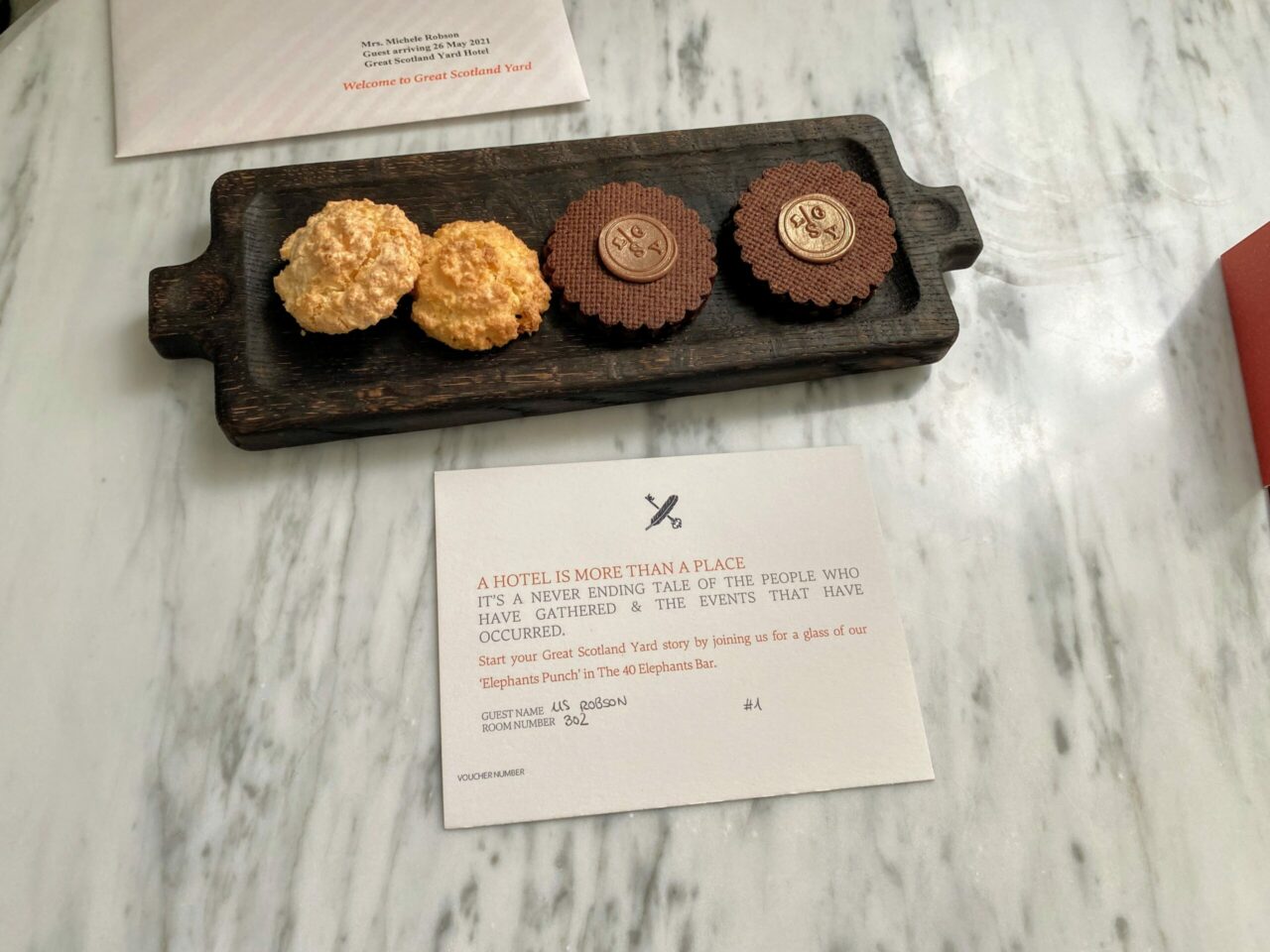 I had a nice welcome gift of some petit fours/biscuits (probably due to my status in Hyatt) and a welcome drink.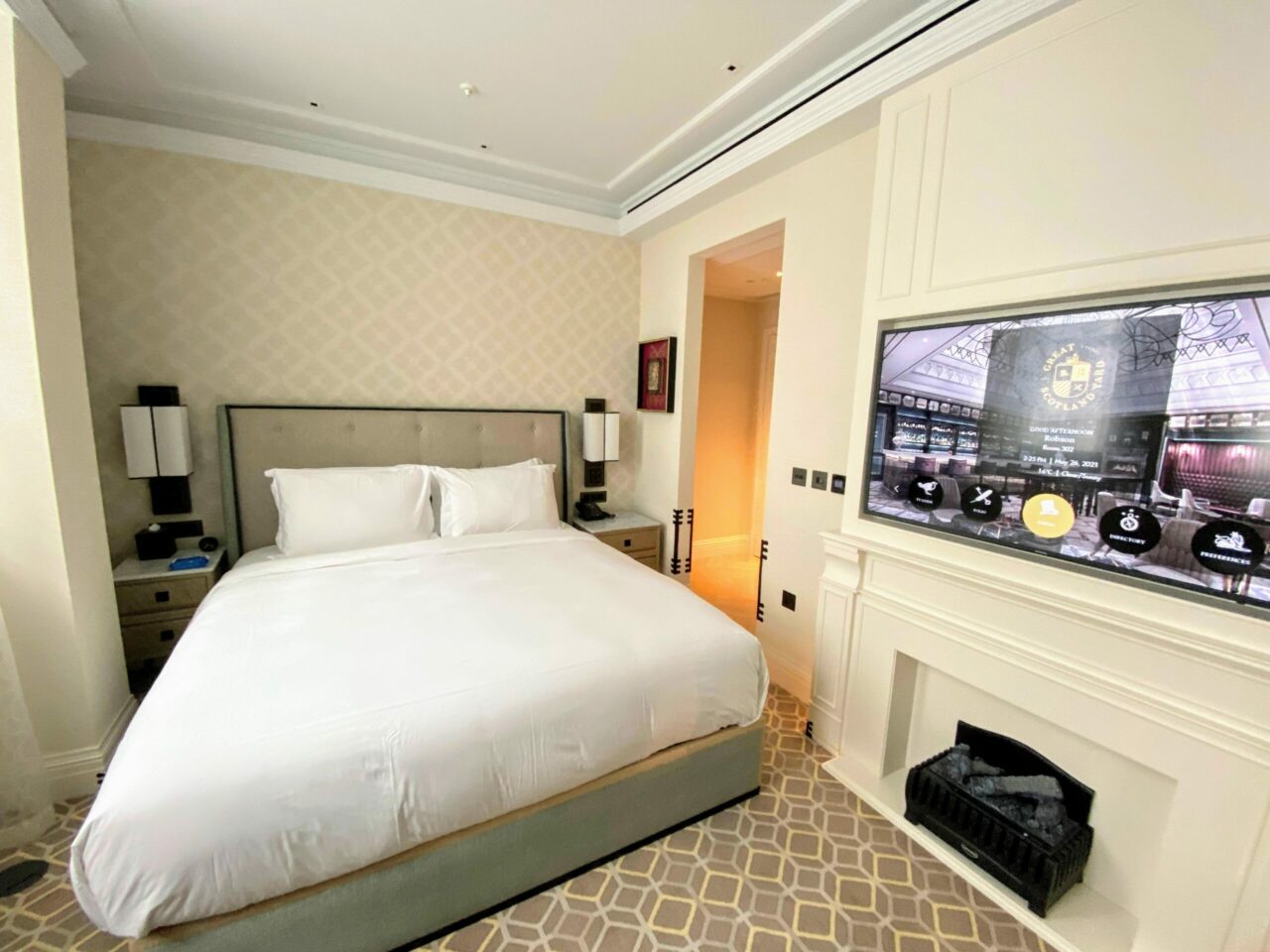 There was an open-sided wardrobe with plenty of space to hang things as well as store your luggage. I liked having a fire place which is unusual in a London hotel and felt in keeping with the property's age.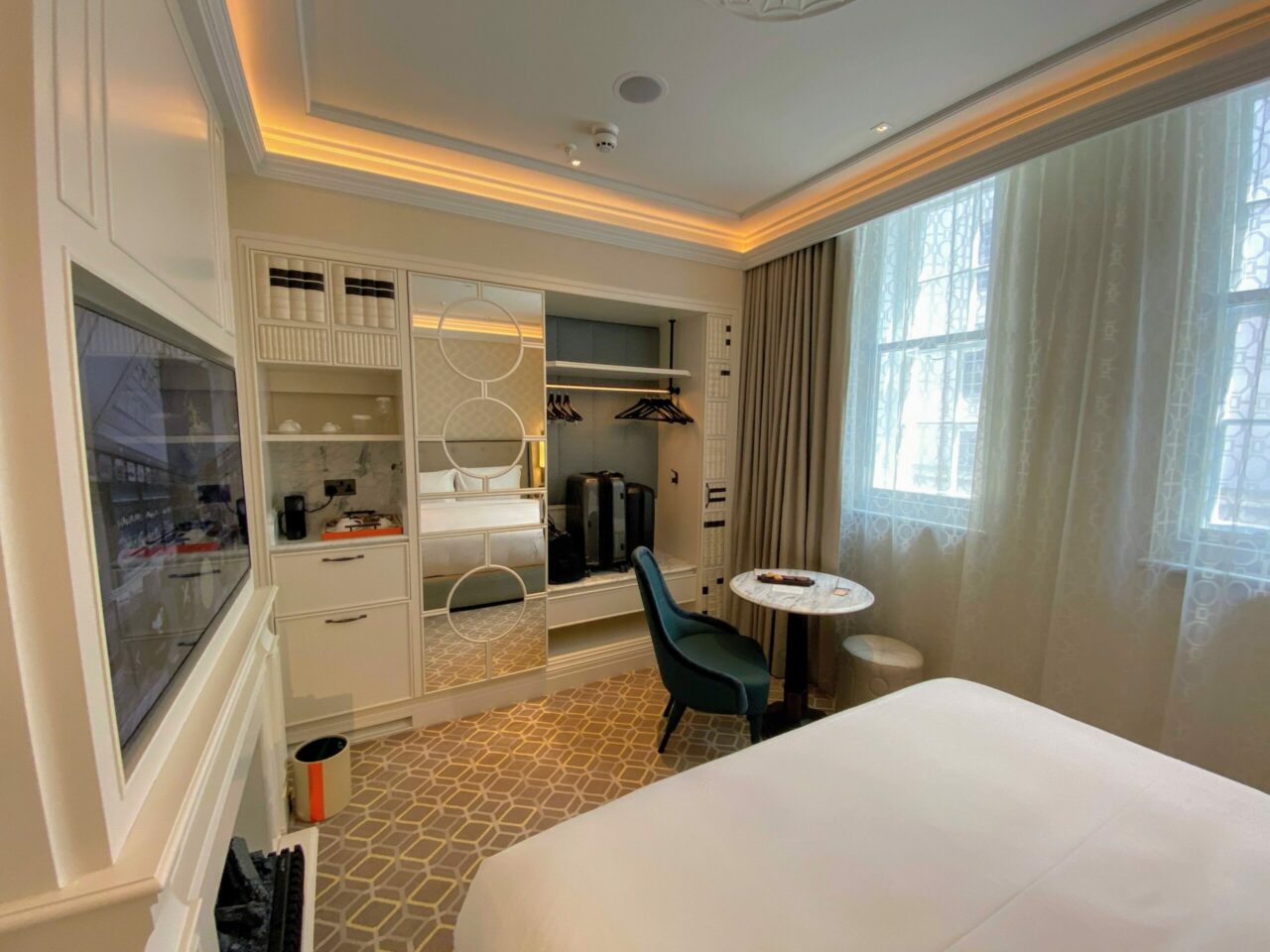 Behind the mirrored door were plenty of drawers, an ironing board, and a hairdryer.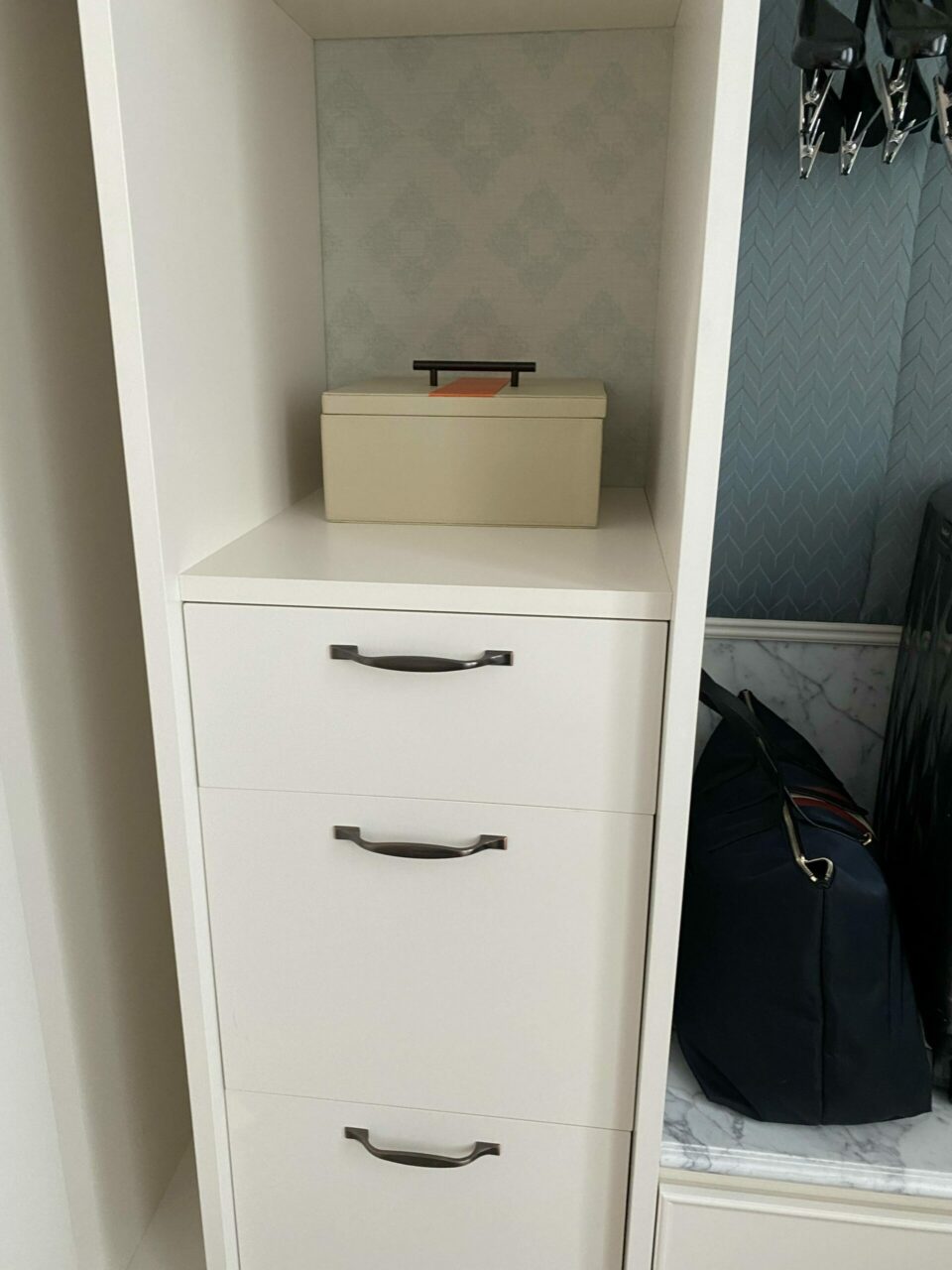 A Nespresso machine, kettle, and a pull-out fridge drawer had milk and two bottles of complimentary mineral water.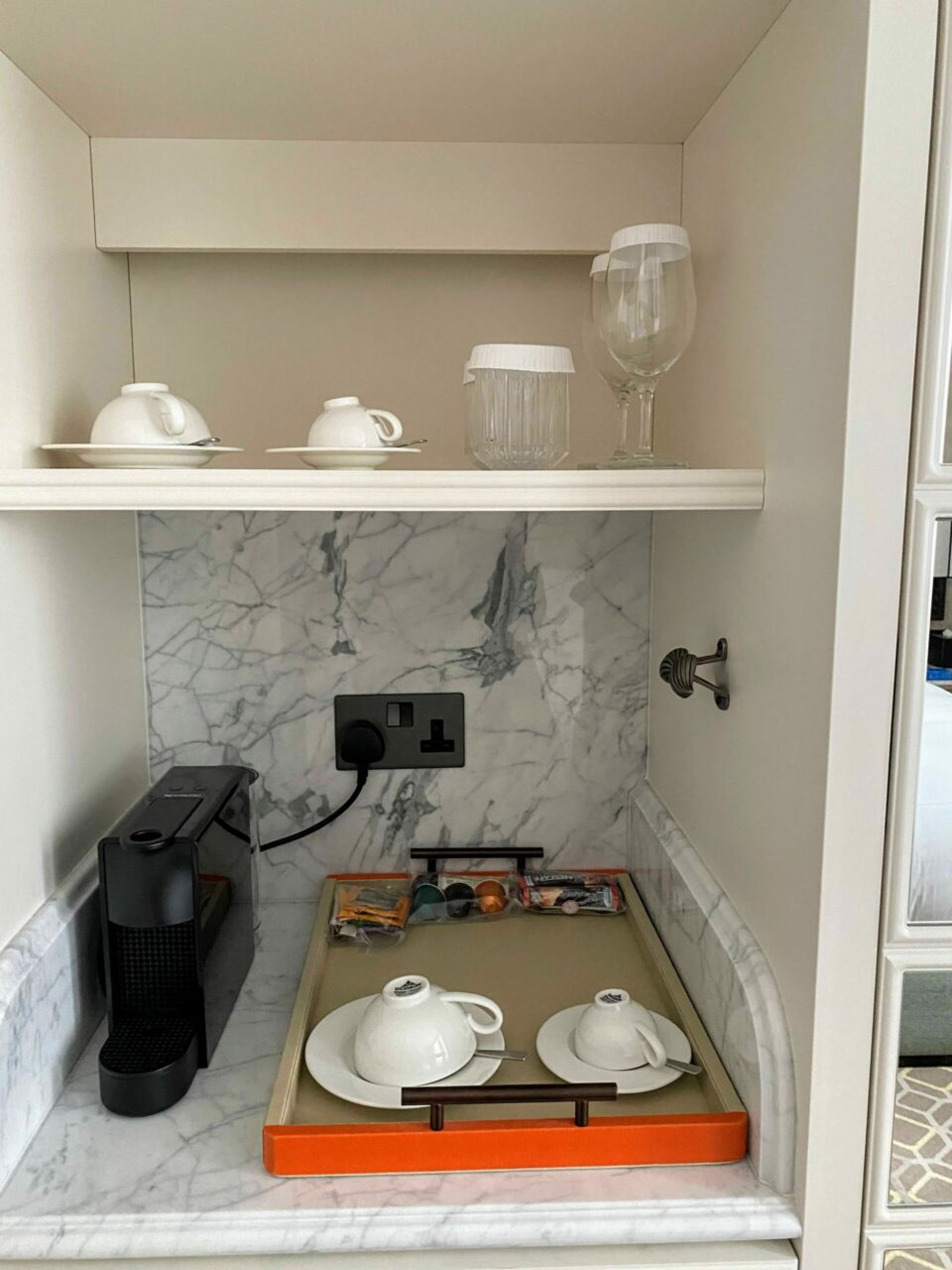 The only place to work or sit was a solitary chair and a marble table. However, hidden behind the curtains, there was a selection of power points right by the table, so it was fine to work at if a bit slippery for my mouse. There was also a stool.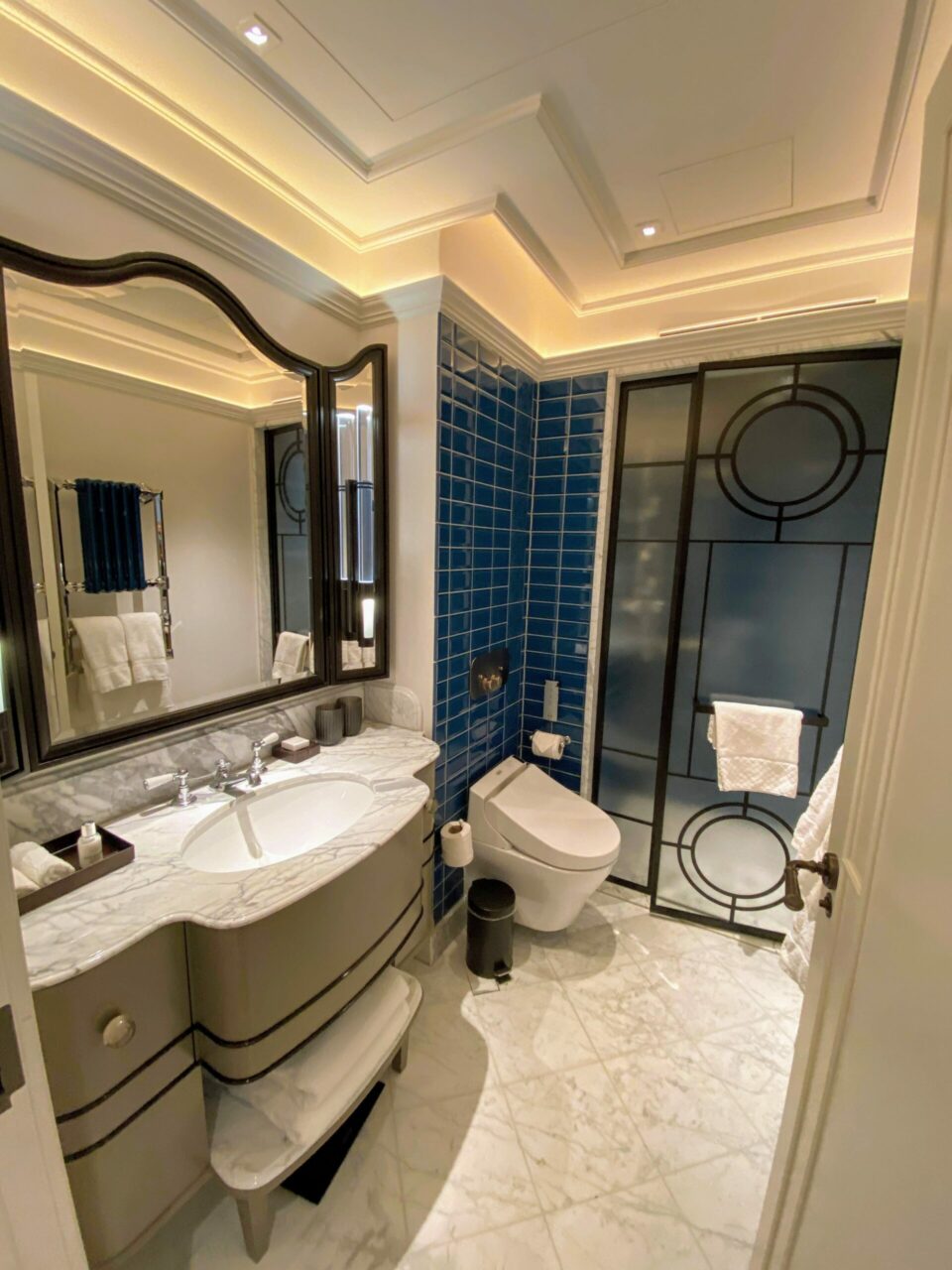 The bathroom was a highlight for me with its stylish decor and one of my favourite things – a Japanese toilet! There was oodles of storage space for your toiletries and a good selection of toiletries by Scottish Fine Soaps, who make great quality products (I really recommend their Au Lait milk range, especially the bath and shower gel.)
The shower was roomy and had good pressure from the rain-head shower. However, it did have one of those complicated old fashioned sets of levers and dials that took me a few moments to figure out how to use!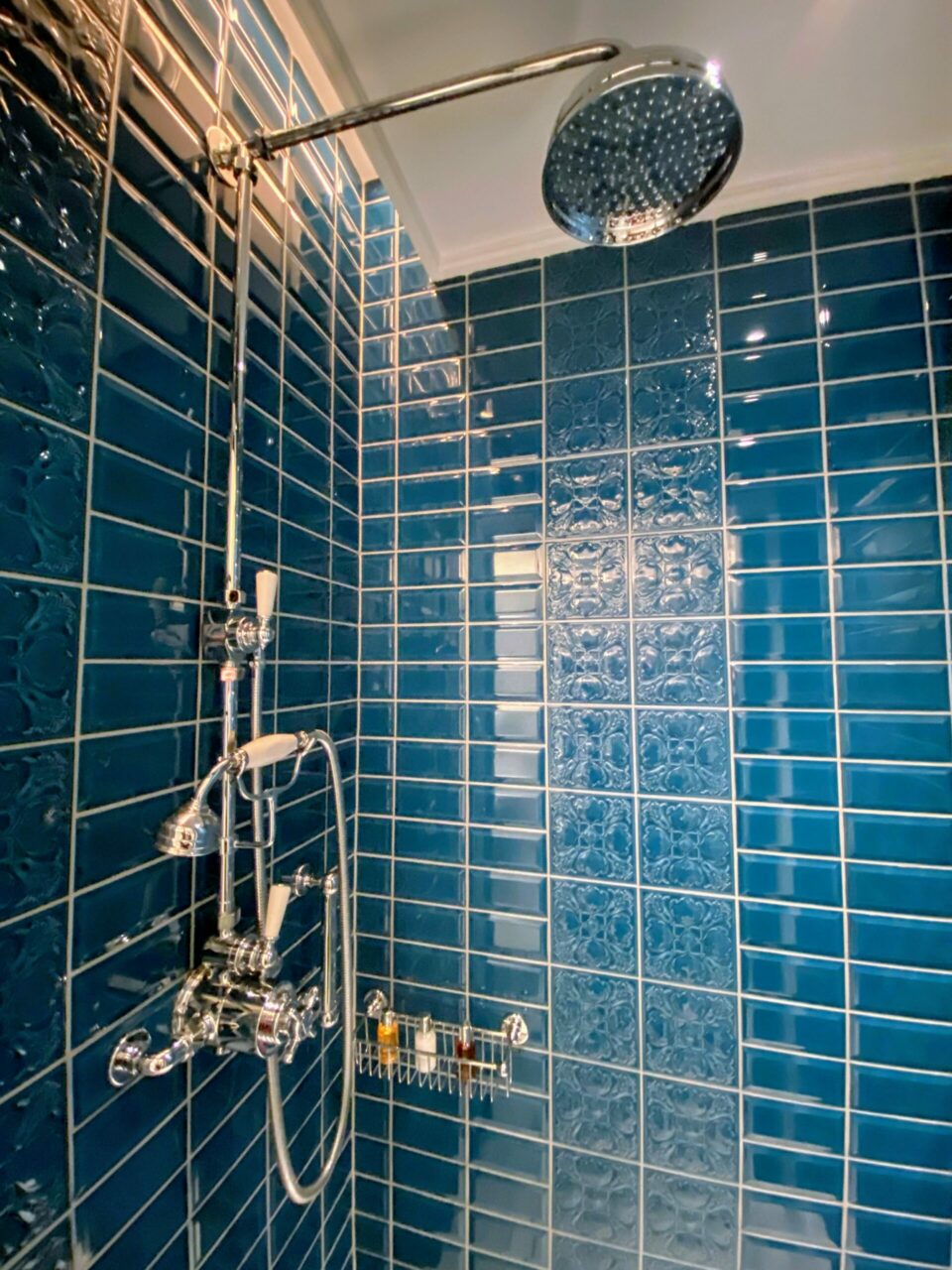 The bed was comfortable, although, for me, it was slightly on the firmer side. Air-con was simple to use and efficient, and there was little noise from outside the room either in the corridor or on the street.
I was pleased to see that the lights were simple to use and clearly labelled by the bedside. There is also a clever motion-sensitive night light on the floor to light your way for a late-night bathroom trip! If you needed to charge anything, you were spoilt for choice with 2 USBs, a UK and Europe socket right by the bedside table. If only all hotels could do this!
Other rooms at Great Scotland Yard Hotel London
The top non-suite category is the King Premium which is on the top floor of the hotel.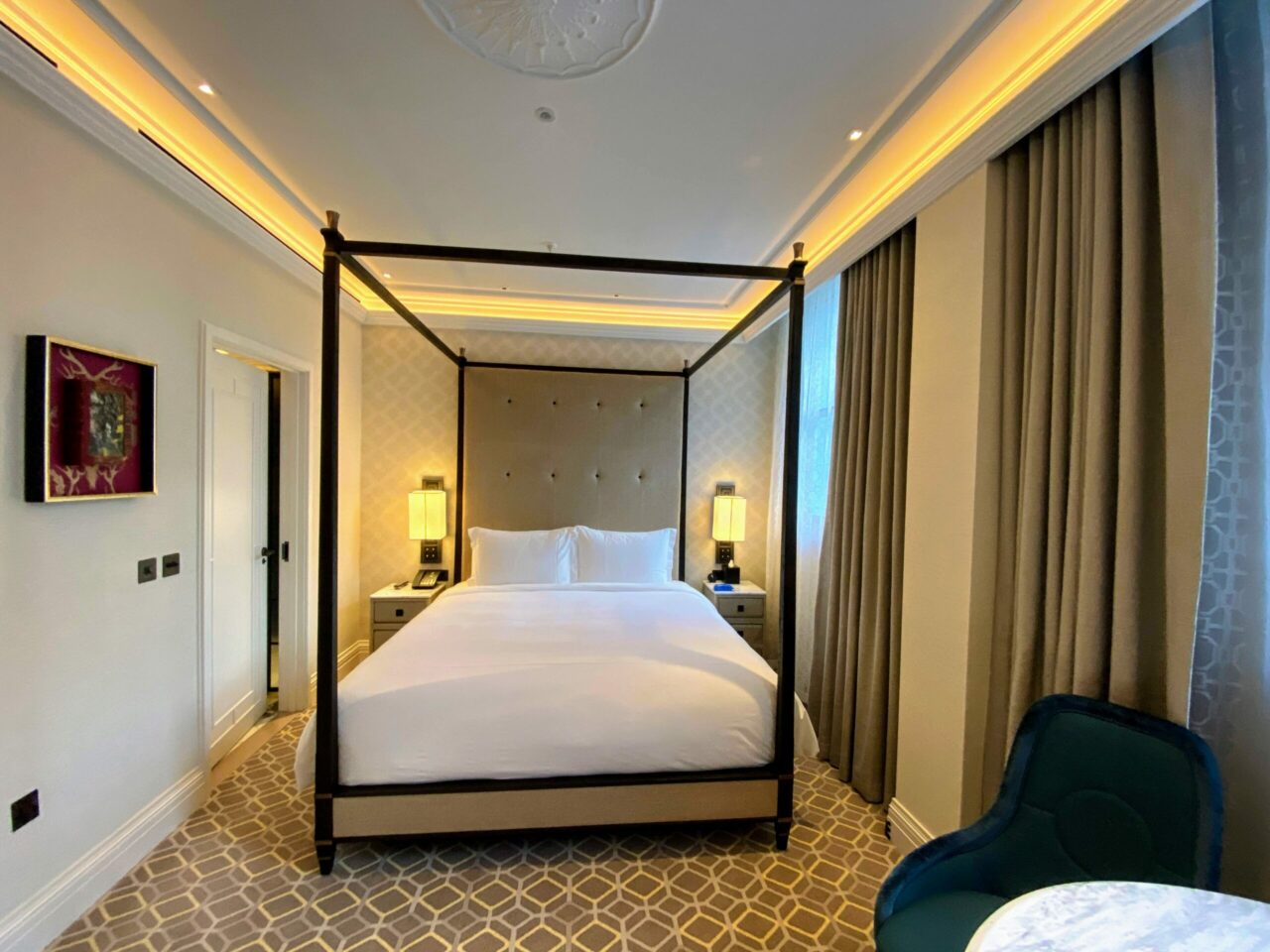 If you want to indulge, there are 15 suites that are worth looking at. No two rooms are the same at the hotel.
Great Scotland Yard Hotel London The Khoelser Suite
The 332 sq ft Koestler Suite is named in honor of Koestler Trust, which works with prisoners across the UK, using art and creativity as part of the rehabilitation process.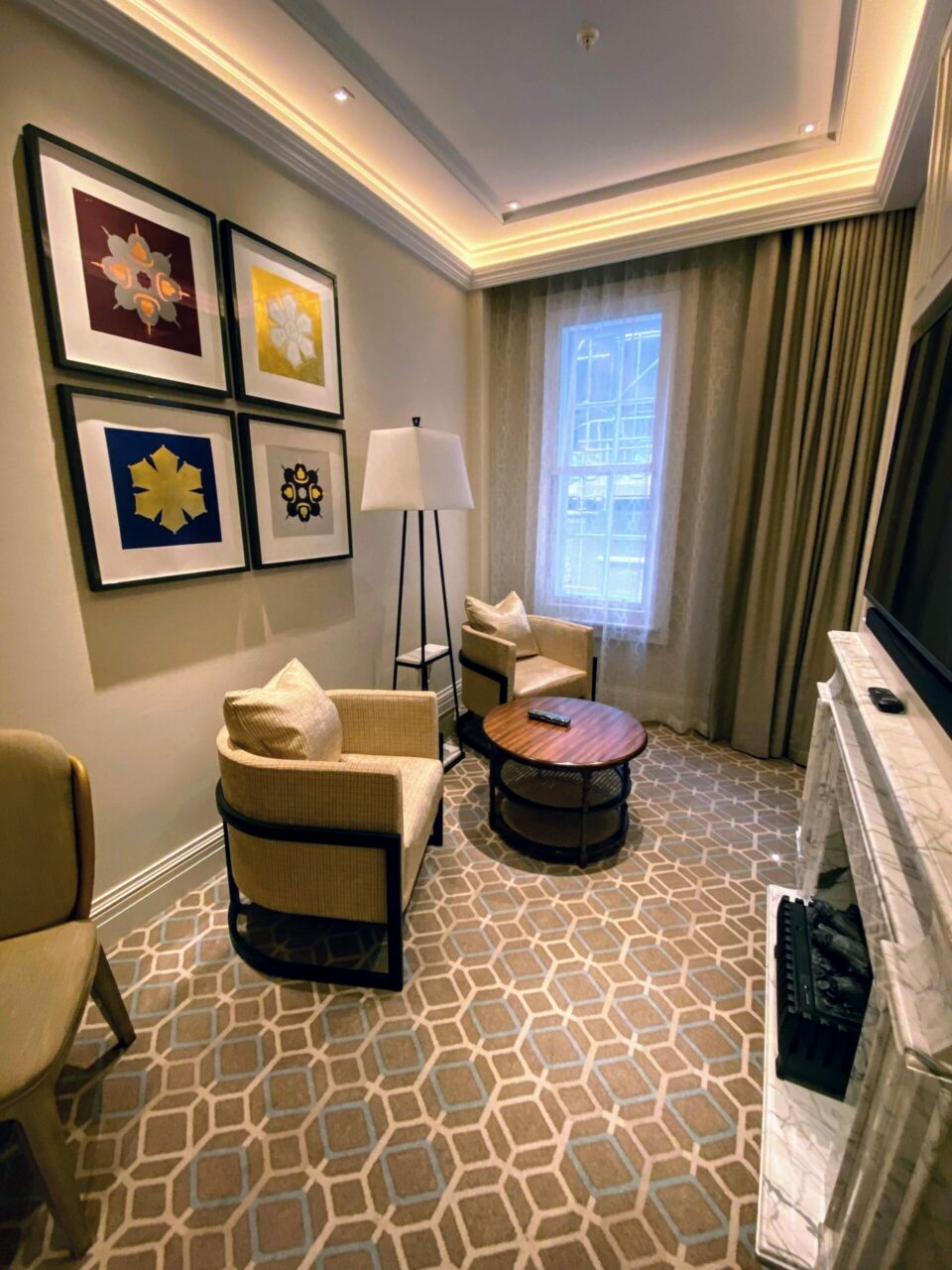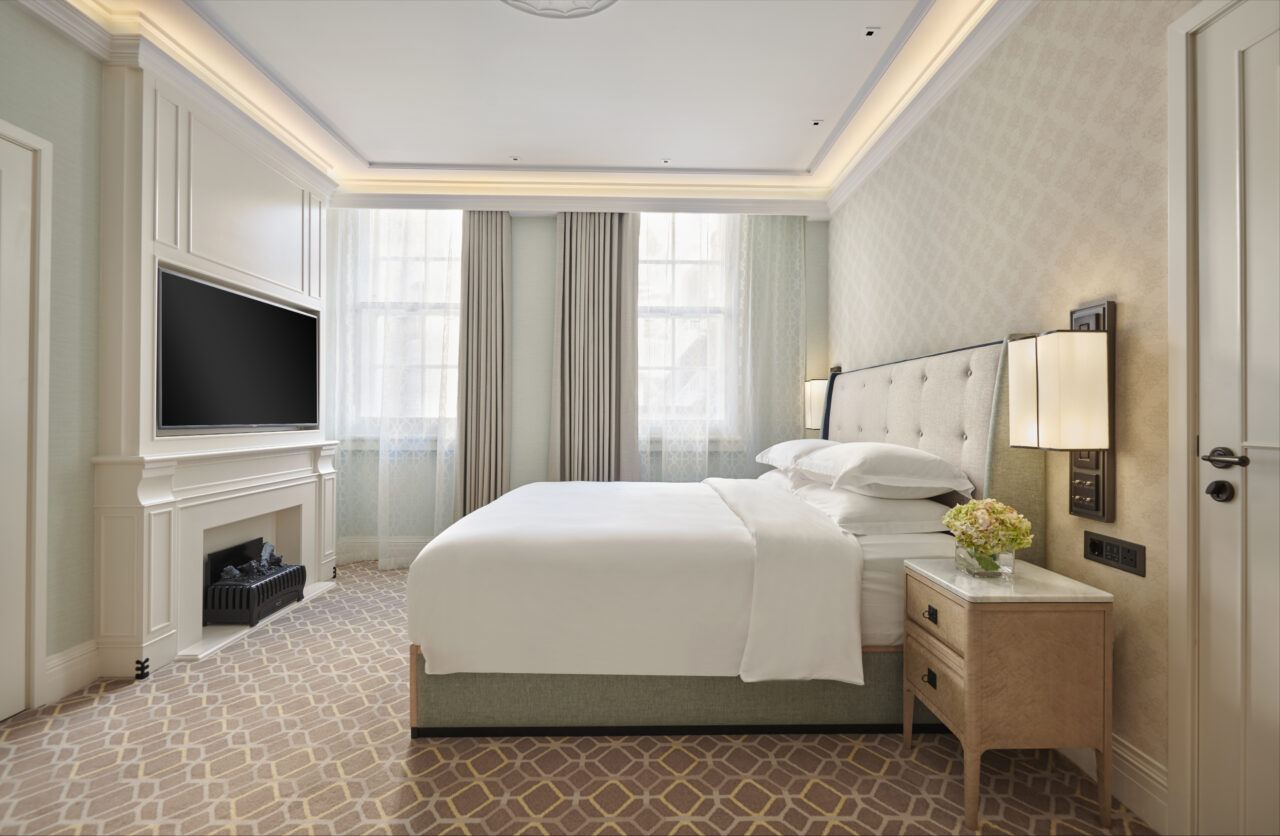 Great Scotland Yard Hotel London Sherlock Suite
This is their top category suite apart from the separate Townhouse with two bedrooms (watch out for my Forbes article featuring this). Inspired by Sherlock Holmes, the suite is a generous 433 sq ft.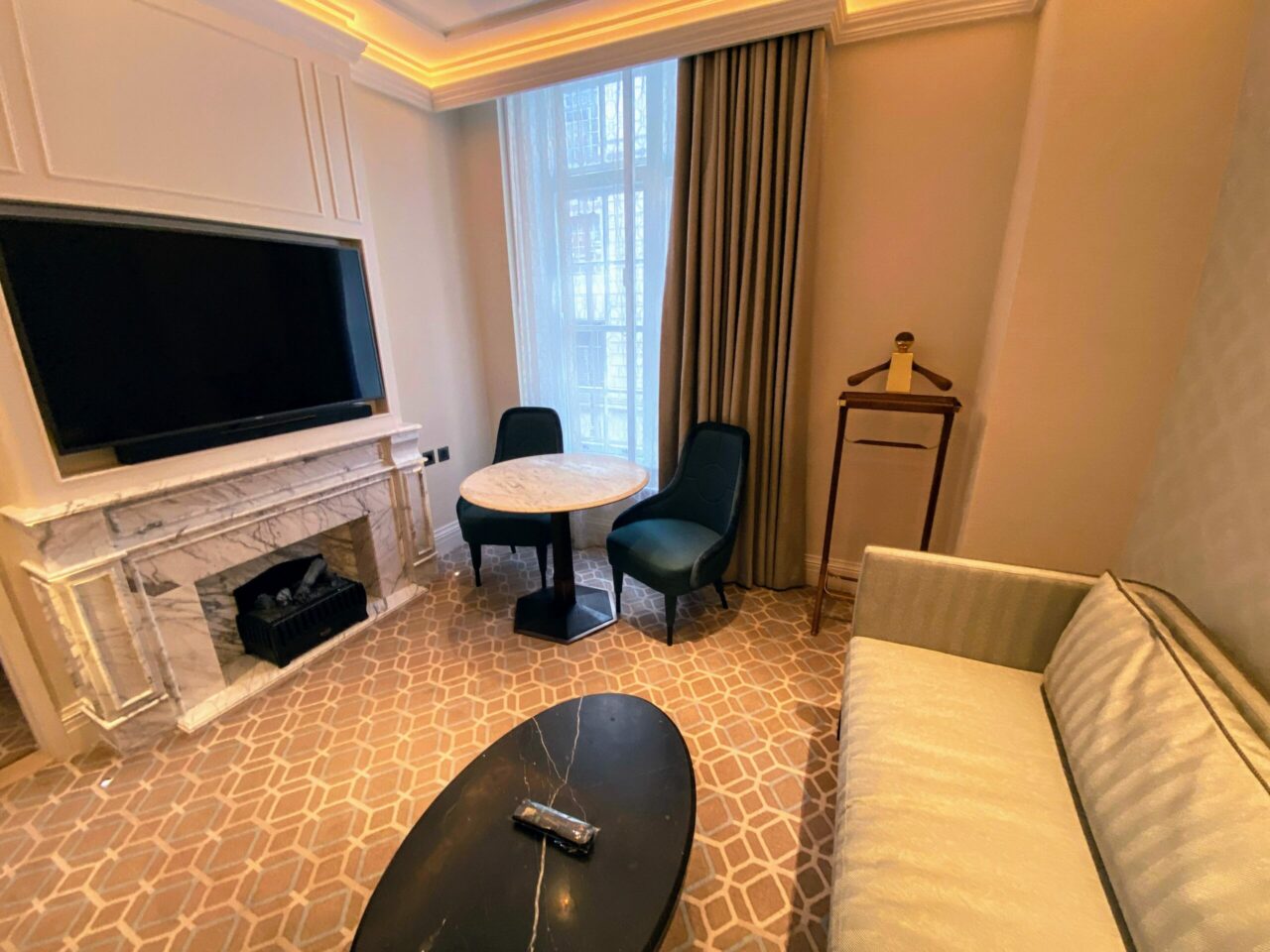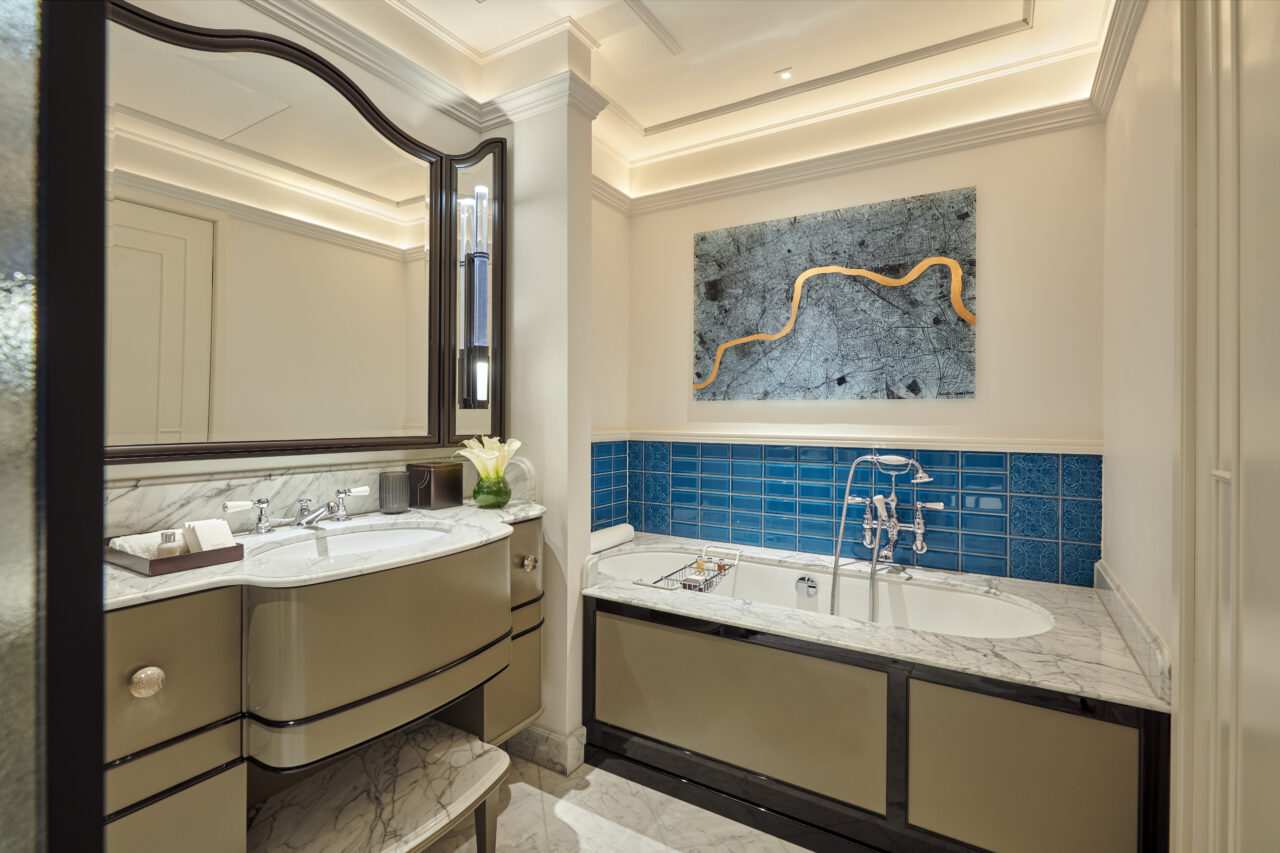 Food and drink at Great Scotland Yard Hotel London

If I were in the area, I would be definitely tempted to visit Great Scotland Yard for its great bars. I also received a free drink from the bar as a welcome gift, so I headed down in the late afternoon to check out the 40 Elephants bar for a glass of their signature punch. I loved the elegant decor and the friendly staff. The 40 Elephants were an all-female shoplifting gang that started in the 18th century.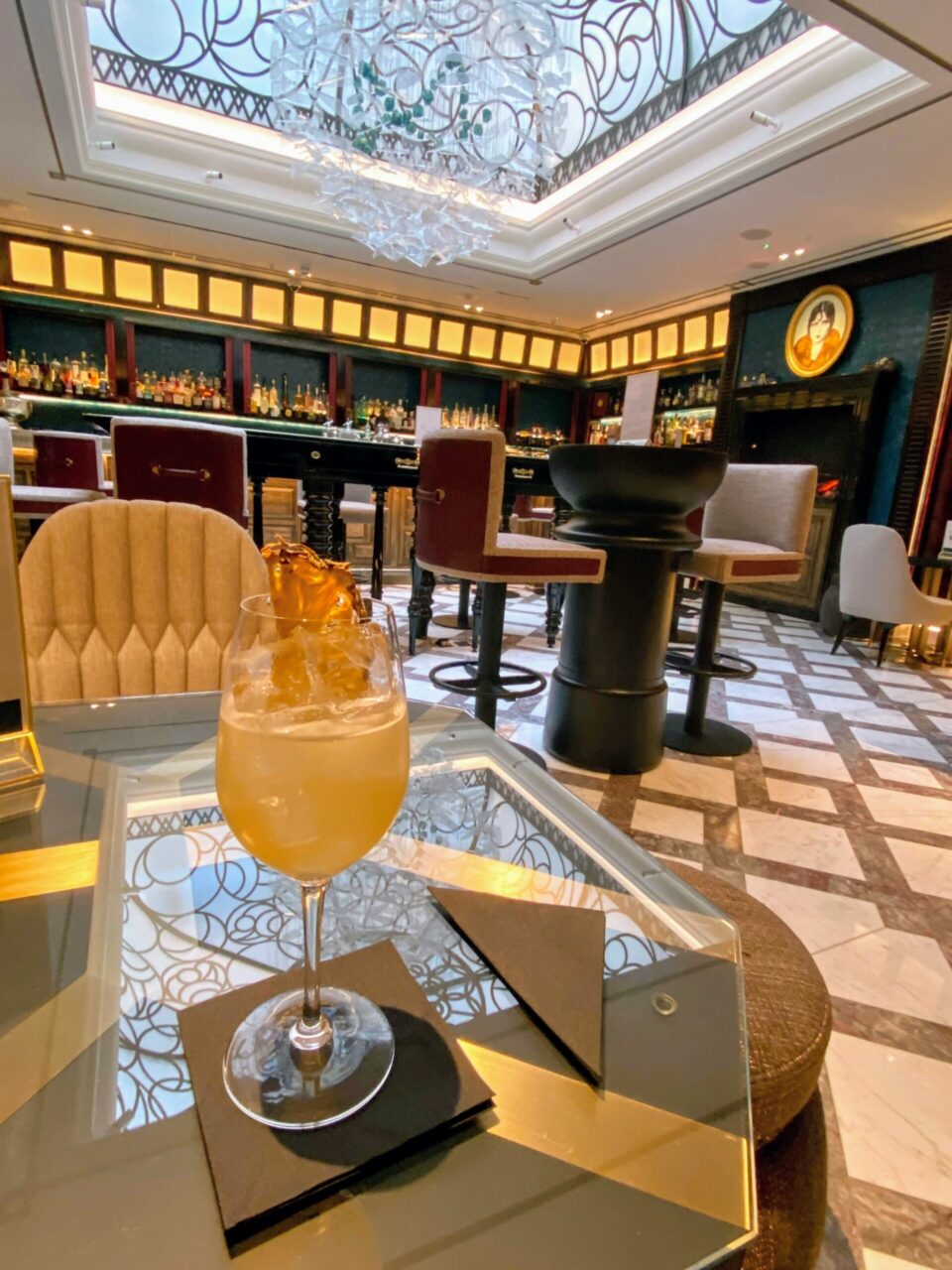 The punch was a refreshing take on a Pina Colada, which is one of my favourite drinks. For most of my stay, the bar was fairly busy, so it seems to have developed a reputation by itself.
You can see some of the signature cocktails here: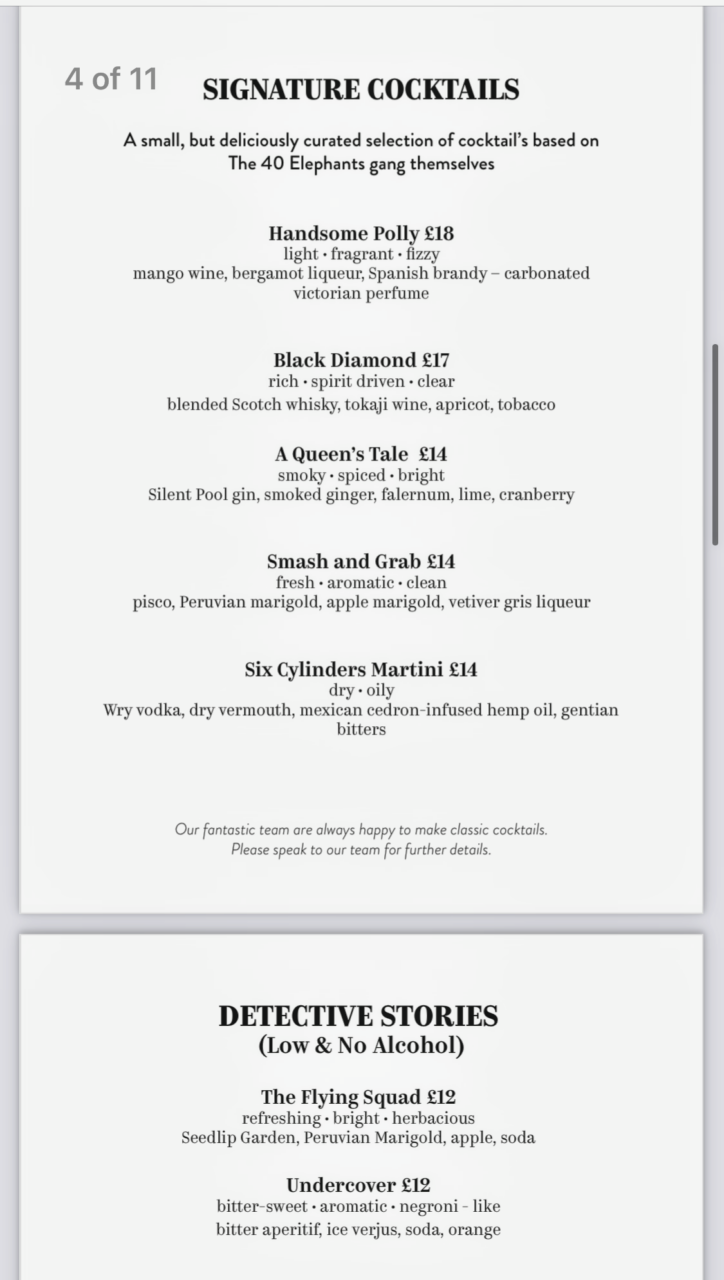 Sibin
The other main bar, which is based on a speakeasy, was closed while I was there, but I hope to visit another time as it looked great. The entrance is hidden behind a bookcase as a good speakeasy should be! It is based on the illicit bars that originated in Ireland around the turn of the seventeenth century.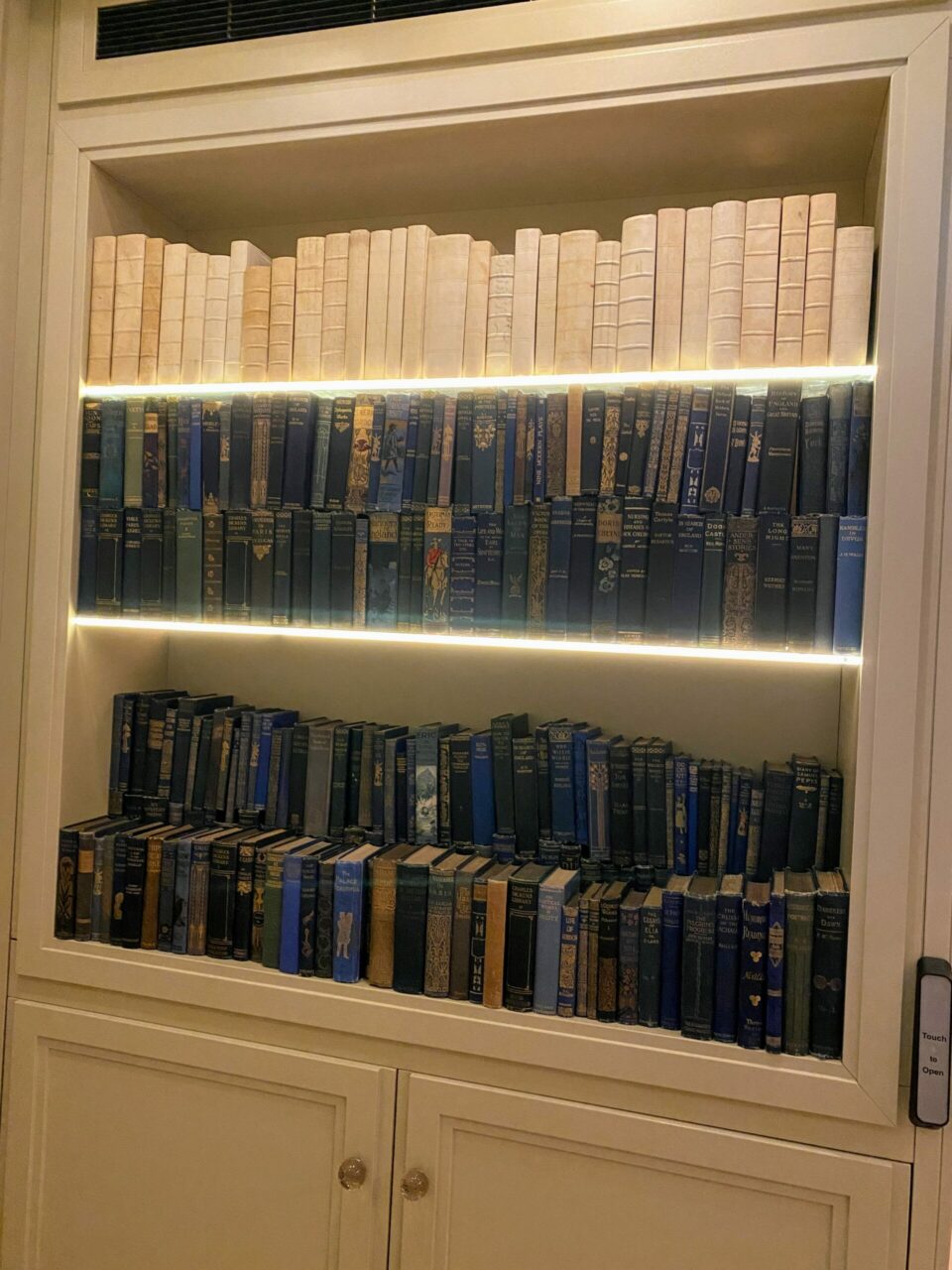 Sibin is based around Whisky, including cocktails and a large selection of the drink itself with over 100 bottles from around the world, including many limited editions. Unfortunately, it is still currently closed.
Veuve Cliquot Champagne Terrace
The Veuve Clicquot Champagne Terrace is the perfect place to enjoy a glass of Champagne overlooking the Westminster skyline. Veuve Clicquot Yellow Label Brut and Rosé are served by the glass or bottle paired with a selection of bar snacks. The Terrace will operate until September 2021.
Hours: Wednesday – Saturday 1 pm – 9 pm
The Yard
This is the only restaurant at the hotel, although it is about to have a new reincarnation, as you will see below. I visited for breakfast was looked after by a delightfully chatty waitress.
Here is the breakfast menu: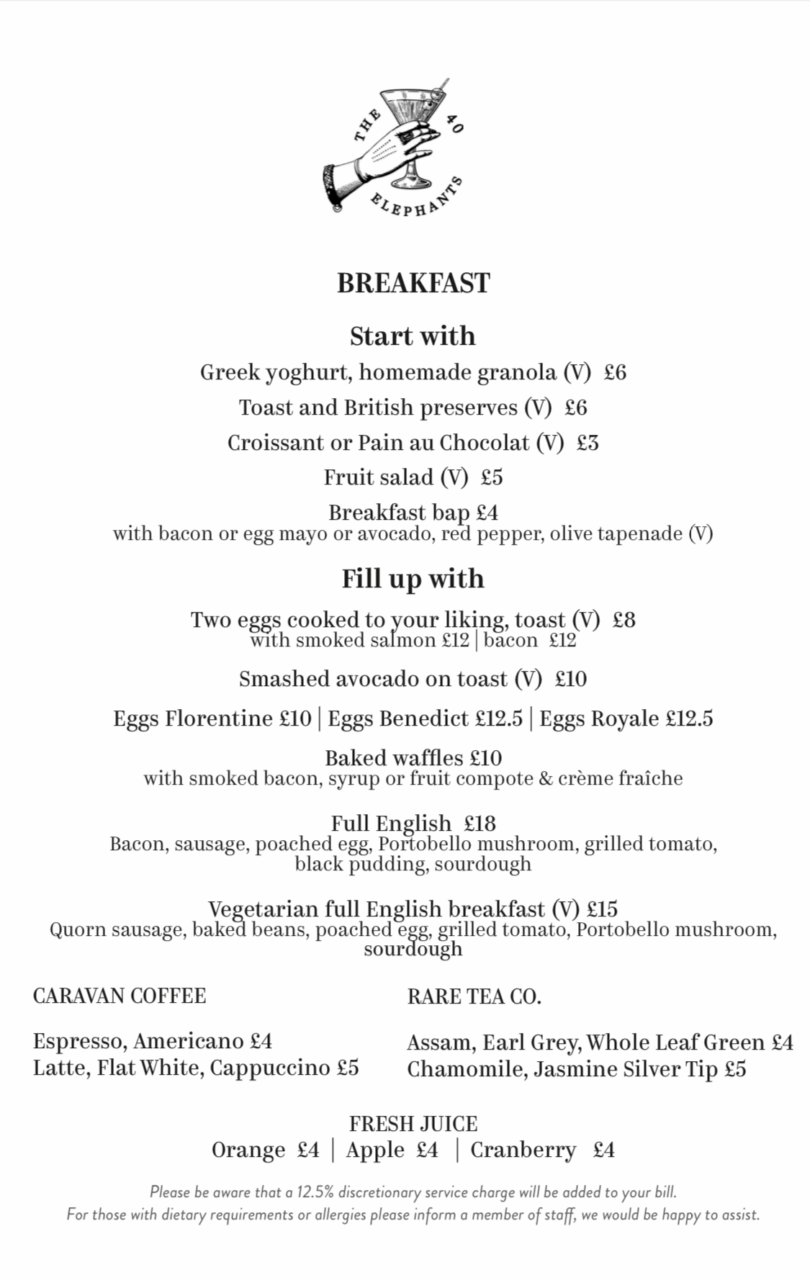 I thought prices were very reasonable – especially the £4 bap! I'm afraid readers, I was very dull and went with the usual avocado on toast, but I did add in a fruit salad for variety. The coffee was excellent, which was just as well as I was in dire need after a slightly heavy night out! The fruit salad was a generous size and tasted super fresh. Even after Covid goes, I'd much rather have a la carte than a buffet.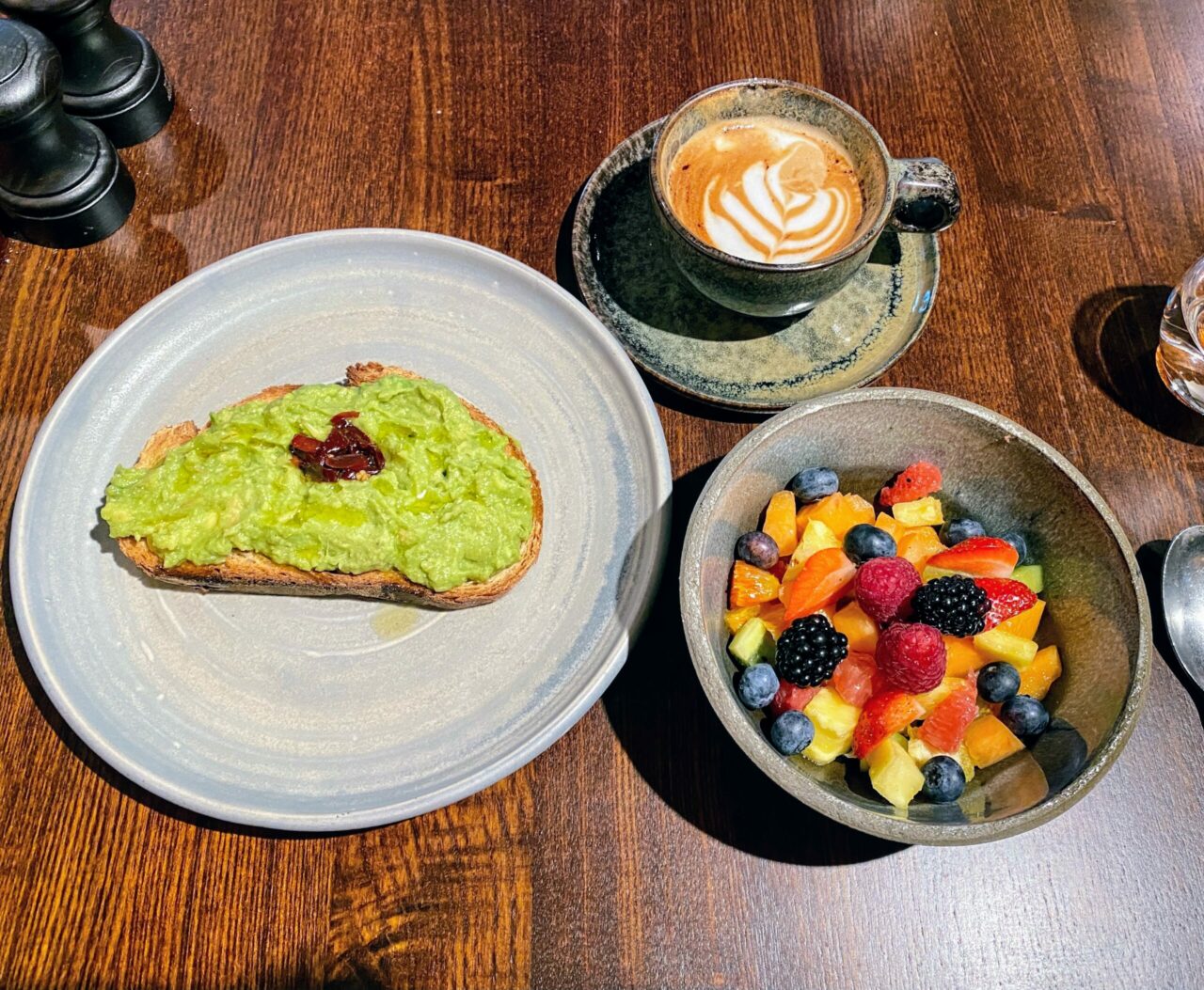 Ekstedt at The Yard
From 17th September, award-winning Michelin starred chef Niklas Ekstedt will open his first restaurant outside of Stockholm, launching Ekstedt at The Yard. The flagship restaurant will bring Niklas' signature style of wood-fired 'old Nordic' cooking to the UK for the first time.
Ekstedt at The Yard will focus on Scandinavian cooking techniques using the very best seasonal British ingredients, featuring a menu of signature dishes alongside an inventive cocktail menu and a natural wine list.
You can find more details here.
The Parlour at Great Scotland Yard Hotel London