I have just returned from five weeks of working remotely in Barcelona, Spain. Although I opted for an Airbnb for most of our trip, on our last night, I wanted my daughter and I to have an extra special experience. After exploring Barcelona's fantastic beaches, my favourite was Platja de Llevant beach. I saw The Hilton Diagonal Mar from a distance on a visit to the beach and decided to book for our last night – 5th November 2022.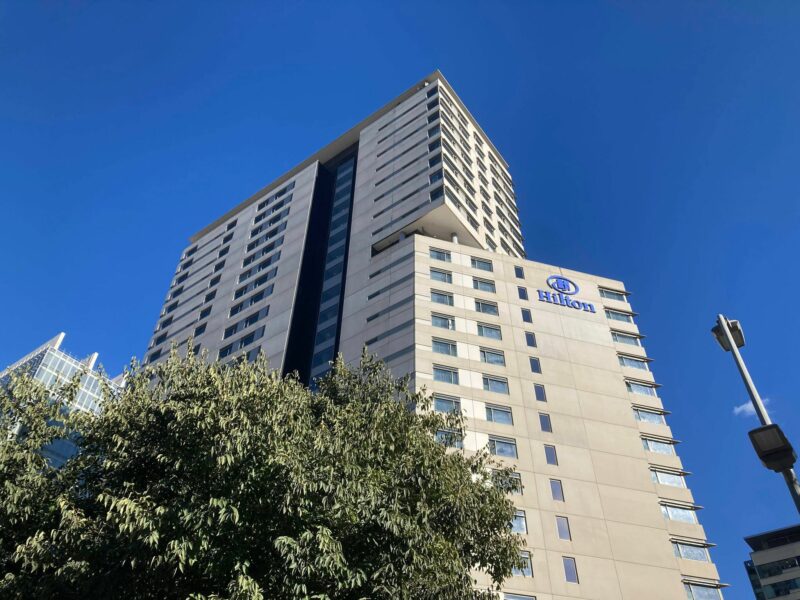 The Location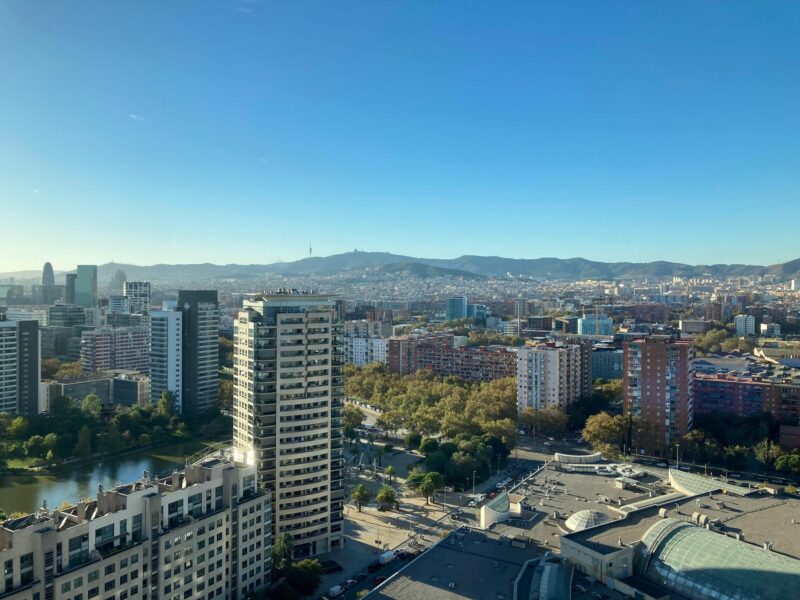 The Hilton Diagonal Mar is a little out of Barcelona City Centre, right on the outskirts of the city overlooking Llevant Beach, the last beach in Barcelona before you reach the Badalona area.
The hotel is strategically located at the Barcelona International Convention centre, in one of the best areas in Barcelona. There's a huge shopping centre just opposite too!
There are very good transport connections to the city centre. A 5-minute walk will get you to a tram line stop, where you can board the Metro line for connections anywhere in Barcelona. There are also many bus links. The biggest Taxi rank I saw in Barcelona was just across the road from the hotel.
The Hilton is also just an 18-minute drive away from Barcelona-El Prat Airport, where you can fly to many airports across Europe, North and South America, Asia and North Africa.
Booking
This time, I already knew where I wanted to stay, so instead of browsing hotel booking platforms first, I headed straight to the Hilton website and booked direct. As a new Hilton Honours member, this was the first time I've earnt Hilton points.
I paid £130.30 for the cheapest twin room option available. I was pleased to find a Hilton at this rate. I think it was because it was low season, and the Puro Beach Club had just shut.
Check-In
We had a fantastic check-in experience. Due to our long stay in Barcelona, I had lots of luggage, which the hotel allowed me to drop off the day before. On arrival, we were welcomed by the friendly reception team. My daughter was given a lovely soft toy, and the porter met us in our room with the luggage.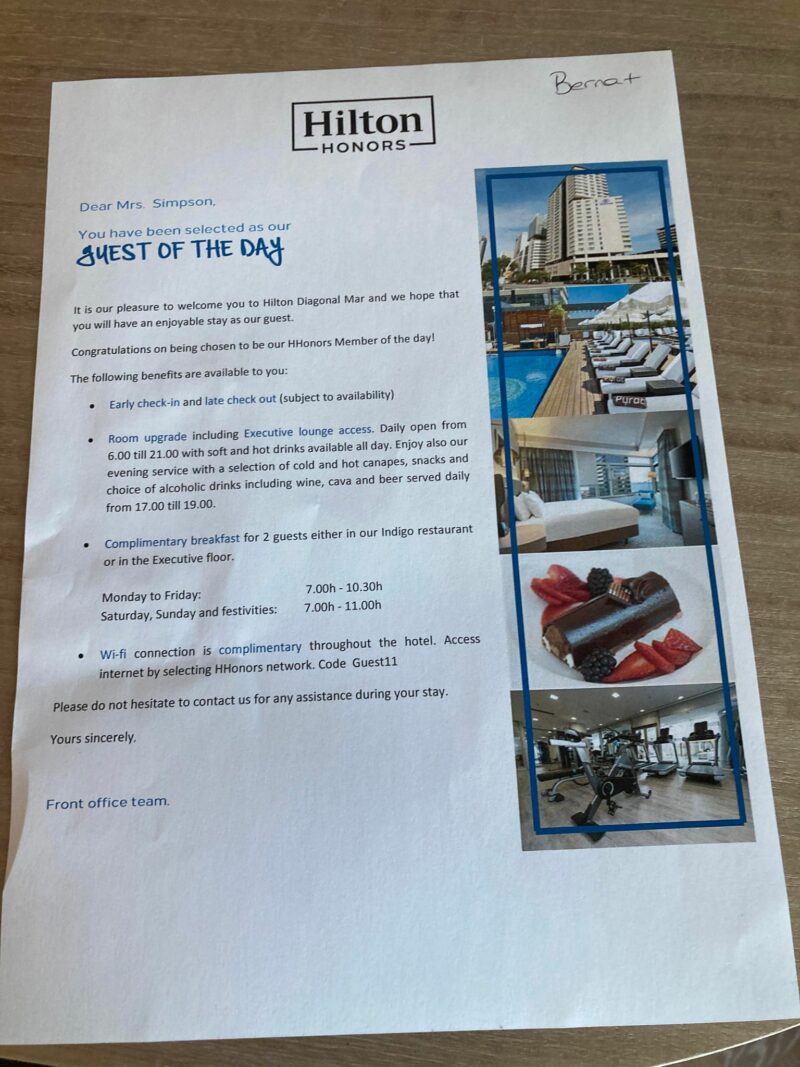 To my surprise, we'd been nominated as guests of the day! This means we got a room upgrade to an executive twin with a view across Barcelona from the 22nd floor, free access to the executive lounge and free breakfast.
The Room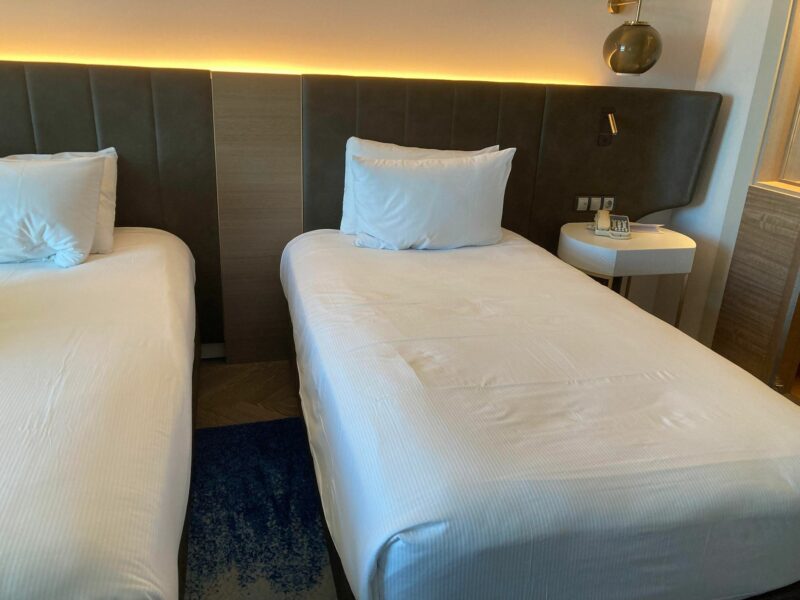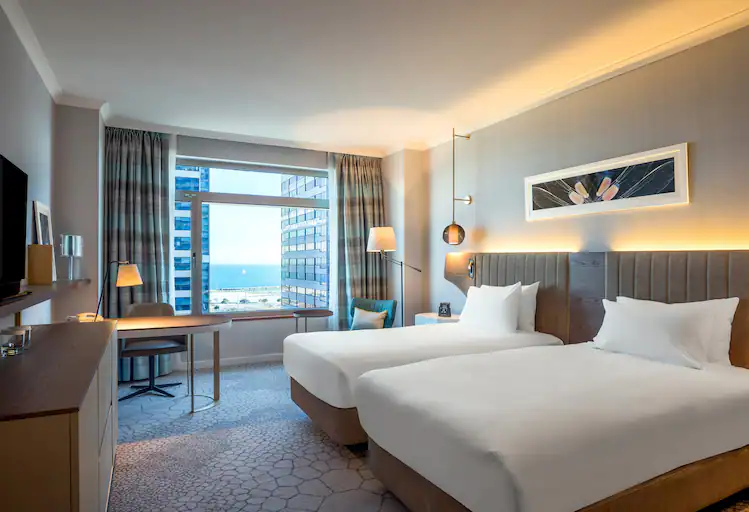 On arrival at the room, we were greeted with a fantastic view of Barcelona's coastline. The room was a twin room, just what I'd expect from a Hilton Hotel. There were many little extras in the bathroom, such as a dressing gown, slippers, and moisturiser.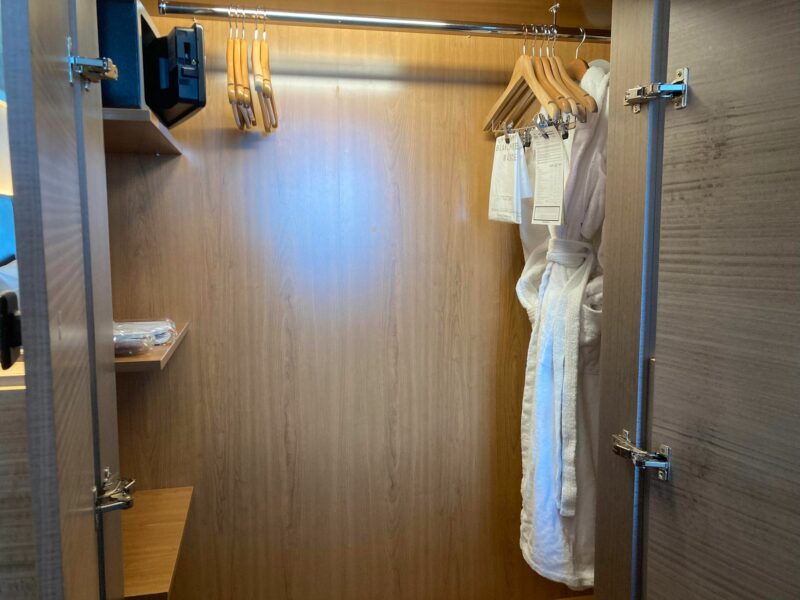 The Executive Lounge
The executive lounge was one of the best parts of our upgrade. The lounge is on the 15th floor, and you can access it with your room key from 6:00 am until 10:00 pm. Tea, coffee, cold water, fruit and nuts are served throughout the day. Between 5:00 pm and 7:00 pm, a hot canopy buffet and a range of soft drinks, spirits, wines and champagnes are available.
The lounge has a stunning view. The atmosphere was more informal and quite empty throughout the day. There's a more formal vibe when the hot food comes out. Lots of people spend the day working on the lounge's own balcony.
The executive lounge is available to people with Hilton Honours Diamond Elite status and with particular room upgrades. With gold status, you'll be able to use the lounge if you get an available space upgrade.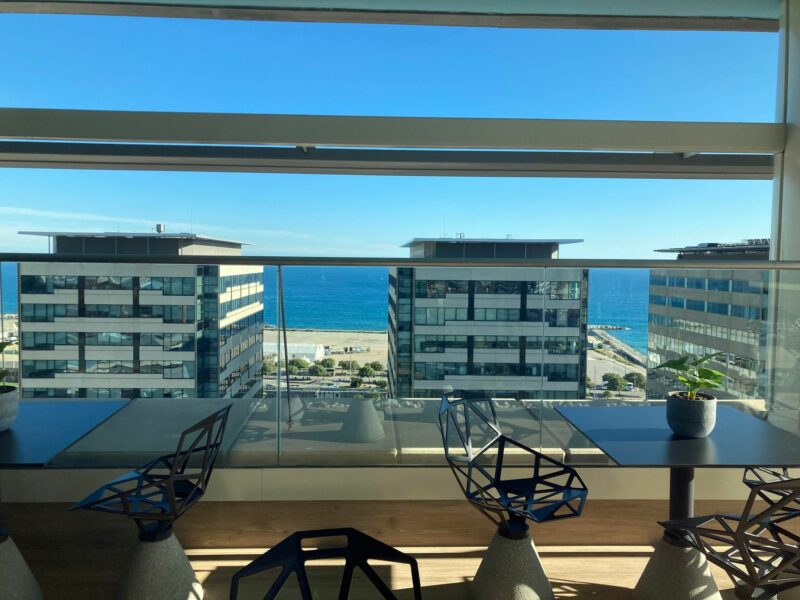 Other Hotel Facilities and Services
The Hilton Diagonal Mar is home to the Puro Beach club, one of the best beach clubs in Europe. Although we had a fantastic view of it from our room, the Beach Club had just closed for the winter. The hotel also features a fitness centre.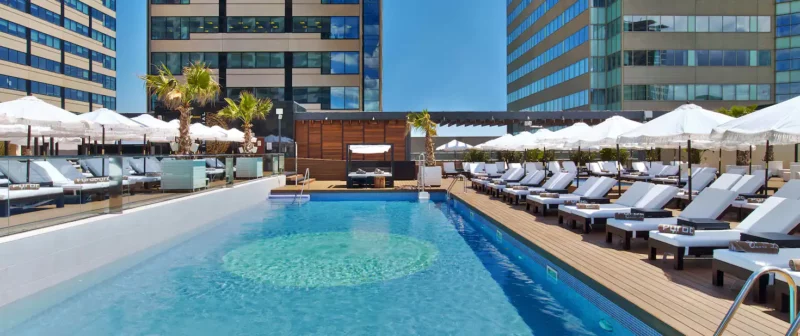 For business travellers, there's a range of meeting rooms and boardrooms available for hire.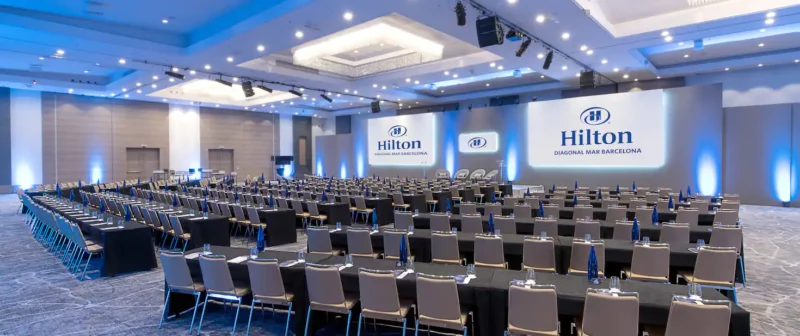 Food and Drink
The hotel has 4 restaurants and bars:
Aürt: Run by chef Michelin-starred Catalan chef Artur Martinez's, this restaurant focuses on tapas dishes with the aim of providing an amazing gastronomic experience.
Ma'i Snacks and Drinks: A place to get tapas, snacks and drinks throughout the day.
PuroBeach: Only open during the summer months, this is the place to go for a relaxing meal a cocktail and a varied menu of snacks and main dishes
There's also a good selection of room service options, including a breakfast room service menu.
The Indigo Restaurant – Breakfast
We had a fantastic breakfast at the Indigo restaurant. There was a huge array of smoothies, good-tasting coffee and a range of breakfast options from around the world. My daughter loved her orange juice being topped up by the waiters as well as many other extra touches.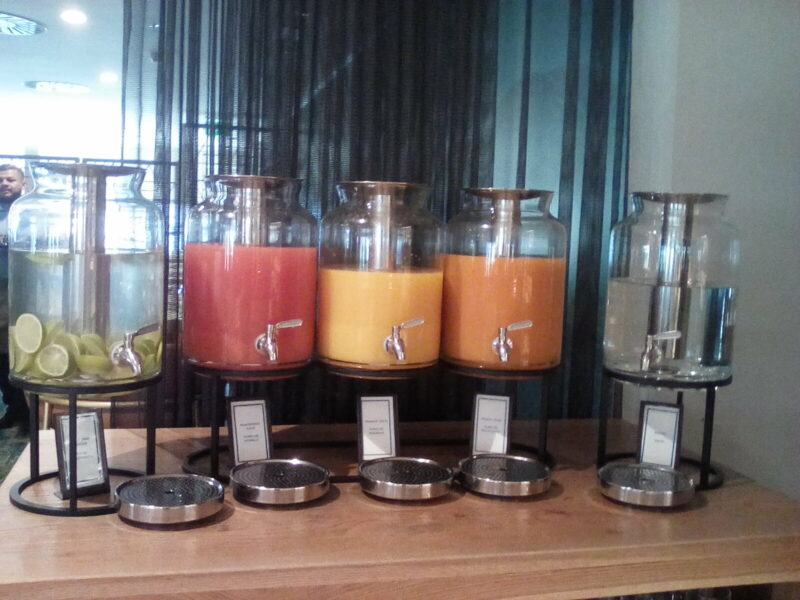 Check Out
We had a fantastic checkout experience. I phoned the porter from our room, who collected our luggage, waited for us to check out and even loaded it into the taxi. The only thing I would say is it took quite a while to refund the deposit and queue, in opposition to some European hotels with a fast check out system.
Would I Stay Again?
I would definitely stay at the Hilton Diagonal Mar again. I'm hoping to return to Barcelona sometime in the summer, and I'll definitely be rebooking for our last night. Whether you're staying in Barcelona before a cruise, as a very long layover, on a business trip or on holiday, the Hilton Diagonal Mar suits all traveller types.