Along with many other unwanted aspects of Brexit, we have also lost most of the Duty Free and Tax Free shopping at the airport apart from cigarettes and alcohol. Personally, I think this was completely unnecessary money-grabbing from the government which is likely to have serious consequences for overseas tourists wanting to go on shopping trips in this country. They will simply go somewhere cheaper with tax rebates. Most countries offer some sort of tax-free shopping and rebates for tourists to encourage visitors.
So if you are flying out of the UK is there any way to save money on your airport purchases? This article takes a look at the options available.
Heathrow Rewards

Heathrow Rewards is the loyalty scheme from Heathrow which is free to join. You don't need to wait for a physical card as it can all be done on the app.
£10 = 10 Heathrow Rewards points but Premium Rewards members receive 20 Heathrow Rewards points for each £10 they spend. 500 points gives you a £5 shopping voucher which you can spend instantly at most shops with your card.
You can collect Heathrow Rewards from:
Shopping at Heathrow
Heathrow Parking
Travelex
Heathrow partner paid-for lounges including Club Aspire and Plaza Premium.
Emirates Skyward miles (minimum is 6,000 miles transfer). Conversion rate is 3:1 – 6,000 miles gets you 2,000 Heathrow Rewards points. Sadly you can't convert these into other miles!
Heathrow Express
Premium Services
Rocket Miles
The redemption opportunities include:
Shopping vouchers 500 points = £5
Money off Heathrow official parking 500 points = £10
Heathrow Express
Miles – Avios, Virgin Flying Club, Emirates, Miles & More, KrisFlyer & more 250 points = 250 miles
Lounge discounts
f you spend a lot of money with Heathrow Rewards you may qualify for their Premium level. To qualify for Heathrow Rewards Premium you need to spend £750 or more in one calendar year to be upgraded until the end of the following year. As well as double points on virtually all purchases at Heathrow, Premium members get other offers and benefits but currently most of these have disappeared including the Heathrow Express upgrades. You now get a measly 150 point bonus with Rocket Miles compared to the 150 points before.
The benefits of the tiers include:
You can join here with 100 points as a sign up bonus.
My Gatwick
My Gatwick is different from Heathrow Rewards as you get benefits whether you buy anything or not. It has not really been doing much during the pandemic in terms of offers, but since its no effort to sign up, you may as well if you are flying from Gatwick. Perks includes:
FREE unlimited superfast 100mbps Wi-Fi at Gatwick when you connect using your myGatwick username and password
Receive regular emails to keep you up to date with new offers, routes, airport services, exclusive email-only competitions and other airport-related news.
10% off Official Gatwick Parking
Email alerts to keep track of your flight
The launch of a new website later this year with new exclusive shopping and restaurant offers on myGatwick
Currently, the only offer I can see is 10% off parking. You also need to enter your departure details to get the latest offers.
Red by Dufry – up 10% off
Red by Dufry is an app/loyalty scheme. Dufry are a global duty-free company that own World Duty Free and Hudson (US) stores amongst many others. You will find them in most major airports in the UK and worldwide (plus some cruise ships, train stations and ports) which makes the app worth using. There are 3 levels of status with the app. Each one gives a slightly better discount on purchases although the higher tiers have a higher minimum spend to get the discount. Airports give a set percentage at 5%, 7% and 10% for the silver, gold and platinum tier respectively. You earn points, but they are not redeemable for anything, they just count towards your status. You get gold after spending €400 and platinum after spending €1000. The discount is not available on promotions but you will still get the points towards the next status level.
There are currently two global benefits that RED by Dufry offers: discounts on hotels.com and discounts on Avis car rental. There are many local benefits available dependant on location. To find out what is available you will have to look at Dufry's website.
At Heathrow for example you can get:
Plaza Premium, Club Aspire or No 1 lounge access for $27
20% off Chivas Extra 13
There are also other gift with purchase type offers. Some airports are even offering lounge access. If you are likely to use the app in Spain it may be worth adding your Iberia Plus number when you join as you can also earn Avios with the app in Spain.
Another useful benefit is that you can use the app discounts in conjunction with collecting and spending Heathrow Rewards points.
However, you can't use the RED discount with another discount such as the Heathrow World Duty Free vouchers that sometimes appear.
The first 10 people to sign up using this link will get 100 points.
Save 10% by pre-ordering at Heathrow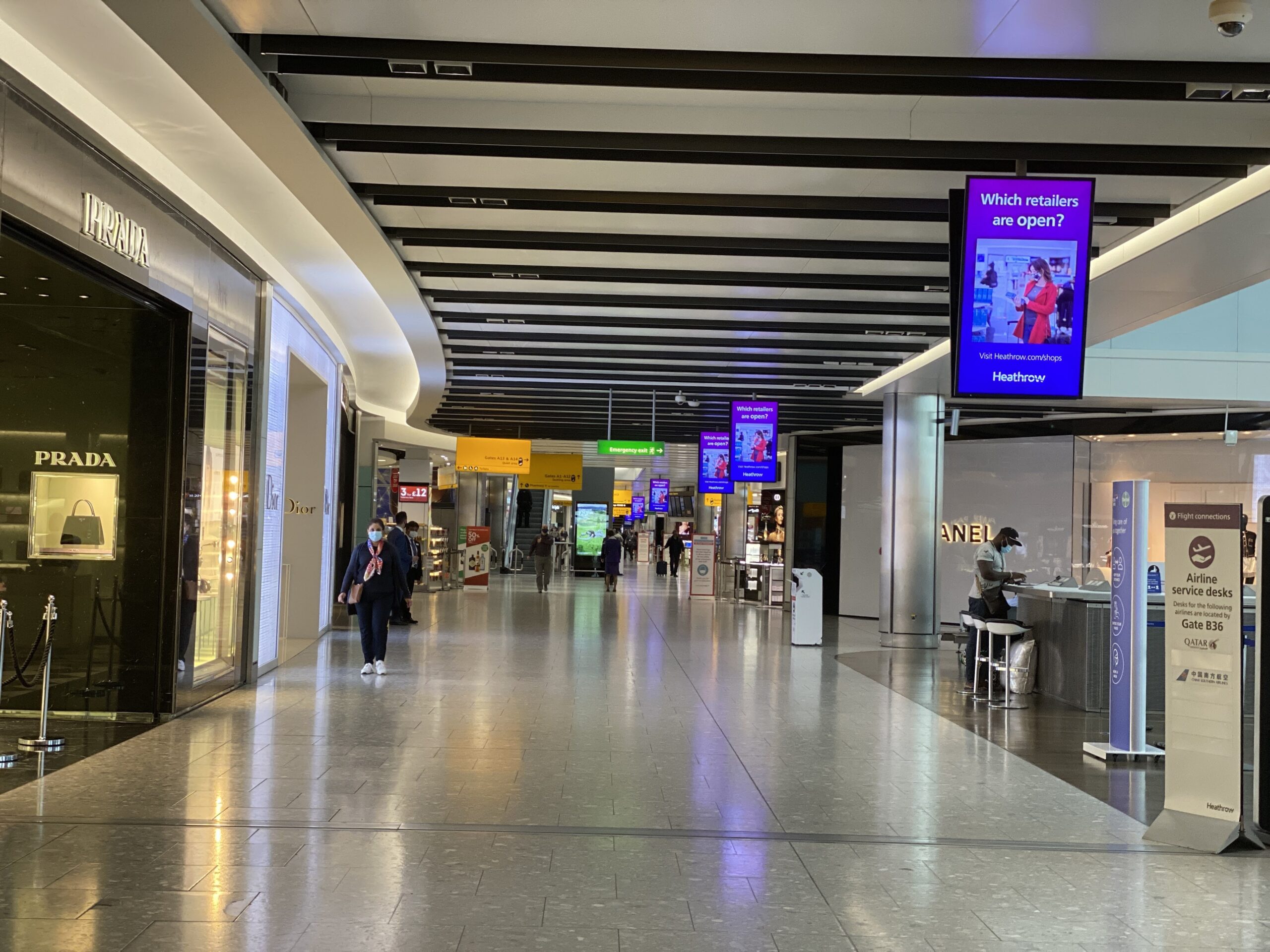 You can save 10% off a number of products by pre-ordering at Heathrow from this page. You are limited to the main Duty-Free store for purchases and they don't have every product. However, there is a good range of cosmetics, skin care, perfume, alcohol, and accessories. It also helps save time at the airport since you just need to collect the goods at the airport and pay for them. The supplies in the Duty Free shops have been a bit limited at times so this also stops you wasting time going in for something they do not have. You do not need to supply any payment details to reserve, just your flight details.
After submitting a reservation request they will send you a reservation acknowledgement email with your reservation number and details of the goods that you have requested to reserve. This does not mean it is available but then you will have another email from the customer service team to confirm whether your requested item(s) are available.
Reservation requests can only be accepted between 1 month and 72 hours prior to your flight time.