It never fails to amaze me how one of the busiest airports in the world has such a terrible choice of hotels nearby. If you want something above a basic Hilton Garden Inn or Courtyard, you are pretty much out of luck except for the TWA Hotel. While I think every aviation fan should at least visit the hotel, staying there does not come cheap. The Hilton JFK is due to close, and the Crowne Plaza at JFK also closed recently. So what are the choices that are left?
The good news is that there are a lot of new hotels from Marriott on the horizon in the area, with the Marriott JFK due to open in August. However, it is still not accepting reservations which makes me suspicious if it will actually open on time. I am due in New York in September to review JetBlue Mint, so I will hopefully try one of the new Marriott properties then, depending on what is open.
Location
One of the newer hotels is the Hyatt Regency which is probably the most upmarket hotel near the airport now. However, it has one major drawback. It does not offer a shuttle service to the airport. Now this would not be a problem normally as it is only 10 minutes drive from JFK. However, Uber is charging a ridiculous $25 each way for the journey, which definitely adds a lot to a hotel stay. I can't understand why they don't offer a shuttle, even if they charged a nominal fee of, say, $15 return. It would still be much cheaper than Uber and encourage more people to stay.
However, there is a subway station (A train) within walking distance or a shuttle ride away, but with two of you, it's just as cheap to get an Uber and less hassle. You would have to get the Airtrain from JFK and then change onto the subway A train. I would not want to walk around the area at night.
If you want to go into Manhattan, it gives easy access from the hotel using the subway.
Booking Hyatt Regency JFK Airport
Rooms cost from 18,000 points per night or £200 a night. They also charge an unjustified $25 destination fee. Since when is an airport hotel a "destination"? Here is what you get for that:
Unlimited long-distance and international calls
Comp Parking
(2) Bottles of Water Per Day
Complimentary Upgraded Wi-fi
$10 daily F&B credit – Market
Digital Newspaper Subscription Access
Business Center Access / Free Print
Genting Rewards Membership
Flushing Art Club – 5% off the first purchase
King Manor- Free admission (2) to one concert or adult workshop
Queens County Farm Museum – 10% off on ticketed events
Alley Pond – 50% off Adult programs
Jamaica Center for Arts and Learning – 20% discount on ticketed events with entrance fee greater than $25.
For those on an overnight from the airport, the majority of those are completely useless. I already get the internet and water for being an Explorist. At least I got some of my money back from the $10 food credit.
Check-in at Hyatt Regency JFK Airport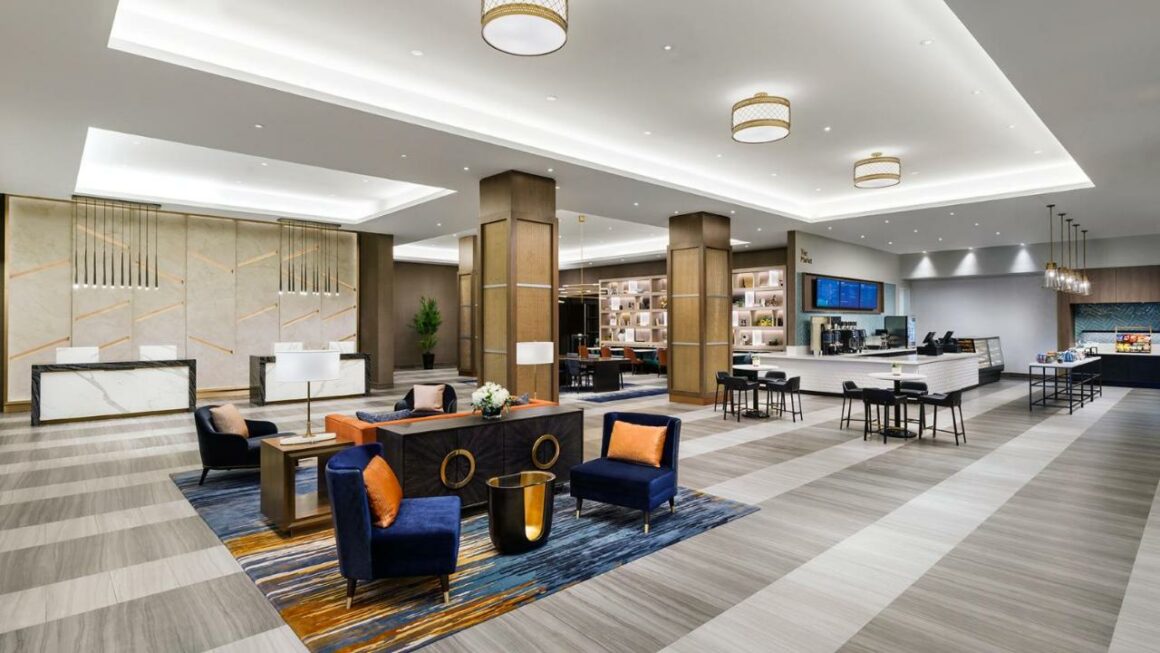 I arrived at around 8 pm, and check-in was pretty quiet. The receptionist was welcoming and recognised my Hyatt status. I did not appear to get an upgrade, or if I did, it was not noticeable from the room I booked. It could have been because I arrived quite late as the hotel did not appear overly busy.
In the lobby, there is a cafe, some tables and chairs for dining as well as a communal work table.
Hyatt Regency JFK Airport Room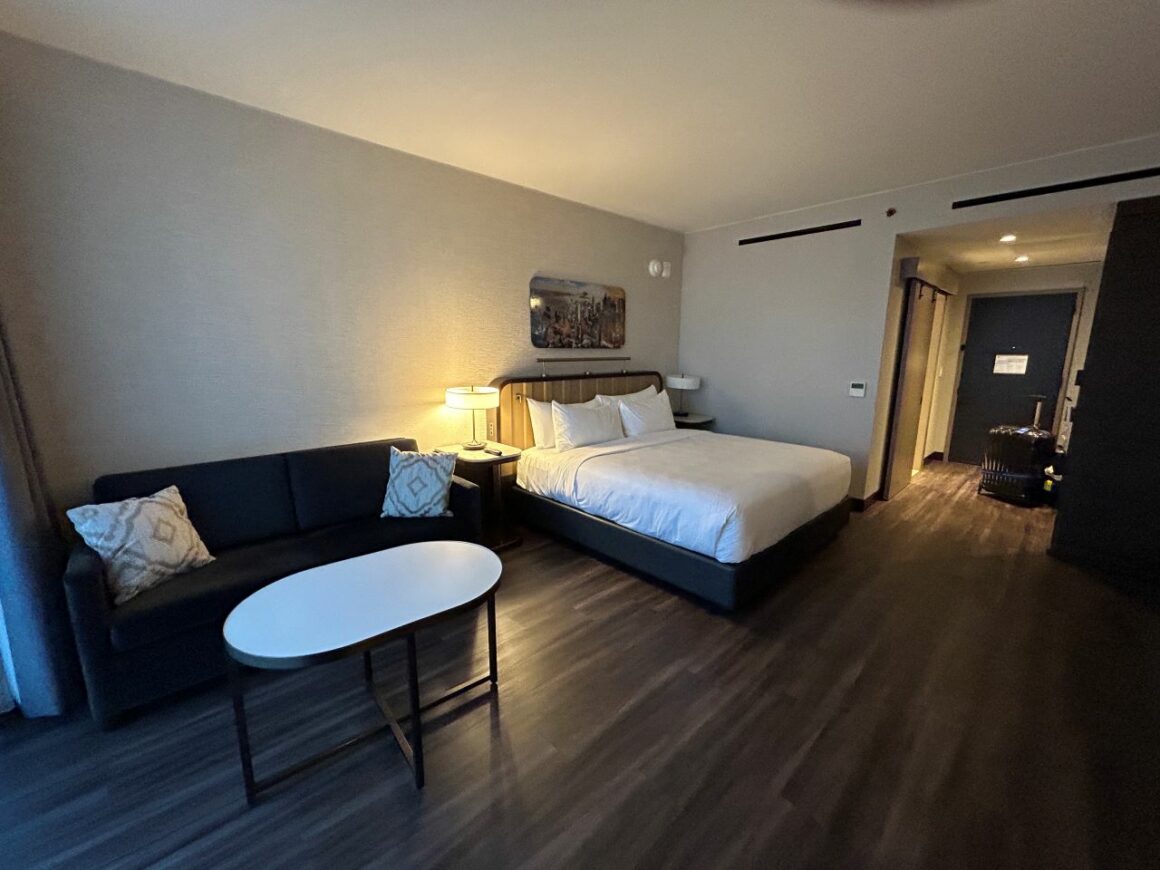 The room was stylish and modern, and huge by New York standards. It was certainly the nicest room I have stayed in at JFK, even including the TWA hotel. I had booked the standard King room with the next category being a City View. This apparently gives a Manhattan skyline view, or you can see planes taking off and landing at JFK Airport. This, unfortunately, was my view: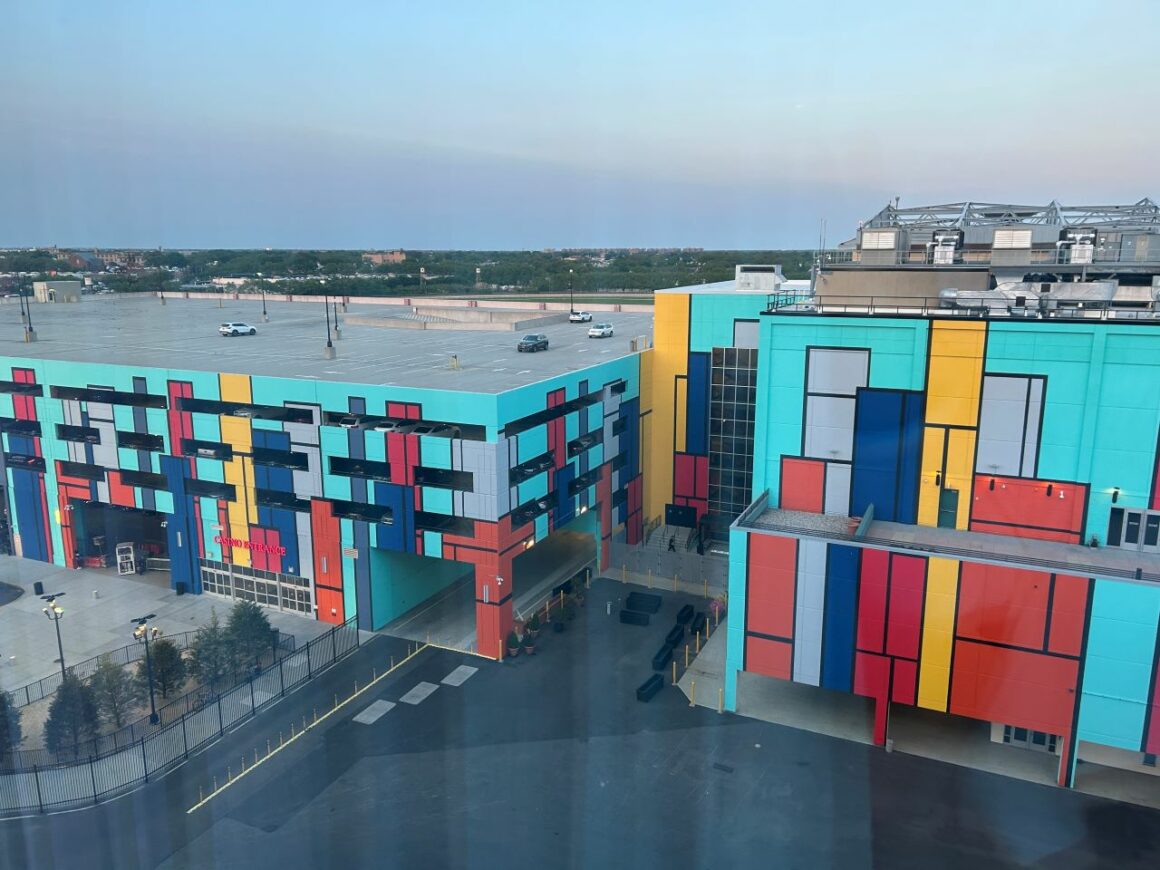 The room was relatively quiet, and the blackout curtains worked well. The aircon was efficient and not too loud. Most importantly, I found the bed very comfortable.
There are charging points by the bed, but they are not easy to find as they are on the side of the headboard. There were two USBs and two power sockets, so you would not have any issues charging multiple devices, which was great.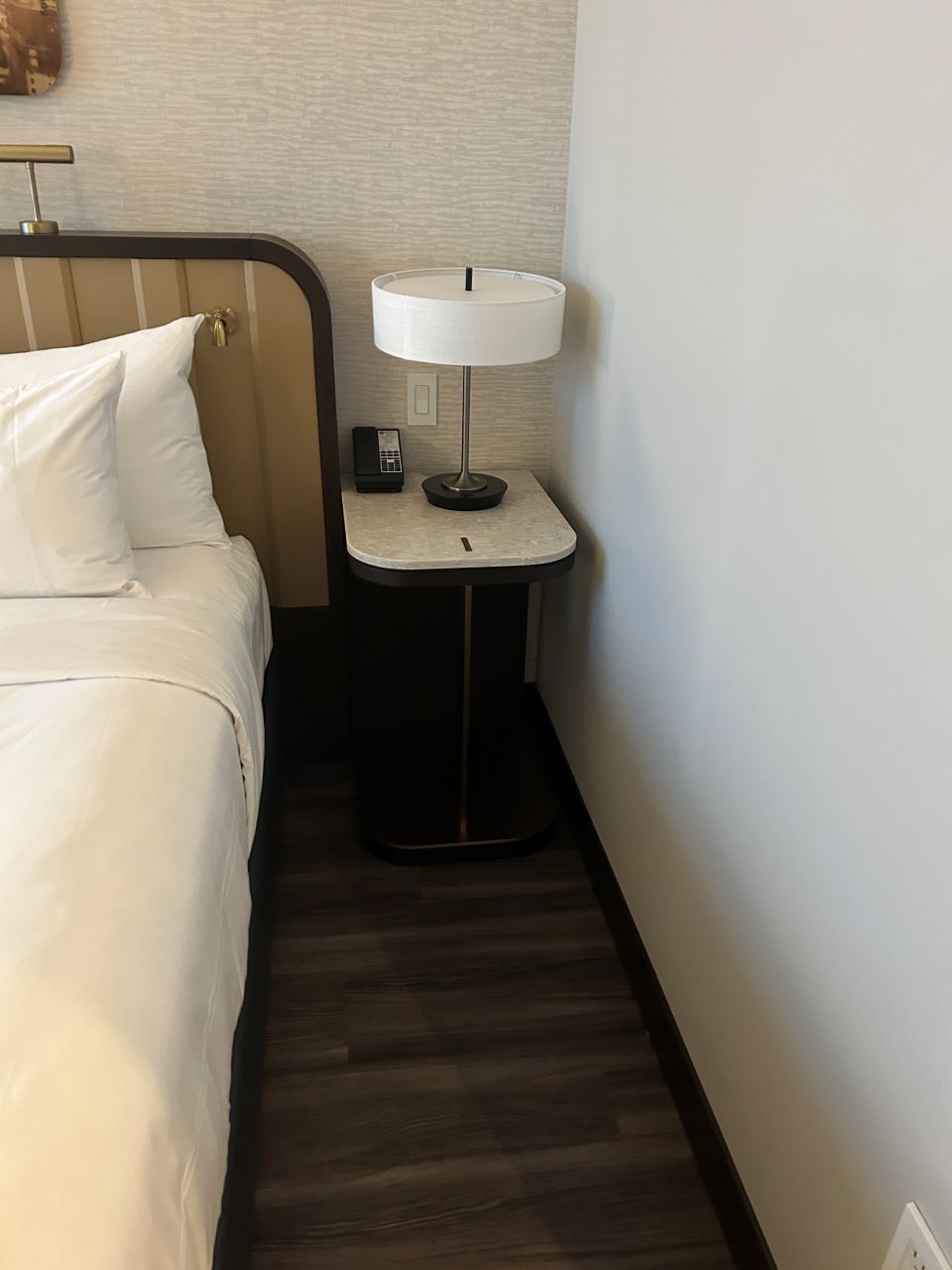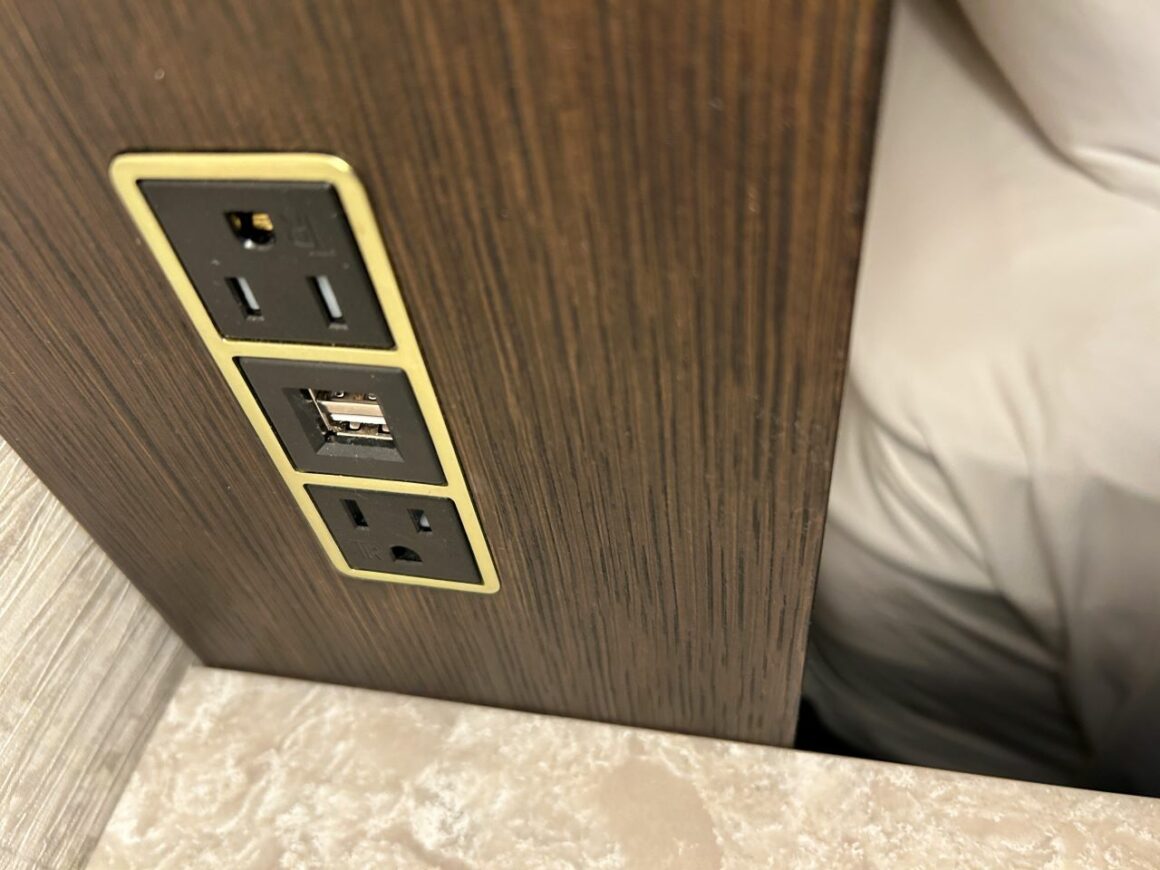 I like the fact that there was a proper sofa to sit on if you wanted to eat or not sit on the bed. There was also a reasonable-sized desk for working or drying your hair, as there was a handy mirror above it.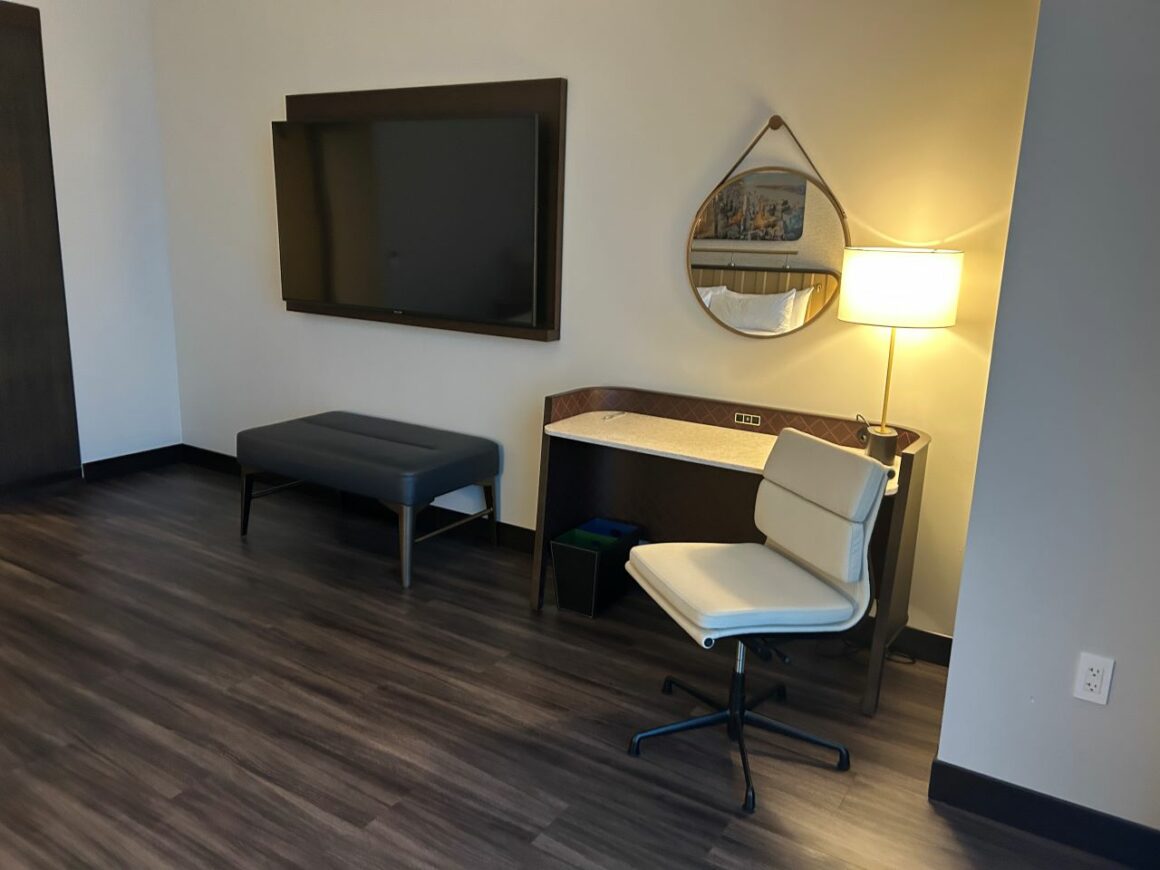 There was also a stylish stool which was perfect for a suitcase – so much better than balancing it precariously on one of those fold-out racks.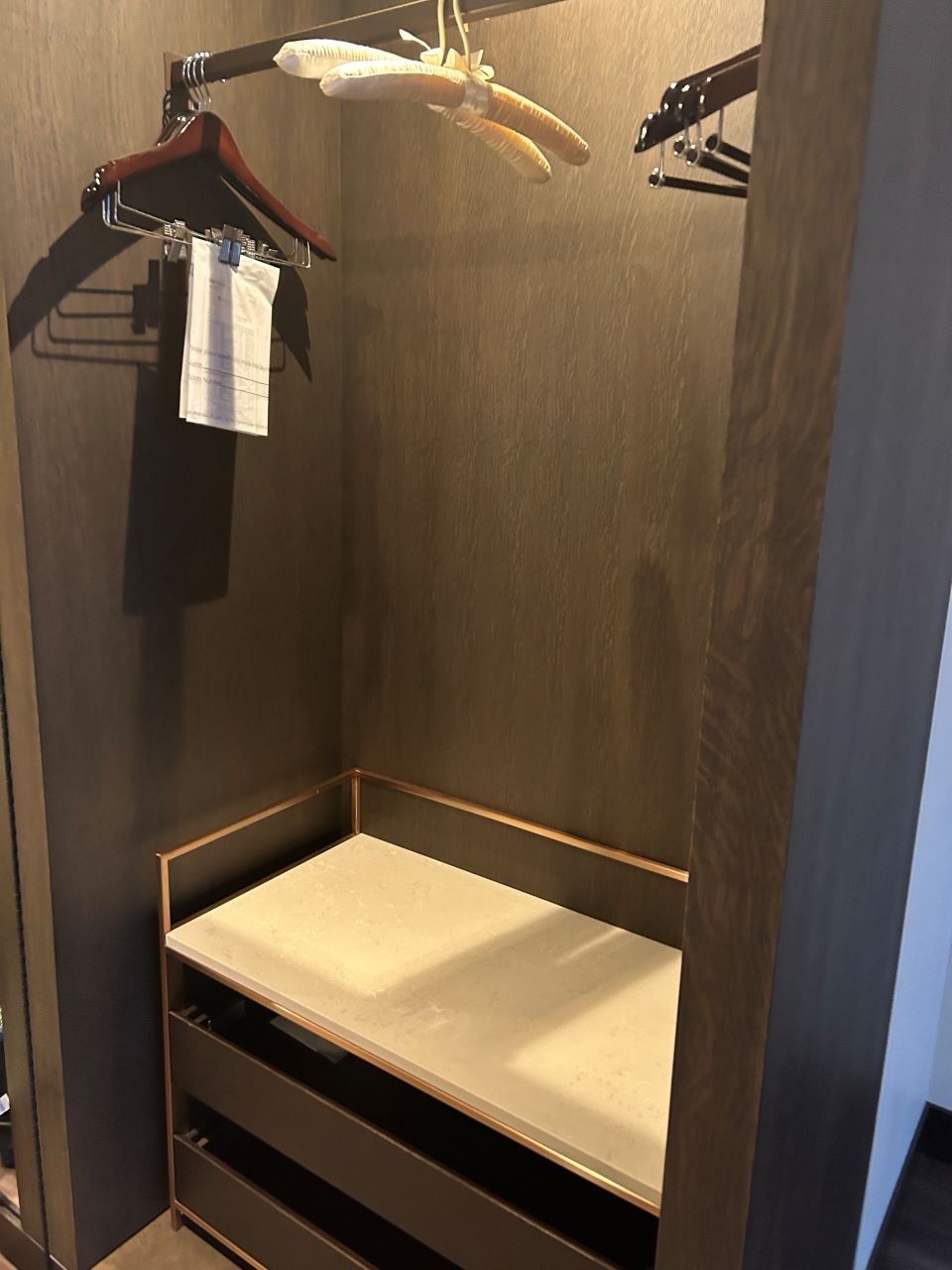 There was also somewhere else to put luggage in the wardrobe area, so even with a couple of people with large suitcases, there would be room to leave them open.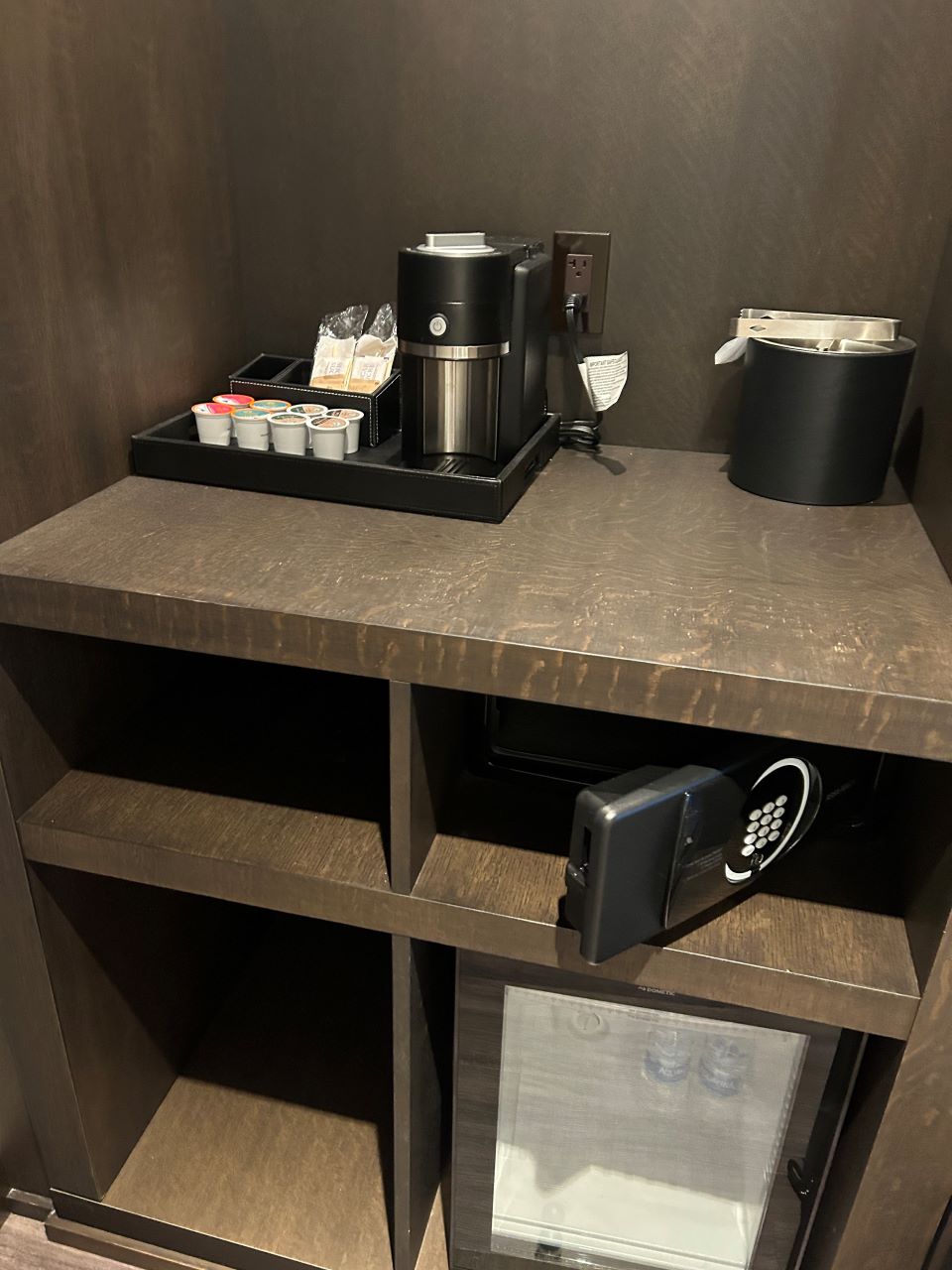 The room was well equipped with a Keurig coffee maker and a fridge with bottled water.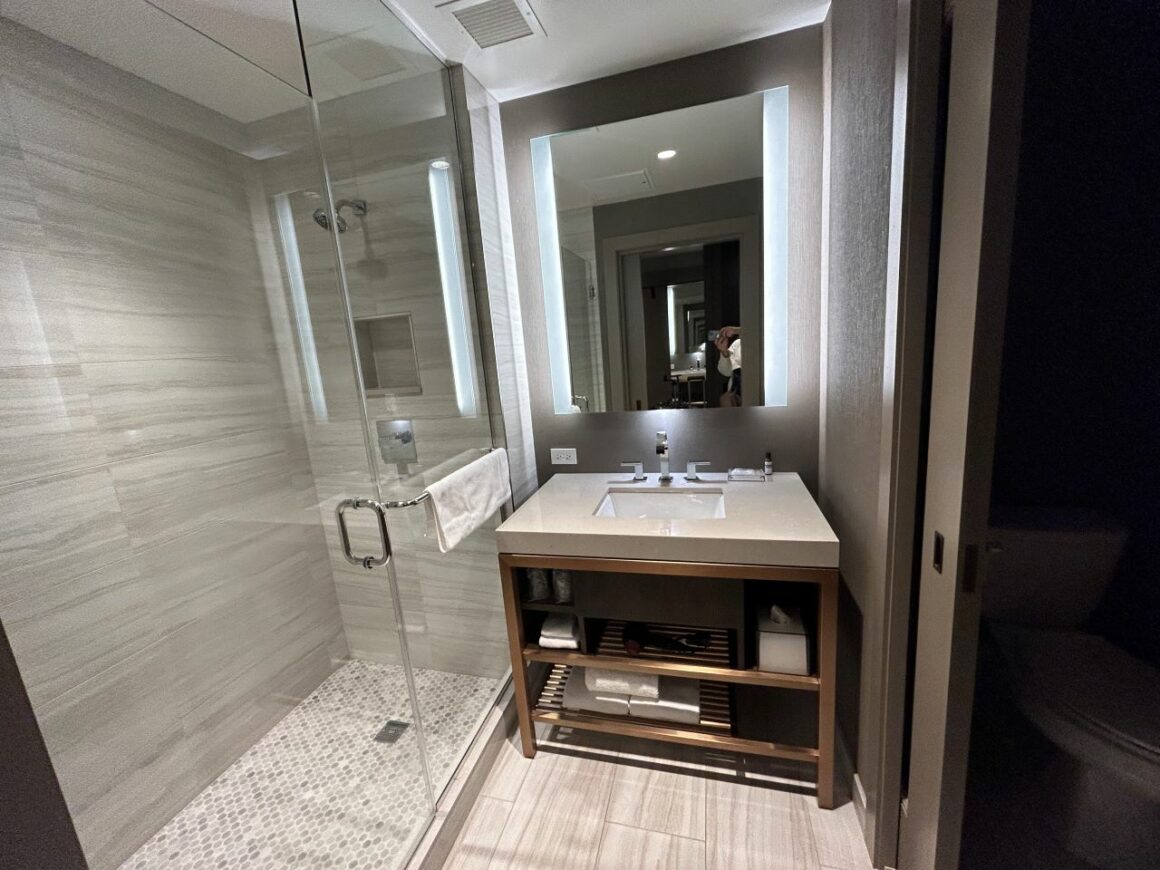 The bathroom was particularly stylish, with a proper walk-in shower with plenty of room for your own toiletries on a recessed shelf. There was also a toilet with a separate door.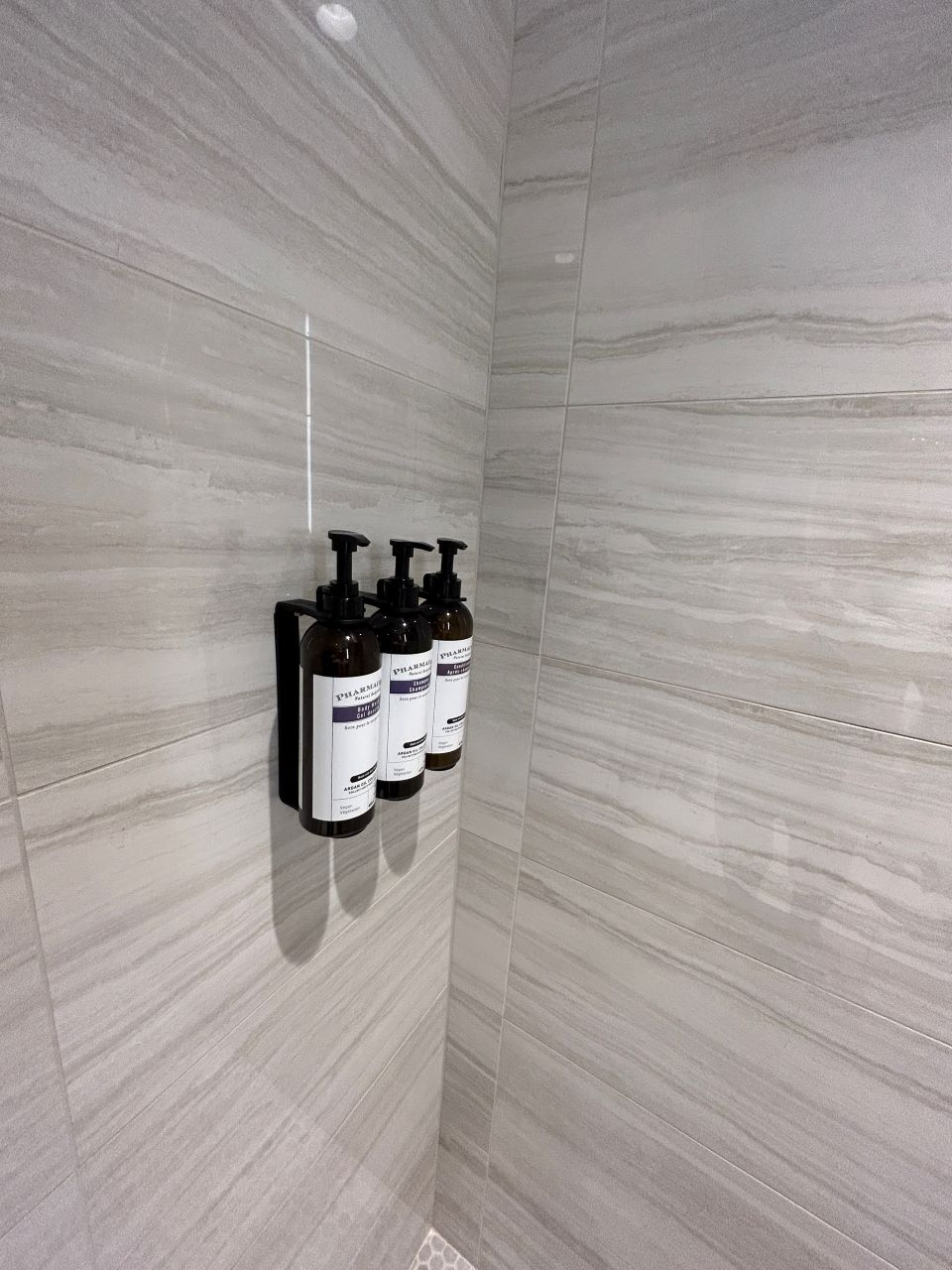 Toiletries were wall mounted in the shower, but there was a separate bottle of body lotion by the basin, which is what I prefer. It was the regular Hyatt brand, Pharmacopia with Argan Oil. I find this good quality and like the refreshing scent of green tea, peppermint and cardamom.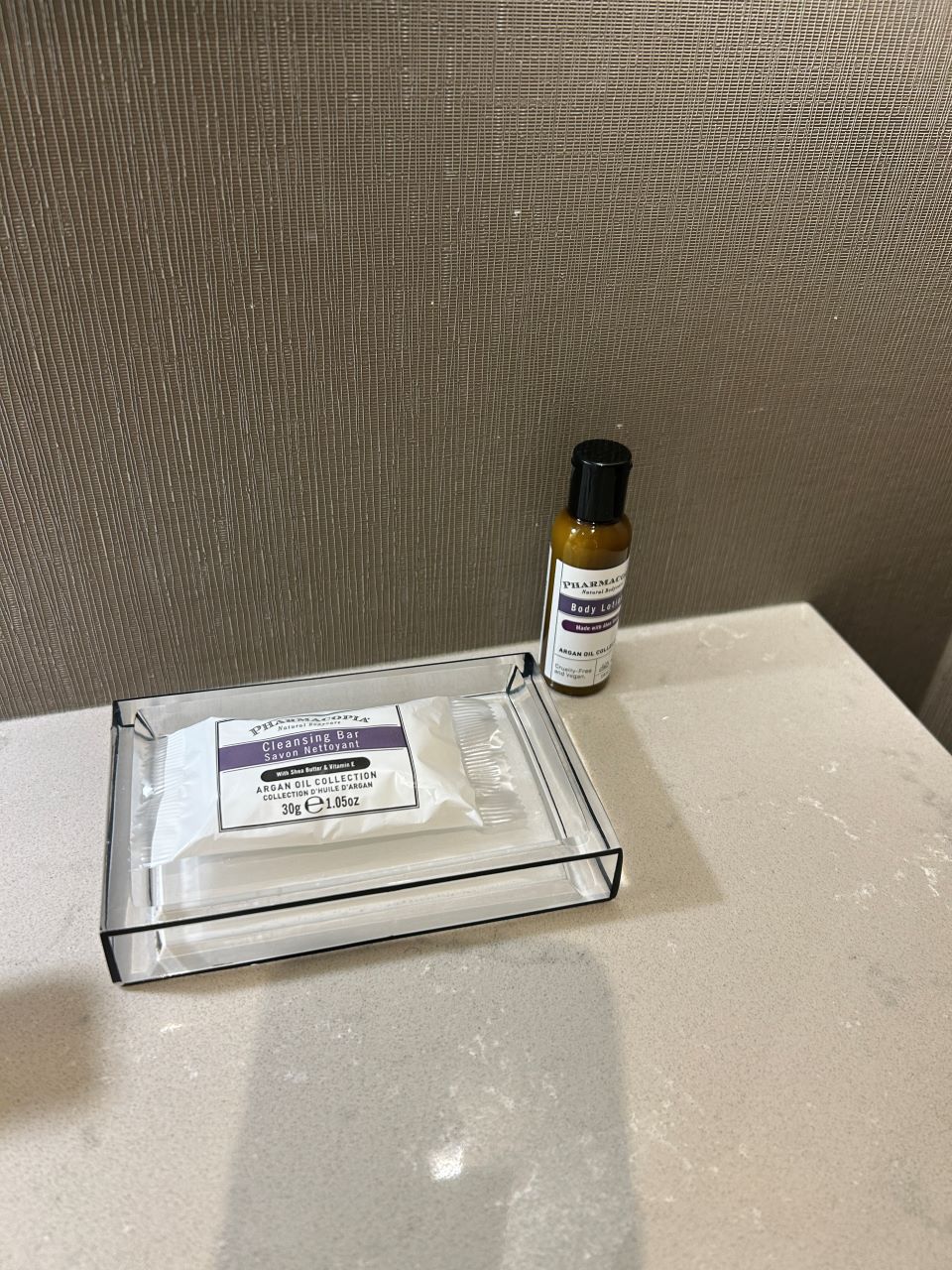 Hyatt Regency JFK Airport Food and drink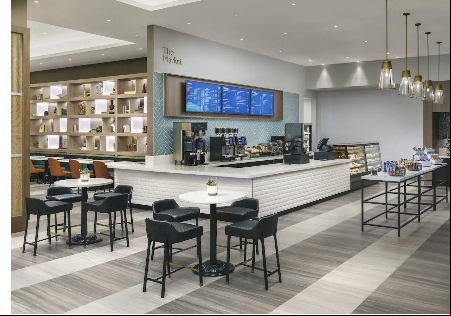 Dining is somewhat lacking within the hotel itself with just the Market, although this is open until 2 am which is handy if you arrive late. As well as all the usual tea and coffee options you would expect, there was a reasonable selection of food, including sandwiches, salads, pastries and some hot items that could be heated. It was certainly fine for me on a brief overnight stay. However, as you may expect, it was pretty pricey. I did think the area where you could sit and eat was beautifully styled, though.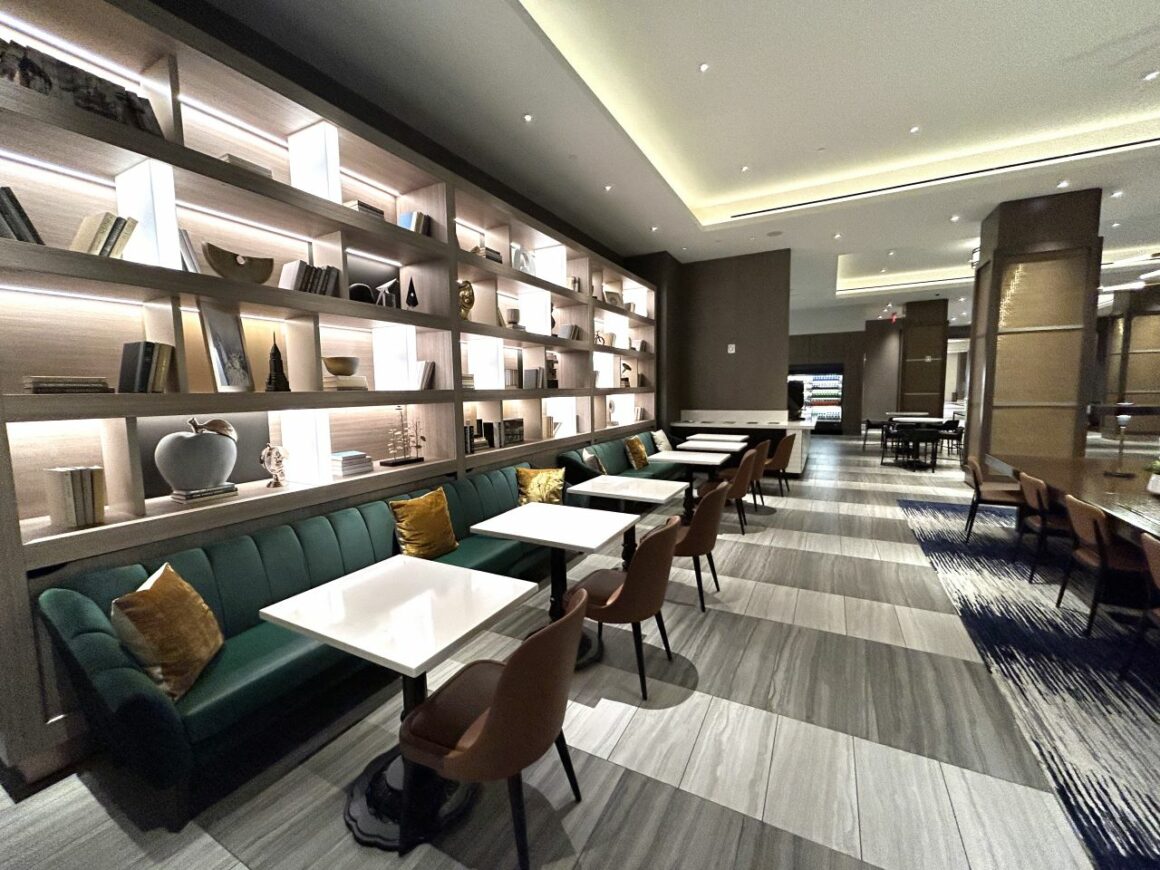 If you want more options, there are a couple in the Resorts World casino, which is attached to the hotel. There is a Sugar Factory if you want something casual. For something a bit more upmarket, there is RW Prime which serves steakhouse and Asian food.
Within the Hyatt, there is a Regency Club lounge that is open for breakfast, evening hors d'oeuvres and light snacks. This is accessible by those that have Hyatt Globalist status and those in Club rooms/Suites. You can pay $25 for a breakfast buffet there or $40 for all-day access.
It appears that there is now a complimentary breakfast included, but it is unclear from the website if this is the same as the lounge and if everyone gets it.
Conclusion for Hyatt Regency JFK Airport
I can't really fault the look of the hotel at all, and the rooms are definitely the best out of any of the JFK hotels currently open. However, the lack of transport and destination fee does mean it is a pricey option as it is often one of the priciest options for hotels near the airport. I would stay here again, though, if nothing else better comes along.
Like our Hyatt Regency JFK Airport review? You can read more hotel reviews here or you may like to read about other Hyatt hotels, such as Hyatt Centric Waikiki Beach Hotel, Honolulu Review, which you can read here.