Trying to find a reasonably priced upmarket hotel in Waikiki can be a challenge. I have previously stayed at the Hyatt Regency, Moana Surfrider (Westin) and The Royal Hawaiin which are situated by the beach but don't come cheap, and all had their flaws. So this time, I decided to try the Hyatt Centric Waikiki Beach, which is a couple of blocks back from the beach.
Location
The Hyatt Centric Waikiki Beach Hotel hotel had a very central location on the block behind the main shopping street in Waikiki (also where all the beach side hotels are), which made it very easy to walk to most of Waikiki. Walking to the beach takes approximately 5 minutes, so it is very easy.
With the high Hawaii prices, you may want to purchase some drinks or snacks for your room, and there is a convenience store very close by, as well as an upmarket food hall and restaurant around the corner (Duke's Lane).
Check-in and public areas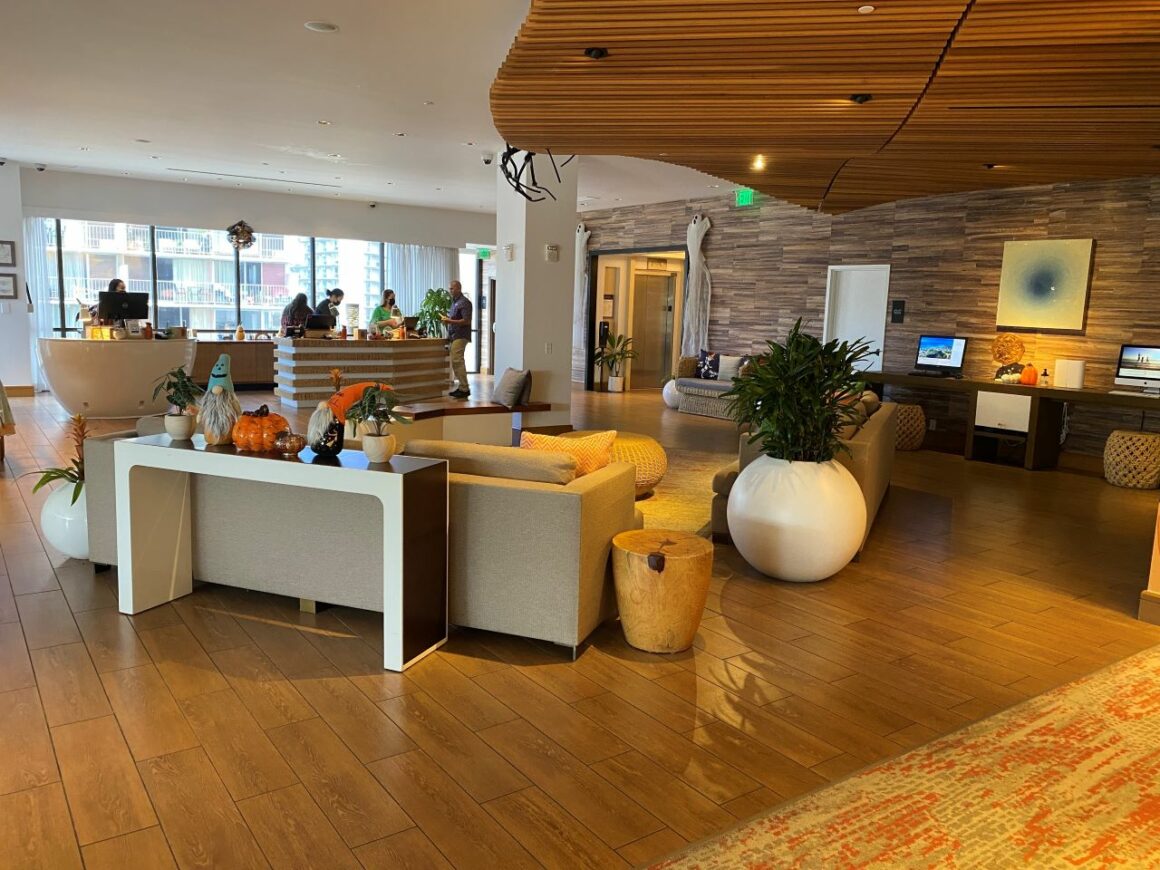 When you arrive in Hyatt Centric Waikiki Beach Hotel, there is a valet stand to help with luggage and car parking. The actual check-in is on a higher floor, so you need to take the lift up.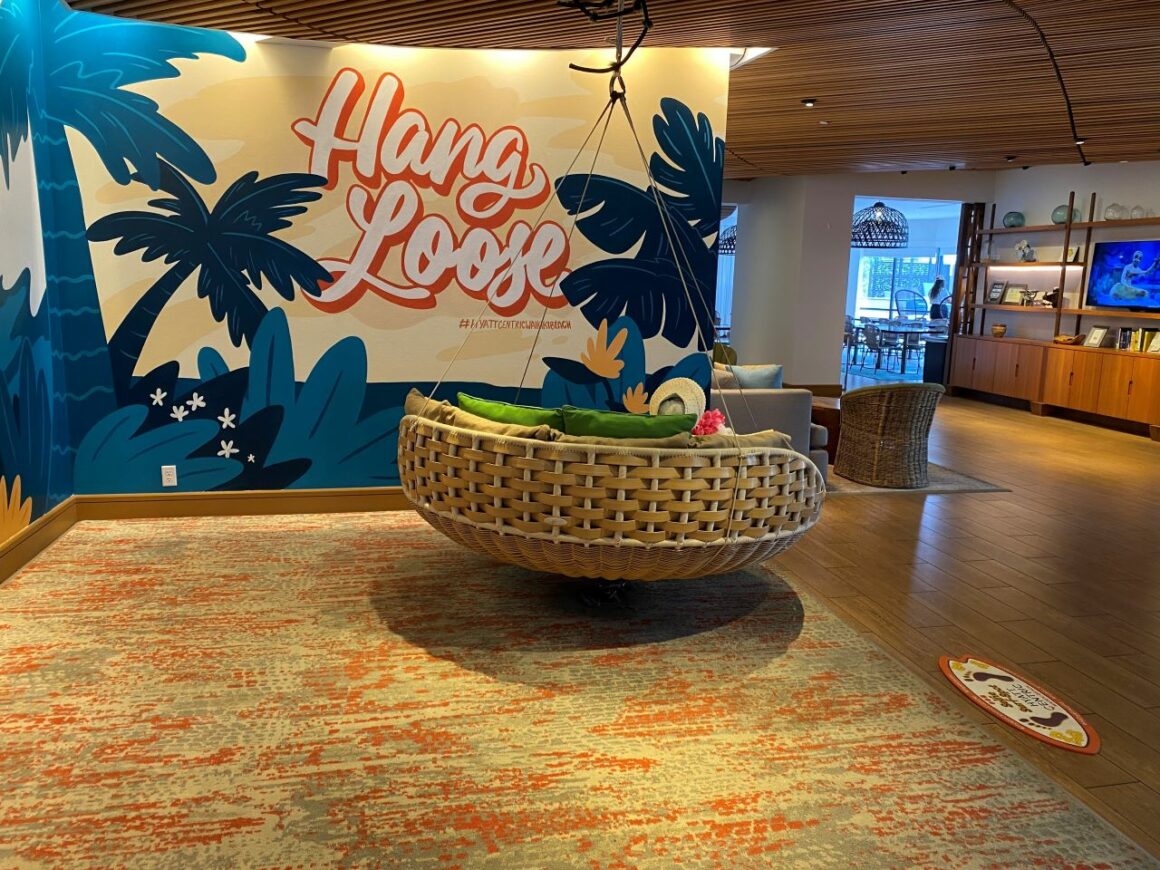 I was warmly welcomed and had the layout of the hotel explained to me. Reception is situated on the floor where most of the amenities and public areas are, including the pool and lounge. You can also buy sundries and snacks from reception.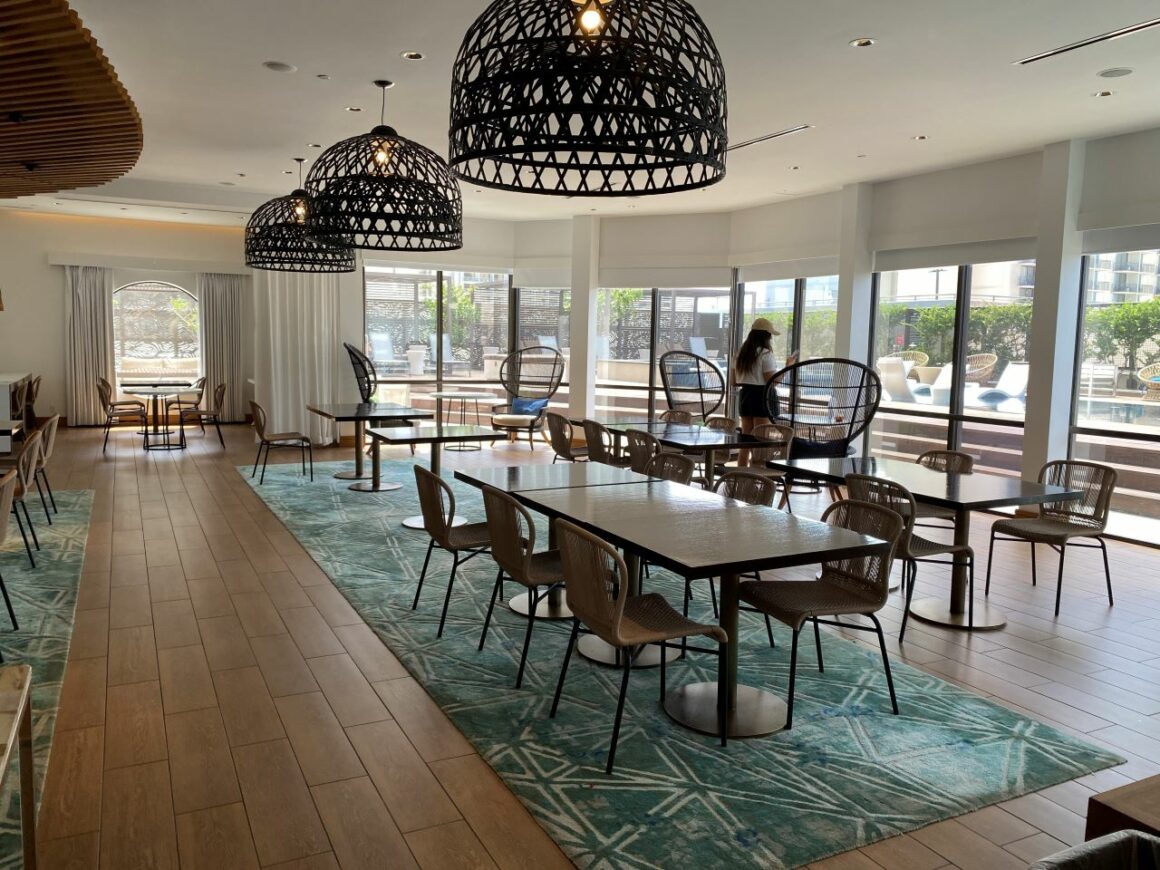 The hotel has a modern surfer vibe with bright colours in reception. There is a large area by reception with comfortable sofas and chairs to relax on as well as tables for dining or working.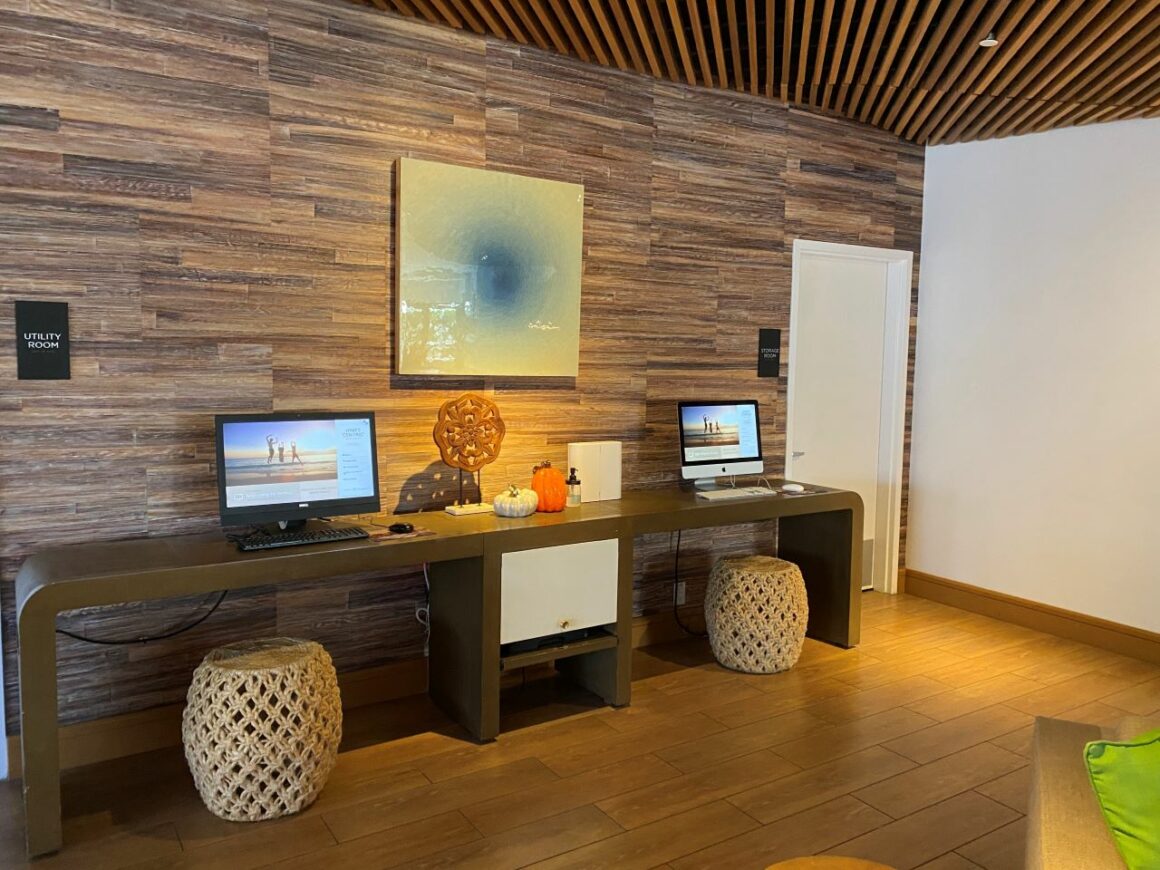 There is also a specific work area with two computers.
Hyatt Centric Waikiki Beach Hotel Room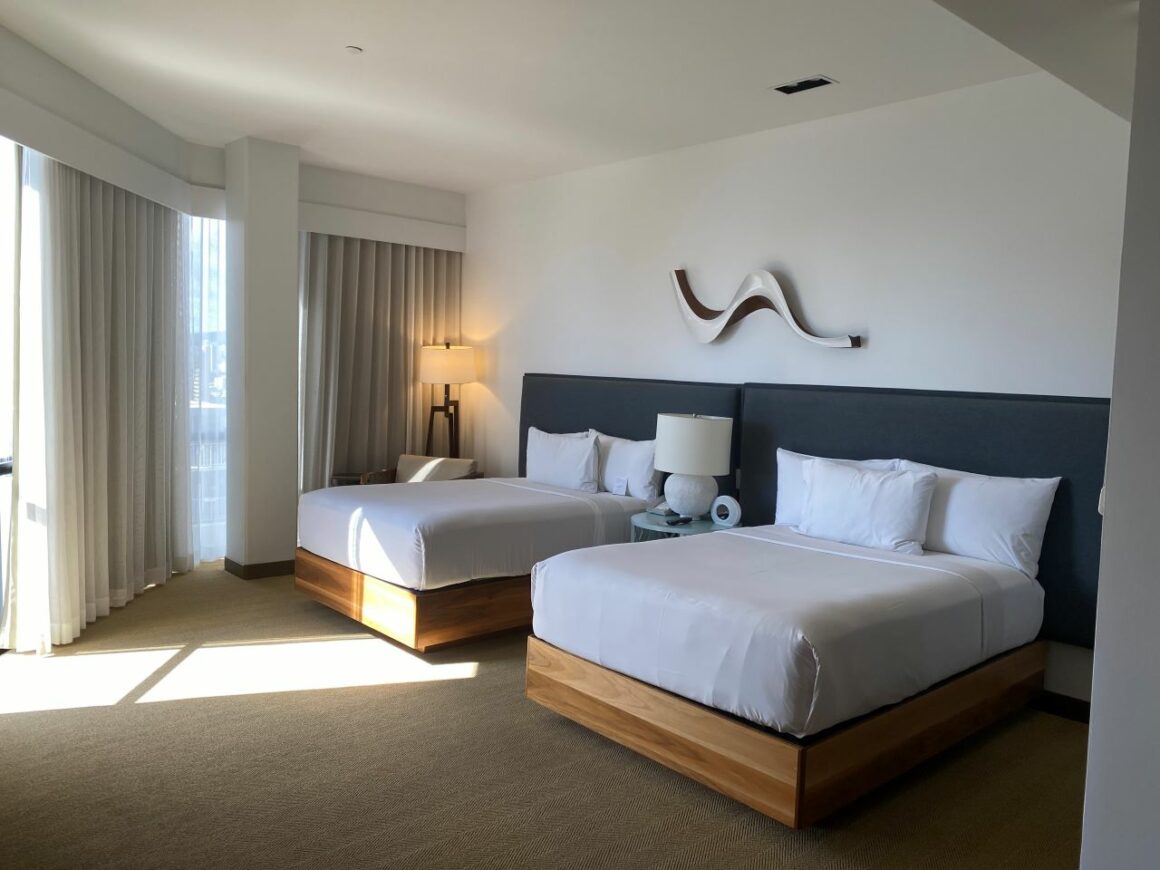 My room was the two double ocean view. They also do a King or two queens with Ocean view as well as suites. I was impressed with the room, which felt modern and bright, as well as having a beach vibe.
I could see the sea in the distance and had a good view over Waikiki.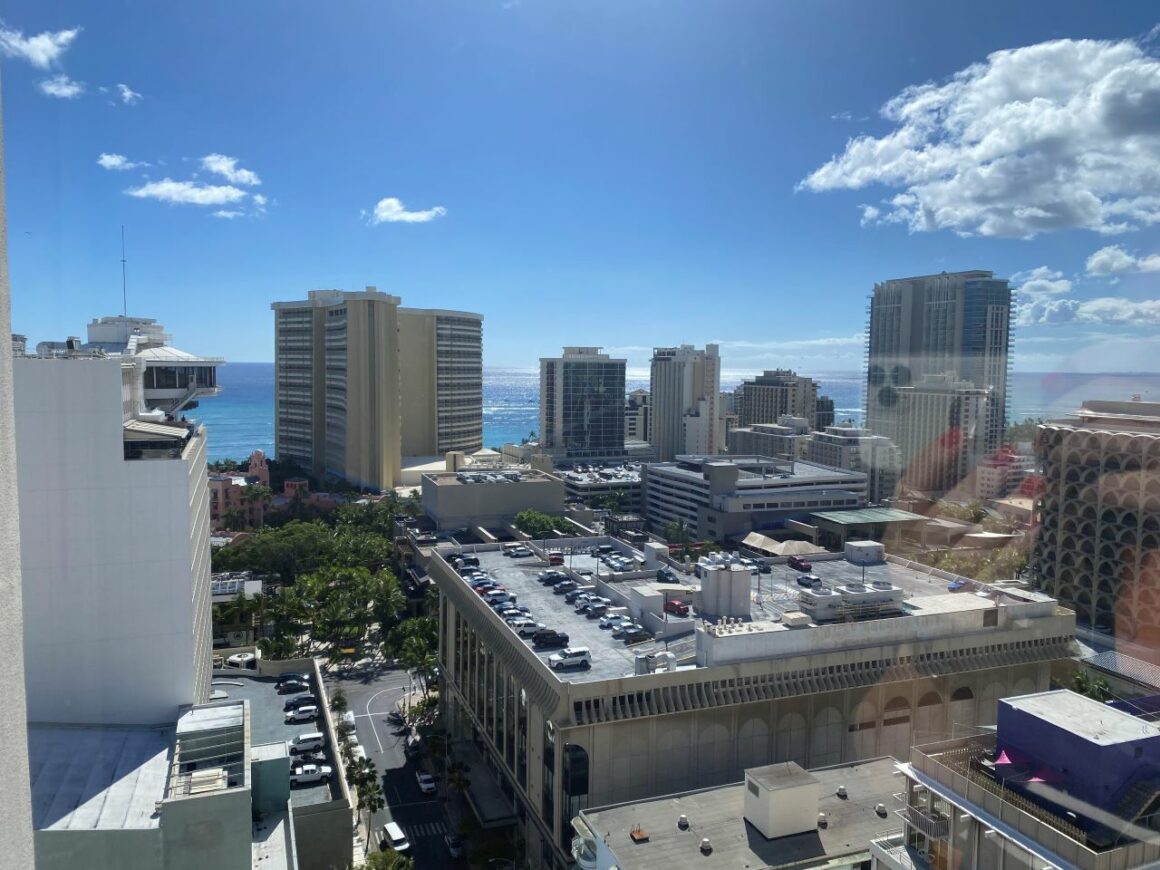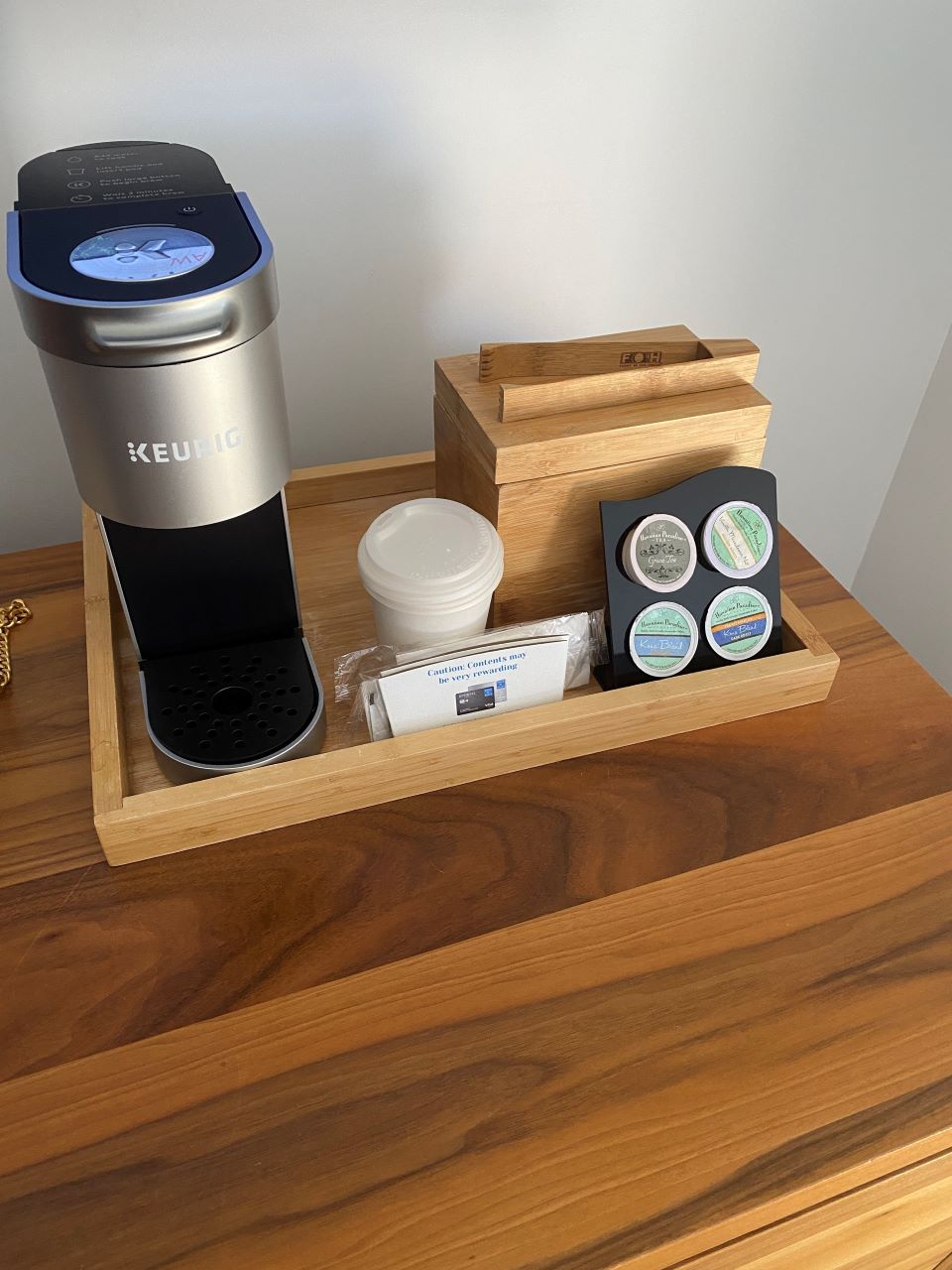 The room was well equipped with a mini fridge, Keurig coffee maker and a Bluetooth speaker on the alarm clock.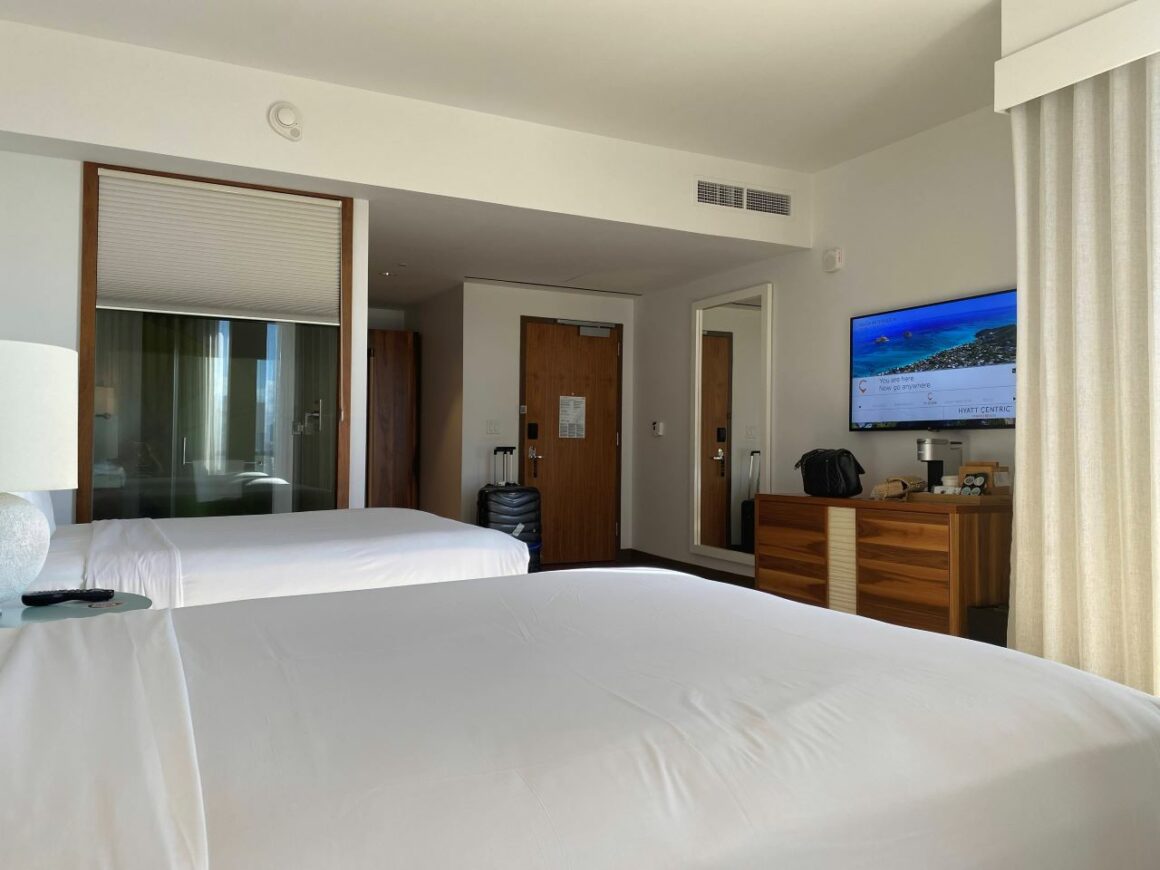 There was plenty of space in the room for storing belonging with lots of drawers and a wardrobe. The TV was huge and had Chrome cast to cast your own device to the TV. The air conditioning worked well and was not too noisy. I found the bed comfy and the room quiet.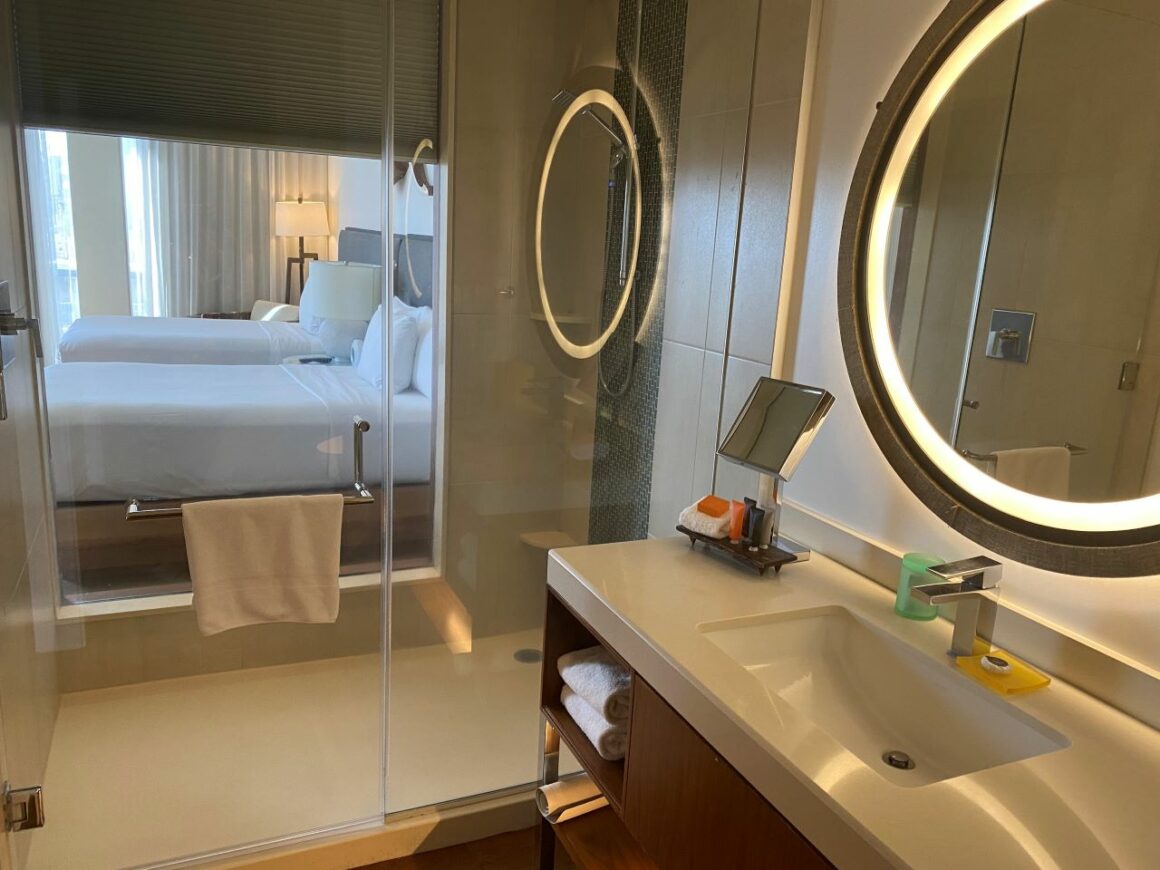 The bathroom had one of my pet peeves in hotels – a window to the bedroom. However, there was a proper blind if you didn't want this, which solved the issue. The shower and basin area felt very roomy, with lots of space for your own toiletries.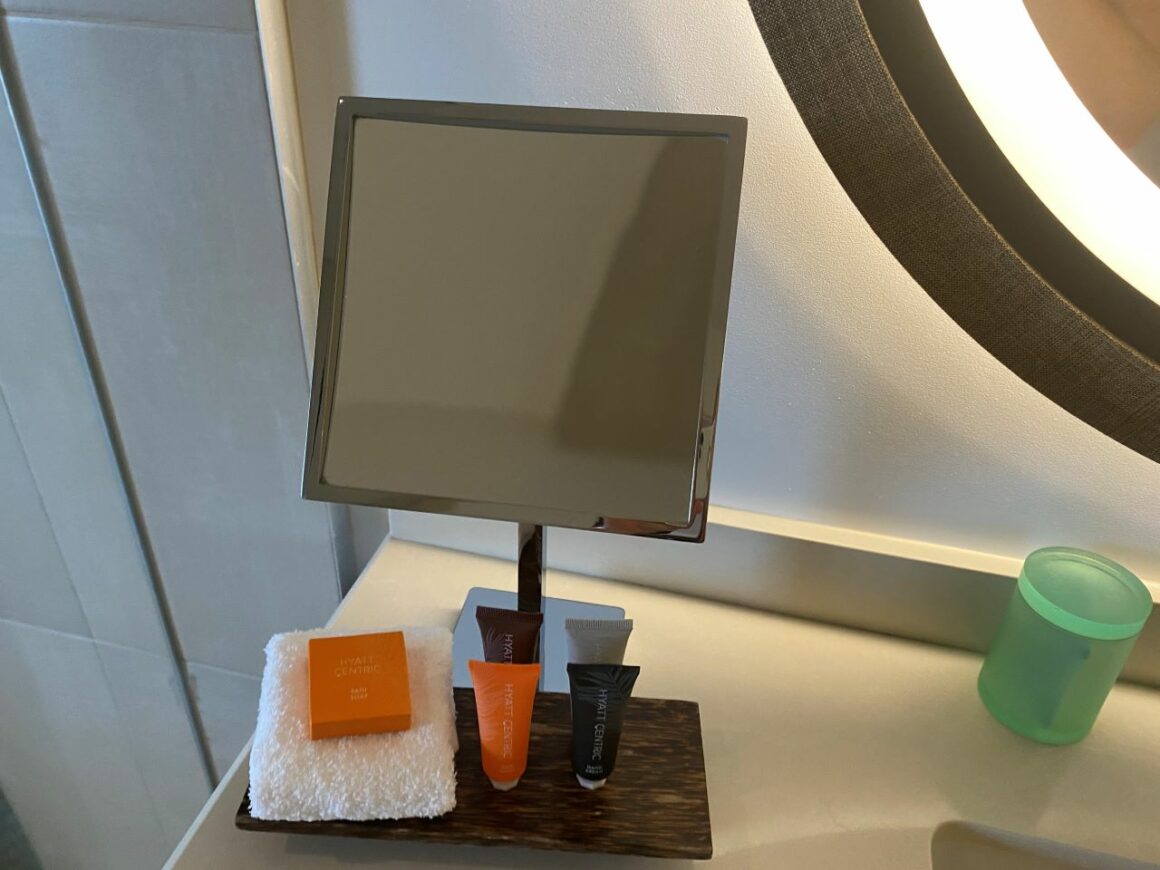 Unlike many US hotels, there was a good range of amenities, and I loved the Coco Mango bath amenities. These smelt very tropical and I am still carrying around the tube of body cream now as the scent of it reminds me of Hawaii. It was great to see a local high-quality brand in the hotel which reflected Hawaii perfectly. I liked that there was a magnifying mirror which is often missing in m any mid-range hotels and the main mirror was also well lit.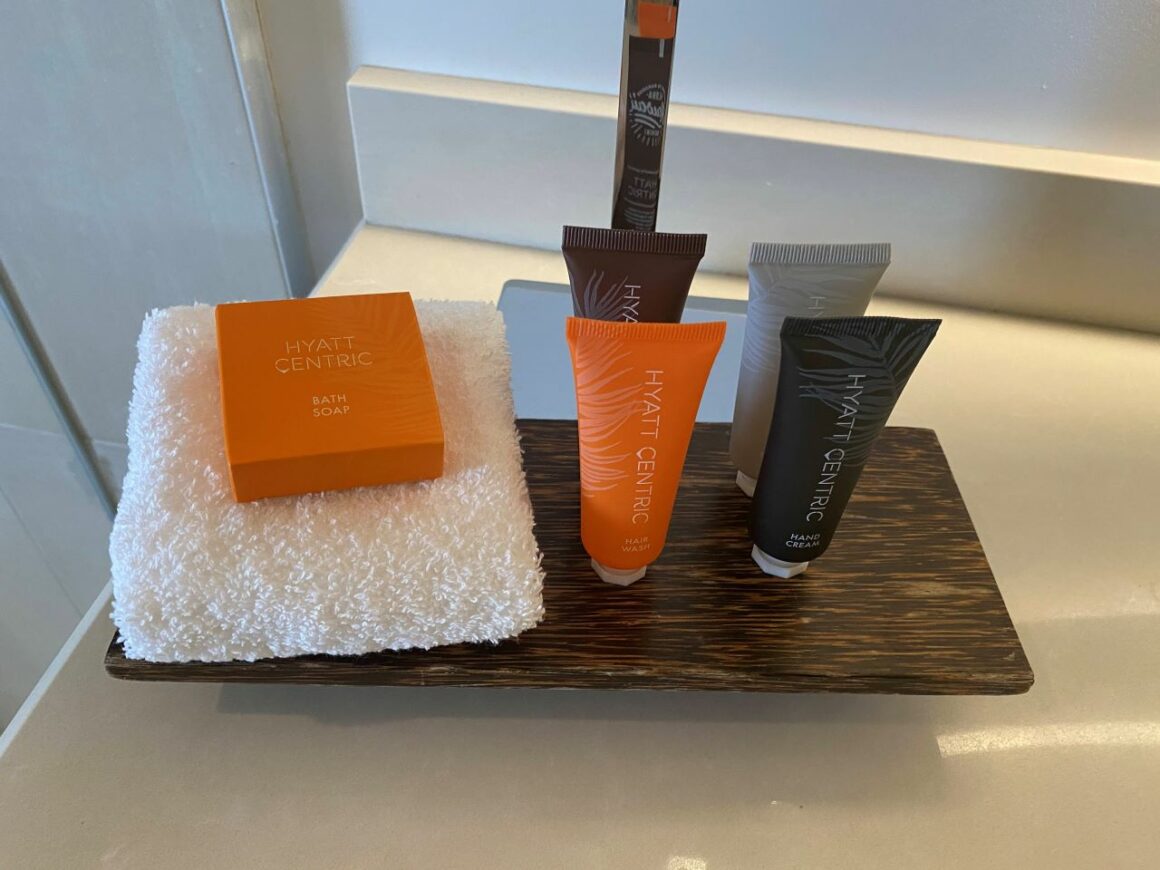 The shower was not a rain head shower however, it did have a decent size head and water pressure.
When you came to dry your hair, they had also gone upmarket here with a Drybar (upmarket blow dry bars in US) hairdryer which I appreciated.
Food and drink at Hyatt Centric Waikiki Beach Hotel
The hotel's restaurant and bar remains closed. When I found this out when I arrived, I was initially a bit annoyed, but actually, with quite a few shops and restaurants on the same block it did not make any difference. The only thing was you needed to be organised if you wanted a drink by the pool (I take an insulated travel tumbler with me).
I loved the restaurant Basalt at Duke's Lane around the corner for breakfast. There was a patio to sit outside, and the eggs benedict with salmon was to die for! I find a lot of mid-range hotel buffet breakfasts in the US very lacking, so actually having breakfast and ordering what you wanted was much more enjoyable. I also recommend Hula Grill or Dukes for breakfast, which are right on the beach nearby, but make sure you book!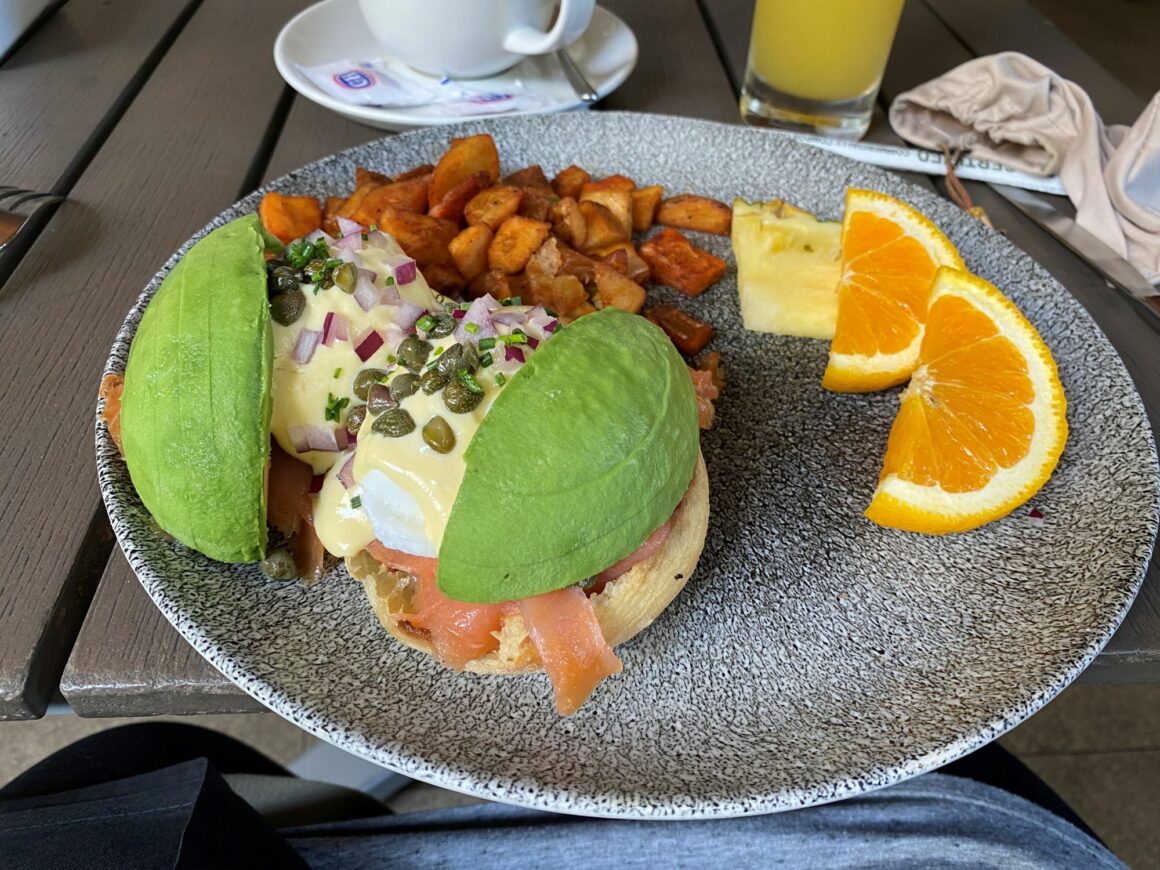 Hyatt Centric Waikiki Beach Hotel Facilities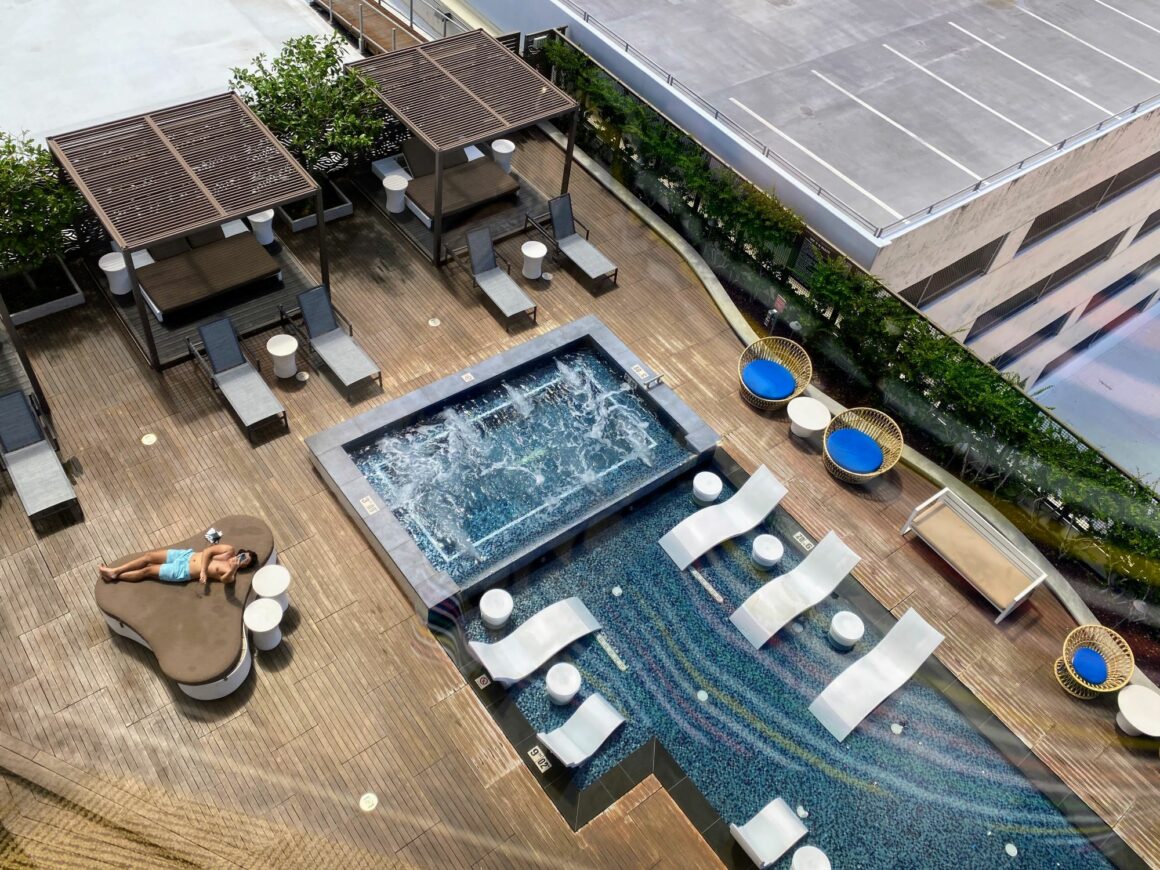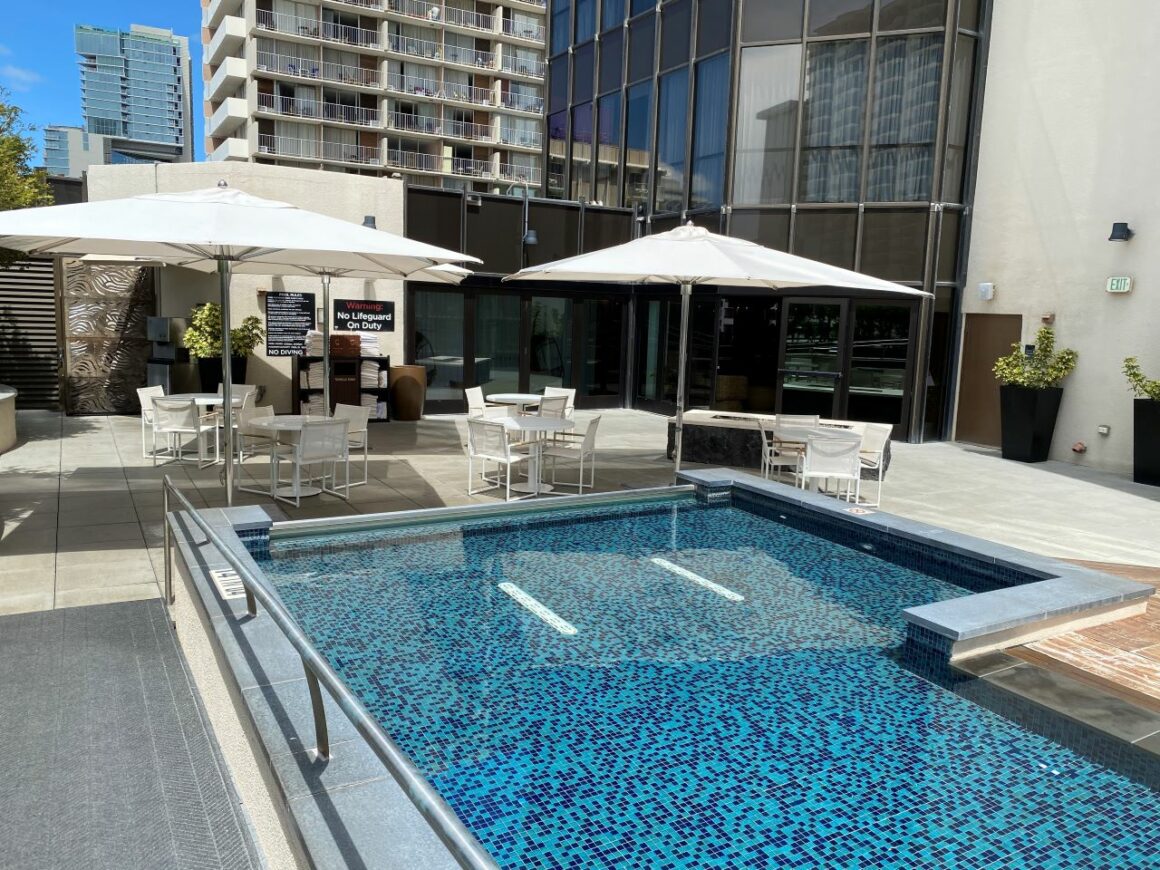 The pool here was something a bit different being more of a lounging pool as it was pretty shallow. The hotel refers to it as a "wading pool". It is unique in that it has special mineral-rich water like a spa pool. However, I really enjoyed relaxing by the pool as it was never busy. The pool itself was a warm temperature, but the highlight was the huge hot tub which was great to rest your weary feet when you have been out sightseeing.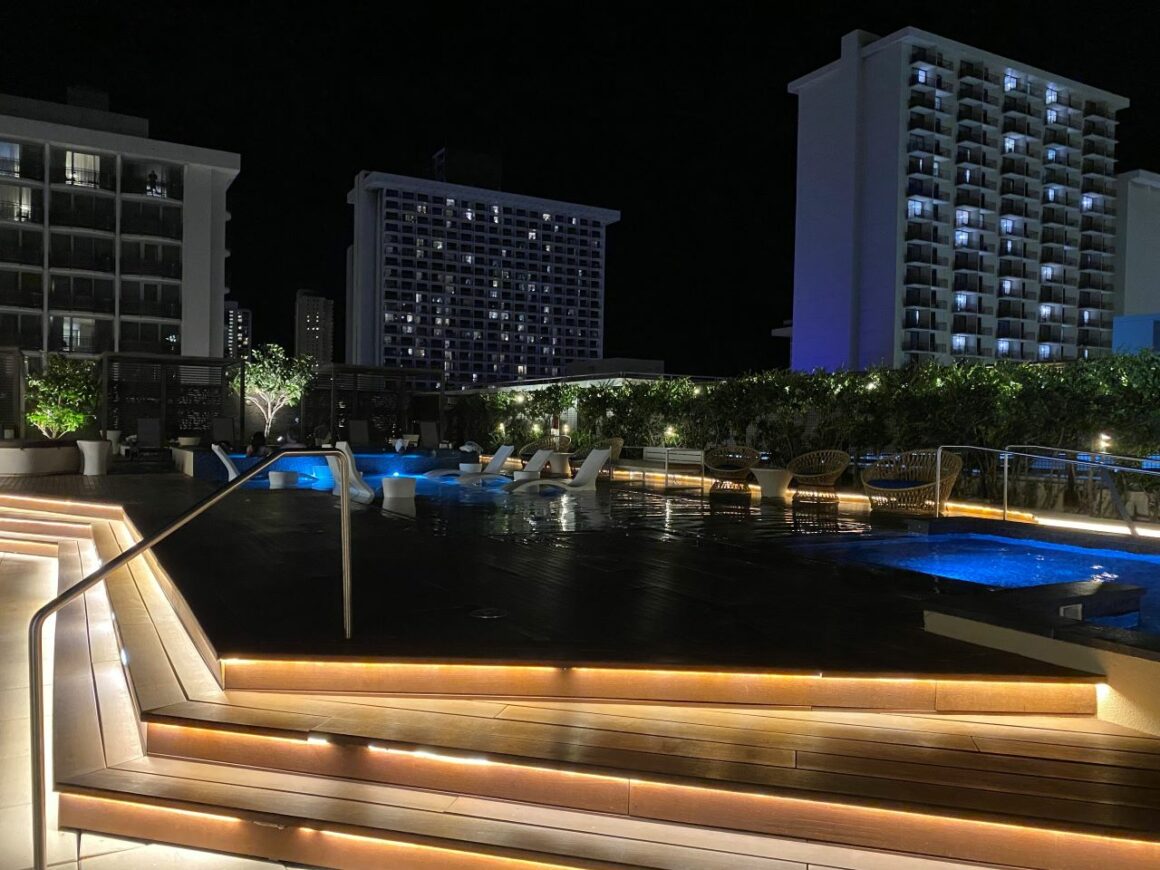 Around the pool were tables and chairs if you wanted to have a picnic, as well as a firepit to relax with a few drinks in the evening.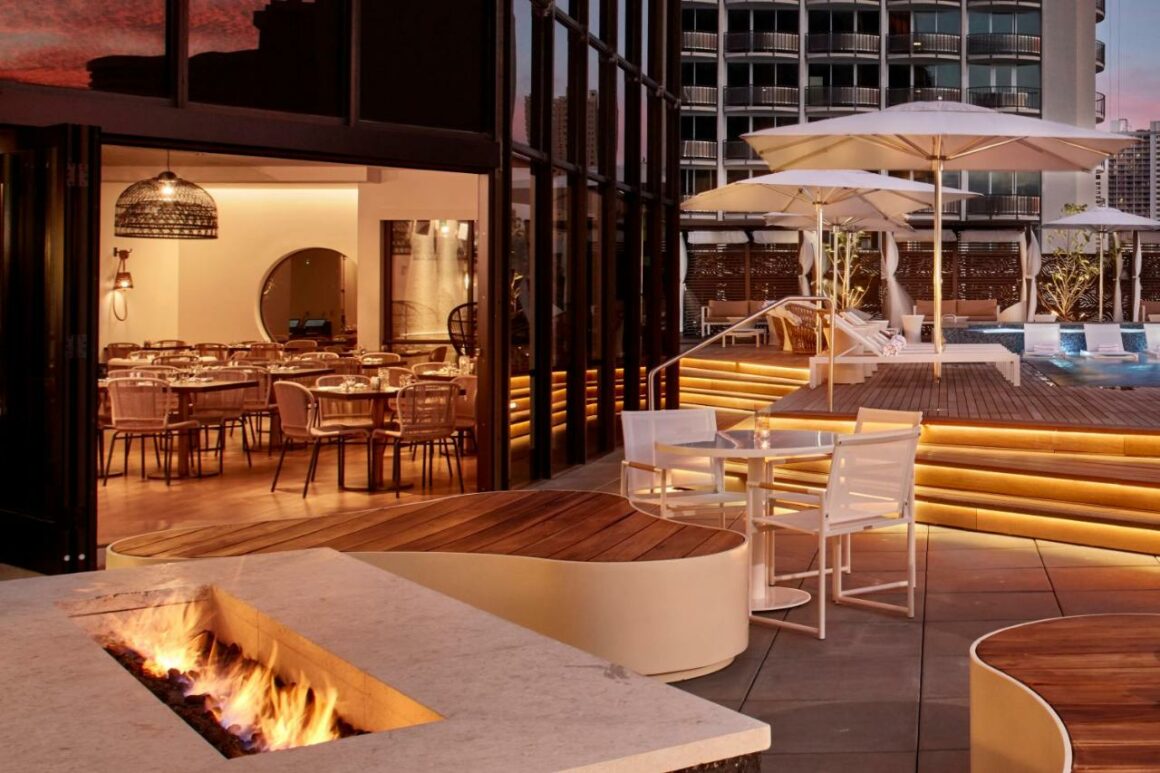 There is also a modern gym which is open 24/7.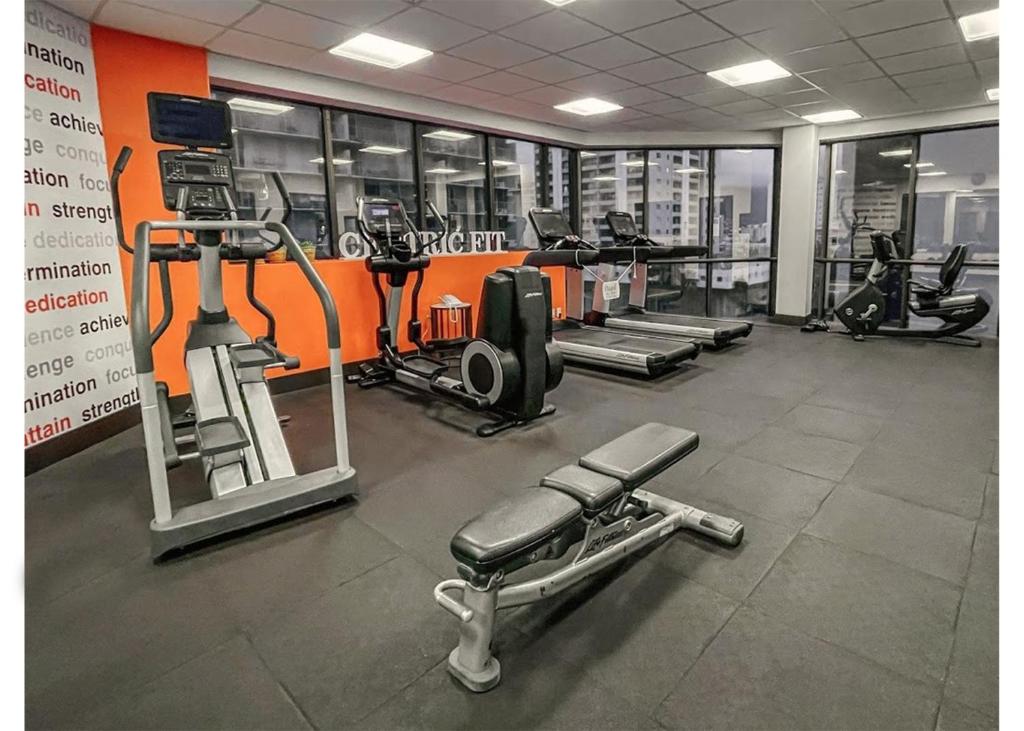 The hotel provides a number of facilities with its resort fee of $33 a night (which are sadly almost ubiquitous in Hawaii now).
A daily resort fee of $33 plus tax will be added to each room of your rate.
Take your time to indulge in exclusive benefits at our hotel, including:
GoPro Rental
Beach Chairs
Beach Umbrellas
Boogie Boards
Beach & Pool Towels
2 Reusable Water Bottles
Water Filtration Stations on 19th, 7th and Lobby Floors
Sunscreen & After Sun Aloe Gel
Unlimited Local & Long Distance Calling (int'l fees apply)
Premium Wifi Access
Beta Fish Buddies
Morning Yoga (twice weekly)
Exclusive discounts at Blue Hawaii Activity Concierge Desk
International Market Place Passport Discount Booklet
One Time Hui Car Share Discount Coupon (Hui Mobile App Required
Lei Maiking (Once a week)
Chromecast service for in-room television viewing
Ala Moana Mall Passport Discount Booklet
Parking charges are very high, starting at $42 a day for self-park so I'd recommend only hiring a car for the days you plan to explore the island as car hire is also pricey. There is self-parking or valet parking onsite.
Booking and prices
I had booked through British Airways holidays as I wanted to get the double-tier points promotion that lasts until 31 December 2023.
If you wanted to redeem your Hyatt points, prices start from 15,000 points per night which I think is very reasonable. Cash prices start from £279 per night. In comparison, the older Hyatt Regency which has compatible rooms but is opposite the beach, costs from £360 per night.
Conclusion for Hyatt Centric Waikiki Beach Hotel
I was pleasantly surprised by the Hyatt Centric. Hawaii is one of my favourite places to visit, but prices can be astronomical for food and hotels. Staying at the Hyatt Centric saved money on both counts as I could buy whatever drinks I wanted next door at Duke's Lane such as wine or a margarita and enjoy them by the pool ( I recommend taking an insulated travel tumbler on any holidays where you may want to do a bit of pool BYO). My pool drinks bill was at least half what it would normally be! The rooms were very modern and comfortable, and I did not miss being by the beach as I was there most days anyway. Since most hotels charge you to use a beach chair, this was no different, except you had to carry them there. If you didn't fancy that several hotels will rent chairs to outside guests so you still get to enjoy lounging on the beach.
Like our Hyatt Centric Waikiki Beach Hotel review? You can read more hotel reviews here.