Despite staying in London many, many times I have never actually stayed on Park Lane. As I was going to an event for my BA Gold Facebook group round the corner from the InterContinental London Park Lane I thought it would be a good chance to review it. I booked a room with Club InterContinental benefits as I had heard great things about the Club InterContinental here.
Check-in and location Intercontinental London Park Lane
The InterContinental London Park Lane has a great location at the start of Park Lane and is walking distance to Mayfair's hotels, restaurants and bars as well as being on the edge of Hyde and Green Parks.
I was greeted at the taxi by a doorman who opened the door and took my bag for me into reception. The receptionist was friendly if a little slow and made sure she printed out a list of all my Club benefits with the relevant times. In addition, I was given some vouchers for an extra treat at a couple of the restaurants for being an IHG Rewards Club member which I thought was a good idea. You can also check-in at the Club InterContinental lounge directly. I was offered help with my luggage which I declined and then was shown to the lift.
Club InterContinental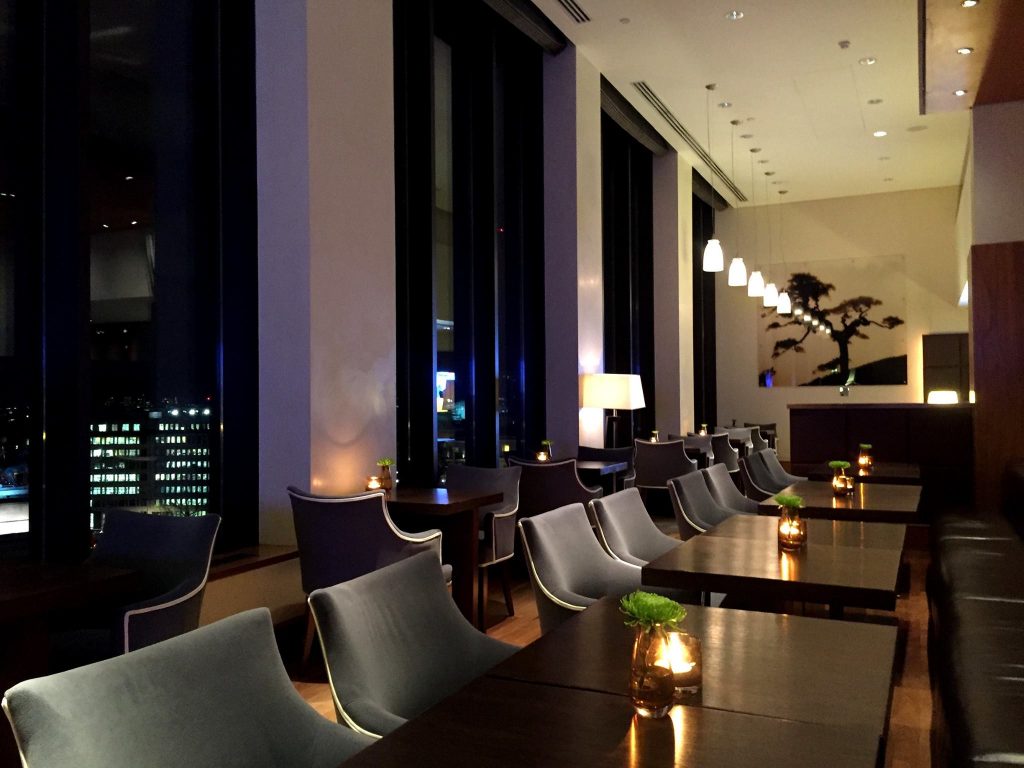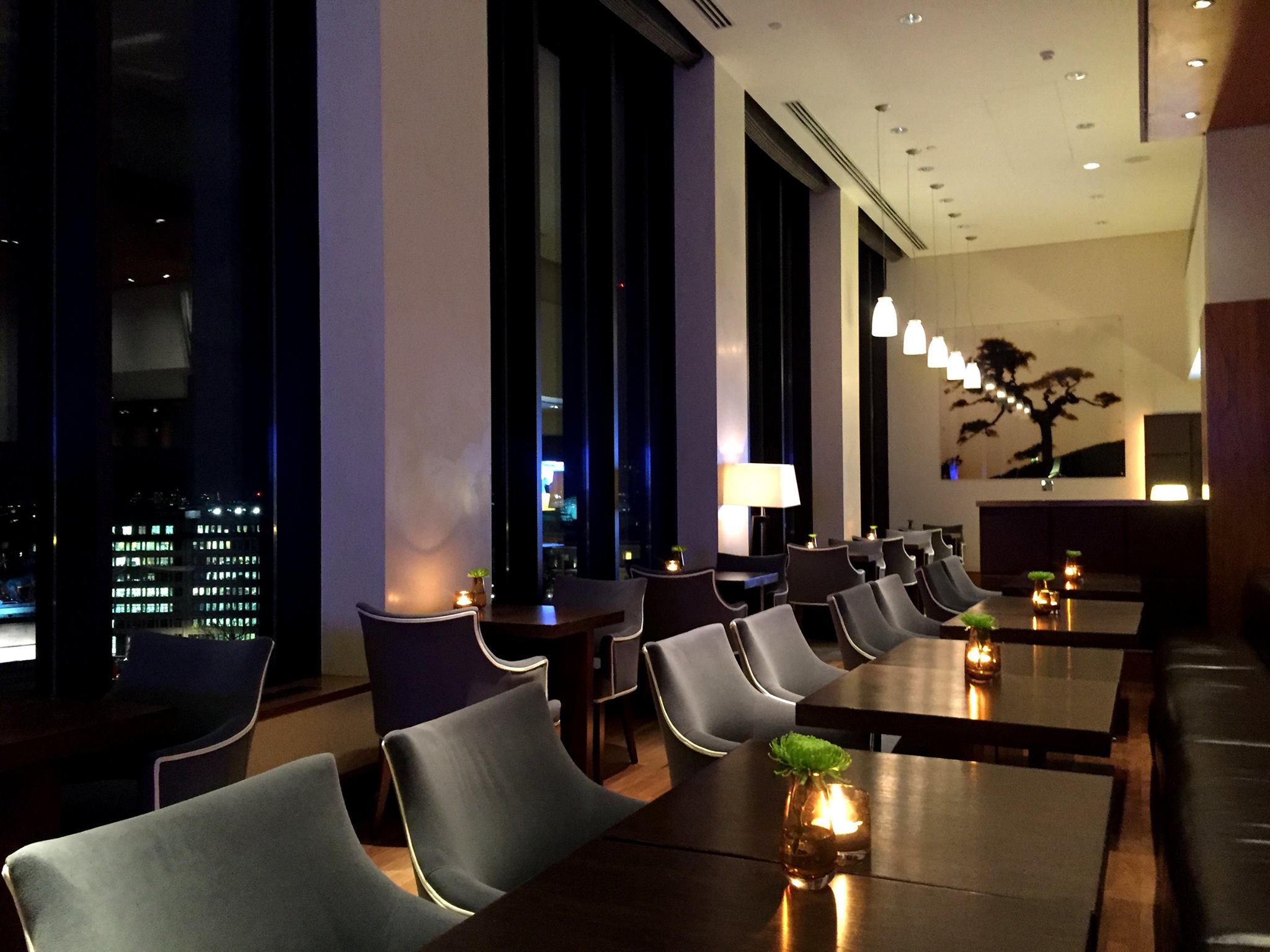 The Club lounge here has a good reputation with its lovely views over London and elegant atmosphere. I arrived at the hotel just before 7pm with the drinks finishing at 7.30pm, so I literally dumped my bag in the room and headed straight to the lounge!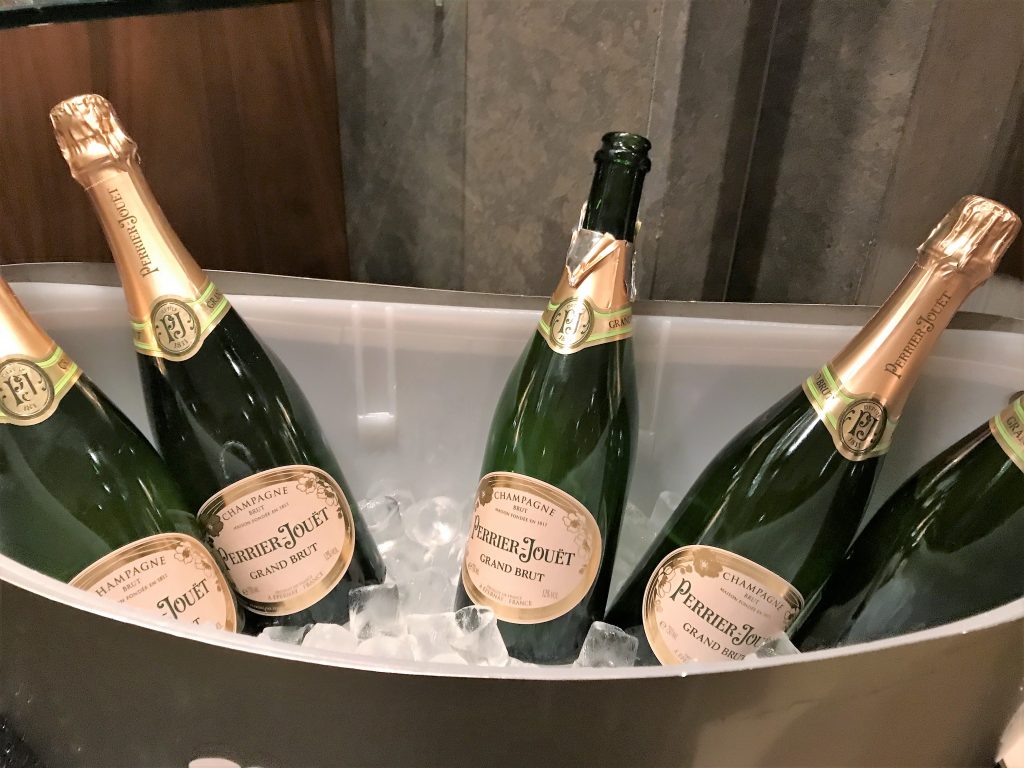 I really liked the feel of the lounge with its high ceilings and expansive windows. With the candlelight and subdued lighting in the evening, it was a lovely place to unwind with a drink or two. I just wish I had had more time to enjoy it! The evening drinks menu was impressive with 5 wines to choose from as well as Perrier Jouet Champagne and a good choice of premium spirits including Sipsmith Gin. Here is the full list:
The food offering was a little small compared to some other lounges due to the canapes that you could order at the table. There were crudités, a cheese platter and some desserts. I would have liked to see more savoury options instead of the cakes given that it was meant to be cocktail time as I don't really have a sweet tooth. The cheese with chives was absolutely divine which led to several helpings of it and the others were good quality cheeses too. You could also order a selection of canapés. Here is the menu for the day: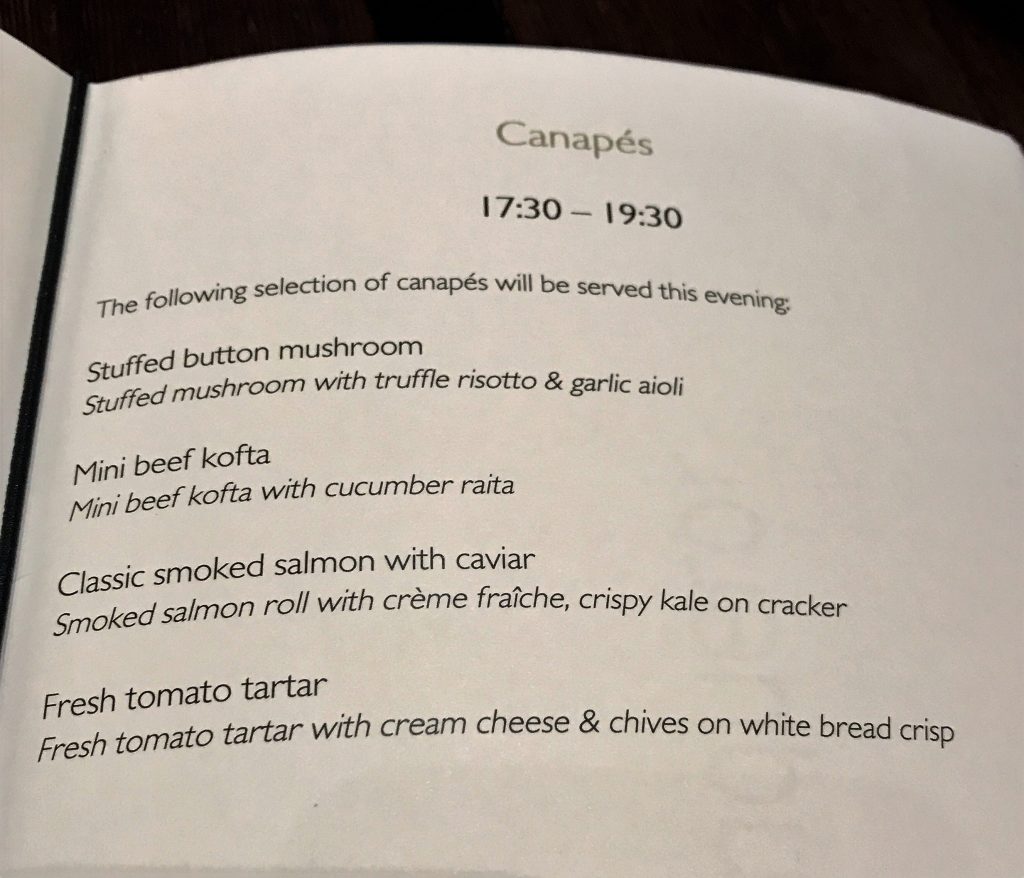 The young girl serving me was excellent as well as utterly charming although the other server was less friendly. Naturally, I ordered the Champagne which arrived with a nice selection of snacks.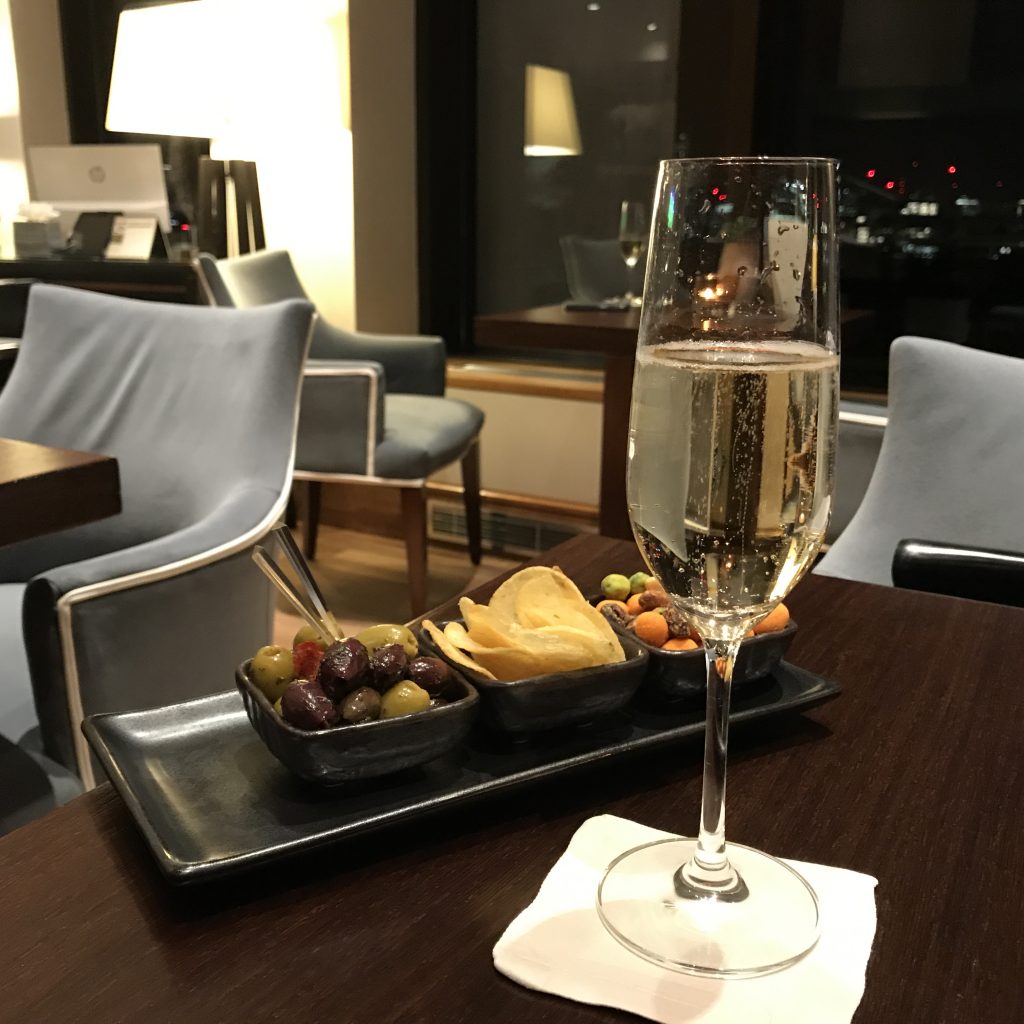 The female server had noted that I had come into the lounge very late having just arrived at the hotel. She came round with a top-up of champagne at 7.30pm and offered an extra top up later since I had arrived so late. I was also offered some canapés. Although there were drinks to help yourself to, all drinks were brought to me at the table or elsewhere throughout my visits.
Unfortunately, after that I think she may have finished for the night as I never saw her again or my canapés! I am fairly sure they went to someone else as I saw someone being brought canapés who looked surprised and had been in the lounge a long time before me. I did manage to get a further glass of champagne from the other server although he didn't seem very convinced when I explained that the other girl had offered it!
The lounge also serves afternoon tea which unfortunately I didn't have time to try. This includes all the staples such as finger sandwiches, scones with cream and jam and an assortment of cakes.
They had a very handy work area which was in a separate section with a Mac which was a great area to concentrate and I was certainly not neglected for drinks. The lovely girl from the night before popped her head around the door regularly to make sure I didn't need anything. During the day you can get soft drinks in between the food servings and small snacks like biscuits.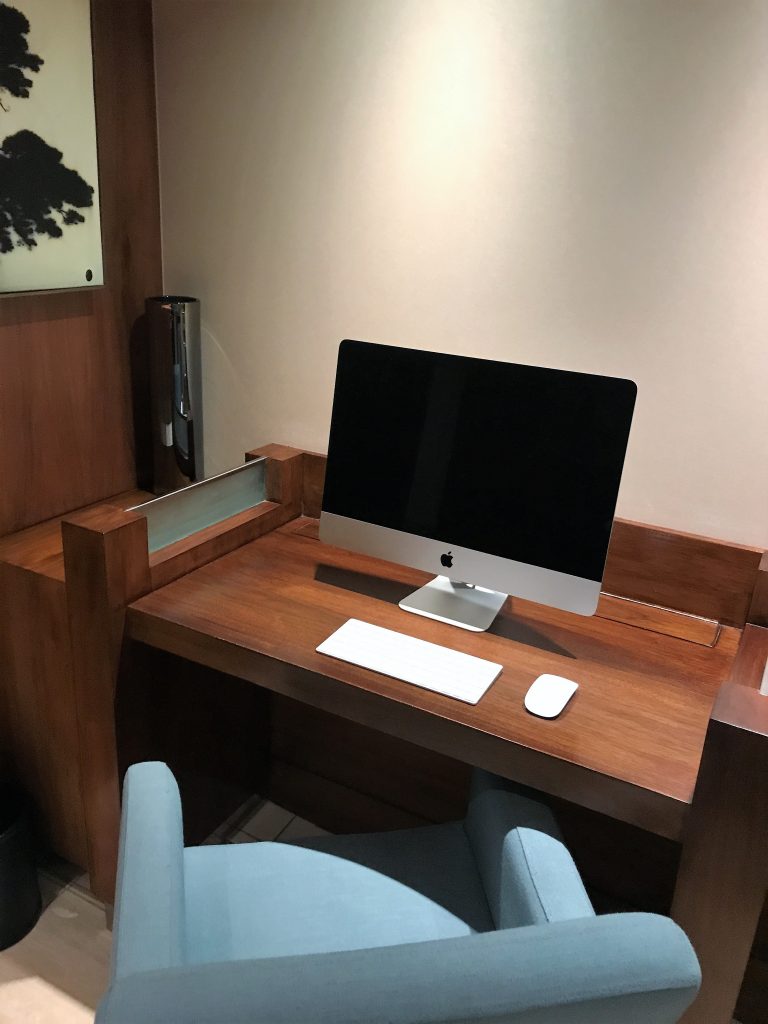 Breakfast
There was a choice in my rate to have breakfast at the main restaurant or the lounge. I chose the lounge and was impressed overall with the choice and quality of the food. Given the à la carte selection I wouldn't bother to go to the main restaurant as there was plenty of choice for two mornings here. There was a fairly large buffet selection of cold items including the delicious cheese from the night before: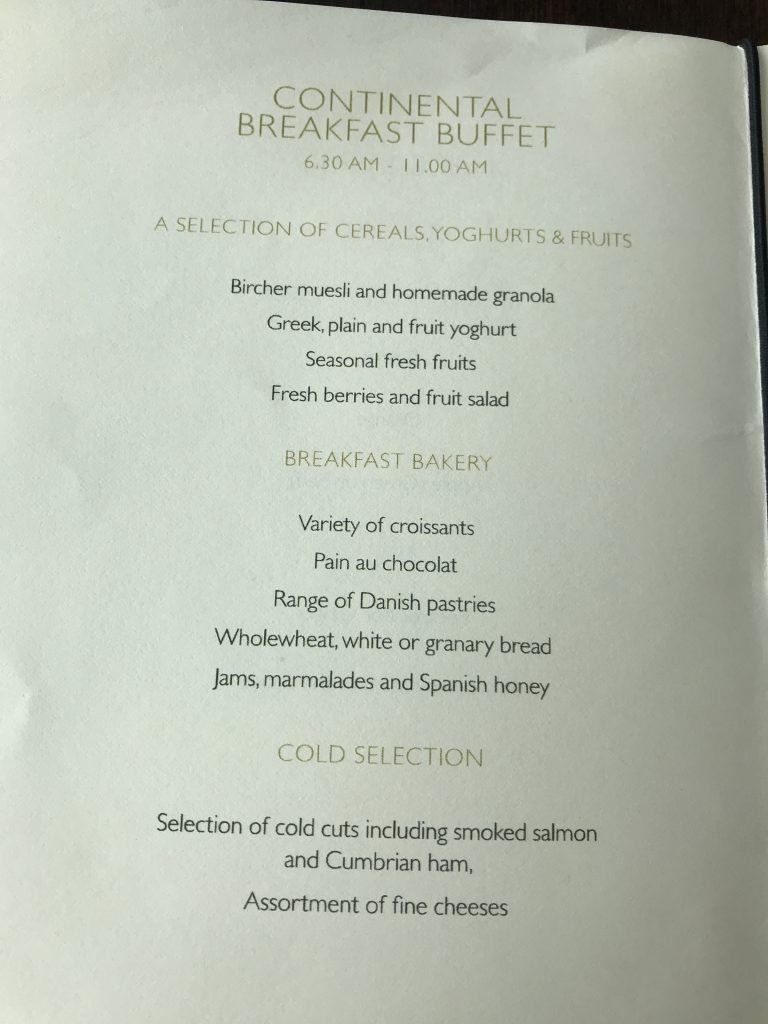 I sampled some of the cold meats and smoked salmon along with some lovely crusty bread with good quality butter which is one of my favourite treats in a hotel:
They even had some more unusual things like humus, taramosalata and salad. This actually suits me as I am quite open to trying different things for breakfast since I get a bit bored with hotel breakfasts.
I would actually say this was one of the best places I have had breakfast in a London hotel. I loved the fact that breakfast was available 06.30-11.00 so it suited most situations. The service was attentive at breakfast, they had a good selection of newspapers and magazines and it was lovely and quiet when I went in. The view was also a lovely way to start the day.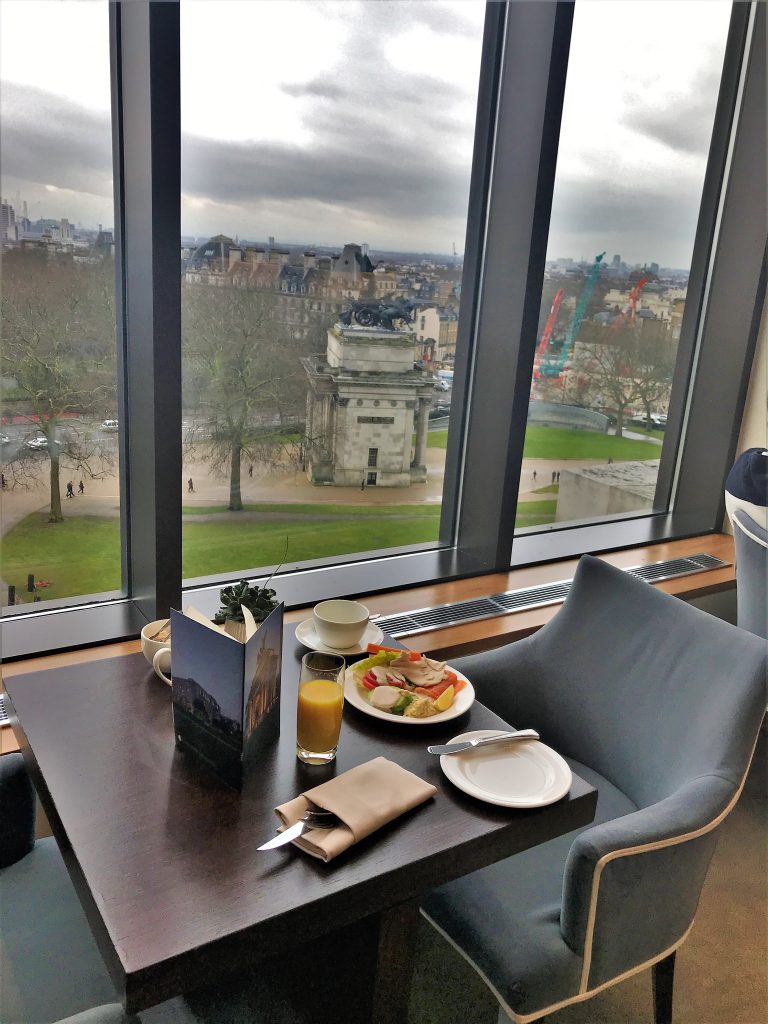 I then had a choice of the cooked to order menu: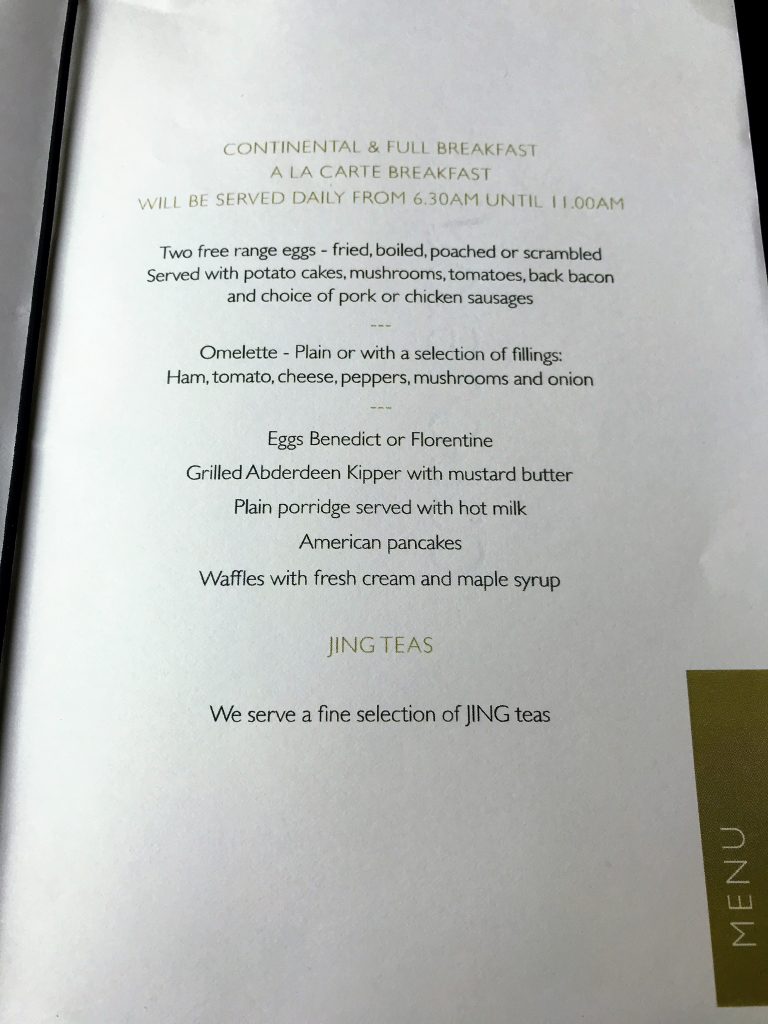 I was rather dull and went with my usual first choice, eggs Benedict. The eggs were perfectly cooked and it didn't take long to arrive. Unfortunately, the muffin was 'well done' to put it politely. I normally would have sent it back but since I was full of bread already I just left the offending bits.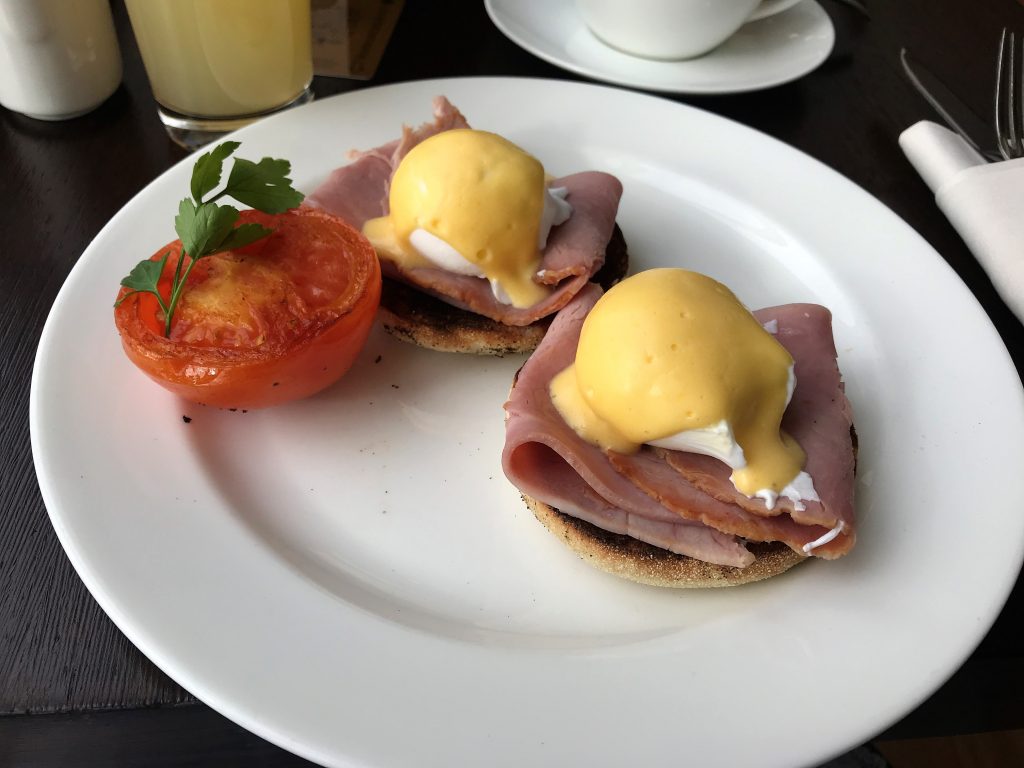 The next morning I tried the full English and this was both delicious and faultless so I think I was just unlucky the first morning.
Service recovery
Shortly after breakfast the first morning a push notification for a hotel survey appeared on my phone. This is the current trend in hotels which I like and always try to fill in if there is any sort of improvement needed. I find that you will normally get a response very quickly and to me it is a sign of a good hotel if they can manage service recovery. The issues I had were pretty minor but I think you should always feedback as otherwise the hotel never gets to correct them. In my feedback, I mentioned the spa reception (see below) and eggs Benedict.
I was pretty impressed that when I got back to my room someone arrived to deliver an apology note and some biscuits, fruit and water. I was also impressed that when I was in the lounge later that afternoon the lounge manager found me and came over to have a chat about my comments to understand the issues better.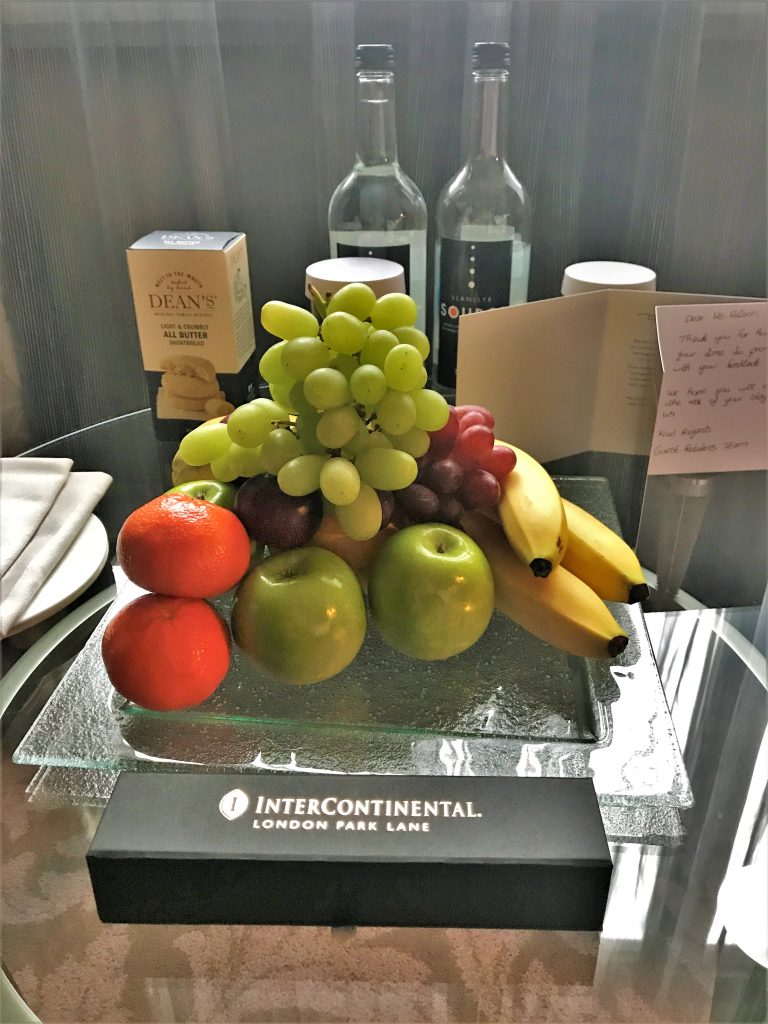 When I returned to my room that night there was even more fruit and water – in fact, this was getting to the point of being ridiculous as no one could eat that much fruit in a day. I ended up taking it all home in a large carrier bag but had to leave behind the 3 litres of mineral water! I also received a further call from the Guest Relations Manager on the final morning to discuss my stay and see if there was anything else they could offer me. As I had had a rather late night I had already arranged a late check out when I went for breakfast so there wasn't really much I needed.
As someone who travels a lot, I accept that things go wrong as nobody is perfect and the things I commented on were minor. The sign of a great hotel is where they actually care enough not only to check with you during the stay that everything is OK, but follow it up which they certainly did here. The hotel was not aware I was writing a review but certainly went above and beyond (in fruit if nothing else!) in trying to make up for the mistakes! In fact, it was probably just as well they weren't aware of this review or I may have needed a lorry for the subsequent deluge of fruit that may have brought me!
The room
Post from RICOH THETA. #theta360 #theta360uk – Spherical Image – RICOH THETA

I had a London Superior room which is bigger than the entry-level Classic room and has an option to pay a supplement to upgrade to the Club Intercontinental access which I would recommend if you have time to use it. I would recommend the London Superior category room or above as the Classic room would be a bit small. This was an adequate size even for 2 people. The room had a classic luxury feel to it and neutral tones. There is also a Superior room category which is slightly cheaper and has a less modern feel to it.
I arrived in the evening and the turndown service was already done with a mat and slippers by the bed and mineral water.
The room was well equipped with a Nespresso machine as well as a kettle and a large TV that you could mirror your iPad onto. I find this really useful since I usually travel with lots of downloaded TV programs or Netflix for catching up when I am travelling solo. Naturally, there were bathrobes and a large desk for working. This meant there were sockets on one side of the bed for charging which is a must for me. The room was very quiet and I didn't hear noise from outside or neighbouring rooms.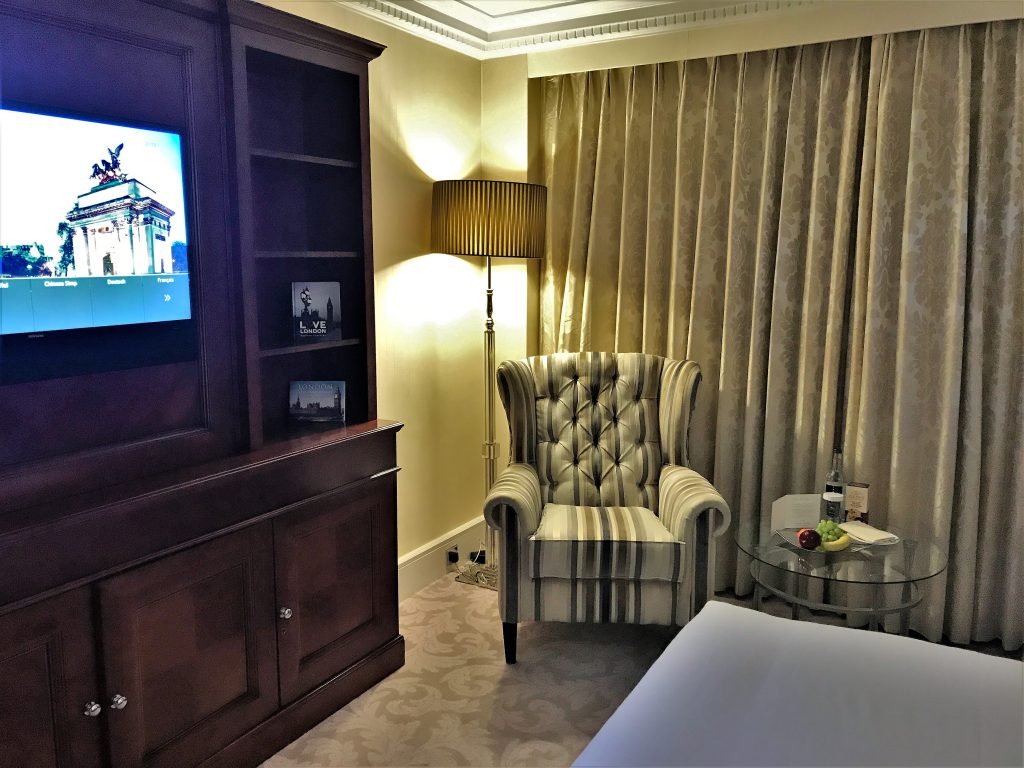 One of the most important things with any room is the bed and this was excellent. Just the right level of soft versus firm and a nice quality of sheets and duvet too. The pillows were a particular highlight being large and fluffy with 2 of each level of firmness.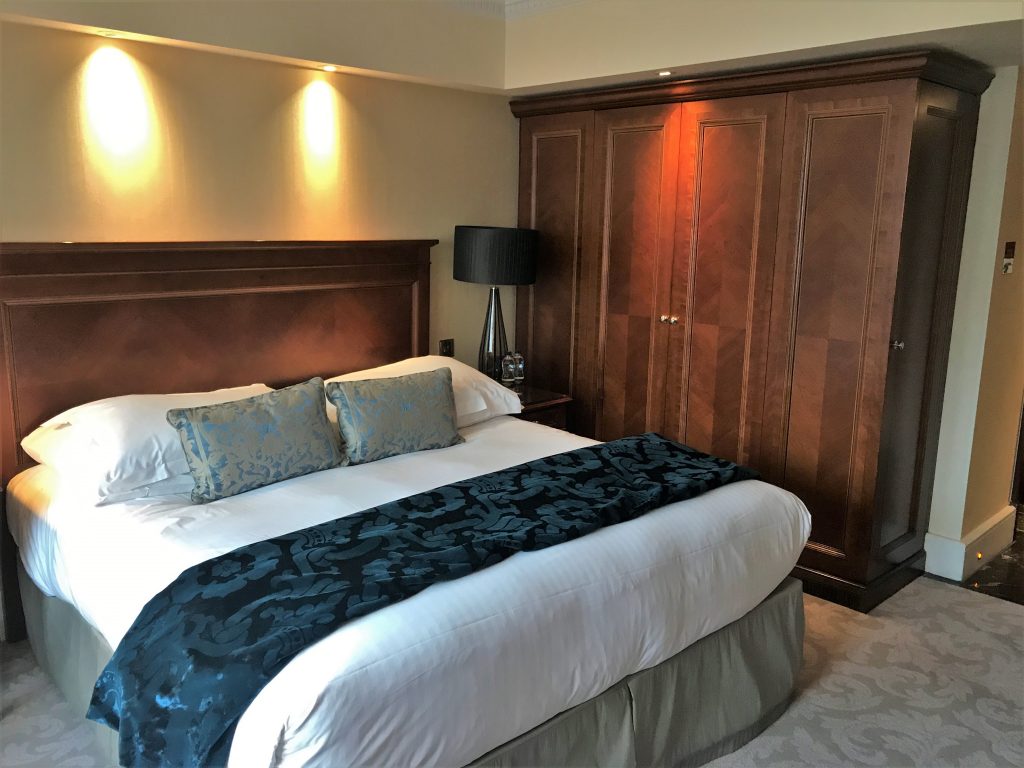 Bathroom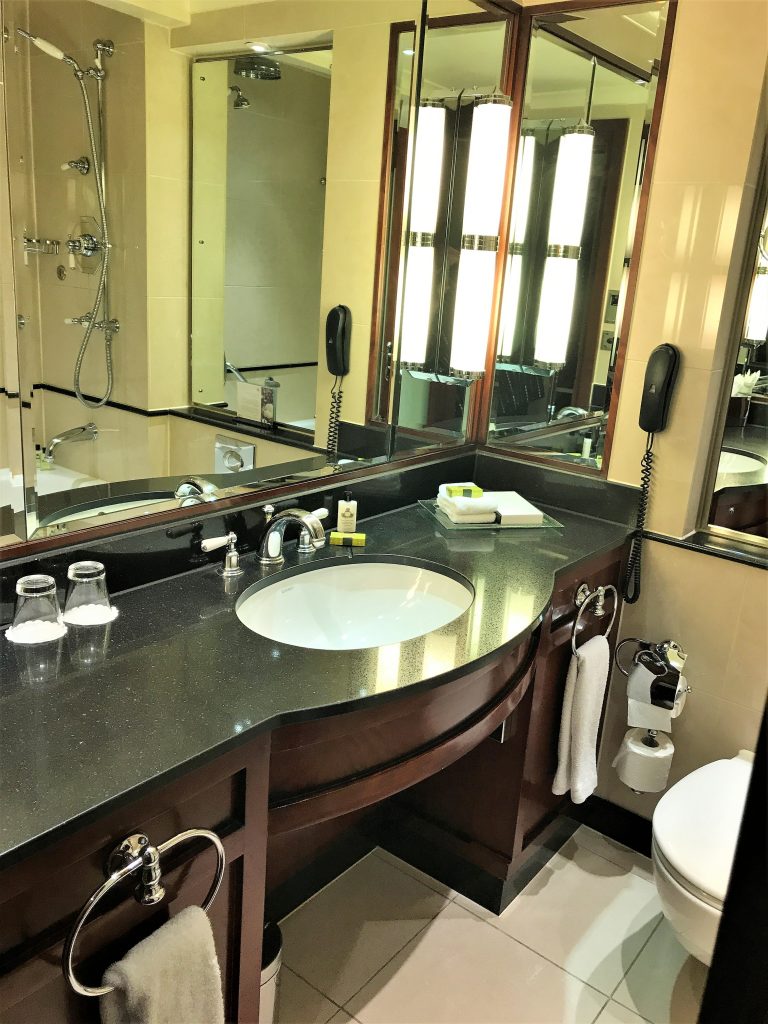 The bathroom was a little on the small side but it did have a large vanity area which is the most important thing for me. I don't travel light and I like to spread out all my toiletries ready for use. The bathroom was well lit and had plenty of mirrors including a magnifying one. The toiletries provided were Agraria from San Francisco and came in good size bottles. I really liked the refreshing Lemon Verbena fragrance which is one of my favourite scents for toiletries.
Post from RICOH THETA. #theta360 #theta360uk – Spherical Image – RICOH THETA
Although there was no separate shower, the bath was deep enough for a soak and the shower had a large raindrop type showerhead so it was a decent compromise.
Facilities and spa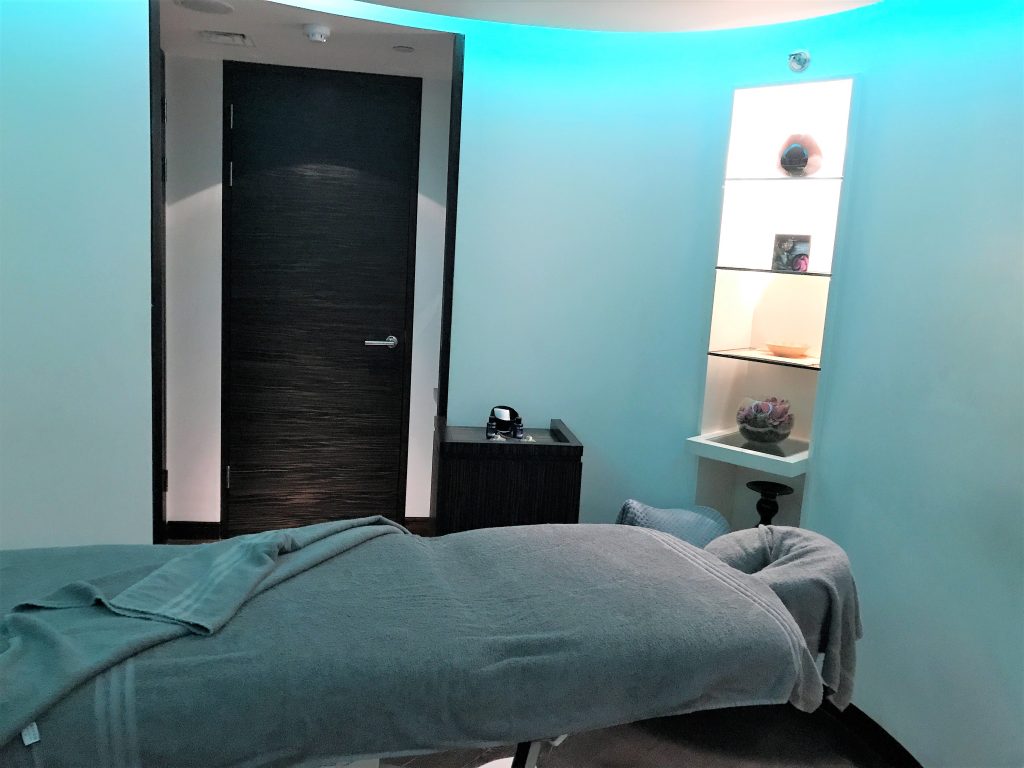 As I had been travelling the week before I thought I would treat myself to a massage. Unusually there was no menu to be found anywhere in the room so I ventured down to the spa. They explained that they were in process of getting a new spa menu and only had one at the spa I could look at. The spa uses Elemis products which I like. As the list didn't have descriptions I asked for more details about their poultice treatment but was disappointed when the receptionist didn't seem to really know what it was. Hopefully, this was because the treatment list was new rather than a lack of training.
I went for a standard massage instead as I wasn't sure. The spa itself was very nicely done in dark oriental tones and had a relaxing ambience. The therapist was very good and I enjoyed my treatment. Next time I would book further in advance as there weren't many slots available when I arrived. There is also a hairdresser on site – award-winning stylist Mathew Alexander Atelier who offers a full range of cutting, colouring and styling services.
As you would expect the hotel offers a fitness centre but there is no swimming pool on site.
Dining and bars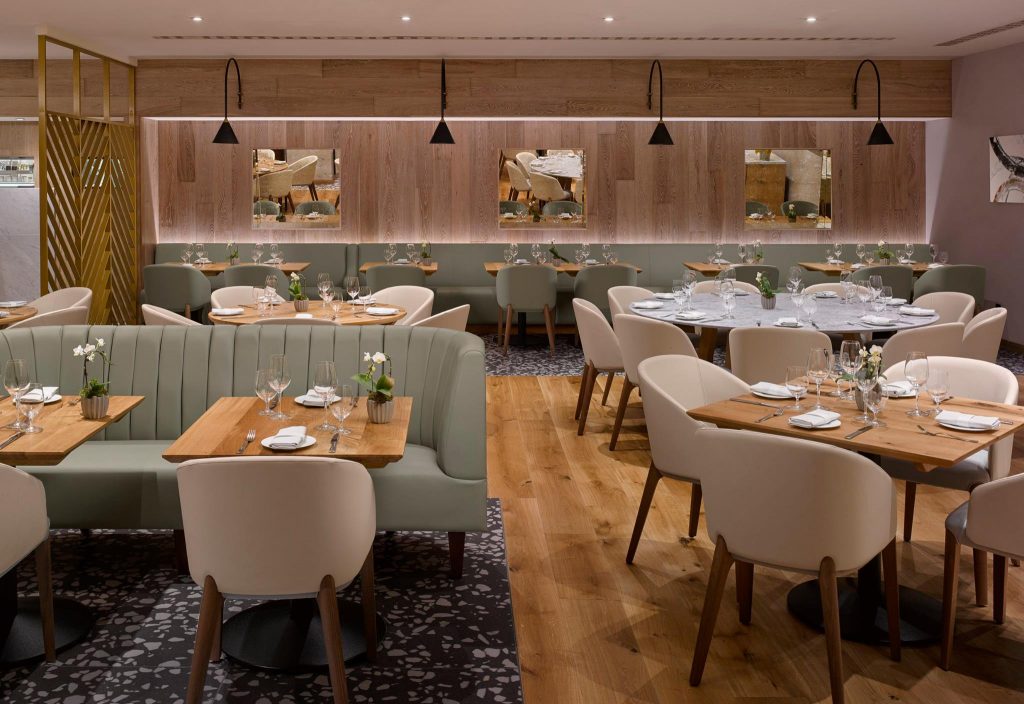 I didn't really have a chance to visit the restaurants but Theo Randall at the Intercontinental is on my list of restaurants to try in London. Theo Randall was the chef at the River Cafe Restaurant where he gained one star for his Italian fine dining. There is also Ella Canta, a modern Mexican restaurant that looked intriguing. I went to the elegant Arch Bar for a drink with a couple of friends after my event and liked the interesting cocktail menu and sophisticated decor. You could also try the bar at Theo Randall even if you weren't dining there.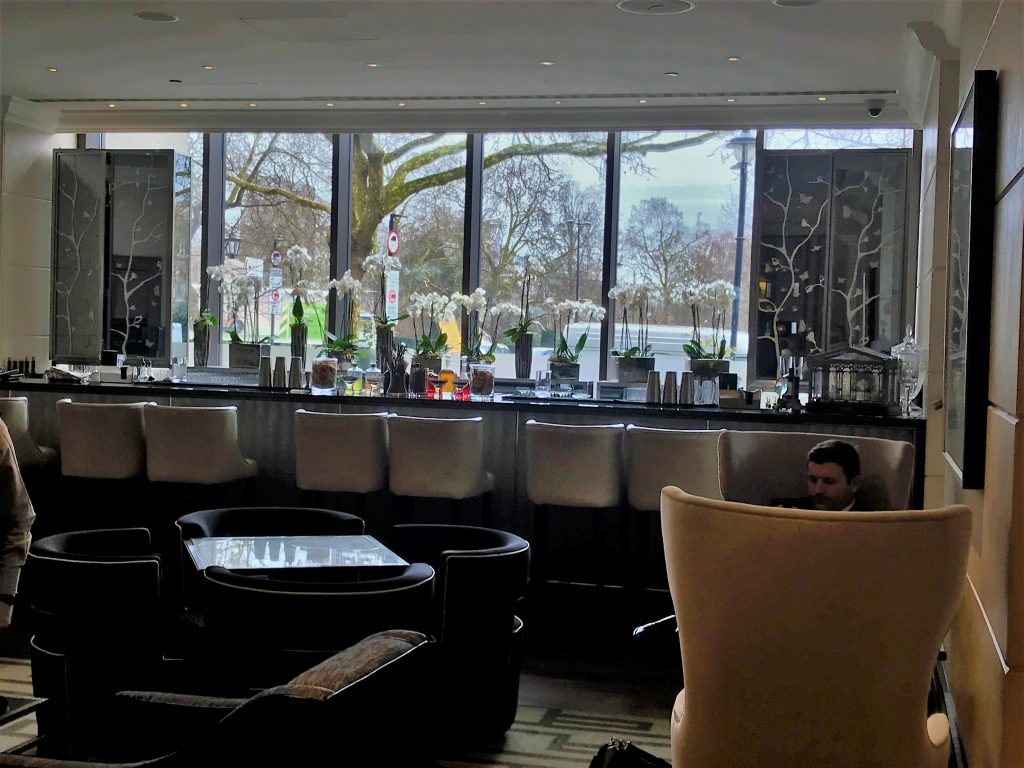 I did sample room service as I thought it prudent to have a snack before heading out to drink Champagne for the evening! I had a delicious lobster club sandwich which was delivered quickly. I liked the fact there was a big selection on the room service menu including plenty of Middle Eastern specialities as I love a good mezze.
Conclusion
As always for me, the decision on whether to stay here is price versus value. Prices on Park Lane can become extremely expensive if there is an event on in one of the hotels so it is all about researching what the average rate is. The location here is very handy for Mayfair and there are lots of great restaurants and bars in a short walk from here. The Club InterContinental was a lovely place to relax and the service was excellent the majority of the time. The lounge was the nicest one I have been to in London in terms of views and ambience and I was made to feel very welcome. Although the room wasn't huge it was well equipped and for me, the two most important things were covered – it was very quiet and the bed was extremely comfortable. I would like to return to experience more of the Club since this visit I was out of the hotel much of the time.
If you purchase any room you can add lounge access for 2 people for £126. It is recommended to do this by phone or email once you have made your booking as on arrival it would be subject to availability. If you are an Ambassador member it reduces to £96. It could be worth joining the Ambassador program if you plan to stay two nights here at a weekend. Ambassador costs $200 (approx £140) and gives you a certificate for a second weekend night free on a paid stay. Obviously, $200 would be much cheaper than paying for the room rate here. You can find more information about the Ambassador Club here. There are also a number of other benefits such as a room upgrade, welcome gift and late checkout.
The starting point for a room is around £370 for the entry-level Classic room with the Club InterContinental lounge supplement. Although the lounge access sounds quite expensive if you consider that breakfast in a 5* hotel in London usually costs around £25-35 then it makes it seem reasonable for 2 hours of champagne as well. The price for a suite which already includes Club InterContinental starts from £455.
You can get reduced rates if you join the IHG Rewards Club which you can do here. You can find more information and the latest prices on the InterContinental Park Lane here.