Hotels.com Rewards is the reward scheme operated by Hotels.com, the main accommodation website of the Expedia travel group. Because you are not tied to one specific hotel chain, you can choose from more than 500,000 properties worldwide! This allows you to book your preferred hotel in each destination, instead of being tied down to one or two major chains (and the sub-optimal choices that sometimes entails).
Hotels.com Rewards is also the most simple and straightforward rebate scheme available.

What Do I Get From Hotels.com Rewards?

It is pretty simple… book 10 nights and receive 1 night free.
Now… Hotels.com is not so crazy as to allow you to book 10 nights at a cheap hostel and then redeem for a free night at the Conrad or Park Hyatt in the Maldives! The average rate you paid for your ten nights becomes the amount that you can credit towards your "free night". In essence, you are receiving a 10% rebate on your paid nights.
There are four major elements to keep in mind:
You cannot pay any taxes or fees with your Hotels.com Rewards balance
If you choose a hotel that costs less than your Hotels.com Rewards balance, you lose any unspent amounts. (i.e. don't spend your £200 balance on a £170 hotel room)
Your Hotels.com Rewards balance can only be applied to ONE hotel night. (i.e. you can't spend a £200 balance on a 2-night stay costing £100 per night without wasting £100)
Unless you book your reward night via a Hotels.com App, you will be charged an additional £4 fee
To be sure to collect credits towards your reward night, you can filter your searches based on participation in Hotels.com Rewards. (which is nearly all of them to be honest). But be aware that using many money off coupons can mean that your hotel stay won't count towards Hotels.com Rewards.

The Bright Side… You will want to make judicious use of your "reward" night – it doesn't have to be every 11th night. For example, spending a £100 credit on a £400 room means that you forfeit a potential £40 (10% of £400) you could be accumulating for your next reward credit.
Do My Credits Expire?
Yes. You must book a hotel via Hotels.com at least once every twelve months.
The Bright Side… If you have some credits about to expire, you can always book one night at the cheapest prepaid hotel you can find, perhaps somewhere in India. It will bring down your average room rate substantially, but you will avoid losing your credits. Unlike the major hotel chains, Hotels.com do not care whether you actually check in to the hotel, as long as you've paid for it in advance.

Can I Still Earn Points and Elite Status Credit at the Major Chains?
NO.
The major disadvantage of Hotels.com is that it is considered a third party booking by the major hotel chains. As a result, you won't receive points or any of the other perks available from booking direct.
In a few rare cases, a chain hotel might honour your elite benefits. Of course, if you get into the habit of booking chain hotels via Hotels.com, you won't retain your elite status for long…
Is There an Elite Status Scheme?
Yes, but qualifying for elite status is based on anniversaries of the exact date that you joined Hotels.com Rewards.
Silver status is earned at 10-29 nights per membership year
Gold status is earned with 30+ nights per membership year
The Bright Side… I do not have enough personal experience to know whether Hotels.com actually delivers on some of the elite perks they promise, such as room upgrades and free breakfast at select properties. I prefer the guaranteed perks of the major chains.


Can I Earn Cashback or Avios with Hotels.com Rewards?
The major cashback websites in the UK – Topcashback and Quidco – offer approximately 2% cashback when booking Hotels.com whilst logged in (to earn Rewards credit).
You can also earn 3 Avios per £ spent by booking via this special British Airways / Hotels.com website. You can also earn 6 Avios per £ by booking as a guest – i.e. declining to earn Hotels.com Rewards credits – but it makes far more sense to earn the 10% rebate instead of an additional 3 Avios…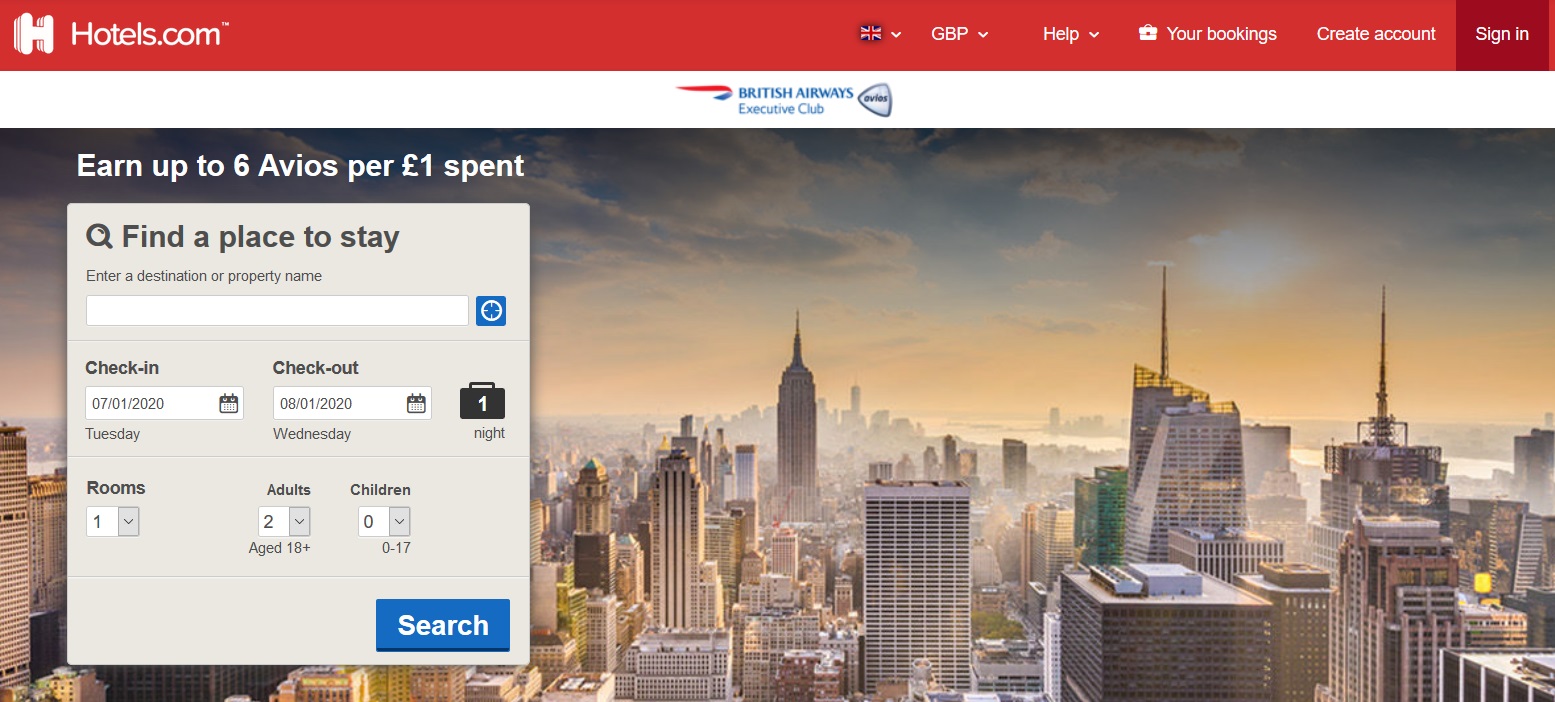 The 30-Second Lowdown
Hotels.com Rewards is the hotel loyalty programme for those people who simply can't be bothered with hotel chain loyalty programmes! It is simple, easy to understand and its major benefits do not require you to spend dozens of nights per year in hotels.
Because of price parity agreements with the major hotel chains, you will rarely pay substantially more by booking through Hotels.com. However, you will only get what you pay for. No elite benefits such as free breakfast, lounge access, room upgrades, etc. You also must forego earning points, elite status credit, etc.