Located airside at Terminal 2E at Paris Charles de Gaulle Airport, Yotel Air is part of the growing global chain of properties from the Yotel group. Regular properties can be found at cities spanning London through to Singapore, Amsterdam and New York. The concept is compact hotel rooms that provide a consistent experience across locations with rooms that feature the essentials plus a comfortable sleep.
Yotel Air properties are not consistent in their placement at airports. At Paris, Istanbul and Amsterdam they are located airside (i.e. after security) and mean that connecting passengers, who may not have a legal right to enter a country whether that is visas or previous Covid rules, can rest somewhere. Meanwhile at Gatwick and Singapore, the YotelAir properties are located landside or before security, which makes for a less suitable choice for some passengers – and negating some of the benefit. To confuse things further, Istanbul's new airport has both a landside Yotel and an airside Yotel Air!
The room
During my overnight stay at Yotel Air CDG, I opted for a Premium Queen room – the cheapest available room. The hotel also offered Premium Queen ADA which seem to offer better more premium Urban Jungle amenities but little else, while the Family room can fit four guests.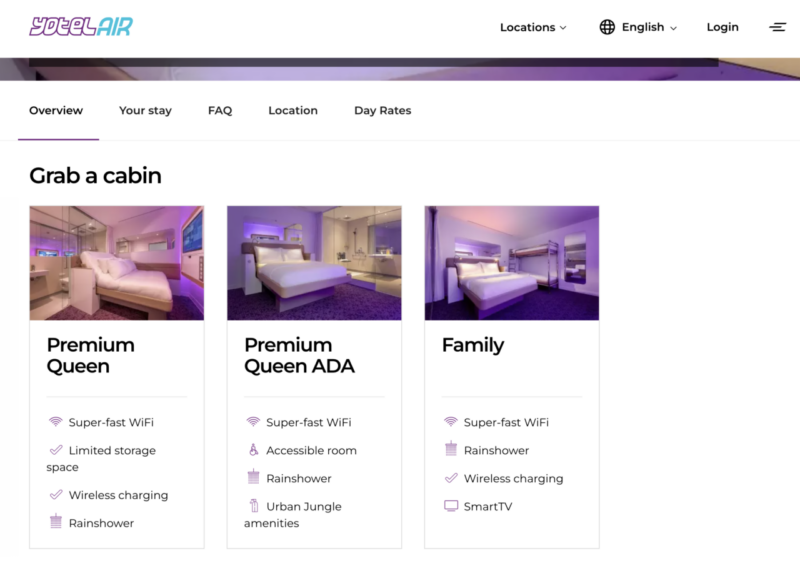 The Premium Queen is a 'cosy', read small, space that one photo almost shows the entire room. Yotel utilise a sizeable queen-sized bed that can be adjusted using a controller to make it easy to work from or watch television upright.
I spent a total of around ten hours in this room, seven of which I slept very well on the comfortable mattress. At 188cm tall, my feet did touch the television unit at the end of the bed but there was enough space to sleep at a slight diagonal to overcome this.
That television unit is cleverly designed with a small flip out 'desk' which you could work from for small intervals – any longer would likely induce poor posture. As a transit hotel, I'm glad to see Yotel have installed dedicated European, UK and US-style power outlets although the placement near in the television unit is awkward when charging devices while asleep. This is due to them being located off ground level, many cables not being long enough to reach the floor and not being able to flip out the table while in sleeping mode to lay the devices down. This seems an oversight in the design process. You can also connect to the TV if you have an HDMI cable.
Due to the compact design of the room, there is a surprising amount of floor space. It's not huge but you would not anticipate this amount of room with a queen sized bed in it. Mirrors can be found two of the walls to make the space feel bigger and compensate in some way for the lack of windows. The latter did not bother me at this hotel since I just wanted to rest well ahead of my flight on Air France's La Premiere.
The integrated bathroom is a skinny affair located at the rear of the bed. It was clean and the water temperature sufficient while the drainage was particularly loud while showering. This room featured unbranded amenities which were of average quality. A curtain on the window between the bed and shower facilities provides a semblance of privacy.
The efficient use of space does mean that while sitting on the toilet many people will find there is not sufficient legroom. Just a few more centimetres on the size of the room could really make a difference here but it is not a deal breaker.
While cleanliness of the bedding and facilities was not an issue, maintenance of the rooms could do with improvement. In a number of places around the bed the finishing was peeling off quite substantially. Again this does not ruin the experience but for the prices this hotel charges, a little better attention to detail on maintenance would be appreciated.
Public spaces and location
The hotel is located within the pre-security transit zone of Terminal 2E. This means if you wish to purchase any food, you must go through security to get more substantial items to consume.
Close to the reception, the hotel features a lounge area which has packaged snacks and drinks for a fee. It's an average space that is functional and could provide a space for people to work from when their rooms are limited for working from.
This lounge area can be accessed by non-Schengen departing and transit passengers with Priority Pass and Lounge Key providing a €10 credit to spend on food and beverages. With the size and complexity of getting to other terminals at Paris CDG, it could be an okay place to visit for a lounge visit if I were in 2E. I wouldn't go out of my way to head over, neither would I arrive early.
Conclusion
The Yotel Air at Paris Charles de Gaulle is a functional airport transit hotel which delivers on its remit of providing a comfortable stay with all the basics one expects. Their rooms are cleverly designed and clean, if in need of improved maintenance. Rooms are booked between specific hours and are flexible in that these stays do not need to be overnight.
That being said, I would only advise people to use this in limited circumstances. These being:
overnight transit passengers who cannot enter the French state
non-EU overnight transit passengers who do not wish to waste 2 days of their 90 day visa-free period
In my case, the Yotel Air worked well allowing me to extract the maximum possible time during transit at the La Premiere lounge and provide an extensive review for TLFL.
These are very specific and outside that I would recommend people look for a hotel located close to the airport on landside. You will get bigger rooms, more value for money and you could even pop into Paris for the evening should you wish.
Like our Yotel Air transit hotel at Paris Charles de Gaulle review? You can read more hotel reviews here.