I have been writing about La Compagnie for a while as their prices to New York are often very low and I like all business class airlines. However, they started with older aircraft where the seats were not great, and there were often issues with reliability. This year they took delivery of 2 new A321LRs to use on their Paris – New York (they also fly from Nice in the summer). When you search for flights on their website, it clearly shows the aircraft type operating. I would avoid the B757.
Booking
La Compagnie have very regular sales which offer some fantastic prices. I bought my tickets in one such sale for €1001 which is roughly £852. At the time of writing, I can see fares from around €1100 return.
You can book direct with La Compagnie here.
Check-in

La Compagnie does not have an app, but you can use online check-in. Given that it was a flight to the US and you need to get your passport checked anyway, I did not bother. Being a small airline, check-in at Paris Orly does not start until 2 and half hours before departure. I arrived just before that and there was already a queue. I was surprised to be interrogated by a security guard before being allowed to approach the counter. It was similar to the profiling questions you get if you fly a US airline to the States from the UK. A lot of quite personal and seemingly pointless questions. In the UK it does not apply to UK airlines.
I had been monitoring the seating for a while as I wanted to get a pair of seats to myself. Once I reached the front of the queue the check-in agent was very helpful. I asked if the seat next to me was still empty, and she asked if I would prefer it to remain so. She offered to block it providing there were not any more last-minute tickets sales as currently, the flight was not full. I was told where the lounge was and soon on my way.
I quite enjoyed flying from Orly. It is fairly small and seemed pretty quiet everywhere. I used the fast track security but there was not really much of a queue for the other one either.
The Lounge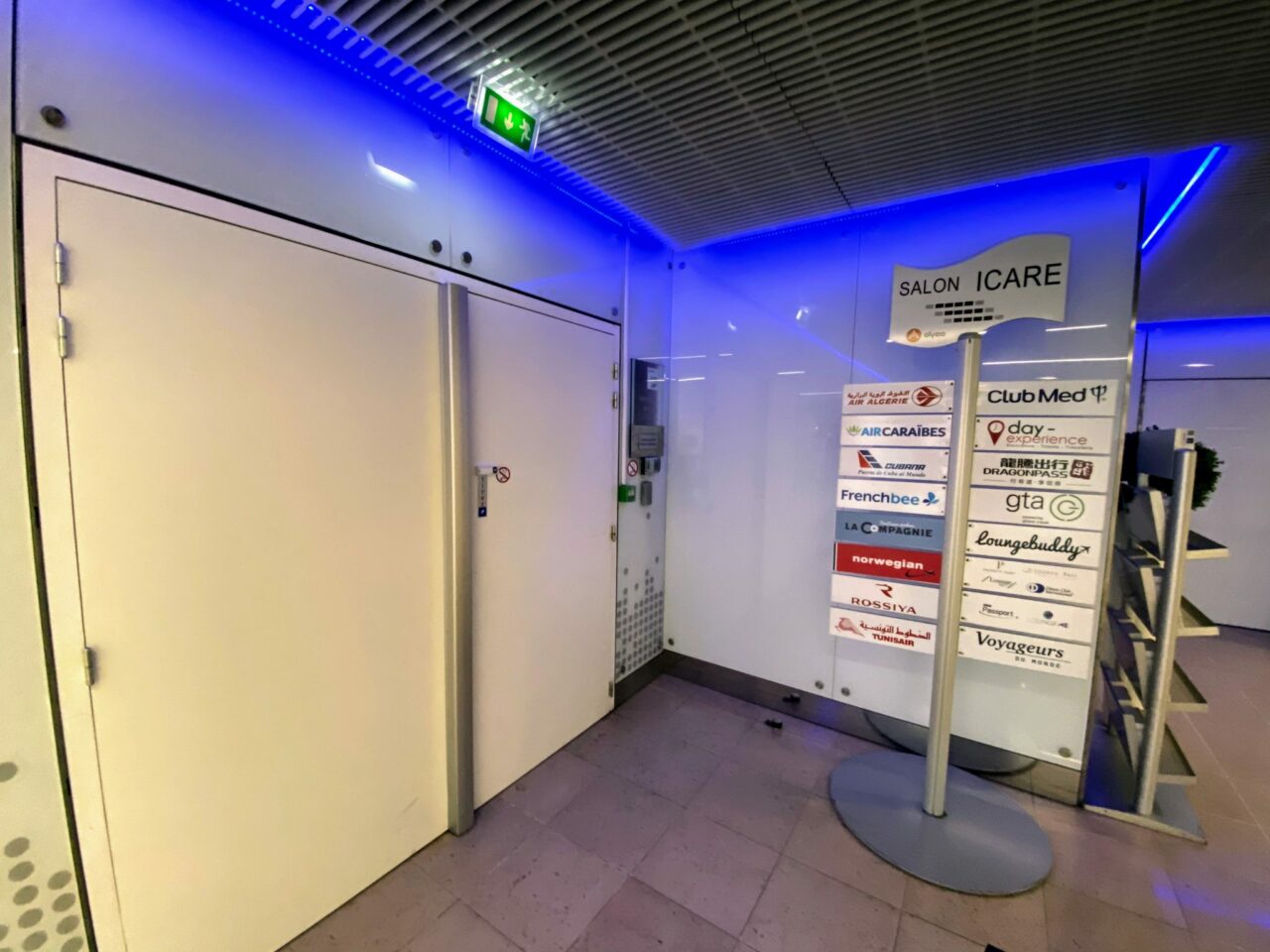 As soon as I saw the lounge entrance I lowered my expectations substantially. I was expecting a fairly standard third party lounge, but this has to be one of the most uninspiring lounge entrances ever! I thought the name was ironic – it was less ICARE and more I don't care!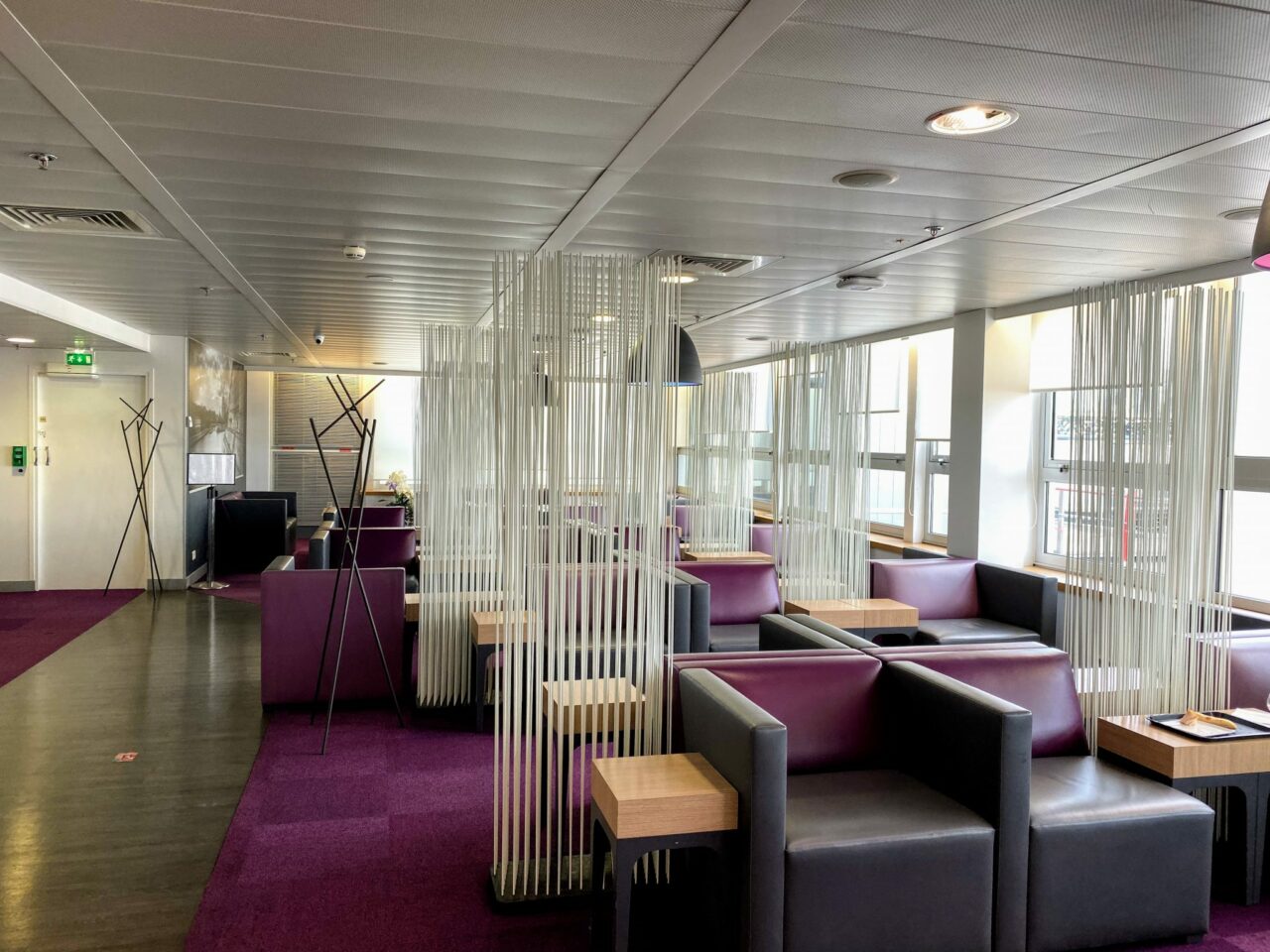 Once inside it was not much better. The lounge had modern but rather cheap-looking decor. It was at least quiet though.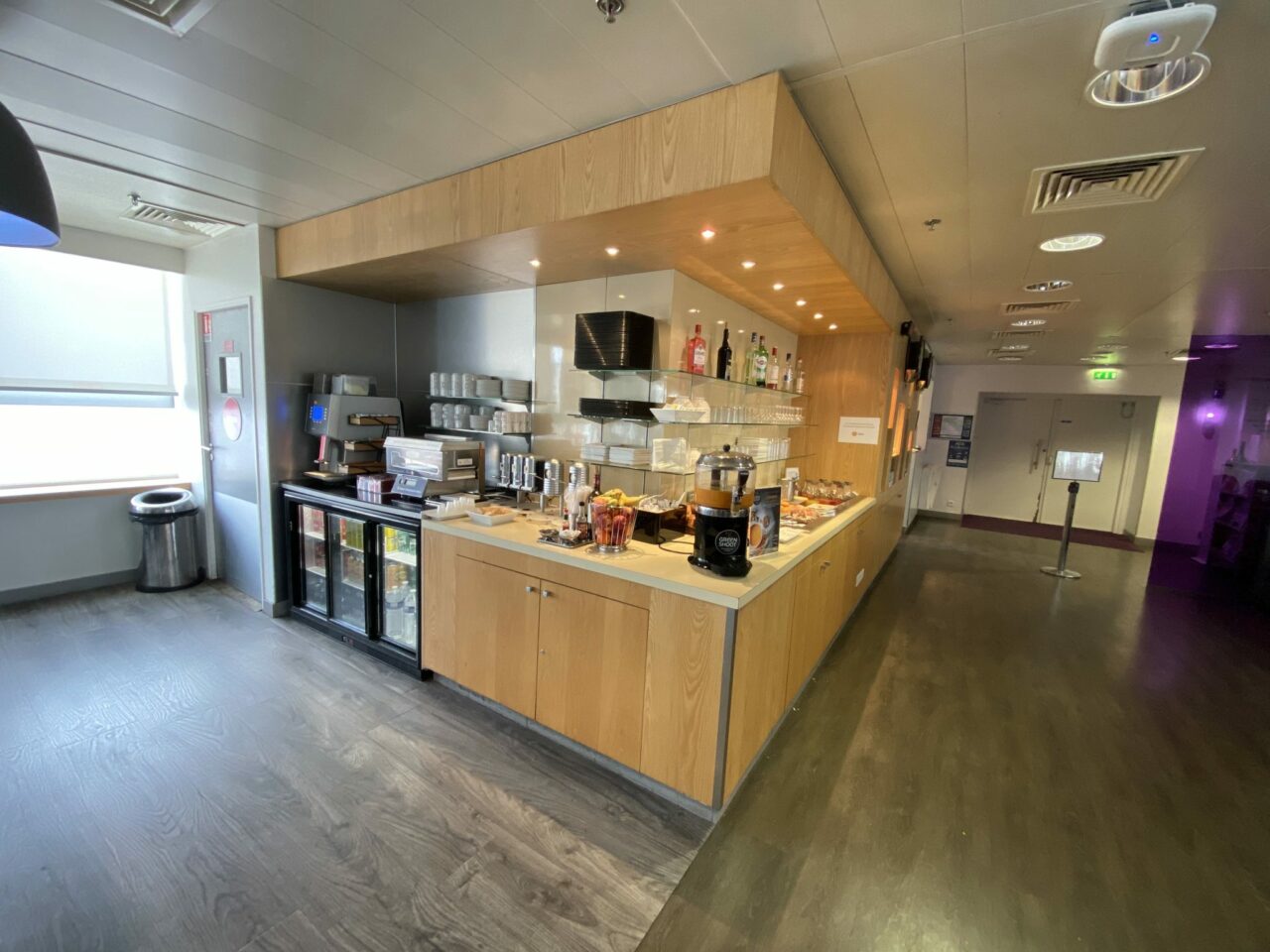 It was lunchtime when I arrived for my 2.30pm departure but they still had breakfast out. The food selection was OK if random. There were pastries, salad, soup, sandwiches, make your own pancakes and a few snacks and fruit.
If you wanted a drink though the selection was laughable! There was nothing sparkling let alone champagne. There was a random bottle of Rose wine left out to get warm with a thimble of wine in it, and a solitary bottle of red. The fridge had one type of beer. And as for spirits it was very random: pink gin, vodka, Martini and calvados.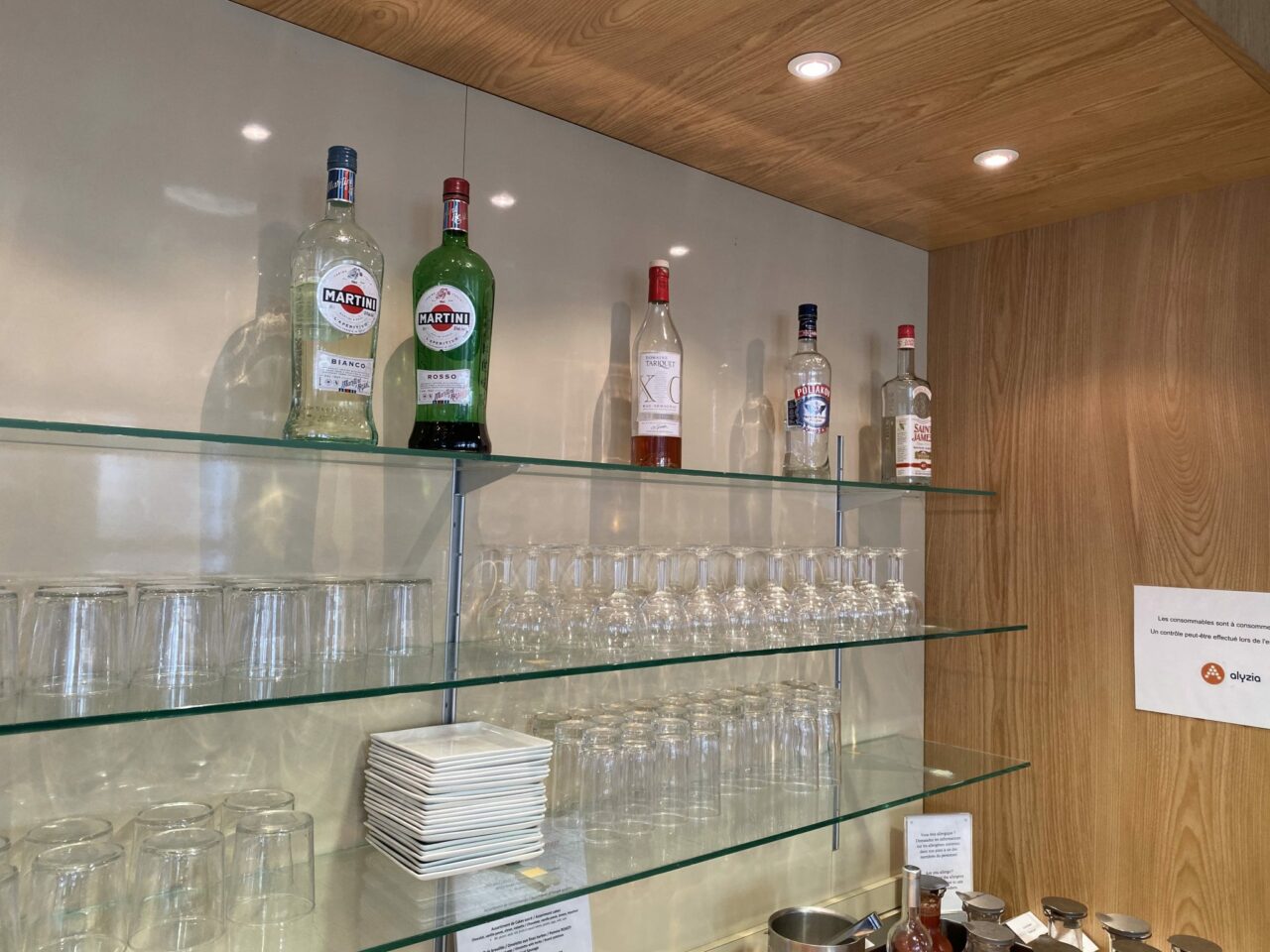 There were a few magazines and an invitation to download the Press Reader app for more.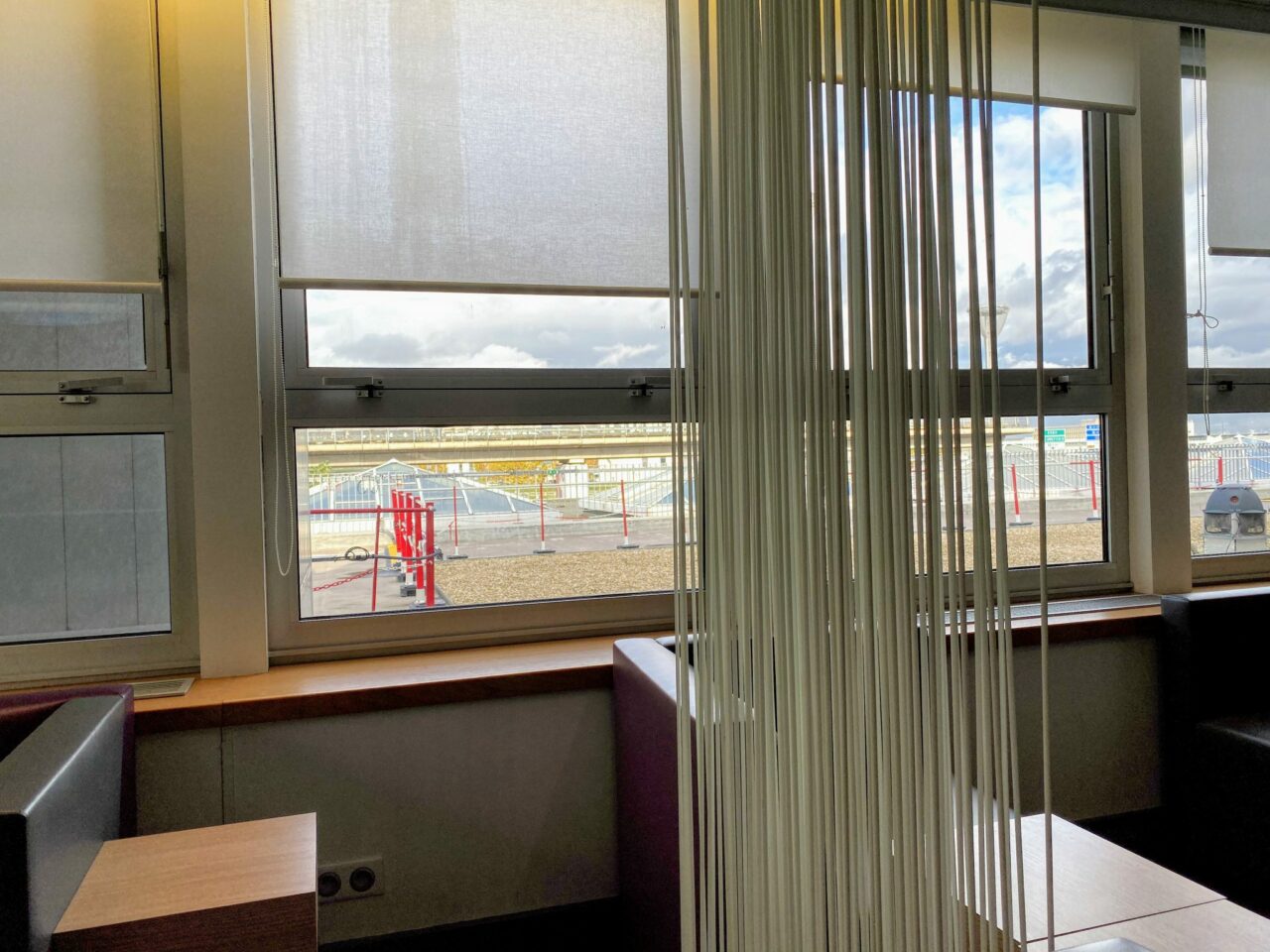 The lounge had probably one of the most dismal views I have seen in an airport lounge. It was also not really set out for those wanting to work as it was nearly all armchairs and low tables.
Boarding La Compagnie Business Class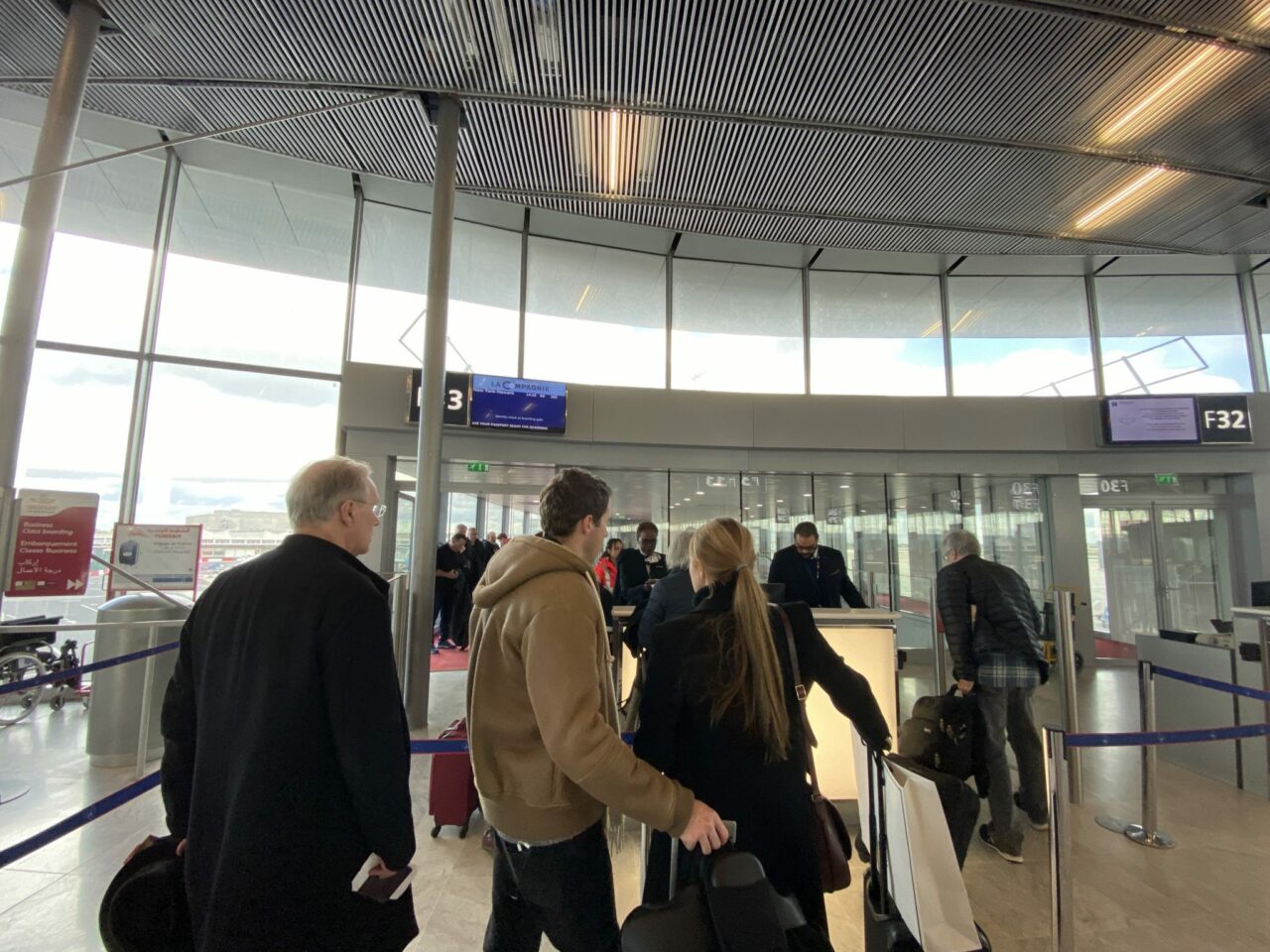 Boarding was due to start 30 minutes before departure and they would be announcing it. Given that it was one of the furthest gates and I wanted to be amongst the first one for a picture, I left quite early so I don't know when they actually announced it. I got to the gate around 35 minutes before departure and they started boarding exactly on time. Yet again, some people were asked questions by the same security guards.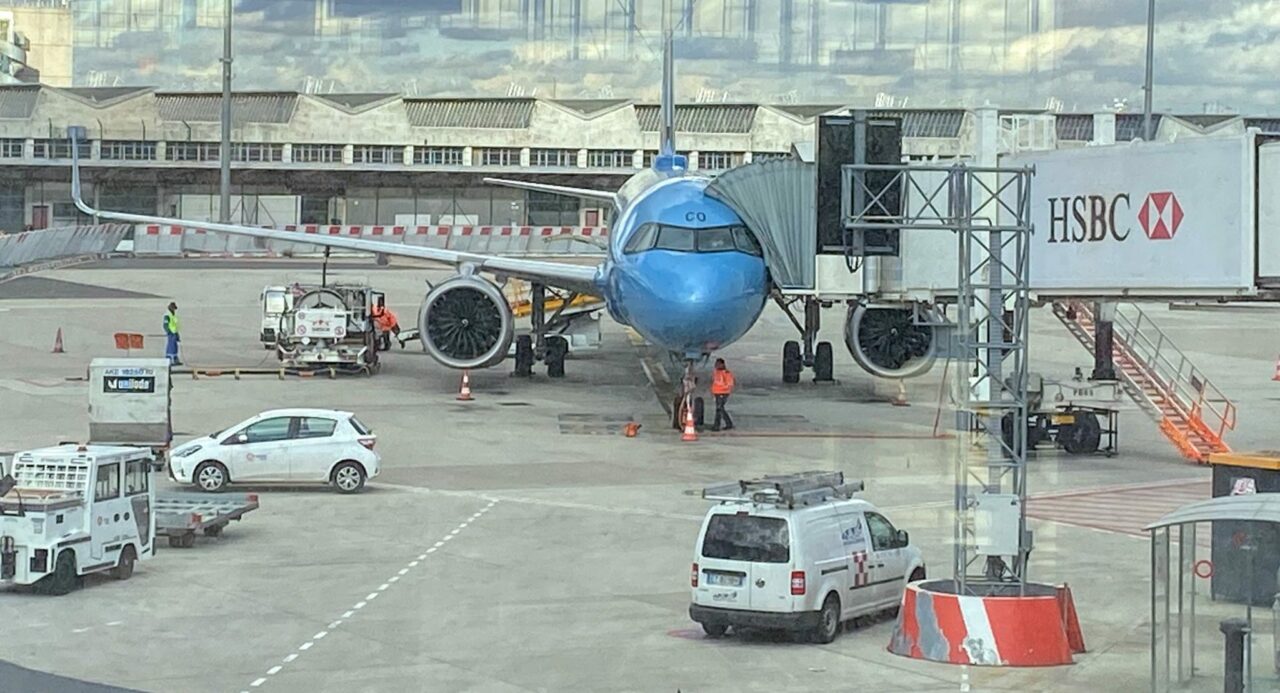 Given that the aircraft only has 76 seats and the last couple of rows were empty, boarding was completed within about 10 minutes.
Once I had taken my photos I settled into my seat. Already at the seat was a bottle of Evian, headphones and the amenity kit.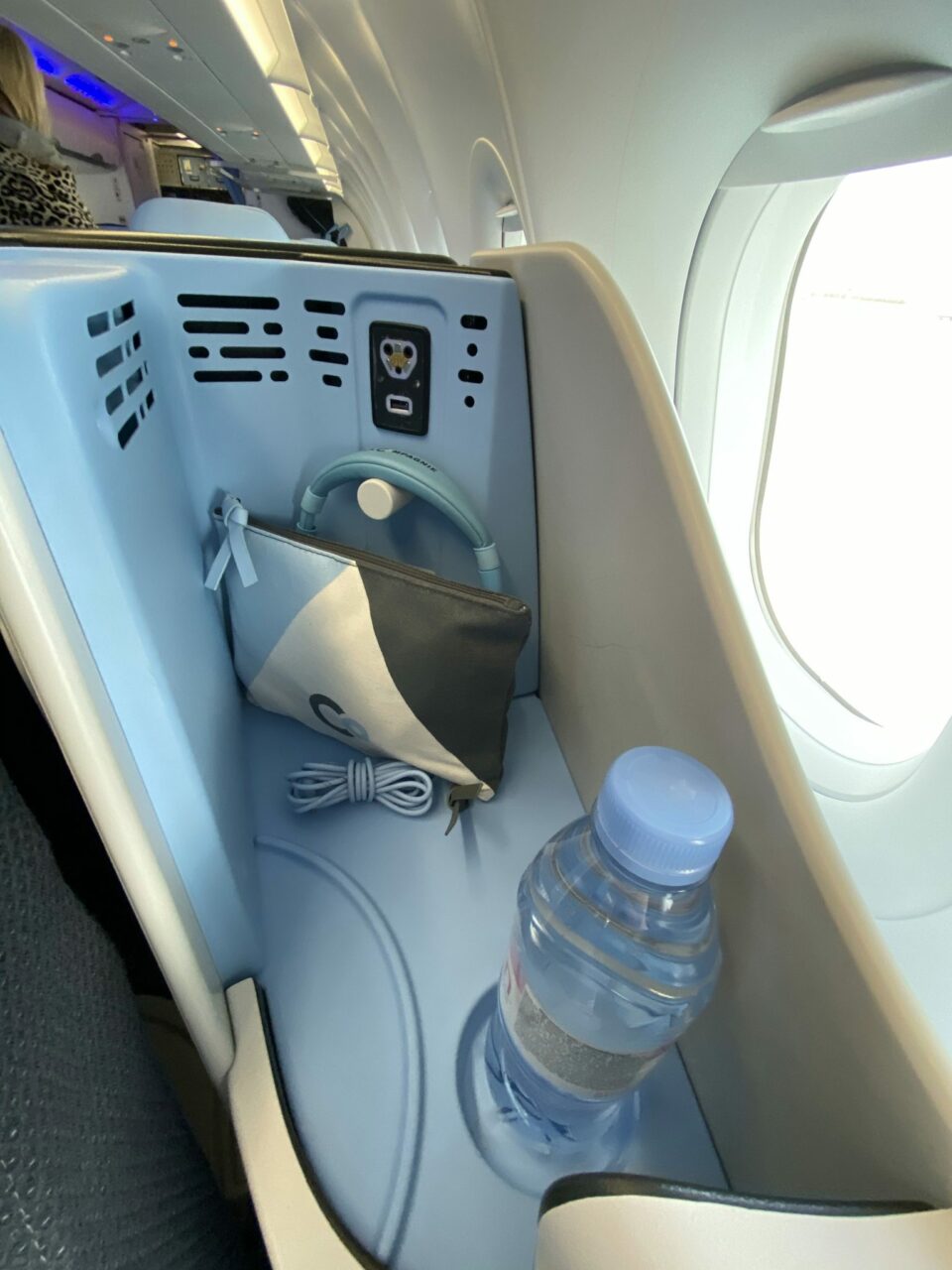 Considering that this is more of a low-cost business class or "boutique" as they call it, I was very impressed with the amenity kit. It looked very smart and the bag had two zips, one each end with two different compartments – what a clever idea! I will definitely be reusing this bag! (watch out for some in our Christmas giveaway).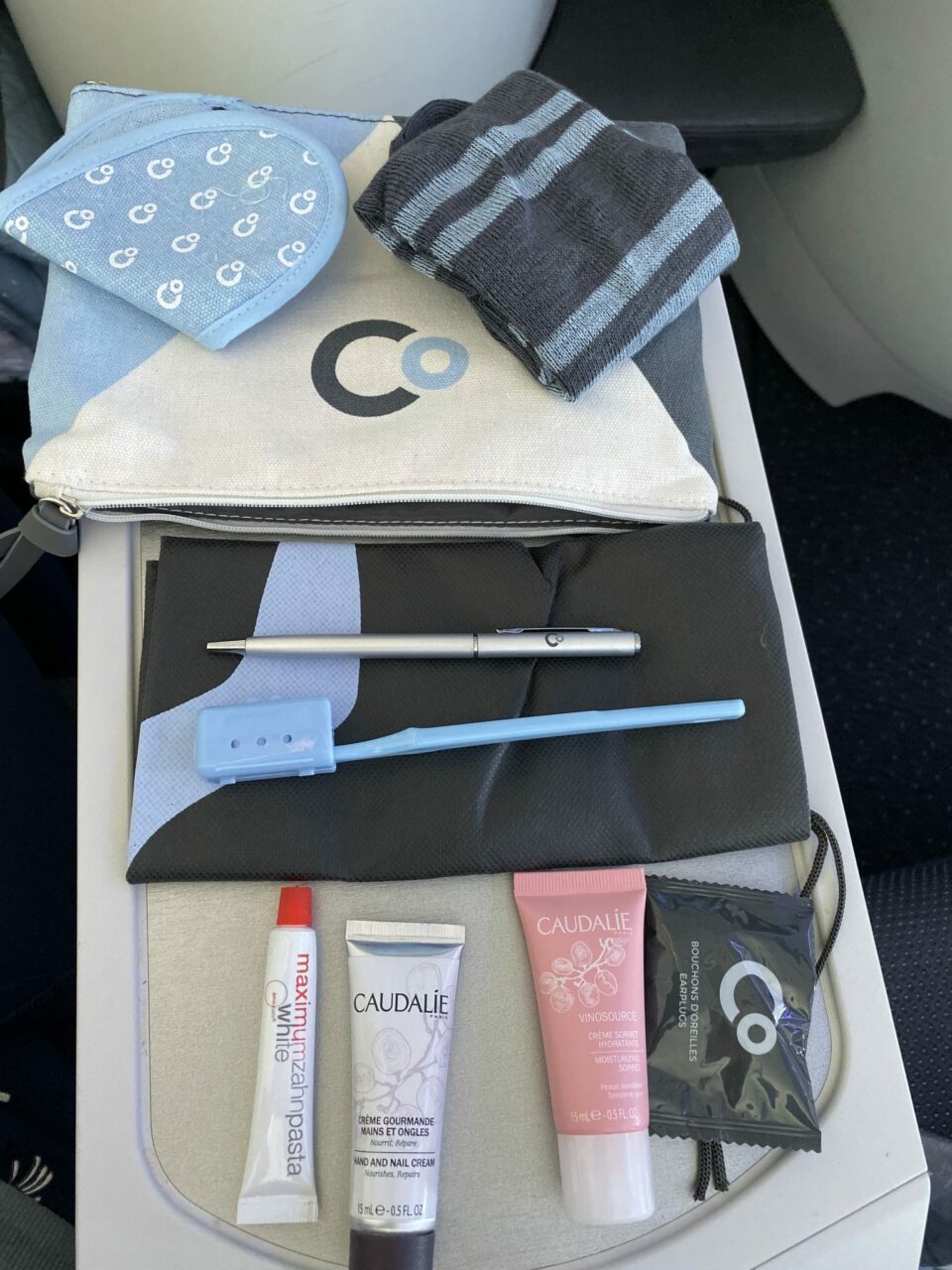 The bag contained:
La Caudalie hand and nail cream
La Caudalie moisturiser
Earplugs
eyemask
whitening toothpaste
a smart pen
snazzy striped socks
toothbrush
a shoe bag
I have to comment on the uniforms. They were not exactly PC for 2019. The top half looked very smart and professional. Not so sure about those shorts though! Reminds me more of low-cost Vietnamese carrier Vietjet!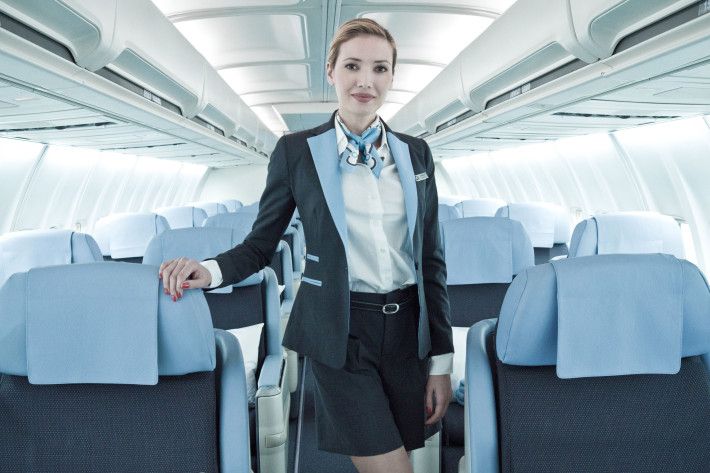 After boarding, we were offered a pre-departure drink of champagne or water/juice. It was served in a plastic glass but it was a decent measure and tasted OK. It was Piper Heidsieck which I find very average.
La Compagnie Business Class Seat and cabin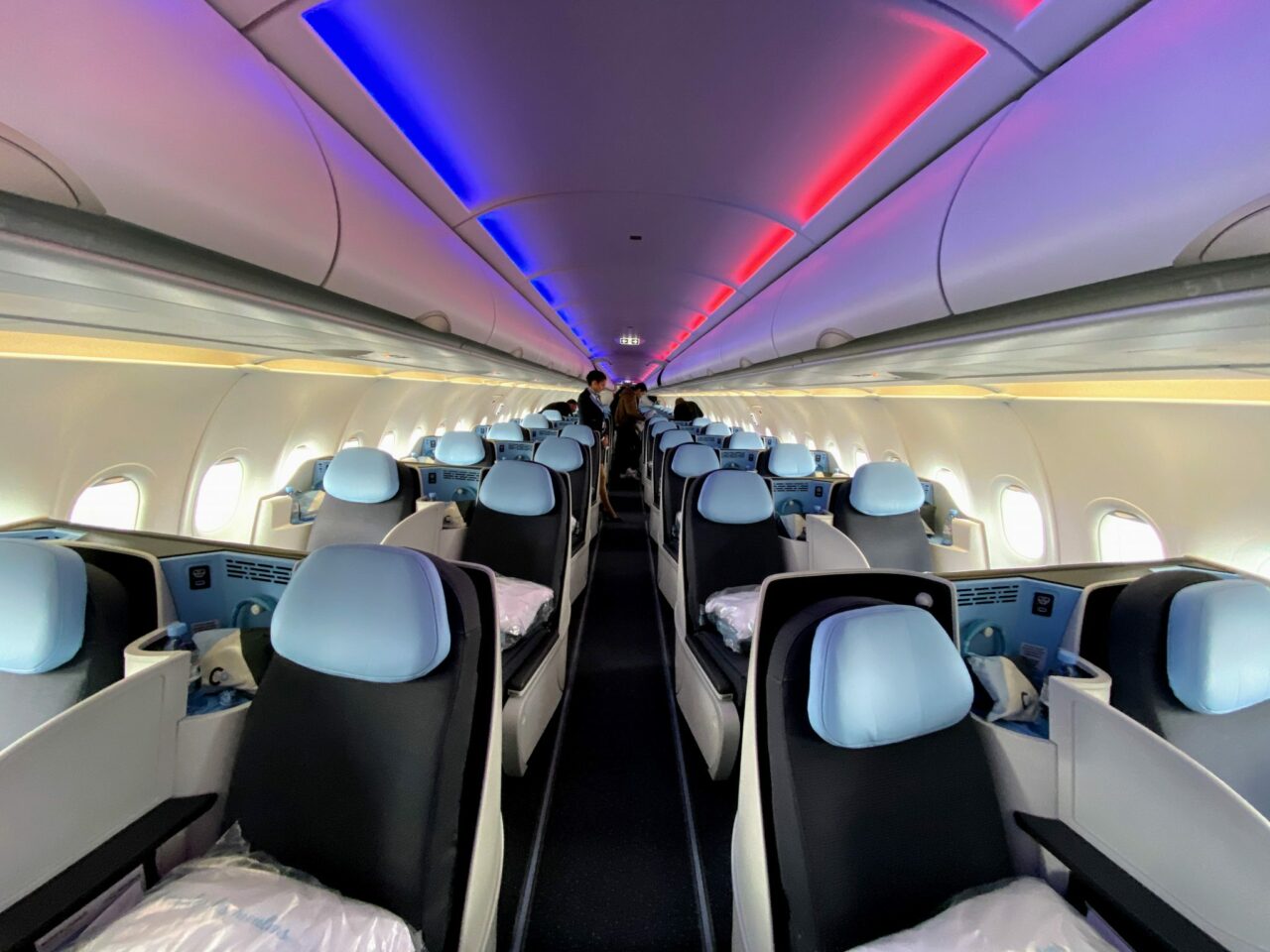 There are 76 seats on board in a 2-2 configuration. I was in row 16 which I would avoid in future as it had a window missing, although the one next to me was still there. I thought the cabin looked very smart with clear branding and a light modern touch. A lot of thought had gone into the design with the patterned carpet and matching headrests. Everything was spotlessly clean apart from the windows.
The seats are the same used by American Airlines on their transcontinental three-class service. The pairs are slightly staggered. However, watching other people it was pretty hard, if not impossible, to get out from the window seat if the person next to you had their feet up.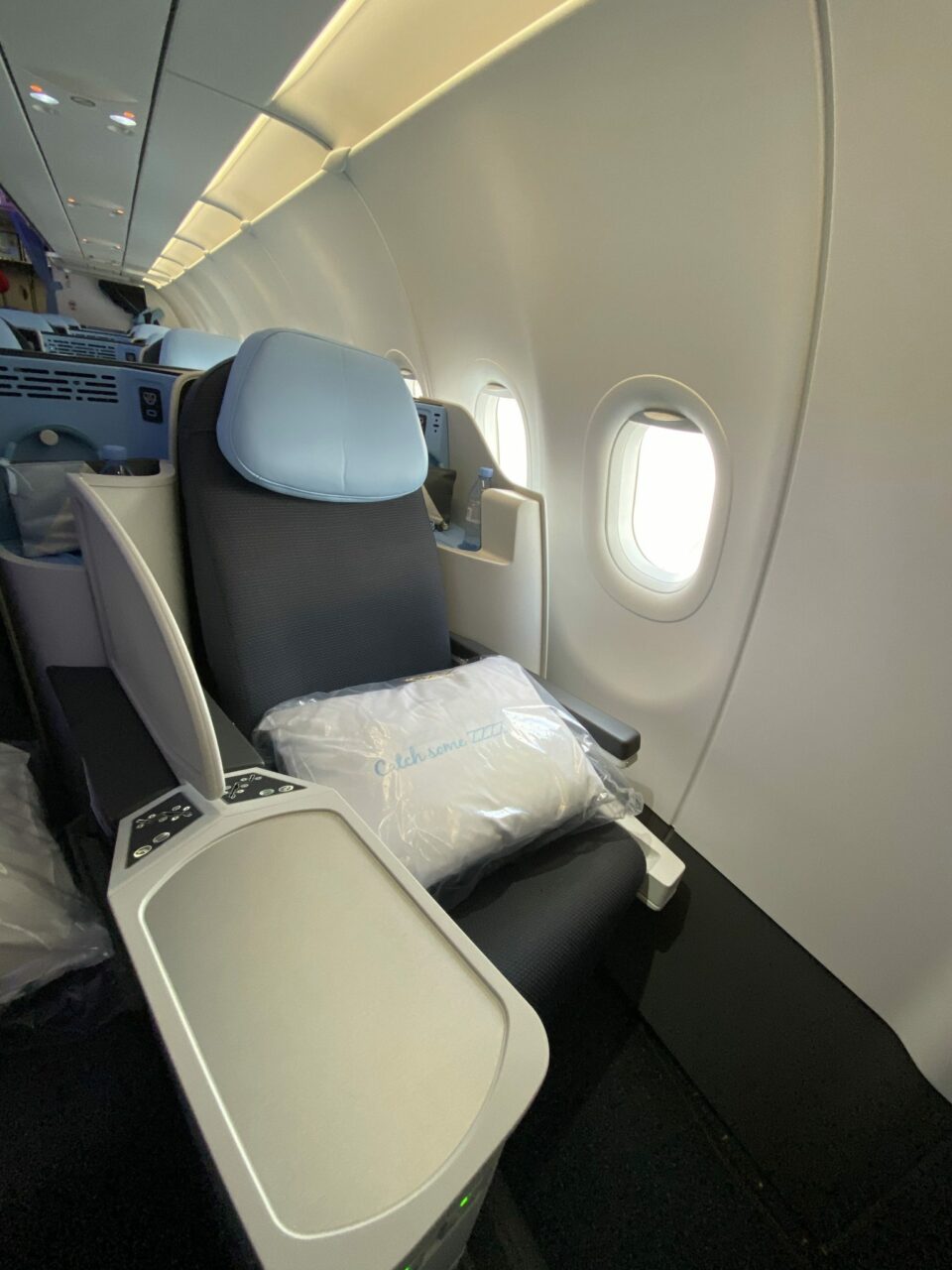 Overall though I liked the seat. Is it the best transatlantic seat ever – no! It is nowhere near as good as the new BA Club Suites for example. But then they are not charging £850 for those!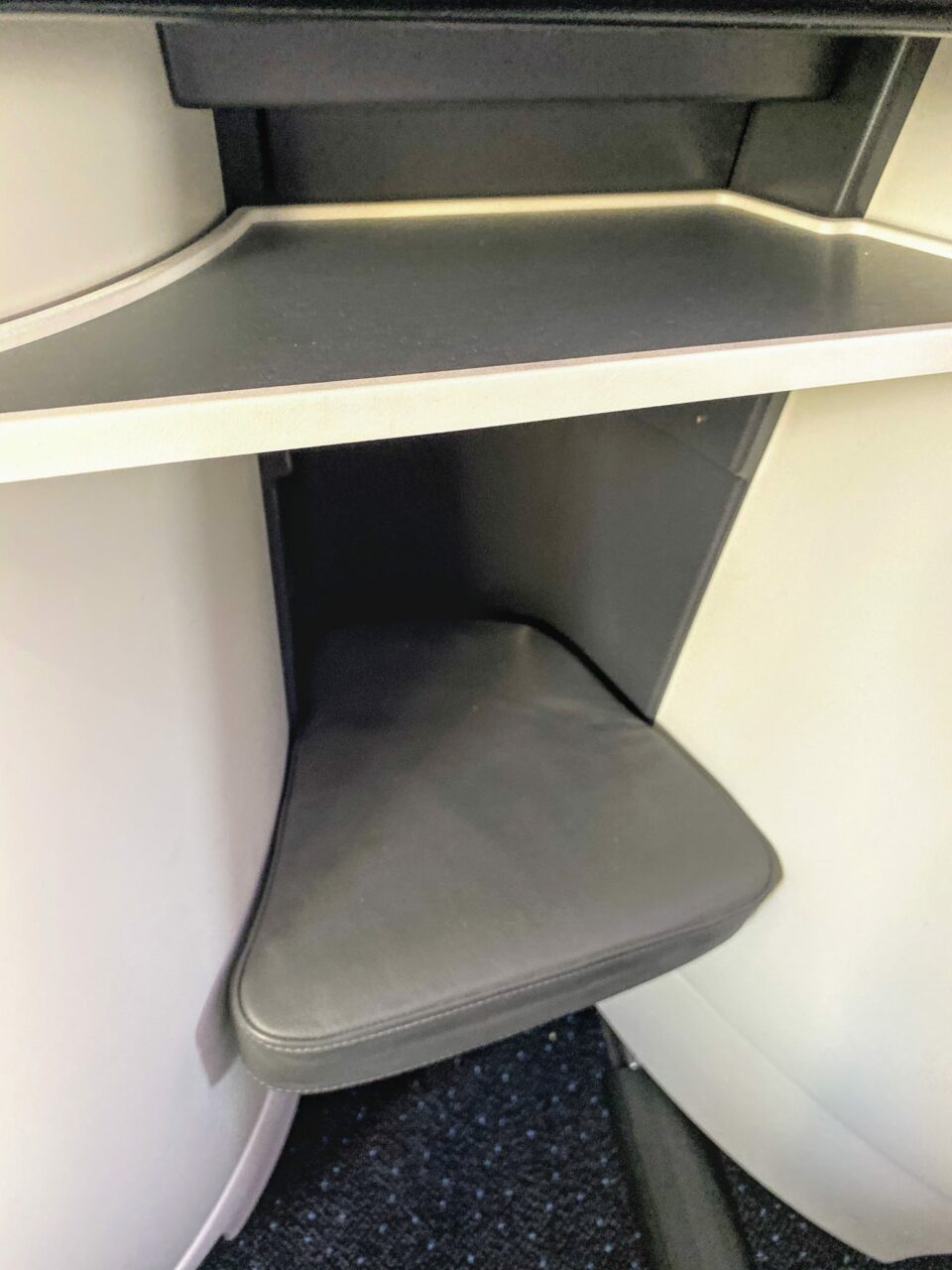 There was a small footwell with a shelf above. It was big enough to store my laptop, though mine is only 13″. In the middle was an area for storing shoes and there was also a large centre console. Behind me, you could fit quite a few bits and pieces where the water and headphones were. For the seat design, the storage was well thought out.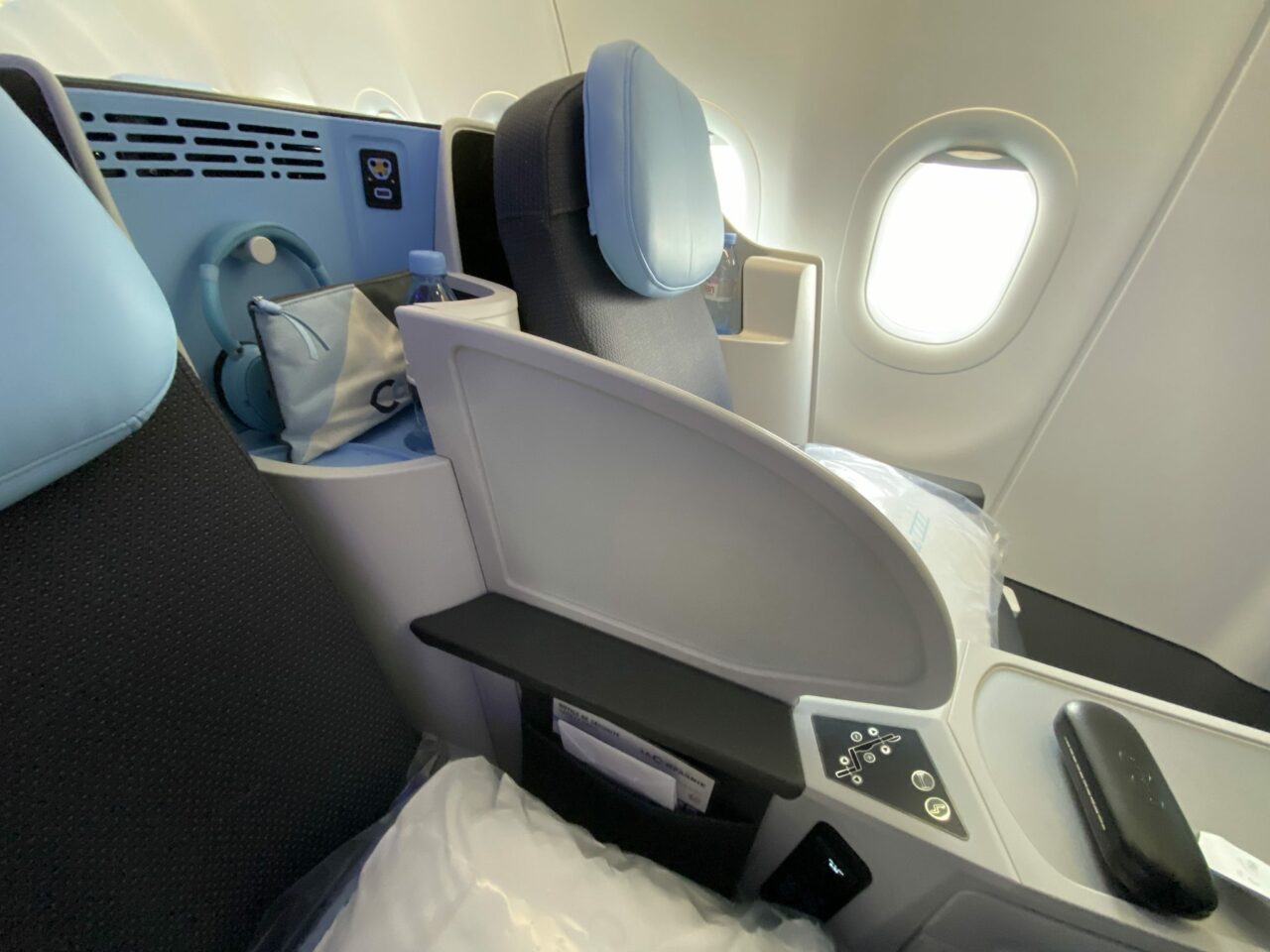 There was a small privacy divider between the seats but it was a little pointless except when lying down.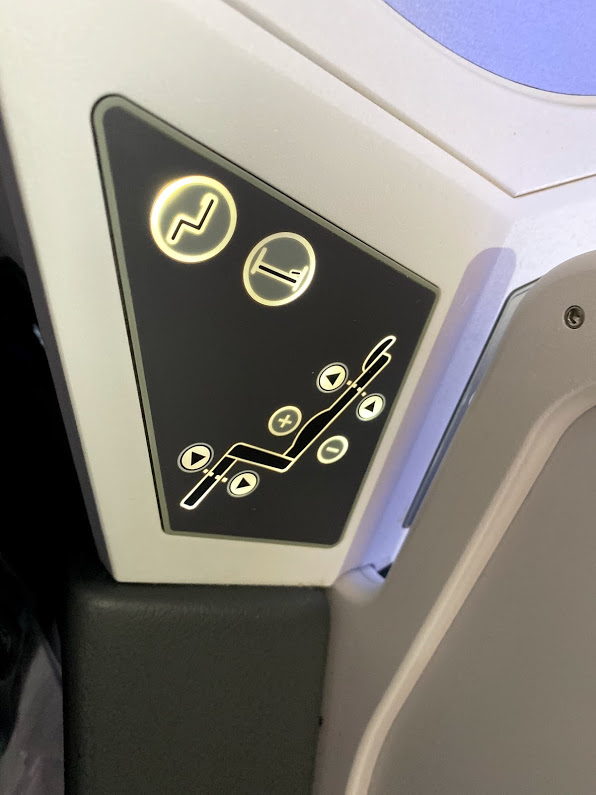 The seat controls were simple and you could adjust the leg rest independently. I had to recline a bit to reach the footwell, but overall I found it comfortable for sitting and sleeping. The bed is a little narrow, but even though I sleep on my side it was not too much of an issue. One thing to note is that we had terrible turbulence both ways which you feel a lot more in a smaller aircraft!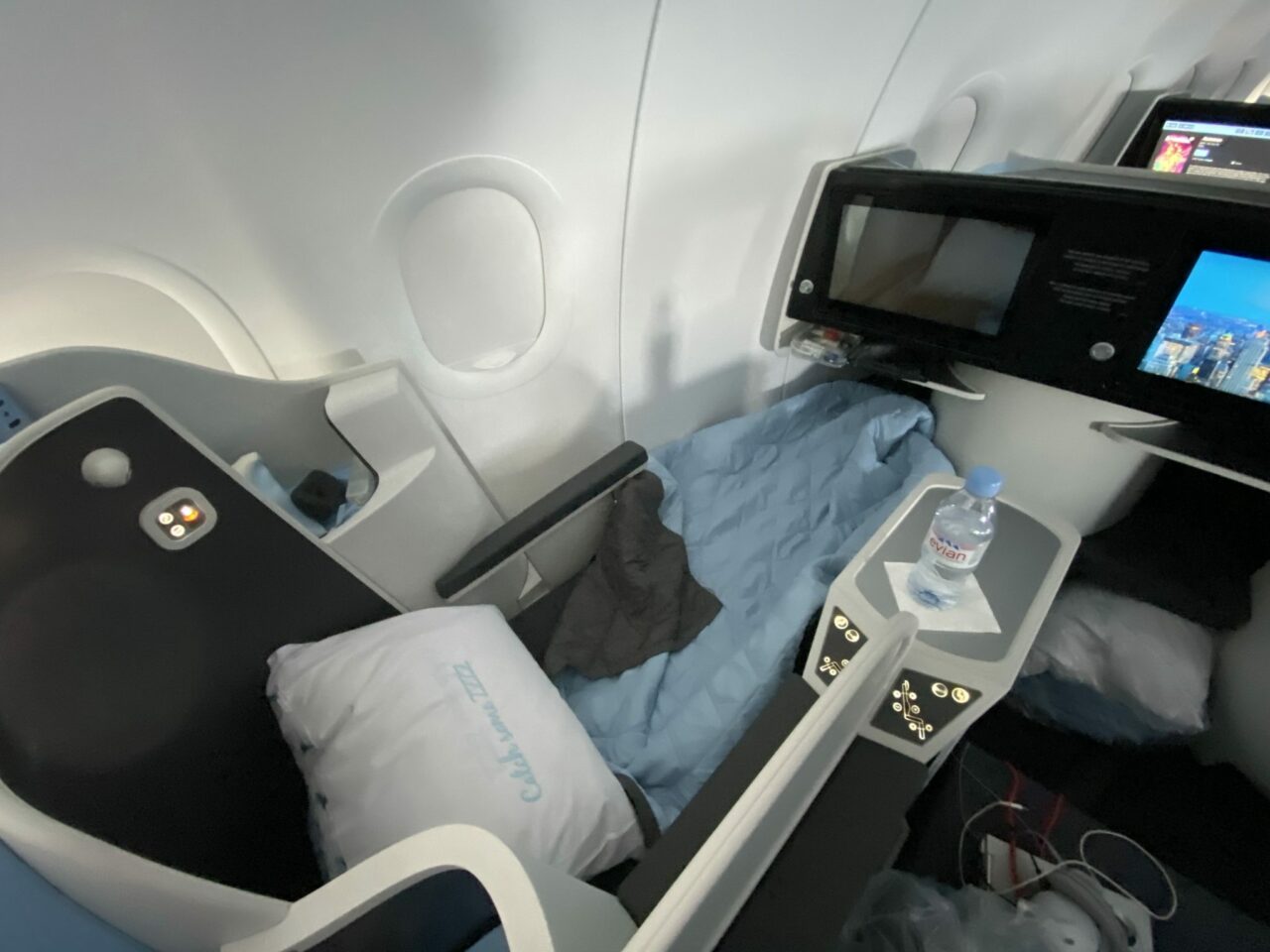 I found the bed linen good quality. There was a large plump pillow and a soft quilt. The bed itself felt well cushioned so there was no need for a mattress topper. The footwell was a little small but overall it did not bother me. If you had larger feet or were tall it could be more of an issue.
La Compagnie Business Class Food and drink
There were no paper menus so you had to find it on the entertainment system. Here is the menu: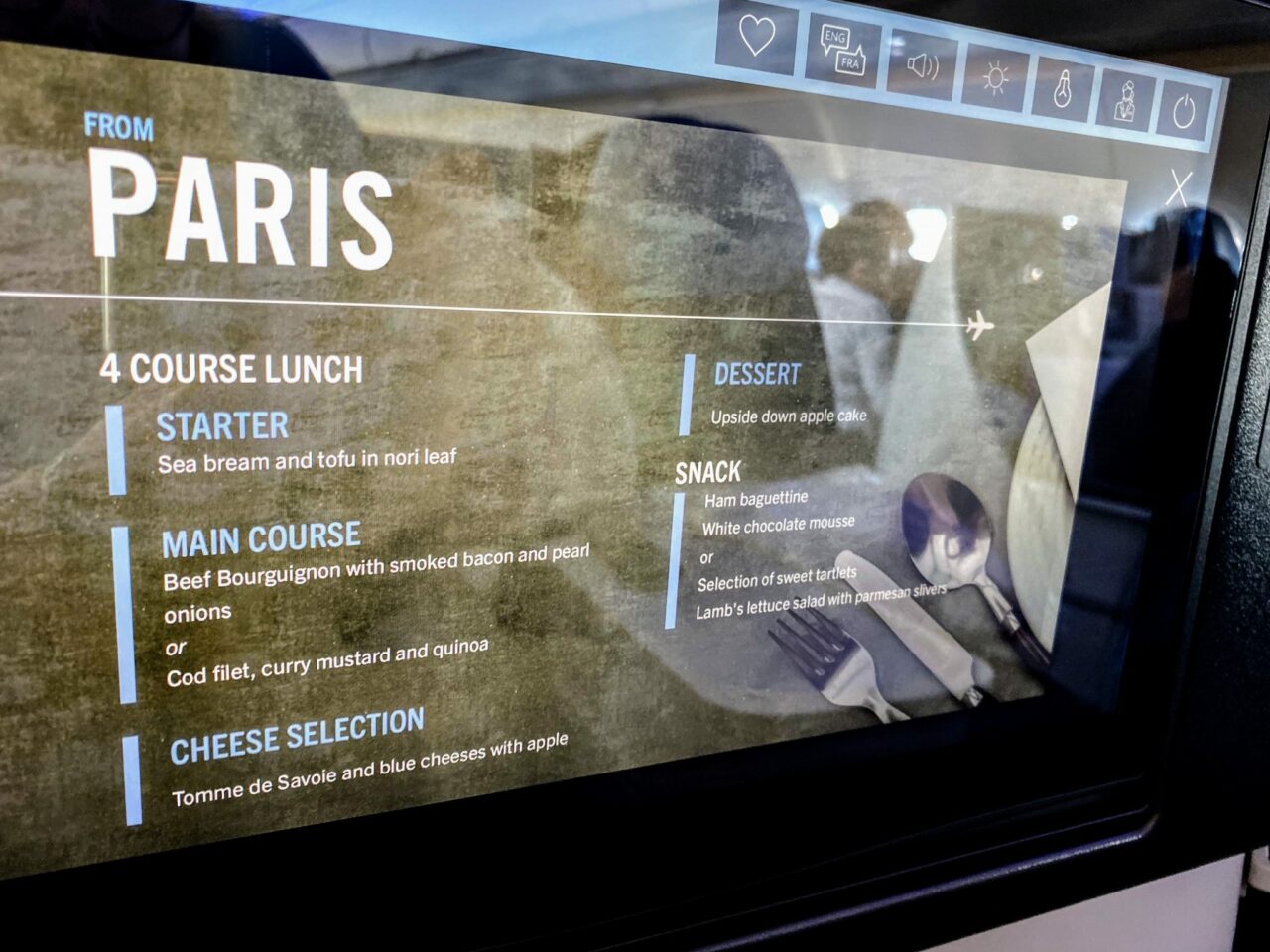 The service started with a hot towel. Next, we were offered a drink and then the starter very quickly afterwards. There were plenty of crew and the service was swift and friendly. The drinks selection was a bit limited, and there was no way to know what there was without asking. I didn't ask about spirits but for the wines, there was a white Bourgogne and a red Bordeaux. I tried both and they were very average.
The starter was an odd combination of seabream and tofu made to look like sushi. It was a bit like a terrine. I can't say I loved it but it was pleasant enough and presented well. It was served with horseradish cream. I was also given bread but it was cold although it was good quality and very large! There was no choice of bread and no butter or olive oil. I know it's French airline, but it only flies to the US so you think they would offer butter.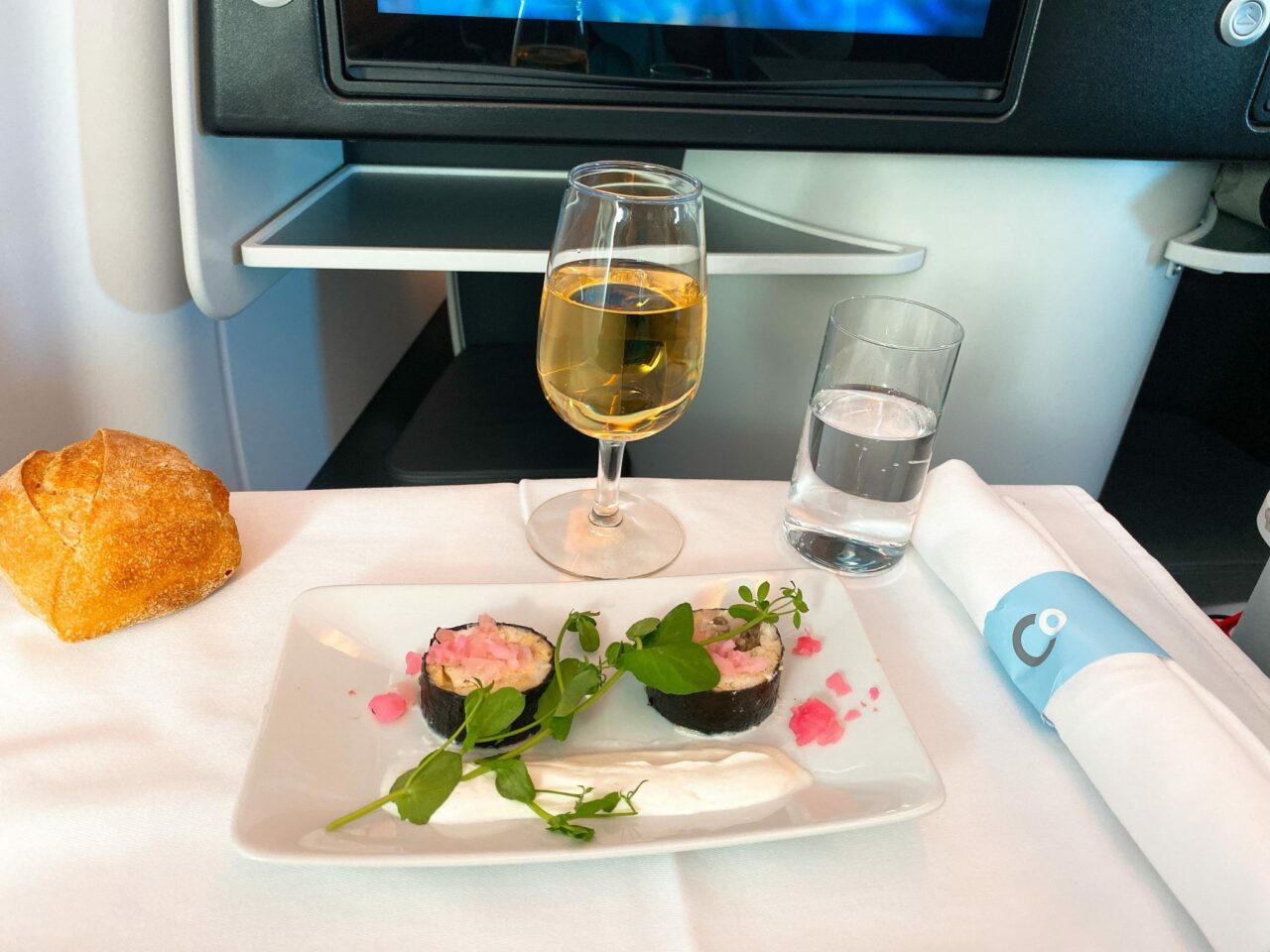 There was a choice for the main course and I unusually went for beef since it was slow-cooked.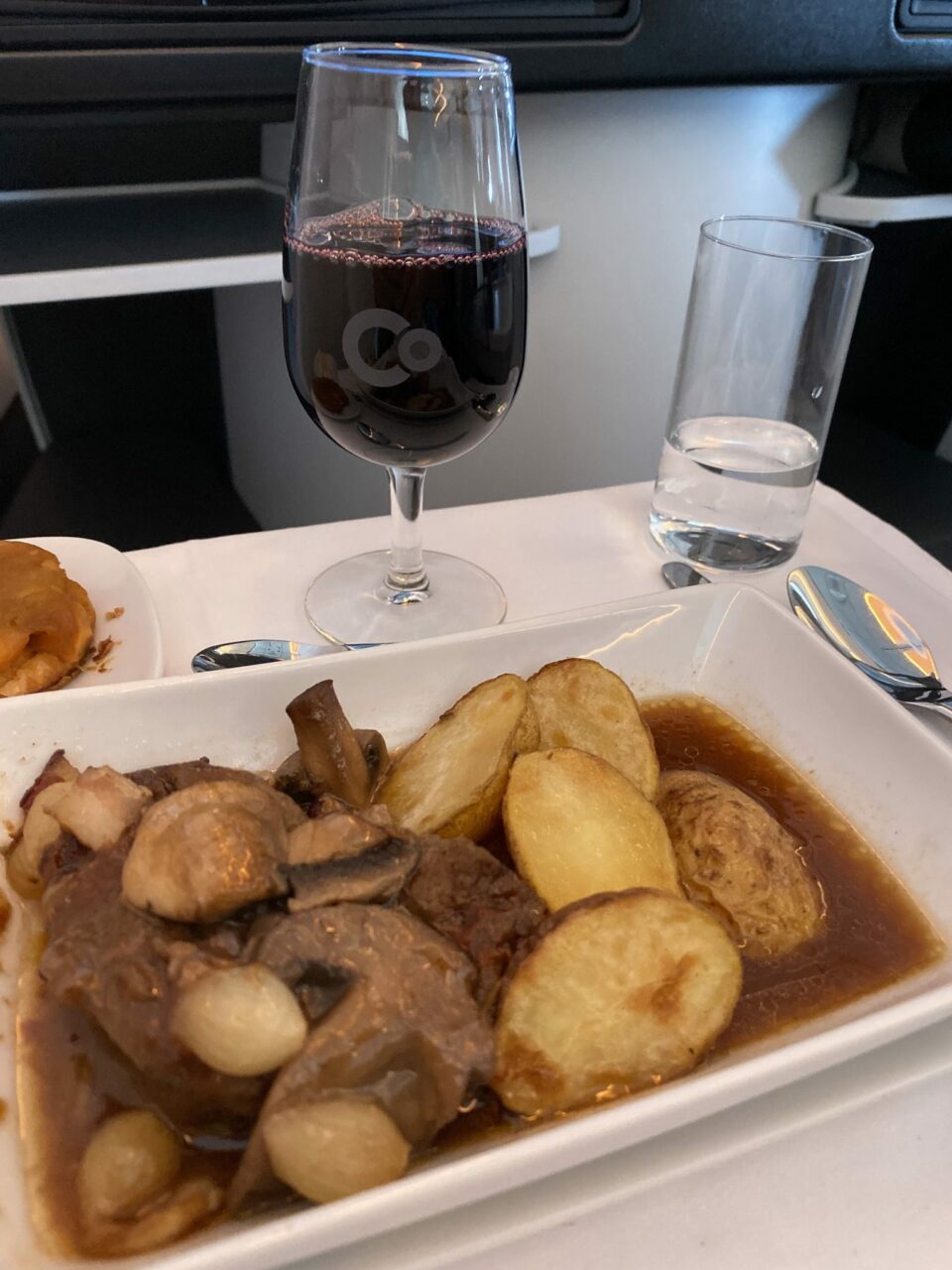 It may have looked like a dog's dinner, but it tasted fantastic. Tender beef and a wine rich gravy with some roasted potatoes. I also really liked the high-quality slat and pepper even if they were in sachets. Why couldn't BA do this?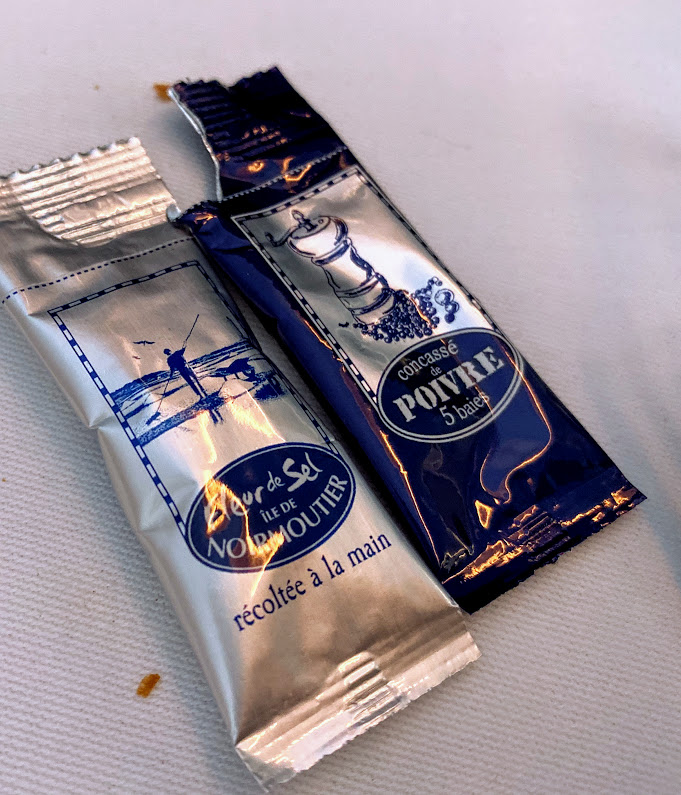 With the main, we were also given the dessert and cheese.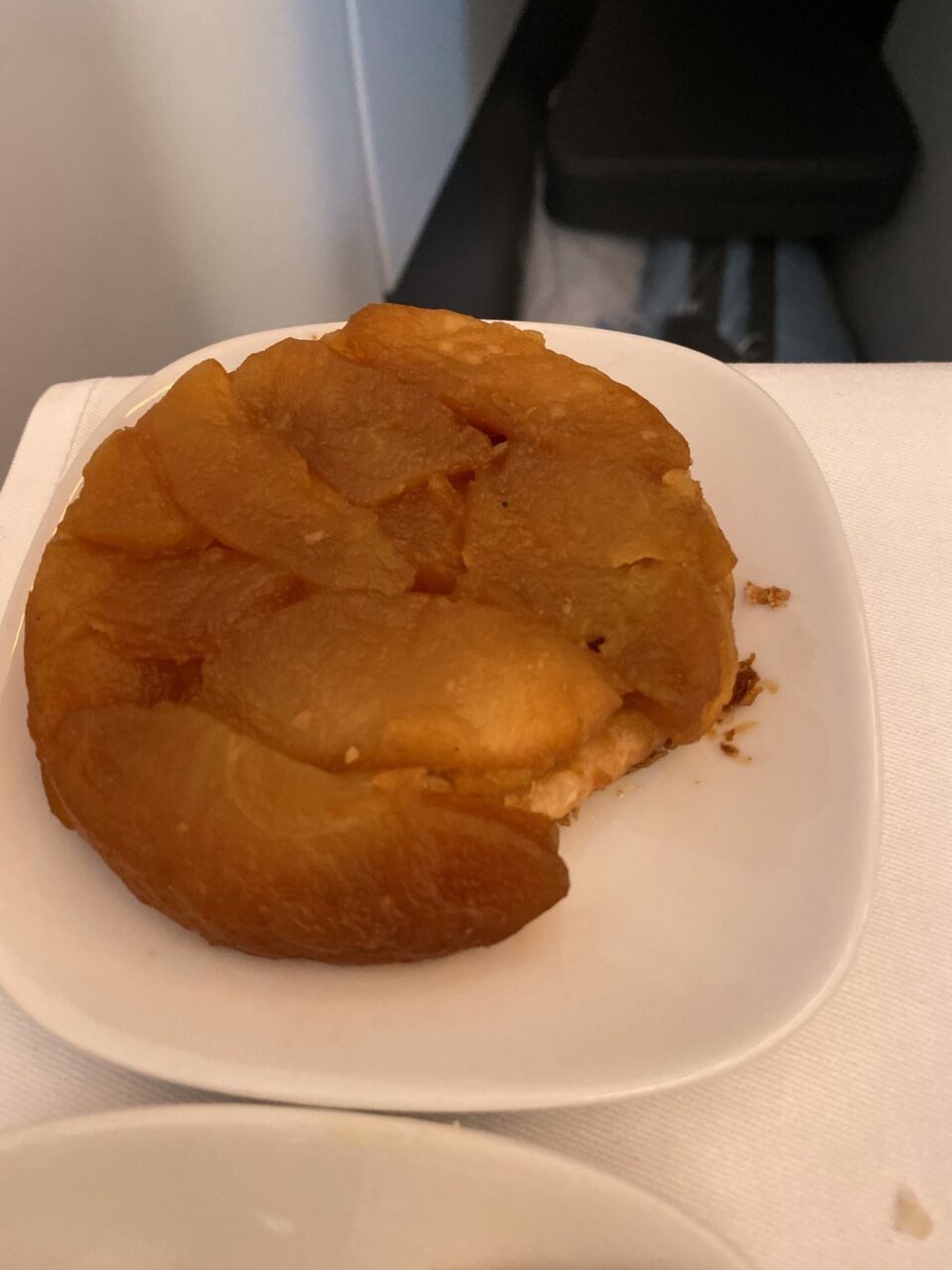 Both the dessert and cheese were excellent, although the tart tatin would have been nicer warmer.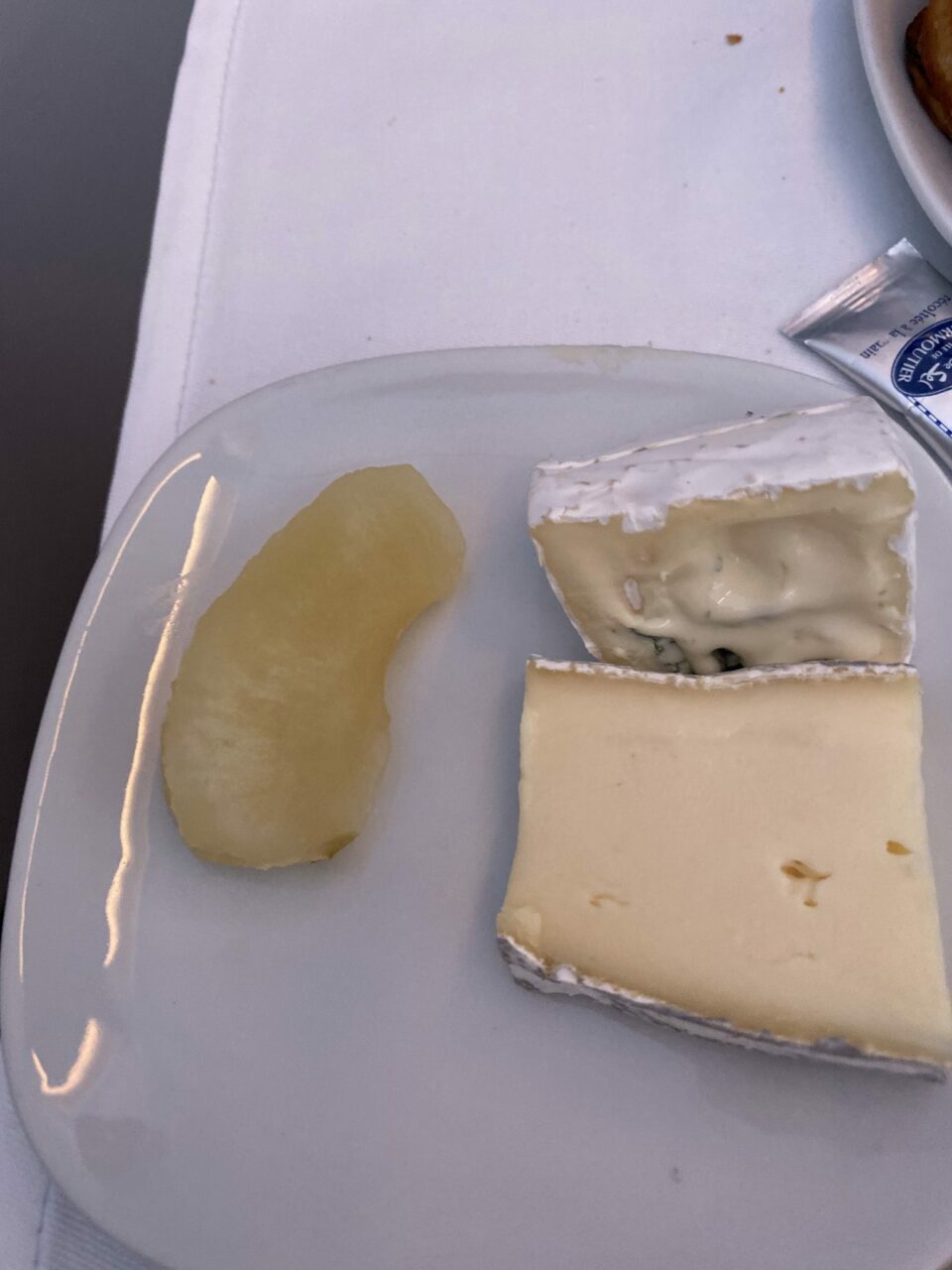 The cheese was accompanied with poached pear but no crackers. We were offered more bread though. Wine top-ups were fairly frequent too.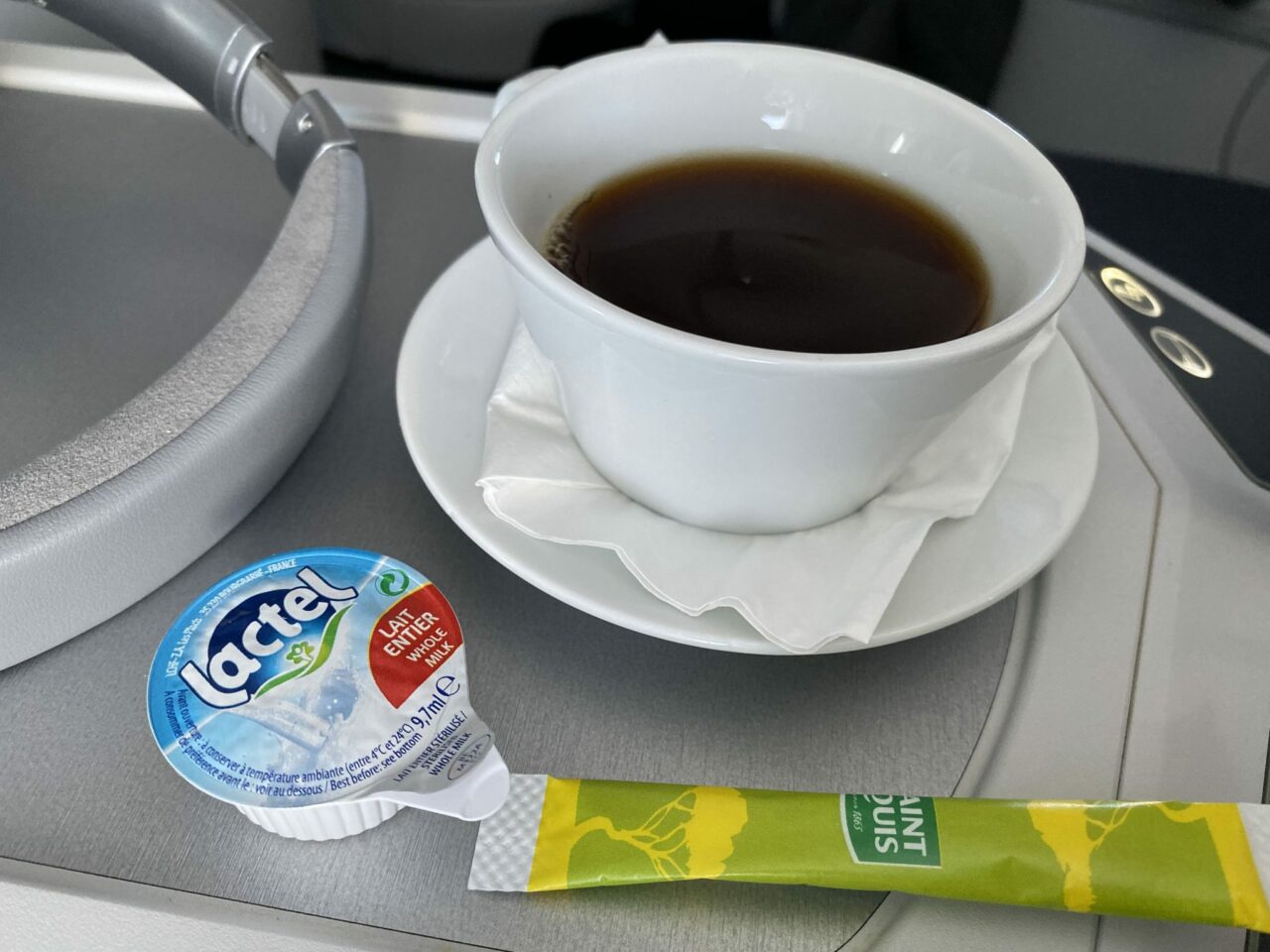 The coffee was a little disappointing for a French airline. A bit weak and with long-life milk. With coffee, I asked what liqueurs they had. It was pretty limited. There was no Baileys and they weren't sure if they had Cognac (on a French airline??) but they did have a pear or apple Calvados. In the end, they found some cognac.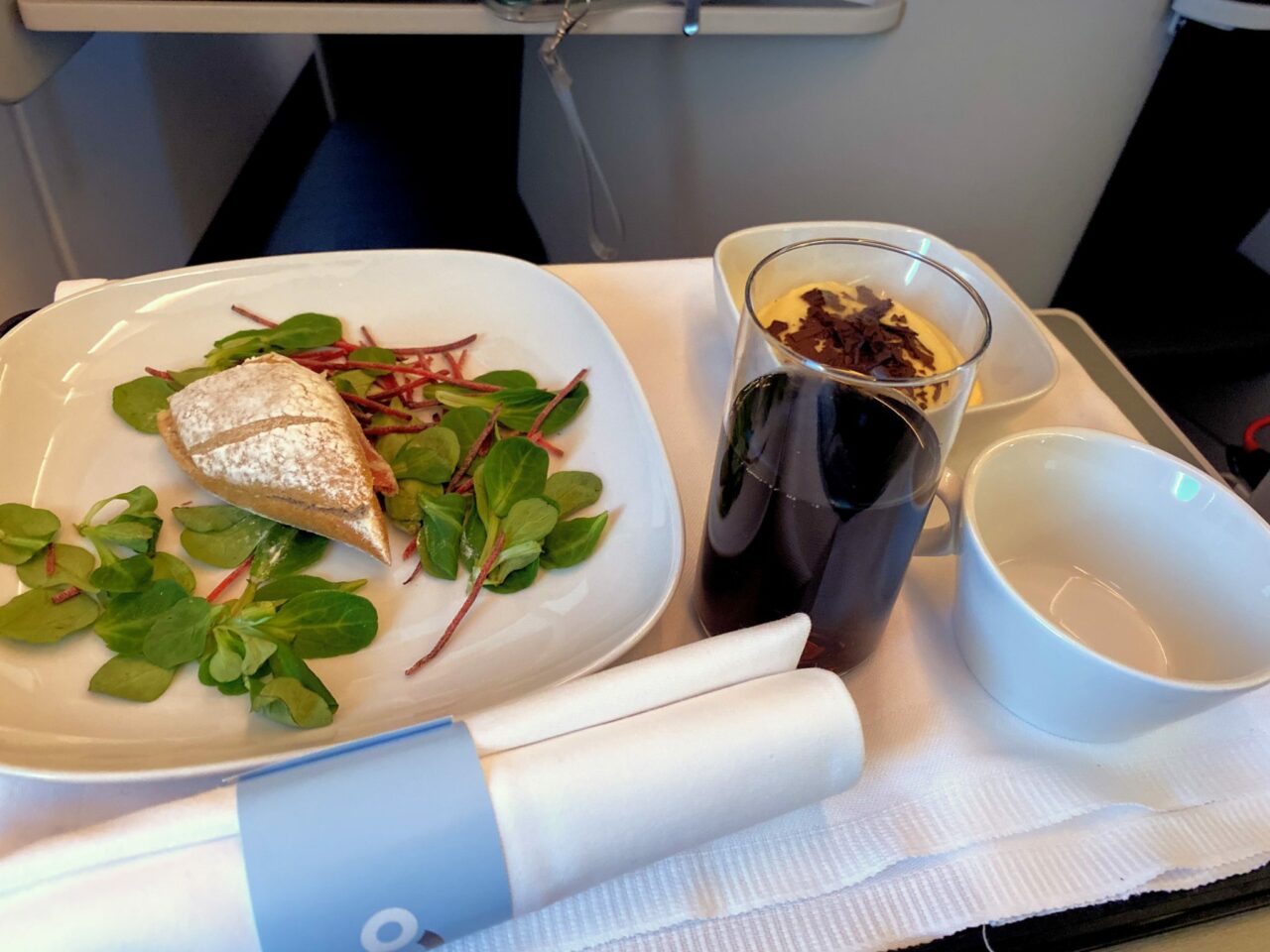 There was a small meal served before landing with no choice. It was tasty though and the white chocolate mousse a triumph of fluffiness which was not too sweet.
La Compagnie Business Class Entertainment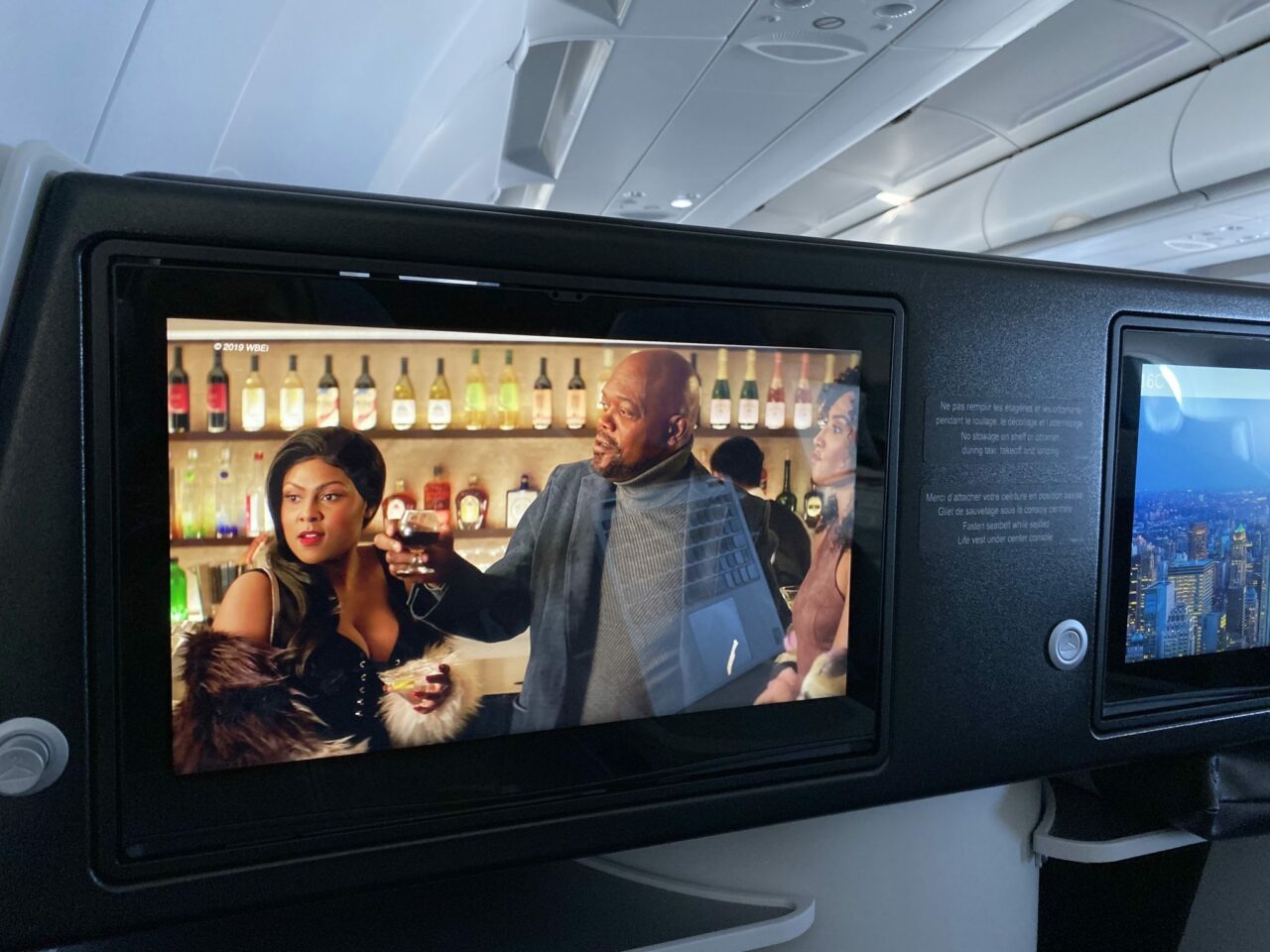 The TV screen was a good size and had great definition.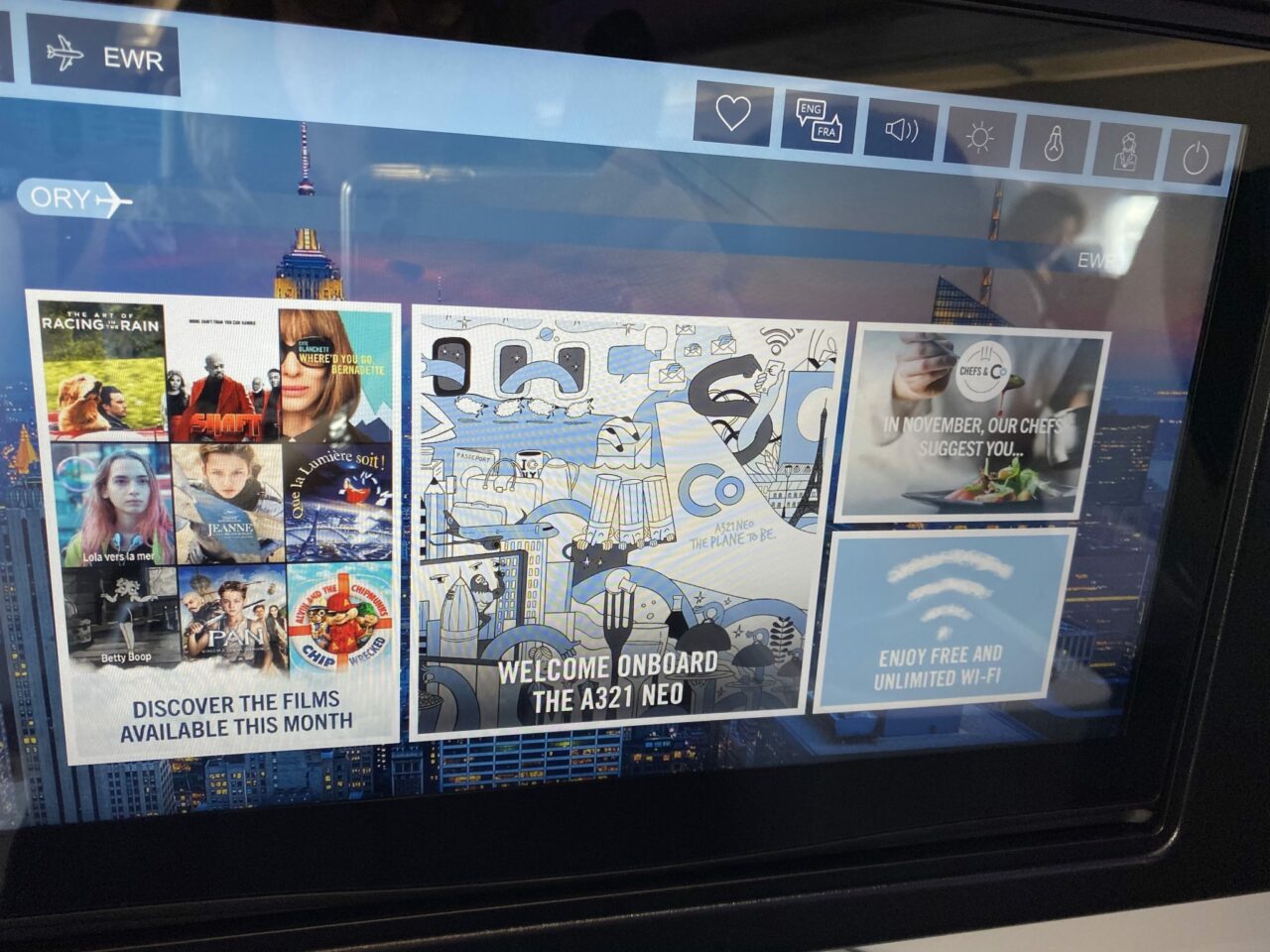 You could use the touchscreen itself to control it or there was a fairly pointless handheld remote which was only really of use for pausing/playing content.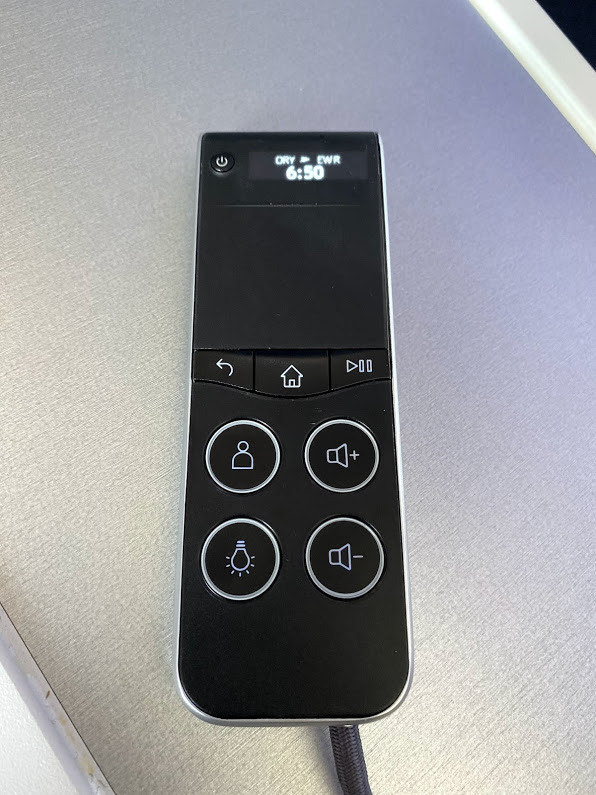 The selection was somewhat limited. Although there were maybe around 25 films including some recent choices, there were no TV programs which was odd. Fortunately, the wifi was free and very, very good. Apart from the occasional period where it dropped out for 5-10 minutes, it was hands down the best I have used in the air. There were clear instructions on the screen of how to use it.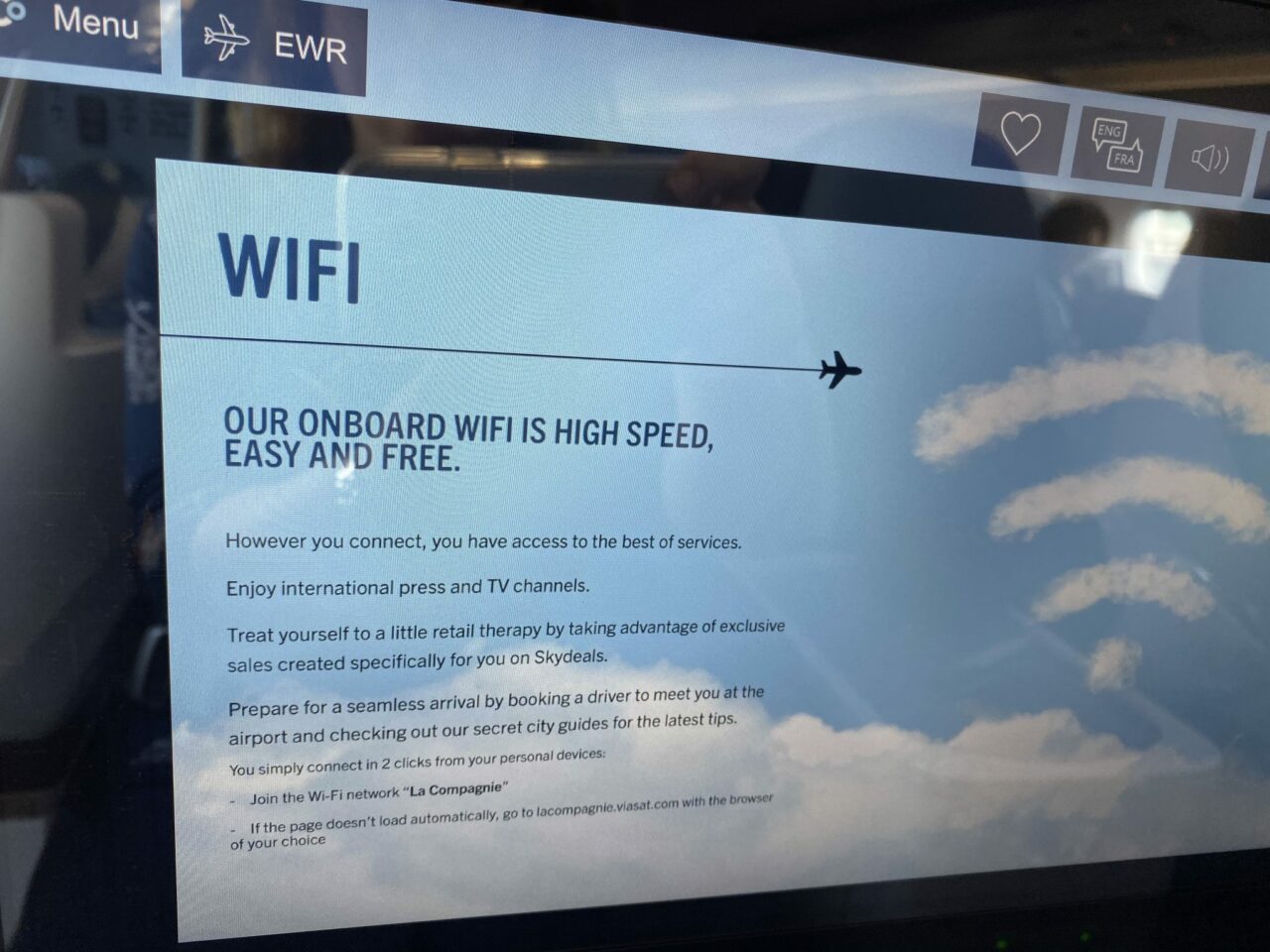 It downloaded images from messages instantly, even when lots arrived at once,.I could stream Netflix instantly too. It meant I could get plenty of writing done on the sturdy table before relaxing with a bit of Stranger Things on Netflix.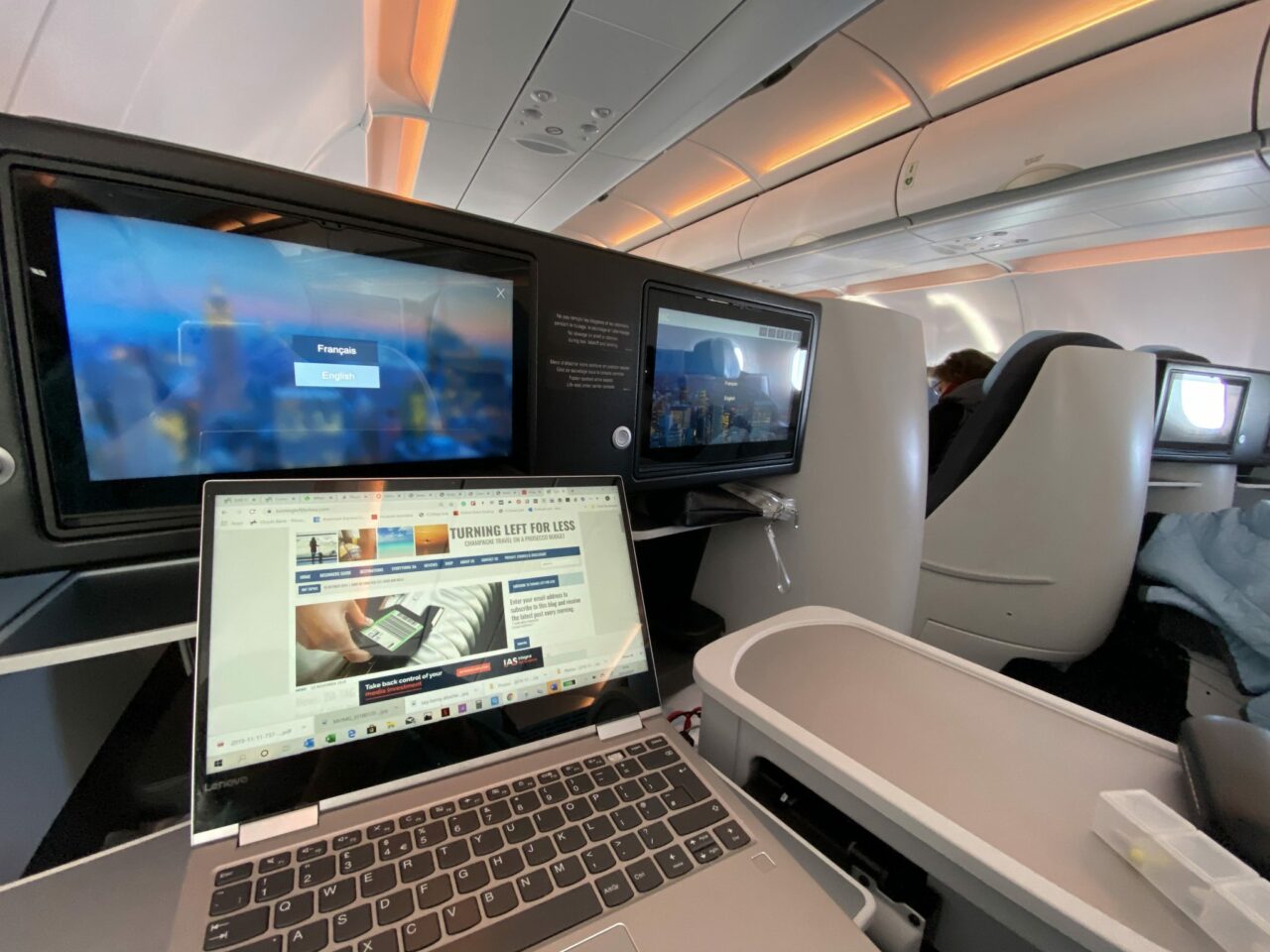 The headphones provided were OK sound quality-wise and reasonably comfortable.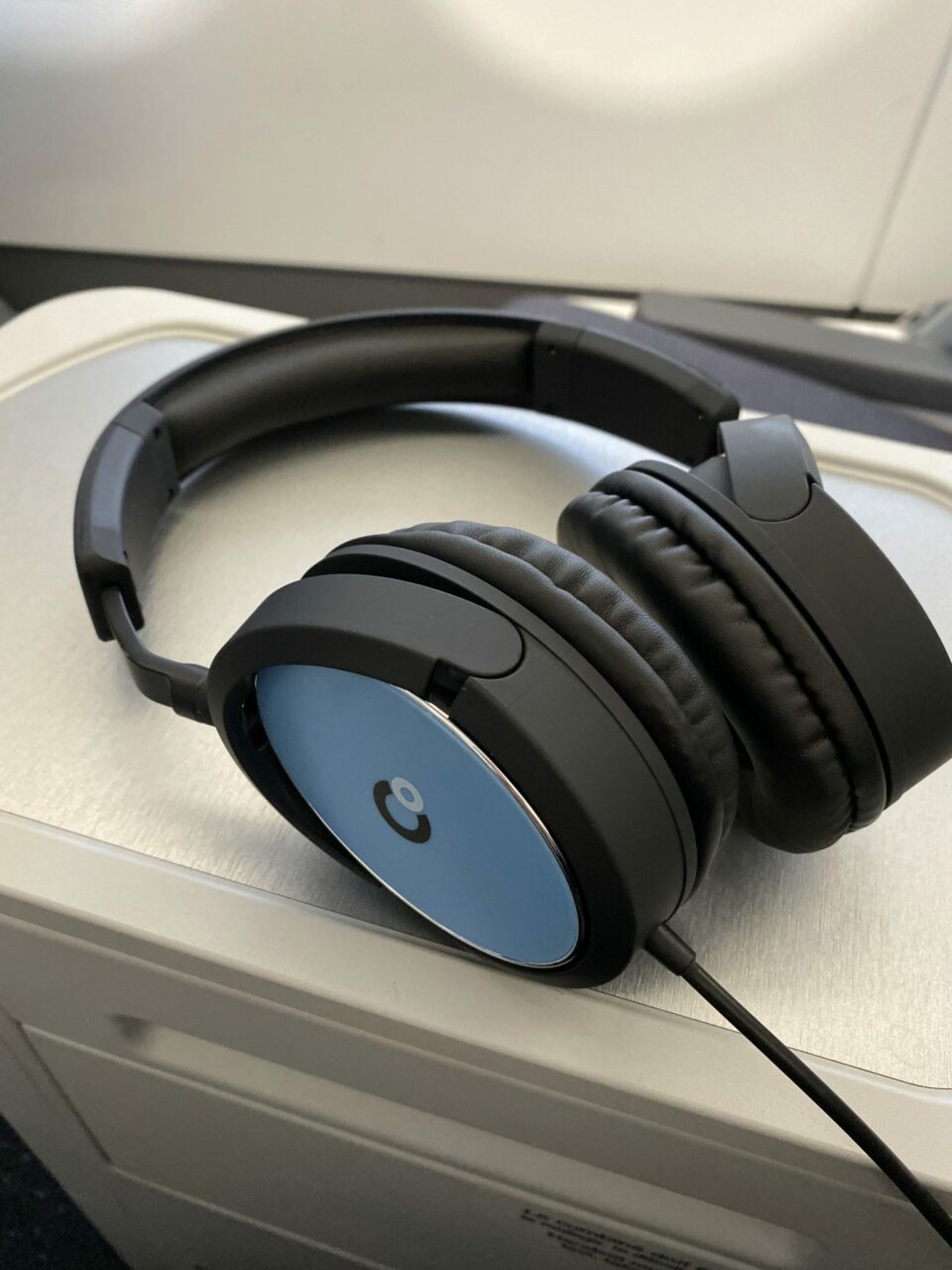 The safety video also gets a mention for being very calming and beautifully shot with yoga poses. And again in keeping with the brand colours.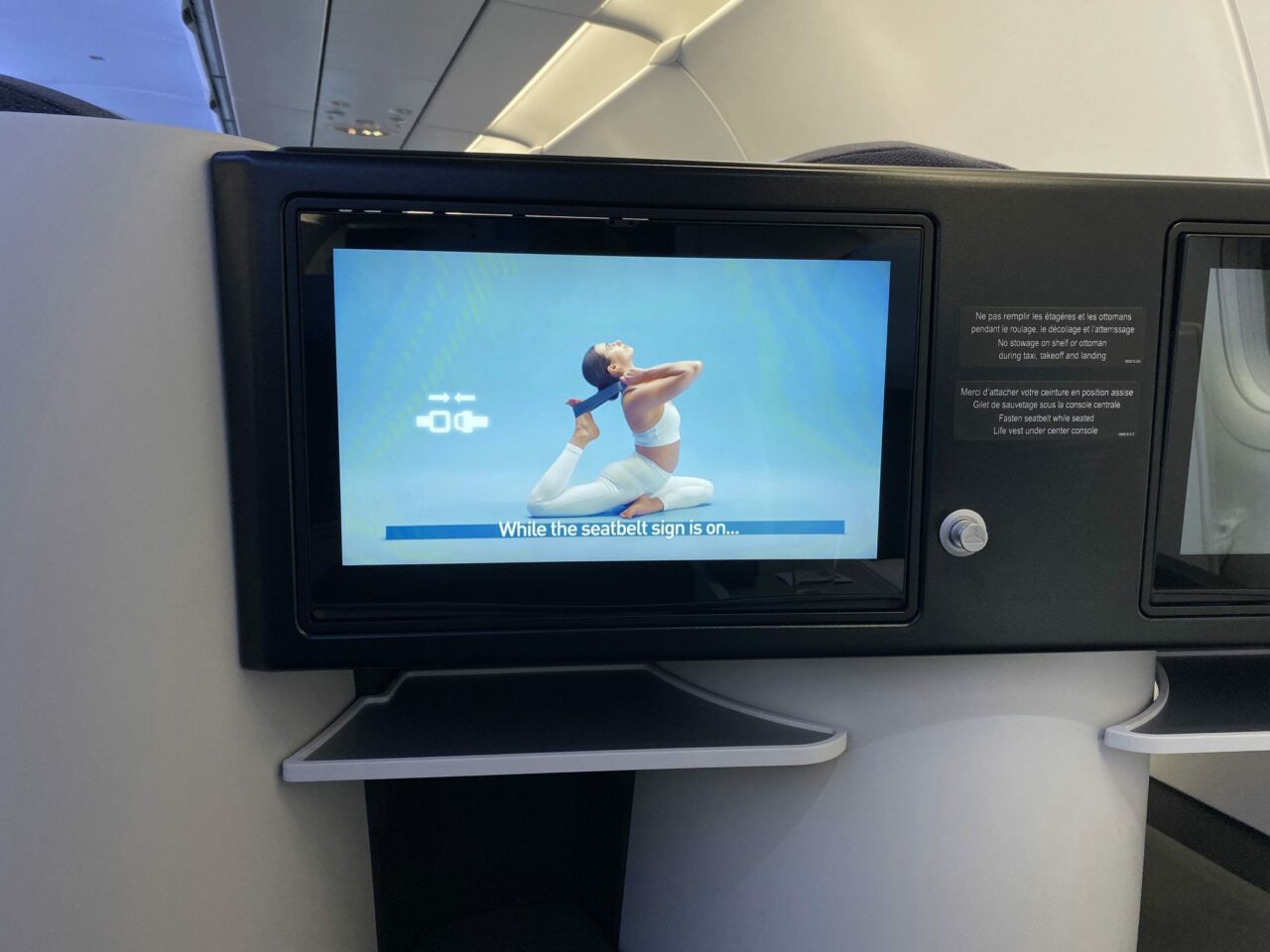 If you wanted to charge devices there was a multi-country socket and one USB port.
New York – Paris
On the way back I didn't eat anything as it was an overnight departure, so there is not much to say about the flight itself.
I will comment on the lounge and check-in though. Check-in were again helpful. They didn't offer to block the seat next to me, but they did say it would be likely to remain empty and they would do their best. They don't participate in TSA pre-check, though you can use the premium lane which was empty.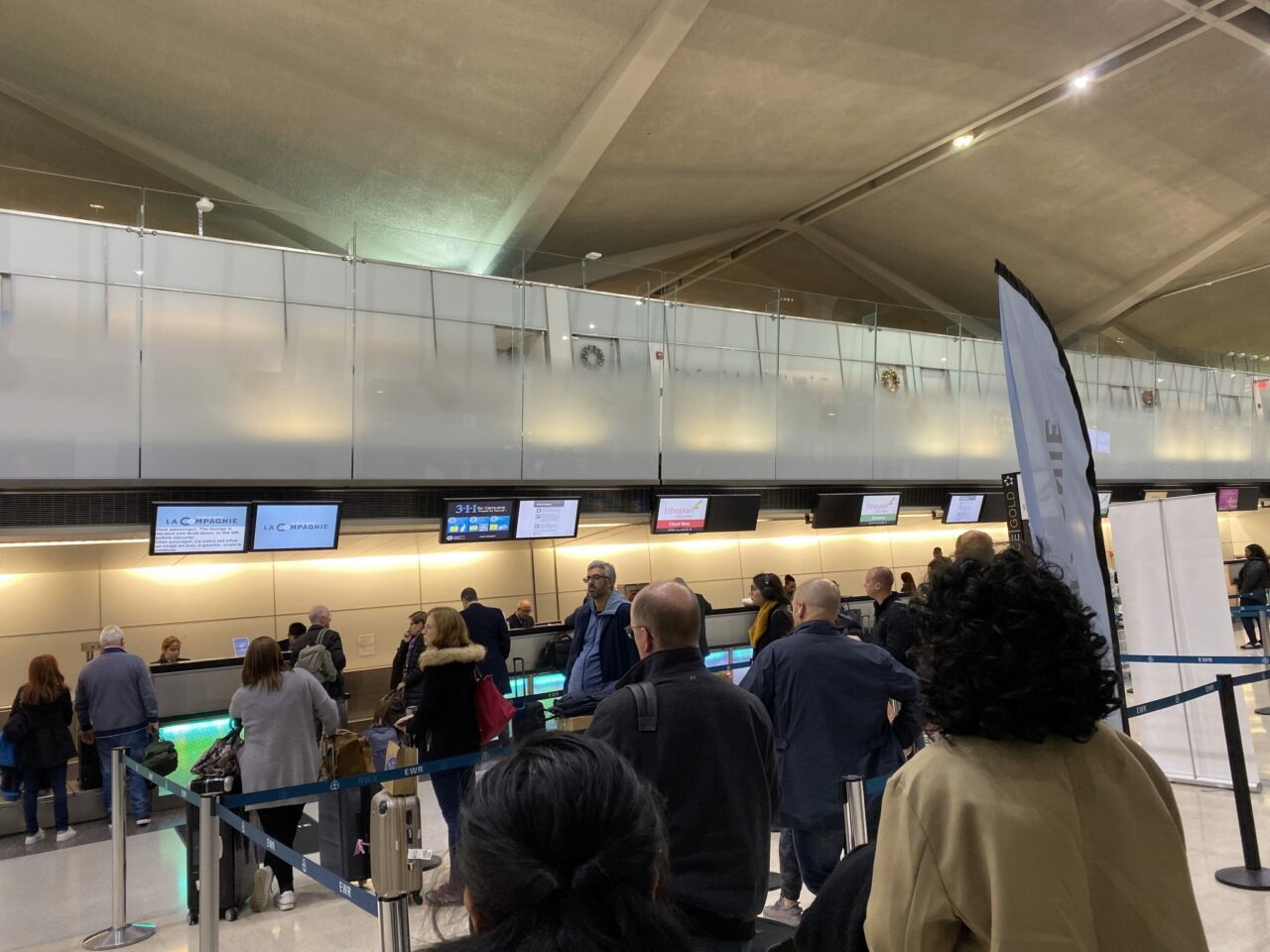 La Compagnie use the Art & Lounge at Newark which is a pain as it is before security.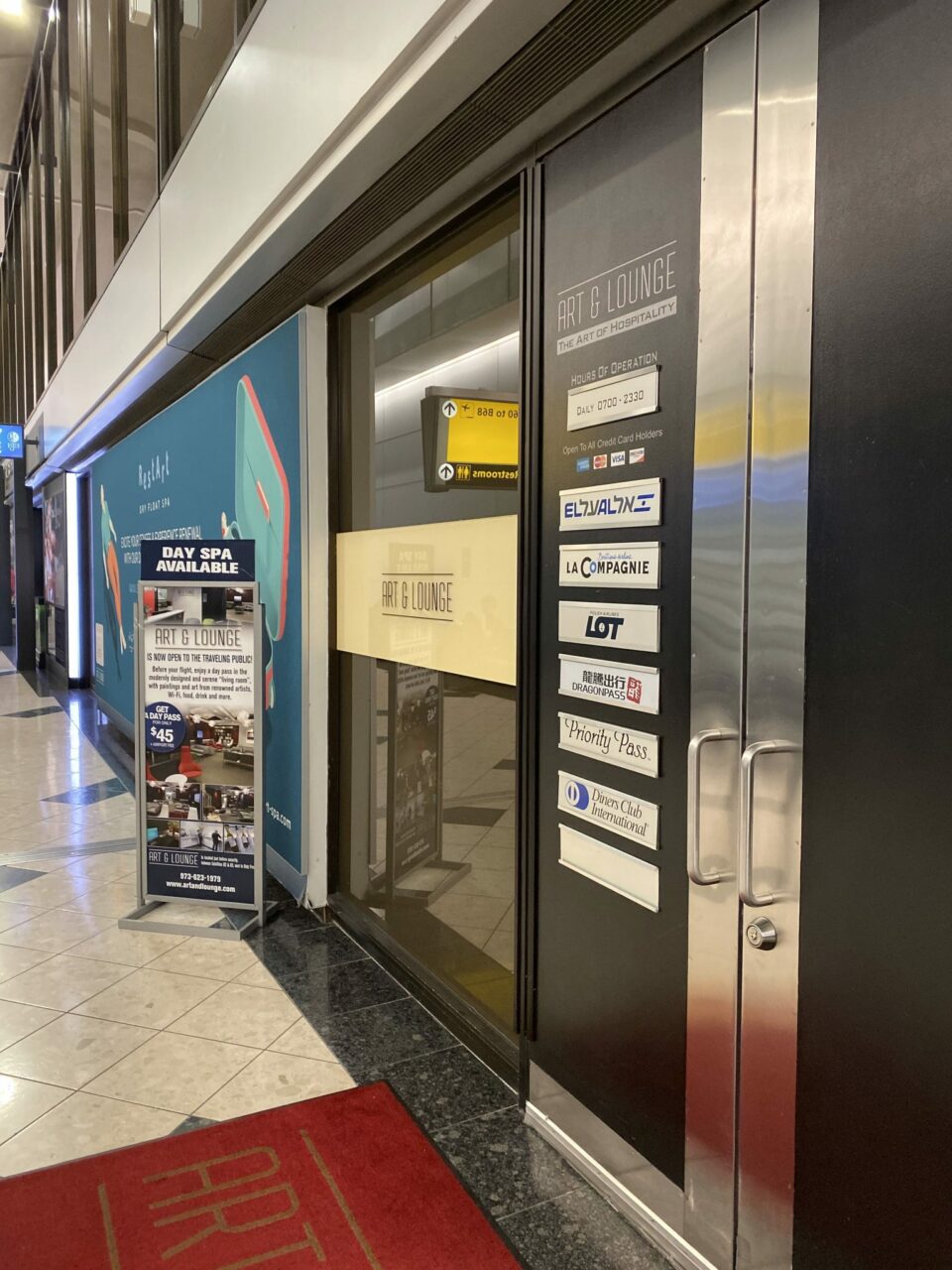 The lounge is nicely done but it was too busy/cramped for my taste. There is a bar, buffet, lounge area with TV, dining table and a business area with a printer.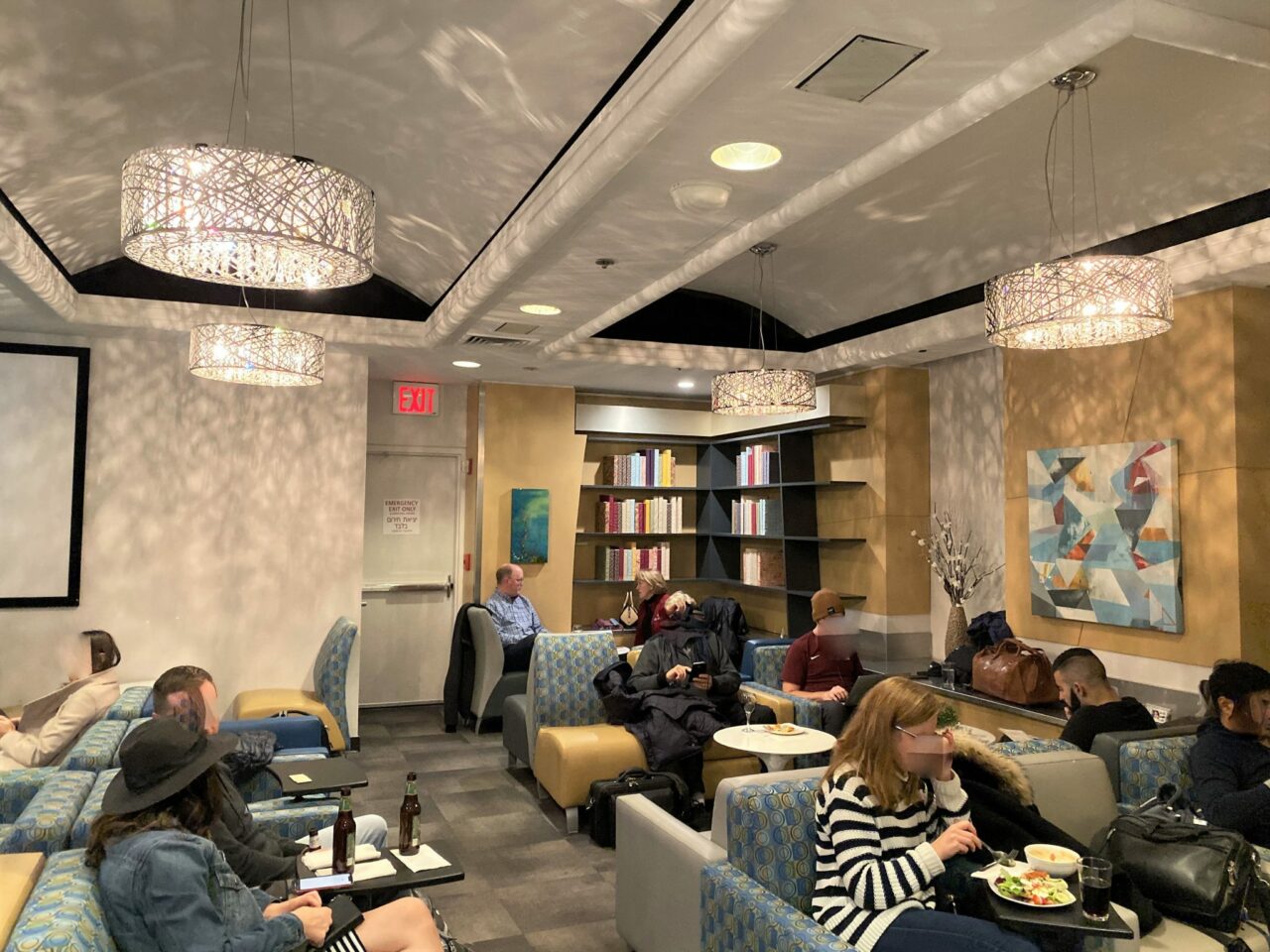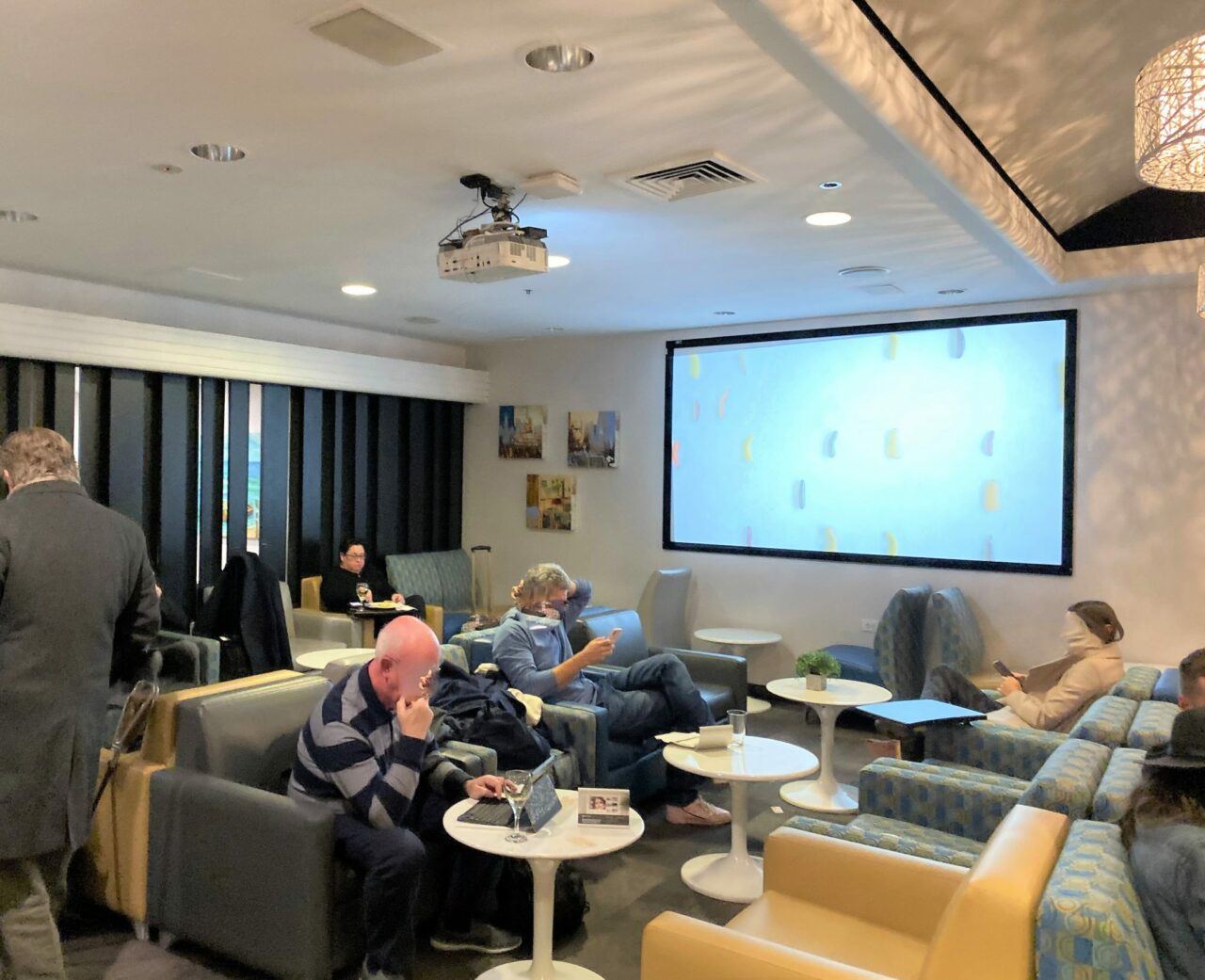 The bar was staffed and they would make you cocktails as well as having a decent selection of beers, wine and cava. Although it was only cava it was a decent one which I would prefer to bad champagne!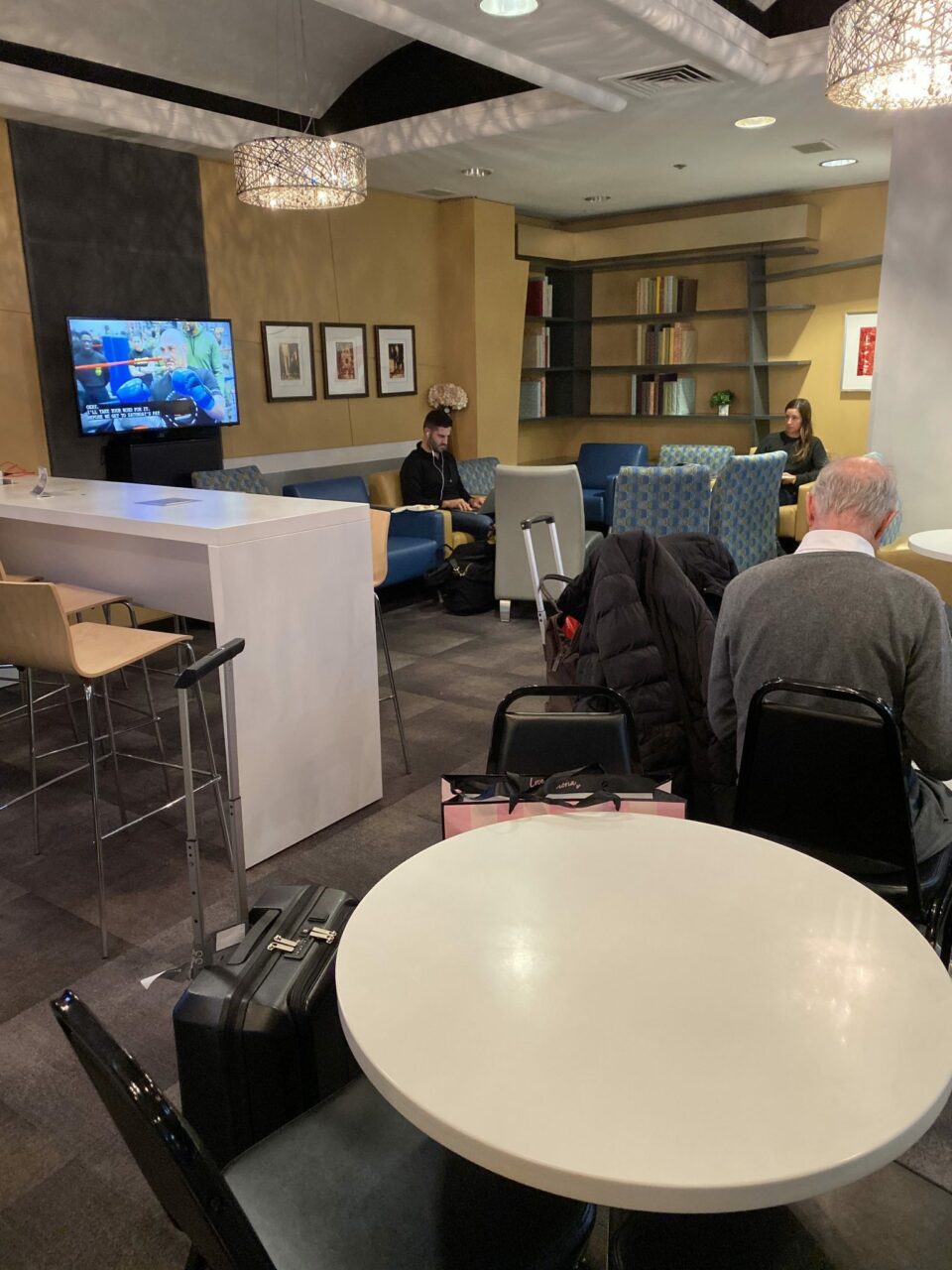 The food selection was a little limited but tasty:
On board this was the menu: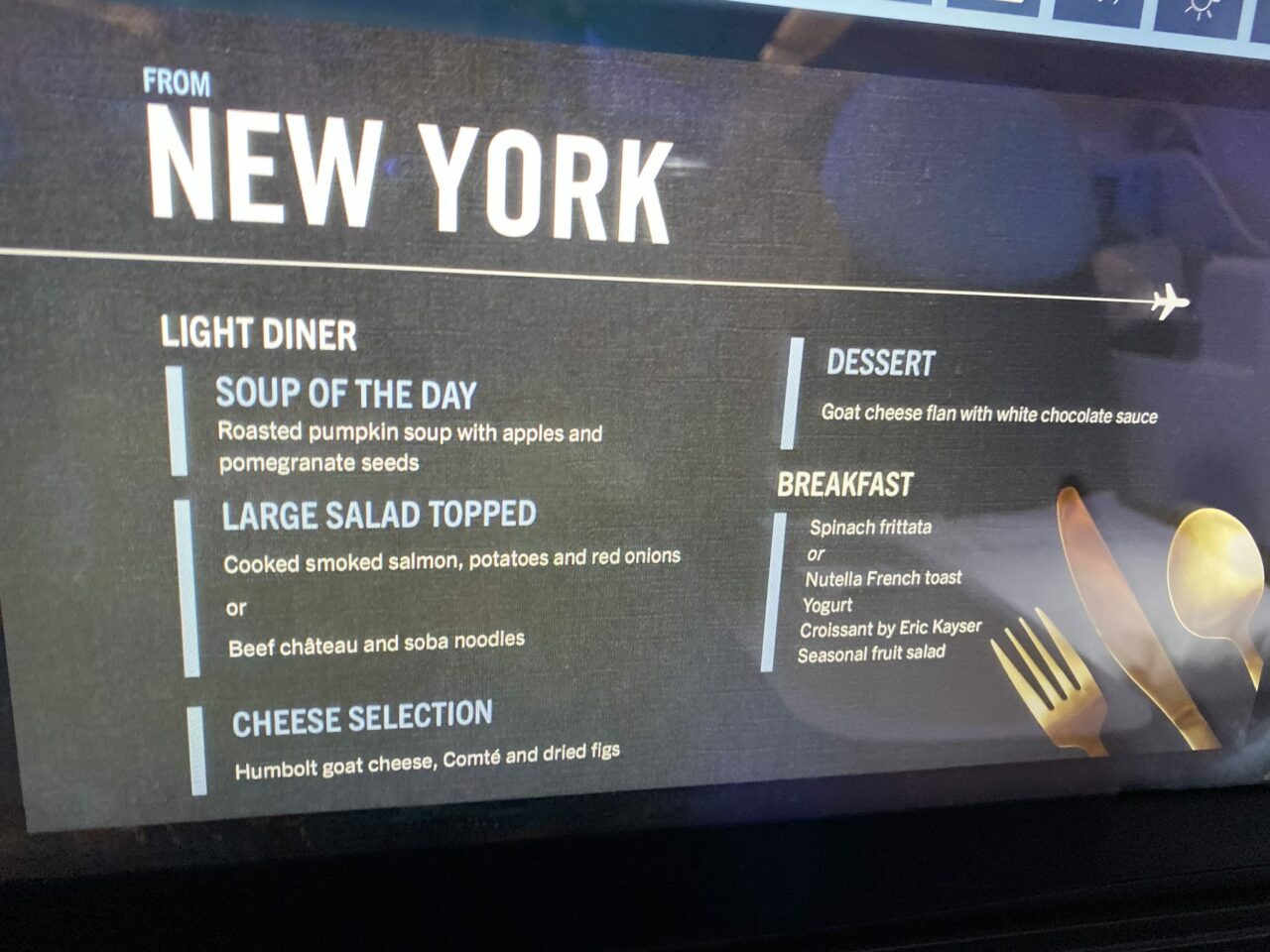 Conclusion
In terms of value for money I thought this was excellent. Although the lounges were a little underwhelming, they were no diffferent to third party lounges that all airlines use at some of their airports. I would prefer a seat that had aisle access, and where people don't have climb over you when I am travelling solo. However, on this flight it was not an issue. The operation all seemed to work very well and I liked the boutique feel and branding throughout. The staff were all friendly, cheeful and efficient. I particualrly liked the bedding and amenity kits. Whilst the drinks were below what you would get on mainstream business class, it was good enough given the money paid.
One thing to note is that they do allow "emotional" support animals on board, so if you have a pet allergy it may not be for you. Fortunately, the US has cracked down on the ridiculous support animals like the peacocks and horses they used to allow!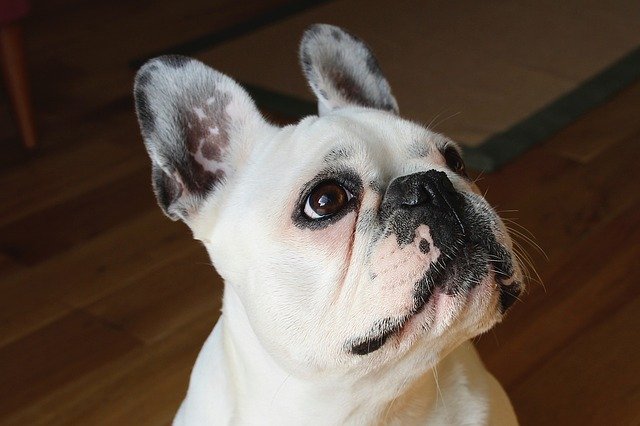 For me it was an added bonus as about 2 hours from landing I noticed some movement on the floor by the seat opposite. Turns out there had been a very well behaved French bulldog called Icecream sitting there the whole flight! She was a real sweetheart and enjoyed a bit of attention from me. Apparently she is as well travelled as me!
You can find out more about La Compagnie here.
If you enjoyed our La Compagnie Business Class review, why not check out our full selection of flight reviews here.