I stayed at the Langham in January 2017 for the first time in about 5 years. In between I had been to the Langham to visit the wonderful Artesian bar. The first time I stayed at the Langham I stayed in the standard Superior room and I can't say I was overly impressed. I found the decor and room a bit dated. Since then the hotel has been updating their rooms. This time, however, I was really impressed.
The Langham celebrated its 150th anniversary in 2015. The hotel was opened in 1865 by HRH The Prince of Wales as Europe's first 'Grand Hotel'. It has a great location just a couple of minutes walk from Oxford Circus.
The deal
We booked a special offer, only available if you joined the Langham 1865 loyalty program, which is free. For £504 we got a complimentary upgrade to a Junior Suite, access to the Club lounge (which we already had with the suite) and a bottle of wine as our welcome amenity. We found out just before we were due to stay that the spa and pool would be closed. This had not been pointed out to us before, so we complained to the hotel and got offered another upgrade to a 1 bedroom suite. That would have cost £950 a night. Bizarrely, we also got offered complimentary access to the YMCA swimming pool! Not really in keeping with the Langham's clientele I would suggest and needless to say, we did not go to the YMCA.
Note: The new spa and pool is now open.
Check in
We were directed to the Club Lounge to check in. The warm welcome we got set the tone for the rest of the stay. The staff in the lounge on the reception area were excellent throughout the time. They always remembered us when we entered the lounge and were very helpful with suggestions of things to do. They were constantly offering us a glass of champagne which was fine by us!
Rooms
Superior Room
The base level room at the Langham is the Superior room. To get access to the Club you would need to book an Executive room or higher. Even the basic rooms are equipped to a high degree with Nespresso machines, media hub, bathrobes and the Langham blissful bed.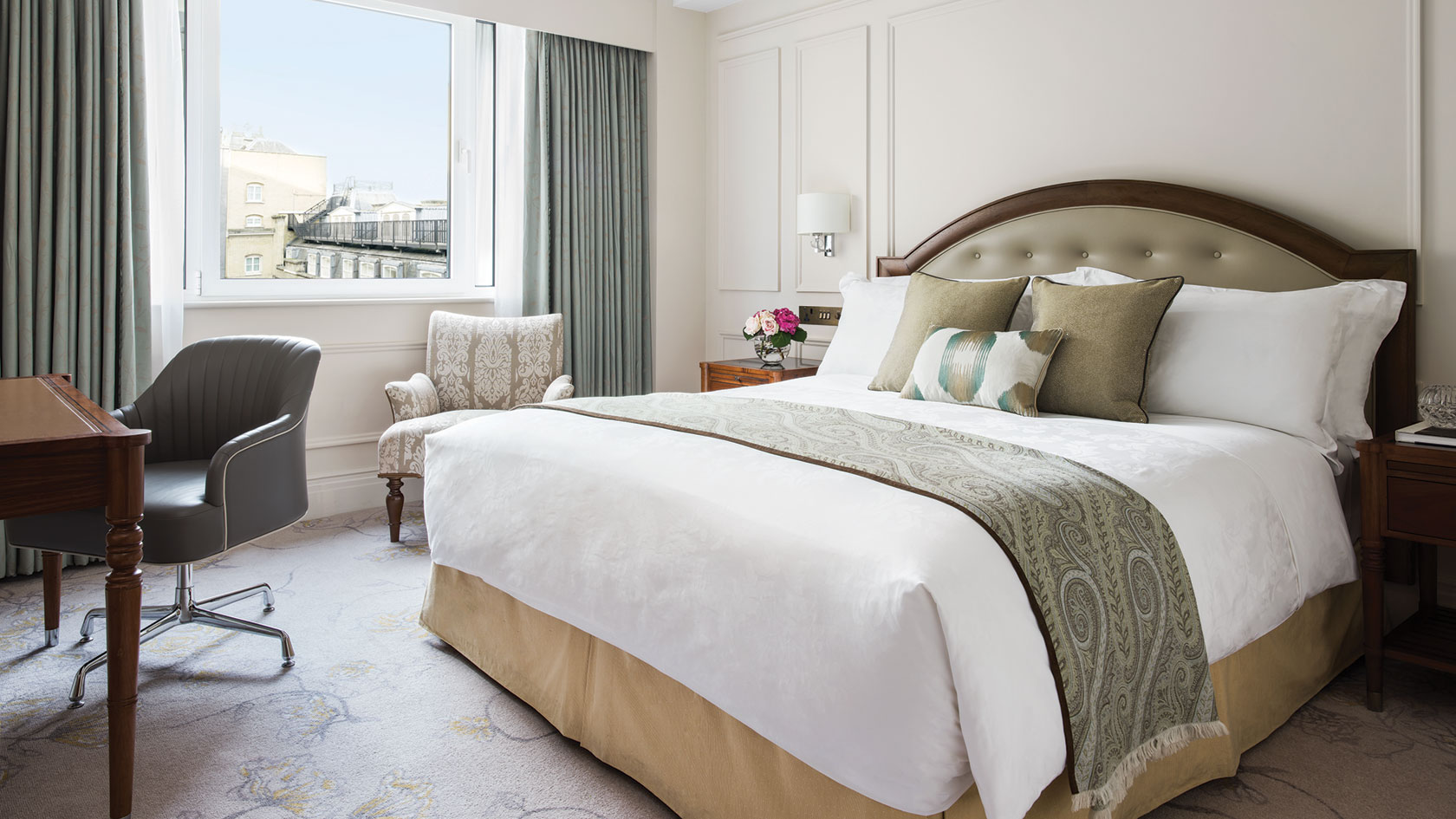 Our room – one bedroom suite
The suite was enormous with a hallway, living room and bedroom. We had a bottle of white wine chilling as well as snacks,fresh fruit and mineral water. There was both a kettle and a Nespresso machine, which is great as I hate making tea with just a Nespresso machine. There is nothing worse than tea that tastes like coffee!
The bathroom had a free-standing bath which was actually very short but deep. It definitely could have done with being a bit longer as it felt a bit cramped and I'm only 5ft 6. The toiletries were the Chuan Spa brand with full size tubes of everything, including body scrub. which was nice to see. There was a separate shower and toilet behind frosted glass doors as well as twin sinks, a make up mirror and plush bathrobes.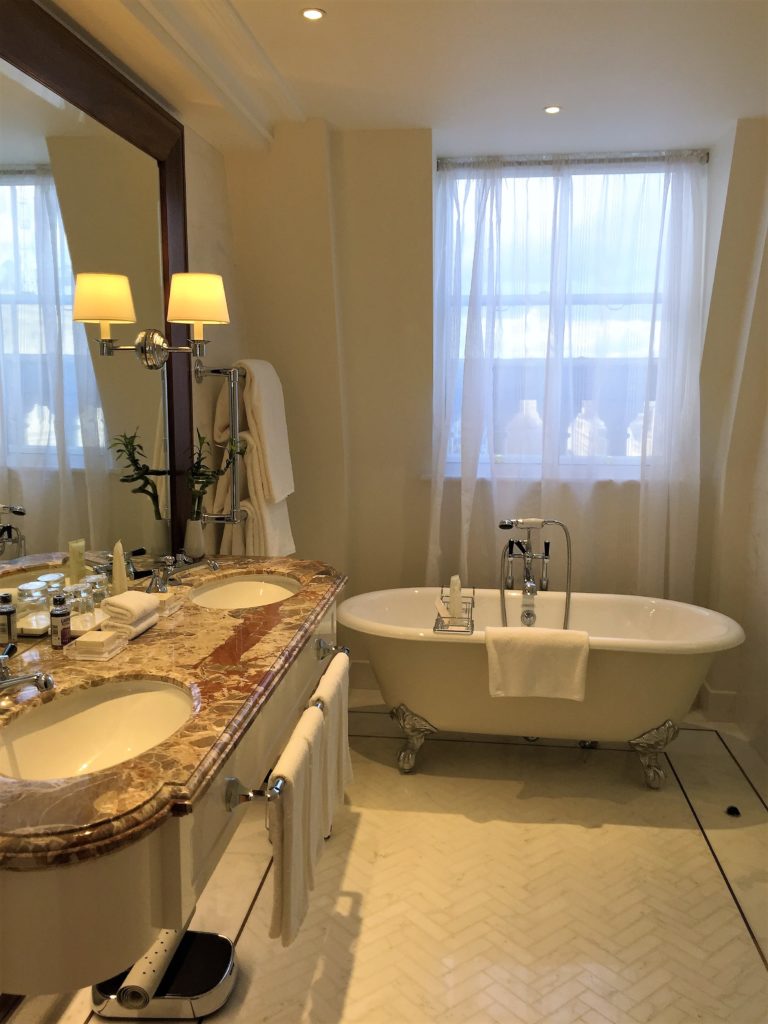 The bedroom was the only disappointment as with twin beds it made it a little small and difficult to get into the wardrobe. However with just the one bed that most people would have, it would have been fine. The bed itself, however, lived up to its name of the Langham Blissful bed. It was indeed extremely comfortable, lovely and soft but still with the right degree of support underneath.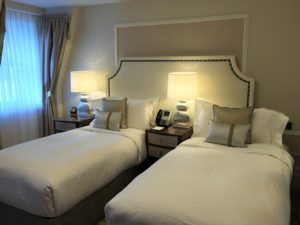 The Langham Club Lounge


Executive Lounge at the Langham London
Drinks, including Laurent Perrier champagne, are available all day. The first thing we sampled at the Club was the afternoon tea. This had a great selection of beautiful pastries, sandwiches and scones. The cakes were miniature works of art and delicious too. This is to be expected as the Pastry Chef is celebrity chef, Cherish Finden. You may well have seen her on Great British Bake Off: an Extra Slice amongst other programmes. The staff assured us she was lovely in real life as she comes across as pretty fierce when she is on TV! We accompanied our tea with a glass of Champagne. There was never a time when we weren't offered a top up well before we got to the bottom of our drink. The staff were all extremely professiona,l but friendly too.
Afternoon tea

Afternoon tea in the lounge


Evening
As we had been for lunch at one of our favourite local casual restaurant, JinJuu (Korean fusion), we decided to spend a quiet evening in the lounge and the suite. We returned for evening drinks and canapes. In addition to Champagne and a good choice of wines, there was a selection of cocktails. I chose a classic martini and asked if they could serve it as a 'dirty martini' which was not on the list. They, of course, made this possible and I was pleased with the result. Other cocktails included a Cosmopolitan and a Mojito.
The selection of food in the evening was fairly substantial and not what I would necessarily call canapes. There were cold meats, cheese, crudites, salad, bread and dips. One thing I liked was that they had menus on the table for each meal so you could see what all the food on the buffet was.
Breakfast
At breakfast you were served coffee or tea and then there was a buffet to choose from. There were all the usual things you would expect such as fruit, yoghurt, salmon, cheeses, pastries and bread. Everything was high quality with lots of choice. You could also order eggs such as poached or scrambled, as well as more complex dishes like Eggs Benedict. I ordered Eggs Royale, which is essentially Eggs Benedict with smoked salmon. The eggs were perfectly cooked and the dish was well presented.
New Spa and Pool
The new Chuan Spa is due to re-open in August. This will be rebranded as Chuan Body + Soul but will continue the values of traditional Chinese medicine for which The Langham, London is known. The spa will offer brand new treatment rooms, a state-of-the-art gym, wet rooms, steam and sauna facilities, in addition to the 16-metre swimming pool.
Update:
Dining and Bars
There are plenty of places to eat and drink at the Langham, but if you don't fancy any of them you are within walking distance to a vast number of restaurants and bars in the local vicinity. At the Langham, the Palm Court is famed as the birthplace of the afternoon tea tradition which you can still have today. They also serve breakfast and a more casual all day dining alternative to the Roux at the Landau for the rest of the day.
Michel Roux Jr and Albert Roux OBE have partnered together for Roux at the Landau which is the fine dining restaurant at the Langham.
Artesian is a glamorous bar which has won best bar in the world for four years. I can see why, as it is a great bar that serves both classic and very innovative modern cocktails. Even if you don't stay at the Langham, the bar is worth a visit in its own right. At the start of February they launched a new list of 20 cocktails based on the notion of 'Perception'. The Mind Your Step cocktail is the essence of 'Perception', a fruity mix of Ron Zacapa 23 Rum, Heron aged Pisco, tropical sour sop & orange blossom served in a broken glass, something you would not expect, and garnished with edible shards.
EDIT: A new bar was launched called the Wigmore which is an interpretation of the traditional English pub. The pub has cask ales, organic wines and an all-day dining menu in partnership with Chez Roux. It is worth a visit just for the amazing cheese toastie alone!
How to get extra perks
Extra perks are available if you book through our partnership with luxury travel agent Debonair here:
Property will offer early check-in and late checkout upon availability
Property will offer upgrade at time of check-in – subject to availability
85 GBP Food & Beverage or spa credit; Complimentary glass of English sparkling wine with Afternoon Tea in Palm Court, once per stay
Complimentary buffet breakfast for two daily
Wi Fi
You can book your Langham stay and find more details here.