Most of the TLFL team are luggage junkies, always looking for that perfect carry on suitcase. We were given the opportunity to test out a few pieces of lugagge and these are our reviews.
Thule Subterra Carry-On 55cm by Michele
I have a rather large collection of carry on size suitcases and none of them are quite right. They either don't have an outside pocket or if they do they are unbalanced and fall over when there is something in it. I was therefore keen to try out a slightly different model that had a front pocket but that was more discreet than most. You can see it in action in this video:
The Thule Subterra features:
Easy to pack more, separate clean from dirty or keep clothes in place thanks to the internal compression panel

Smooth and easy transport with tough, oversized wheels and V-Tubing telescoping handles

Effortless travel thanks to the piggyback strap attachment loop that allows an additional bag to be hooked on

Bag design absorbs the impact of travel due to the durable exoskeleton and moulded polycarbonate back panel
Smooth lifting and rearranging in overhead bins with top, side and bottom grab handles
Complies with carry-on requirements for most airlines

Divided main compartment keeps clean-from-dirty, wet-from-dry

Protects contents from the elements with durable, water-resistant materials

Quick access to keys, wallet and smaller items through zippered mesh pocket

Built in ID card slot simplifies identification of bag
My first impression was that the bag looked smart and was worth the £215 price tag. It had a very simple design externally but with lots of hidden features inside. At the front was a small pocket ideal for keeping my liquids bag in, ready for security. It also had a smaller zipped compartment inside that which was useful for keys or small things you wanted to find easily.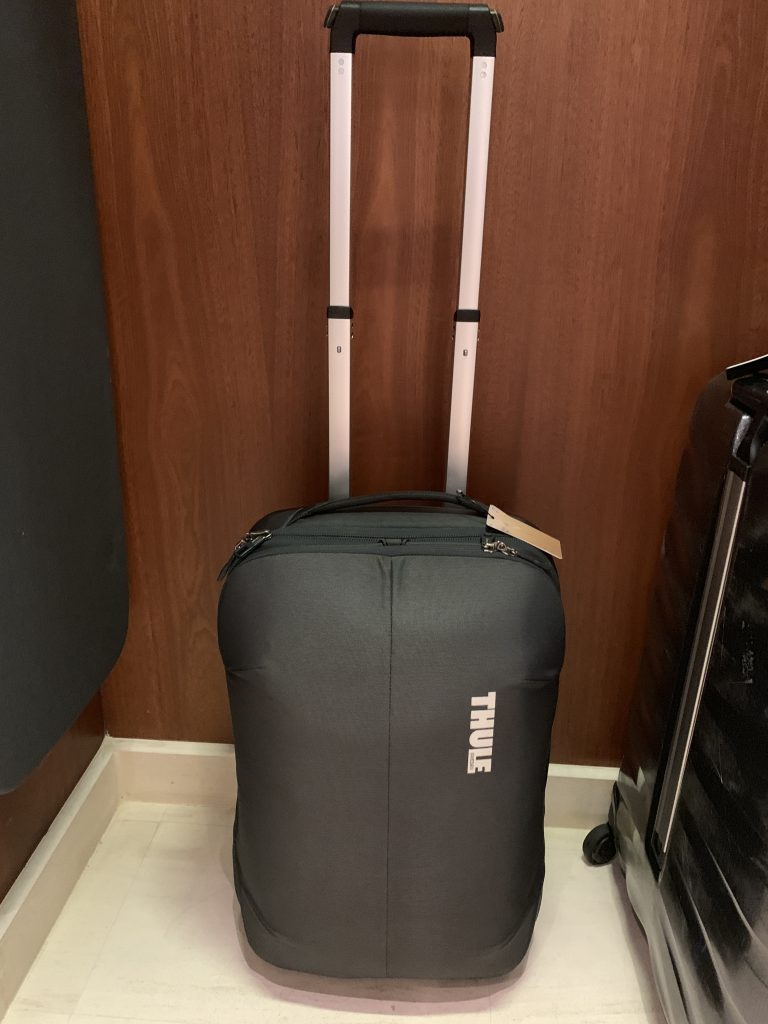 I found the bag extremely stable and fairly easy to wheel although it did take some getting used after having had a 4 wheel case for many years now. The wheels were definitely rugged and would last well even with extensive travelling.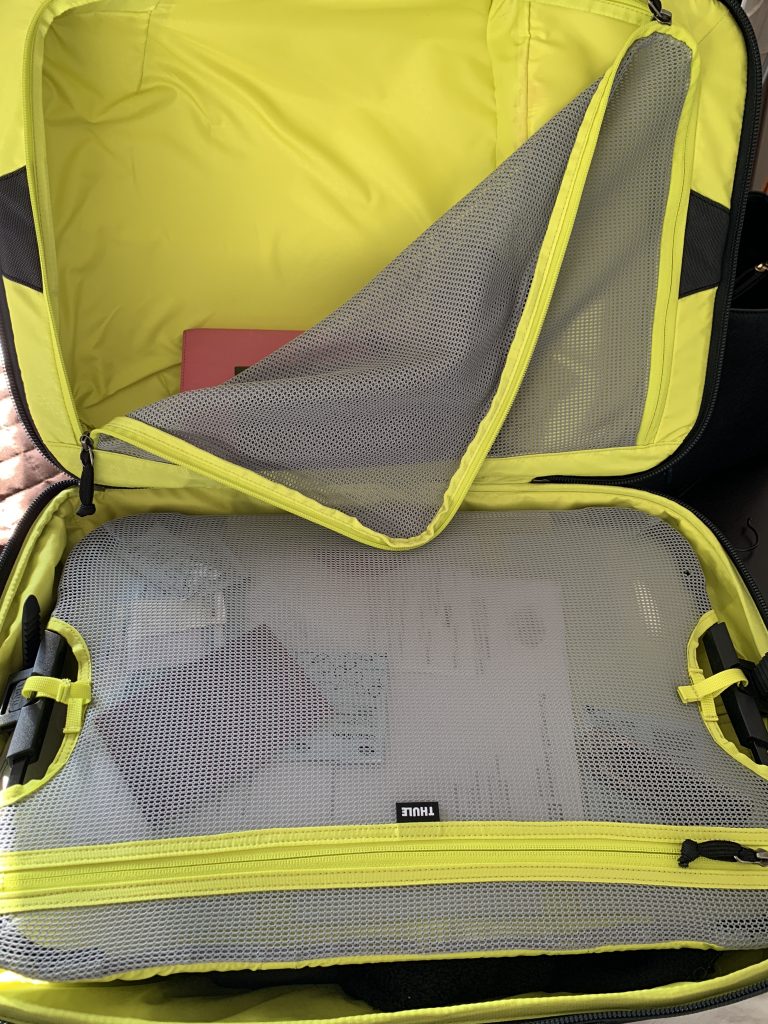 Inside there were two separate compartments. In the front was a slightly smaller compartment due to the external pocket, It had a zip mesh flap which was useful as you could see what was in there and it stopped stuff moving around.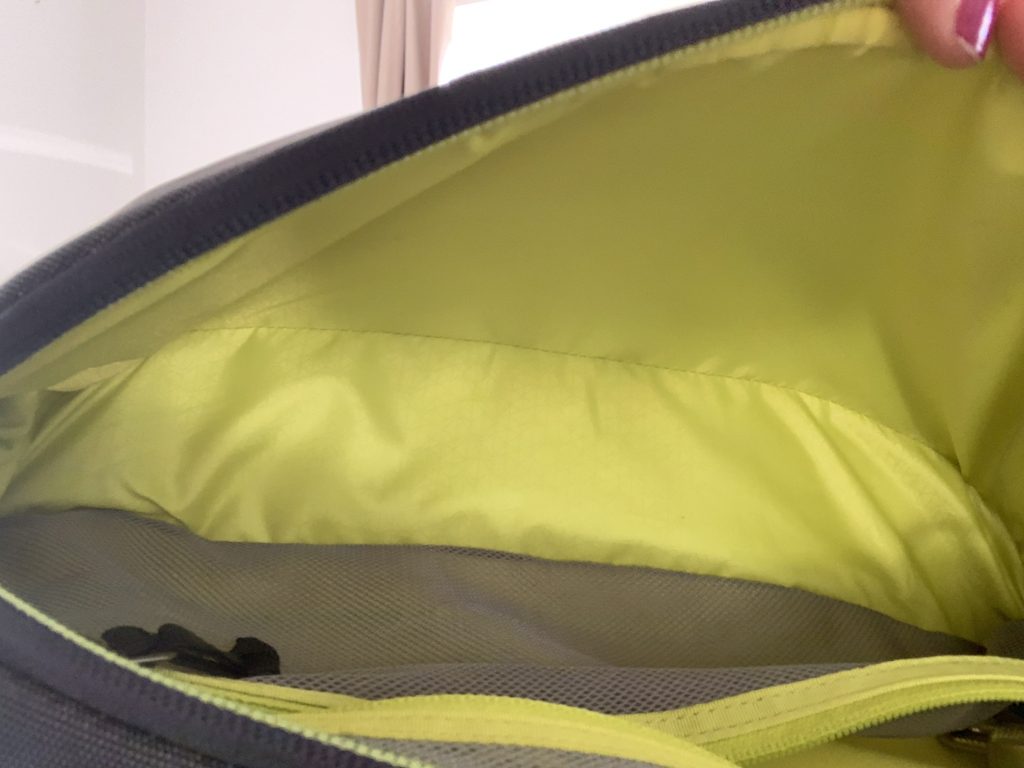 The other half had a panel that you can use to compress the contents down. the panel also has a zip mesh pocket which is big enough for a laptop in a case. It took me a few minutes to figure out how to remove the panel. It is fixed on a ratchet which has a pull to release instantly but also can be used to move the panel down to keep the contents in place or if you are like me squash them down when you have packed too much and are trying to shut the case!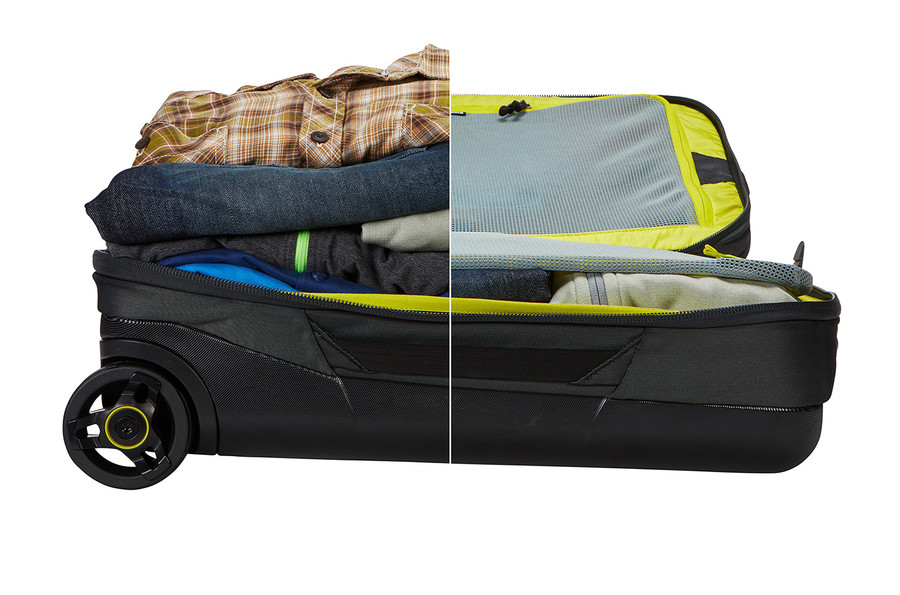 I found the case perfect as a carry on – there was more than enough room but it wasn't too big or heavy to take on board. It also worked for a few nights away as you could fit quite a lot on with the compression panel.
Conclusion
This is a smart looking bag that is well built and the design of the bag has been well thought out. I liked the compression panel idea and the front pocket with the zipped part. It was rugged and would stand up to a lot of use from a frequent traveller. The two wheels took some getting used to for me but that is a personal preference as I know many people prefer two wheels.
Thule Crossover 55cm by Paul
I have recently switched to this Thule Crossover Case for shorter trips.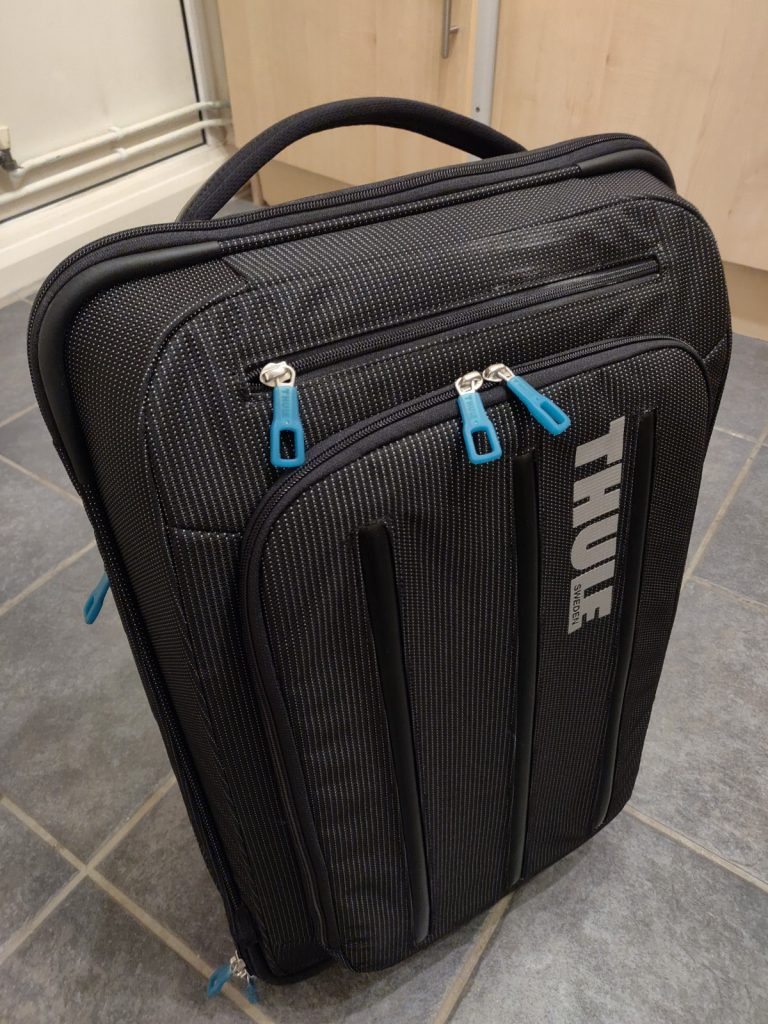 The case features:
Padded, top load pouch holds up to a 15″ MacBook Pro® or PC

Hide-away backpack straps allow for quick and easy shouldering of this carry-on roller

The wheels face away from body when roller is used as a backpack, allowing for a clean, comfortable carrying experience

Lightweight, durable fabric is also water-resistant

Durable exoskeleton and a moulded polypropylene back panel absorb the impact of rugged travel

Tough, oversized wheels and V-Tubing™ telescoping handles guarantee a smooth, steady and straight pull for years

Heat-moulded, crush proof SafeZone compartment protects your sunglasses, iPhone®, portable electronics and other fragile gear

Raised rails give your bag and gear extra protection

Piggyback strap attachment loop to hook on an additional bag

Divided main compartment keeps clean-from-dirty, wet-from-dry, and work-from-play
My usual go to is my Briggs and Riley Baseline case – a superb case for 1-7 days on the road easily. I have now taken the Thule all over the world over the last few weeks and dragged it through many airports!
It comes with pockets for a laptop etc and also a very neat sunglasses one on the side which is well protected. The handle also comes up without using the buttons which I found very useful – it needs a push each side to go back in. It also comes with padded straps to make it a rucksack – I never used them personally.
Things I Love
The look – it looks smart and quality – and frankly it is. Generally (more later!)
The size – despite being smaller than my other cases its perfect for a long weekend / night away.
The design – the sunglasses pouch is pure genius.
The wheels – yes I have tried the kerb test many times – it wobbled once but that was most certainly my fault as I pushed it to the limit!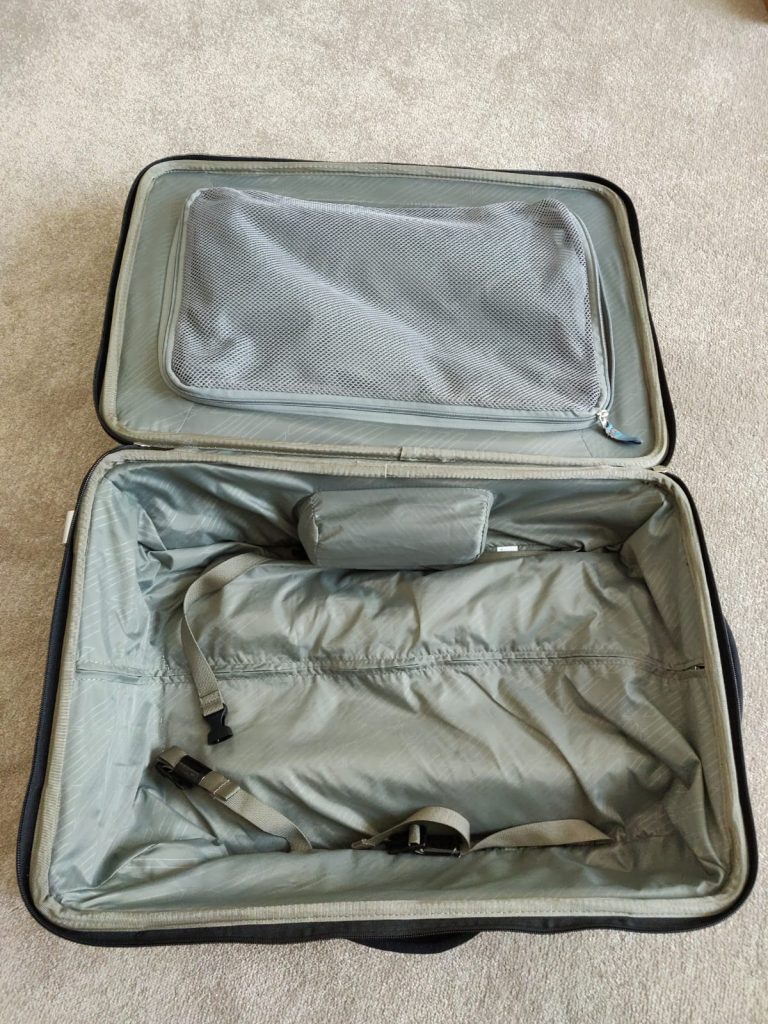 Any negatives?
Well yes – the zips. They could be a bit better quality I think. Also, the laptop pocket at the front has a tendency to get the material caught in them – which is a bit annoying.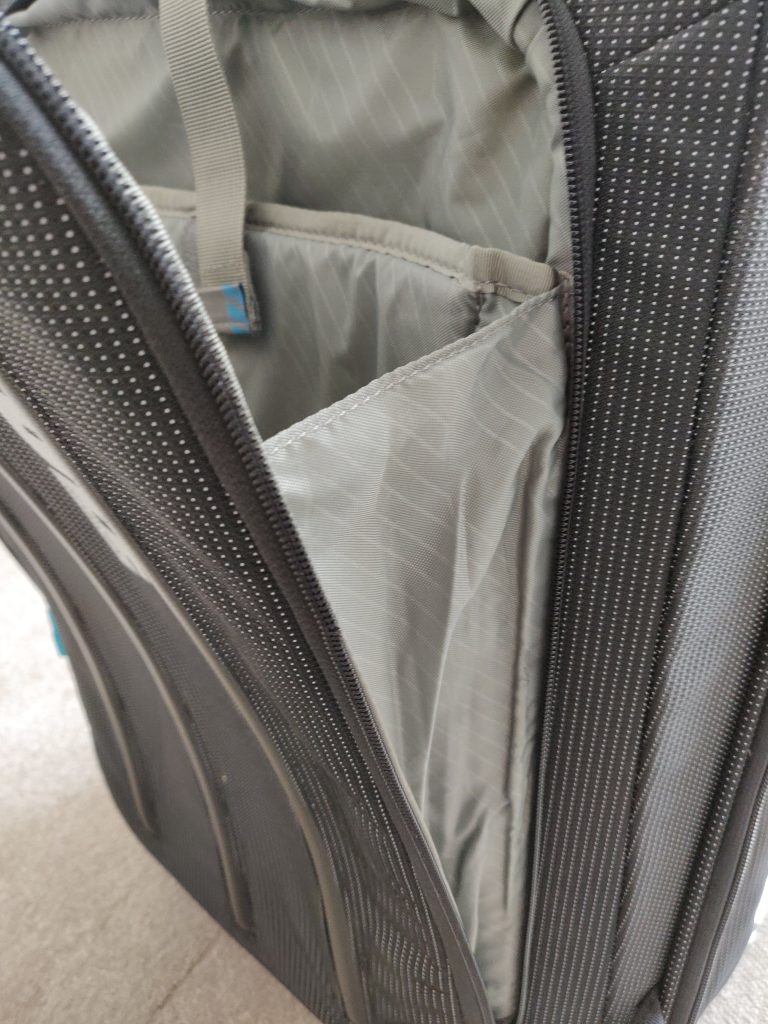 Final thoughts
A great case at a great price point. (£215) Yes, the zips slightly annoy me, but it won't stop me using it for shorter trips.
You can find the UK Thule website here.
Mia Tui handbag
I was also given a travel bag from Mia Tui to try out. Although aimed at travellers particularly, to be honest, you could use this handbag for every day just to keep your contents organised. However, it does have some special features just for travelling.
The bag is pretty large at W40cm, D15cm, H30cm (width is taken from the base of the bag) and weighs bag 917g – Strap, Clutch & PVC 267g. If you think this would be too much they also do a smaller version, the mini Jen.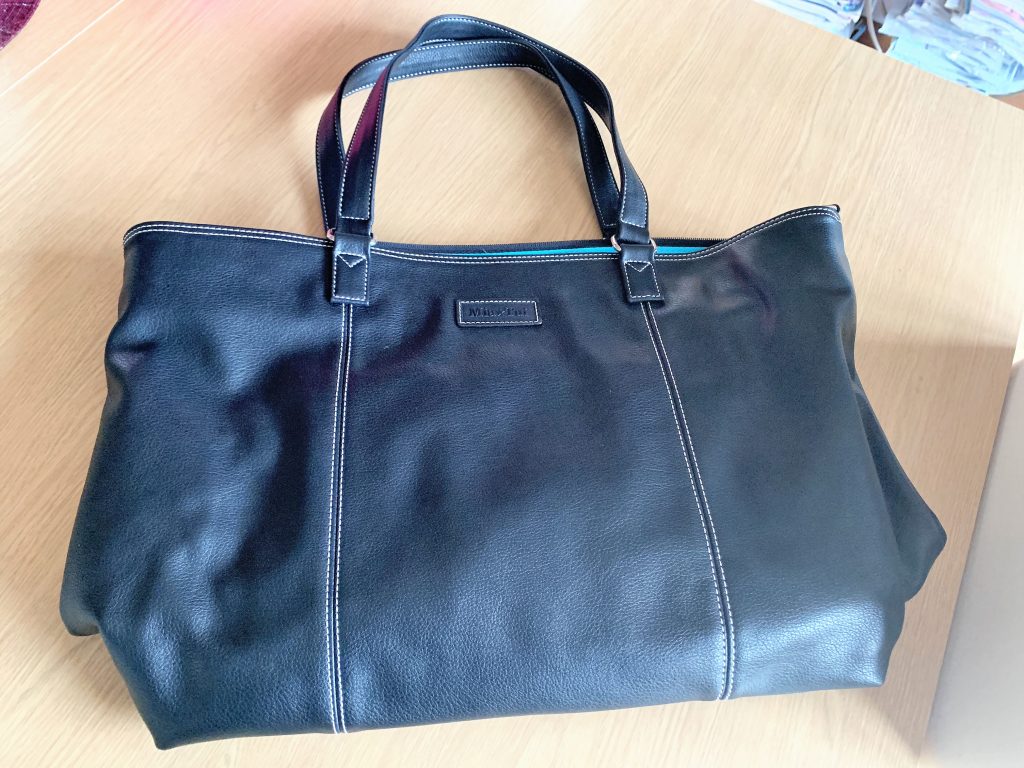 The Jennie bag features:
1 Clear internal bag with hand strap
1 Matching clutch bag with hand & X-body strap
2 Insulated water bottle holders (bottles not included)
Key clip
Phone pocket
Pen holder
Hands-free shoulder strap
Metal studs on base of bag for protection
The bag is made in a soft faux leather and looked smart and unobtrusive. It came in a nice dust cover to store it in like a designer handbag does.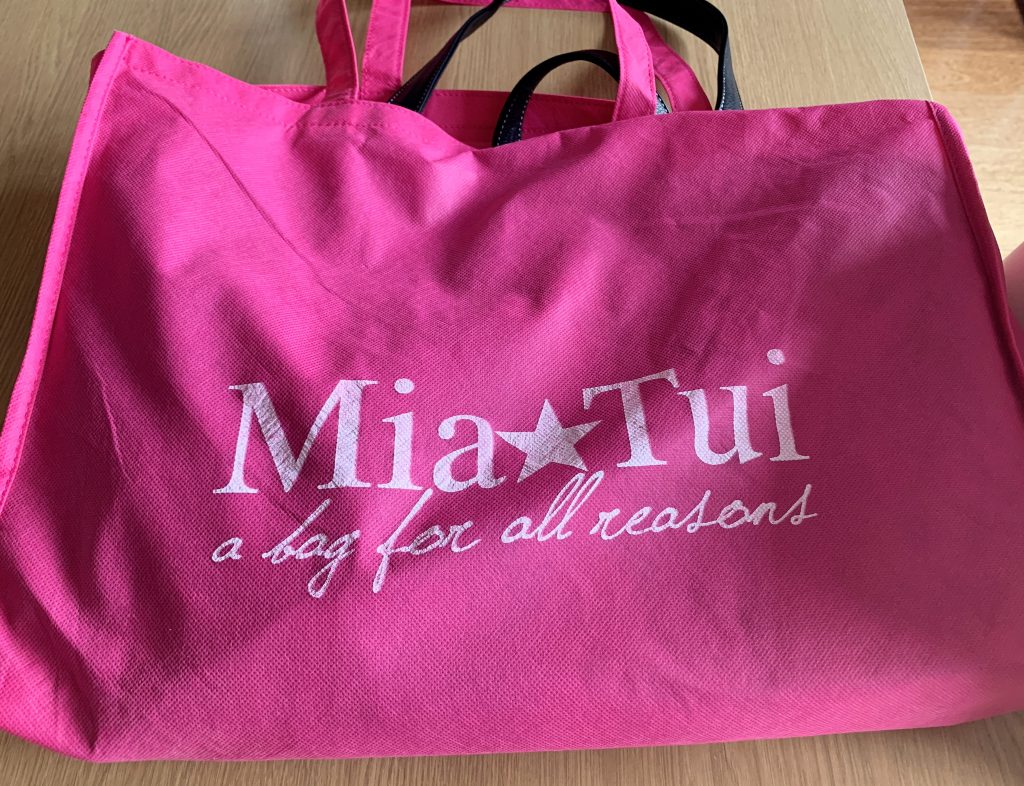 There is a bright turquoise lining which I liked the look of it plus it made it easier to find things than a dark lining. If you would rather carry it over your shoulder it comes with a separate shoulder strap.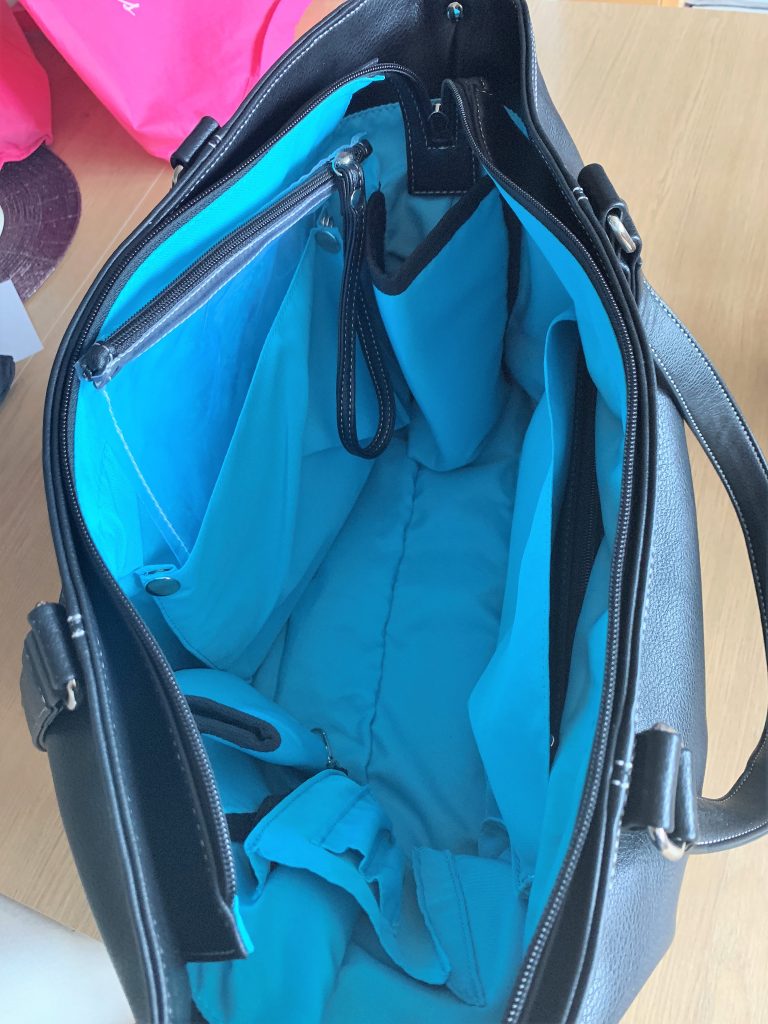 The inside had a plethora of pockets all designed for a particular purpose. I liked the airports liquids bag that had a strap handle so you could easily whip it out in the security line. This was nicely secured in an expandable side pocket. There are also two water bottles holders that are insulated, a handy elastic strap to attach your keys to as well as some multipurpose pockets.
One feature I particularly liked is the special built-in exterior flap that allows you to fit the handbag over the handles of a suitcase or carry on bag. This makes a big difference as the bag was quite heavy by the time I had added my laptop to it as well.
Conclusion
This is an ideal bag for a frequent traveller who wants to keep everything organised and close at hand. The bag comes in a wide variety of colours so there should be one to suit everyone's taste. However, you may want to think about which size is suitable for your needs as the Jennie is probably a bit large for some people.
You can find the Mia Tui website here.