We all know BA love to extract as much money as they can out of us for upgrades and Avios bookings!
But are there any tricks and "hacks"? 🙂
Surcharges from Europe going West
The USA used to be a good place for Avios upgrades and using a Gold Upgrade voucher (GUF) which you get when you reach 2500 tier points. However recent-ish increases in surcharges (known as YQ) and other things have eroded this somewhat.
So let's take New York as an example-
In economy we sometimes see fares as low as 50p each way! Sadly that doesn't mean £1 returns!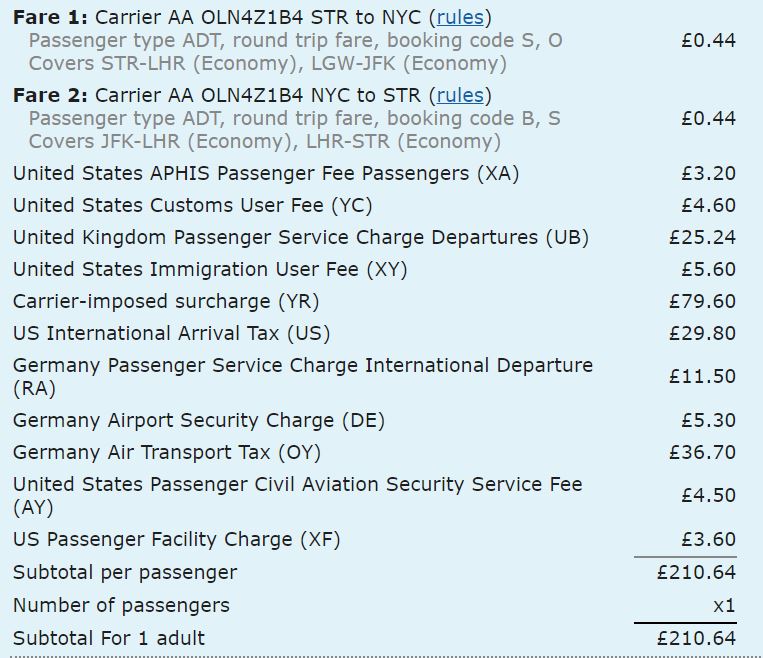 Wow, that's a long list hey?!
But it's the "Carrier-imposed surcharge" (YQ) that we are talking about here. The above is an AA fare (as it was so cheap I had to include it!) but the same is true for BA –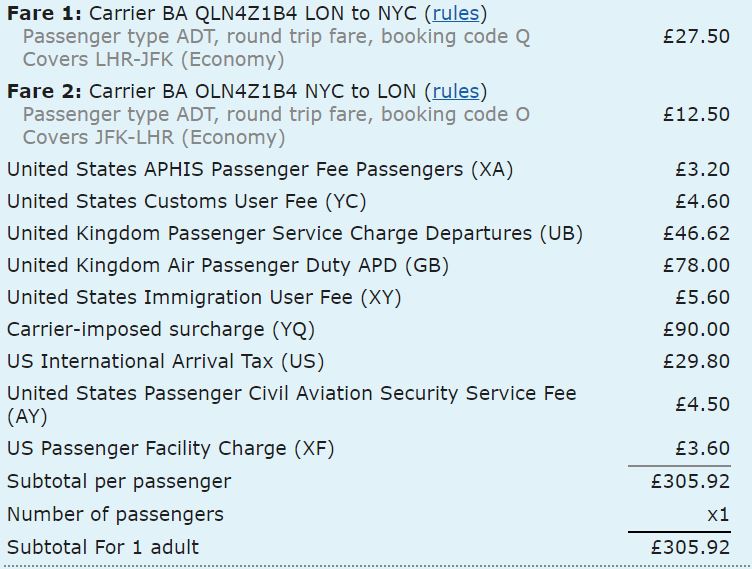 And the Avios costs to buy the same flights?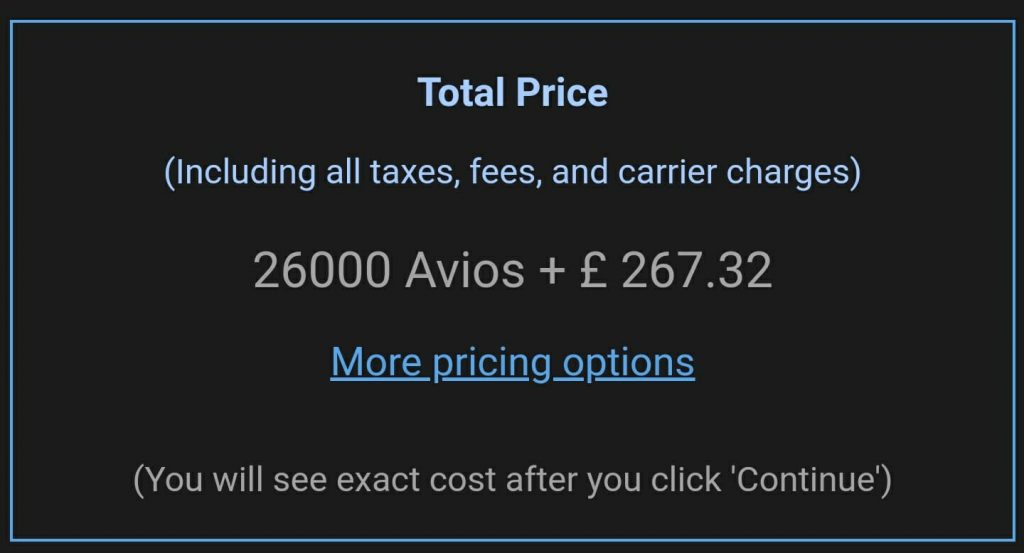 And the taxes going up the cabins –
Premium Economy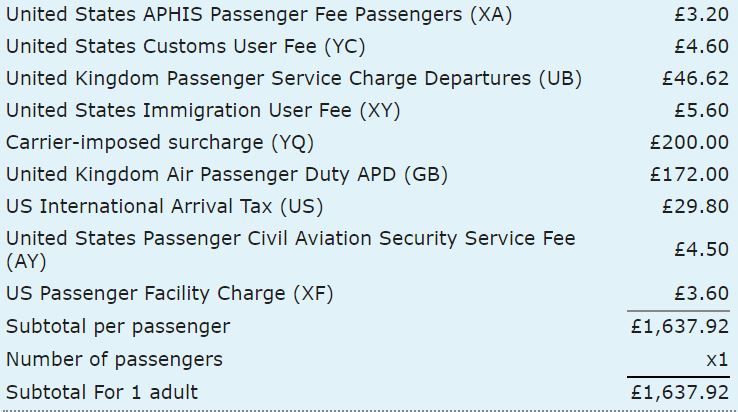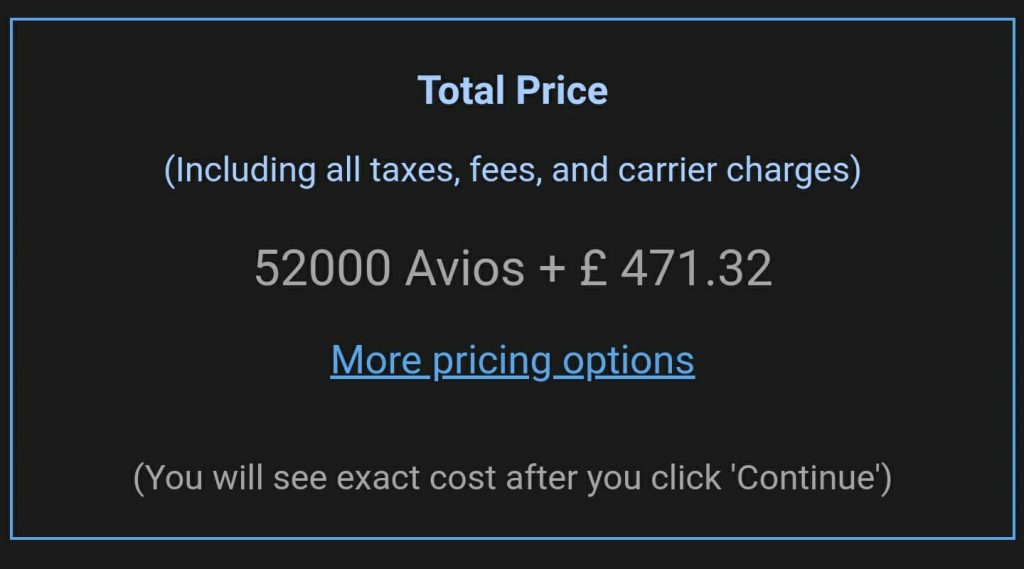 Club World (Business Class)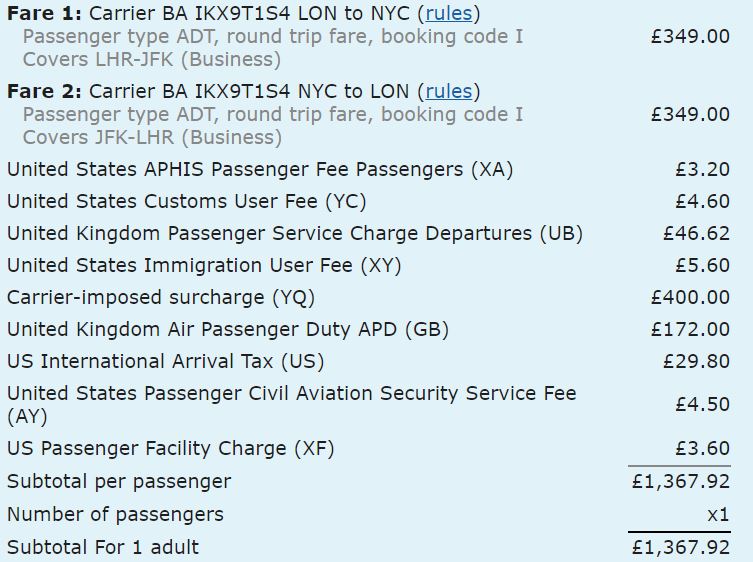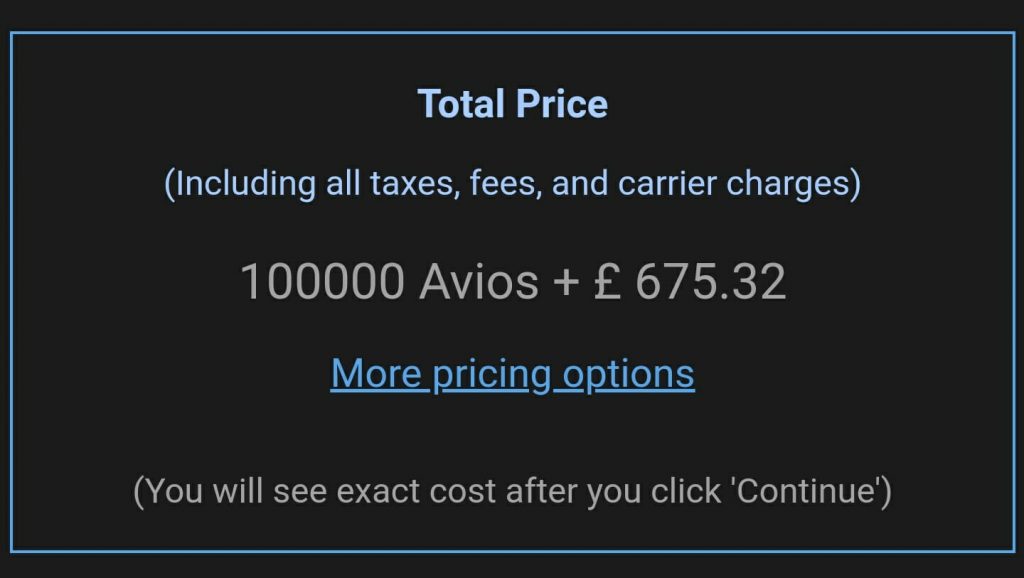 First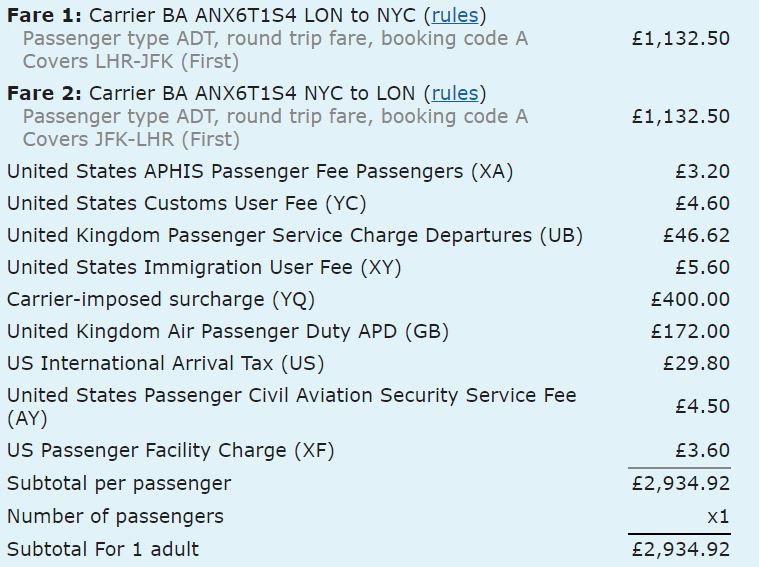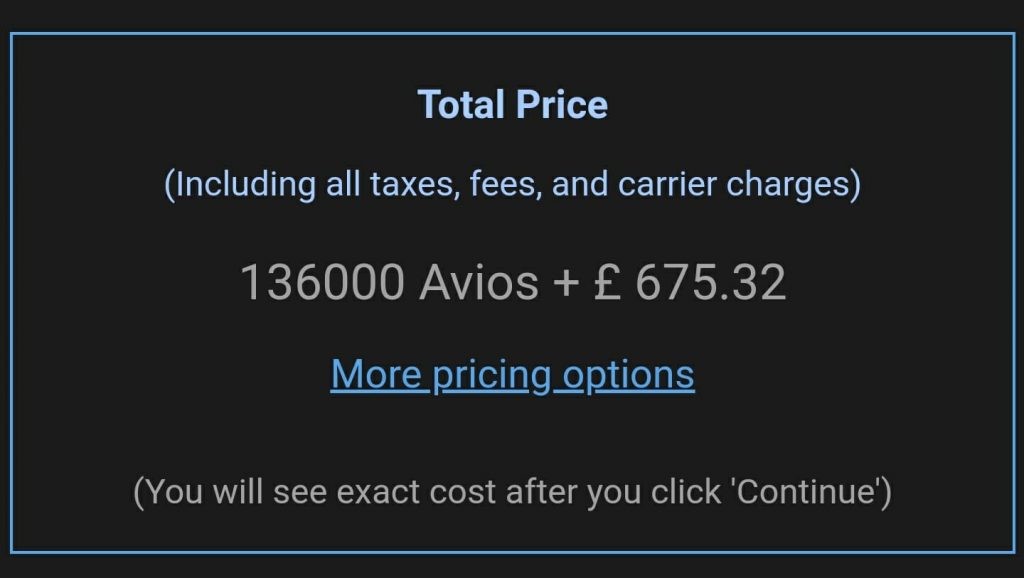 So what do we notice?
All the examples above are originating from London.
A few things – the difference from Economy to Premium is horrible. The reason for this being increased APD (Airport Passenger Duty) as well as the increase in YQ. From Premium to Business it jumps to several £100s! And then to First? No difference.
Takeaways –
Using Avios/GUF from J-F will cost you £0 extra. Good use.
Going from Premium to Club will cost you dearly – be warned!
Yes, you can go from Jersey or Inverness to save nicely on the APD. Easy enough on Avios tickets – cash tickets it will depend on the fare.
Working out the YQ
Thanks to ITA Matrix, this one is easy.
Pick your route and open up ITA and force premium economy by using advanced routing codes "f bc=t"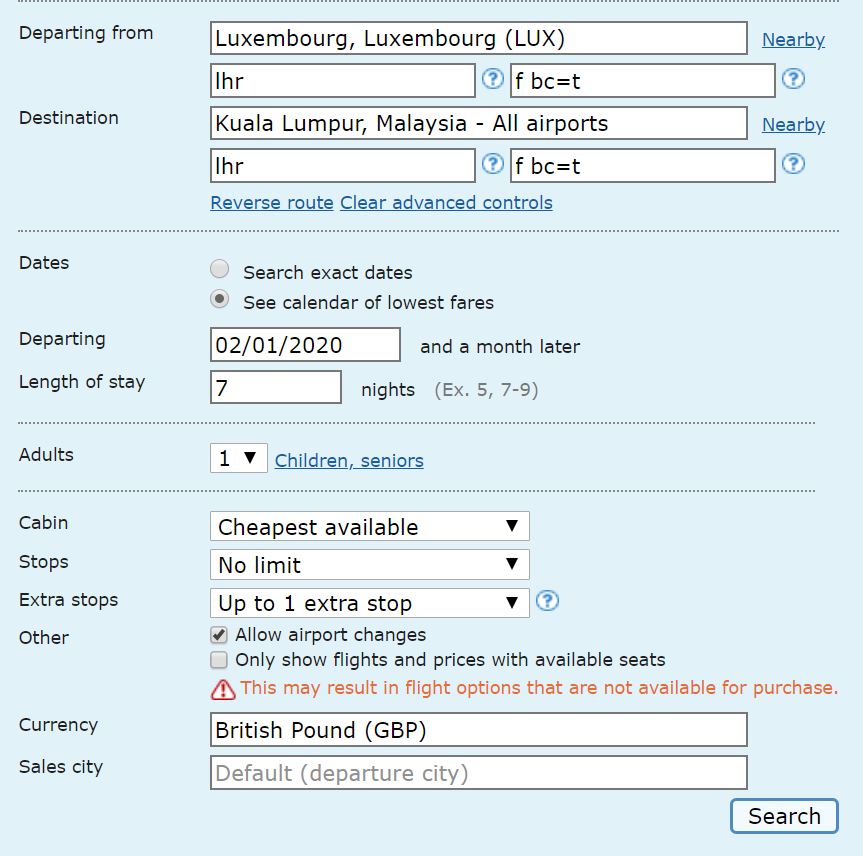 Also worth as above, unticking the only show flights and prices box, as frankly, all you care about is finding the YQ cost. Remember though, this will show fares and seats, that may be unbookable.
Once found you will see the YQ displayed clearly –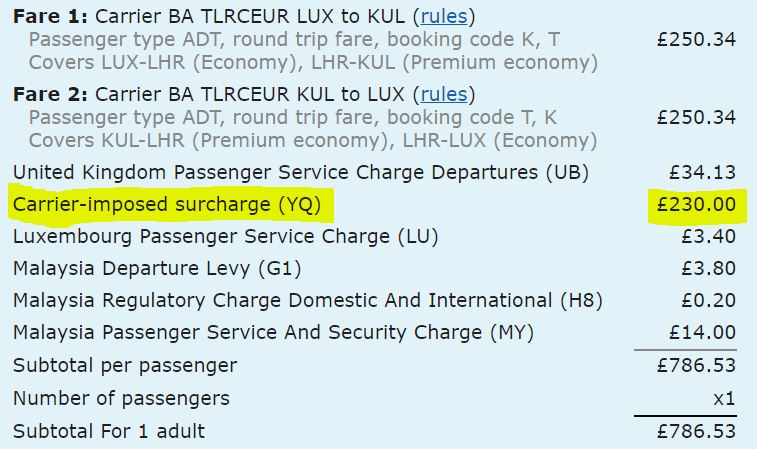 Do the same but "f bc=i", to find the cost for Club World.
So where are the sweet spots?
Easy – Go East!
I love Premium Economy fares – not because it's a great product, as it's not! But because it can be a very lucrative way to upgrade to Club World, as we shall now look into.
I recently wrote about how you can fly to Abu Dhabi in Premium for just over £300.
But hold on, what about the £200 YQ increase? Turns out the surcharges differ depending on destination, and origin!
As it shows in this article – the difference to Abu Dhabi is just £105.
Here is a quick breakdown of popular Eastern routes and the YQ difference from Premium to Business (return from London) –
My personal favourite, Doha – £46. Yes, you read that correctly. An Avios/GUF Upgrade to Club World will cost you just £46 extra.
Doha £46
Dubai – £106
Tel Aviv – £28
Bangkok – £103
Hong Kong – £103
Singapore – £103
Kuala Lumpur – £103
Sydney – £133 – a bargain considering the 4 flights involved!
My last 4 GUFs?
Kuala Lumpur, Doha and Abu Dhabi.
Any hot fares?
Yes – Asia is a gem for good premium fares. Have a look at starting in Luxembourg, Amsterdam, Madrid and Barcelona. The Middle East is usually decent out of Inverness.
Have a look at these –
Sydney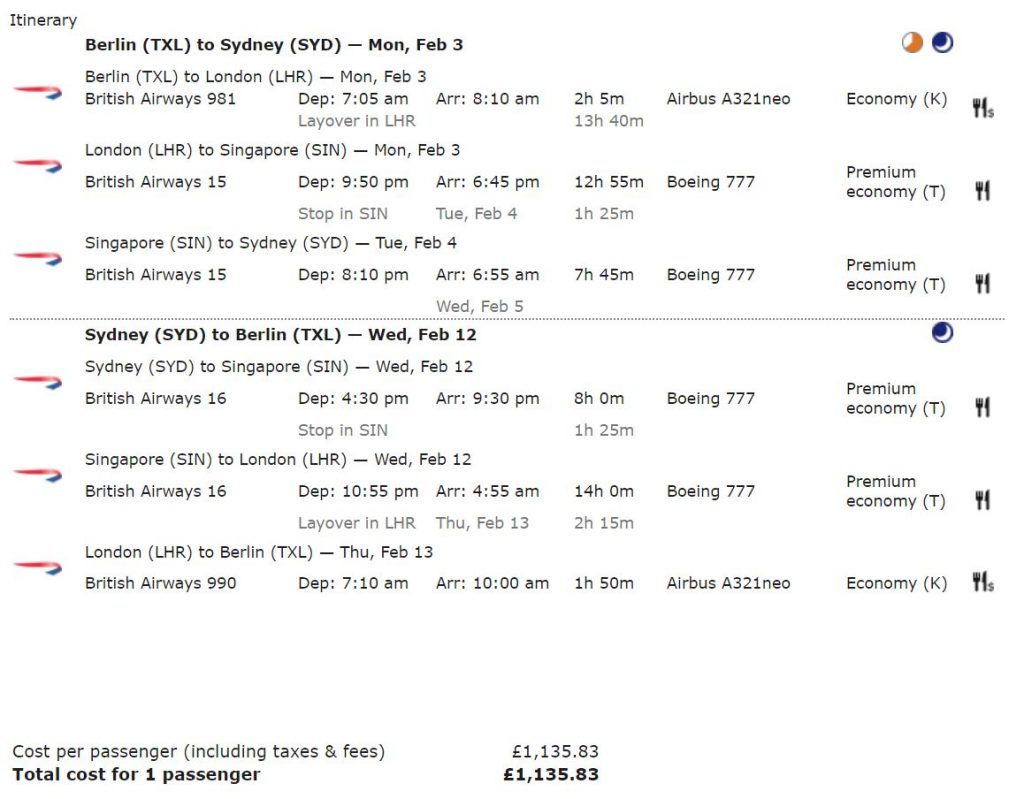 The YQ difference from Germany is only £92.
Kuala Lumpur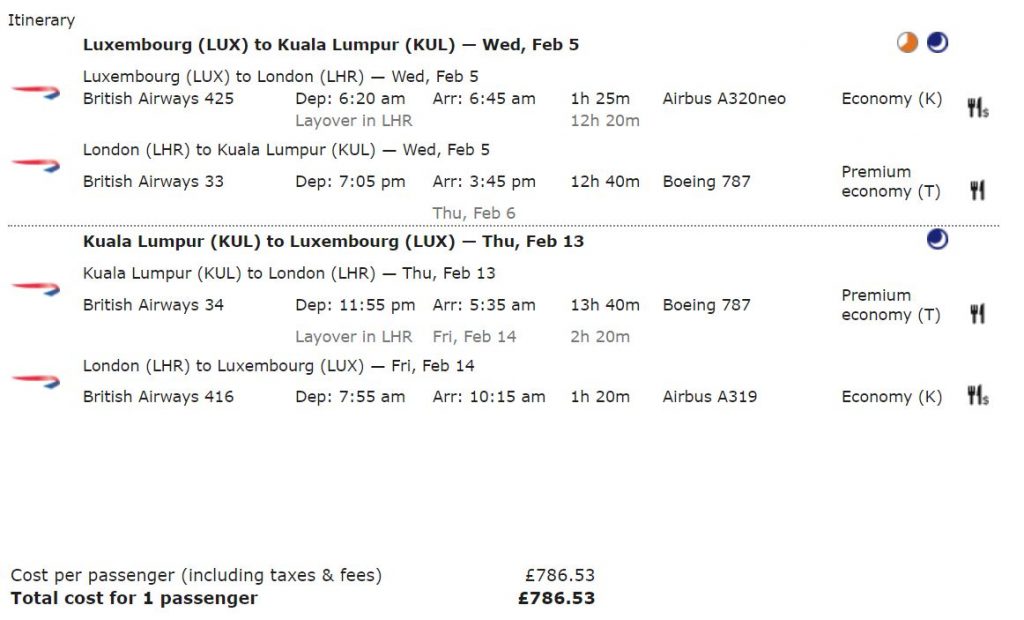 With a lovely YQ difference from Luxembourg of just over £70.
Hopefully, this has not only given you food for thought but good ideas too! All these fares are available to book on British Airways here.
Remember if you want help with any fares or upgrades like this – email me to be included in our new weekly travel surgery!