Today's article is by Callum, the newest member of the TLFL writing team. You can read all about him here.
Lufthansa and Thai Airways lost my bags: here's what happened next
It was bound to happen. Last week, I began my journey to the Philippines with an ex-EU flight to Bangkok. My journey was not a simple one but thinking that this summer would be okay, I decided to book a rather complex itinerary for my trip to Asia consisting of the following:
British Airways Heathrow to Stockholm (Business Class return at £200)

Lufthansa/Thai Stockholm to Bangkok via Frankfurt and Brussels (Around £1200 booked in February for a return in Business, with the inbound in January 2023)

Gulf Air Bangkok to Bahrain followed by one day in Bahrain and onwards to Singapore (Business Class error fare at £250)

Singapore Airlines from Singapore to Manila (redemption with KrisFlyer)
I always knew this was a complex itinerary, but I built in enough buffer time along with protected connections between Stockholm and Bangkok. I could have opted for a simpler routing on Lufthansa or Swiss, but decided I wanted to try out Thai Airways for the first time, thinking I have less chance of getting a cheap fare with them in future.
Doomed from the start?
The trip was first thrown out of sync by British Airways cancelling my Stockholm positioning flight, with the option to either take the last flight of the day with BA, which presents inherent risks when you have a 6am ex-EU departure or Finnair via Helsinki. Knowing I could use the Cathay Pacific Lounge at Terminal 3 as well as the earlier departure, the latter felt like a safer bet. The first legs of my journey were a success.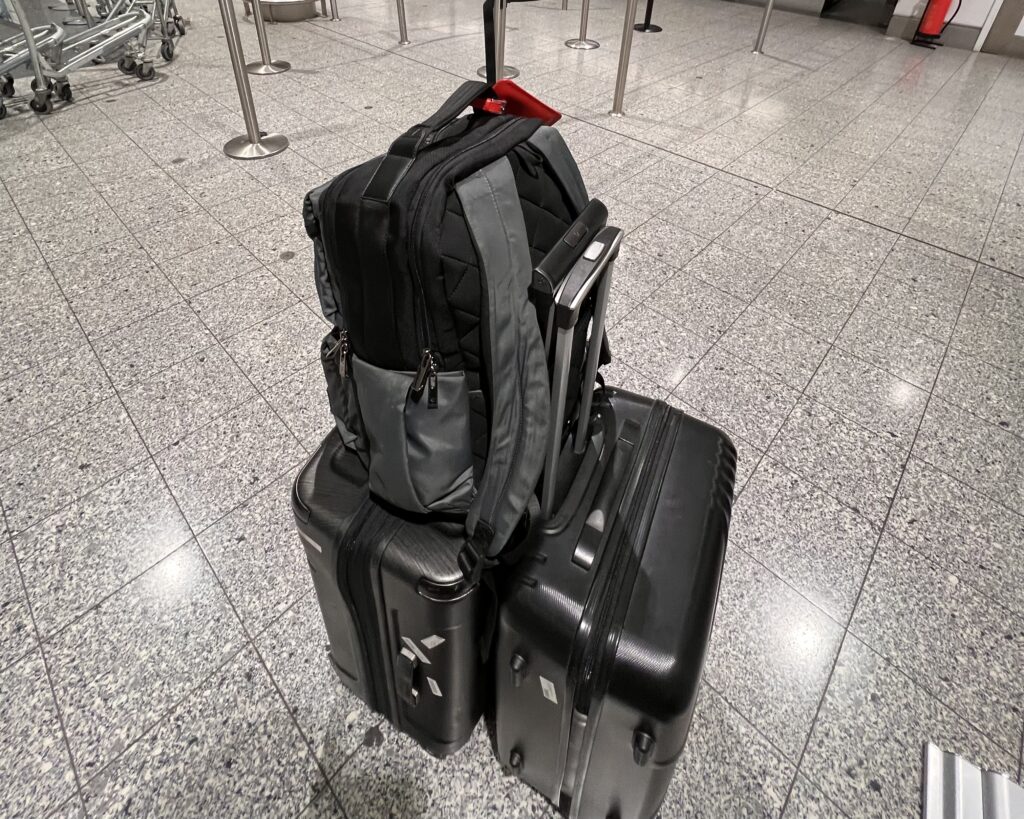 I knew something was wrong when I checked in at the SAS desks the night before my flight. The airline wasn't able to print my boarding passes due to them requiring a visa for Bangkok, however, they advised me to go to the boarding gate at Frankfurt to get it sorted the next day.
I arrive at Frankfurt with the first agent constantly telling me that I need a visa for Thailand. Another, more helpful agent was able to help. Due to my outbound being in July and inbound in January, I needed to provide the airline with either a visa for that length of stay or proof that I was leaving the country within the visa-free period. After 45 minutes of my 80-minute connection, I was finally able to breathe a sigh of relief – or so I thought.
AirTags – friend or foe?
Realising the current chaos at airports, I decided to invest in Apple AirTags for my two checked suitcases. These are both a blessing and anxiety-inducing thanks to the knowledge of knowing your bags are on the plane as well as knowing they are not… The pilot at Frankfurt came on the overhead speakers to note there would be a delay in aircraft being loaded due to issues with staff at the airport. I thought the bags were near the aircraft however, upon arrival in Brussels, it was clear they were miles away in Germany. At this point, there was little I could do to resolve the problem other than knowing the luggage wasn't making the flight.
Brussels Airport was far worse than Frankfurt due to the chaos at the Schengen Border for both EU and non-EU passengers taking over sixty minutes. Irate passengers almost led to arguments with staff and fellow travellers – it was far from the holiday mood. I headed to the underwhelming lounge at the non-Schengen Zone to refresh and recuperate from the stressful few hours. One positive of this lounge was the excellent runway views, where you could see our Thai Airways A350 positioning to stand. Knowing this, I headed to the gate to see if the agent could check if the bags were going to be rescheduled onto another flight – after a few minutes, he advised they were loaded on the plane. That answer was best rephrased as "they were loaded onto a plane" – likely the one I had boarded in Stockholm. I boarded the flight to Bangkok, knowing my bags were going to be stuck in Europe for an unknown amount of time.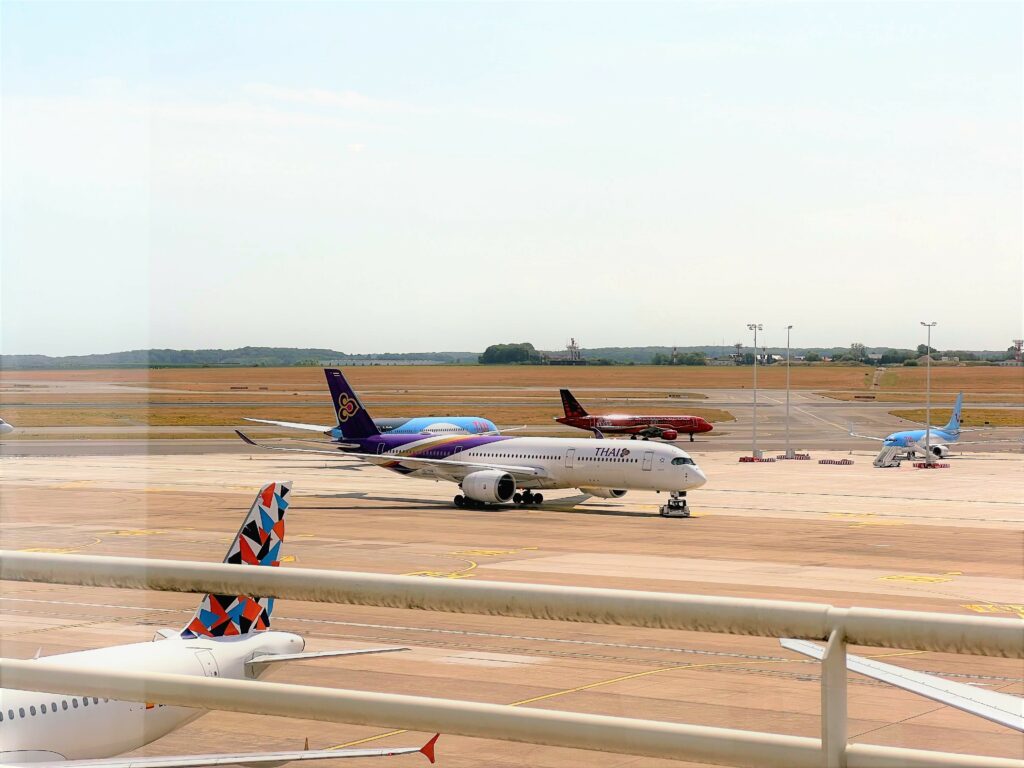 After arriving in Bangkok and with an Airalo eSIM pre-installed for data connection, I checked the 'Find My' app to confirm the bags were still in Frankfurt – which they were. Breezing through immigration within 15 minutes and with a cursory glance at my Covid Pass, a far cry from the Test & Go experience in December, I searched for the Thai/Star Alliance luggage office. Waiting in a branded envelope, a helpful member of staff had already printed off all the details to retrieve the luggage.
Having the AirTags saved me from waiting unknowingly at the baggage carousel for the luggage never to arrive and gave me a couple more hours in Bangkok during my 12-hour connection. As my ultimate destination was Manila, and despite being on separate tickets, Thai Airways agreed the bags would be delivered to my address in the Philippines – which came as a surprise.
I went about my travels across to Bahrain with the excellent Gulf Air, along with a subsequent stop in Singapore and an awful 2am departure/5am arrival in Manila. Two days passed after my bags arrived at Manila Ninoy Aquino International Airport with promises from Dnata about baggage delivery coming to nothing. Even with Manila traffic, it made more sense to take a £6 Grab taxi across the city and acquire it myself. This wasn't without challenge and did require speaking to several airport officials and going through a bureaucratic process before gaining access, but finally, the luggage was back in my hands.
My advice for people travelling this summer and beyond
While I fell afoul of this, if you are travelling within Europe for a long weekend or week stay, try to stick with just hand luggage. It will save you a lot of trouble. If, like me, you need checked luggage, then be practical and do not pack any valuables away in your checked luggage. While it would have been irritating if my luggage had been permanently lost, there was nothing in my that wasn't replaceable. Do pack a couple of days' clothes within your hand luggage so you at least can cover yourself in the event of delayed or missing baggage.
AirTags are not a must-have item, but they do provide some convenience and information to prove if your luggage isn't where it should be. If you have an Android phone, then alternatives include Tile, but I have not tested the effectiveness of their trackers – Apple AirTags benefit from a wide variety of devices they can emit location information to track. As members of the frequent flyer community, we all know the stresses that European airports are under currently, even if some of it is self-inflicted by management decision, but it is not the fault of the staff you are talking to. Taking a calm approach for both reporting and reacting to a lost luggage situation will make the whole scenario easier for all involved – despite the frustration.
Buy an AirTag from £27 on Amazon here.
How have you found your baggage experiences this summer? Let us know in the comments below.