This ia review of Samsonite v Away v Tumi. I have a confession TLFL readers. I have an affliction, well more of a fetish really…. and Roving Reporter has the same problem. Hello, my name is Michele and I am a luggage addict! I have a spare room littered with suitcases and yet I am always buying more in that elusive quest for the perfect carry on suitcase!
Fortunately, I found my large suitcase soulmate (Samsonite Cosmolite) a while ago so that at least frees me of part of my suitcase obsession. However, until recently, my search for the ultimate hand luggage case continued. Find out which one I chose below. I was specifically looking for something with a front pocket to save delving around inside a bag to get my laptop out at security and on board. Ideally, with a pocket that could also fit a few other essentials. I also wanted a hard sided case but as lightweight as possible. ​
Tomorrow I will be looking at how to survive for a week with only hand baggage from a self-confessed over-packer (also me).
Away Bigger carry-on with pocket
Away is the current darling of the luggage world with celebrities seen stylishly wheeling their Away cases through airports around the world. The brand was set up to be sold directly to consumers without the massive mark up of premium luggage brands as well as solving common travel packing issues. They wanted to create something stylish, affordable and durable when they founded the company in 2016. Last year they opened their first UK store in London's Seven Dials neighbourhood.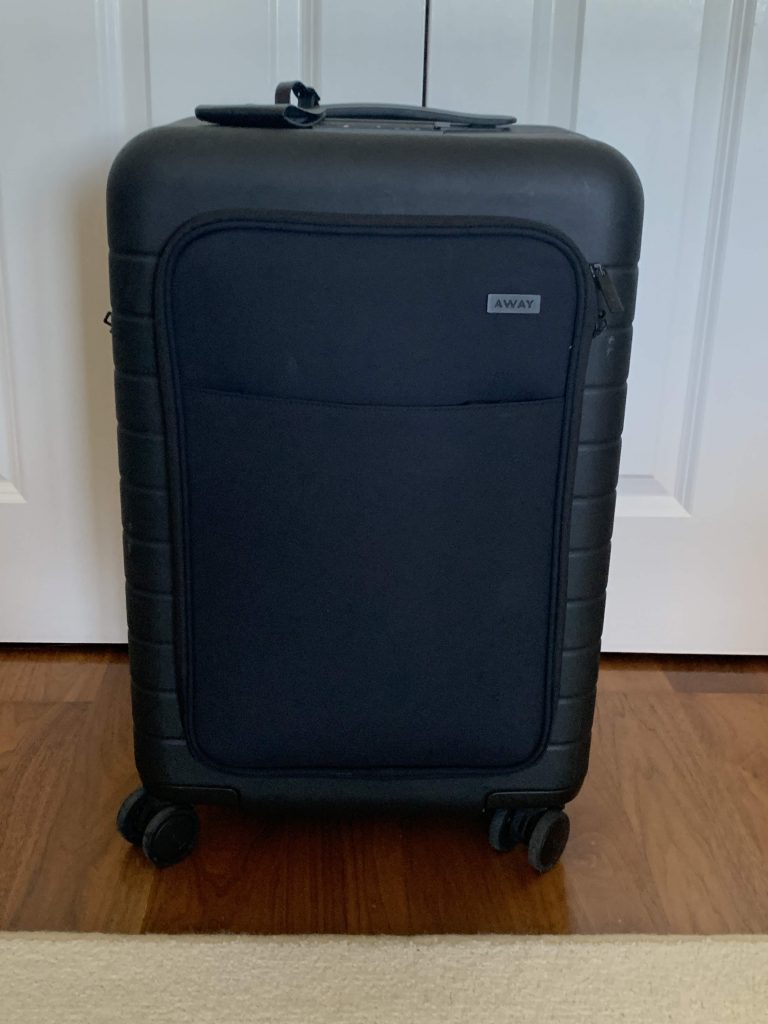 This case is slightly different from the rest as it is at the maximum dimensions for hand luggage and I bought it specifically for the hand baggage only trip I will talk about tomorrow.
The bag comes in a variety of colours – I went for the unimaginative black colour. I thought it looked smart but not particularly luxurious for the £295 price tag. The outside is made of a durable polycarbonate shell. It did have the most crucial feature of a built-in nylon front pocket for the items you need close at hand when travelling. The smaller exterior pocket fits boarding passes whereas the padded interior pocket fits a 15" laptop, magazines, or iPads. Within the pocket, there was also an extra interior pocket that can store phones and passports.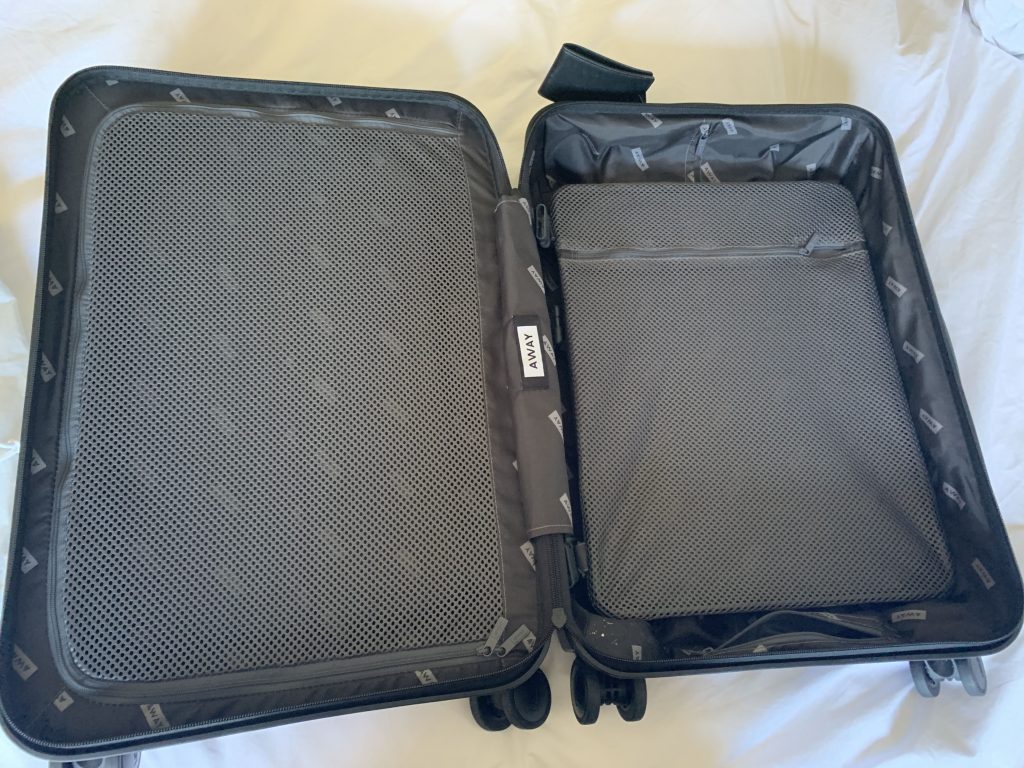 Inside was fairly plain with a compression system. I don't generally need these as I use packing cubes which do the same job. This one consisted of an insert which was attached on one side and had a flat net pocket. You then attached it with clips on the other side and could adjust the straps to make it compress the contents. The other part was a standard case with a net zip top to keep the contents tidy. The case had inset wheels which spin 360°, which means the case offers 10 per cent more packing space versus similar size cases.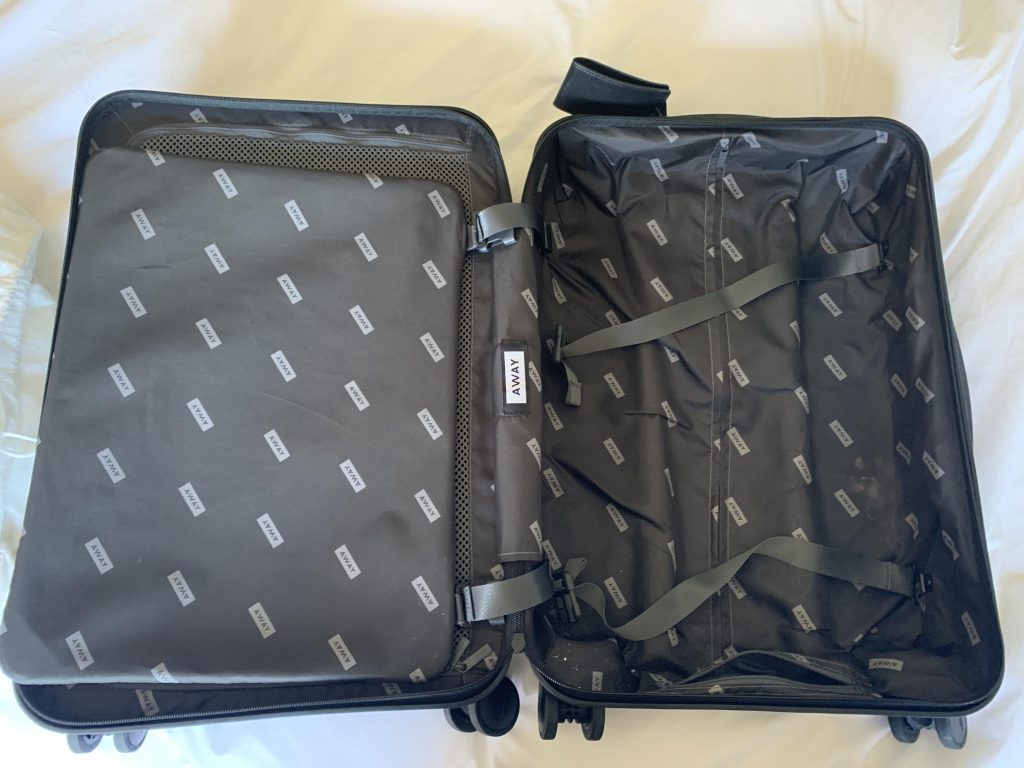 I liked the built-in battery that was on top of the suitcase. It was effortless to remove with a quick push, but I did find it wasn't as easy to get it to stay back down again when you put it back in. It had two USB charging ports so that you can charge your phone and tablet simultaneously.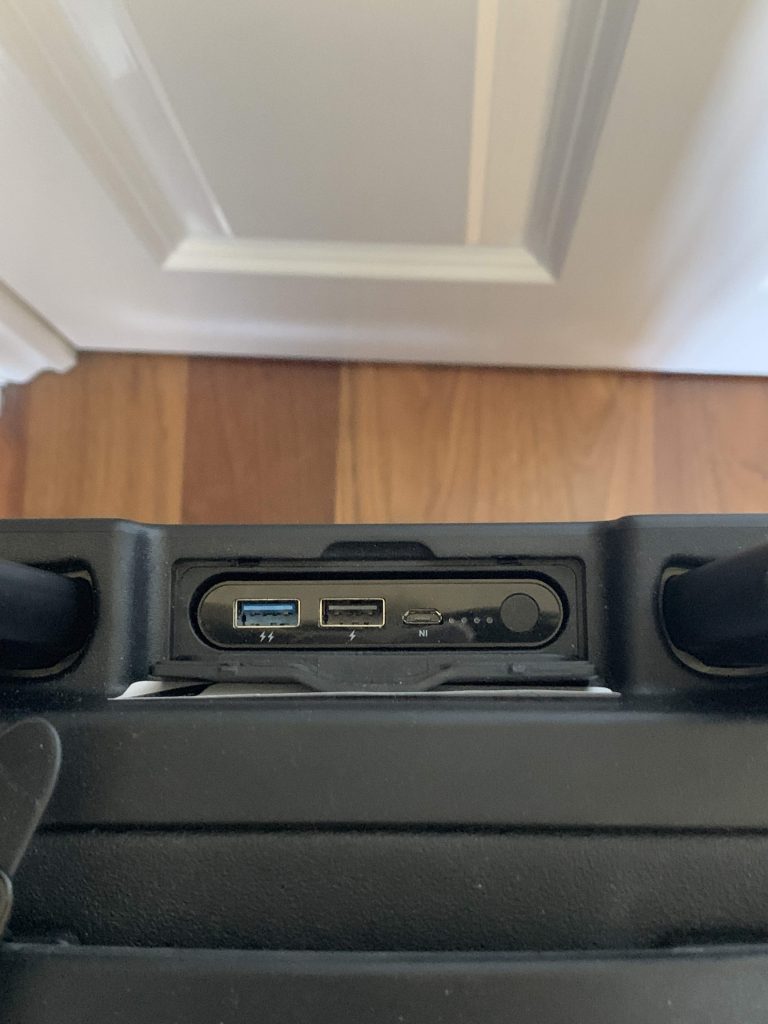 I liked the fact that you can personalise your luggage tag that comes with it with up to three letters though I didn't bother myself.
One feature I like about Away bags is the no quibble 100-day guarantee. You can return the bag in any condition for the first 100 days for a full refund – no questions asked. This is a great risk-free way to try the bag but bear in mind you do have to pay the shipping back to the US for the bag which is not cheap!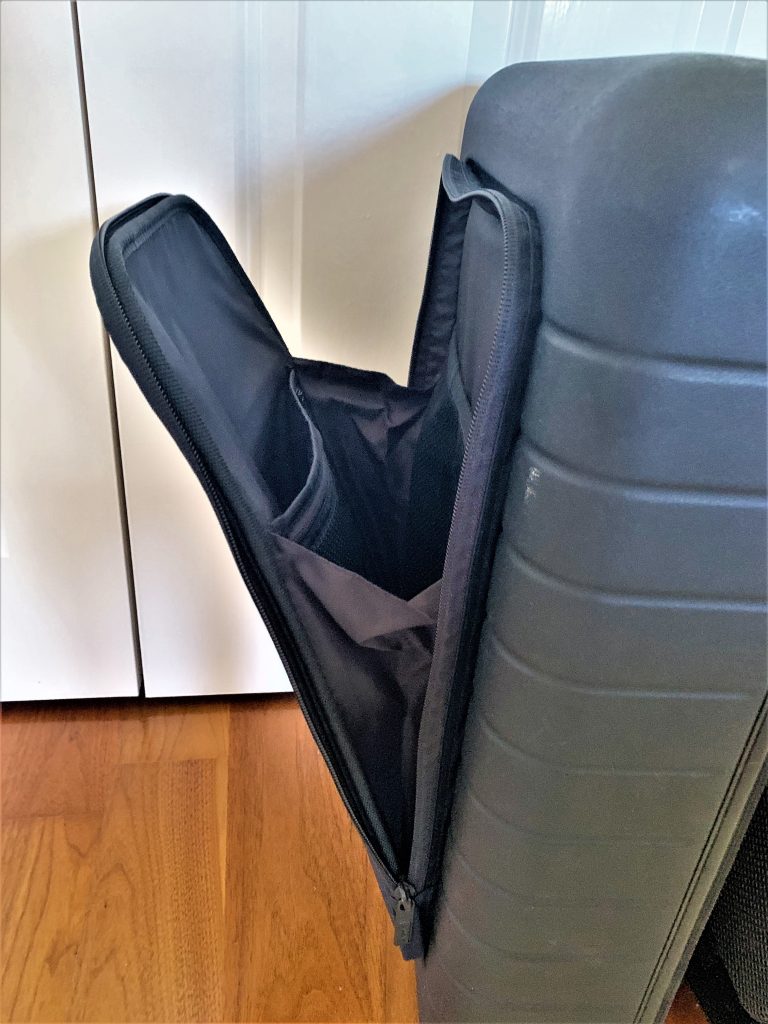 The details
Size: 57.7 cm x 37.3 cm x 24.3 cm
Capacity: 46 L
Price: £295
Weight: 3.9kg
Extras: Ejectable battery that charges your phone
Guarantee: Lifetime
Lock: TSA-approved combination lock for the main compartment. Pocket is lockable but lock not provided.
You can buy one and see further details on the Away website.
Tumi Tegra-Lite® Max International Expandable Carry-On

Tumi claim that the Tegra-Lite® Max case is the most durable and fully functional hard side case made today. Tegra-Lite® is constructed from Tegris®, a polypropylene thermoplastic composite material created by Milliken® for use in lifesaving armour, Nascar race cars and protective gear for NFL players. However, I did find it scratched the first time I checked it in. I suspect the sheen on it would wear badly, but the overall case would be robust.
The case is expandable, unlike the other two and features a front pocket. It also has double turning wheels. I found the Tumi case was the smoothest to manoeuvre out of the three cases.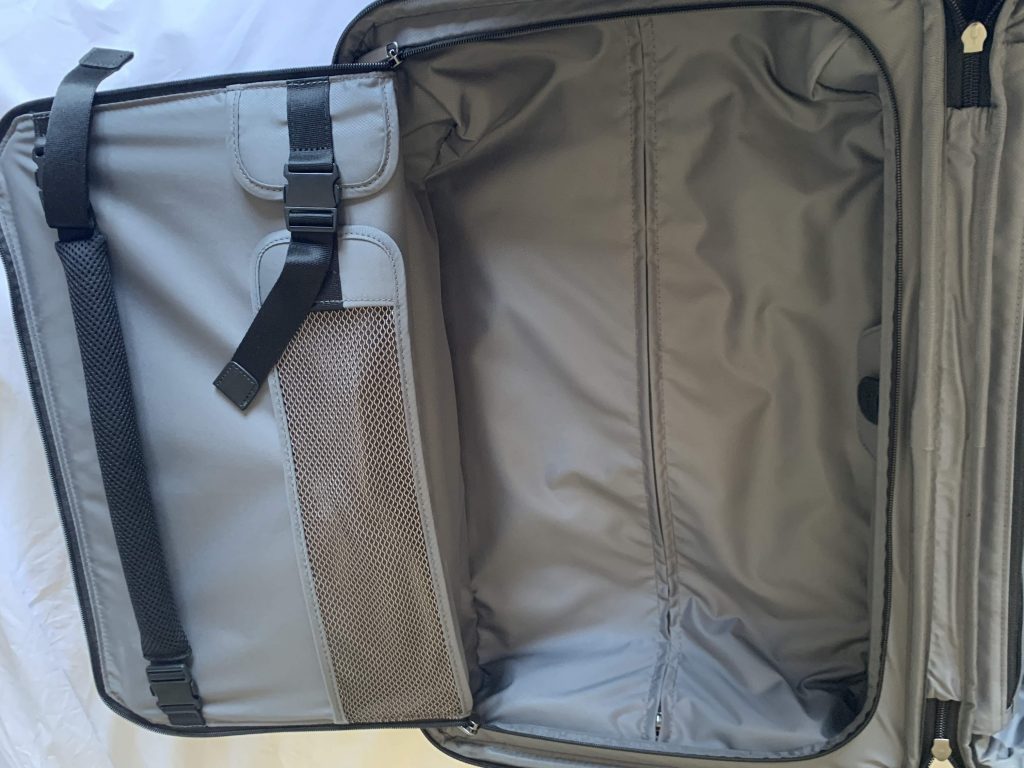 Inside it expands by 2" for extra capacity when you need it and has two packing compartments. There is a hanger bracket for suits and longer garments. Plus there are interior pockets for accessories and mesh tie-down straps. The front pocket was way too small for my needs and it only just squeezed my 13″ laptop in. It does at least have a U-zip pocket to make access easier when trying to squeeze things in!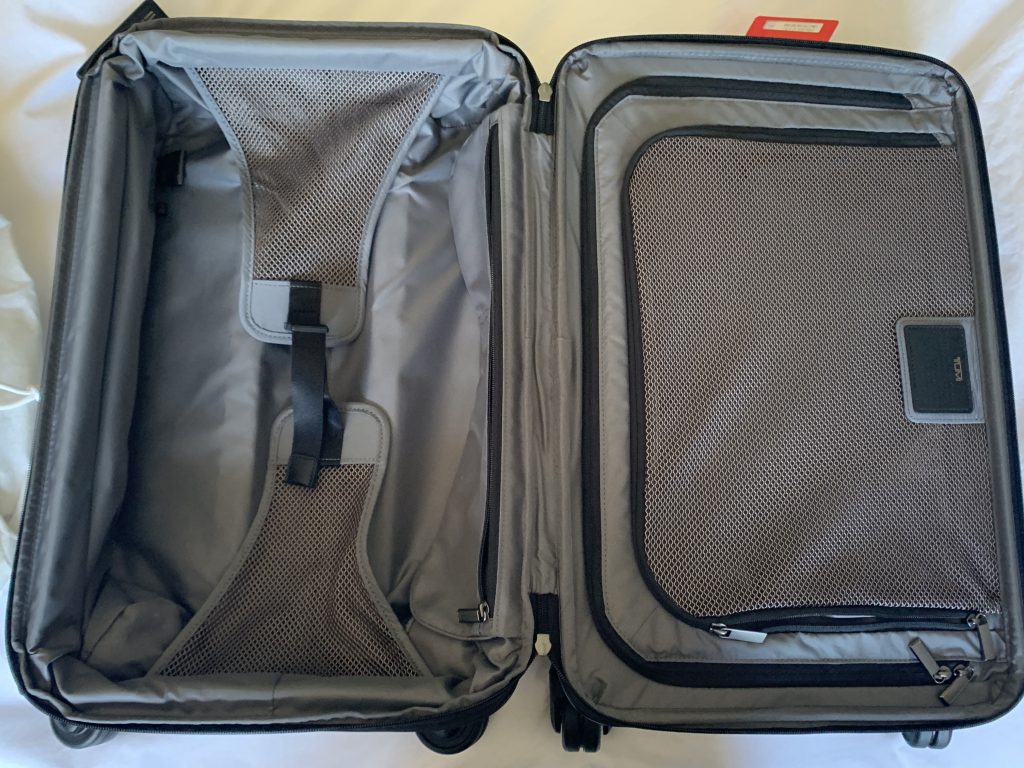 The details
Size: 56 cm x 35 cm x 23 cm
Capacity: 32 L
Price: £445 ( I bought mine at an outlet in the US and only paid around £300)
Weight: 4.2kg
Guarantee: 5-year limited warranty
Lock: TSA-approved combination locks for main compartment and pocket.
In the UK this model does not appear to be available from Tumi, but it is available on Amazon here.
Samsonite Prodigy spinner (4 wheels) 55cm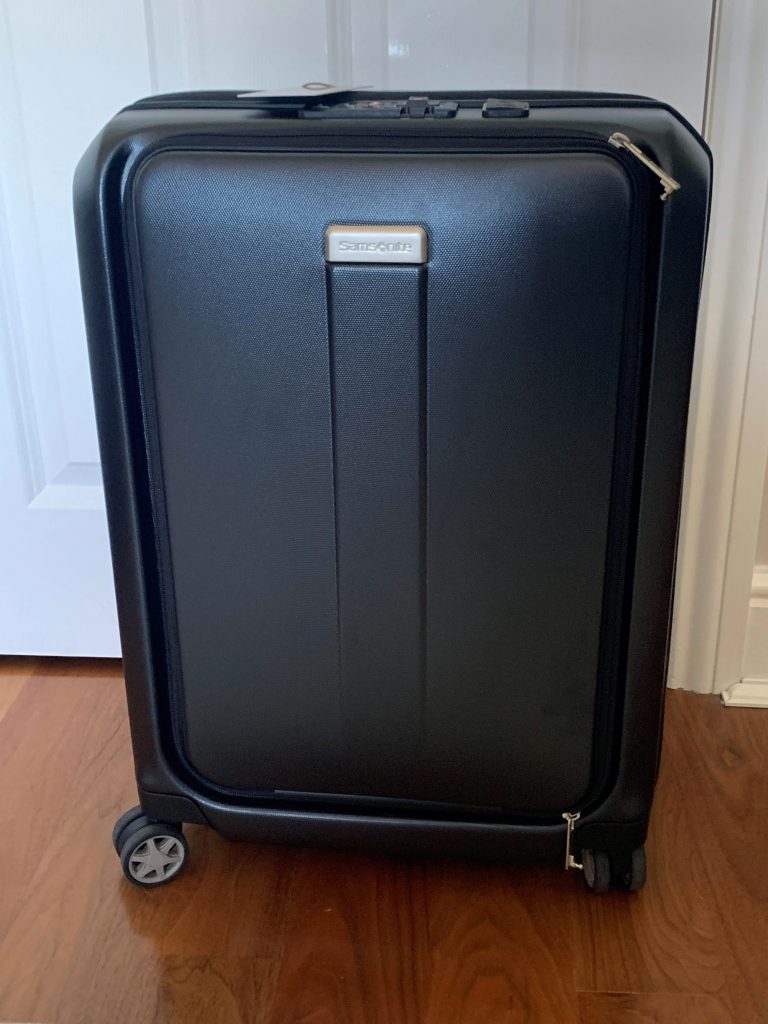 I had been eyeing the Samsonite hard cases with the front pocket for quite a while, and I discovered that they had them at Heathrow's airside Rolling Luggage. I went on my trip to New York prepared with all the essentials in a Longchamp soft bag ready to decant into the new Samsonite bag at the airport.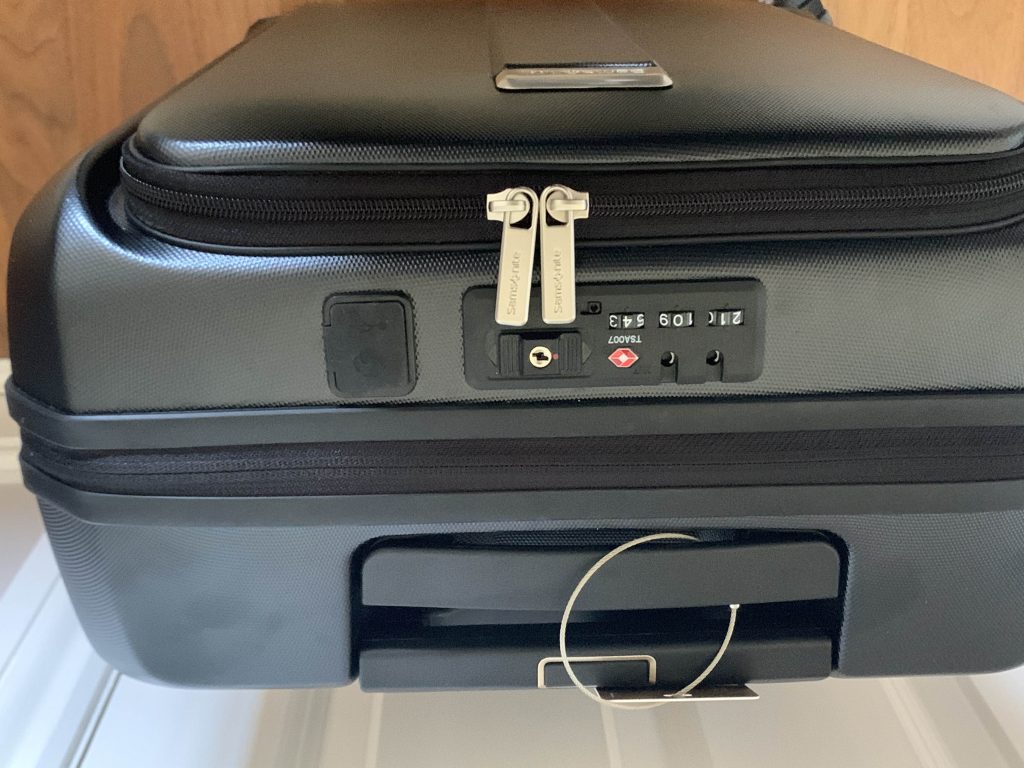 I was extremely impressed with the front pocket. It's a bit like a Tardis. It looks tiny from the outside, but actually it expands to accommodate a lot! As I wrote this, I currently have my headphones, liquids bag, a kindle, magazine, glasses case and laptop (when I am not writing on it) in the front pocket. You can also lock and unlock it separately to the main compartment.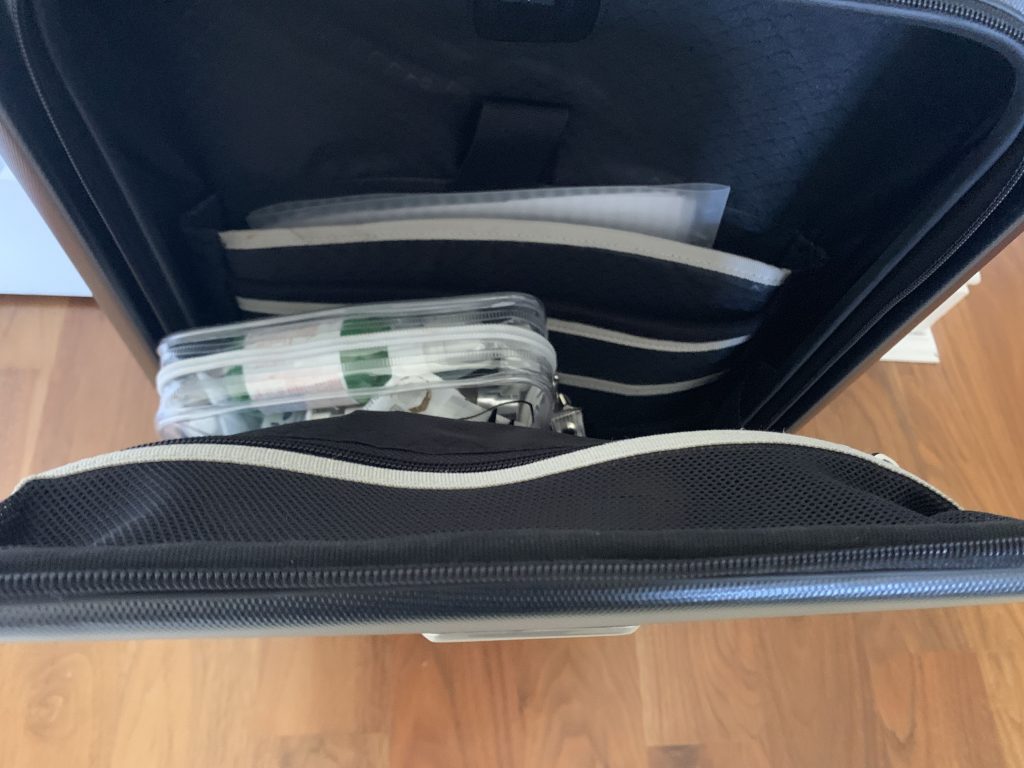 The pocket will accommodate up to a 16.4″ laptop and has a particular area for laptops with a strap to secure it. It has a tablet pocket too, which will take up to a 9.7" screen size. It comes with a small wet pocket for storing wet swimsuits etc.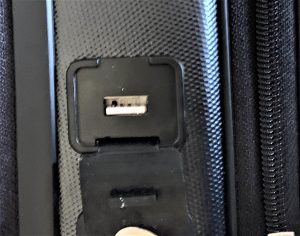 I was also surprised by the accessories it comes with. It includes a Tile Bluetooth tracker (which will be giving away soon as I already have one) and a removable power bank.

I liked the compactness of the power bank as you could take it out and carry it around with you. However, where it was at the bottom of the front pocket was fiddly to take it in and out. There was also only one USB port for charging versus the Away one.
Inside there is one flat net pocket which can only accommodate fairly slim items.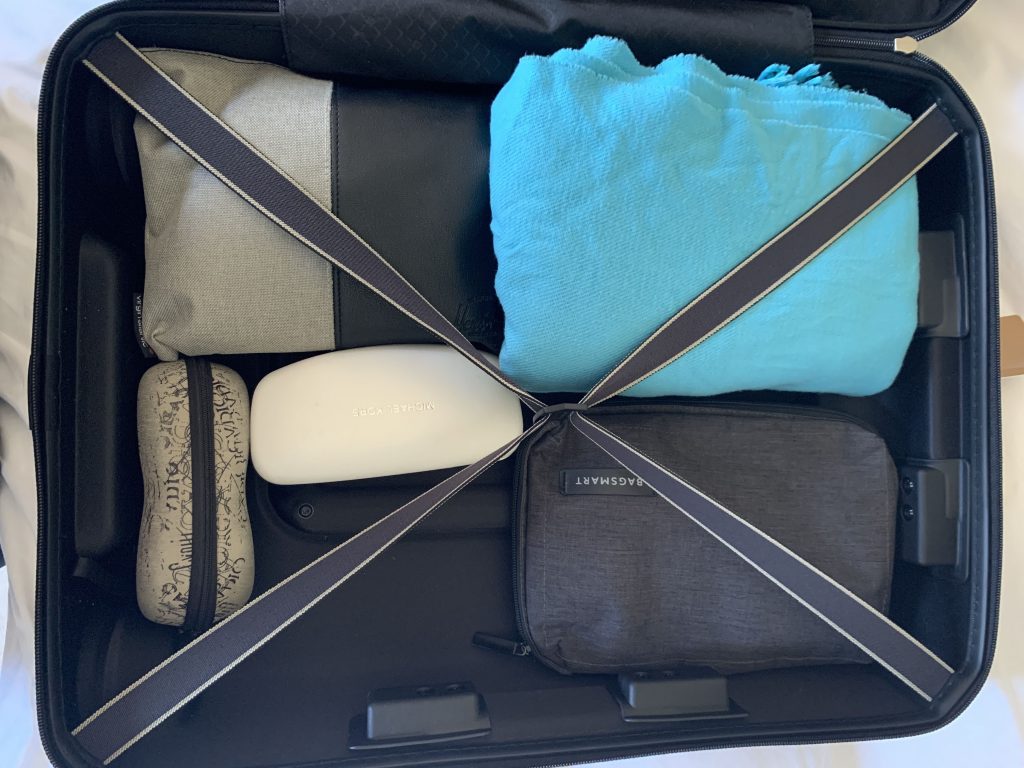 The details
Size: 55 x 40 x 23 cm (including handles, wheels, bottom glides, side pockets and other external parts)
Capacity: 40 L
Price: £140 for the basic version without the tracker/battery. £210 in duty free (Rolling Luggage) for the version I have reviewed
Weight: 2.8kg
Guarantee: Limited 5 year global warranty
Lock: TSA-approved combination locks for main compartment and pocket.
You can buy the Samsonite suitcase on Amazon for £140 for the black version or £137 for the gold version.
Samsonite v Away v Tumi… And the winner is…..
The main issue with Tumi and Away was the weight of the bag. When many airlines have a limit of 7kg, having a bag that weights over 4kg before you even start is not great. Plus there's the effort of lifting it into the overhead locker if it is heavy before you even fill it. I thought that the Tumi looked very smart with its shiny blue shell, but it scratched very quickly after the first time I checked it in.
Inside the Tumi was the most well organised with various compartments. However, in terms of the front pocket, only the Samsonite gave me what I was truly looking for – enough room to store all my essentials in handy reach – laptop, headphones and liquids bag. The trade-off is that the inside space is much reduced with only one proper space for items. For a carry on bag, it's not an issue for me as I would not be using this except for a one-night stay maximum. Given the low price of the bag too on Amazon, it's a no brainer for me.
If I wanted something for travelling hand baggage the only choice would be the Away case – plenty of room, a decent size front pocket and lighter weight than the Tumi.
Like our review of Luggage review: Battle of the carry on – Samsonite v Away v Tumi? You can read more luggage reviews here.