Despite being a very frequent traveller I am afraid to admit I am a serial over-packer. As I travel so much, I like to have all my essentials with me. Normally I travel with both a checked in case AND a hand luggage wheelie case. Recently I did a tier point run with Deputy Editor Paul to Asia that involved a gruelling 12 flights in 6 days. Paul is the complete opposite and travels pretty much everywhere hand baggage only – once even for a 10-day trip!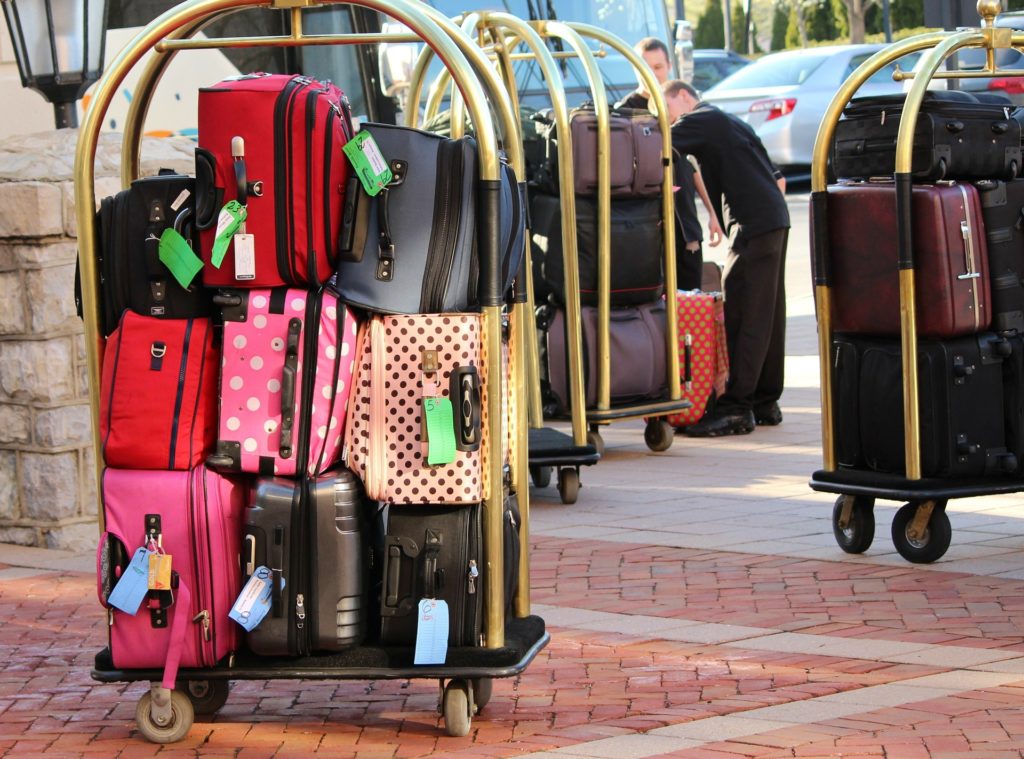 When to consider hand baggage only
Other than for a short trip, there are certain situations that make me consider when I should go hand baggage only. On this trip, I did not have any particularly tight connections except for one from Jakarta to Bali which was on a separate ticket. Normally tight connections would mean that I would consider hand baggage only. This is often the time that you make your connection but your baggage does not even on the same ticket. On separate tickets, the risk is greater as you will need to collect your luggage and recheck it in most cases. However, since there was at least one flight an hour to Bali and they were cheap, I wasn't too bothered if I missed it.
The thing that made me decide not to risk checking luggage (other than the look of impatience on Paul's face when we are standing waiting for my luggage of course!) was the itinerary as a whole. We had a chain of connecting flights followed by two nights in Bali. Our itinerary was London-Milan-London-Singapore-Hong Kong (overnight stop)- Jakarta-Bali-(2 nights)-Jakarta (1 night)-Hong Kong-Singapore-London-Milan-London. Makes me feel tired just reading that!
Setting aside the two back to backs we did in Milan, the main reason for hand baggage only was this. We were constantly moving around for almost the entire trip. So if a bag went missing somewhere, the chances of it being reunited with me before the end of the trip were pretty slim.
My luggage has only been lost once up to now on the outbound part of a trip. It was in similar circumstances where I was travelling around a lot and finally got my luggage at the airport on the way home!
So what tips can I give on managing with hand baggage only for a longish trip?
Make sure you have the biggest allowable hand baggage
Paul uses a Briggs and Riley case similar to this one which is also expandable, although that will take you over the maximum bag size for most airlines hand luggage policy if you do that.
As I reviewed yesterday I used the Away bigger carry-on with front pocket. This is perfect for hand baggage only trip although I did find it a little large for my normal carry on. The front pocket also made the perfect storage for my laptop. Don't forget in addition to the main piece of baggage you can also have a small personal item which is worth taking advantage of as it's not actually that small! On BA the main hand luggage item must not exceed 56cm x 45cm x 25cm and the small item must be no bigger than 40cm x 30cm x 15cm. Both items can weight up to 23kg each.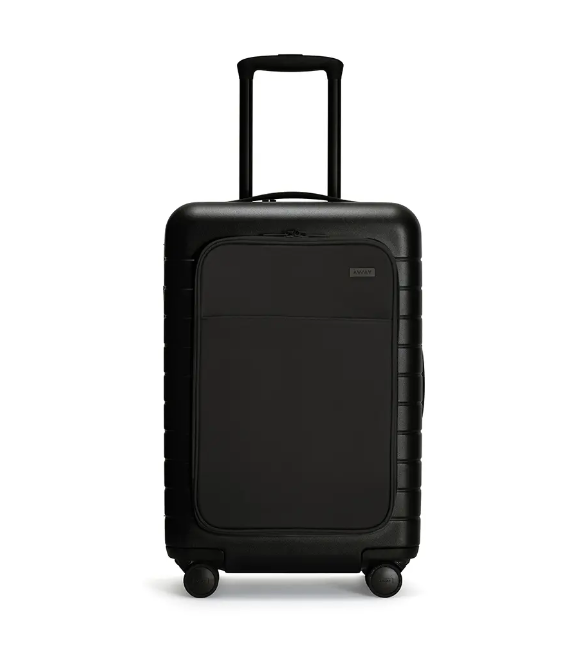 Organise and compress your clothes

Both Roving Reporter and I swear by packing cubes. Not only do they keep your stuff organised but they also allow you to cram more into your case by compressing the contents. They are perfect for trips where you move around a lot as you can simply put the cases straight into a drawer without having to unpack properly. The trick is to roll your clothes and put them in the packing cubes until they seem slightly overfull. They will still do up and this will compress your clothes nicely.
The Ebags packing cubes set is a good starting point but I also have a couple of the smaller bags as they fill gaps nicely and are a great size for underwear.
Another option is vacuum packing to save space. Whilst there are various manual versions on the market I don't tend to find them very effective or easy to use. The new to market product Pacum looks like a very interesting product which I have just ordered. This uses a vacuum pump to withdraw all the air from the bags in just 90 seconds.
Toiletries and liquids
For me, this is the most challenging part of the packing – how to fit my toiletries for a week into that tiny bag for security.
Here are a few tips:
Invest in a proper liquids bag – it is less likely to disintegrate or break and you can fit more in with a robust zip and better design. I am currently using this one.
Consider what you can buy in the destination or the final airport of departure after security
Research what you will get in the airline amenity kit. Often the toothpaste can be enough for a week or more.
Don't forget your amenity kit will have to go through security although most Asian airports and some in the Middle East don't seem so bothered about liquids as long as they are 100ml or less
Try to get wipes or solid version of things that don't have to go in your liquids bag. For example, you can get face wipes instead of cleanser, solid deodorant, solid sunscreen sticks, insect repellant wipes, self-tan wipes, lens cleaning wipes and even shampoo bars! For the ladies, you get stick foundation or powder and lipstick instead of lipgloss.
Don't forget about all those free samples in sachets – the BA Elemis spas will give you some as well.

Most perfumes and aftershaves come in big bulky bottles which weigh a ton and are fragile too. There are a number of similar products on the market but the Travalo Milano gift set is the best for flexibility. You get one spray holder and then three interchangeable sprays to put in the holder. They are very simple to fill – simply take the spray top off your perfume or aftershave bottle and with a couple of pumps into the Travalo you have a ready-made mini spray to travel with.  If you want just one they also do a single Travalo in various colours.
What to do about leads and plugs?
Often if you have quite a few electrical gadgets all the leads and adaptors can take up valuable room. Thanks to Paul's recommendation I now have a single adaptor and charger port in one with this gadget. I can charge both my laptop and all my gadgets via the USB-B and C ports and it comes with 3 plug adaptors.
The small INATEK charger is perfect for most trips. Unlike some of the bulky all in one chargers it doesn't half hang out of the socket due to the weight of it and its compact design makes it ideal for your hand luggage. It comes with plugs for the EU, UK and US which simply slip on and off.
I then just keep all my cables organised in this case without the bulky plugs.
BAGSMART organisers come in a range of sizes from the BAGSMART extra large double layer (£26.99) which can hold up to an iPad Pro plus cables, earphones, adapters etc to the more compact BAGSMART Cable Organiser (£13.99) which is the one I used on this trip.
Consider hotel laundry
Now I realise that hotel laundry is expensive, but sometimes needs must and this was how I managed to survive the 6 days without an overflowing suitcase. I put all my clothes that I had travelled out in through the hotel laundry in the Conrad Bali (it's included if you have a suite and many club rooms often offer this in Asia).
What about sending your bag ahead?
There are lots of companies that ship luggage ahead for you. This is not cheap but a good solution if you are able to check in luggage on the way home. Send my bag is one of many companies that do this. Obviously, you will need to allow enough time from sending for your bag to arrive in time for when you get to the hotel so you need to be organised in advance.
Do you travel hand baggage only regularly? What are your top tips to cram it all in? Let us know in the comments below or on social media.