If you follow this blog on social media you will have seen me mention the fabulous bargain lunch I had in London last week. This is a more in-depth look at what £52 gets you for lunch at a 2 Michelin star restaurant. In the next few days I will also be looking at my Airbnb experience and stay at the Langham Hotel from the same trip.
Background
Hélène Darroze is situated in the Connaught Hotel in Mayfair which has a long history. The original hotel, the Coburg, opened in 1815 and has welcomed royalty with visits from HRH the Queen and Prince Charles. Ralph Lauren was said to be so enamoured with the staircase that he had a replica made for his flagship store.
French-born Hélène Darroze is currently head chef at Hélène Darroze in Paris, France and Hélène Darroze at the Connaught in London. Darroze worked with 3 Michelin star chef Alain Ducasse at the prestigious Louis XV restaurant in Monaco. She is currently the only 2 Michelin starred female chef patron in the UK.
In the beginning…
One of the things I love about eating at Hélène Darroze is the restaurant itself. It manages to have an old world charm without being dated. Unlike many Michelin star restaurants that are very small, it is a spacious restaurant with some unique touches. I particularly like the display of food under the glass cloches as you walk in that adds a colourful touch to the room.
When you are first seated at the table you are brought a choice of the tasting menu or the set lunch menu. The tasting menu is presented in a very unusual way with individual marbles to represent each course on a wooden board. We opted for the lunch menu at £52 for 3 courses and 2 glasses of wine. A large bottle of mineral water each and coffee is also included. A 12.5% service charge is added in addition.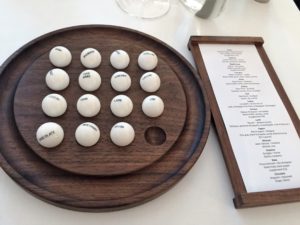 Each course had a choice of 3 items and we were asked if we had any allergies or dietary requirements. They were very good at discreetly making substitutions where necessary.
The choices for starter were:
Foie gras with green apple, black truffle and celery
Mackerel with avocado, black radish and white soy
Blue fin tuna with daikon avocado and shisho – £25 supplement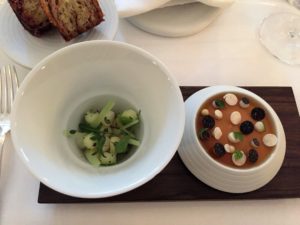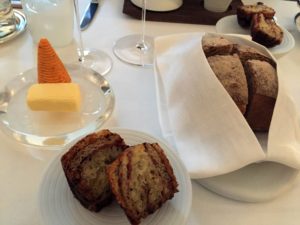 I decided on the foie gras even though I am not overly keen on black truffles. Whilst we were waiting they bought us a selection of 3 different canapes. There was an ice cream cone which actually contained beef tartare, a delicate pastry puff with mackerel and for me a radish topped with a savoury mousse. My dining companion had the standard option for his 3rd canape which was an oyster with a grapefruit foam. Both the first 2 canapes were light but with a burst of flavour. Unfortunately my substituted canape was a bit of a disappointment as it was rather bland.
We were also bought a basket of warm bread and 2 types of butter. One was good quality unsalted butter but the other was somewhat unexpected. It was a chilli butter and whilst it initially lulled you into a false sense of security, it soon hit back with a punch of spiciness!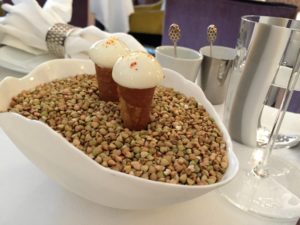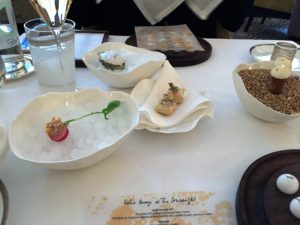 We both enjoyed our starter which were served with a glass of matching wine. This was a rather unusual amber coloured wine from Italy called Rigogolo Ravenna Bianco made from the Albana grape. It had a very dry finish with high minerality which may not be to everyone's taste. Before each wine was poured you were given a taste so you could swap if you weren't keen on the wine. The foie gras was silky smooth and rich with tiny hints of black truffle. The celery and apple salad that accompanied was a perfect antidote to the richness of the foie gras but was a little 1 dimensional and could have done with more of a dressing perhaps. It was also served with a delicious toasted brioche to spread the pate onto.
The main event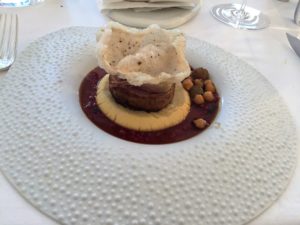 We could have had:
Cod with oyster, dill and potato
Lamb with chickpea, pimiento del piquillo and ras el hanout
Chicken with black truffle celeriac and sorrel (£28 supplement)

chickpea chips – a revelation
Being lovers of lamb we both chose the same lamb main course. This was a slightly unusual dish for a French chef being spiced with middle eastern Ras el hanout. The dish was topped with a type of spiced poppadom which added some crispness to the soft lamb underneath. The delicate balance of spice was perfect with the succulent sweetness of the lamb.
The most surprising part of the dish was the "chips" which kept us guessing for a while. After the first bite we could tell they were not potato but perhaps had the texture of polenta. Remembering the menu, I then wondered if it was chickpea. Although it was hard to detect a strong flavour as they too had a light spicing. They were delicious and very light in texture. It turns out they were indeed made of chickpeas. I will be trying this out at home to see if I can replicate them.
The wine choice that accompanied the lamb was a French blend of predominantly Cabernet Sauvignon from Provence. Despite the grape, it was still a lighter style wine with a slightly spicy finish that was the prefect accompaniment for the lamb,
In conclusion

Before we were given our dessert we had a lovely, refreshing sorbet which was made from citrus and basil. If you have never had basil in a dessert before, I can highly recommend it. Although it sounds rather odd, providing it is done with a light touch, it can be delicious.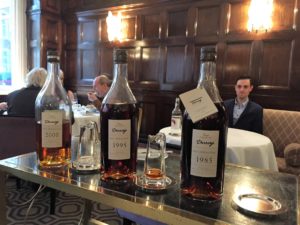 There was a choice of
Rhubarb with almond and rose
Chocolate with ginger and lemon
Baba (£12 supplement) with exotic fruits and black pepper
I am not keen on rhubarb or chocolate so I had the baba. When I saw what
was included, I did not mind the £12 supplement. A trolley of 3 different vintage Armagnacs was wheeled over. I chose the oldest vintage and was surprised when an extremely generous portion was poured over the baba. Let's just say it was just as well I wasn't driving because it nearly blew my head off when I took my first mouthful of the booze laden dessert! Very unusually for me, I would have preferred slightly less alcohol as it was a little overpowering. Well at least I got the value out of my £12 supplement! The revelation was the black pepper creme chantilly. It was absolutely stunning and again, something I will try to replicate at home perhaps as accompaniment with strawberries.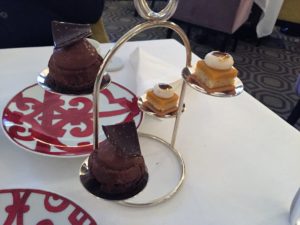 No wine was included with dessert but we had spotted a rather intriguing Chinese ice wine. I am always keen to try something new, so we ordered a glass each. We had rather a long wait for dessert so they actually gave us a second glass on the house as well. The ice wine went well with the dessert despite not being the recommended wine for my choice. It was made from Vidal grapes, like most ice wines and was less sweet than many ice wines I have had. The slightly citrus hints and acidic finish went well with the fresh fruit. I have to say it was not the best ice wine I have had but worth a try.
Finally we had coffee which was accompanied by petit fours.
Overall this was an amazing bargain when you consider that you could easily spend this on a very average meal in a high-end chain restaurant. The food was well deserving of its 2 Michelin star accolade. When you include the 2 bottles of mineral water, wine, coffee, bread, canapes, pre dessert and petit fours as well,  it has to be one of the best value lunches in London.
You can find out more about the restaurant here.