Today's reader review is from Jean. The newly opened Lost Property St Paul's hotel in a Grade II listed building marks the first Curio Collection by Hilton property to open in London's Square Mile
Prices start from 51,000 points or £153, which is very reasonable for London now!
New Curio hotel by Hilton – Lost Property St Paul's, London review
We had a night in London this week to visit the new Gunpowder Plot "immersive" attraction by the Tower of London (actually very good – a mix of live actors and VR), as well as a "brother's tour" of The Charterhouse. The wildflowers of the Tower Moat, which must have been wonderful, were looking rather dried out now.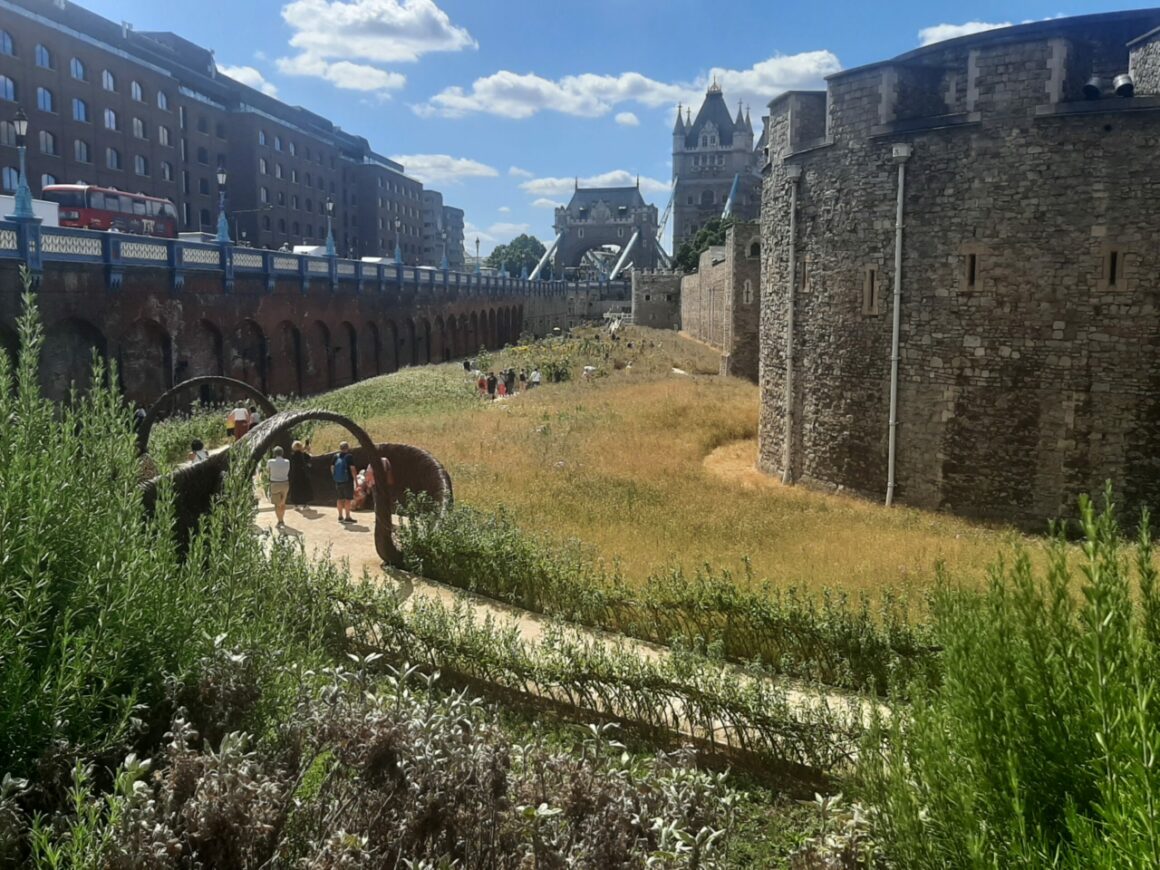 Location
The location is right towards the front of St Paul's on Ludgate Hill (next to McDonald's), around 100m away from St Paul's Cathedral. It has a "Tattle" premium coffee shop linked to it along the front, which looked very good. The building has the original front exterior but stretches away from the main road to the newly built part.
Check-in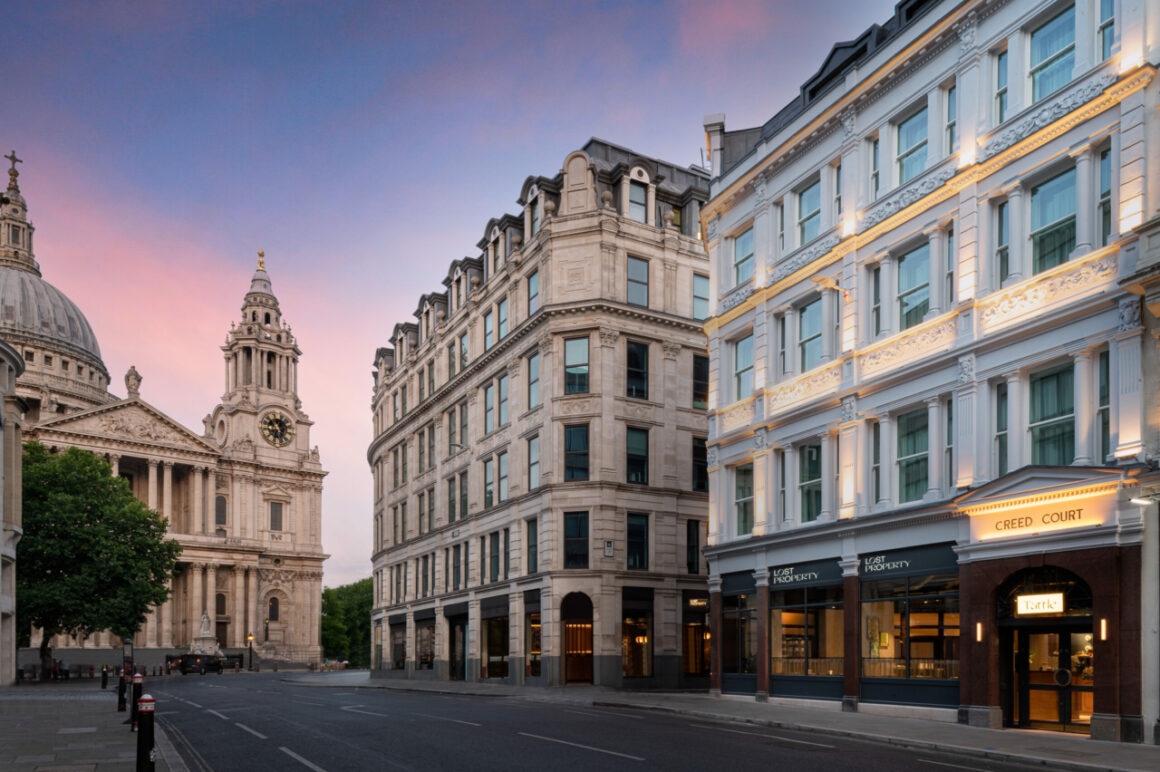 We arrived at the hotel to check in at 12pm. They are still getting used to the front desk system, but the staff were helpful, and, although the room was not ready yet, a one-category upgrade to King Superior was promised (also reflected in the HH App) as we're Diamond.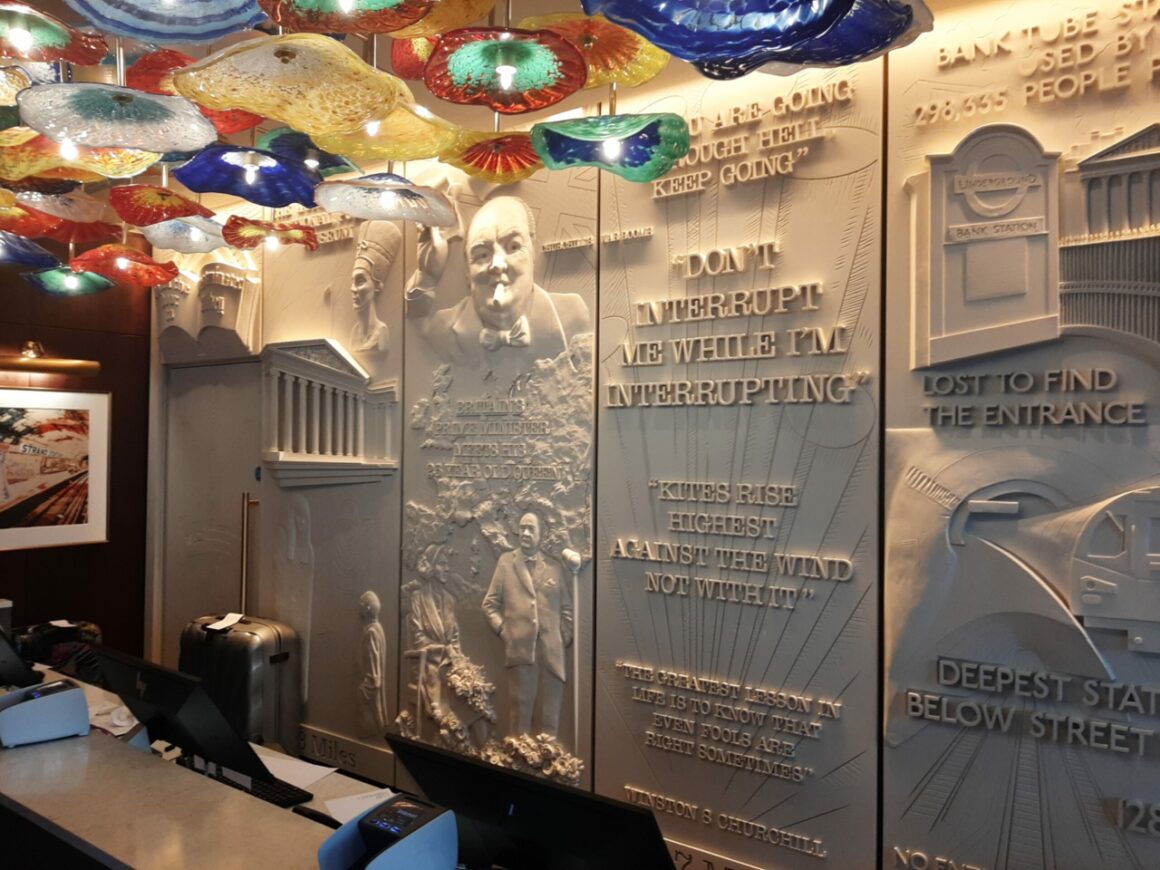 There was no advance notice of this when I checked online earlier. Also, no floor plans are available yet. I thought I would request a digital key, as this may have told us when the room was actually ready. Our friends had booked a King Deluxe.
There is a wonderful mural behind the reception desk celebrating "lost" items and a slightly disconcerting "lost soul" against a back wall.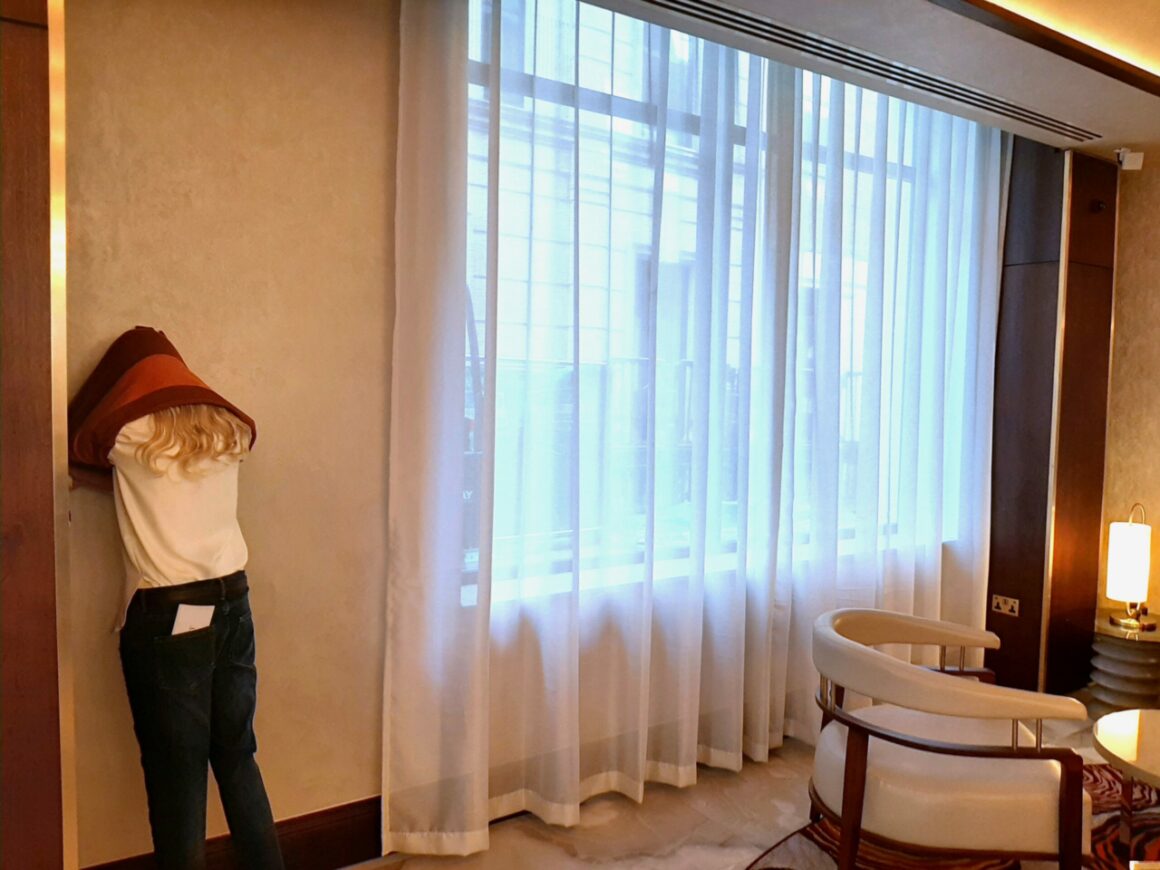 Returning at 4.30pm, our rooms were ready and keys issued OK. I checked the digital key request, but this remained "still waiting" for the whole stay.
The room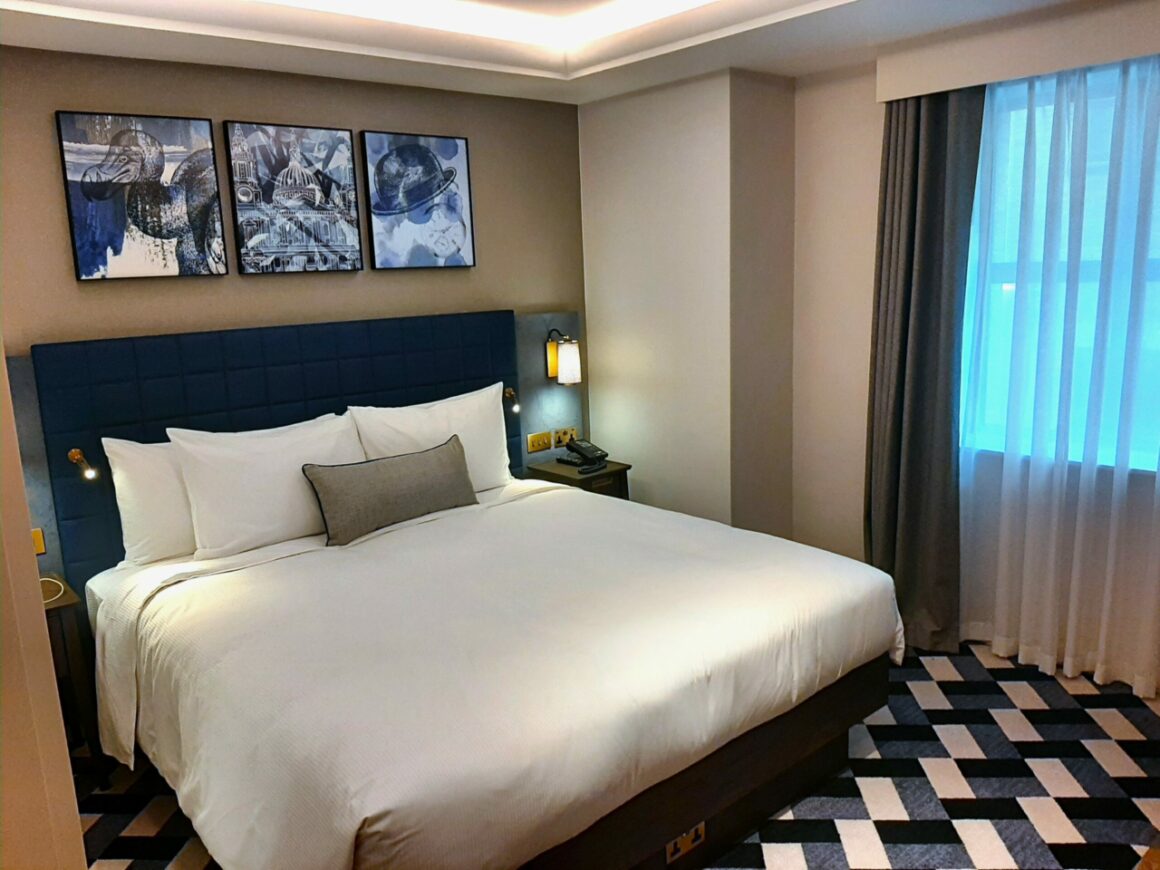 Our 2nd-floor room was small! A small fixed window looked across a narrow side street to the office block above McD's. There was also not much space at the side of the bed and a very odd chair, stool, and round table at end of the bed, which was rather in the way – in our room we could at least move it under the large TV.
Plugs with USB were on both sides of the bed, and by the Nespresso and Kettle unit with a fridge underneath, also sockets under the end of the bed – presumably for if you tried to work on the round table!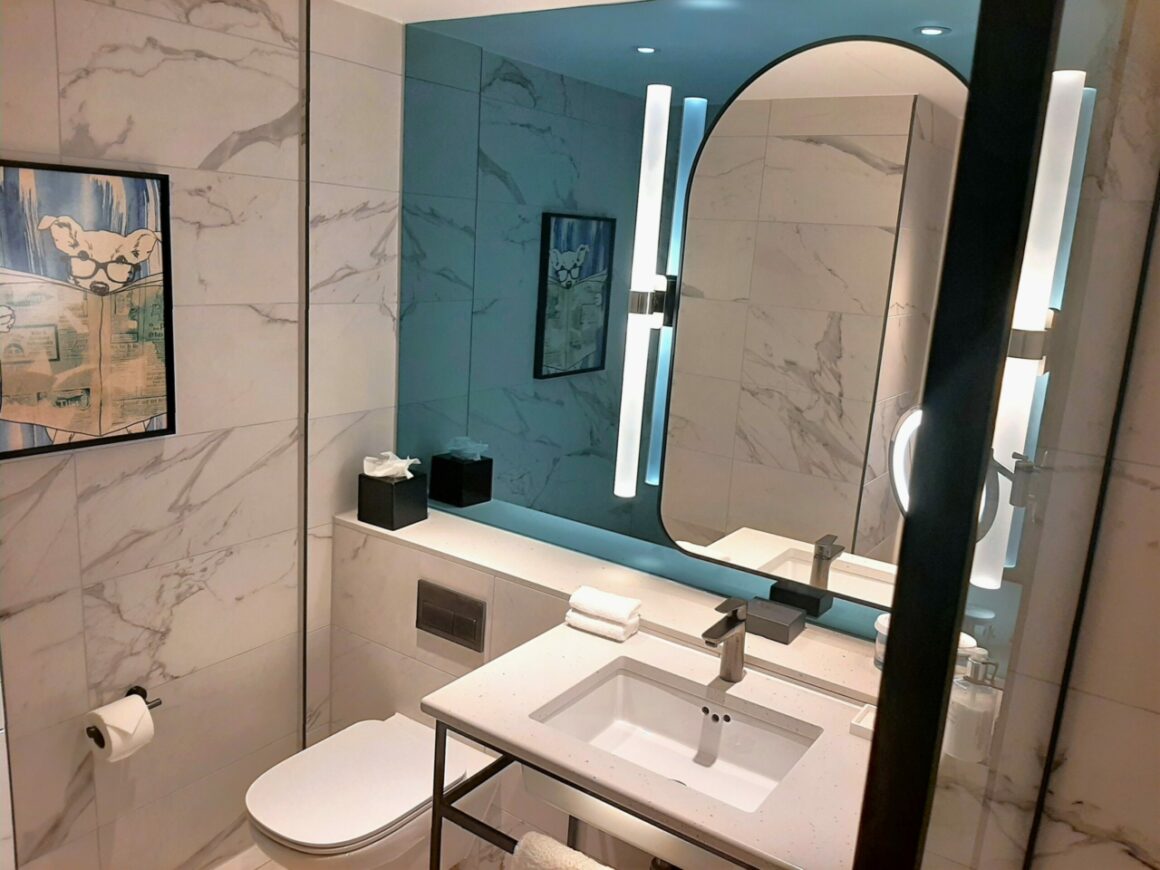 There was a wardrobe with a safe, and the bathroom had a sliding door along the side with a large shower and good Quercus products. Just a soap bar for the sink, but a nice box of vanity extras. Also had a useful night light in the bathroom on the front of the sink.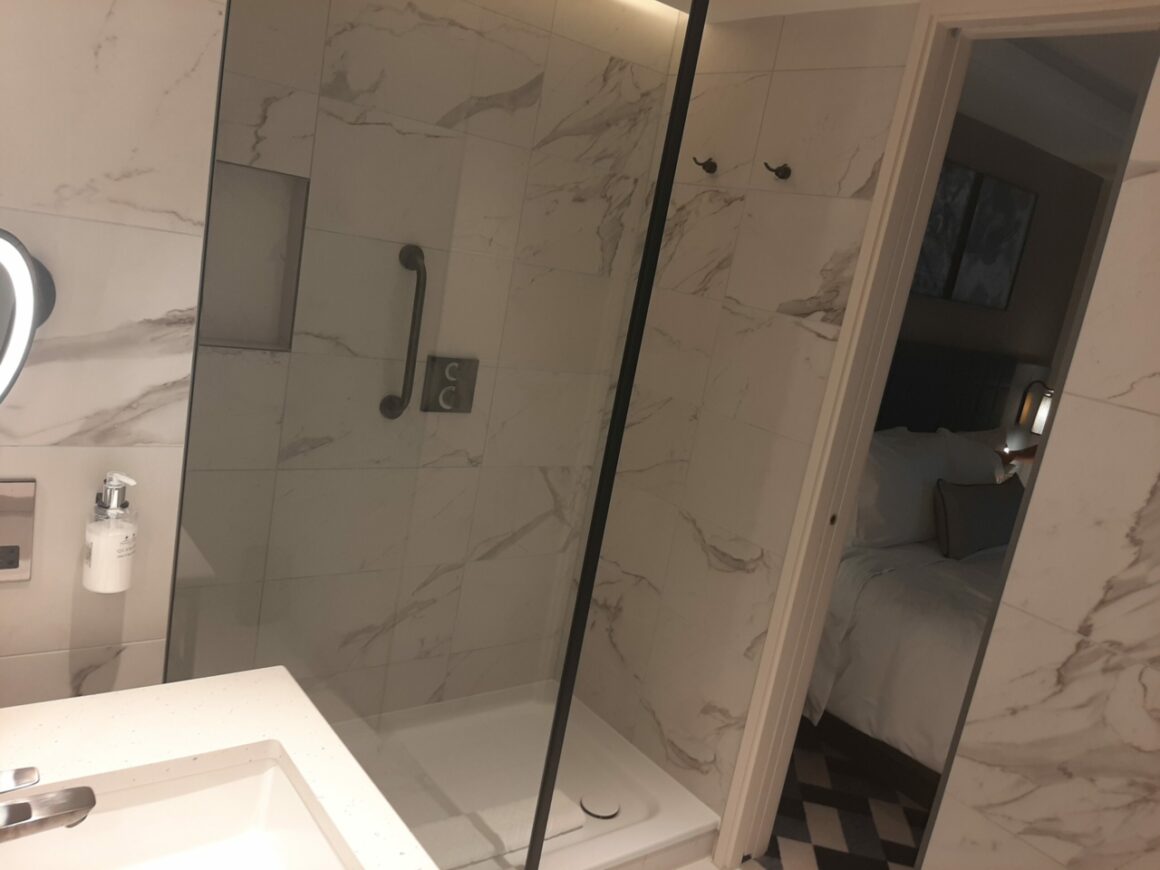 Our friends were in a King Delux on the 4th floor in probably a smaller main room than ours, but a much bigger bathroom opposite the end of the bed. The table and chair at the end of the bed were in a ridiculous position blocking access to the bathroom and even round to the main door, and so they moved it into the only available site – some dead space by the toilet. It would add a new dimension for Zoom calls perhaps!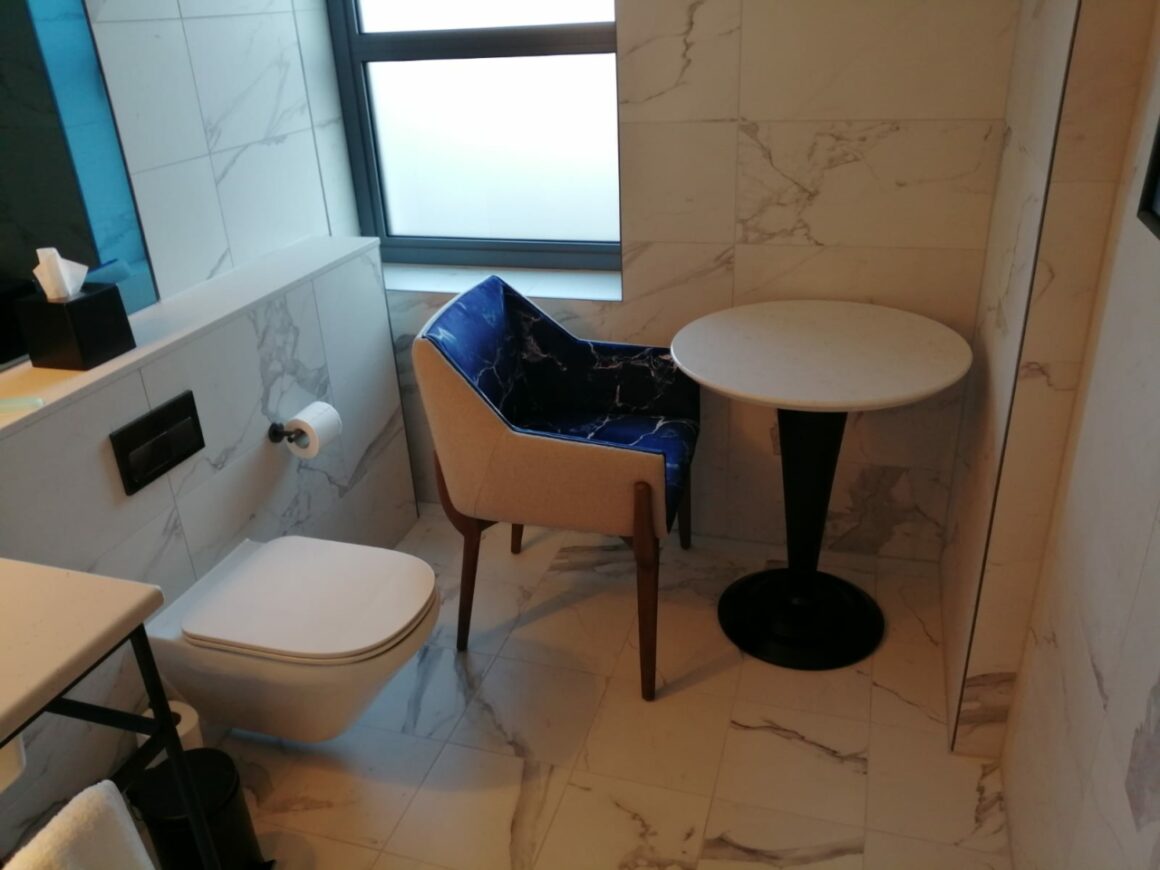 They overlooked the narrow road on the other side but could at least see over some rooftops, and they did have one window that opened.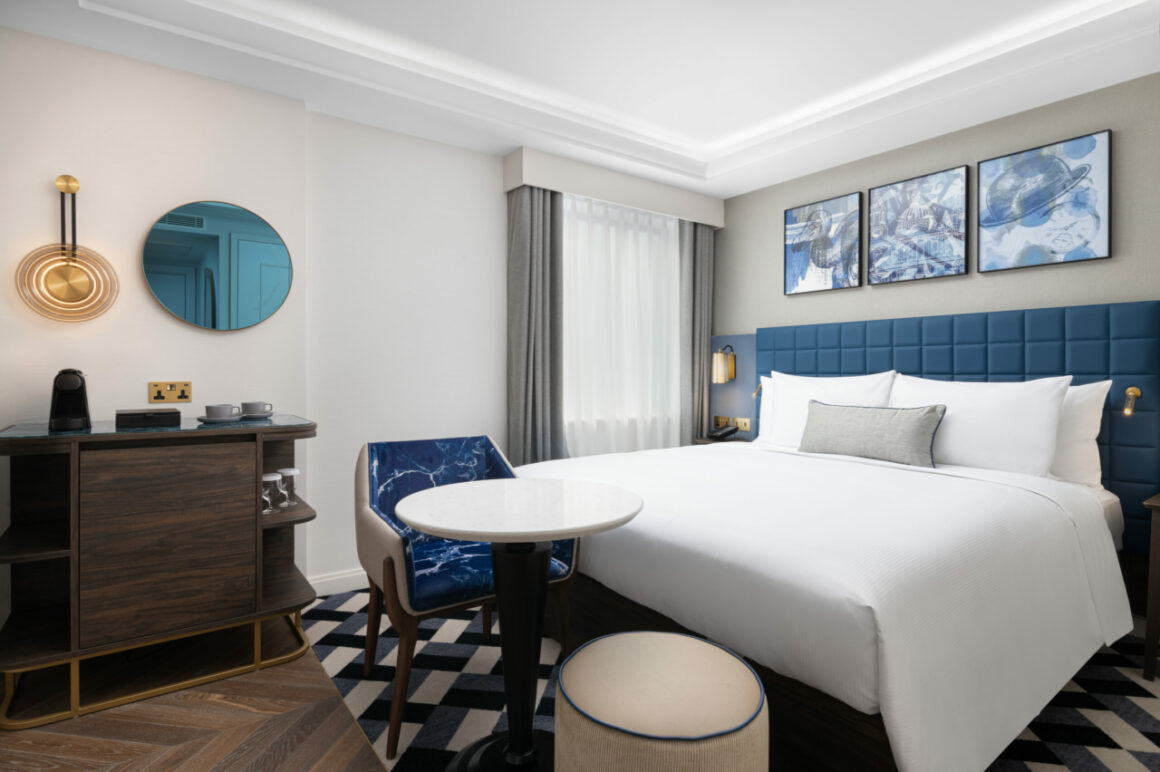 Despite being a busy Thursday night, especially at a pub near the back, they were very quiet rooms (with the window shut) and corridors!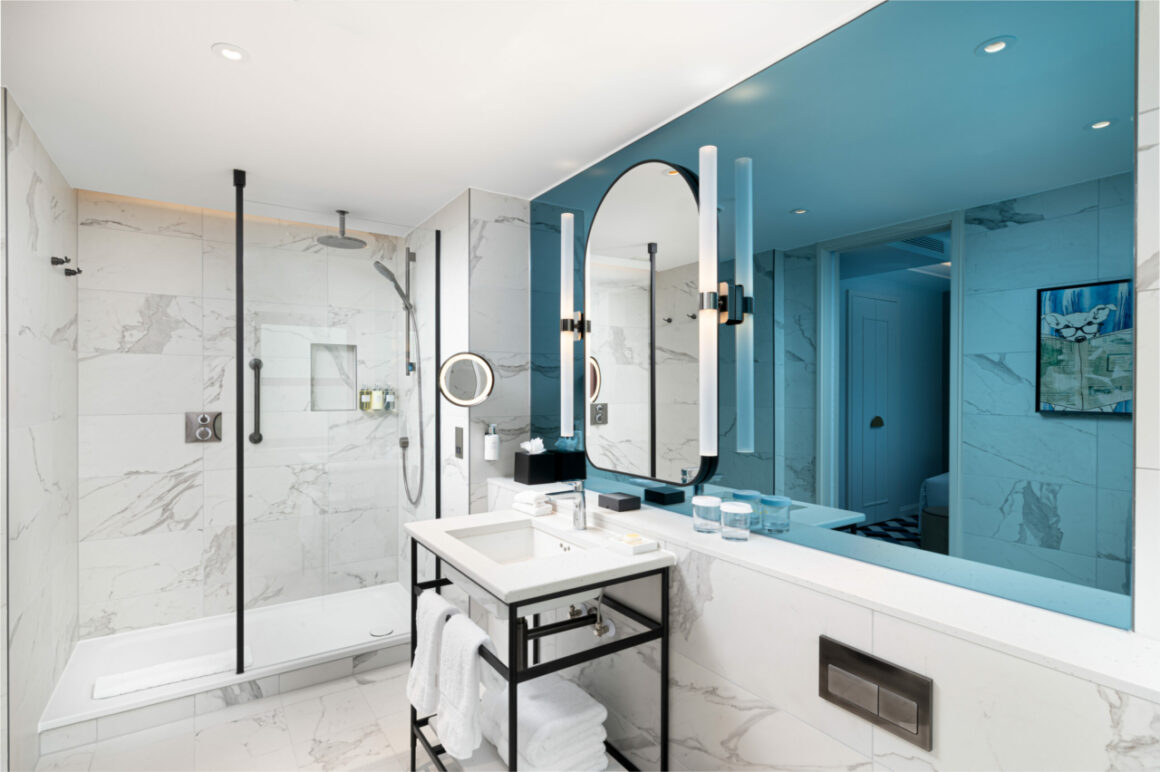 Food and drink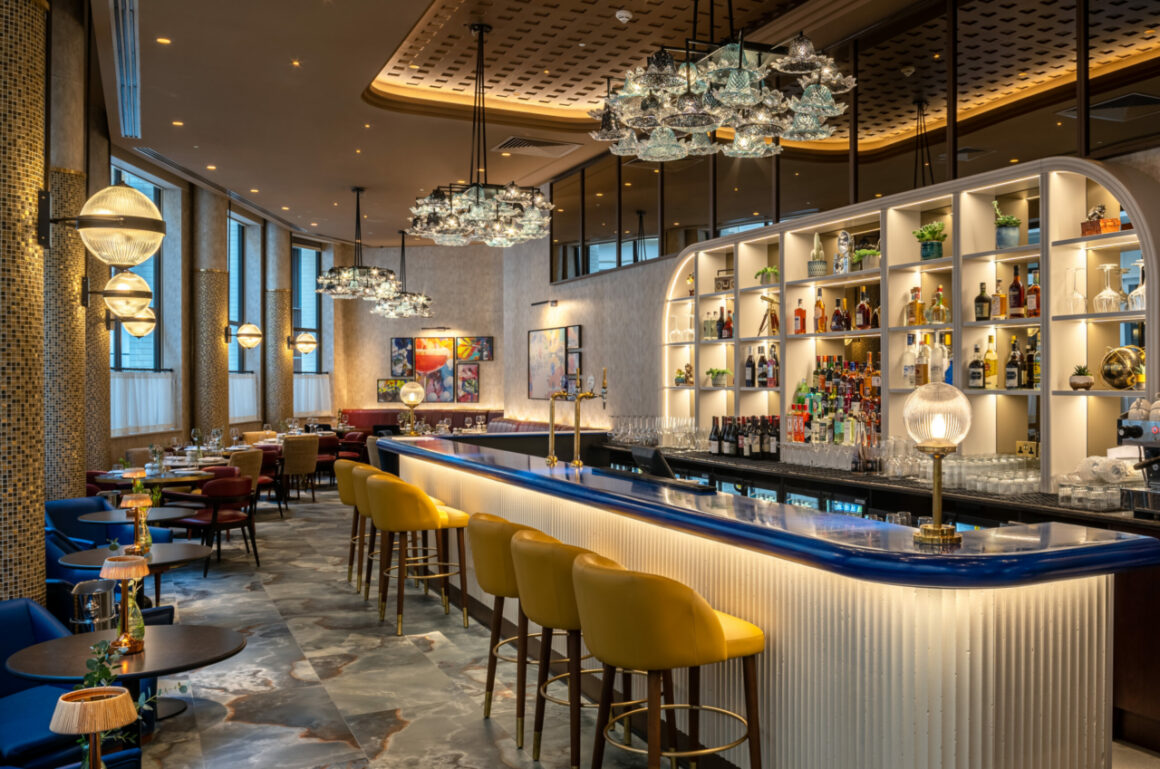 The bar/restaurant was appropriately called Found and was on the lower ground level. A long thin bright room with a bar along most of one side, it looked to have good drink selections. Cocktails are colourful and theatrical, with each drink telling a forgotten story. Dishes include French classics such as Bouillabaisse and Coq au Vin, and hearty British classics such as Ploughman's and Welsh Rarebit.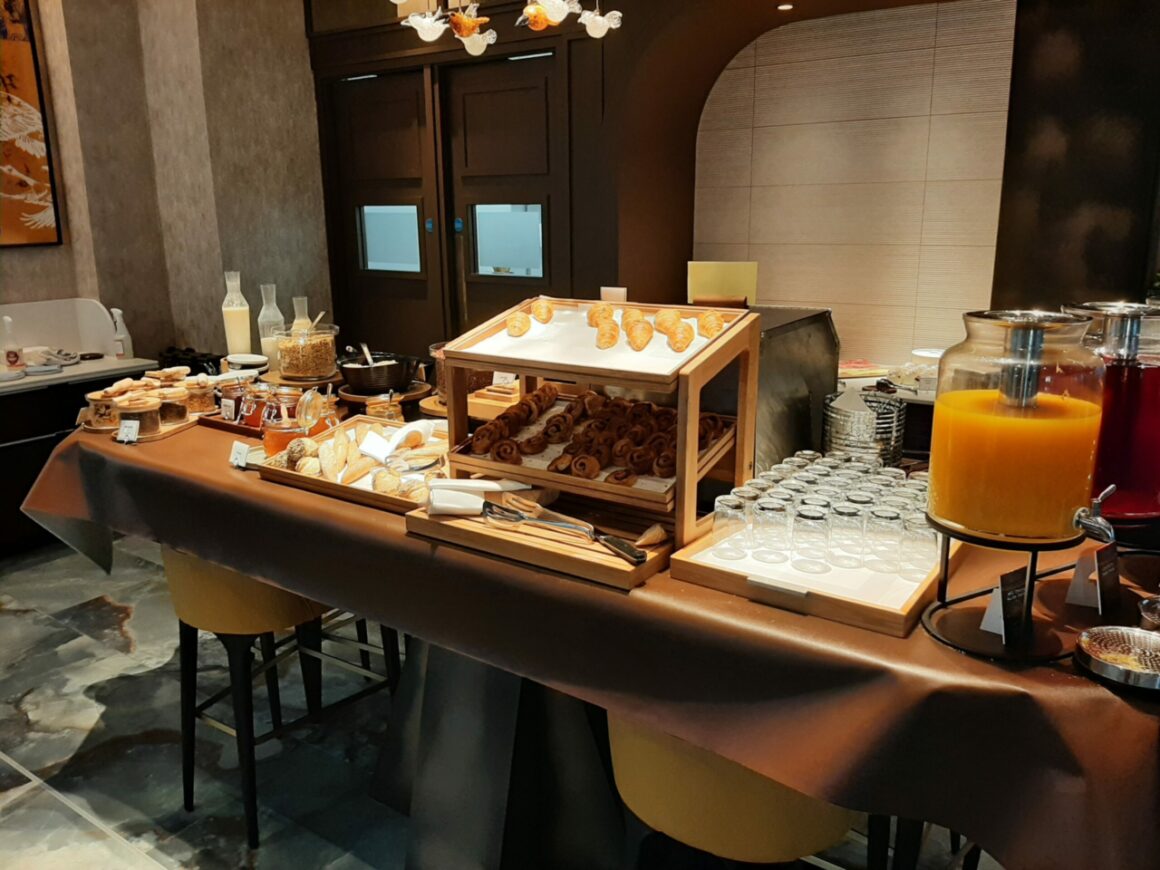 Breakfast was good – a reasonable selection of pastries, juice, and cold items. Hot items were ok but not that hot; however, freshly cooked eggs were available to order. The staff were very helpful and checked/topped up everything regularly.
There was also a basement gym with 4 or 5 machines lit by a natural skylight.
Overall a very pleasant stay with good service; just don't expect a lot of space in the rooms.
You can check prices, get more information and book here.
Like our New Curio hotel by Hilton – Lost Property St Paul's, London review? You can read more hotel reviews here.