American Airlines new bedding for First, Business Class and Premium Economy
AA had been my preferred transatlantic carrier since they introduced the new seats on all their B777 fleet for London. You can read the reviews of the 2 different seats here. However, with BA's new Club Catering and improved bedding rolling out to all routes by next year, I had been considering whether BA would be in the running again providing I could get an Upper Deck A380 or B747 aisle access seat.
Now AA have announced they are upgrading their business class product with new bedding, I am all confused. Their current bedding was my favourite business class bedding out there, so how amazing must the new stuff be? I'm now thinking about BA outbound for the food and wine and AA back to sleep with the aisle access and bedding!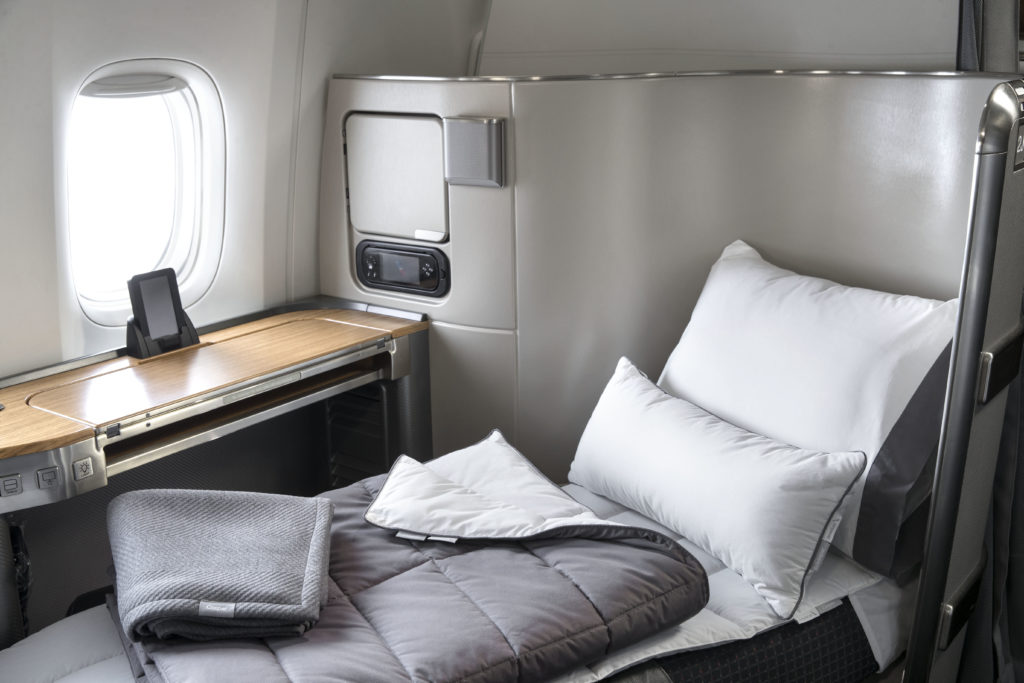 Beginning in December, customers in long-haul international and transcontinental First, Business class and Premium Economy on AA will have new bedding designed by Casper. The Casper line of products will include a mattress pad, duvet, pillow, day blanket, lumbar pillow, pyjamas and slippers, with exact items variable by route.
American Airlines put these designs to the test with customers on some of its longest flights, including Los Angeles to Auckland. The airline also tapped into the expertise of some of its most frequent travellers and cabin crew, for advice.
Casper products will be available on these routes in addition to long-haul international and transcontinental routes:
Boston (BOS) – Los Angeles (LAX)
New York's John F. Kennedy (JFK) – Seattle (SEA)
Miami (MIA) – Seattle (SEA)
Miami (MIA)– San Francisco (SFO)
U.S. to Hawaii
U.S. to Northern Rim of South America (MAR, MAO, BOG, CCS, CLO, GYE, LPB, MDE, UIO, VVI)
Here is a video of the new products:
Sleep so good it's snooze-worthy! We're teaming up with @Casper to get you your best flight's sleep. Check it out: https://t.co/m5XWzwbAVV pic.twitter.com/1AKYqNliAH

— American Airlines (@AmericanAir) September 28, 2017
The official AA page about the bedding is here.
Landmark EU Compensation ruling

EU EC261 compensation for delayed and cancelled flights is pretty complicated at the best of times, but if you had a connection with a non-EU airline from the UK, some airlines were using this as a get-out clause to not pay compensation. EC261 says that if your flight is delayed  by over three hours, even if the airline is not EU-based, you are entitled to at least €300 compensation.
The CAA has argued previously that five non-EU airlines – American Airlines, Emirates, Etihad, Singapore Airlines and Turkish Airlines should pay compensation to passengers who arrived at their destination late after missing their connection at a non-EU airport.
A court ruled this week in favour of the passengers who had missed their connecting flights and arrived late. This means passengers of non-EU airlines who have a delay on the first leg of a flight departing from the UK which caused them to miss a connecting flight outside the EU and arriving at their final destination at least three hours late can claim compensation.
The Court of Appeal agreed with the Court of Justice of the European Union that liability for compensation for delay depends on the delay in arriving at the "final destination". I would assume this would only apply to flights on the same ticket.
You can find the CAA's useful compensation page here.