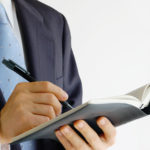 At the end of September Roving Reporter and I used our Lloyds Avios card upgrade vouchers to go to Las Vegas. He went direct on a B747 and I went on an A380 via San Francisco. Next week I will be comparing our journeys side by side with his B747 review.
BA's A380 Club World has never been my favourite Club World cabin but it has been a couple of years since I flew in one. The last few times I have flown on the A380 it has been in First when they were still doing the tasting menu which I really enjoyed. Now that the tasting menu has been "enhanced" I thought I would try Club World again to see if I still had the same opinion.
I flew Heathrow to San Francisco which, along with all routes except New York JFK, still has the old Club World catering and bedding. If you want to read about the new Club World catering you can read my review here. The new service will be rolled out to all long-haul routes in 2018.
Check-in
I used the First Wing check-in area which is available to Gold Cardholders and First customers. If I had used the Club check-in, it has a separate area which is now fenced off and there was virtually no queue there on a mid-week morning.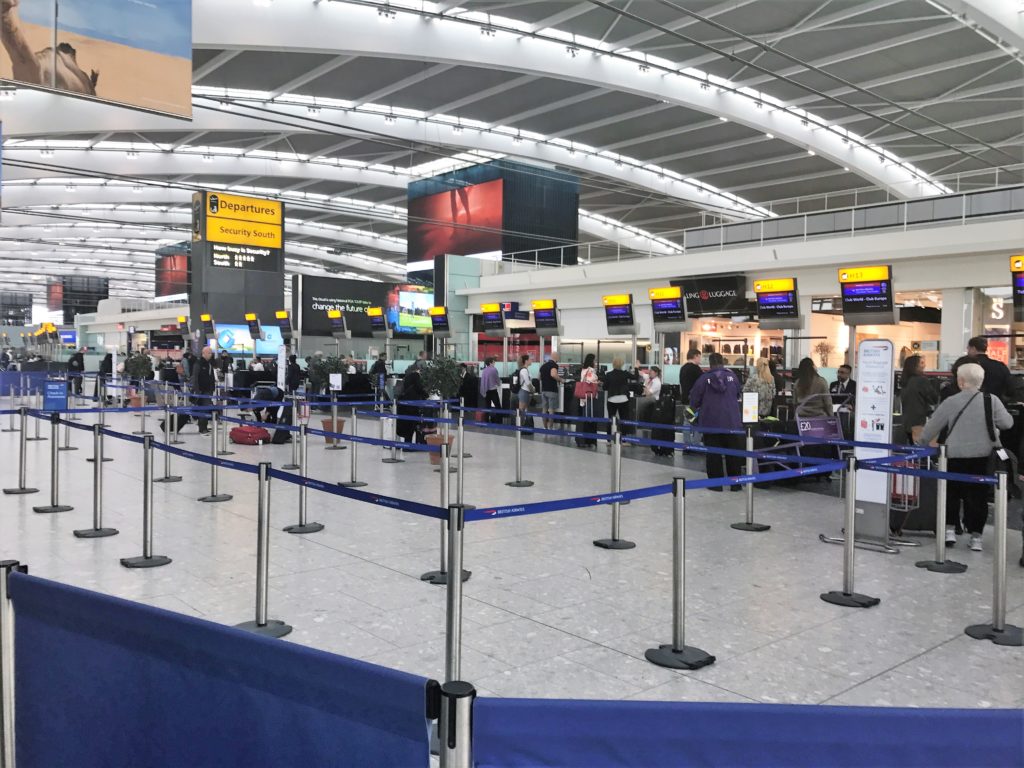 At the First wing, I encountered possibly one of the most miserable individuals working for BA I have ever met. He said all the standard things with the enthusiasm of someone who had just been told they were going to be sacked! How this individual was allowed on First check-in I have no idea. After a very slow process to check-in my one bag I made my way into the lounge with zero wait at First security.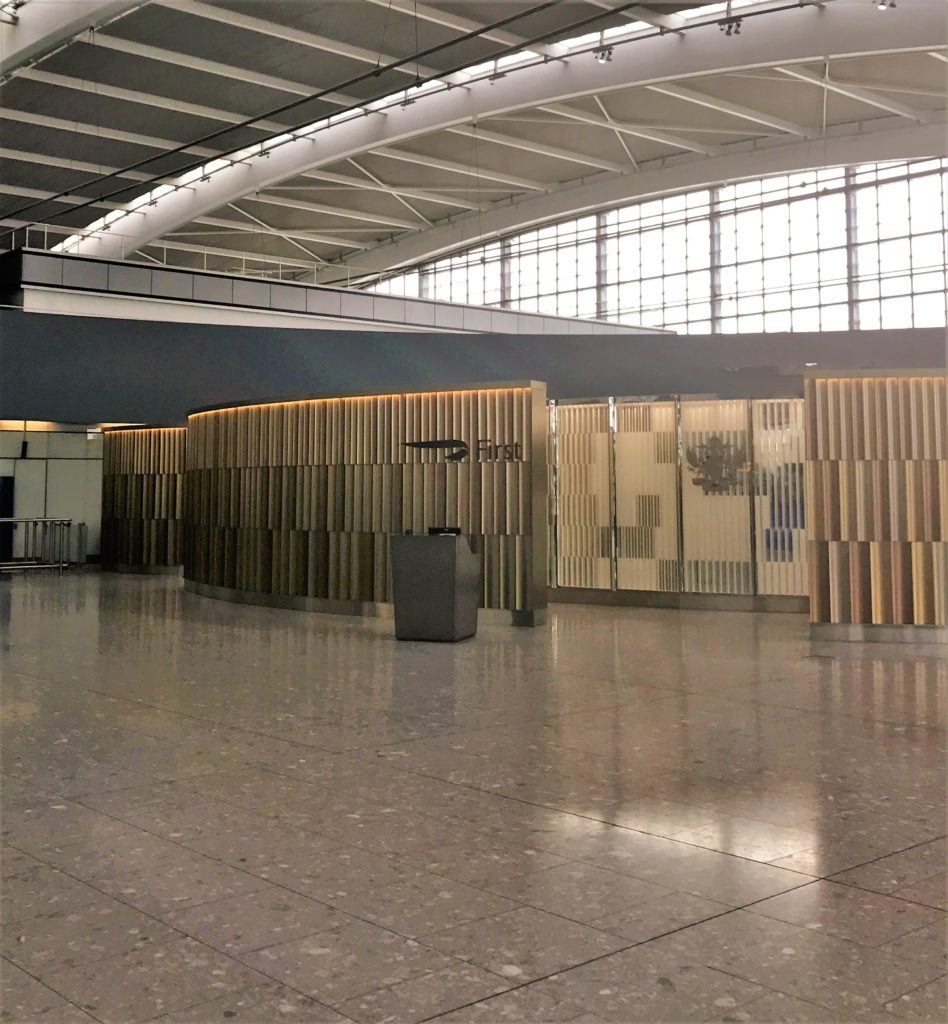 Lounge and Elemis Spa
The A380s go from the C Gates, so if you don't have access to the First lounge, I would recommend the Galleries Club lounge at the B gates as this is usually quieter than the main lounges. You can read my review of all the T5 BA Club lounges here. I popped into the First lounge and enjoyed a glass of Bolney English Sparkling wine which BA has been serving on board in First for a while.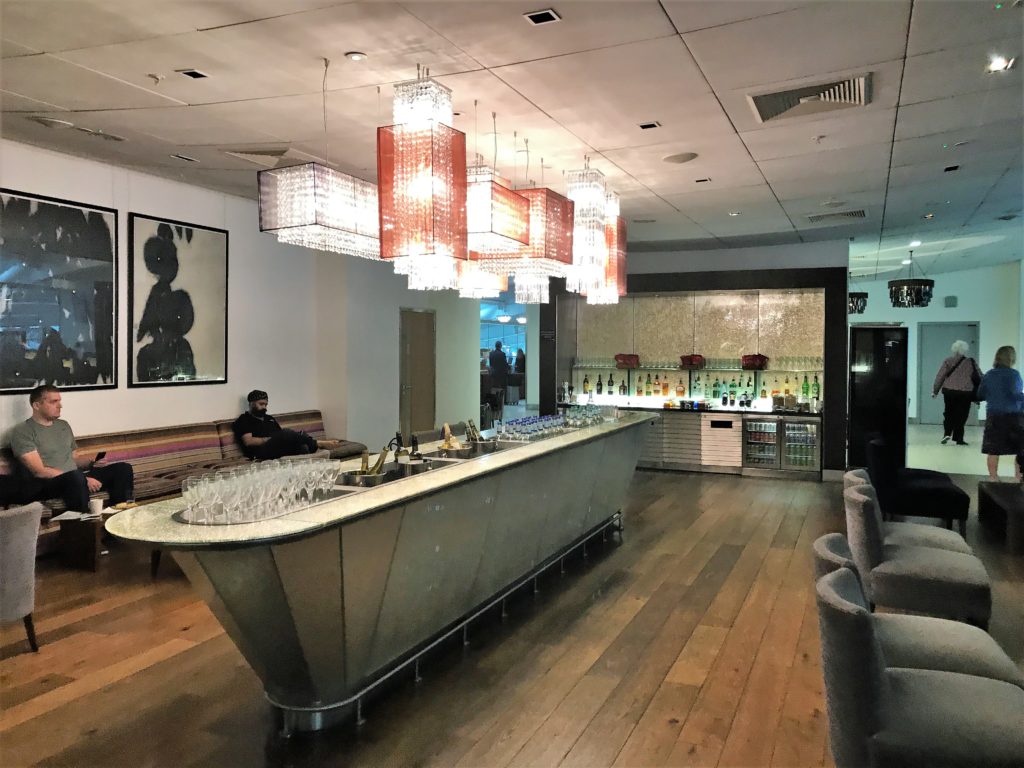 First order of business was the Elemis spa. I had arrived around 2.5 hours early but was still expecting there to not be a spot available. There was nothing available at the A gates but when I asked them to check the B gates spa they could do a massage providing I went straight there. I decided not to bother as I didn't want to wait the whole time at the B Gates as I was planning on visiting Plane Food. I probed again as to whether they had chair massages available and they had several slots available. I chose one of these at 12.40pm, in about an hour's time. If ever you can't get an appointment, it is always worth checking the B Gates or asking if they have a chair massage available as I have never failed to get one of these.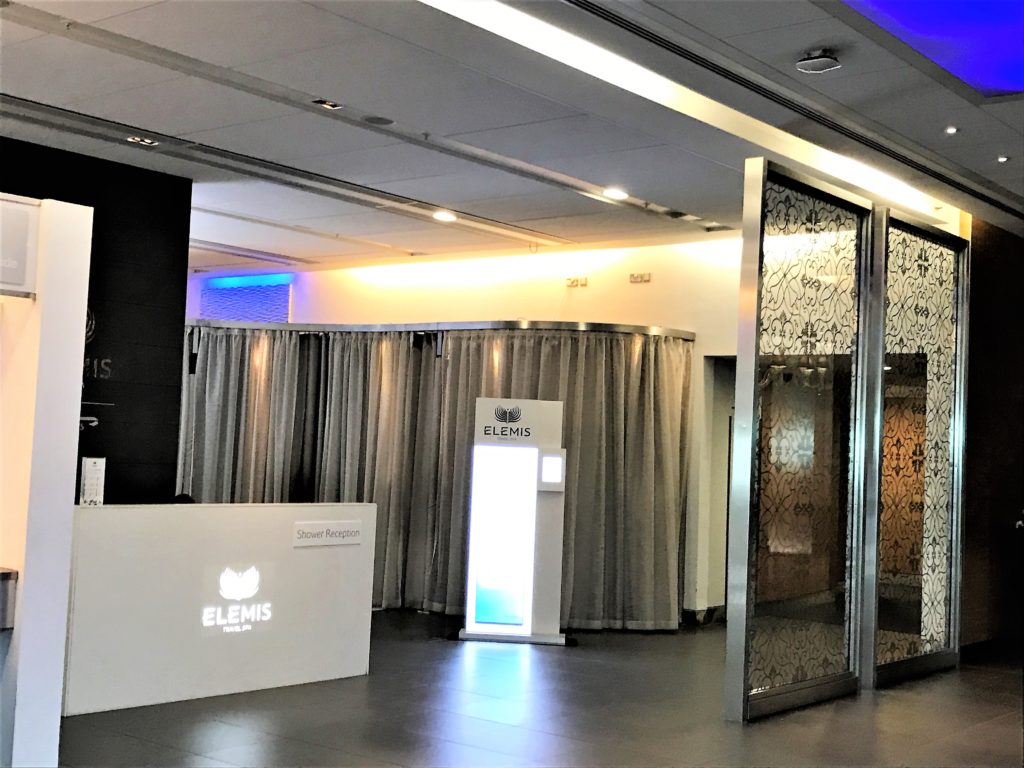 When I returned for my massage I watched as 2 of the staff were having their photo taken with one of the customers, who turned out to be Pierce Brosnan! Unfortunately, in all their excitement they forgot about me and I was left sitting there for nearly 15 minutes until someone came to collect me. I was offered a warm wrap for my neck which I accepted and I actually really enjoyed the chair massage. When I came out the place was deserted so I was unable to get any samples to take away. The service was perfunctory at best by the therapist.
BA have been looking at the Spa as an area for improvement, so I can only hope that they have got something planned. My personal recommendation would be that they go for a similar style to the Virgin Clubhouse where you can get a free short treatment but pay for others. Hopefully, the revenue from these would allow them to invest in more therapists and better treatments.
Seat, cabin and service
The boarding area was fairly civilised when I arrived and I walked through the Priority boarding channel and then the doorway for the Upper deck, which was sign-posted by seat number. This led up a ramp to the Upper deck where I was greeted and directed to my seat. The cabin crew member looking after me was pretty good. He had a slight no-nonsense approach but he was very polite and proactive throughout the flight and I had no real complaints.
The Club World seats are set across 3 cabins on the A380, 2 upstairs and 1 downstairs. I went for 53K upstairs as it had direct aisle access and was a window seat with extra storage. The drawback with this seat is that it is by the galley and I could hear noise during the flight. As it was a day flight I had decided this wasn't really an issue. Another good option can be row 59 A&K depending on whether the bassinet is being used in World Traveller Plus just behind them. I shall review those seats next weekend when I compare it to Roving Reporter's B747 trip.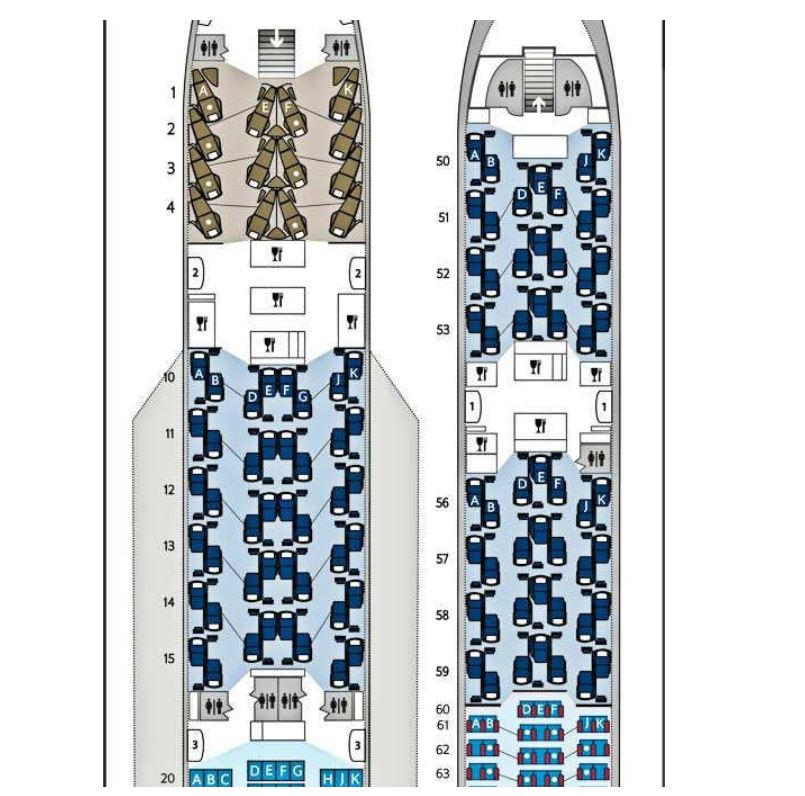 The seat and surrounding area were very clean and still felt new, even though BA has had the A380s for quite a while now. The main reason I didn't like the A380 was still there – the narrow gaps between the seats. It was quite tight getting my case through the gap with the footstool, even though my case wasn't that big.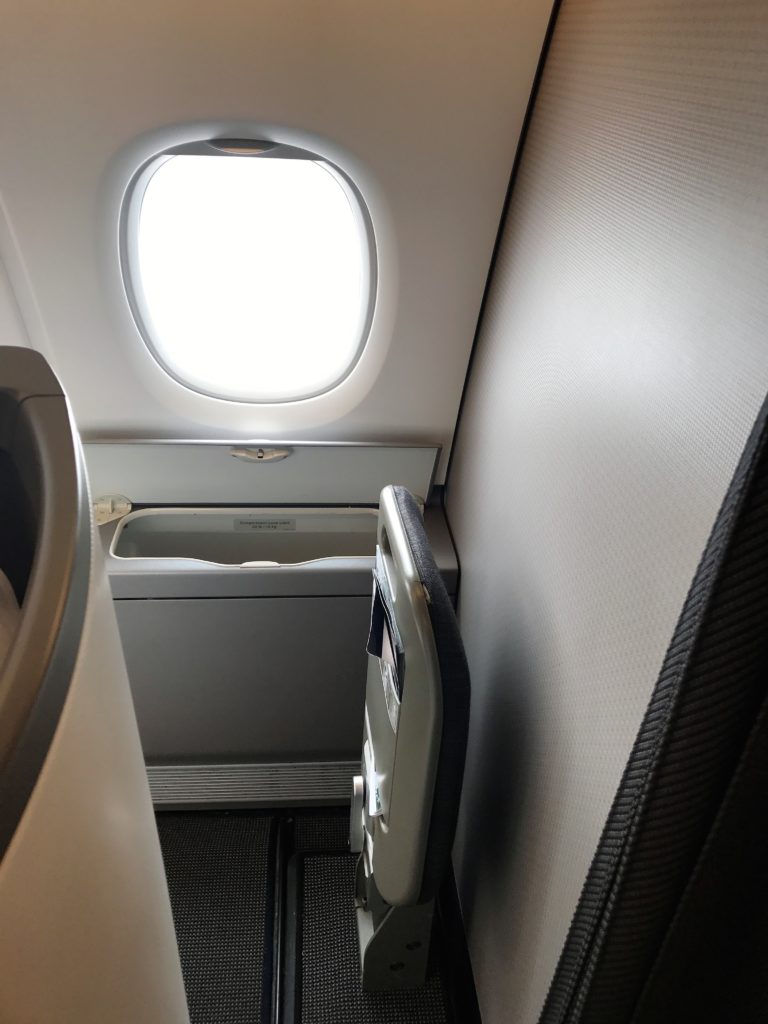 Other than the tight gap I was pleased with my seat. There was a huge amount of room for my things and I love it when I can virtually empty my hand luggage into the side bins so I don't have to get up for anything during the flight. I had 3 side bins and the usual drawer too. Unfortunately one of the bins decided to stick shut with my handbag and passport inside it at the start of the flight so once I had finally wrestled them free, I decided not to use that one again!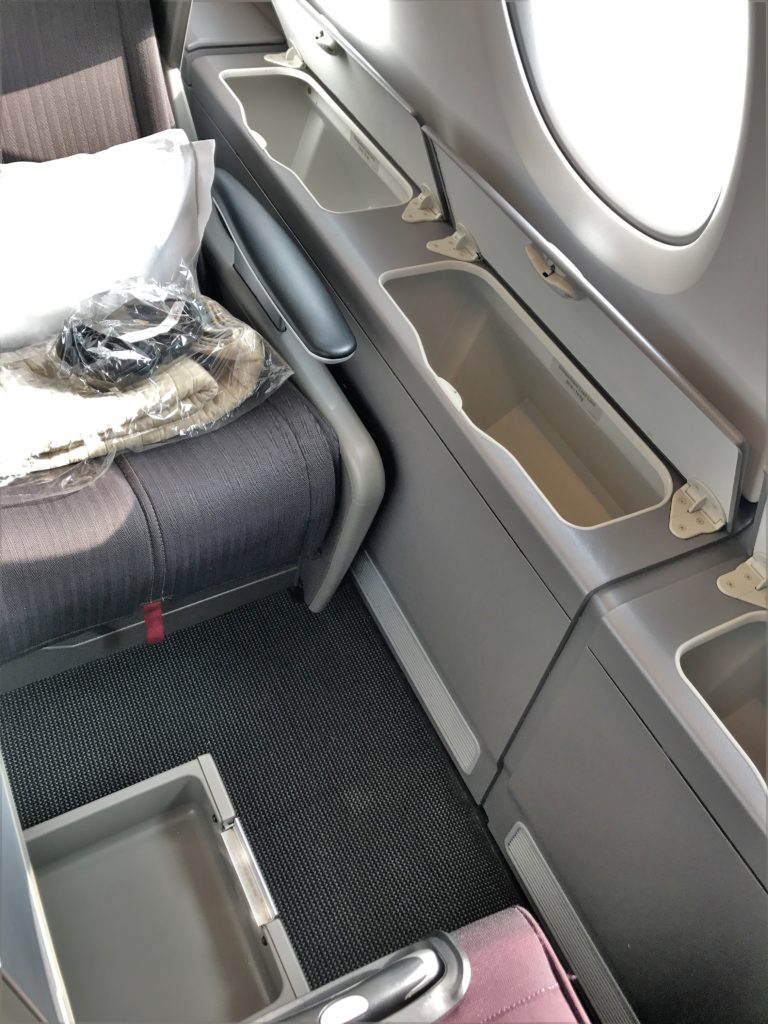 I found the seat comfortable and the footstool was definitely far more robust than some of the older aircraft ones which collapse easily. The seat covering looked smart in the stitched dark brown. I will cover the seat for sleeping in next week's review.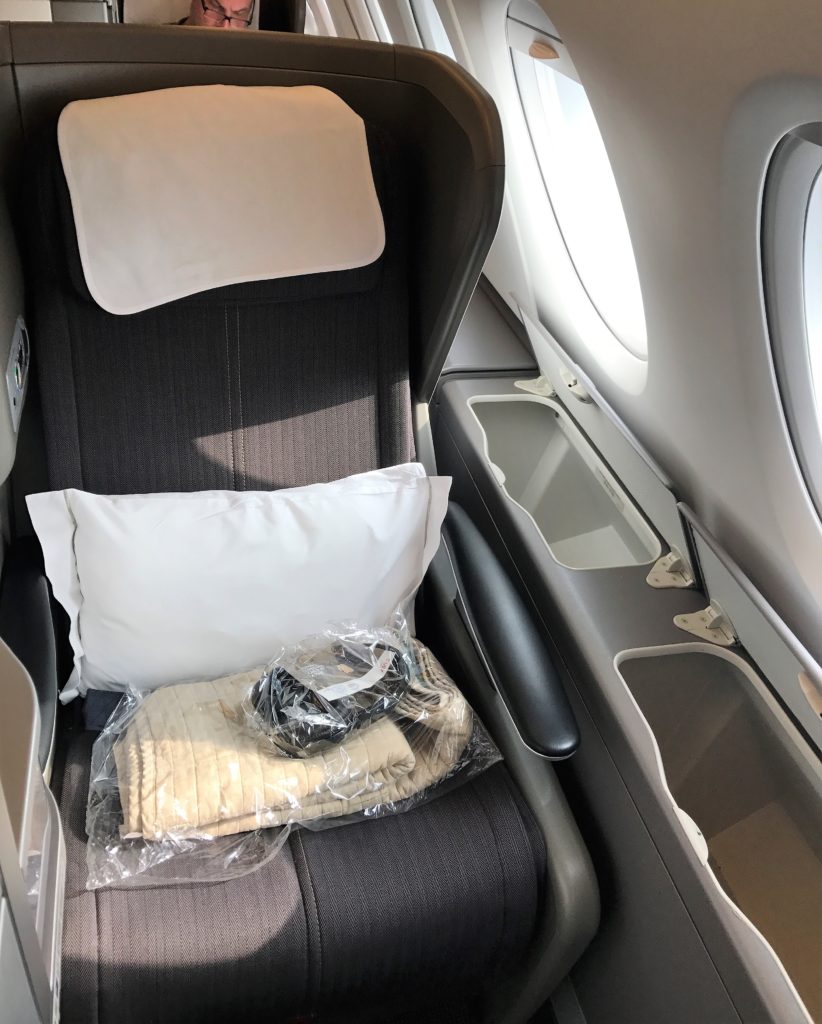 The only negative I could find about being on the upper deck was the view wasn't as good since the windows have 2 layers of glass that are far apart. They are also at an angle, as well as being slightly misaligned with the seat so you have to lean forward.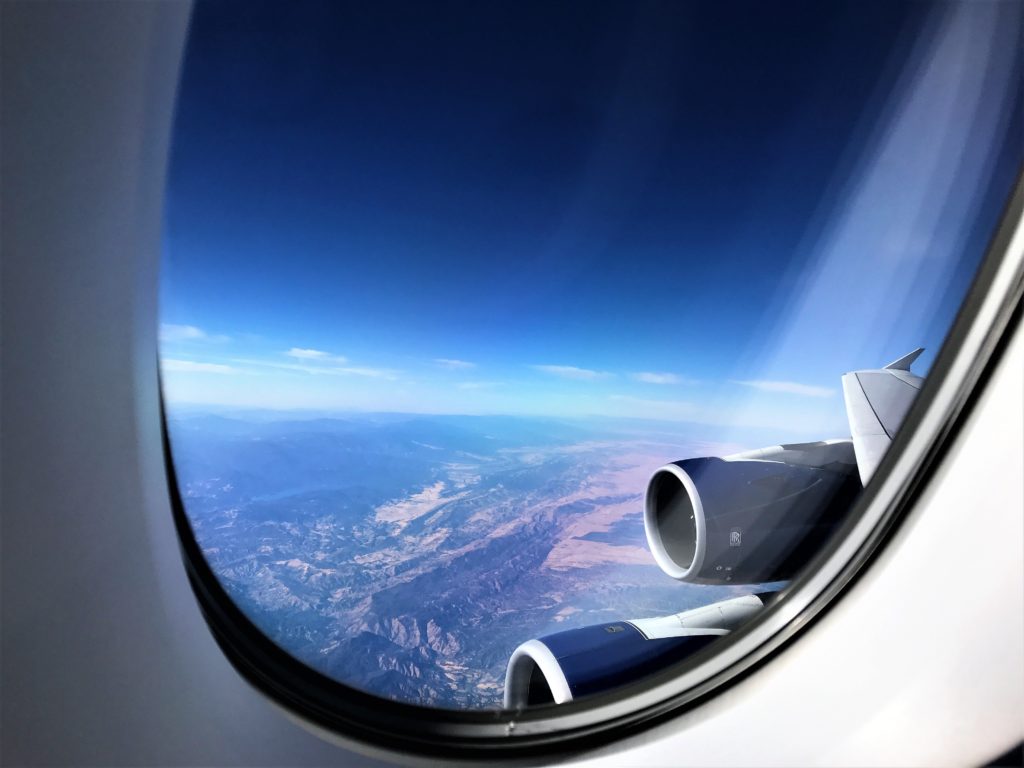 The usual pre-departure drinks were offered where I was cheeky and asked for water and Champagne, which wasn't a problem.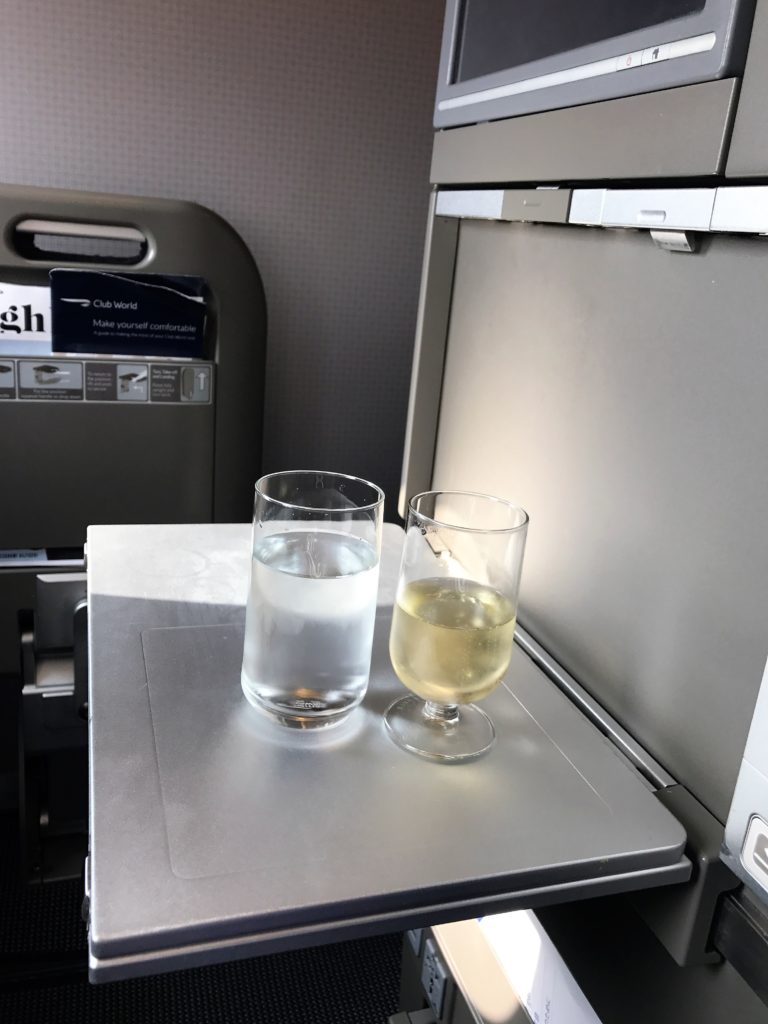 After take off I was offered a washbag, menu and then a hot towel. The wash bag was still the Elemis one. The new White Company ones are due to launch shortly on JFK but it is unclear if they will roll any other routes out this year or wait until 2018 when the new service starts being delivered on other routes.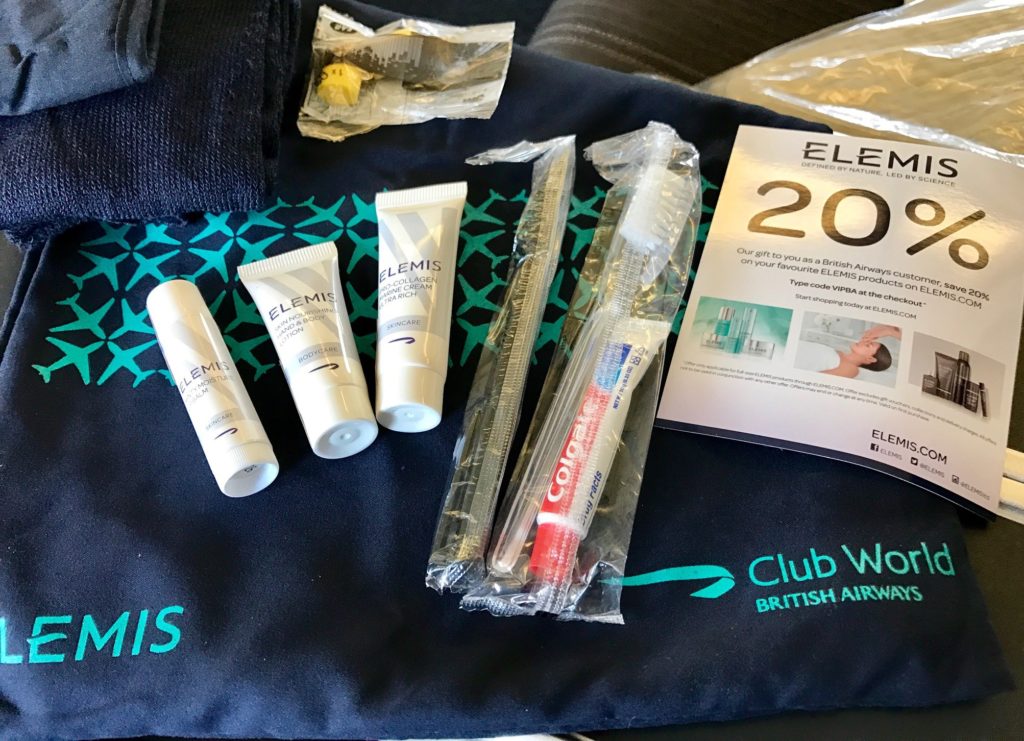 One of the things I really like about the A380 upper deck is the enormous toilet at the front. Perfect if you want to change into different clothes for a flight. You can see why some airlines have put in a shower!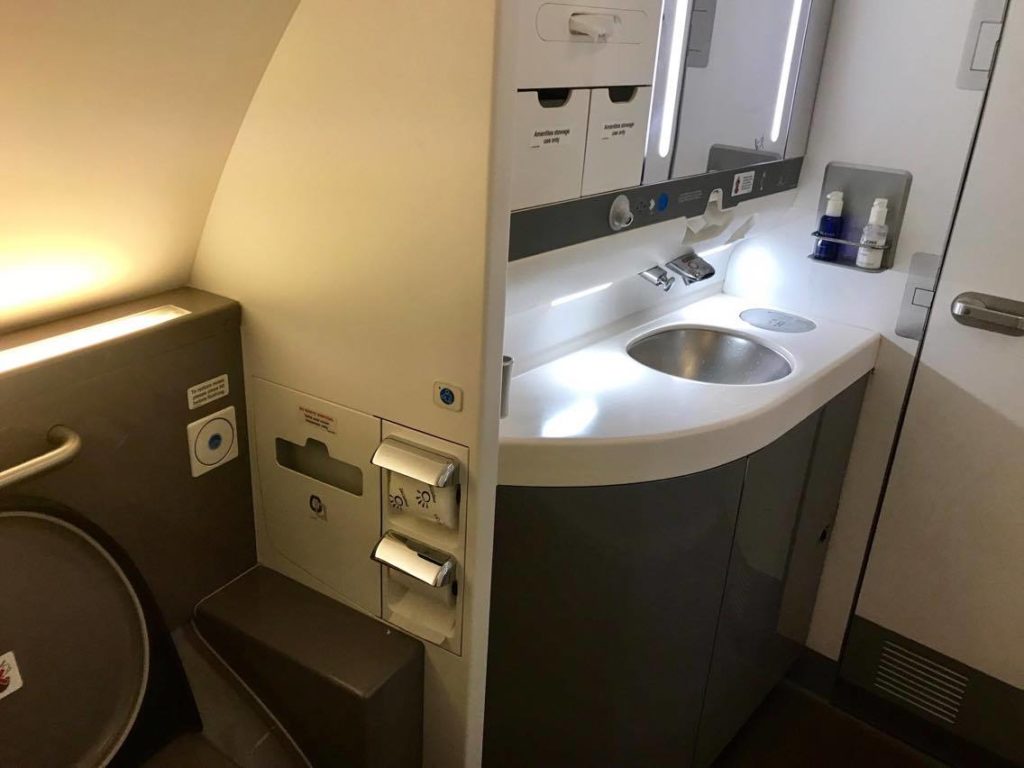 Food and drink
Having sampled the new Club World food earlier in September I was expecting to be disappointed but actually, the food was better presented than previously and overall pretty good. I found the choice on the menu a bit disappointing as until they introduce the new beef cooking method with the new Club, I shall be steering clear of the shoe leather!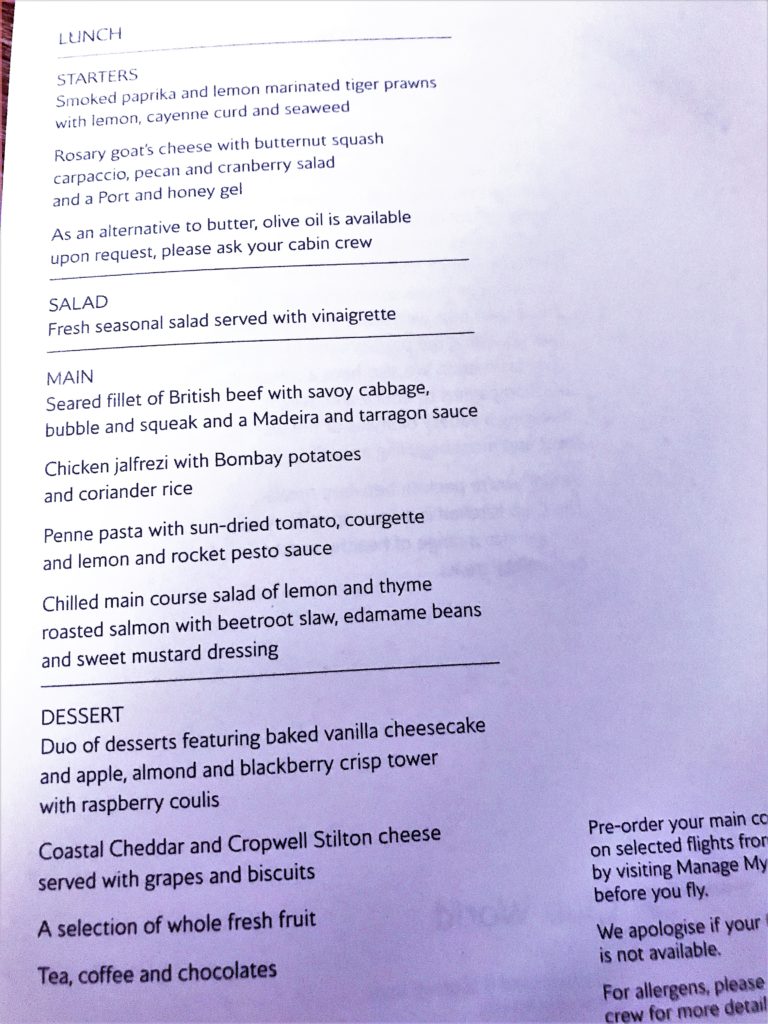 The service started as always with a drinks round which was delivered by hand. I would normally go for a glass of wine but since they had the same wines as my previous JFK trip, I decided to try the rosé Champagne. BA currently have 3 Champagnes available in Club which I never quite understand. Personally, I would rather have a dessert wine and less choice of Champagne. The Champagnes on offer were:
Henriot Brut Soverain NV (served as pre-departure drink)
Castelnau Brut Réserve NV
Castelnau Brut Rosé NV
Since I have never got round to trying the Rosé, I thought I would give that a go. It was probably my favourite out of the BA Club Champagnes but I don't know if I would bother with it again. I was offered a top up after about 10-15 minutes which was good .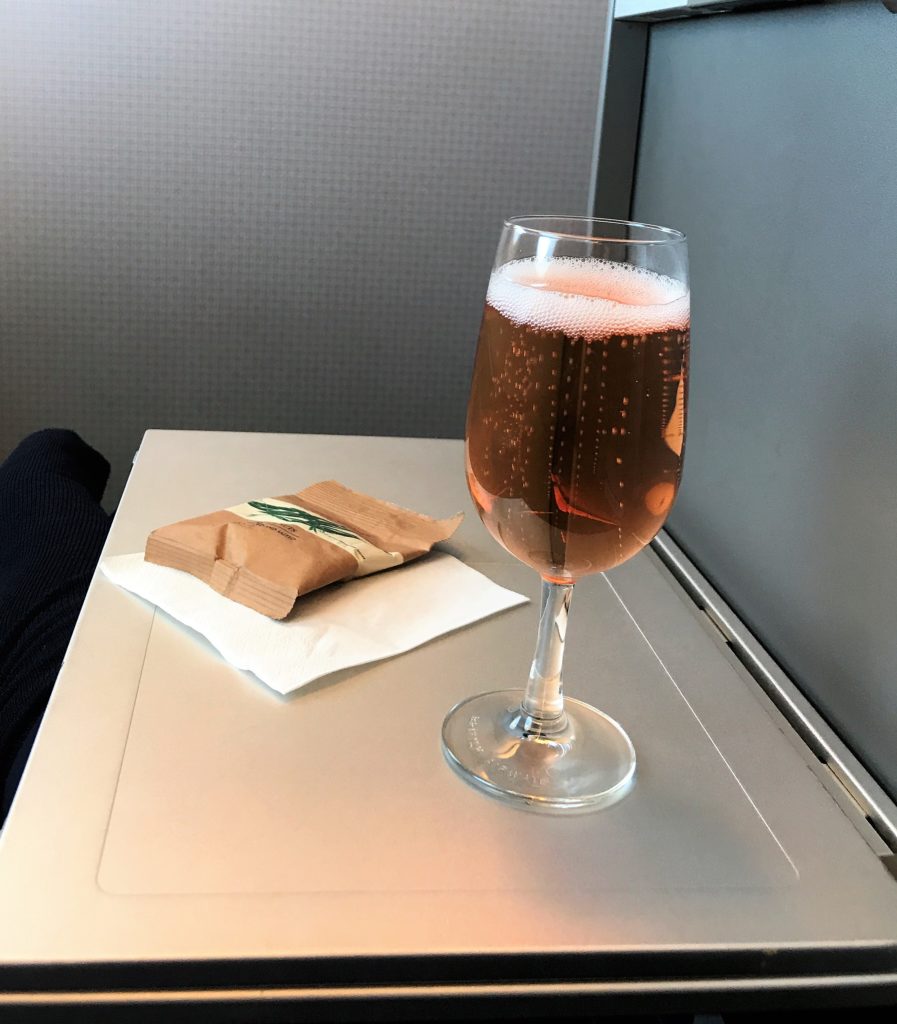 I chose the prawn starter. The prawns were well cooked and not rubbery, although they could have perhaps done with a bit more of a kick from the cayenne and paprika for me. I thought that the seaweed somewhat overpowered the prawns and made it too salty. The plate looked good and was almost at restaurant standard presentation. I particularly enjoyed the side salad which came with deep-fried crisp fava bean slices and olives with an olive oil and Pedro Jimenez sherry vinegar dressing.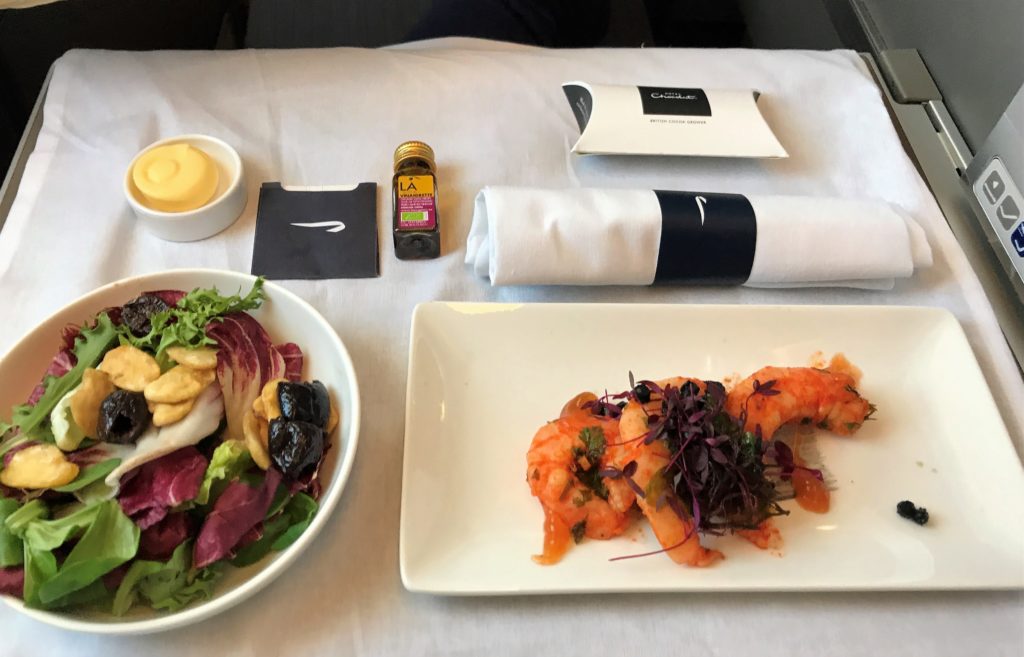 I had a glass of Chardonnay with the starter which was OK but I enjoyed the Malbec more. These were fairly typical BA wines retailing at around the £8-10 mark; reasonably enjoyable but nothing special.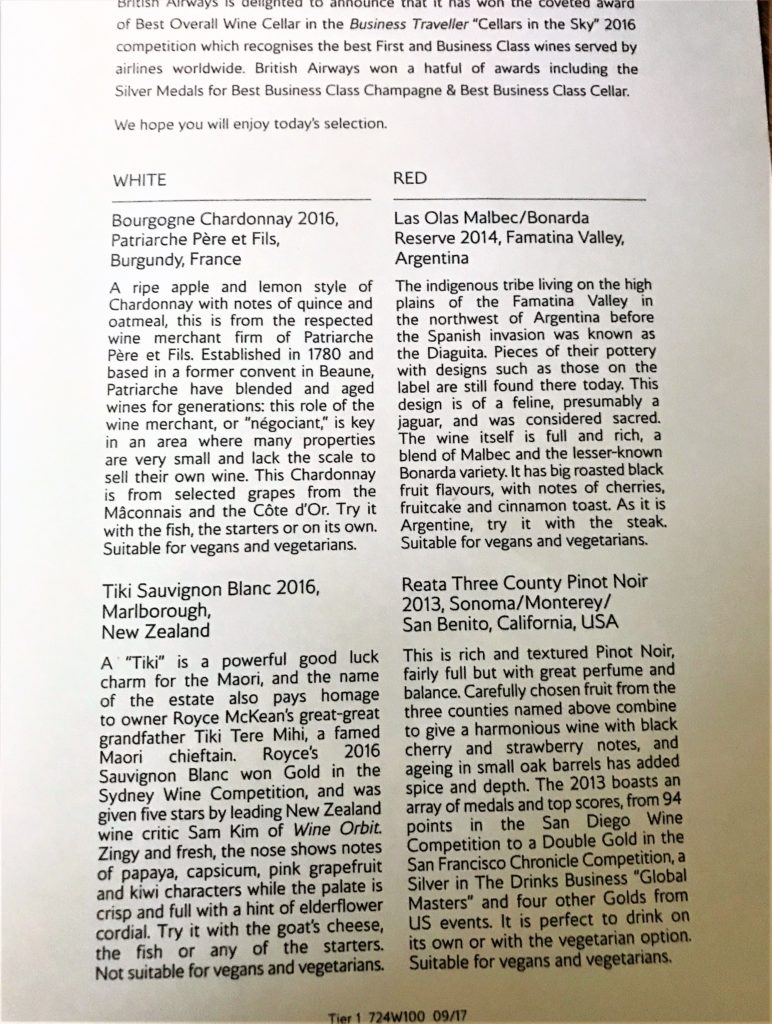 Next came the chicken curry. Although not the most attractive looking dish, there is only so much you can do with a curry. The main thing was that it was very tasty and quite filling. I liked the fact that the naan bread had coriander on it and it hadn't gone soggy or dried out during the cooking.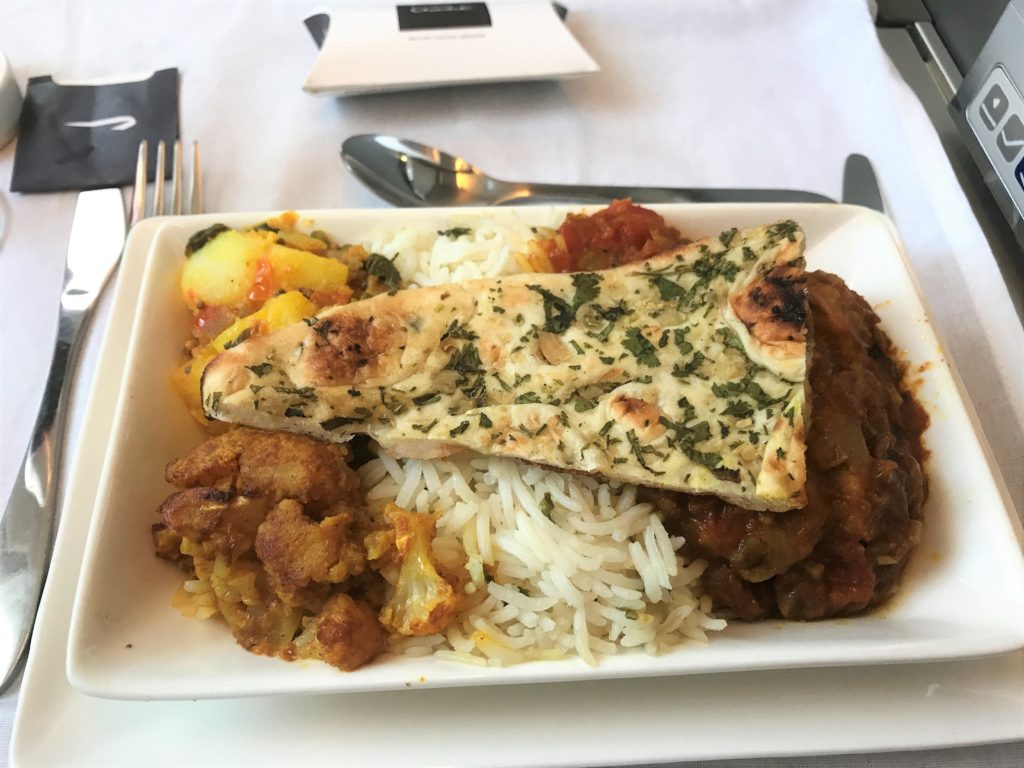 To finish I went for the cheese as usual so I could enjoy a glass of the new six Graham's Six Grapes port, although the menu was still wrong. Here is the full drinks list: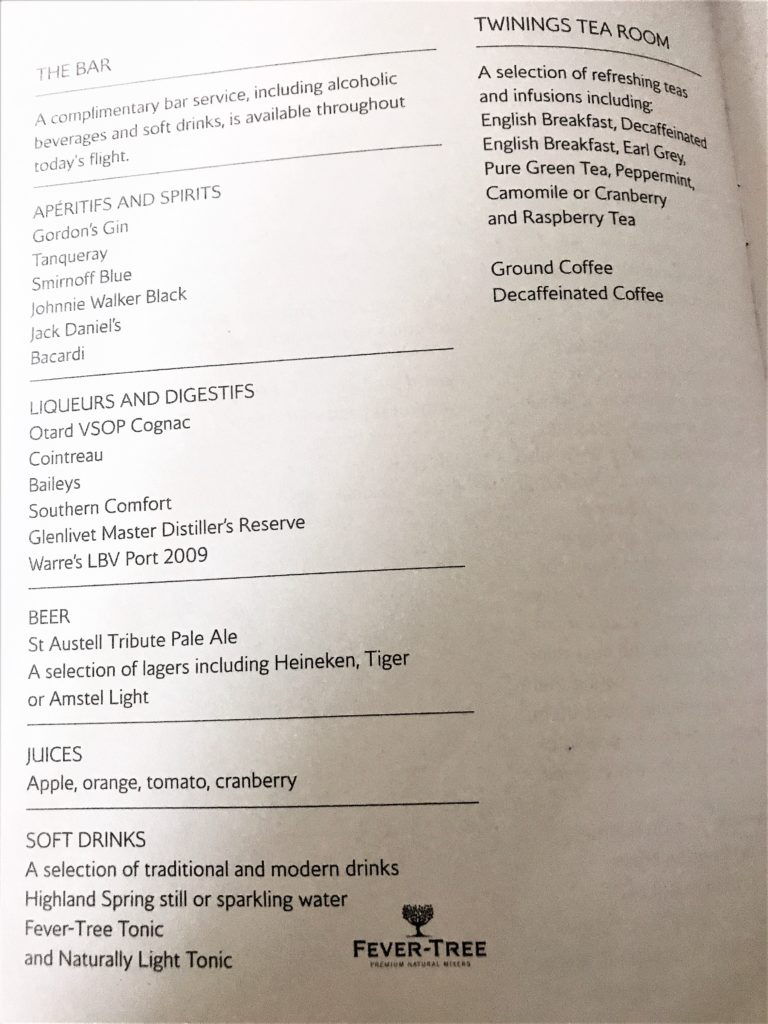 The presentation didn't look great but I enjoyed the cheeses which were a good size and both tasted very good quality. Although, I prefer the new Club cheese plate with it broader range and accompaniments.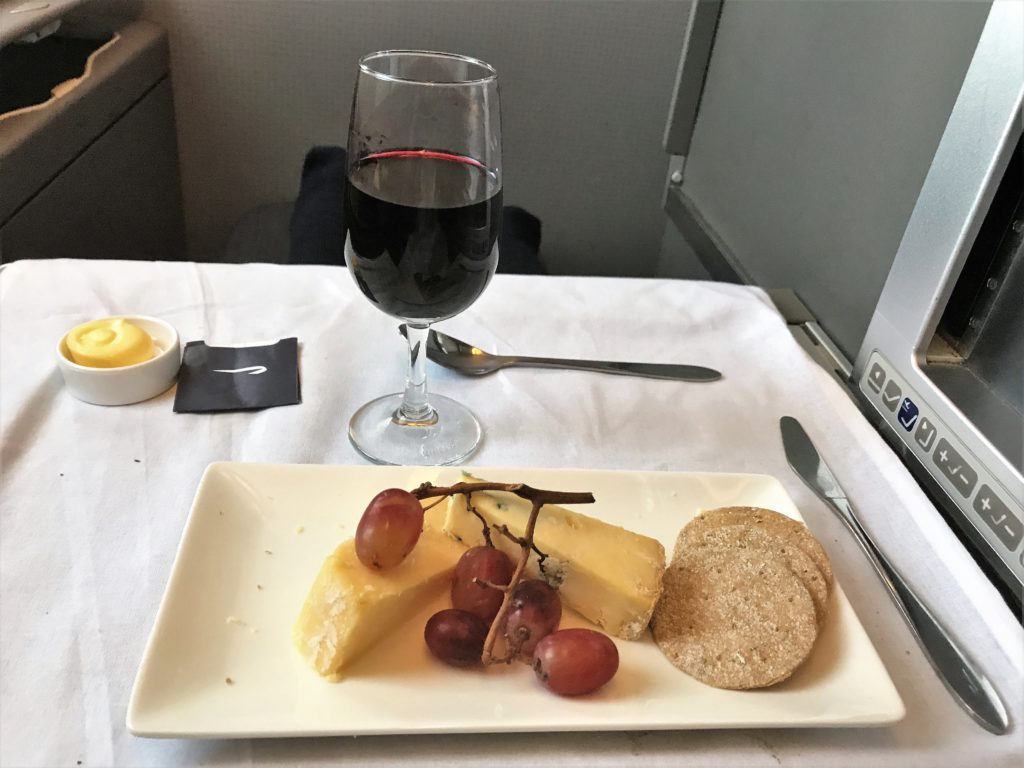 Club Kitchen
Later in the flight, I went to have a look at the Club Kitchen since I haven't included many photos before. As a longer flight, this had a pretty good selection of food. These included in the fridge: ice cream, yoghurts, fresh fruit, pasta salad, cakes, sandwiches and a hummus snack pack. Outside the fridge were salted caramel popcorn (my favourite), crisps, chocolate, fruit, drinks and wine.
Before landing another full meal was served. Often I don't bother with this since I am still full from earlier. This time I decided to have it as I knew I had a fairly tight connection onto Vegas and wouldn't get anything to eat again that day.
The menu was: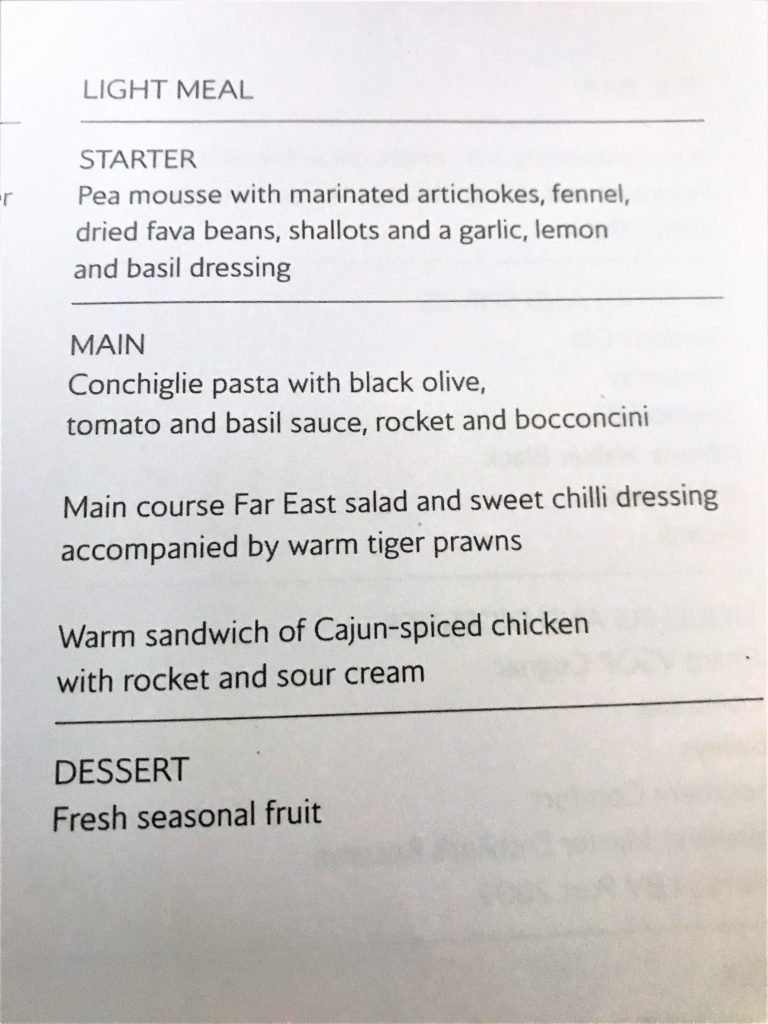 Although the starter sounded odd, it was actually very enjoyable and beautifully presented. The only thing I could criticise was having fava beans in 2 meals was a bit much. The dressing was particularly nice although I had an enormous battle to get it out of the bottle as it was very thick.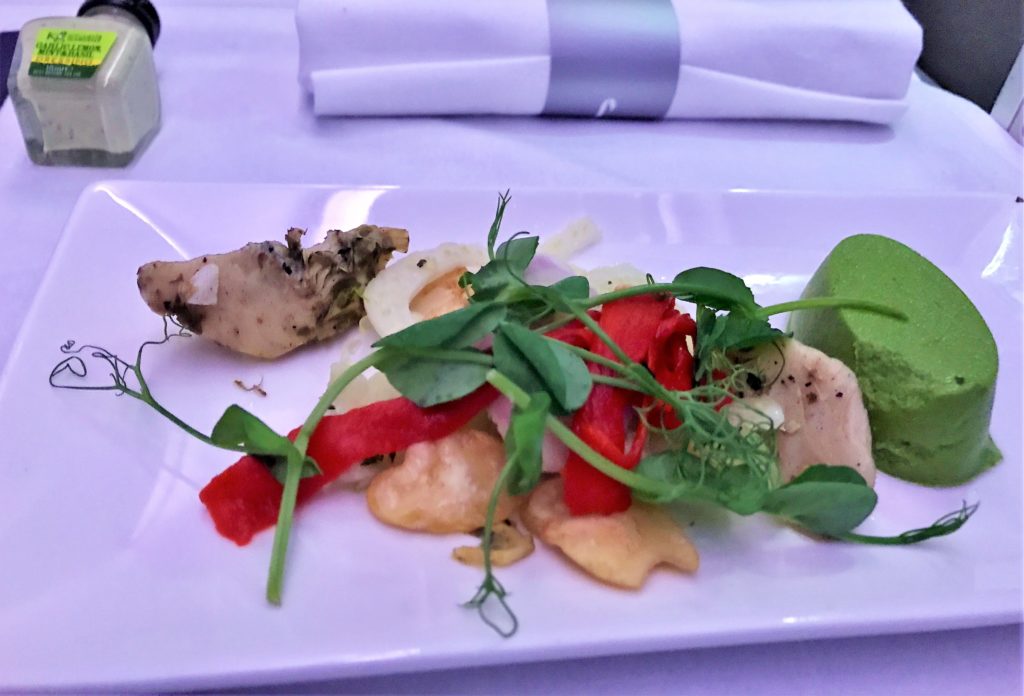 I then had the sandwich which was fairly small but that wasn't an issue for me. Again, it tasted better than it looked. The dessert was rather odd though. A rather eclectic mix of fruit including redcurrants with some sort of sauce. I gave that a miss after a quick taste of the sauce.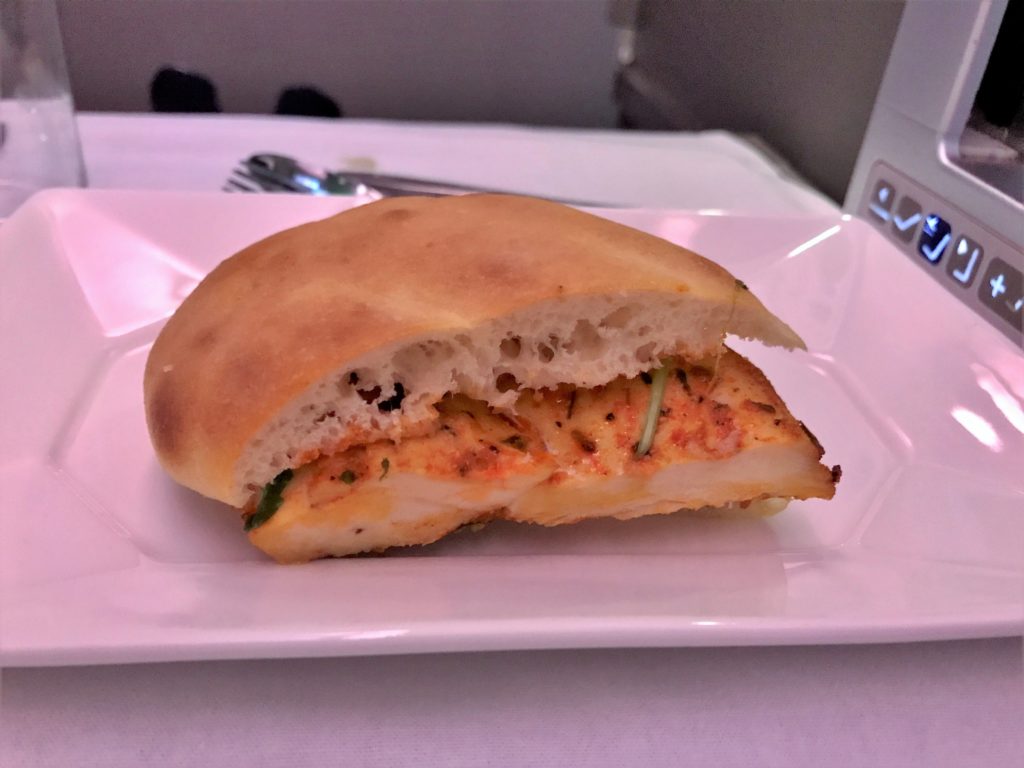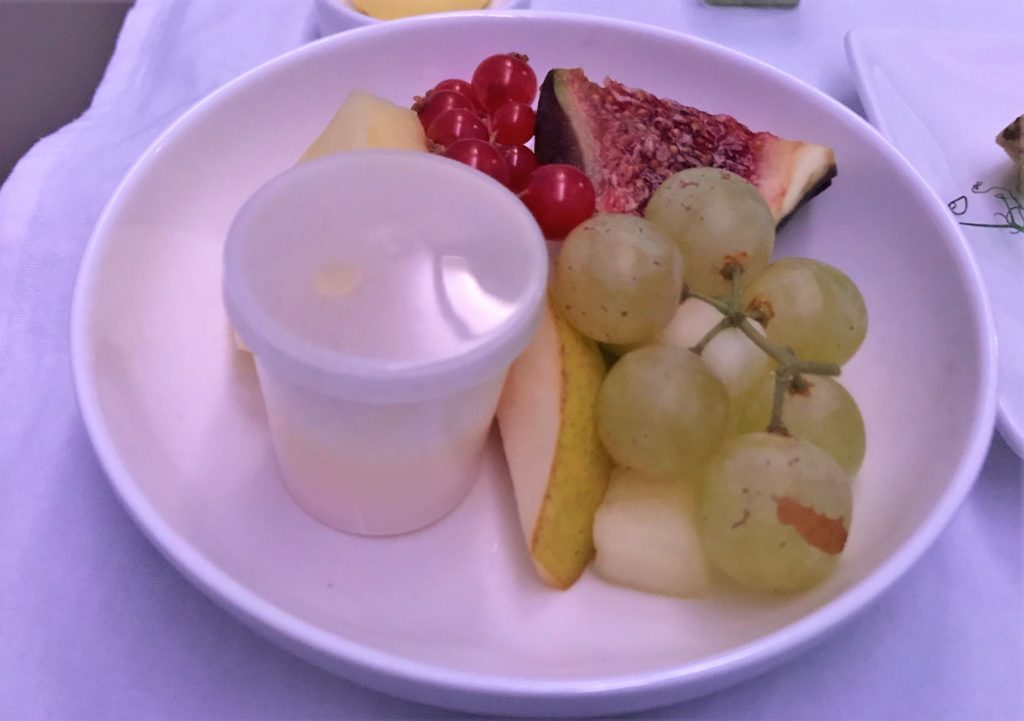 Entertainment and charging
The screens on the A380 were good. The definition was much better than the older aircraft and there was a good selection of new and older films, TV shows and games. The only thing I think could be improved was the selection of music which seemed a bit random. I watched the Wizard of Lies about Bernie Madoff's Ponzi scheme, which defrauded his clients of billions starring Robert De Niro and Michelle Pfeiffer. Although the film was interesting, it was also incredibly depressing, so it's not one to watch if you want something light-hearted.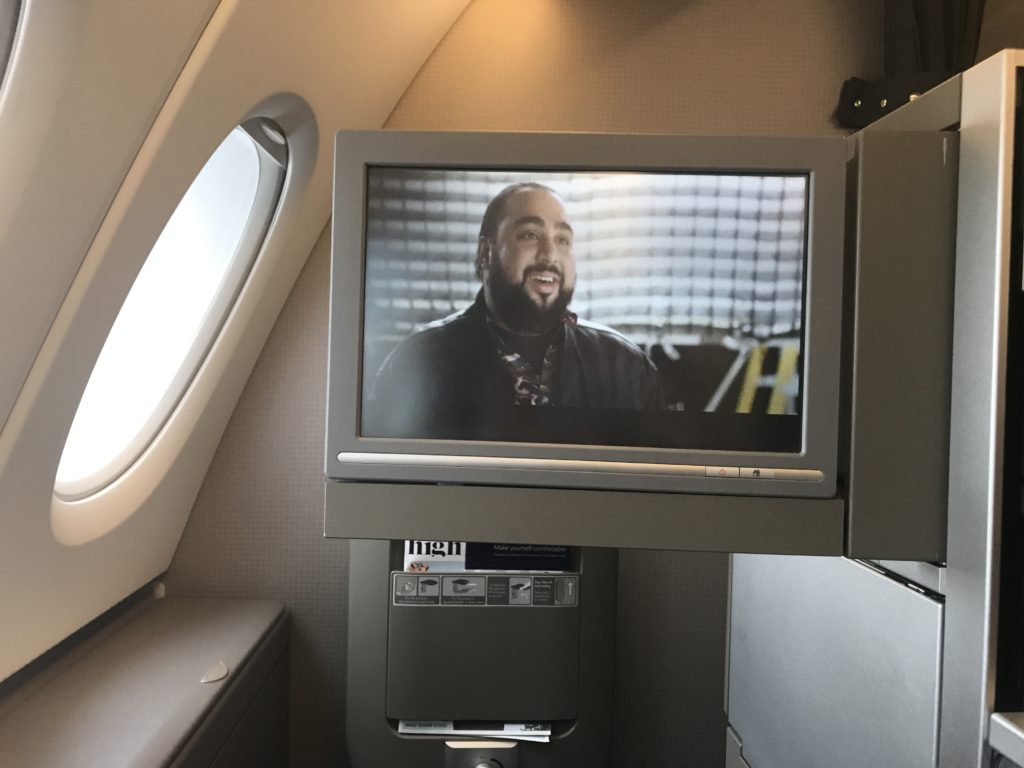 The controls were easy to use with a fairly standard remote and there was a USB and AV sockets for connecting your own equipment or charging. There was also a universal plug socket near floor level. This was useful as it meant I could charge 2 devices at once using the socket and USB. The usual noise cancelling headphones were supplied but I still prefer my own.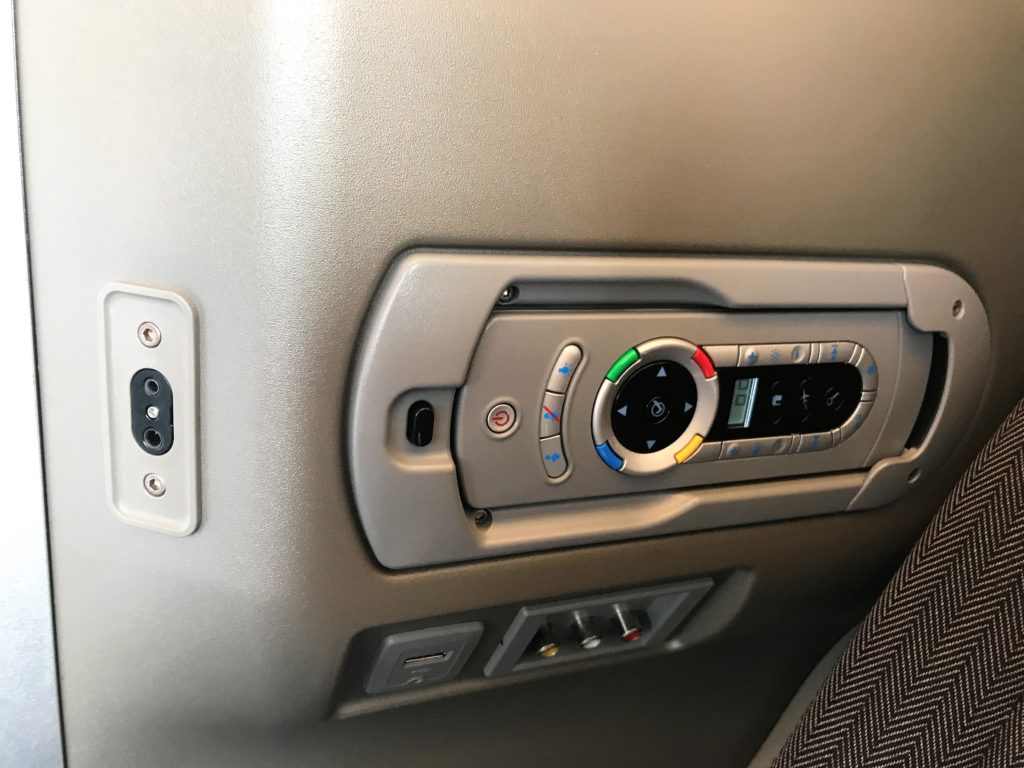 Conclusion
Overall I found this an enjoyable flight compared to some of the older BA aircraft I have been on. As you will know if you have read previous reviews, I, like many people, have been avoiding BA for long-haul flights after all the cost cutting and the lack of any new seats. BA are obviously investing money in their business class product again and are beginning to win me round, although I am not 100% there yet.
The seat was comfortable, everything was very clean and in good condition and the service was good. The food was all tasty and well presented. Having done the new service fairly recently it didn't compare to that but I am beginning to come around to BA on routes where I can get an aisle access upper deck seat with extra storage once the new bedding and catering area in place.
Youn can find more information about BA's A380's on ba.com