Australia proposes "vaccine or quarantine"
There has been conflicting news about when Australia reopen their borders but the earliest that it is likely to be is autumn 2021 when they have vaccinated the majority of their population. It has been widely expected that a vaccination will be needed to enter Australia after Qantas stated that they are likely to require all passengers to be vaccinated.
At the weekend a press conference with Stuart Robert, Minister for Government Services, seemed to confirm this when he said,
"It's highly likely that a vaccination certificate or quarantine will still be required for international visitors to Australia," when the country reopens.
There was no speculation on when borders may reopen but Mr Robert said "any requirement for borders to open up will require vaccination and it will require the widespread use of assured certificates."
While the UK is now saying that it is not planning to introduce "vaccine passports" I think they are probably being naive as I am sure that many countries like Australia will demand internationally recognised proof of a vaccine. Having a common international way to show an official vaccine (especially as there are so many) may well become a requisite for travel.
If travellers do not have the vaccine then they would most likely be expected to spend 14 days in hotel quarantine as is the situation now.
HT: Australia's Executive Traveller
Iberia gift cards with 25% off

Iberia are offering gift cards with a 25% bonus when you buy the card by 14 February and use it for travel by 31 December 2021. It's a shame the expiry is not for booking by 31 December 2021 instead of travel, though how their IT would know the dates of the bookings when you pay with the card I'm not quite sure given how terrible Iberia's IT generally is. You can use the voucher for the purchase of any flight offered on iberia.com operated by Iberia, Iberia Express and Air Nostrum with a flight date until 31/12/2021.
There are some risks to consider. If you know you will want to pay for a cash ticket with Iberia on a route they fly then it is worth considering. The risks are: whether Iberia will still exist when you want to fly (I can't see the Spanish government letting it fold), whether the destination you want to visit is open to UK tourists and whether they are still flying the route you want.
The prices are:
€50 card for just €37
€100 card for just €75
€300 card for just €225
€500 card for just €375
You can find the offer page here.
Virgin status match now allows you to start your status match later

With the easing of travel restrictions feeling like it is getting further and further away, Virgin have come up with a better way to start your status match. I wrote about the details of the Virgin Flying Club status match (even for BA Bronze) here. Now if you want to delay your status match, you can choose to start it from the month of your first flight, not the date that it is approved, which is what was happening previously.
When you get to the final section of the sign up form here, you will find a drop-down menu asking you when you want your status to start from: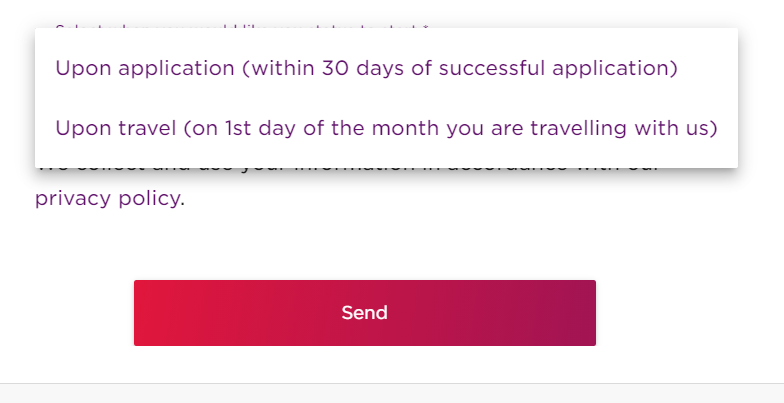 HT: Head for Points