City of Manchester launch free hotel-night campaign
The city of Manchester has announced the launch of a new initiative which will allow visitors to book a stay at participating hotels and receive an extra night completely for free.
The program, aptly named 'Have a Night on Us', has been created by Marketing Manchester in partnership with the Manchester Hoteliers Association. The aim of the campaign is to boost confidence in the travel sector, encouraging tourism in the city as the effects of the COVID-19 pandemic become clear.
According to a statement, the move is designed to 'increase overall spend within the tourism economy' in the city.
In 2019, the Greater Manchester area boasted a tourism economy of around £9 billion. According to Marketing Manchester, estimates for the current situation are dire – at least 70% of that previous value has been lost since the pandemic began in early 2020.
There has been at least a £6 billion loss to the economy, as well as the loss of thousands of jobs across the sector, including in hospitality, leisure, culture and events.
Currently, nine popular hotels in the city are taking part, including:
The Stock Exchange Hotel, The Ainscow Hotel, The Lowry Hotel, The Edwardian Manchester, Kimpton Clocktower Hotel (pictured), Holiday Inn Manchester City Centre, Hotel Brooklyn, Roomzzz Corn Exchange and Roomzzz Manchester City Centre.
It has also been confirmed that additional properties may be joining the program over the coming weeks and even months.
Managing Director of Marketing Manchester Sheona Southern said that the program is a win for everyone:
"Our 'Have a Night on Us' campaign looks to address the current shortfall in hotel bookings by working with accommodation partners to offer attractive deals that we hope visitors will take up in order to enjoy an extended summer break in Greater Manchester this summer.

"Greater Manchester hotels have suffered terrible financial losses since the start of the Covid-19 pandemic, with many out of action for over 10 months due to last year's tier system and national lockdowns. We are now more optimistic about recovery and there is a great deal to look forward to as Greater Manchester returns with a packed calendar of new openings and developments within the tourism economy. It is however, going to take time for confidence to return and there is still a significant question mark over the future of large sporting and music events, on which our hotel sector thrives, as well as the return of international visitors."
Due to the underwhelming 'green list' of holiday destinations, it is expected that many Brits will choose to 'holiday here this year'. Interest in staycations is up significantly, as travellers start looking in their own backyard for holiday options, away from crowds and often with family groups.
Adrian Ellis, Chair of the Manchester Hoteliers Association, said the program was vital for local accommodation and tourism vendors.
"This new campaign will play an important role in helping Greater Manchester's hotel sector recover from the devastating effects of Covid-19, and will help to drive much-needed bookings to the region's accommodation providers.

"Our hotels have made significant investments in making sure they are Covid-compliant, alongside meeting VisitEngland's 'We're Good to Go' accreditations. The unique 'Have a Night on Us' offer is great value for money for visitors, who can be confident knowing they are both safe and supporting the tourism and hospitality industry at a time when it needs support the most."
Similar programs have popped up across the globe, with many cities implementing incentives to get locals to plan a staycation, or spend more time (and money!) exploring their local area.
A collection of properties in London have partnered up to offer discounted rates and 'value-packed packages' to encourage visitors to the capital over the busy summer period. IHG Hotels and Resorts have also launched their own version: their promotion will allow guests at over 75 UK properties the ability to check out at any time on their day of departure. No nasty 8am wake-up calls then?
Are you planning a staycation this summer? Let us know where you're headed in the comments.
Supersonic jet can fly anywhere in the world in four hours – and it will only cost you $100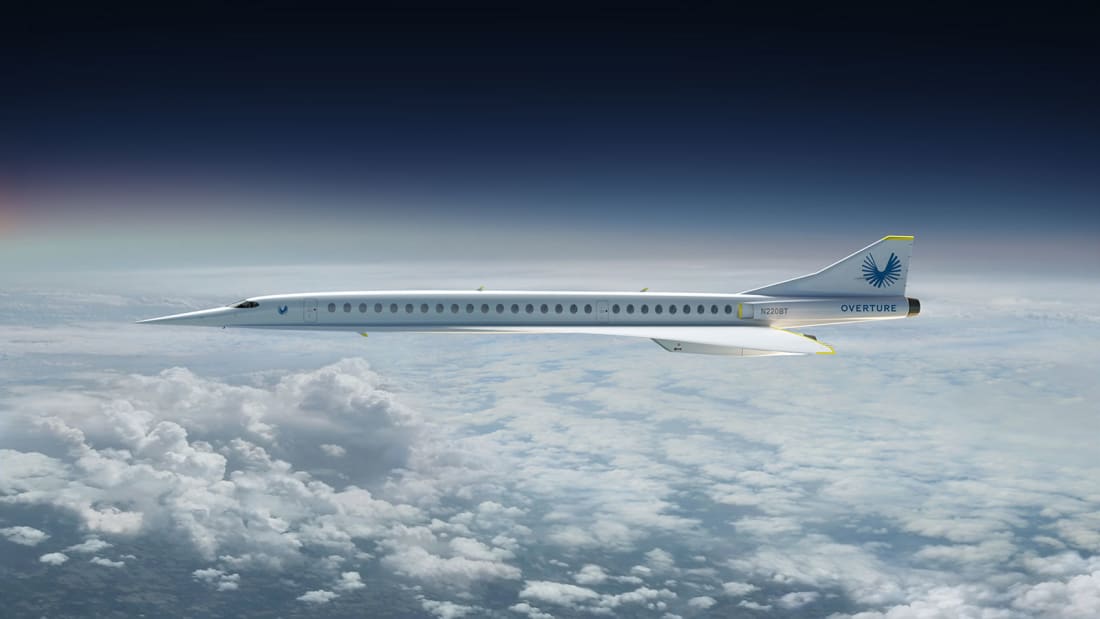 While airlines everywhere are tightening purse strings, selling off assets and 'trimming' staff numbers – one company has decided to go as far against the grain as possible in these 'unprecedented times'.
Boom Supersonic are planning to – you guessed it – revive the infamous 'supersonic' jet; a project previously attempted by Concorde and which ended up being a financial (not to mention environmental) disaster.
Boom Supersonic are only one of several start-ups hoping to revive the super-sonic travel dream, and last October became the first to officially debut their demonstrator aircraft, the XB1.
In an interview with Blake Scholl, CEO and founder of Boom Supersonic, it was revealed that they have more projects in the works, including 'Overture', the Mach 2.2 commercial airliner set to be flying by 2026.
He also discussed the company's plans to 'break the time barrier'.
"Either we fail or we change the world. That barrier of time is what keeps us apart. We believe it's deeply important to break the time barrier, more so than the sound barrier."

"It changes where we can vacation, changes where we can do business, changes you can fall in love with or you can be close to."
Travel times have remained fairly consistent since the 'Jet Age' of the 50s and 60s.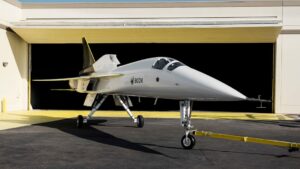 'Overture' will be designed to fit anywhere between 65 and 88 people, and will 'focus' on over 500 routes – most transoceanic – that will benefit from the aircrafts significantly higher speeds. The aircraft will be more than twice as fast as the subsonic commercial jets used today.
That means that a flight to New York from London could take just over three hours.
The next steps are simple: Boom Supersonic plan to fly the scaled down prototype of the XB1 toward the end of the year, and, if successful, open up a new US factory in 2022.
The first Overture plane will begin construction in 2023.
"We see ourselves as picking up where Concorde left off, and fixing the most important things which are economic and environmental sustainability" added Scholl.
Sounds great, but surely the cost will ensure only the elite get to travel fast? Not so, according to the company. Not only will the flights be fast, but the fares will be…fair. It is thought that flights on the Overture will cost around the same as a Business seat on a regular aircraft today.
Scholl said that the aim is to make travel accessible, not a 'once-in-a-lifetime' experience. Instead, he wants people to be able to 'get anywhere in the world in four hours for 100 bucks'. Eventually.
Currently, the four hour, $100 dream is Boom's long-term aim, two or three generations of aircraft down the line.
The aircraft will be 100% carbon neutral. As the large, wide-bodied jets such as the A380's are retired en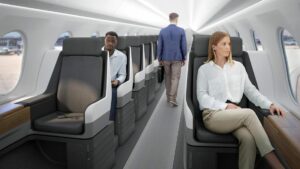 masse, due to the significant downturn caused by the pandemic, the company has found the climate more ripe than ever for a new solution.
" I wouldn't wish the pandemic on the world, but it's actually going to accelerate the adoption of supersonic. As things get back into growth mode," says Scholl, "There's an opportunity to build a new-generation fleet that's got supersonic baked into it. That actually makes it easier to adopt."
The current prototype shows a long, lean design, with no middle seats – another pandemic-influenced factor. However, it will still be able to fit in at the airport.
"Physics does not let you design an ugly supersonic jet," says Scholl. "It's about the same form factor as a 757, so it fits in narrow-body gates, which actually causes airlines to really love it."
Wide-body gates are at a premium in today's super-congested airports, so big fat airplanes can be hard to find space for — but not so for a humble Boeing 757, 737 or, says, Scholl, a Boom Overture.
Qantas announce they will delay resumption of international flights until December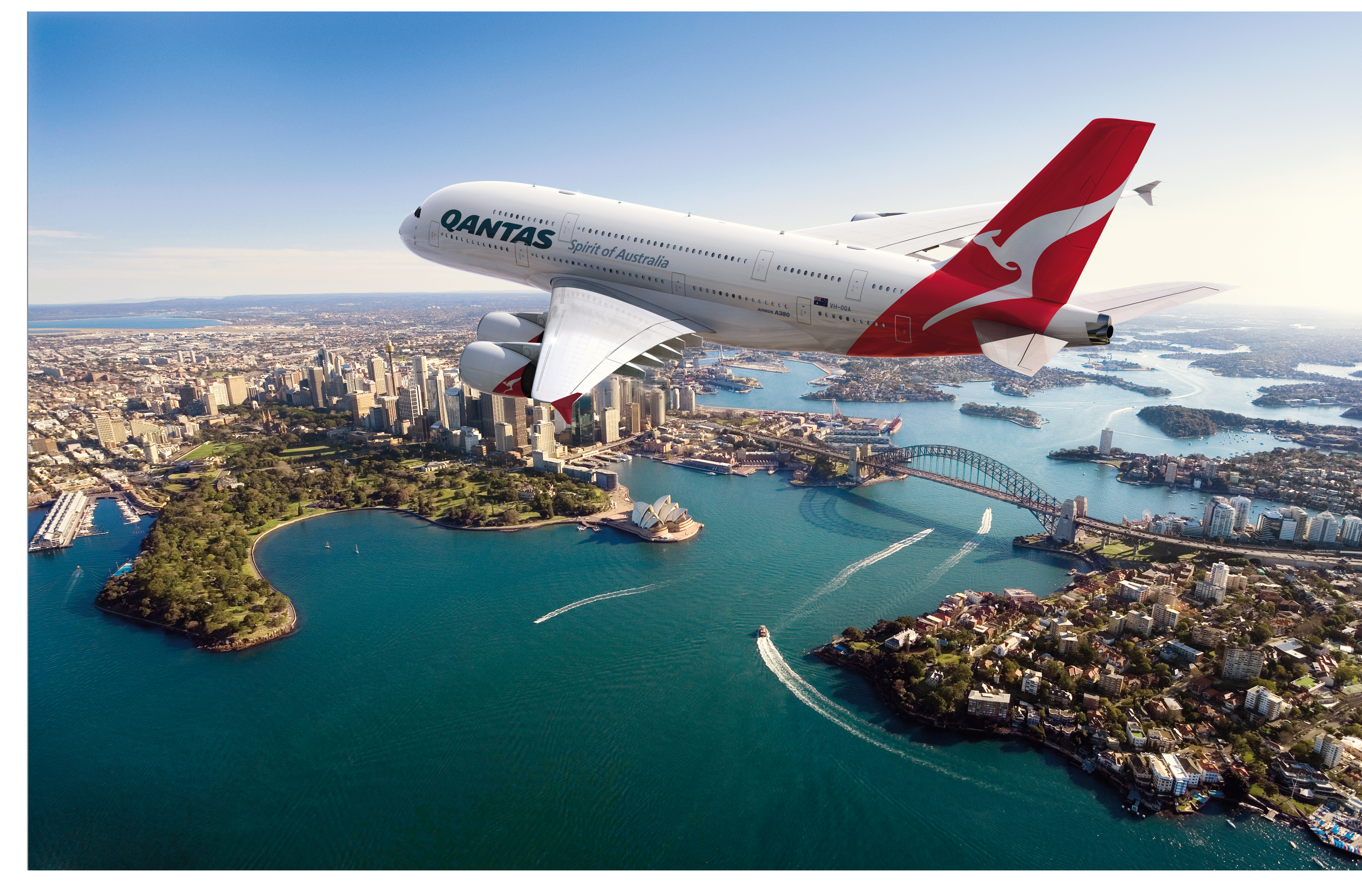 Australian flag carrier Qantas, along with low-cost subsidiary Jetstar, has announced that it will be pushing back its planned release of international flights until late December, 2021.
The announcement came shortly after the Australian Federal Government laid out its revised timelines for the vaccine rollout in the country, which will coincide with a significant reopening of the country's international borders.
Prior to the announcement, the airline had ambitiously aimed to resume flights to 'most international destinations' from October (four months later than the original resumption date of July).
Currently, the only international flights taking place are within the recently implemented 'trans-Tasman bubble' with New Zealand.
"We remain optimistic that additional bubbles will open once Australia's vaccine rollout is complete to countries who, by then, are in a similar position, but it's difficult to predict which ones at this stage. This planning assumption will allow the Qantas Group – and Australia – to be ready to take advantage of pockets of tourism and trade opportunity as they emerge in a post-COVID world."
The airline also said that the plans will be constantly reviewed as the December date gets closer, and as 'circumstances evolve'.
Any customers with bookings between 31st October and 19th December will be contacted; however, bookings were already quite low as Australians lack of confidence in international travel hits an all time low.
Previously, Qantas CEO Alan Joyce has been quoted saying that vaccinations will be a necessity for
international flights, and that no un-vaccinated passengers will be allowed on board his airline.
Qantas will continue to provide repatriation and freight flights overseas, and said that "the resurgence of domestic travel remains the most important element of the Group's recovery".
Australia has been added as a 'green' country to the UK's most recent traffic light travel system, meaning anybody entering the UK from Australia would not be required to undergo mandatory quarantine.
However, Australia are not accepting any international arrivals, citizens or no, except for repatriation reasons or in extreme circumstances (or, apparently, if you're a celebrity).
They have also recently made it illegal for citizens to leave the country without authorisation via the new trans-Tasman travel bubble. As New Zealand currently has no restrictions on leaving the country, some Aussies have found a loophole in the restrictions.
New Zealand also recently announced it will be extending it's bubble to the Cook Islands – no word yet on if Aussies are allowed to visit too. The Pacific Islands, including Samoa, Tonga, Vanuatu and the Cook Islands all rely heavily on tourism to fuel the economy. There have been very few cases of the virus reported on any of the islands.