Cruz emails British Airways customers
At the moment there seems to be a daily deluge of random companies CEO's emailing me to tell me about what they are doing in terms of COVID-19 service and some extending loyalty benefits. BA's CEO Alex Cruz had been strangely quiet. Yesterday BAEC members started to receive an email from Mr Cruz. You can see the letter I received here: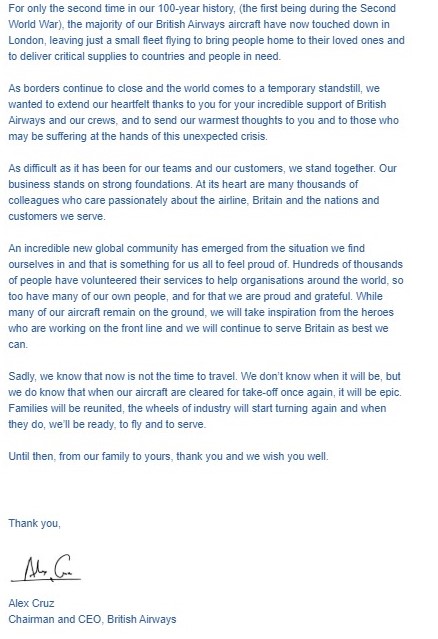 Whilst I think it is good that we have finally had some communication from Alex, it tells us precisely nothing. It would be better if they were honest and said we have started to look at making concessions for status and will continue to review it. Or maybe even gave some ideas of what they were thinking. Or appreciated our loyalty perhaps. Or explain why you can't get a refund on line…..
I do like the new BA video that they released like many other airlines seem to be doing.
What do you think of the email? Let us know in the comments below or on social media.
Iberia offers voucher bonus for a limited period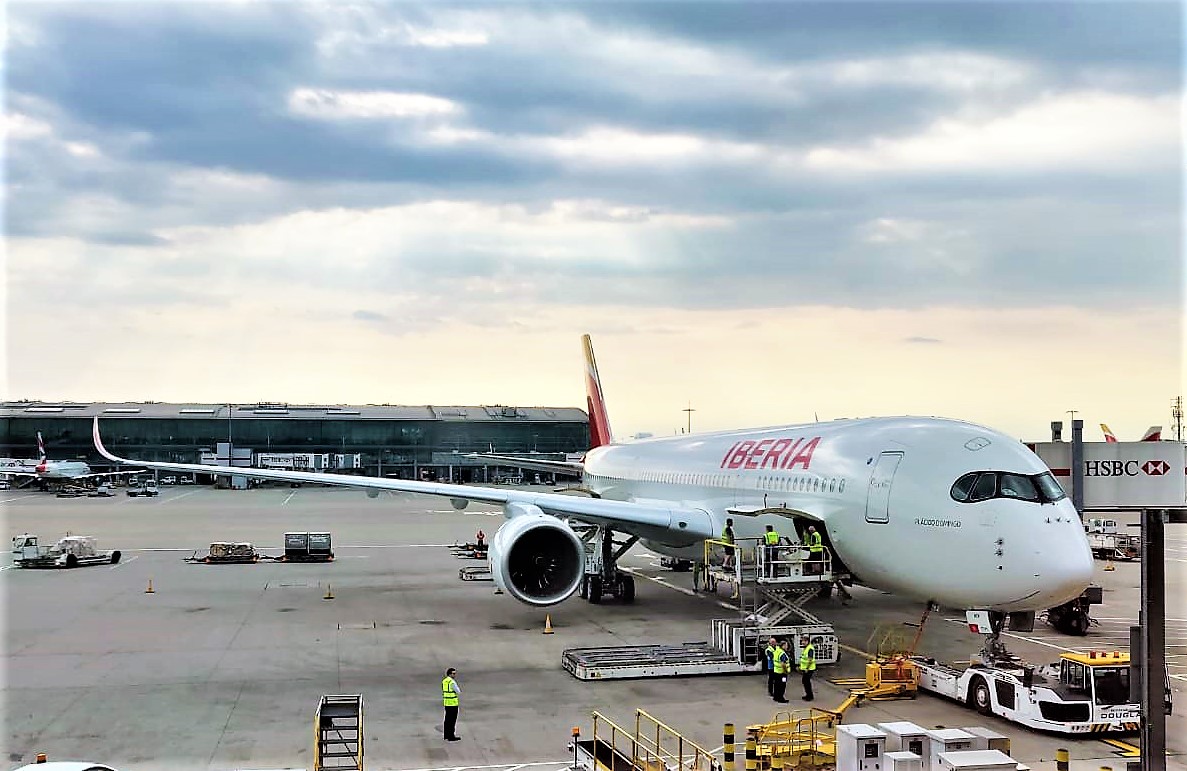 Like all the other airlines, Iberia are keen to keep as much cash as possible. Some airlines are doing this by removing all reference to refunds online or making you call to get one. Others are trying to bribe people with an extra incentive. Finnair, Aer Lingus and Qatar are already offering an extra 10%. As two of the IAG airlines are offering this, it would make sense for BA also to do this. However, BA employees don't believe this is likely to happen any time soon.
If you are likely to want to travel as soon as you can when it is safe and know you will send it, it may be worth considering. Also worth thinking about is how likely the airline is to survive. In terms of IAG, I would say they are one of the safer bets in terms of airline groups and I also can't see the Spanish government not bailing them out either.
To get the voucher you need to apply by 15 April. A voucher will be sent for the amount of each of your tickets by email in a maximum period of 5 business days without you having to worry for nothing else. They can be used one or more times until you have used all the credit on it. You can whenever you want until 30 June 2021 (last return on 30 June 30 2021).
The voucher is valid for direct or connecting flights where at least one of the routes is operated by Iberia, Iberia Express or Iberia Regional Air Nostrum.
You can't use it for combined purchases of flight+hotel or flight+car. You also are not able to purchase tickets with Avios and the charges on it but it is applicable for purchases of discounted tickets with Avios.
You can find the Iberia offer page here.
American Express extends all BA Companion vouchers new and old

Tomorrow we will be looking at whether you should cancel any of your American Express cards. We had previously reported that BA and Amex were extending all existing companion vouchers by six months. This has now been formally announced to include new vouchers as well. You can check your vouchers' validity in your BA Executive Club account.
To ensure you have the opportunity to use any Companion Vouchers earned through your British Airways American Express® Card, a six month extension will be applied to both existing and new vouchers as per below:
• If you already have a Companion Voucher(s) in your British Airways Executive Club, this extension has automatically been applied. You can view any existing vouchers you may have by logging into your Executive Club Account.
• If you earn a new voucher by 30 June 2020, British Airways will automatically extend your expiration date by six-months in addition to the original validity. So a Premium Plus card voucher would have 2.5 years and the free card would have 1.5 years validity.
To view your spend tracker and see how close you are to earning your Companion Voucher, just log in to your American Express Account and find the Membership section.
Marriott offers an extra year of status to members

The majority of hotel chains now seem to be doing the right thing and extending status, points expiry and more. Marriott has now offered a much better package than before with a decent flexibility booking policy too.
Bookings
For guests with existing reservations for any future arrival date, including reservations with pre-paid rates that are non-refundable or not changeable, Marriott will allow full changes or cancellation without a charge up to 24 hours prior to arrival, as long as the change or cancellation is made by 30 June 2020. However, if you make a change you may have to pay any rate differences.
For guests making new reservations for any future arrival date, including reservations with pre-paid rates, between 3 March and 30 June 2020, the reservation can be changed or cancelled at no charge up to 24 hours before your scheduled arrival date.
Status and points
Status Extension: The status you earned in Marriott Bonvoy in 2019 and currently are will be extended to February 2022.
Points Expiration: To provide you ample time to redeem points, the expiration of points will be paused until February 2021. At that time, your points will only expire if your account has been inactive for at least 24 months. (see our article here on how to stop them expiring)
Enjoy our content? Help support Turning Left for Less by doing your Amazon shopping through our link. There is no cost to the reader and it helps me continue to run the blog during the current crisis of very little blog income through advertising or affiliates.