Are Swiss/Lufthansa the worst airlines for refunds in the crisis?
We all know that airlines are in trouble financially and don't want to pay out for ticket refunds. Many such as BA or Virgin have removed the option to apply for a refund online, even for fully refundable flights. BA is actually pretty good if you can get through on the phone, and I have now received refunds for all my cancelled flights within a couple of weeks of asking for them. Virgin won't let you speak to them until 72 hours before the plane was due to depart which I am finding infuriating! I hold a refundable ticket and should be able to cancel at any time. And they have cancelled my flight anyway! Hopefully, I will be able to get through when it gets to 72 hours before.
It could be worse, though, as Swiss/Lufthansa sinks to a new low. The EU recently ruled that airlines must refund flights that they have cancelled. Forcing customers to have vouchers is against EU rules. Roving Reporter had booked a Swiss companion fare and was recently stranded in India at the end of a trip by them. Swiss cancelled his return flight, and then were unreachable by phone for days and left him stranded to sort out his own way home. This was for someone flying in First class! Thankfully this was a few weeks ago before India went into full lockdown.
To make matters even worse, he has understandably been trying to get a refund from them of his return flight, so he can at least recoup some of the cost of his very expensive flight home. He was told yesterday that he could not have a refund at the moment as they will not be processing any refunds until the end of the summer. The telephone agent told him that they had been instructed to say to customers that the refund department was now closed due to staff shortages and that they would not be processing any refunds until the end of the summer!
Here is his official email response from Swiss:
Their website now shows: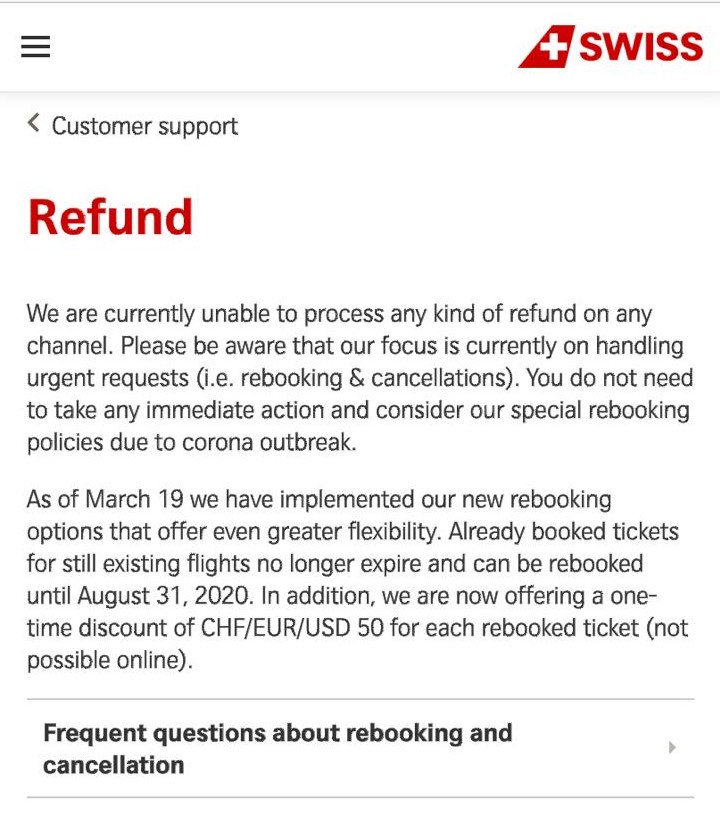 Swiss is a subsidiary Germany's Deutsche Lufthansa AG who is currently seeking a government bailout. Analysts a few weeks ago thought that Lufthansa has about €5.1 billion available, but that would run out in less than a month if they had to refund all the cancelled flights. The German government has called on the EU to allow airlines to issue vouchers for future travel instead, which so far has been refused. It is also interesting to note that although Switzerland isn't part of the EU, they did agree to adopt EU26 so are bound by its rules in Swiss law.
It will be interesting to see if the EU tries to take any action against Lufthansa/Swiss for trying to fob people off with a "refund sometime".
In the meantime, if you are in this situation, I have advised RR to file a section 75 claim with his credit company for goods or services not provided.
Have you been trying to get a refund from Swiss or Lufthansa? Let us know your experiences in the comments below or on social media.
Enjoy our content? Help support Turning Left for Less by doing your Amazon shopping through our link. There is no cost to the reader and it helps me continue to run the blog during the current crisis of very little blog income through advertising or affiliates.