I will shortly be publishing a series of reviews of Etihad business class, but in the meantime, we can take a look at their latest business class product.
Yesterday a special flight to launch Etihad's new A350 took flight between Abu Dhabi and Paris. The airline has been trying to keep its new business class seats quiet although inevitably there have been a few leaks. Etihad's business class seats have been of a good standard for many years, but the new seats take things one step further with the addition of a door. The A350, like British Airways, does not feature a first class cabin. It's such a shame that Etihad is no longer flying their A380s at the moment as it arguably had one of the best first class products in the work with the First Class Apartments.
New A350 interiors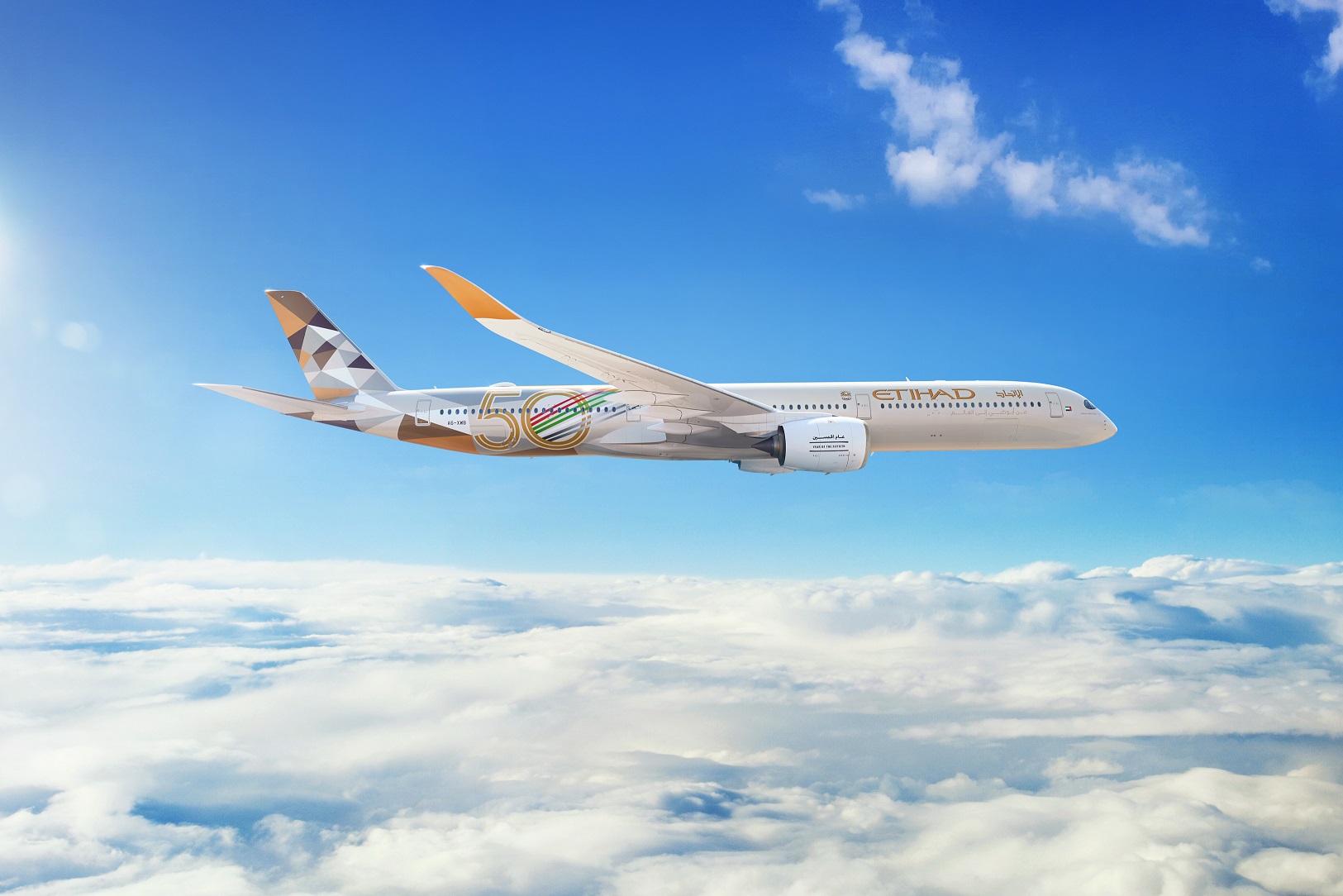 The new aircraft features Etihad's newest cabin interior which is inspired by Abu Dhabi and is both more efficient and sustainable in design.
Etihad's signature lighting design is inspired by the shadows cast by Abu Dhabi's palm trees. The cabin lighting emulates natural ambient light and is designed to provide an optimum environment for sleeping and reduce the effects of jetlag. The Airbus A350 also offers the quietest cabin experience for a wide-body aircraft which I did not know before I saw the press release! This could be why it's my favourite modern aircraft!
Another feature to help reduce light pollution, and therefore jetlag, is the new dark-mode interface on the E-BOX inflight entertainment system. I'd assume this is laos to reduce the amount of blue light which can interfere sleep. Mobile and Wi-Fi connectivity is also available throughout the aircraft.
Etihad's 'Little VIP' younger guests will enjoy the newly launched Warner Bros. World Abu Dhabi themed family-friendly flying experience and a special feature on this aircraft is the new interactive flight map feature which means children can explore the maps with the help of some Jurassic-age friends.
Business class – new Business Studio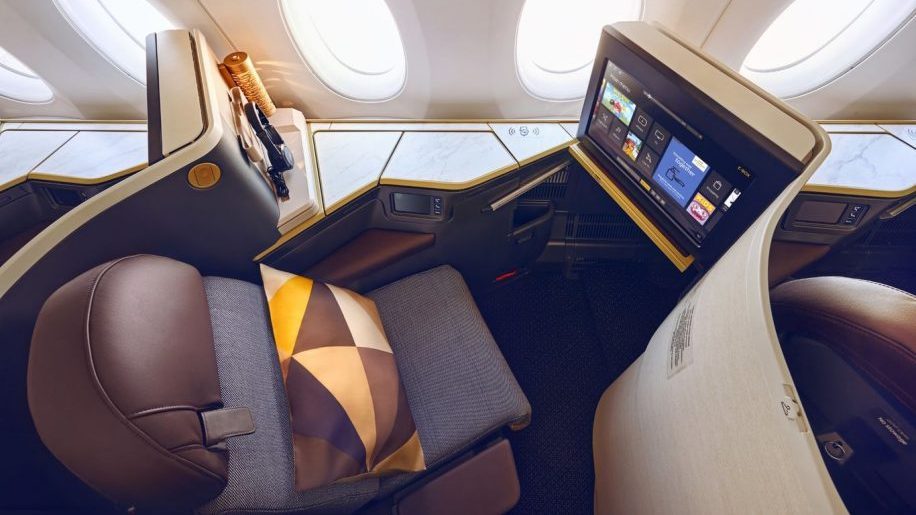 The new Business class is home to 44 Business Studios with sliding doors that provide a high level of privacy to each suite. Every seat faces forward with direct aisle access. The Business class seat, with a width of over 20", converts into a fully-flat bed of 79" in length, and features ample storage for convenience. These are the same Super Diamond seats that the new British Airways Club Suites on their A350s are built on.
There are noise-cancelling headphones and an 18.5" TV touchscreen to allow passengers to enjoy Etihad's extensive inflight entertainment offering. The Business seats also feature a built-in wireless charging dock and Bluetooth headphone pairing. I've not seen that combination before in business class and its definitely very welcome. Although I am yet to find a phone case that allows me to properly charge wirelessly and be practical. I love the headphone pairing idea though! The wireless charger is situated next to the TV screen.
The storage is almost identical to the storage on BA's Club Suite with a large and small bin set into the space next to the seat. There's also a side storage bin and room under the footstool for more. The only difference I can see is that there is no headset cupboard but there is a hook to hang your headphones on by the individual lamp.
Centre seats have the option of a divider that can be removed or installed between the seats. The large table has a built-in book holder too.
You'll notice that there are no overhead bins in the centre which adds to a feeling of space. However, from a practical point of view it means the window seats get extra traffic to their bins which can cause a bit of disturbance if you get one of those annoying people that seems to get up every 5 minutes to get something from their bag!
You can explore the cabin in 3D here.
Business class guests can choose from an à la carte menu, and guests on longer flights can enjoy Etihad's signature 'dine anytime' service. You also get an Acqua Di Palma amenity kit.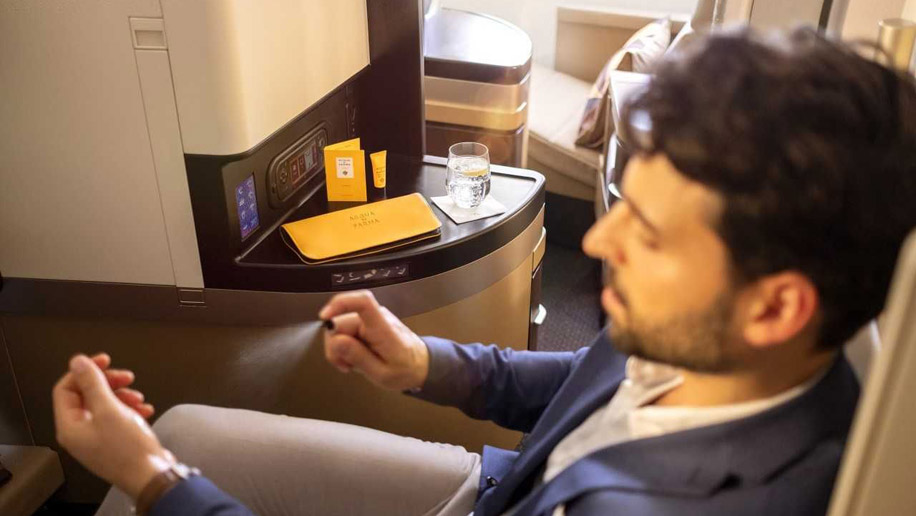 The airline's new A350-1000s will be deployed on a number of short to mid-range routes in Q2, including Mumbai and Delhi, before being introduced on ultra-long-haul operations to Chicago and New York from July.
Tony Douglas, Group Chief Executive Officer, commented: "The Airbus A350 is an absolutely incredible aircraft, and we are proud to introduce it into the Etihad Airways network today. Our teams have worked closely together to craft a product and travel proposition that will ensure every journey with Etihad is a choice well made – both for our guests and for the planet. With highly efficient fuel consumption and CO2 savings, the A350 will support our goals to reduce carbon emissions and deliver an unmatched flight experience for our guests."