I have been working my way around the plethora of new hotels in London's City and East area but was yet to try the new Hyatt which opened in July 2021. So when Hyatt kindly invited me to try their new restaurant Zoom East and their new rooftop bar along with a stay, it seemed the perfect opportunity. Having stayed at Hyatt Place at Heathrow before, I'll admit I wasn't expecting the food or bar to be anything more than a typical hotel restaurant – how very wrong I was….
Free stuff – here's how I handle it
Up until Covid I rarely took many free stays as frankly, it makes everything all more complicated. However, in the interests of doing enough reviews to keep up with new openings etc, I have recently been accepting some more. Previously there have been some comments about how I am just going to write nice stuff because it's free. So I thought it worth just explaining a little about how it works. For a start, I only accept free stays if I already know that the hotel is of a good enough standard. It could be that I've stayed before, or know someone that has or if not I look at online reviews as well before I accept. (Hyatt Place gets 4.5/5 on TripAdvisor)
If I was to have an issue during my stay I would state that in the review having given the hotel a chance to rectify it. I will always be honest and as you know go into detail about the hotel – good and not so good. There's no point in writing a great review and then a TLFL reader stays and calls me out on it. I lose my reputation, so it's not good for anyone.
If I had a truly disastrous stay I would not write the review at all but look at returning. I often do this with stays that I have paid for too. Last summer I stayed at a hotel that I really loved but one employee made the stay far less good than it should be. So I chose to inform the hotel and I will return another time to see how things have improved rather than perhaps colour people's judgement based on one person. That one employee would have overly influenced the review, so I chose to give them a second chance.
There were no issues at all on this stay, but I thought it worth pointing out how it works as people often interpret a good stay as me just saying that because it was free! I never accept free stays that do not allow me the freedom to write what I want to. I'd much rather just pay!
Hyatt Place London City East Location
Hyatt Place London City East is east of the city and about 5 minutes walk from Aldgate East tube. There's plenty to do nearby as it's close to the vibrant Brick Lane, Spitalfield's Market, the Tower of London, and hip Shoreditch. If you are into art it's also very close to the Whitechapel Gallery that's around 3 minutes away.
Check-in at Hyatt Place London City East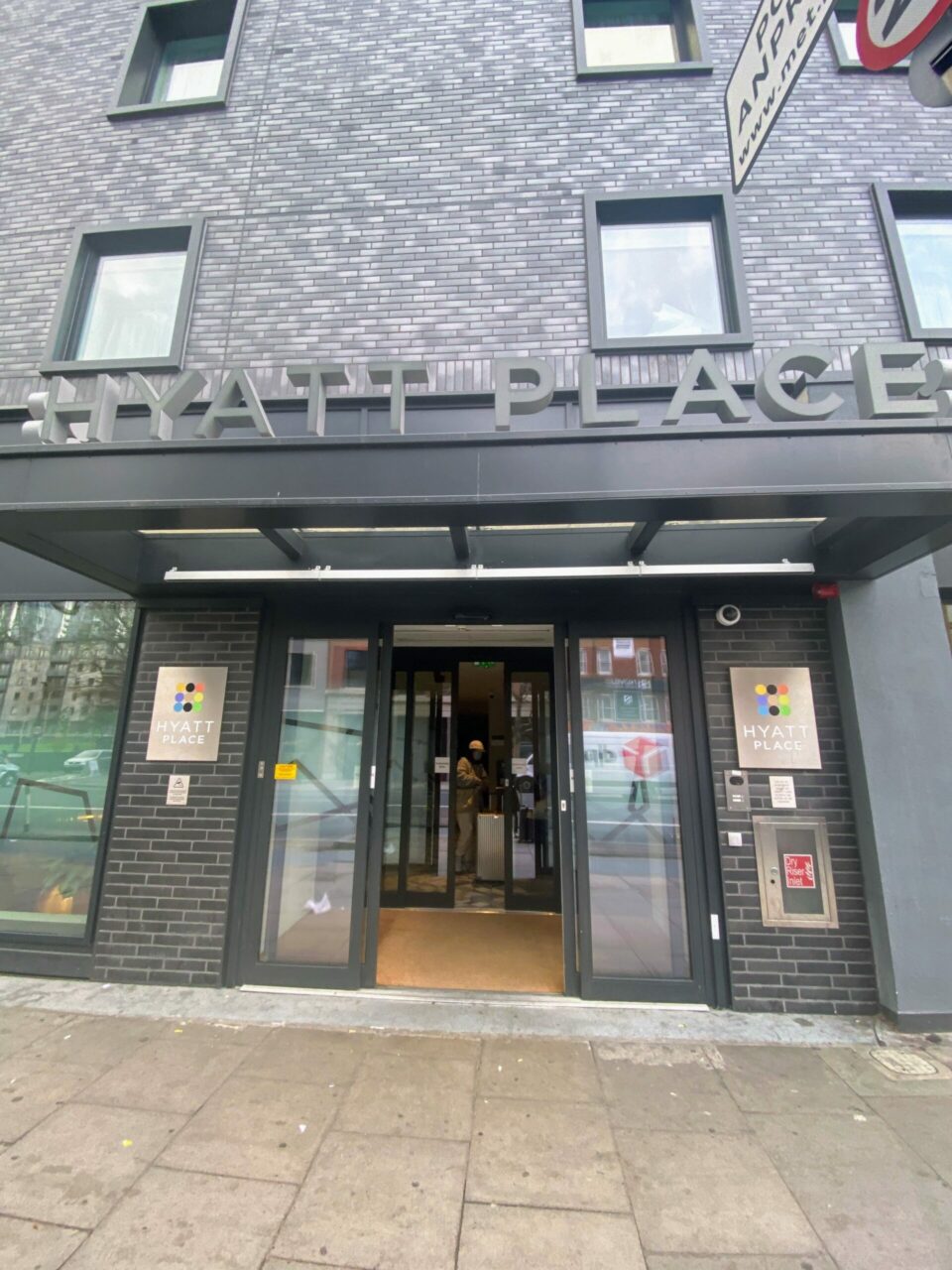 I'll be honest and say when you see the entrance, the hotel doesn't look overly impressive as the facade is quite nondescript. But really, does that matter? Once you get inside it's a different story. Hyatt Place is Hyatt's select service hotel which is aimed at mid to upper-level business and leisure travellers. You could equate it with their competition at the Hilton Garden Inn or Courtyard by Marriott level. But in my limited experience with this one and the Hyatt Place at Heathrow, I'd say they are above that.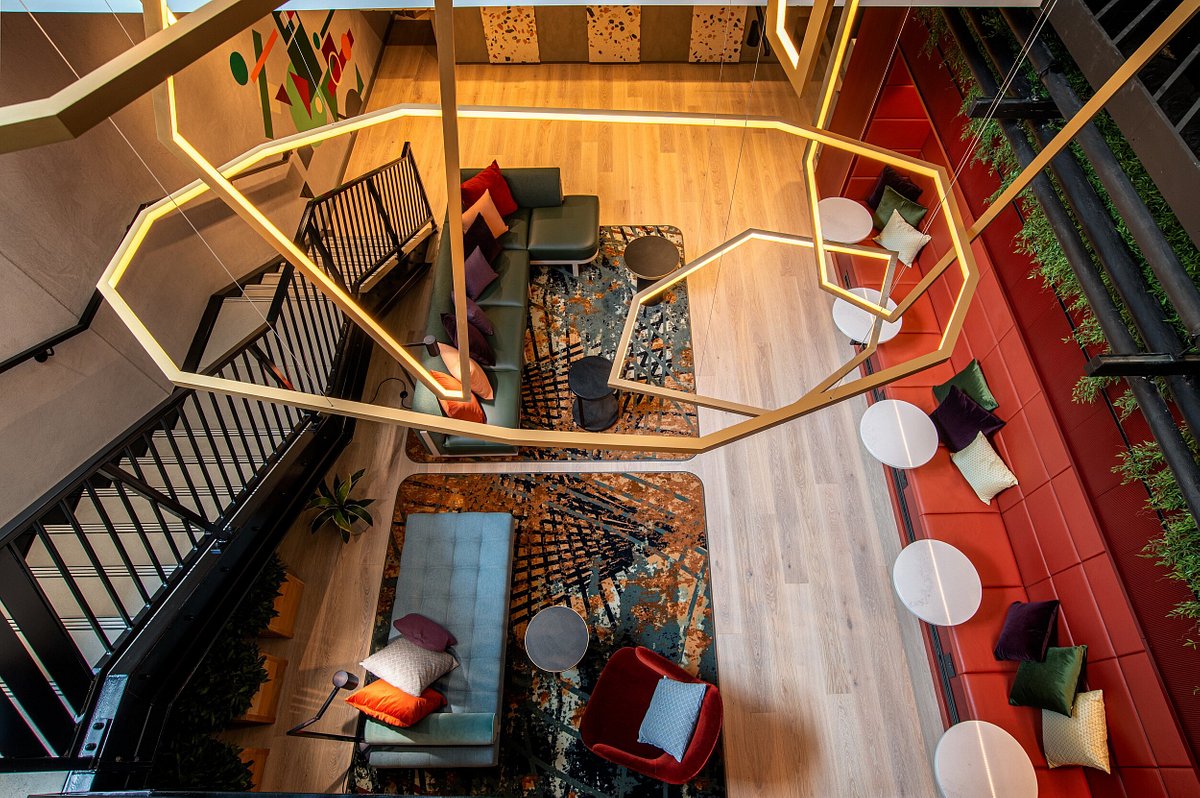 You enter on the ground level but have to go down to reception via either the staircase or lift. It's clear that artwork is a big feature here, especially in the reception area where there are several murals. The ones directly by reception are by Olly Fathers @ollyfathers whose abstract art has been commissioned for Soho House and has been shown multiple times at the Saatchi Gallery.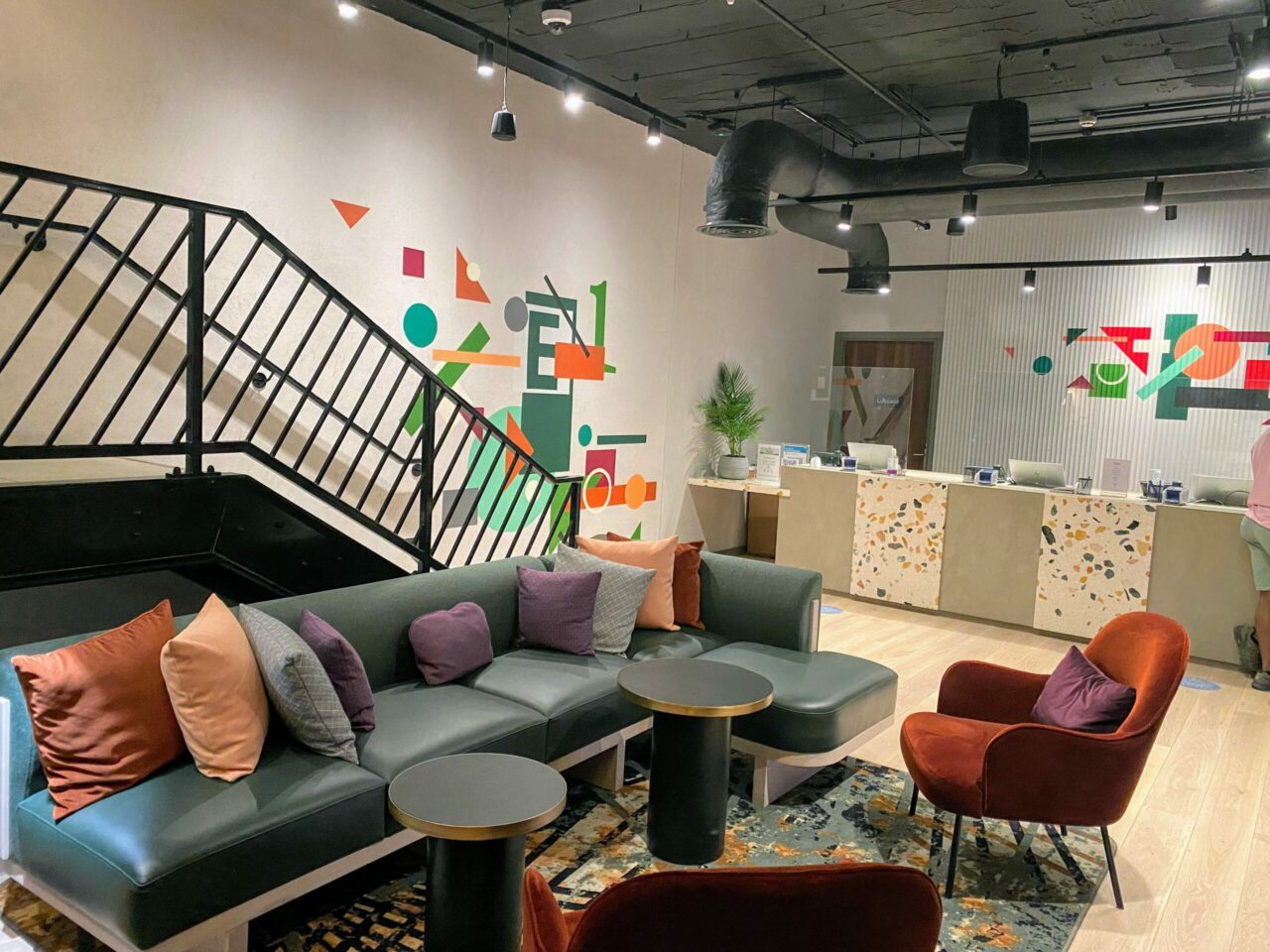 Once at reception, I was warmly greeted and given a sheet of paper with all the details of when things were open. This is one thing I really wish all hotels would do. I travel a lot and I really don't want to listen and memorise the opening times for everything when I check-in. It's much better to hand me a sheet of paper (or why not email it?) so I can refer back to it.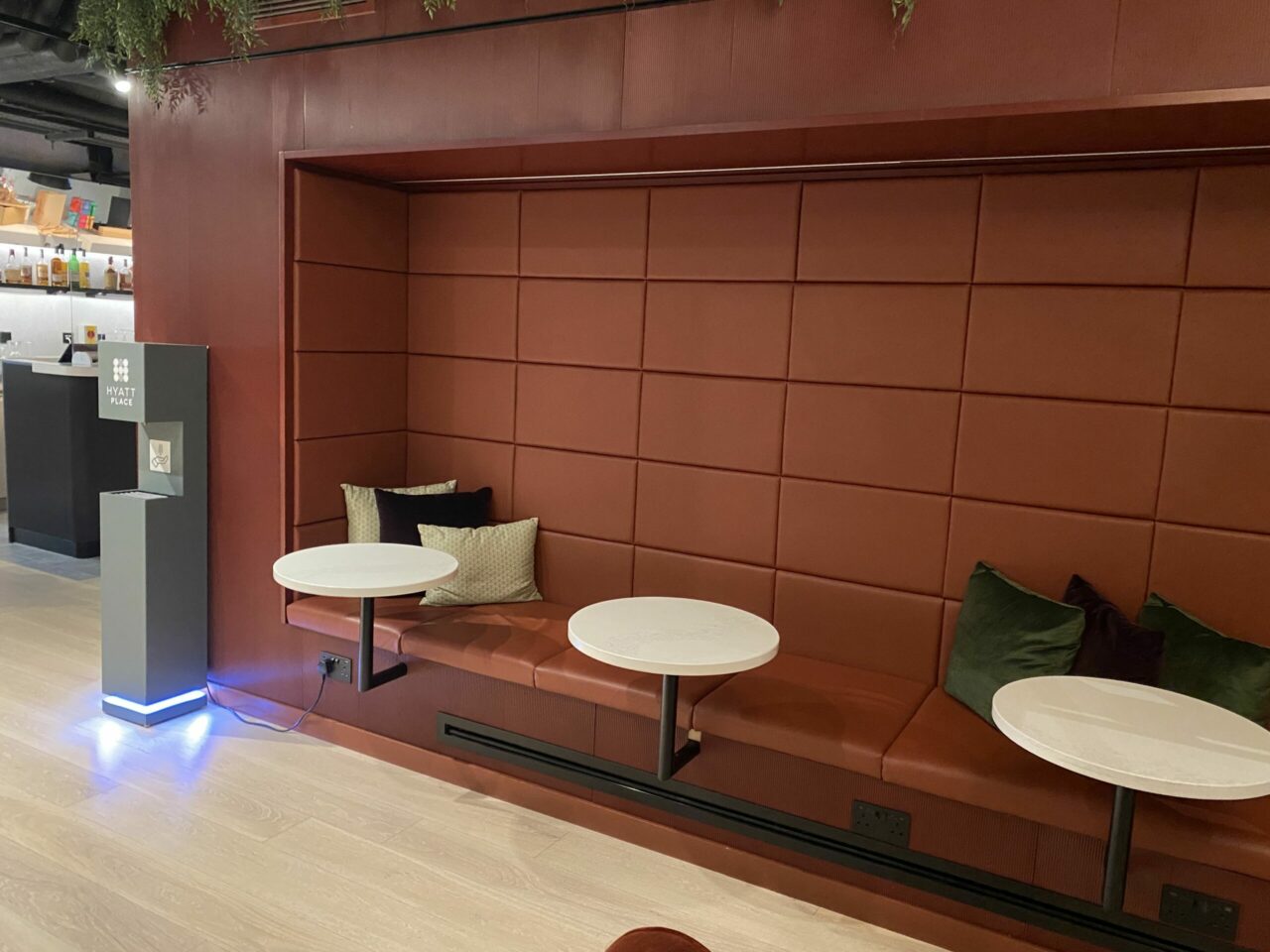 There is a fairly large area around reception which is handy for working as there are plenty of tables at the right levels. There are also two PCs and a printer that you can use as well.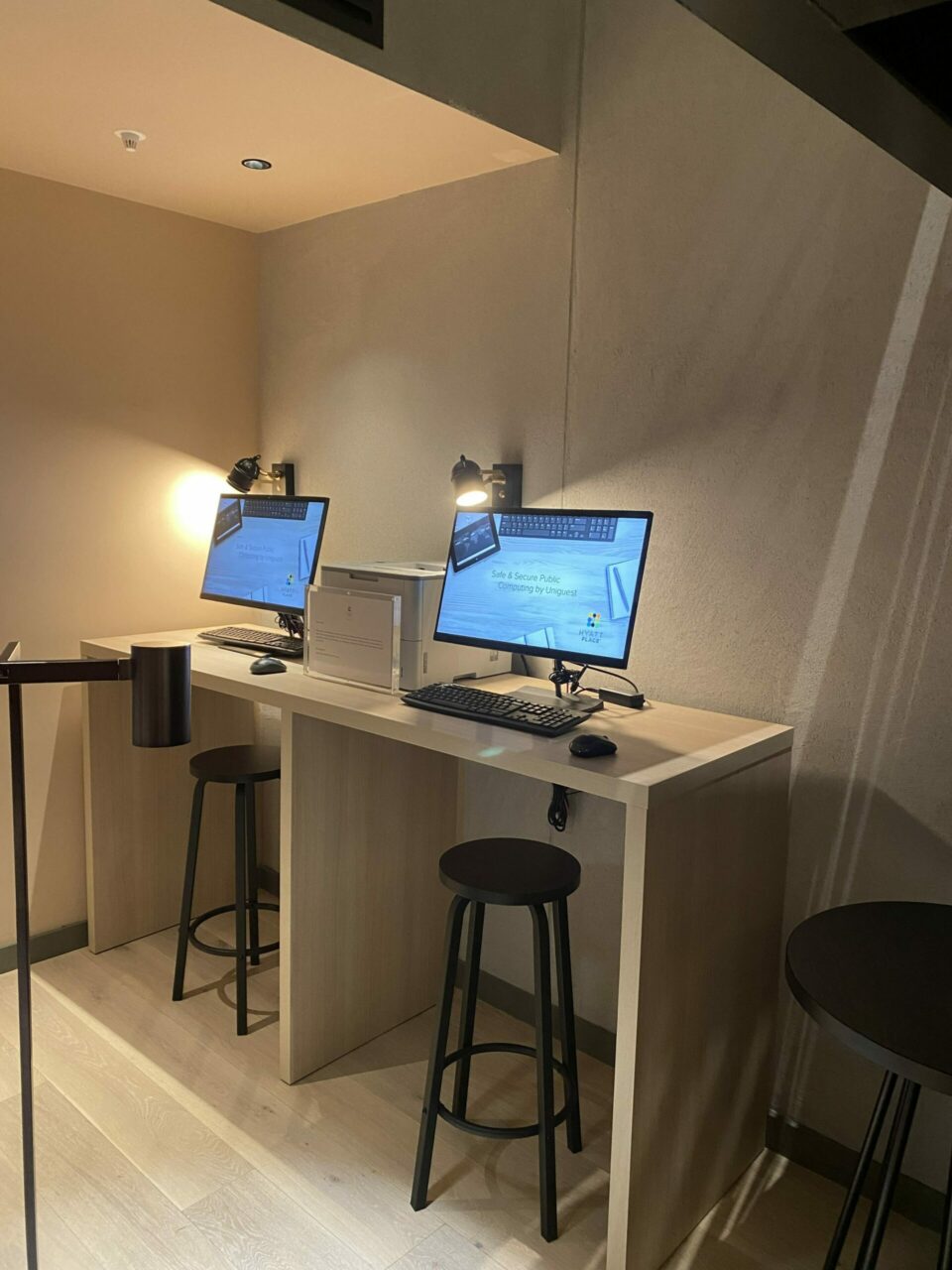 I really liked this as it gave me somewhere to work after I checked out rather than having to go to a noisy cafe.
Here you will also find another fantastic mural by Spanish-born street artist Jay Kaes (IG @jaycaes) which is inspired by the urban landscape around the hotel and of course the London Underground. I really liked this one and the way the furniture blended in seamlessly with it. Jay's artwork can also be seen on the menu for Pocketsquare.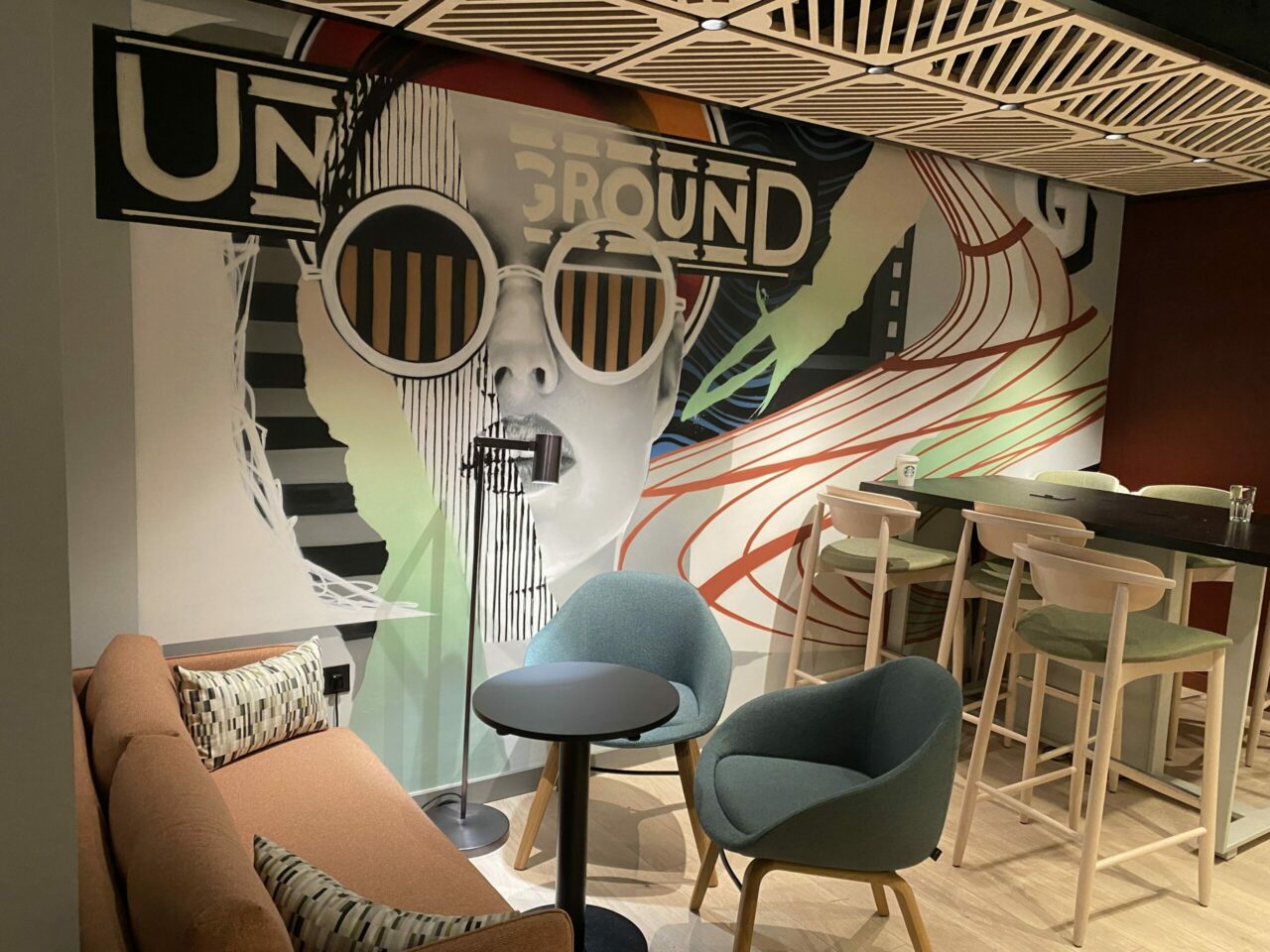 In reception, there is also a small cafe where you can grab a Starbucks, although this is due to be changed to a local coffee brand shortly which is great. They also have some soft drinks and snacks which is useful.
The Hyatt Place London City East room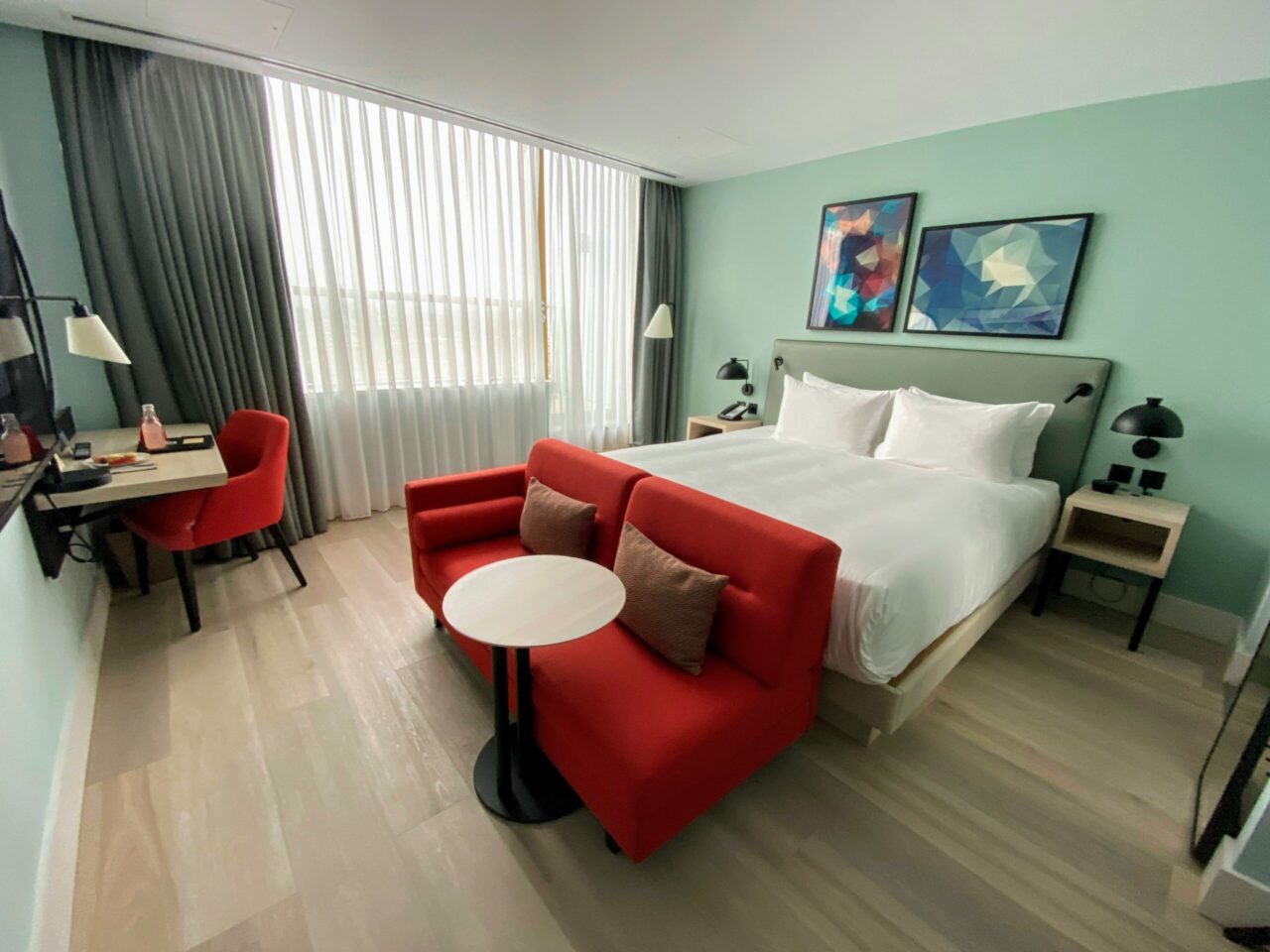 Generally, Hyatt Place rooms are very modern and simple in their appearance and this was no exception. I had a 1 King Bed High Floor with Balcony which is the category I would recommend. The room feels bright and airy when you walk in thanks to the abundance of windows and a door leading out to the terrace. It's pretty rare to find outdoor space in London hotels, so I was very pleased to see a lovely big balcony at Hyatt Place! There was furniture to relax on and a view of the city skyline.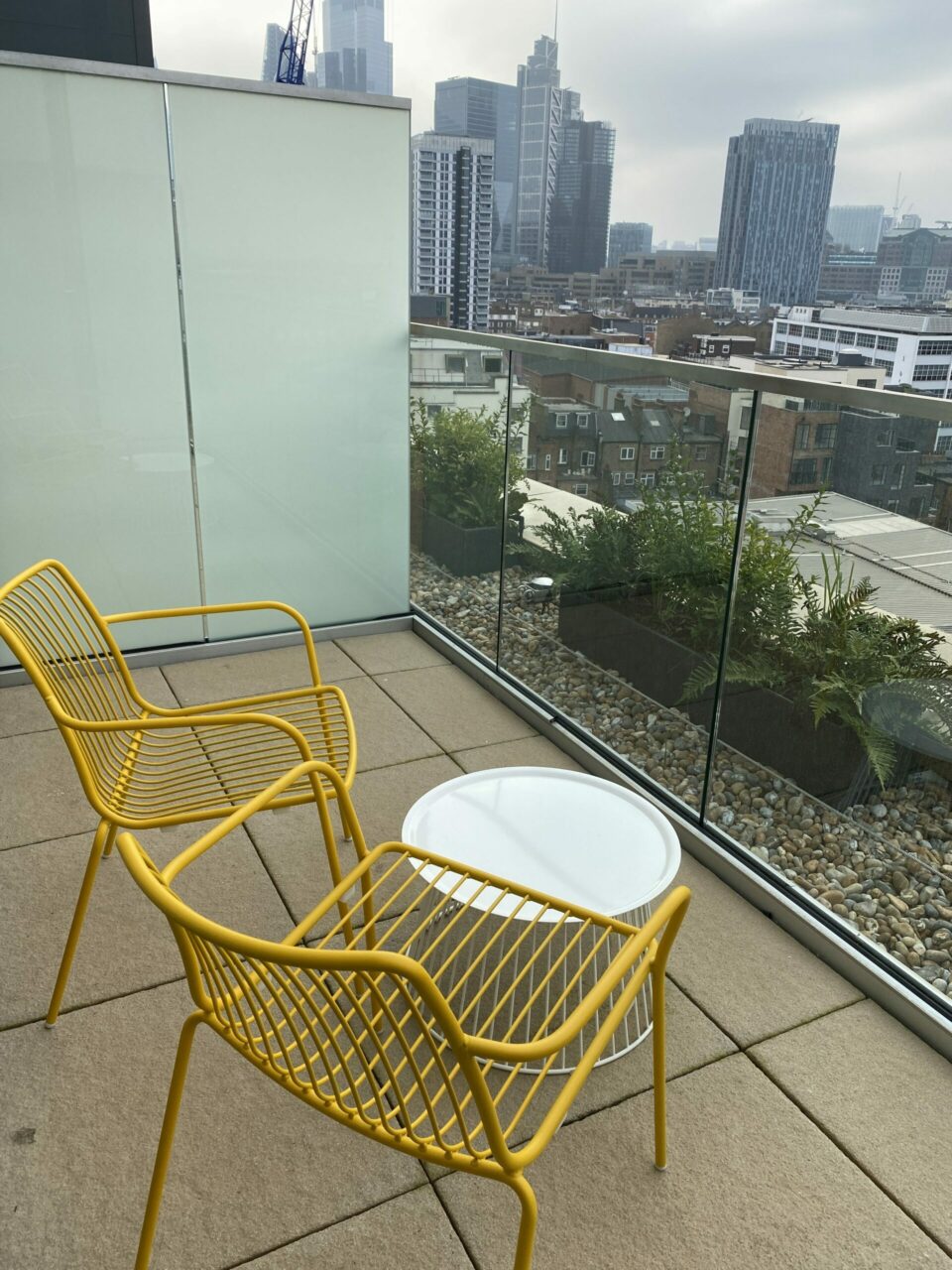 Unfortunately, there's currently a crane nearby that slightly blocked the view of the famous Gherkin building, but once that's gone it will be really spectacular. Even in the cold weather this week it was great to be able to just pop onto the balcony to get a little fresh air and admire the view.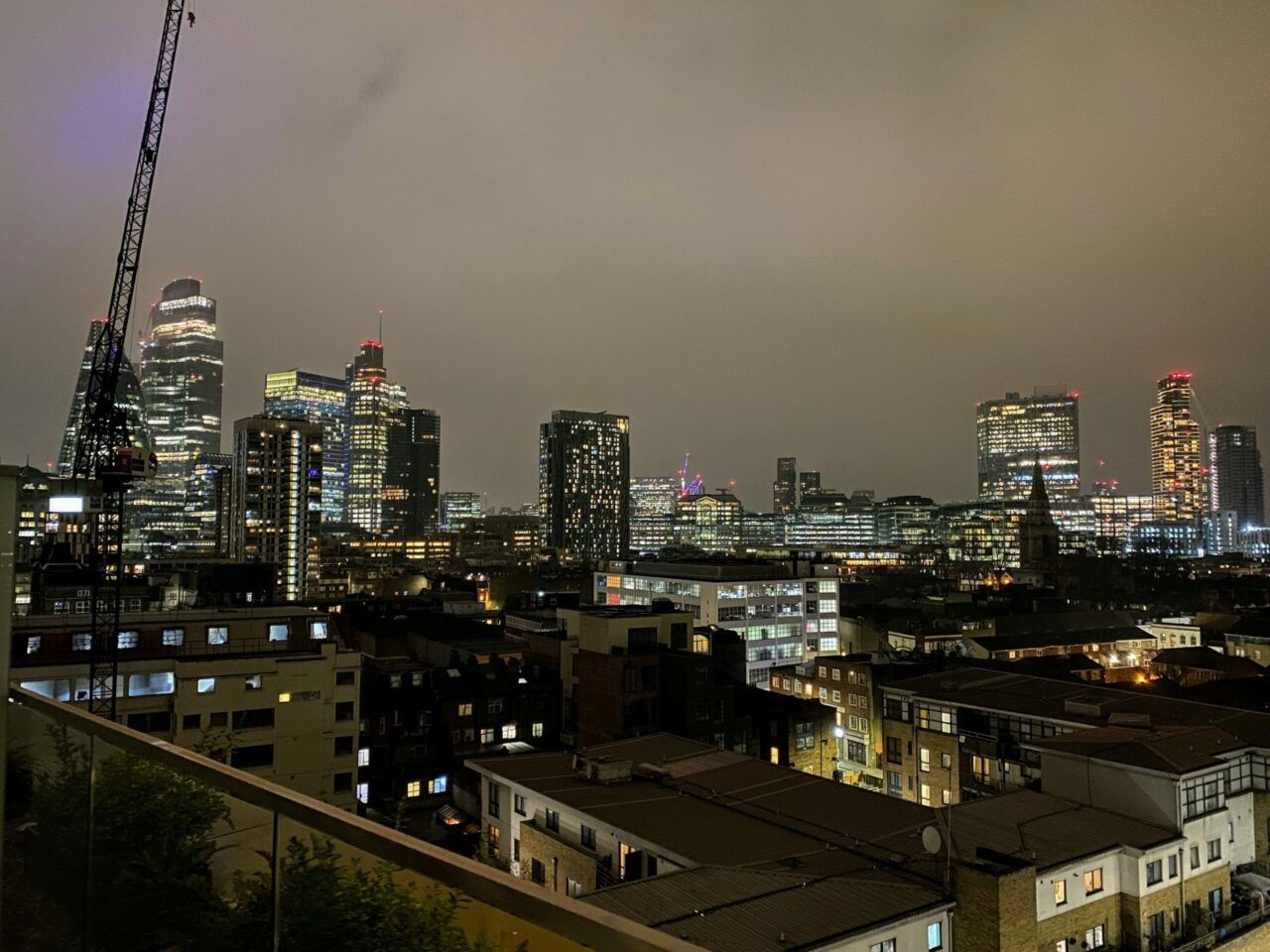 The hotel only opened in July 2021, so being new the rooms were well designed with almost every modern convenience. In these balcony rooms, you get upgraded amenities as well such as mineral water, a welcome gift, bathrobe, and a Nespresso machine. So you'd say it's pretty much in line with what you would get at a 5* hotel. There were even lovely coffee cups rather than just mugs and a kettle too. There was a small fridge too which was empty apart from the long-life milk for hot drinks, but I really liked that you could switch it off easily from a wall switch. Even the quietest fridges still make some noise so it was great to be able to turn it off (instructions were clear on a sign on the shelf).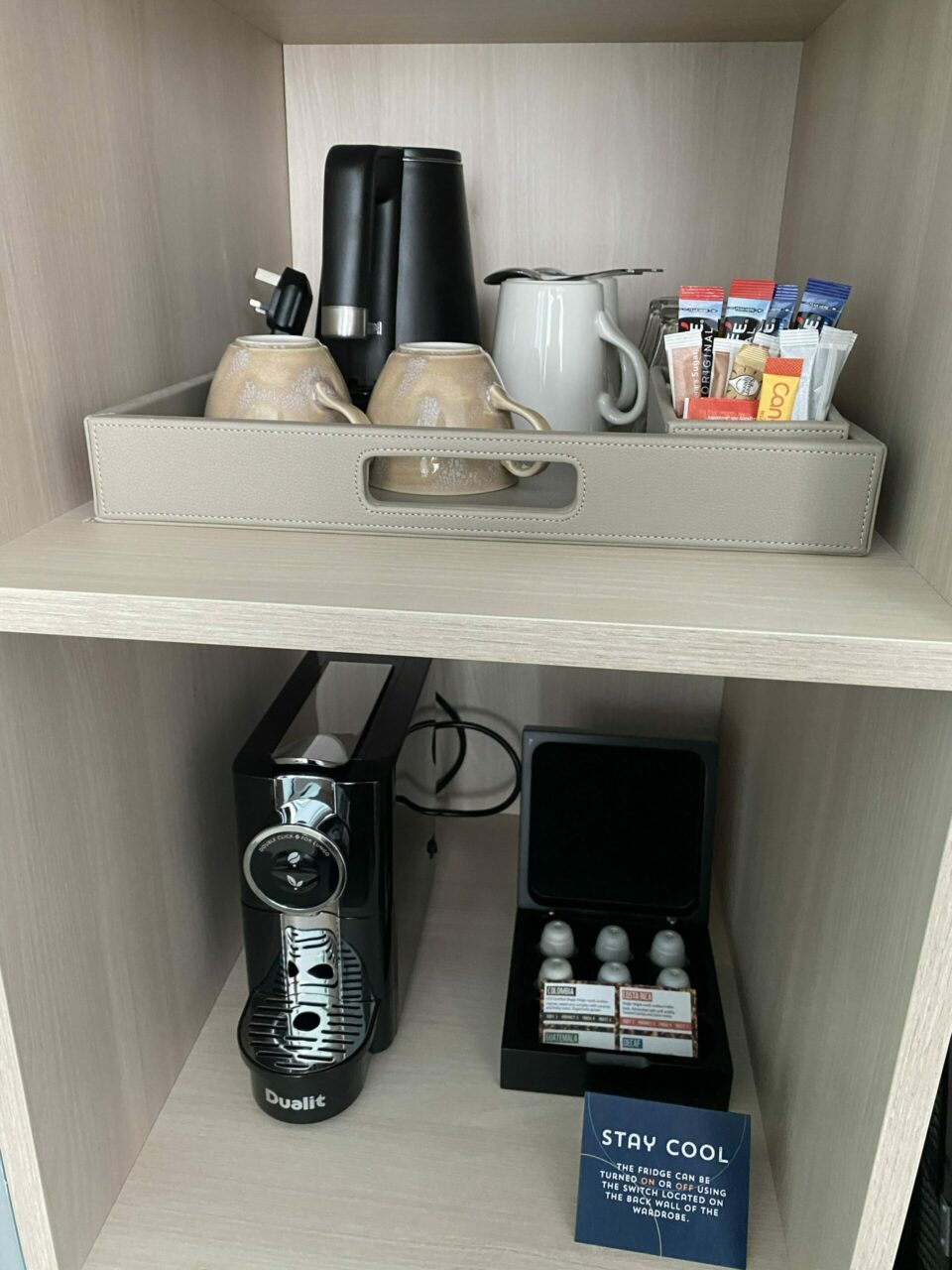 If you want to work there's a choice of a large desk or the generous sofa with its table.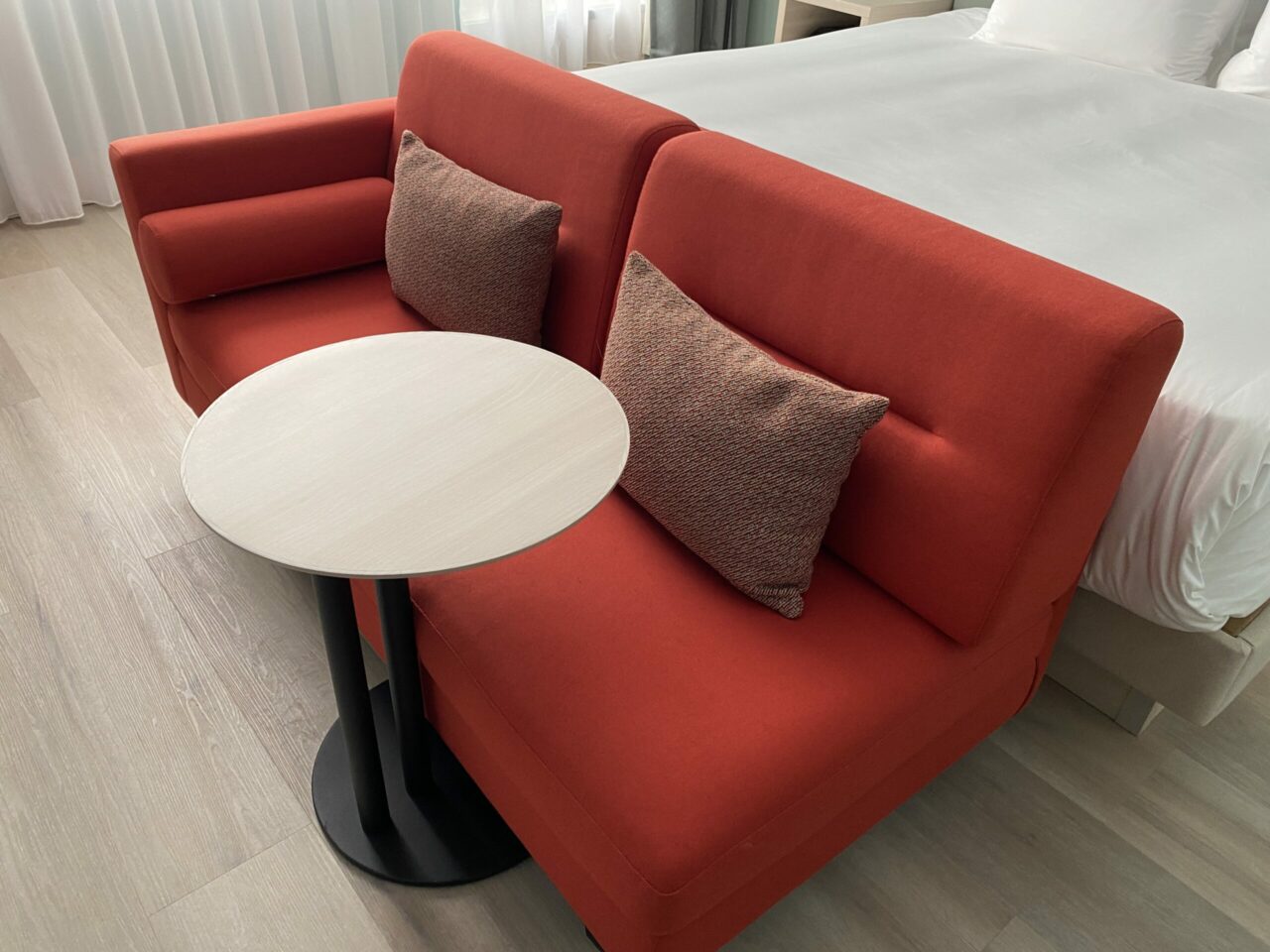 Again it was good to see that they had thought about having a mirror so people have somewhere to do their hair. This was situated at the desk so you could use it as a desk or a dressing table. There's also a full-length mirror at the front of the open wardrobe. I found the bed very comfortable and I'm very fussy about beds. This definitely had plenty of padding even for this princess!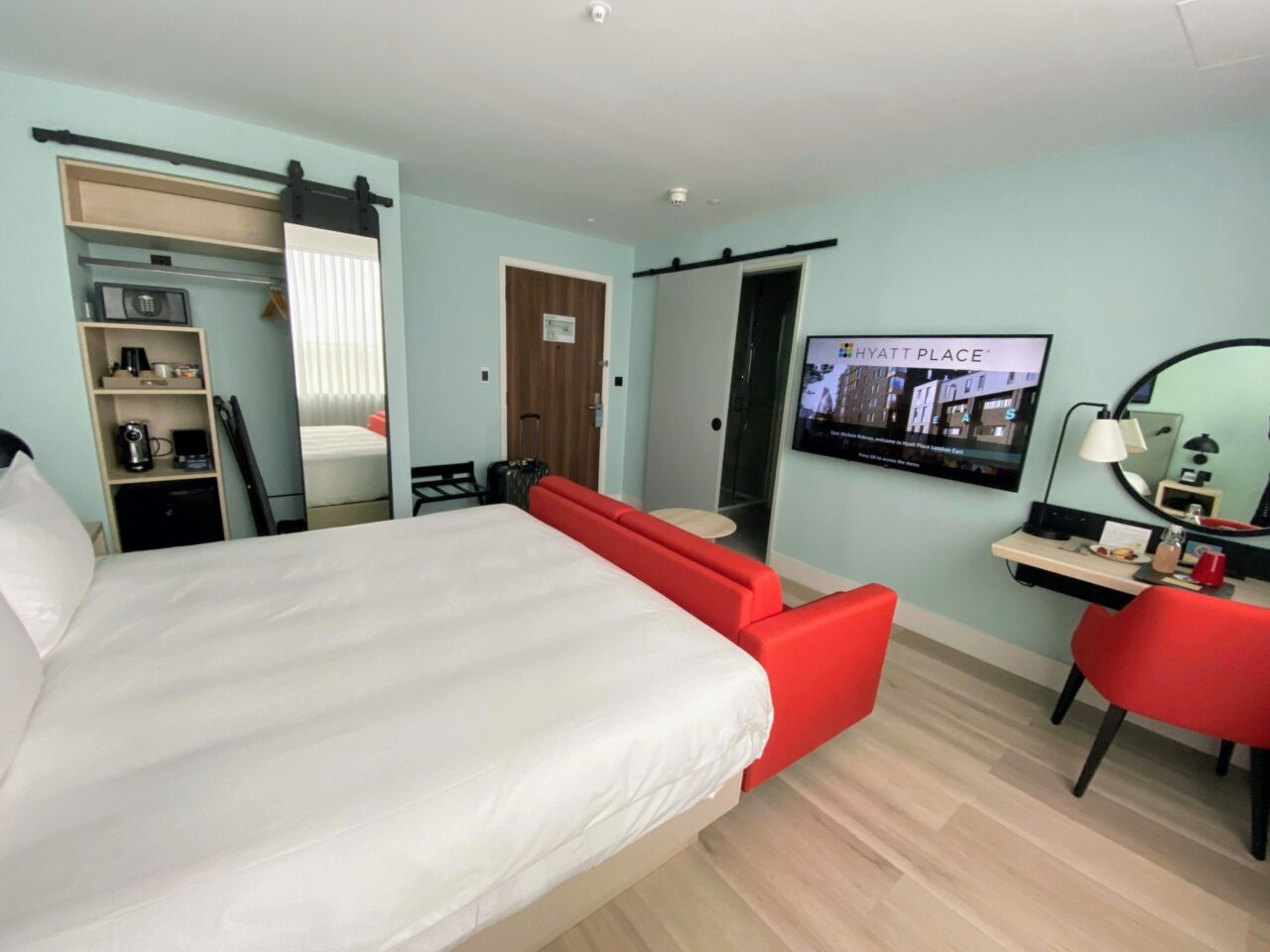 One criticism here was that it was not immediately obvious that the light inside the wardrobe could be turned off with the switch by the door. I had obviously as usual just hit all the switches when I walked in. I then spent a confusing few minutes trying to work out how to get the wardrobe light to go out by moving the sliding door/mirror as this is how most hotel wardrobes work!
There was a plug socket next to each bed with a USB for phone charging and two sockets by the bed, one on each side. The socket on one side of the bed had an AM/FM alarm clock radio with MP3 connectivity plugged into the socket which was a little annoying that they did not provide another socket here so you didn't have to unplug if you wanted the socket. Also, the sockets by the desk were a little close to the desk which makes plugging some appliances that have a larger plug a bit tricky. But these are all fairly minor whinges! There's a large 55″ TV which is a Smart TV so you can play your own content.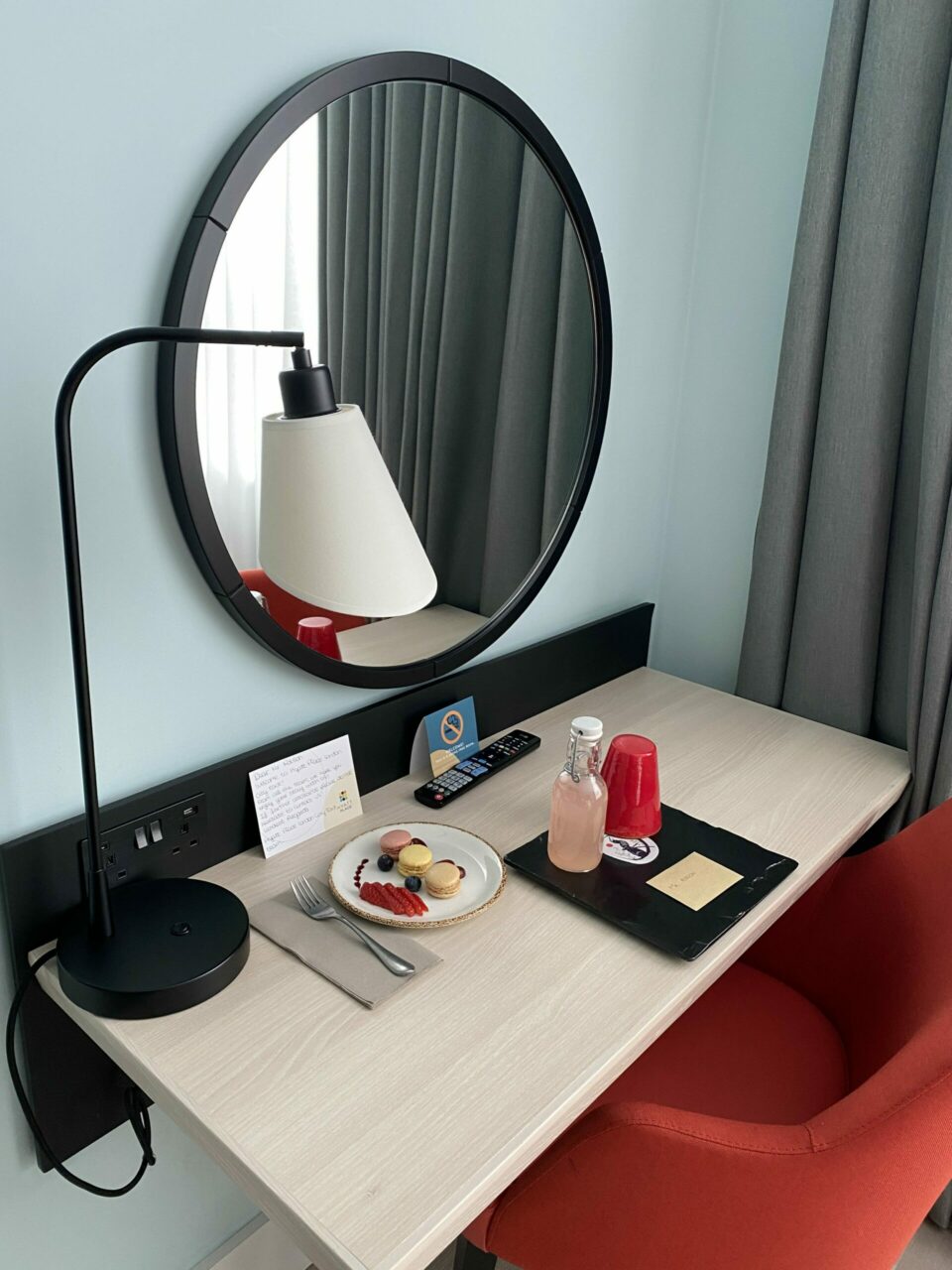 The bathroom is smallish although it has a generous size shower, though not nearly as small as some of the 5* hotels I have stayed in! This was perfectly proportioned so you weren't squeezing around things like you have to do in some hotel bathrooms. There was enough room around the sink to put your own stuff and more room underneath. There were also a few hooks and you'd be surprised how many hotels miss adding this!
I always have a hanging toiletry bag so want to be able to hang it up somewhere as well as somewhere to hang your used towels. The shower was spacious and easy to use with plenty of places to put shower gel etc. Toiletries are the same ones I have seen in Hyatt Place at Heathrow and are a decent size and good quality. They are by Dr. Barney Kenet who is a board-certified dermatologist. There was no body lotion though and no shower cap which is normal with Hyatt Place.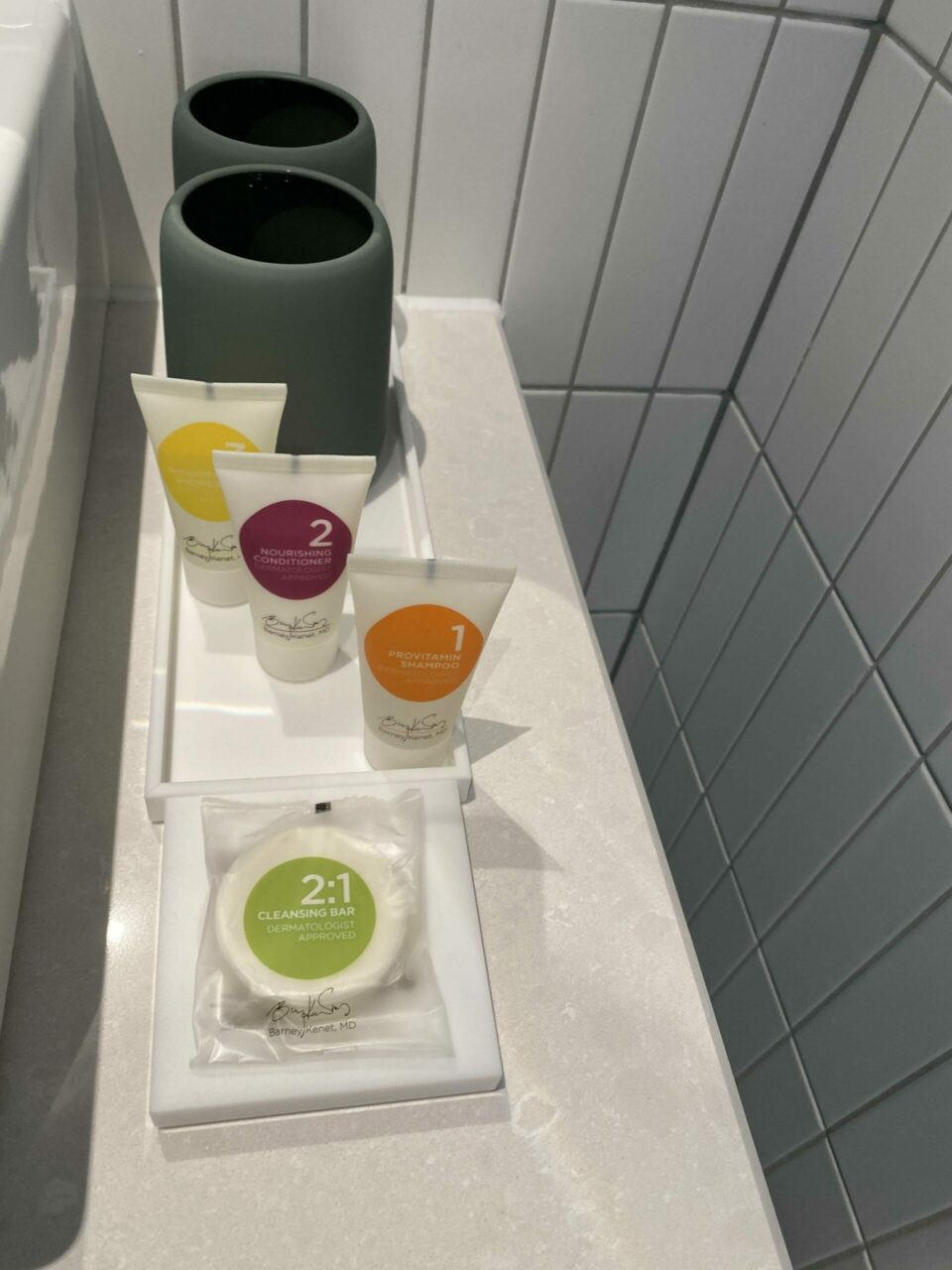 Rooms are serviced every day with bed linen changed every 3 days unless you request otherwise.
The entry level rooms are very similar minus the balcony and a few of the luxury items like the Nespresso machine. They still have the sofa and desk and although a slightly small footprint, pretty much everything else is identical to my room.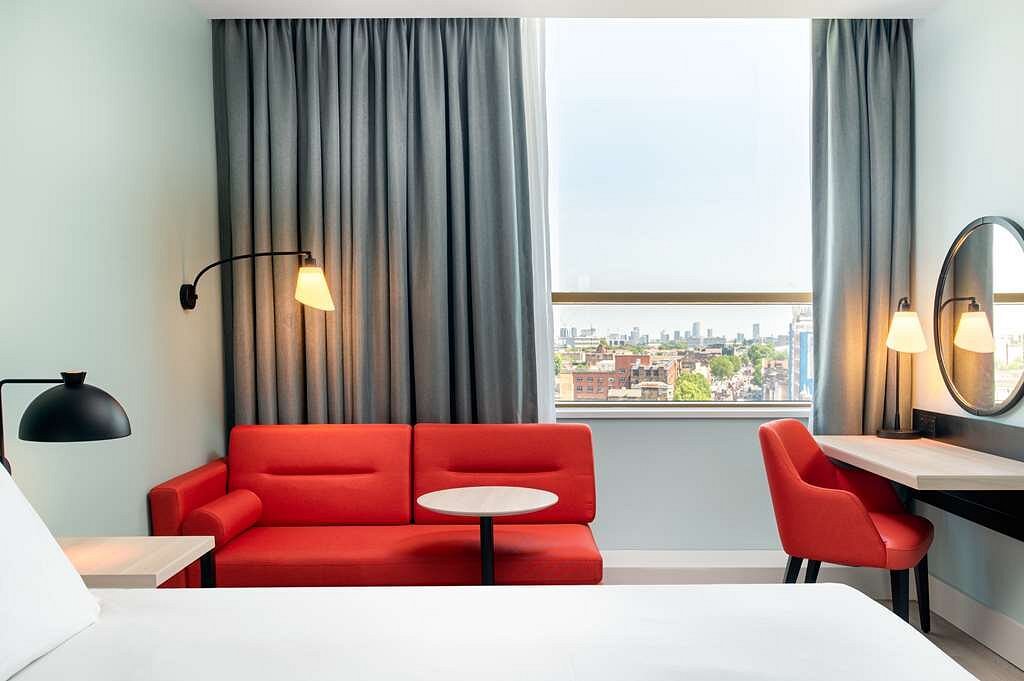 Hyatt Place London City East Food and drink
Zoom East dinner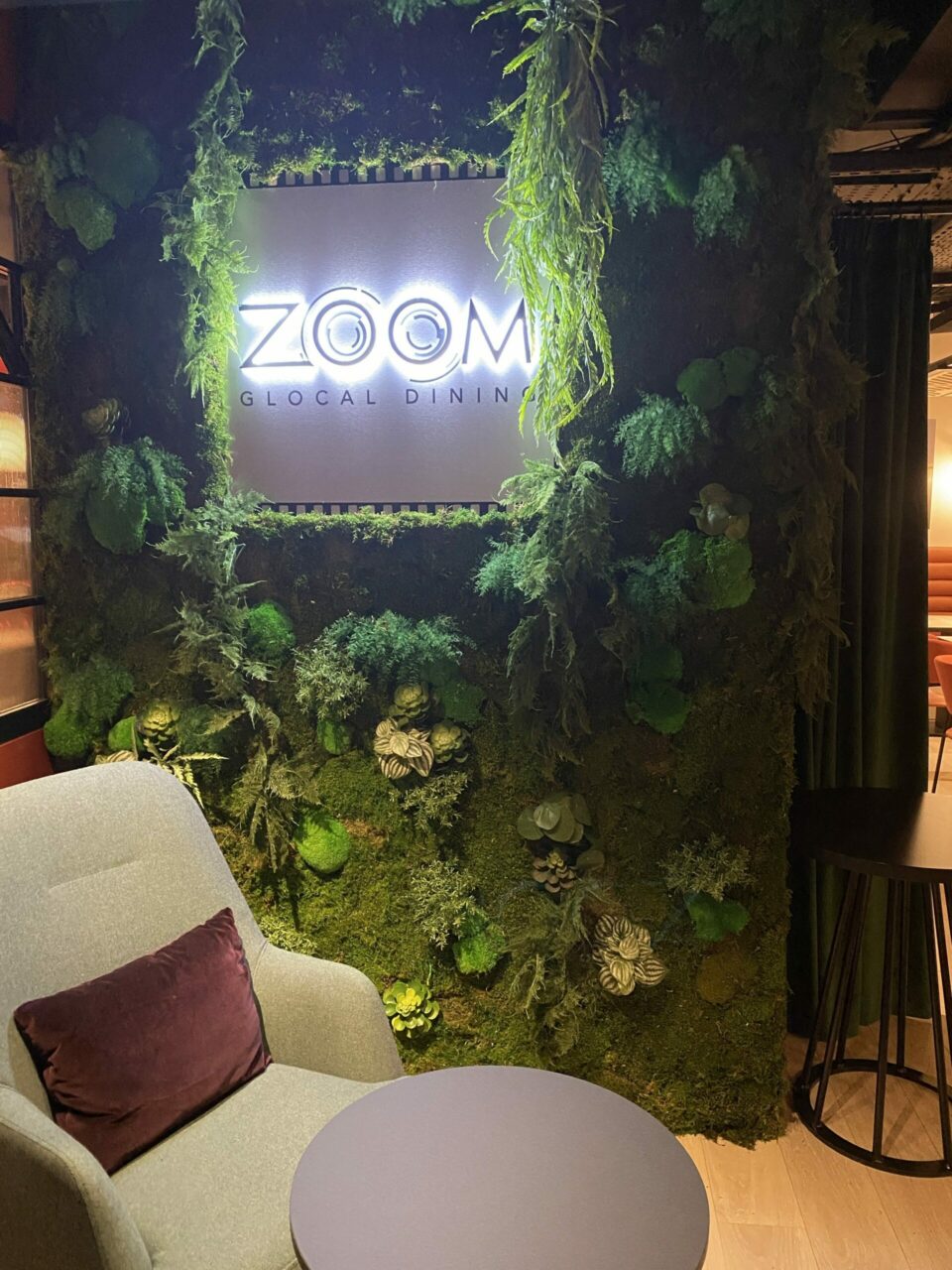 Katie in London and I were the first people to try the new food for Zoom East, their new menu, which opens in a couple of weeks. I'll be honest and say I never thought that I would consider going to a Hyatt Place especially for their restaurant, but if I was in the area I would definitely be back for both the bar and restaurant.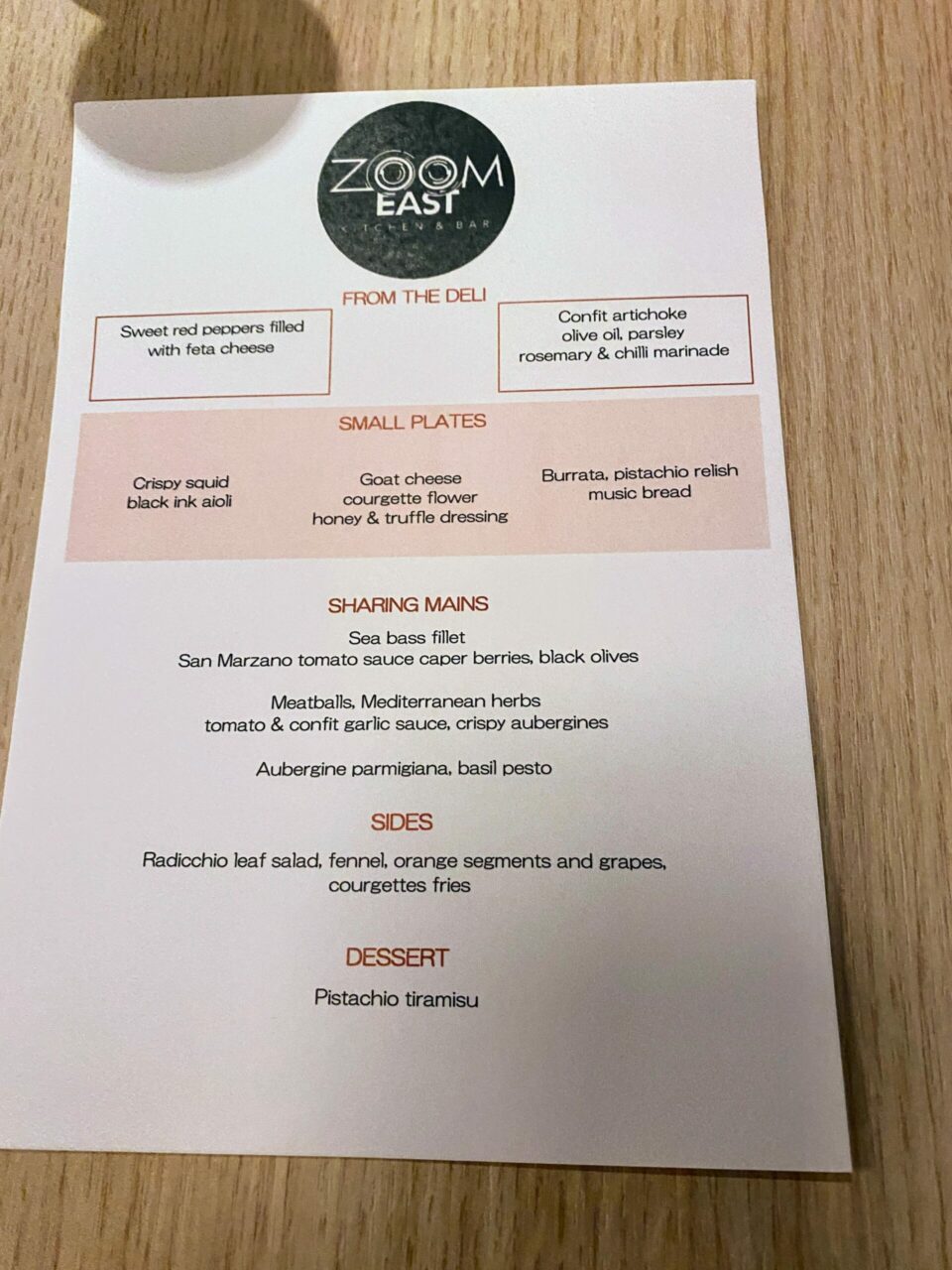 The new chef is from Sicily, so of course, the food is Italian. I was actually chatting to the chef saying that the food that is most frequently ruined in restaurants in the UK is Italian. Italian food is simple so needs to be made with the best ingredients and cooked perfectly otherwise it can be bland. I'm sure we've all had some insipid chopped pale tomatoes on a piece of rock-hard bread masquerading as bruschetta in a restaurant in the UK! This was definitely in a different realm.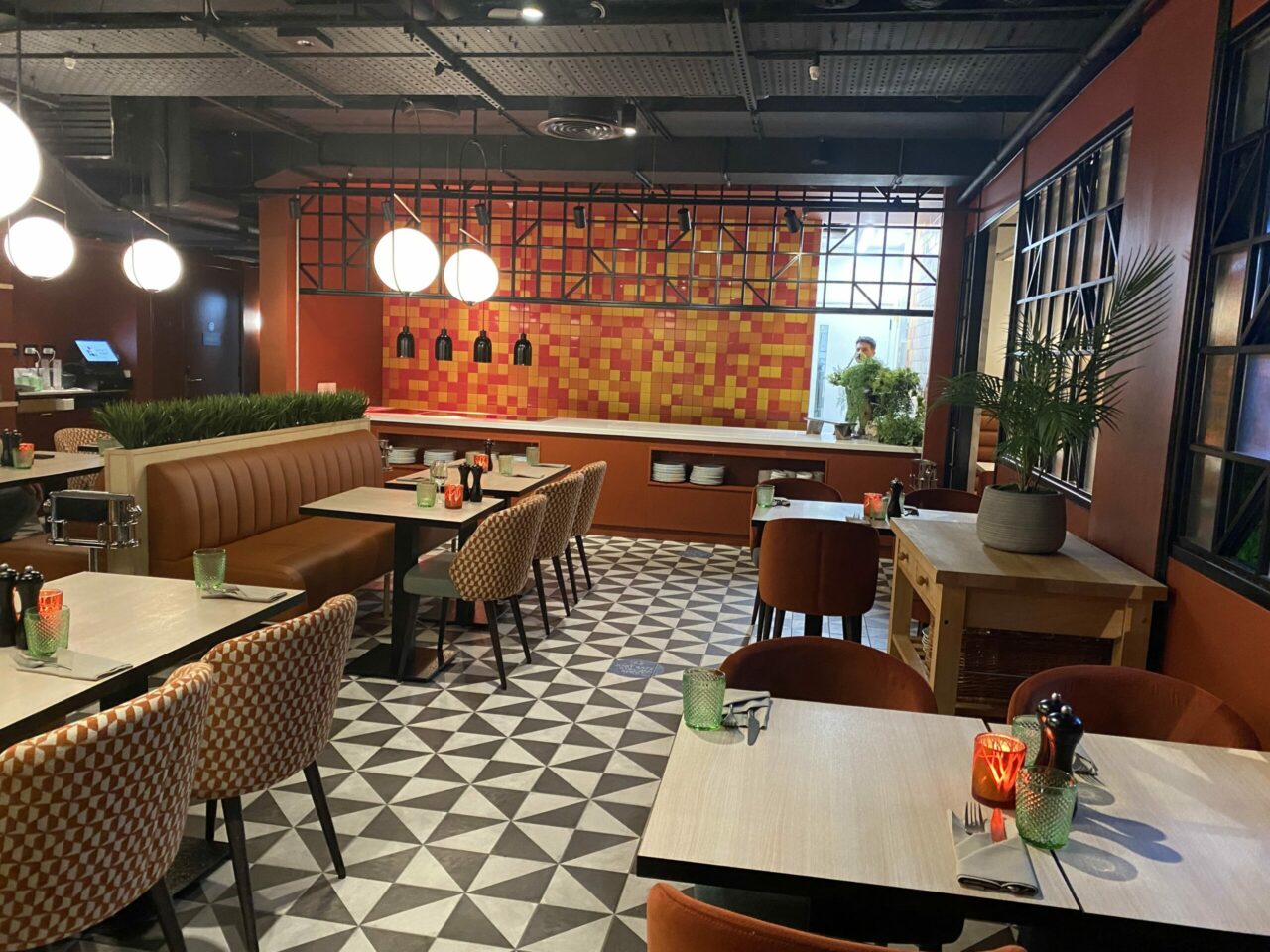 Both Katie and I are pretty fussy about our food, so if they impressed us, it's fair to say it was very good. We were served a set menu of a selection of dishes from the new menu. It's just as well it gave a bit of everything as initially we weren't sure and were worrying about what to choose as it all sounded so good! The pictures you see of the restaurant reflect how it is in the daytime as they had not yet got all the furnishings that will transform the space at night into a more cosy space.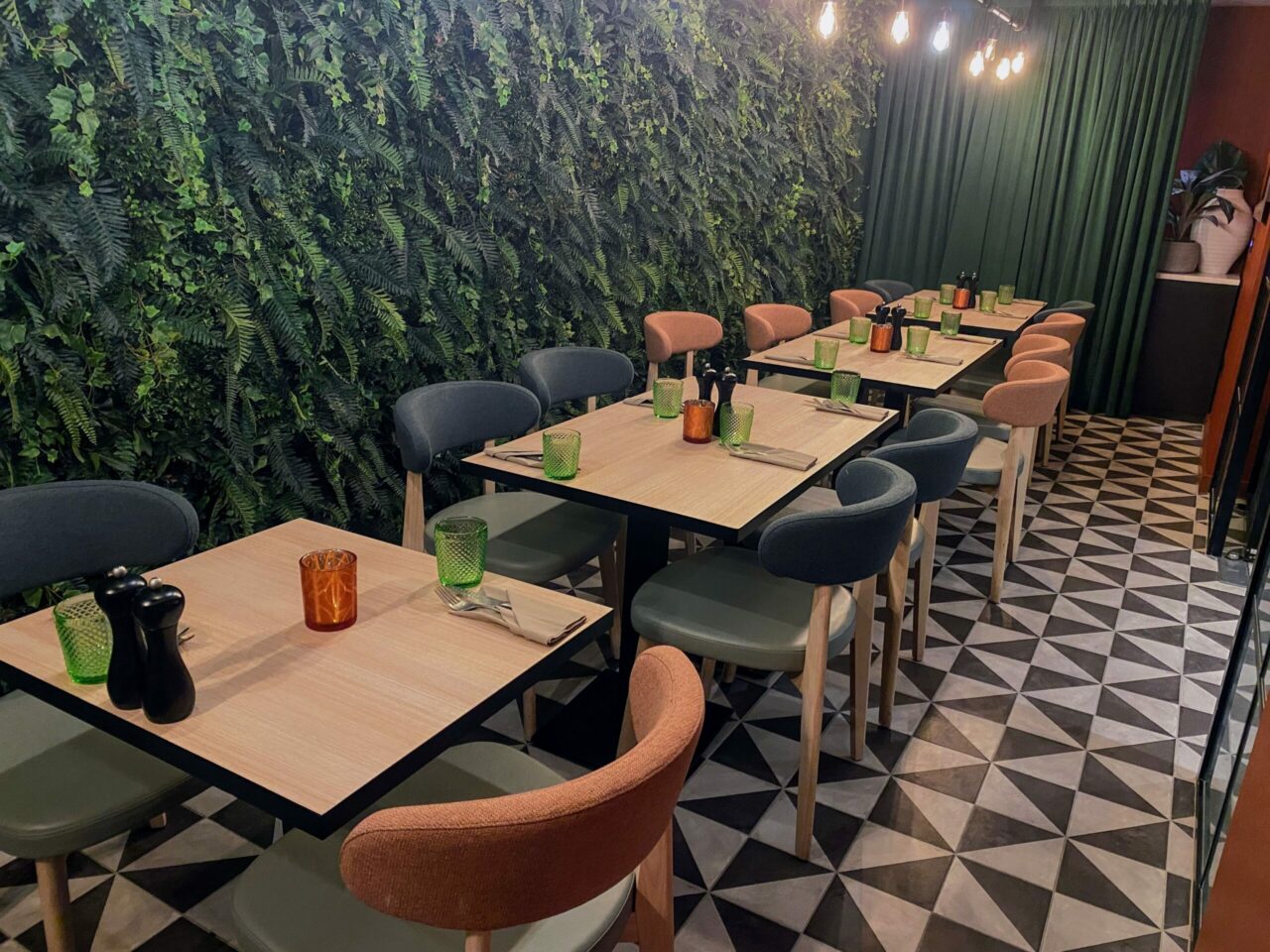 There's a tranquil "terrace" area too with a living wall. The highlights for me from the meal were the courgette flower which was delicately handled in a wafer-thin batter and a light goats cheese stuffing, the sea bass that had a rich tomato sauce with punchy flavours of olives and capers, and the meatballs which were full of garlicky goodness and topped with a little salty parmesan.
It was not completely faultless as the courgette flower didn't need the addition of the truffle in the dressing as it was a bit overpowering but perhaps something a little fresher. However, overall it was pretty damn close to perfection! I also tried a few of the wines such as a Riesling and Prosecco and they were all of great quality, which again can be tricky to find in hotel restaurants.
Zoom East – Breakfast
Breakfast again was more than I expected from a select-service hotel. There was a good variety of everything from waffles and a full English to fruit and high-quality yoghurts. You could get eggs cooked to order such as fried, poached or an omelet. Attention to ingredients had obviously been paid as there were things such as good quality jams like Wilkin and Son's jam, a choice of salted or unsalted butter, and Marmite and Nutella for your toast. Their fresh fruit was ripe and tasty too.
There was a good choice of pastries including donuts and fresh bread you could slice yourself. Staff were very attentive and friendly. My only complaint was that the coffee was from a machine but actually it was of decent quality.
Pocketsquare Skyline Bar and Terrace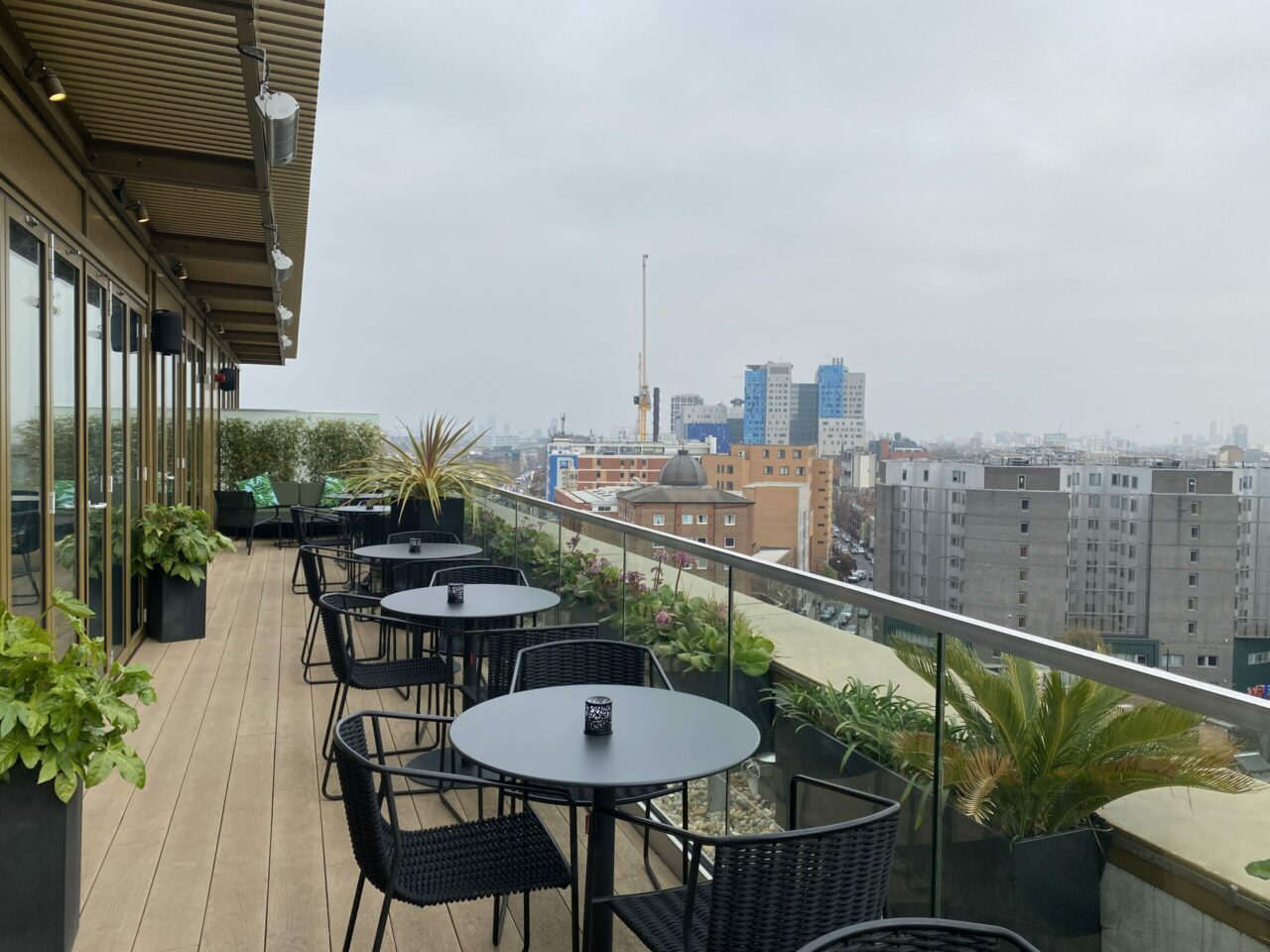 If you are in the area, especially in decent weather, I would definitely recommend trying out the rooftop bar Pocketsquare.
Although there are many rooftop bars in the area, this one felt much more local and intimate compared with many of the others.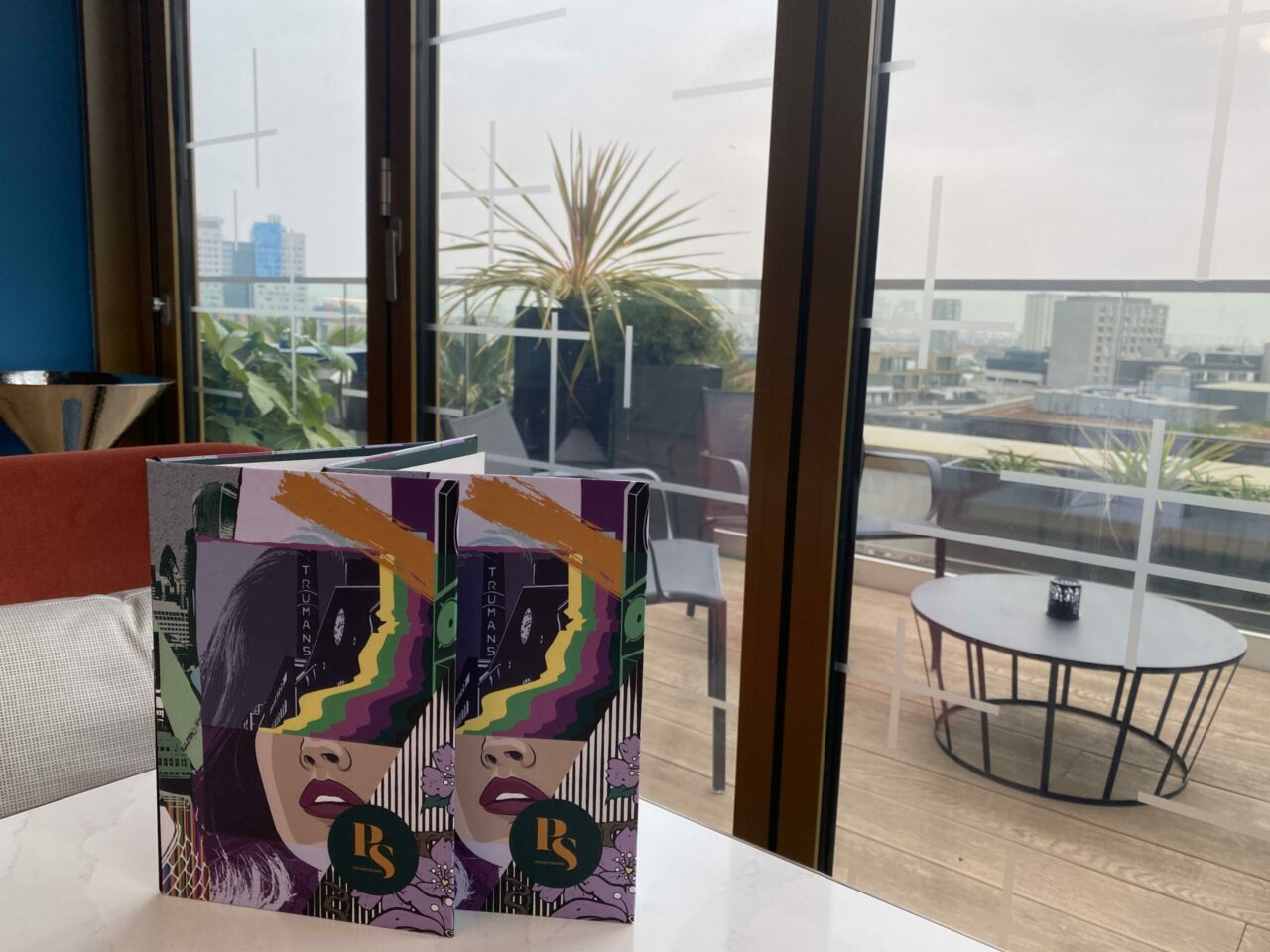 The staff member serving us was incredibly knowledgeable and went through the ingredients of each drink. There's a wide range of cocktails, especially paired gin and tonic combinations and even a Negroni menu which I have not seen before. She also gave us a little taste of a couple of things too such as Discarded's amazing Banana Peel rum which I highly recommend!
I tried the Marketa and Katie went with the Aqua Vita. It came with a fun flavour ballon that popped into a smoke over the drink.
The glasses were quirky glass versions of what looked like a paper cup and hand blown. Mine came with a marinated pineapple garnish – there's plenty of attention to detail here! Cocktails were definitely generous on the measures too – two of these and we were both feeling good!
Inside is just as nice as outside and has a sophisticated but relaxed vibe.
Even early on a Tuesday night, it was filling up by the time we left, so it is obviously getting a reputation locally.
We had a quick try of the bar food with the tempura oysters which were fantastic. Whisper thin batter and a zesty but savoury ponzu dressing was the perfect morsel to start the evening's feasting!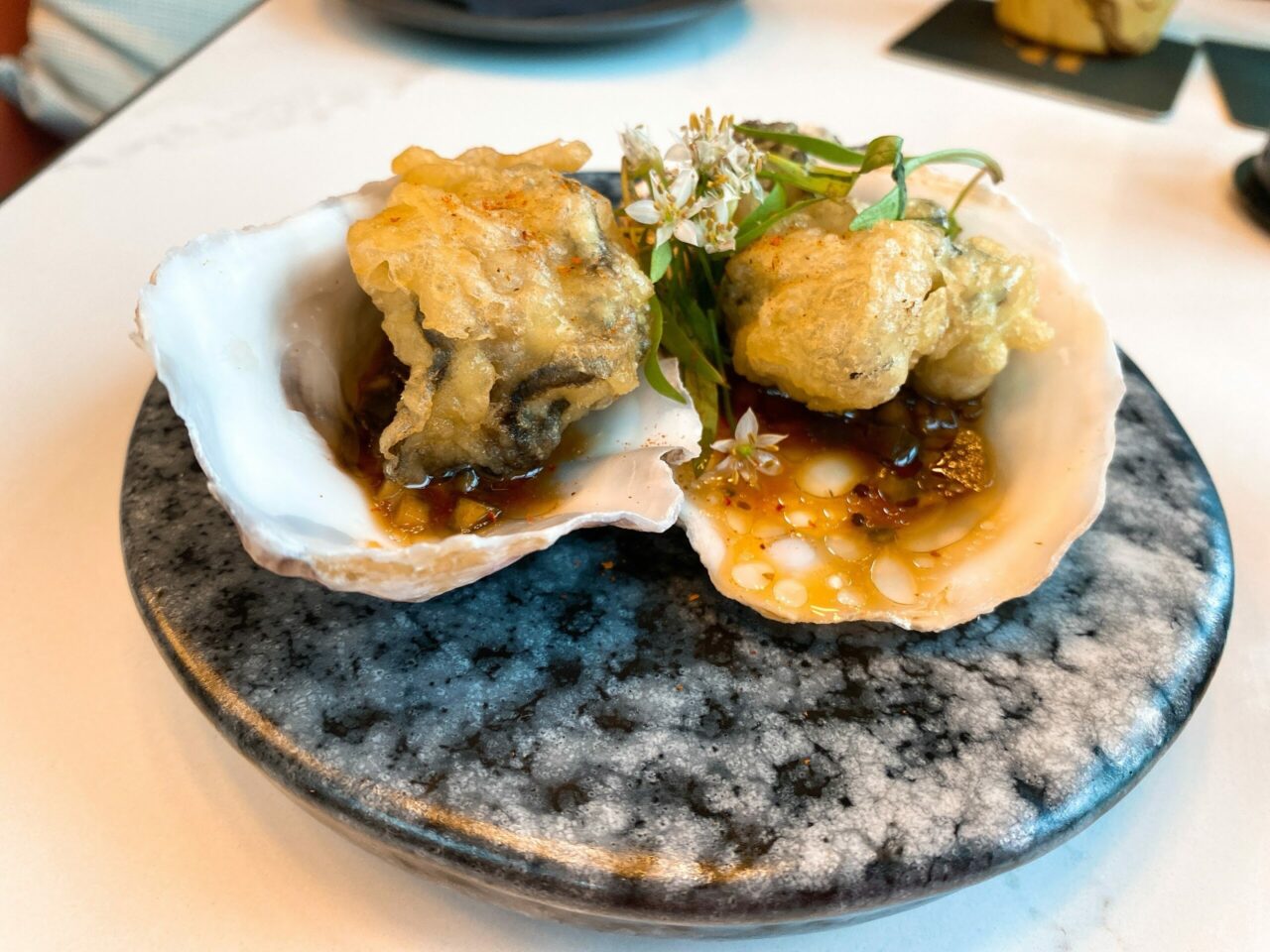 Facilties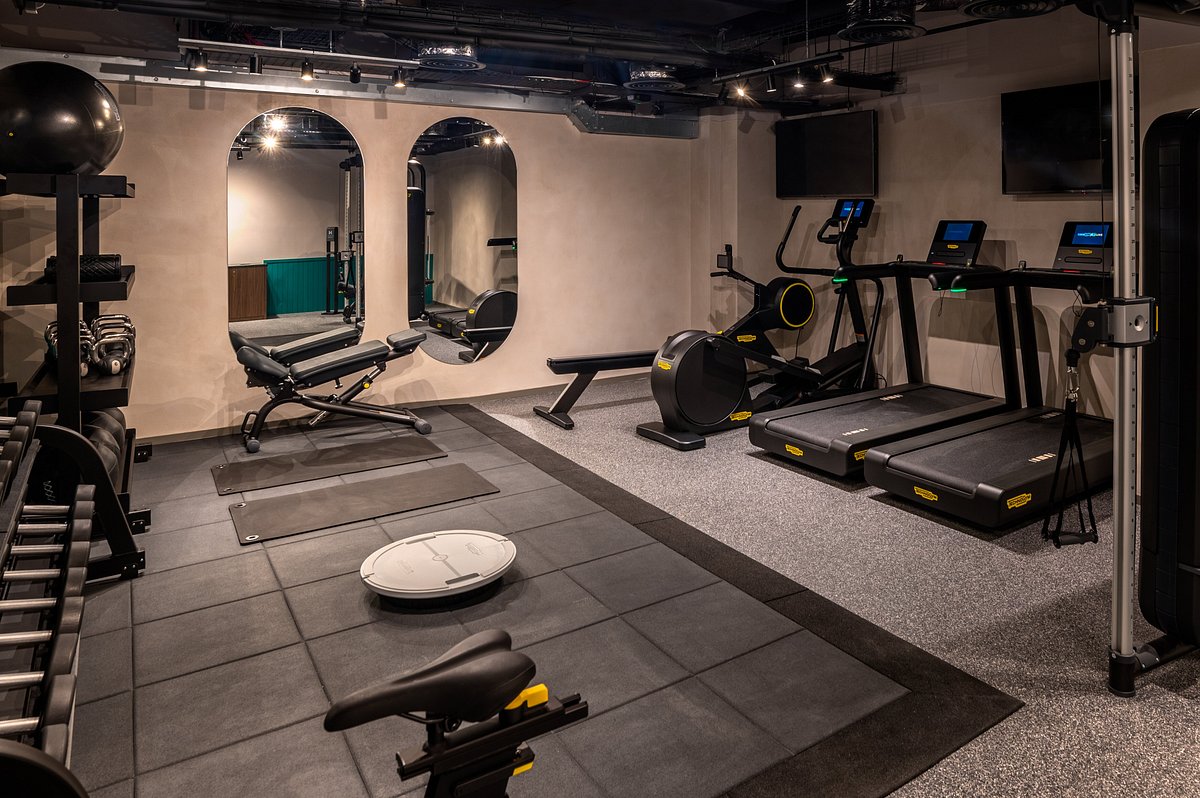 There's a well-equipped gym that's available 24/7 with your room key.
Pricing
One of the best things about this hotel is the price. If you are a World of Hyatt member there aren't really many properties at the affordable end of the scale in London apart from near Heathrow. The Great Scotland Yard and Hyatt Regency The Churchill are great luxury hotels, but prices start at around £350 upwards. If you are going to be out and about a lot, it's not always worth paying top price for a hotel that you will barely be in. Prices at the Hyatt Place London City East start at less than £100 a night for an entry level room! If you wanted to use points, prices start from a crazy 9000 points a night off-peak! For a balcony room like mine, they are still very reasonable at £195 upwards.
You can find more details and check prices here.
Conclusion
I'll admit I went with fairly average expectations and was blown away with the bar and restaurant offerings. I'm still very surprised by what you get for the price to be honest! The room was spacious and extremely well equipped as well as being bright and modern. A lovely large shower, decent toiletries and comfortable places to work or use as dressing table meant this room pretty much had everything you could want. I just wish more new hotels put as much thought into how they layout and equip rooms! Yes there were a couple of very minor quibbles and it's not in the heart of everything in London, but it's well connected and close to most of the City area attractions.
And the million-dollar question – would I pay my own money to come back and stay here? Yes absolutely!