Air France has recently shot up in my estimations after my recent trip in business class with them. For me, they are now in the top 3 European airlines for business class on long haul.
Today I am at the Airline Interior Expo, where they demonstrate all the new seats. Here, Air France has been showing off its new A350 business class seat with STELIA Aerospace (Airbus Atlantic's commercial brand dedicated to cabin interior design)
New A350 Business class suite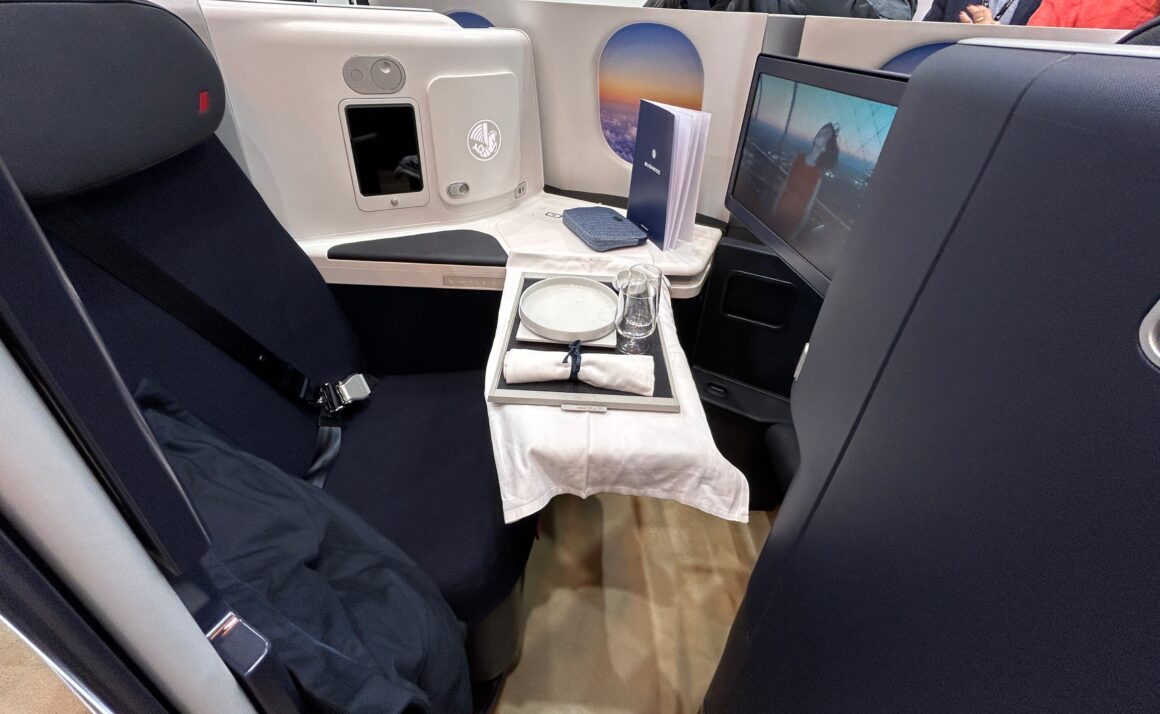 The seat is a suite with a sliding door that allows passengers to create a totally private space, and the seat transforms into a full-flat bed measuring nearly two metres in length. The seats in the centre have the usual divider which can be lowered if you are travelling with someone.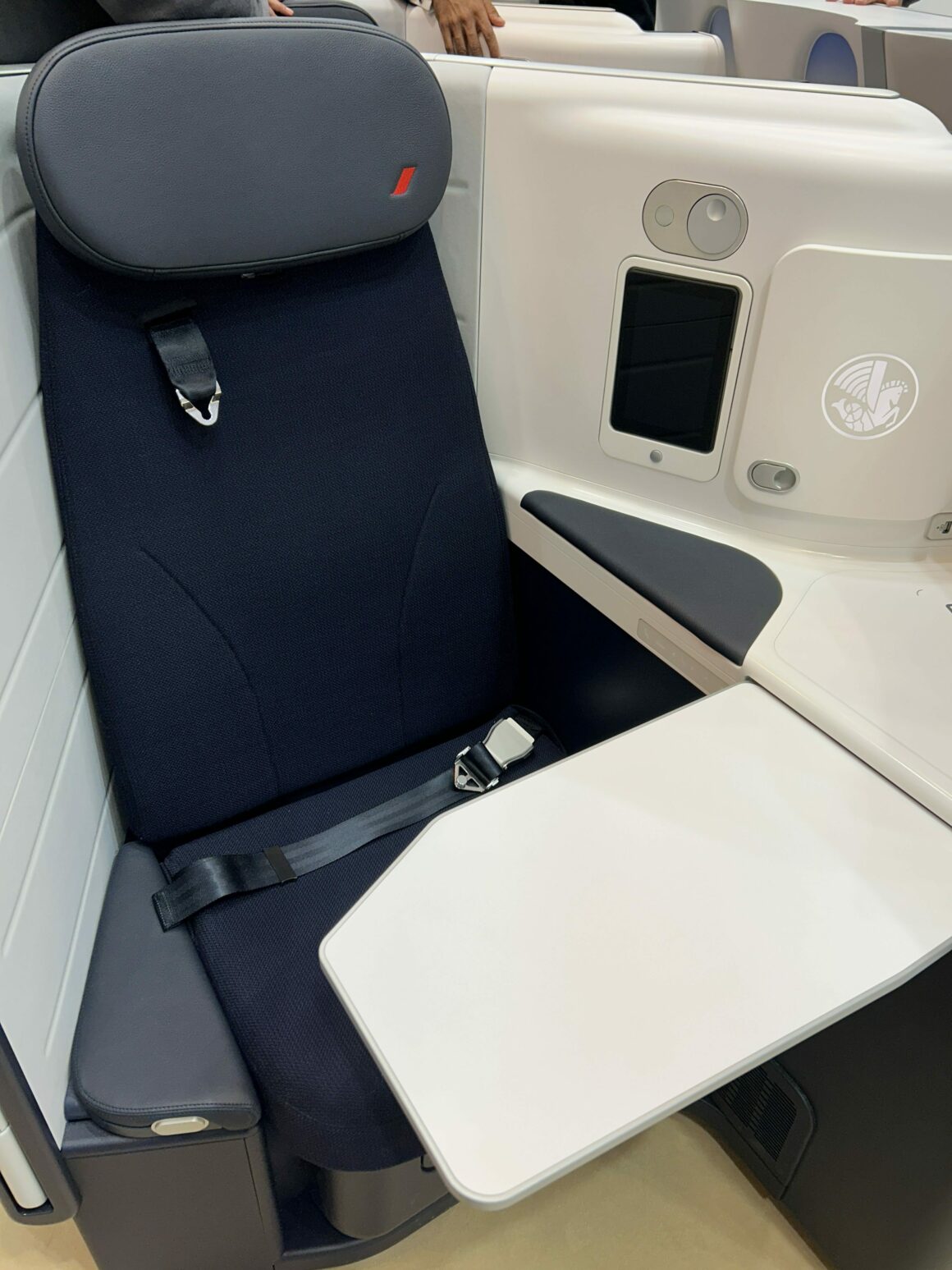 The seat was developed exclusively for Air France and will be available on the new Airbus A350s that will join the company's long-haul fleet between now and 2025. The A350 will feature new cabins across all travel classes with 48 Business seats, 32 Premium Economy seats and 212 Economy seats. In total, Air France has ordered 41 Airbus A350-900s, of which they have already received 20. The 21st A350, named "Aix-en-Provence" will be the first to feature this new cabin configuration and will make its first commercial flight in July 2023.
The design of the 48 spacious Business seats is based on the "three Fs" concept – Full Flat, meaning that the seat transforms into a real bed 53 cm wide and almost 2 metres long; Full Access, providing all passengers with direct access to the aisle; and Full Privacy, ensuring optimal seclusion. As you board, there is a backlit signature winged seahorse, the emblem of Air France, which seems to be taking more of a centre stage in their design of late. The cabin's large windows are equipped with automatic window blinds, allowing passengers to adjust the lighting intensity during the trip.
Air France carefully selected high-quality, soft, and natural materials to create these seats, including wool, brushed aluminium and full-grain French leather. Each seat features soft padding for enhanced comfort and is embroidered with the company's trademark red accent.
Like their other business class designs, there is a personal storage unit that comes equipped with a noise-cancelling headset, a vanity mirror and space for customers' belongings. A second storage area has also been added at the foot of the seat with enough room to store a small bag.
One trend I have seen a lot at the Expo is the Business Plus concept which gives a larger space at the front of the cabin that Virgin and Jet Blue already have flying. Air France will also offer this to an extent with the Business cabin's front row seats also offering extra space in front for additional comfort and a personal closet with a vanity mirror plus extra storage space.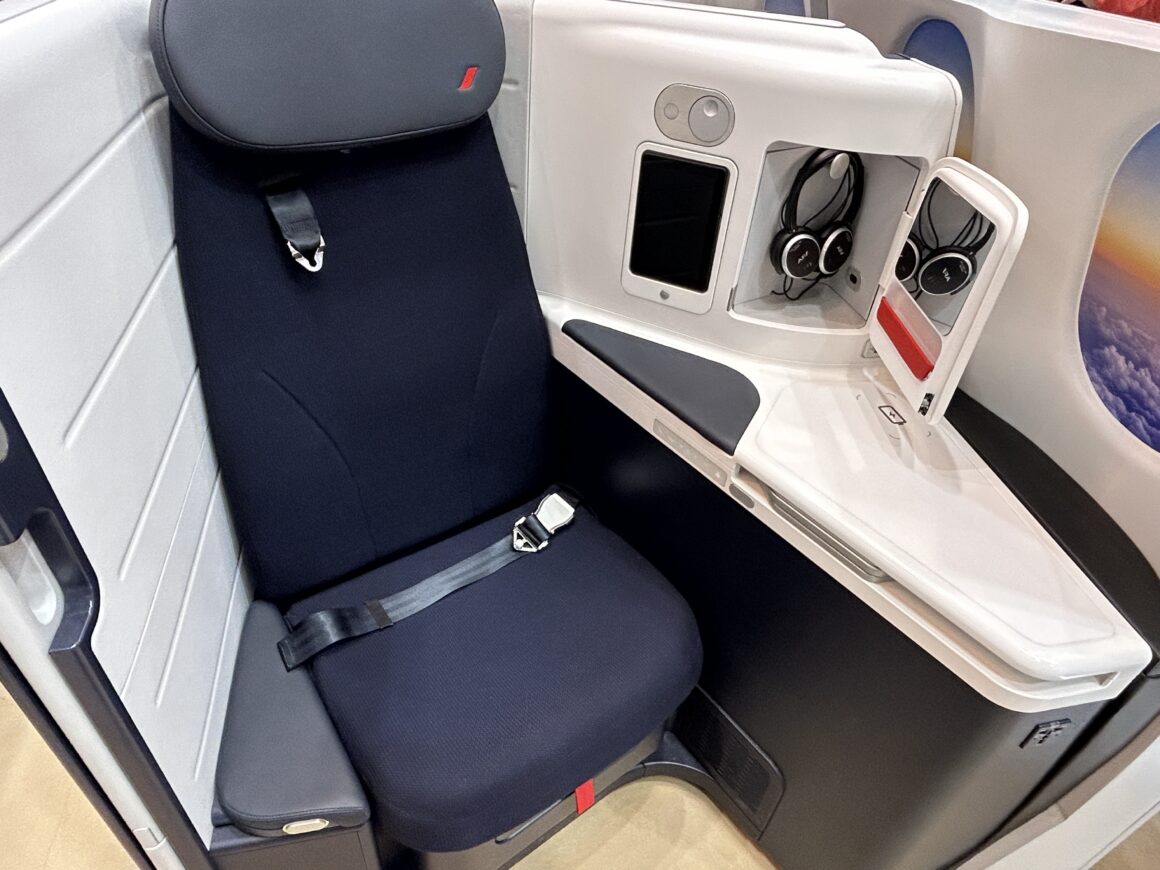 Each seat features a wide 20-inch 4K Ultra High-Definition anti-glare screen – the largest of any Business cabin across the Air France long-haul fleet. I love that it has Bluetooth connection which allows passengers to use their personal headphones as I have never found a perfect wireless connection for use on board.
A new touchpad screen also allows passengers to browse programmes and control their entire environment, from adjusting the position of their seat to adapting the lighting intensity. A "do not disturb" feature is also included on the screen. It also has USB-A and USB-C ports and a wireless induction charger. You can also connect your personal device directly to the screen and use it as a remote control. In the same way, you can have different content on most touchscreen remotes. You can also browse the entertainment and look at the moving map on your phone while connected and have something different on the main screen.
I was able to sit in the seat, and it felt comfortable with a large solid table which would be suitable for working on. The footwell feels slightly less restrictive than previous versions and the TV is at a height that most people would not knock it when turning over or moving about in bed mode. I liked having the tablet-style display to control everything rather than trying to search out individual buttons. The display was large and clear, so if, like me you need reading glasses, you'd be able to see what you are doing without them.
Premium Economy
The Premium Economy cabin features a brand-new recliner seat model already available on its first Airbus A350 and on the 12 Boeing 777-300 ER aircraft currently being refurbished. Each seat offers 94 cm of legroom and a 48 cm wide seat pan. The seat back reclines up to 121 degrees and has been widened to provide greater privacy and comfort. The seat cushions have been redesigned and now extend up to the shoulder level for more comfort.
These seats also come with a noise-cancelling audio headset, plenty of storage space, an individual reading light and USB-A and USB-C ports. A wide 13.3-inch 4K Ultra High-Definition anti-glare screen also has Bluetooth connection and can be controlled by your personal device. This is the same as economy class.