A review of Air France B777-200ER business class. This is the return journey of my Virgin Atlantic points redemption, which was booked as two one-way tickets. The outward journey was with KLM. The return cost 50,000 + £143 from Dubai to London via Paris, which I think is quite a bargain.
I had heard very mixed reviews about Air France and so was very surprised with my trip. This is a review of the Dubai to Paris flight.
Check-in
Check-in at Dubai Terminal 1 had a separate queue for Sky Priority, but pretty much the world and his dog could use it since it was for first, business, premium economy and various Flying Blue status levels. Fortunately, when I got there, it was very quiet so there was no queue. But it seems stupid to have a queue for probably about 50% of the plane as "priority". As I have come to expect in Dubai, the check-in agent was very helpful and explained where the Skyteam lounge was.
The lounge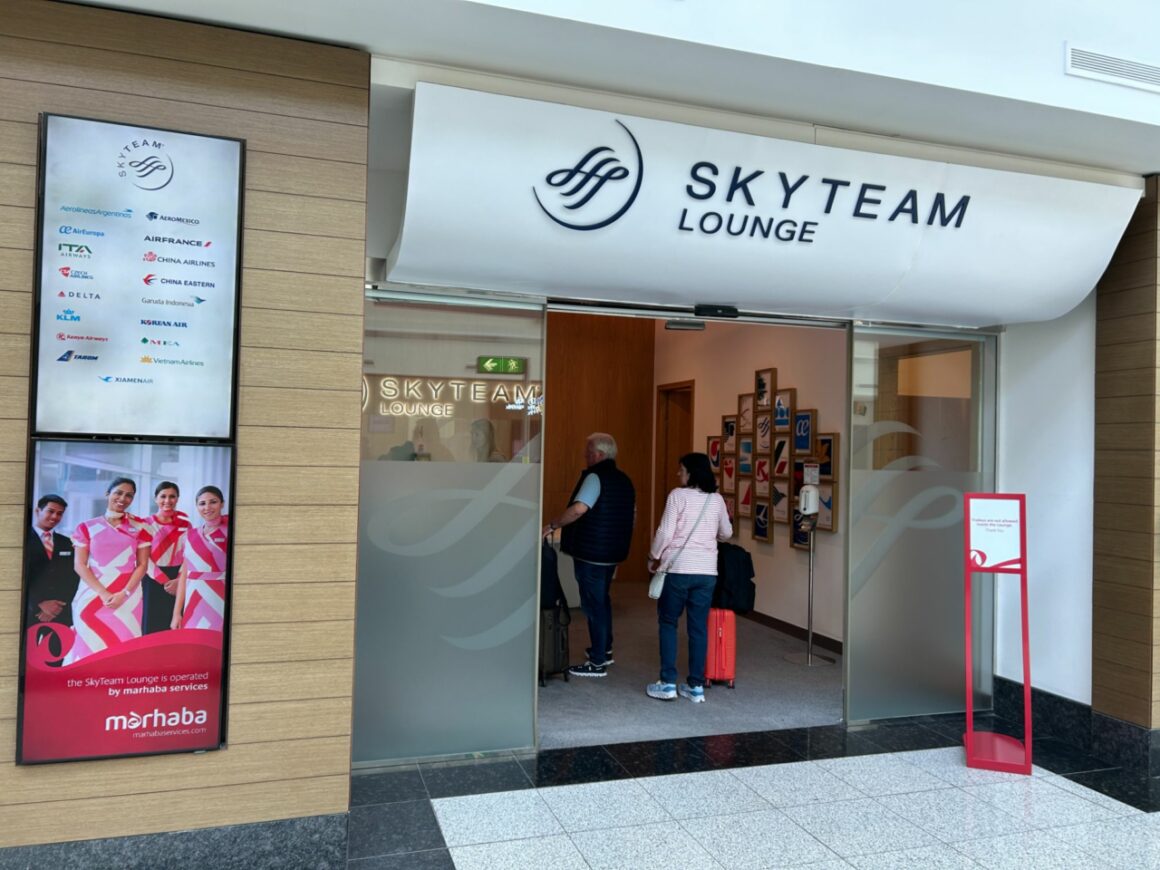 There was no queue for security, so I was in the lounge pretty quickly after check-in, although I did have to get the train to the gates.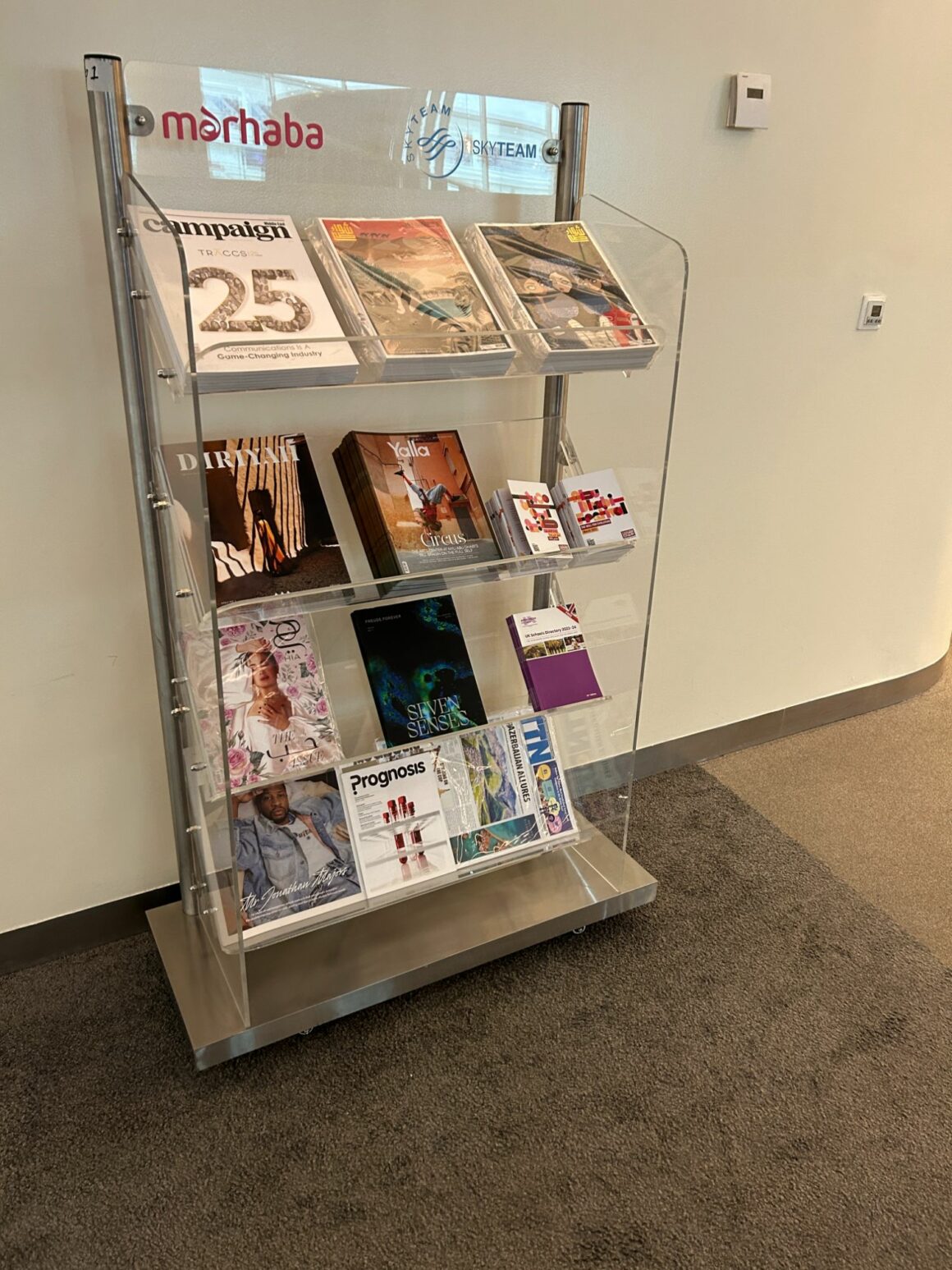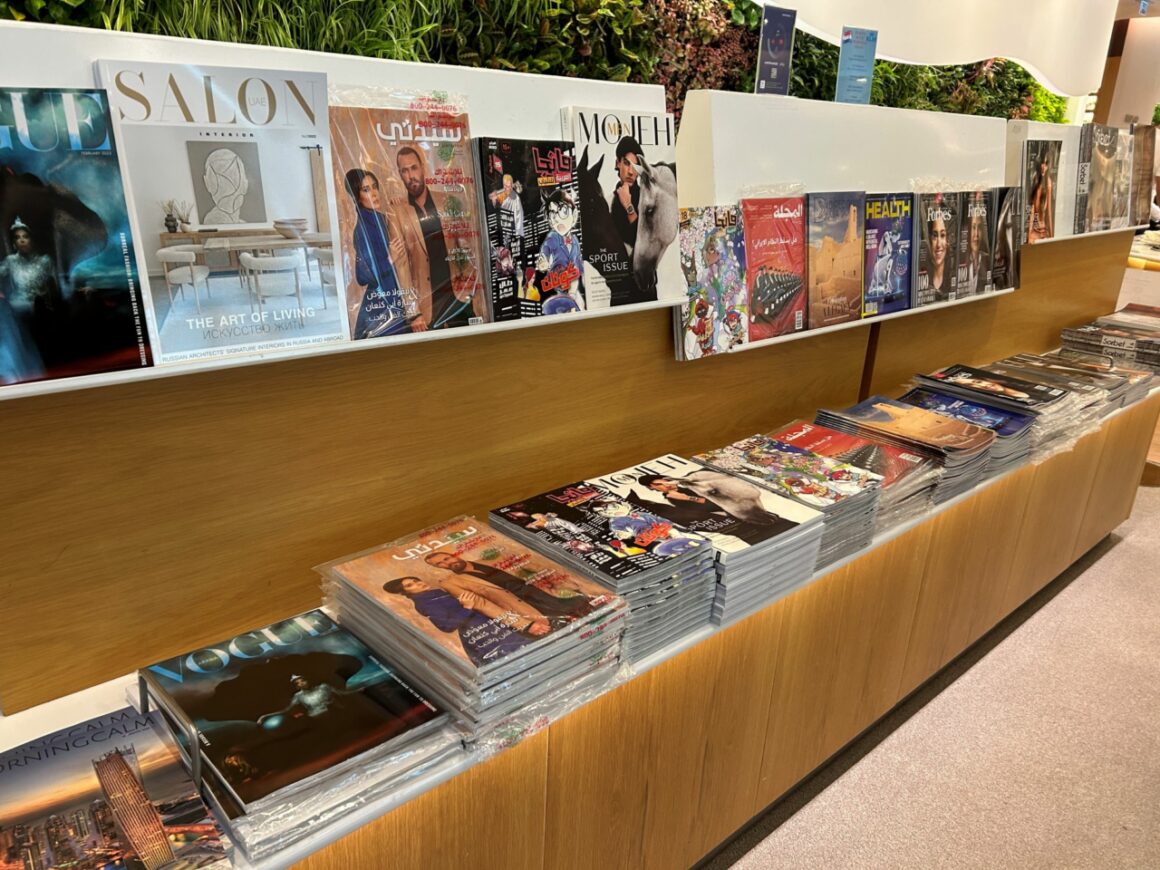 The Skyteam lounge is modern and large. It was probably around 70% full when I visited but did not feel crowded since it was light and airy. It is located in Terminal 1 at Concourse D, and you can also use Priority Pass to enter except from 8pm-2am.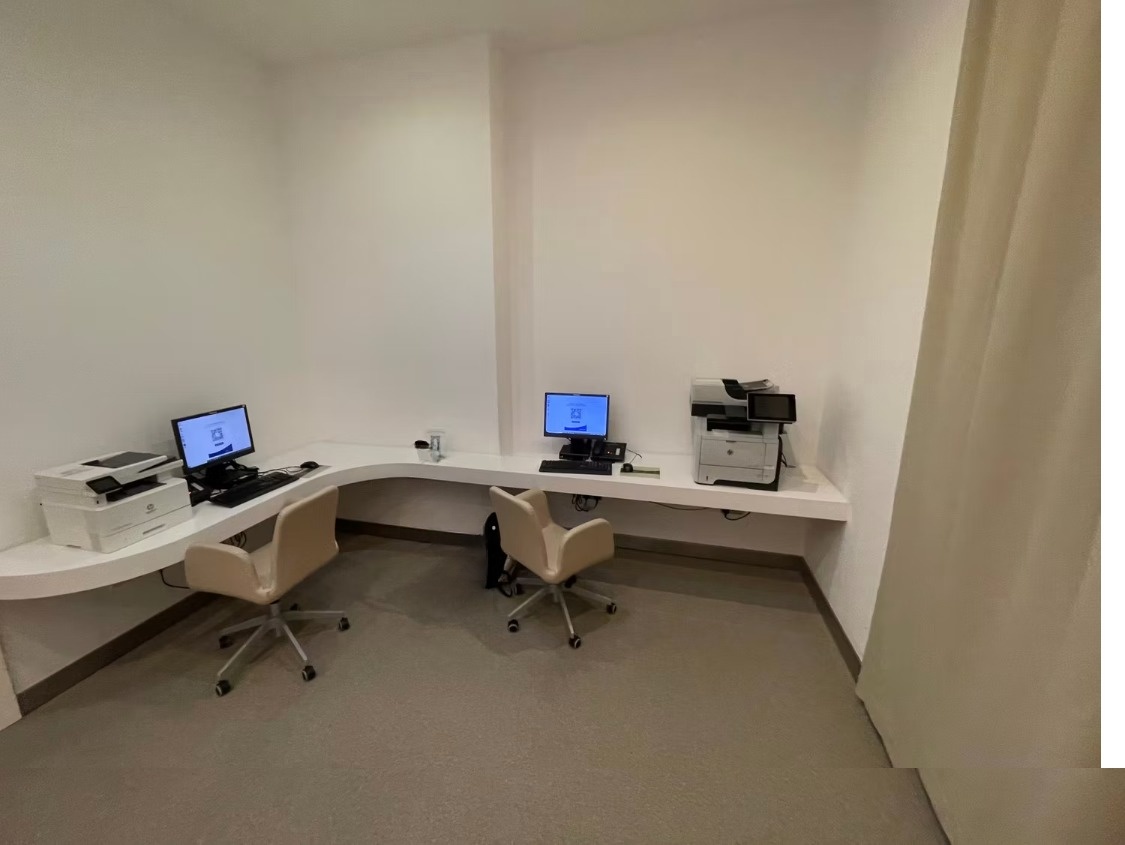 As you enter, there is a rack of magazines and a baggage storage area. On one side of the lounge, there was a seating area with comfortable chairs and on the other side was the dining area.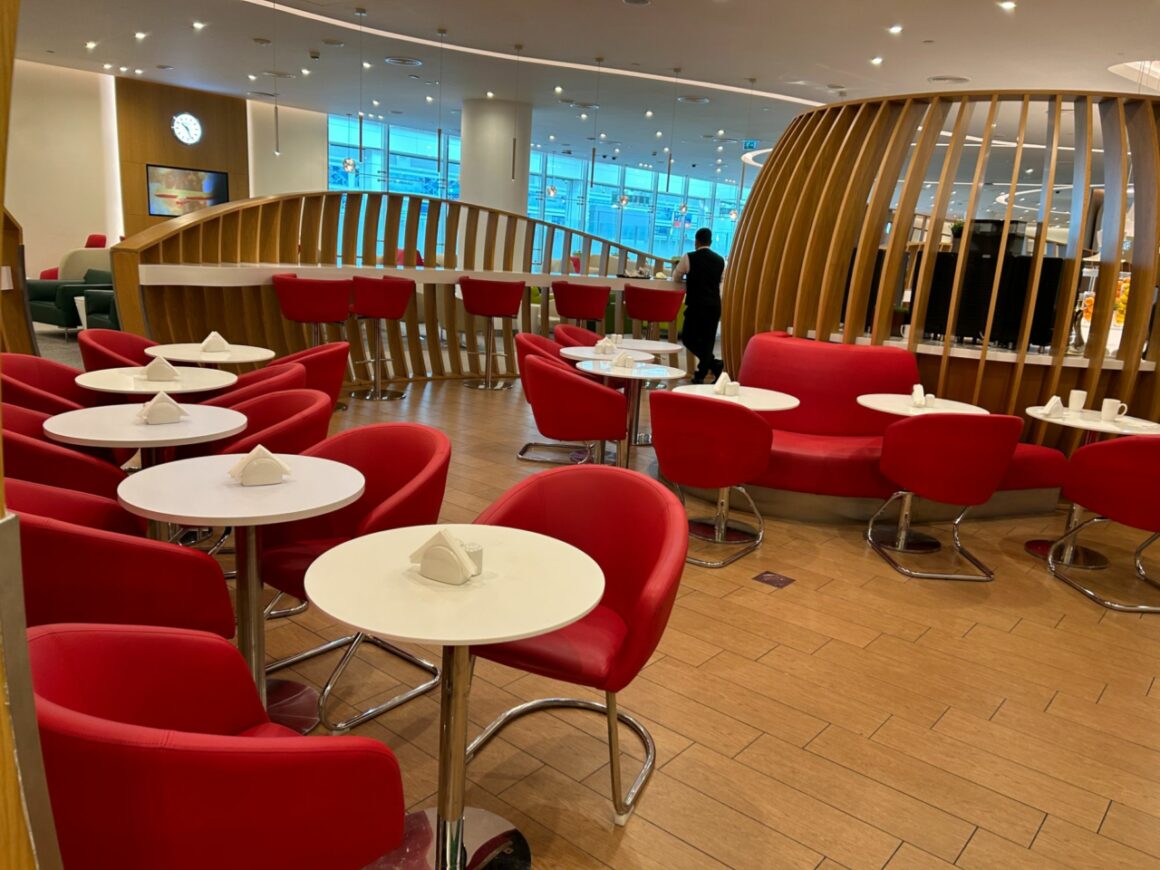 There is also a business area with two printers. I liked the living wall, which is one of the signatures for Skyteam lounges. For families, there is a kid's room with a TV.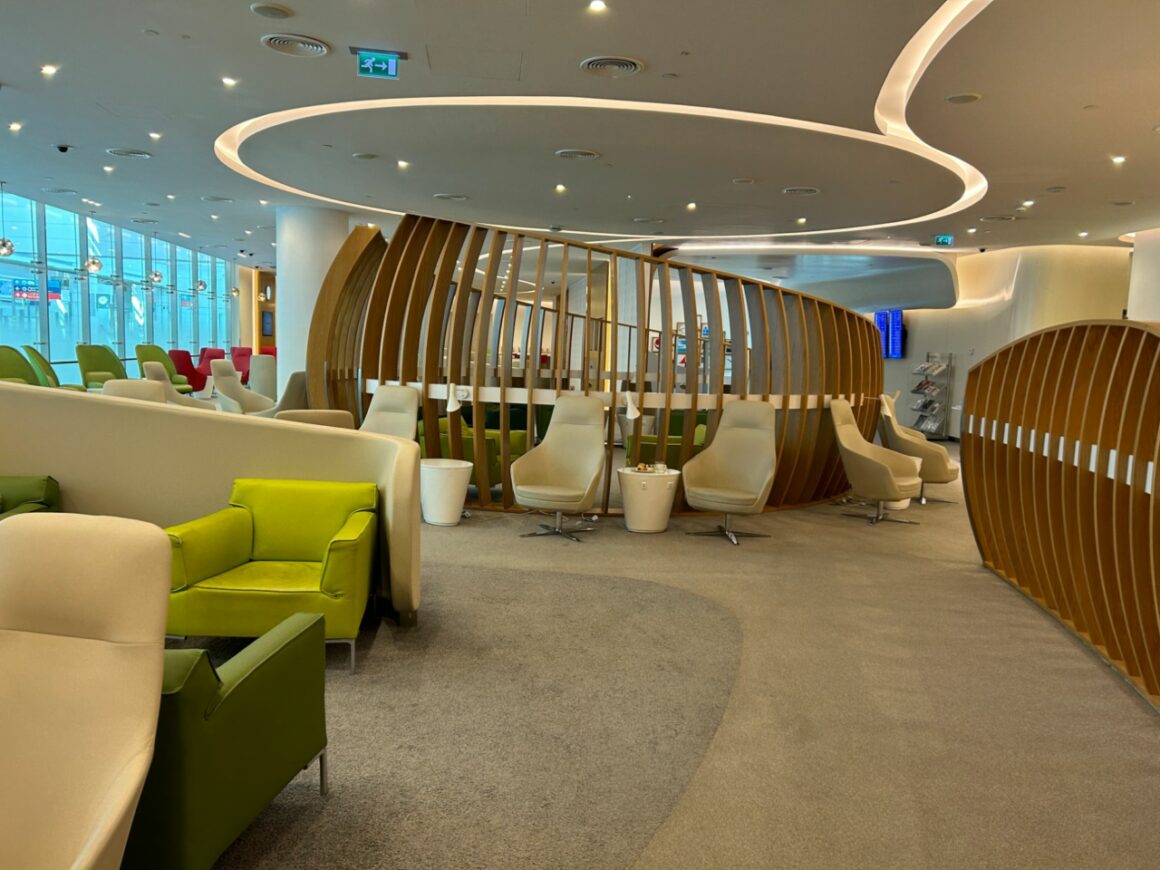 The buffet was pretty comprehensive and had a wide range of good quality food.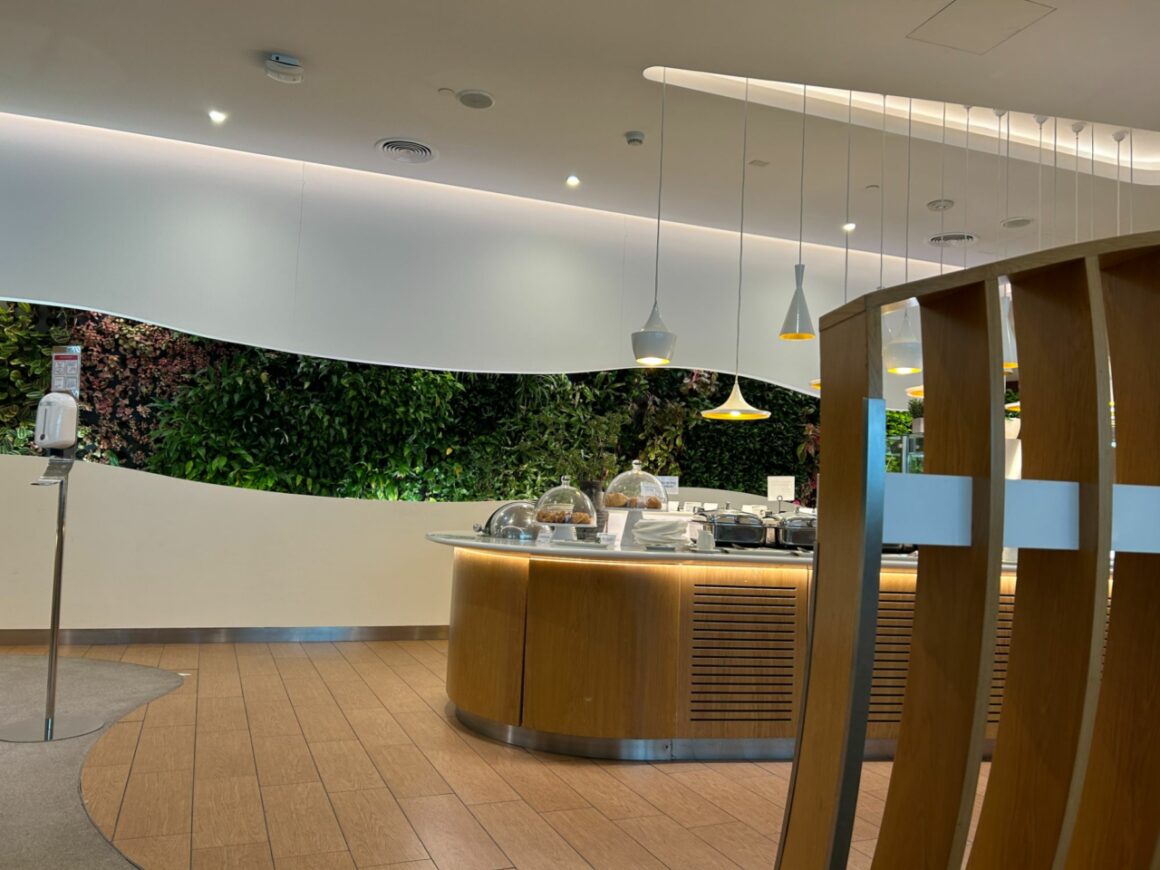 I visited at breakfast and there was a full salad bar, cooked breakfast, local hot dishes, yoghurt, cereal, pastries, canapes/open sandwiches and desserts.
I had a few nibbles…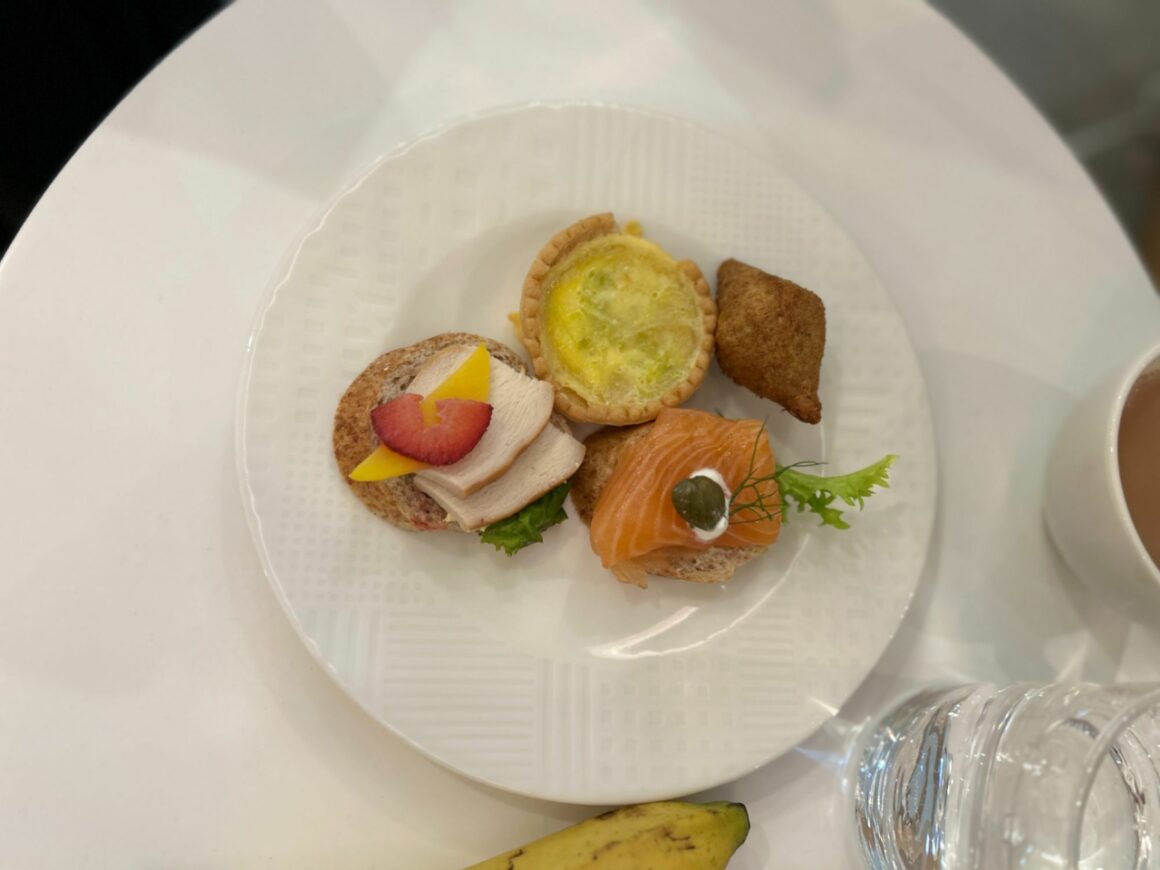 Another signature design for Skyteam lounges is the Wine Library which they also had here.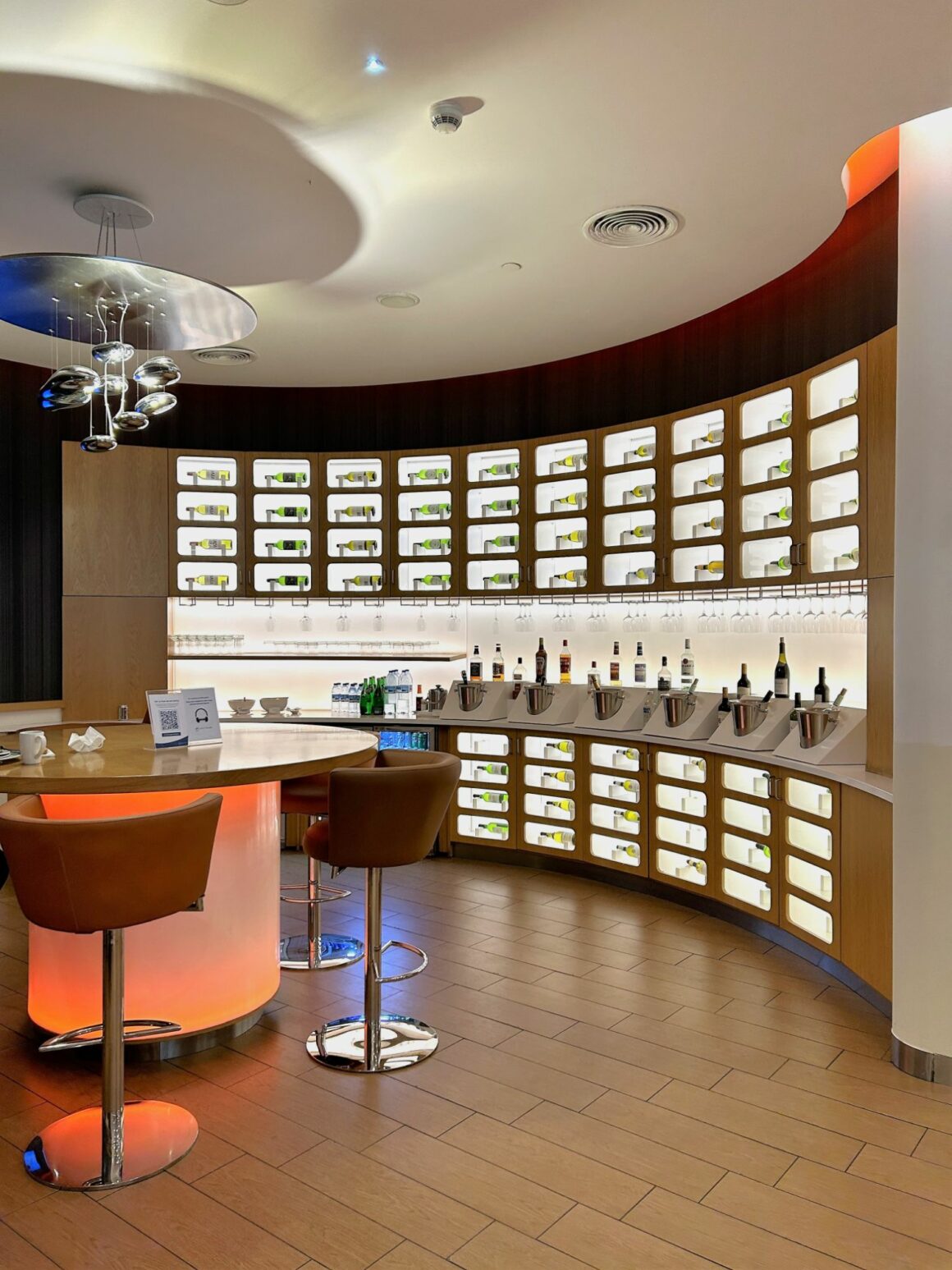 There was no champagne, but there was prosecco.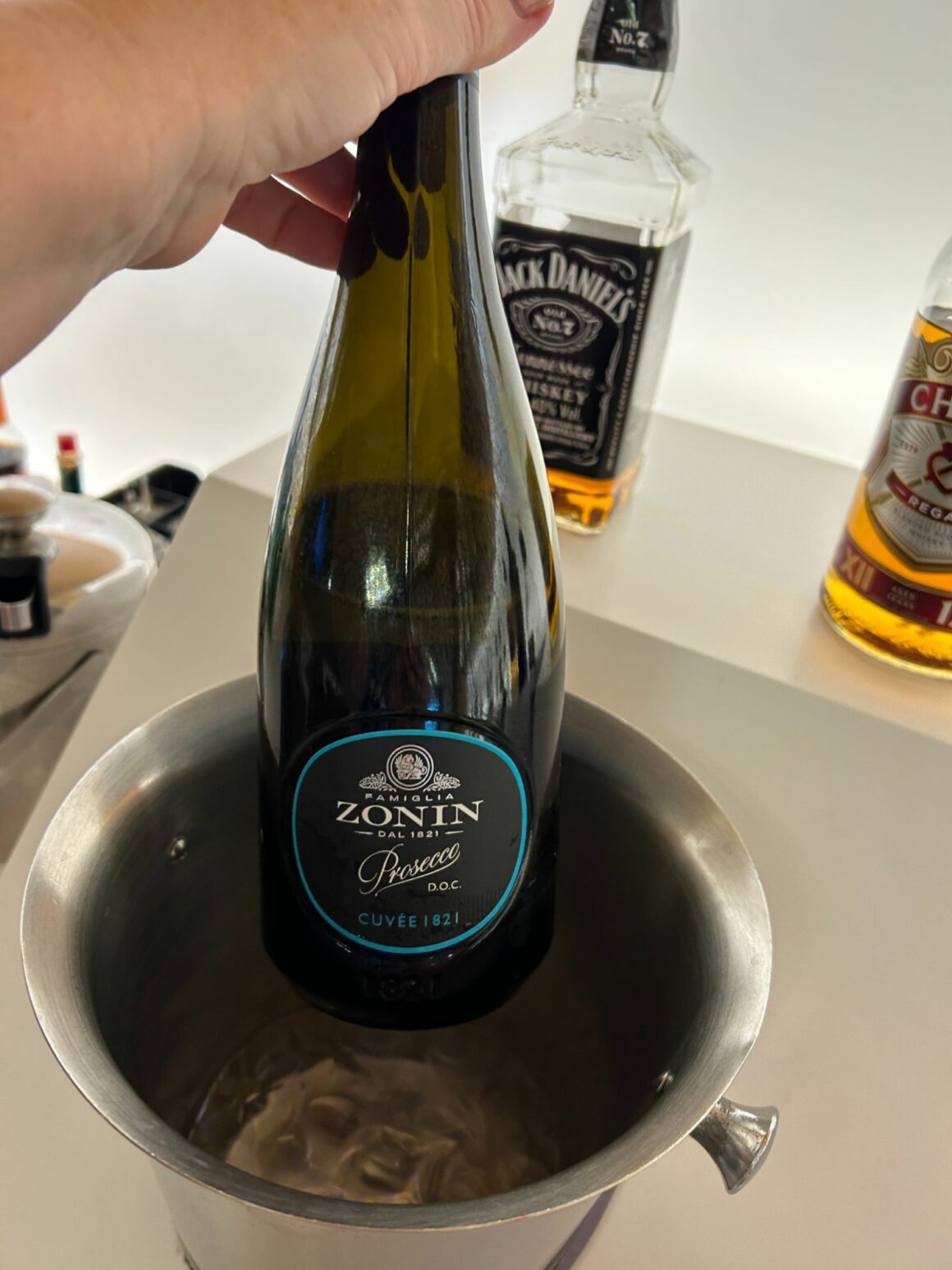 However, there was no shortage of wine to try with three reds and two whites, plus a good selection of spirits. Although the only gin was Beefeater, which I am guessing people may be a bit disappointed by.
I noticed that the lounge was kept spotless with staff constantly clearing and wiping tables.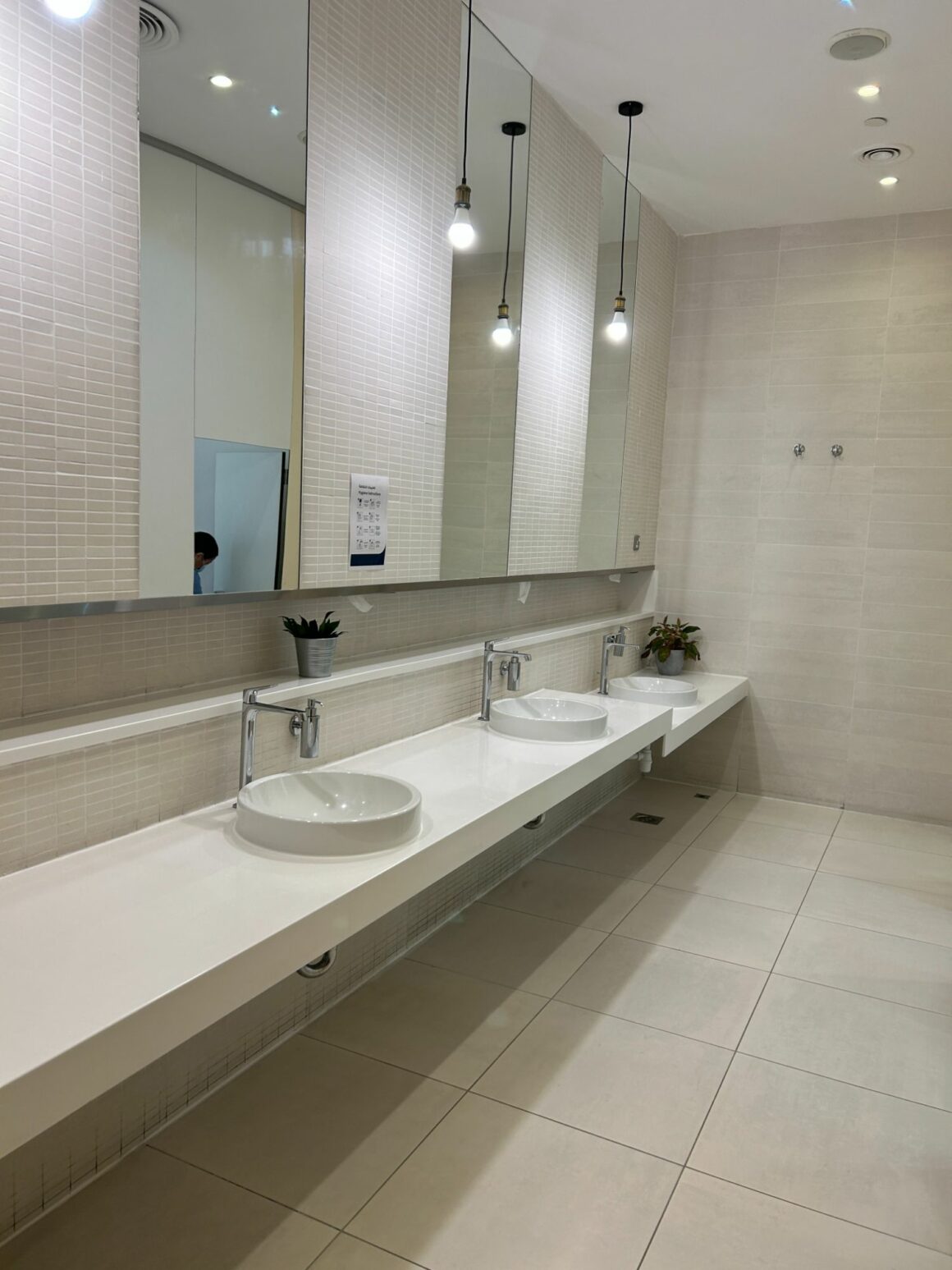 There are some shower rooms, but they are tiny. The toilets were also very clean and modern.
Boarding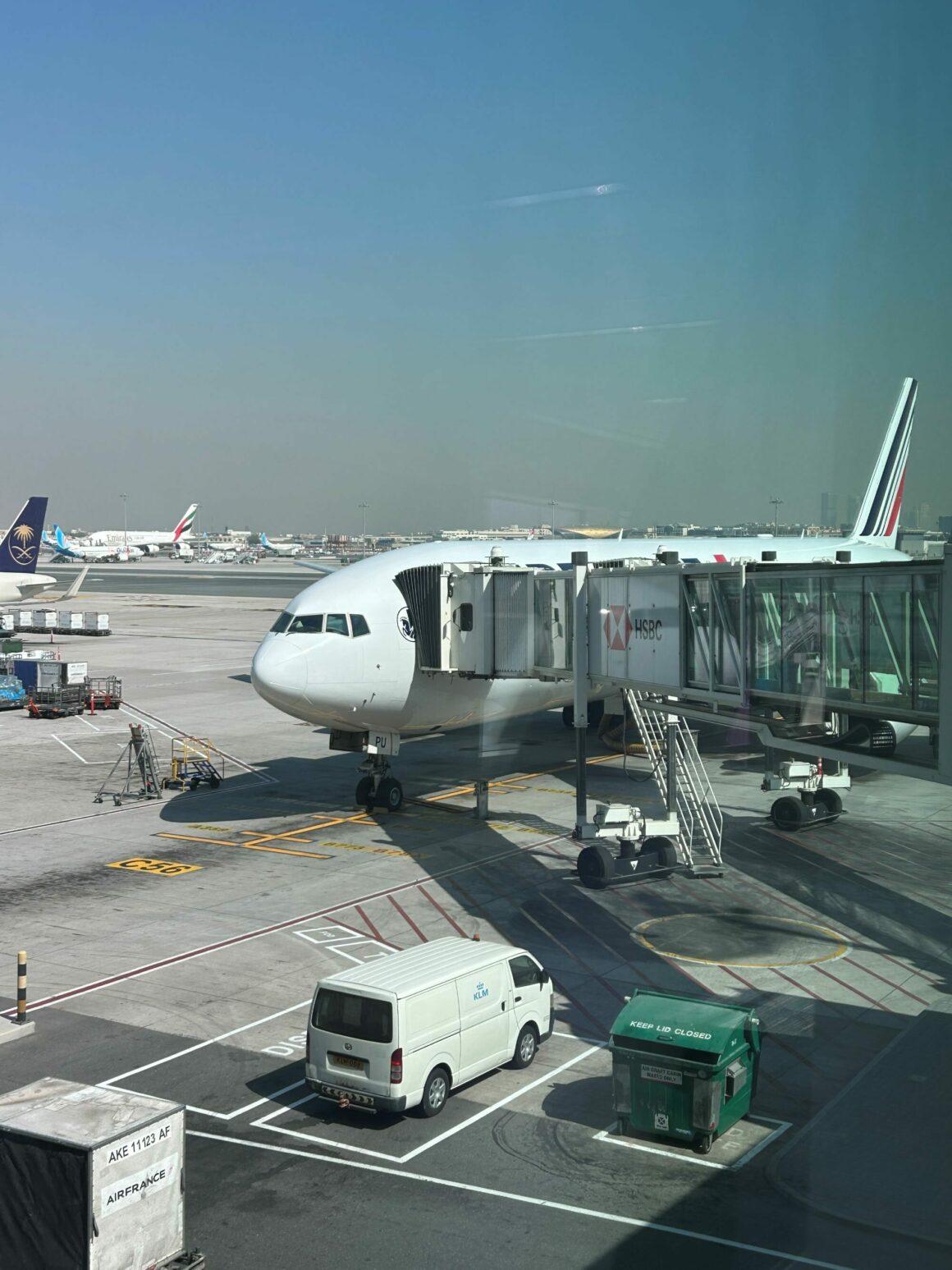 I got to the gate quite early as I am never sure how far things are at Dubai but it was relatively close to the lounge. So when Priority boarding was called I got on without too much of a scrum. There was a separate door for First and Business class.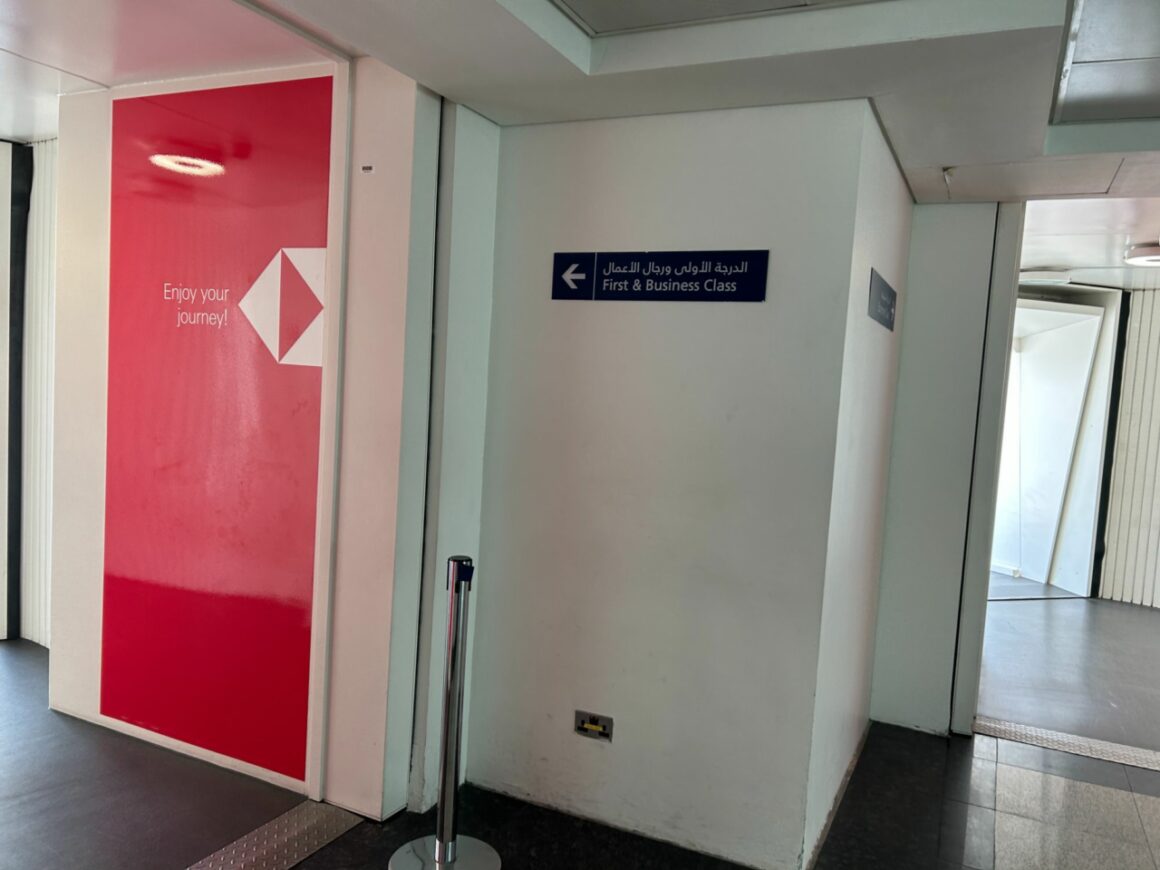 At my Air France B777-200ER business class seat, there was already an amenity kit and, surprisingly a hygiene kit too which you rarely see now.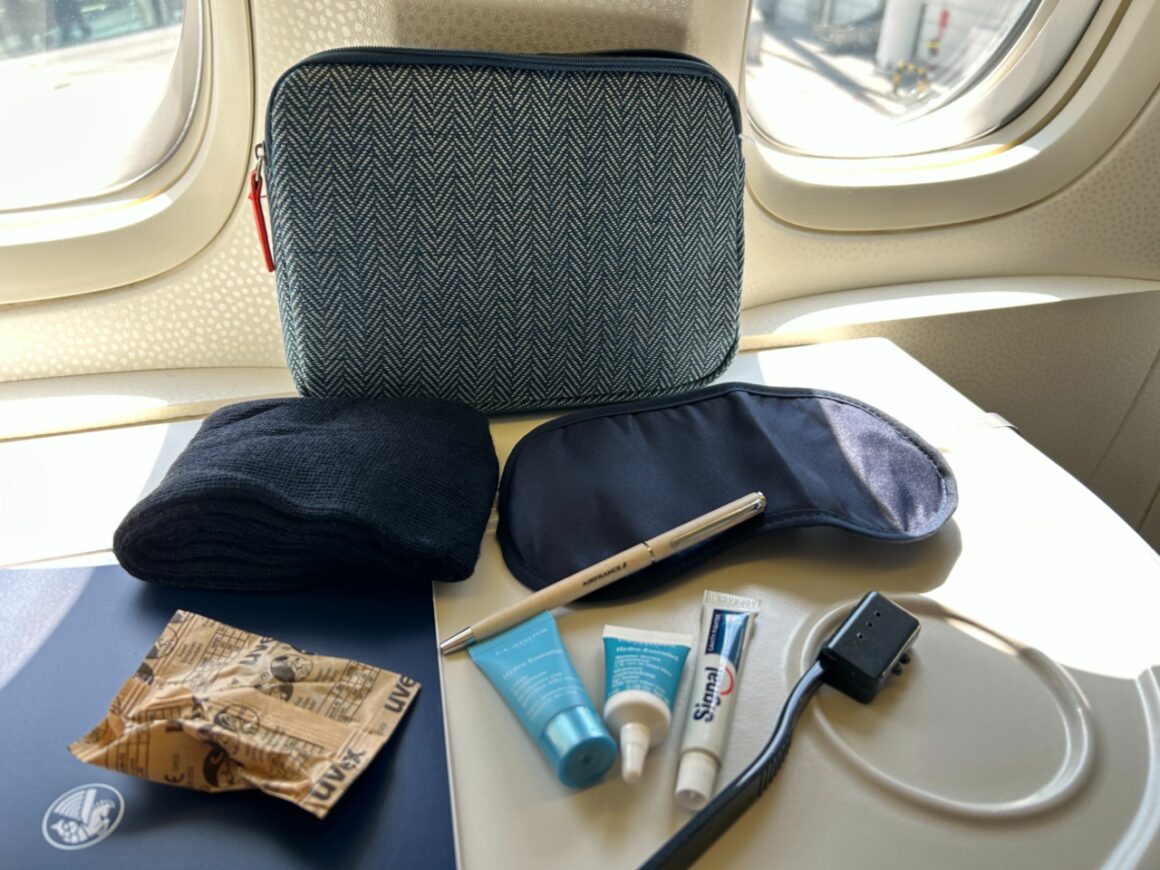 I liked the kit and was pleased to see Clarins products in the form of a hydrating moisturiser and a lip balm. It was also good to see a decent toothpaste size, as these are handy to keep for travelling. A bottle of Evian was also at the Air France B777-200ER business class seat in the bottle holder.
I was offered a welcome drink, so being Air France, I thought I should have champagne (OK, I know I always have champagne on most airlines!). It was definitely a generous measure; no BA thimble-fulls here.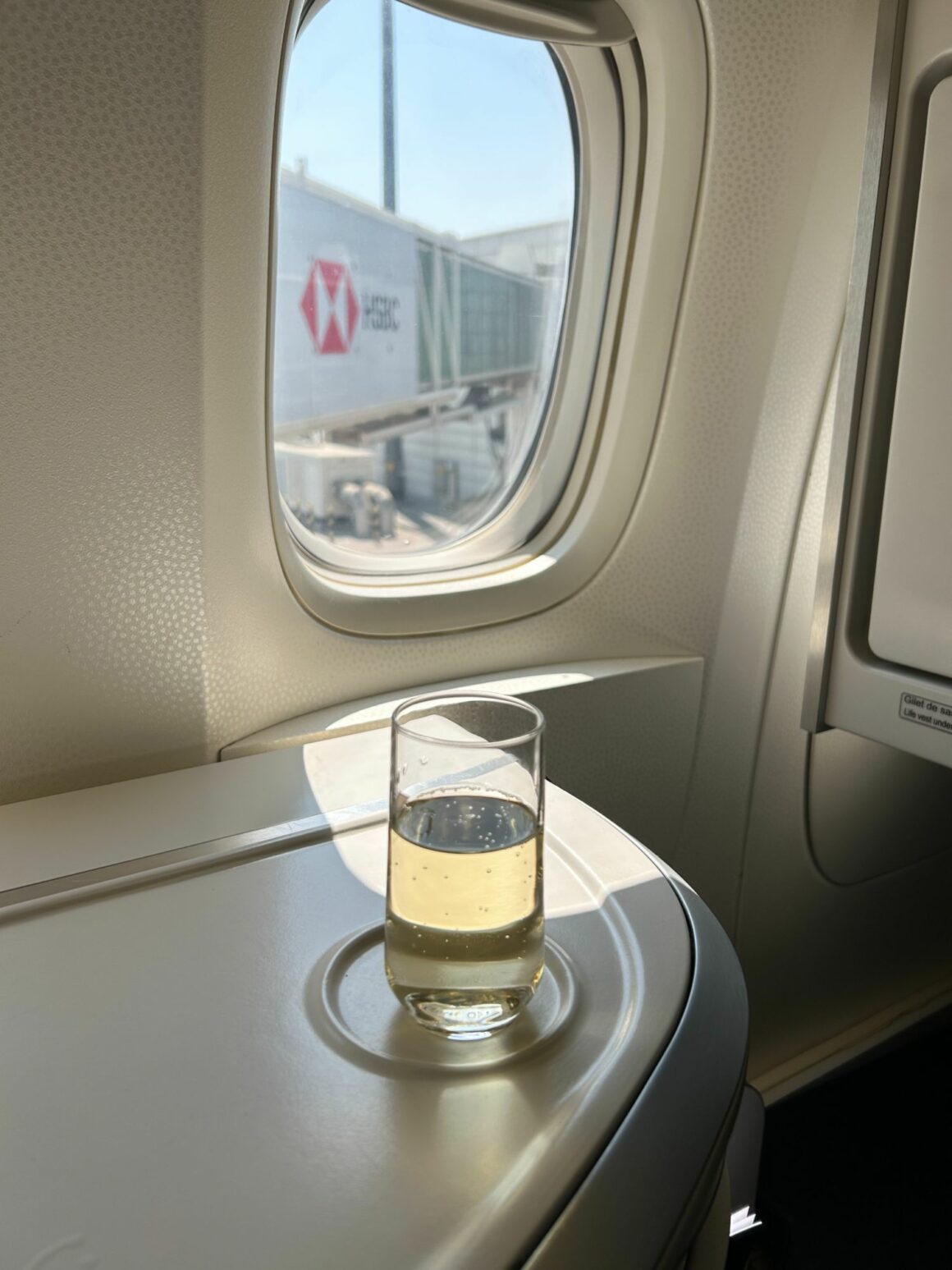 We were also given with a warm towel before take-off which was nicely presented.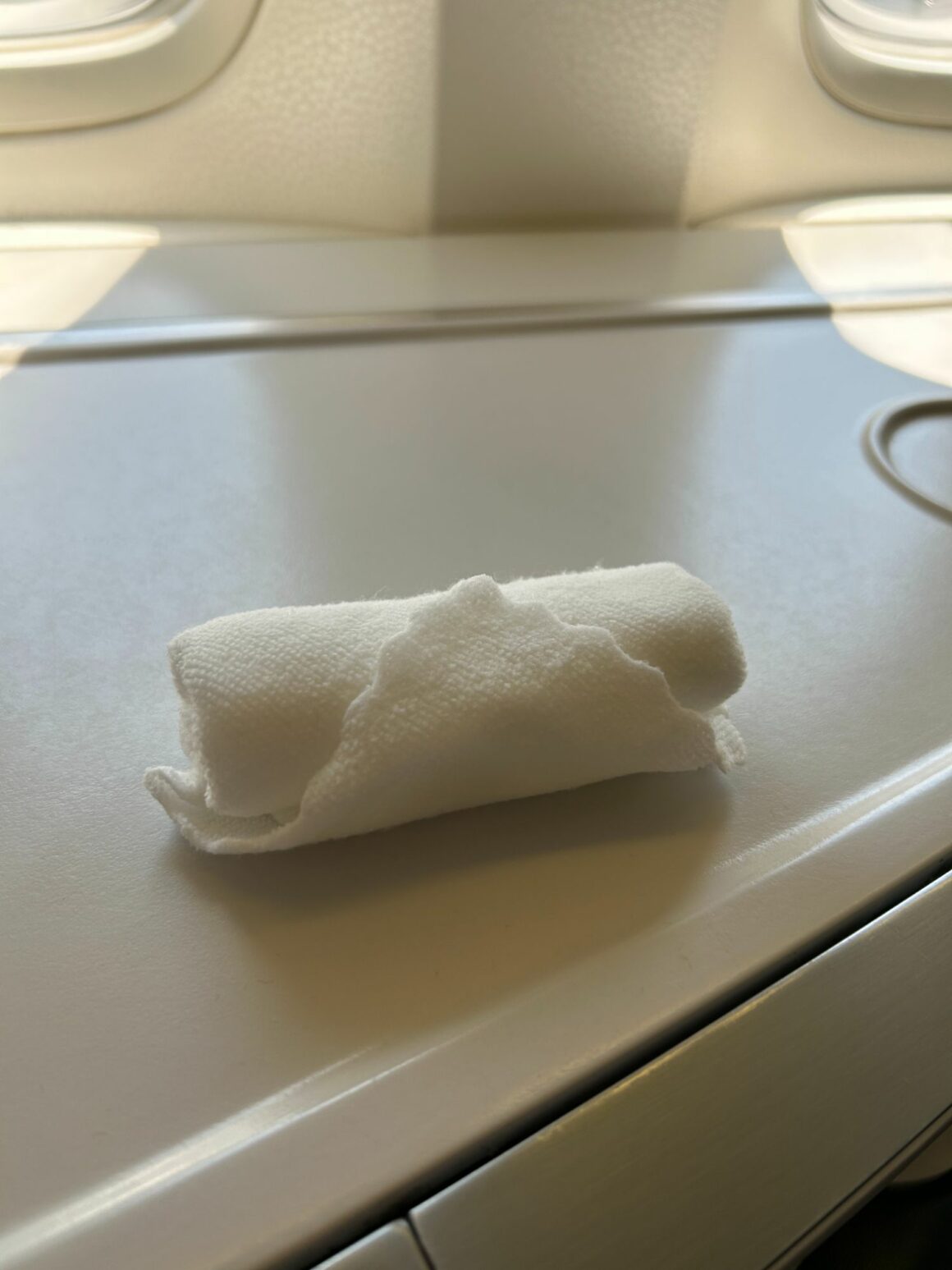 We had some great views over Dubai as we took off.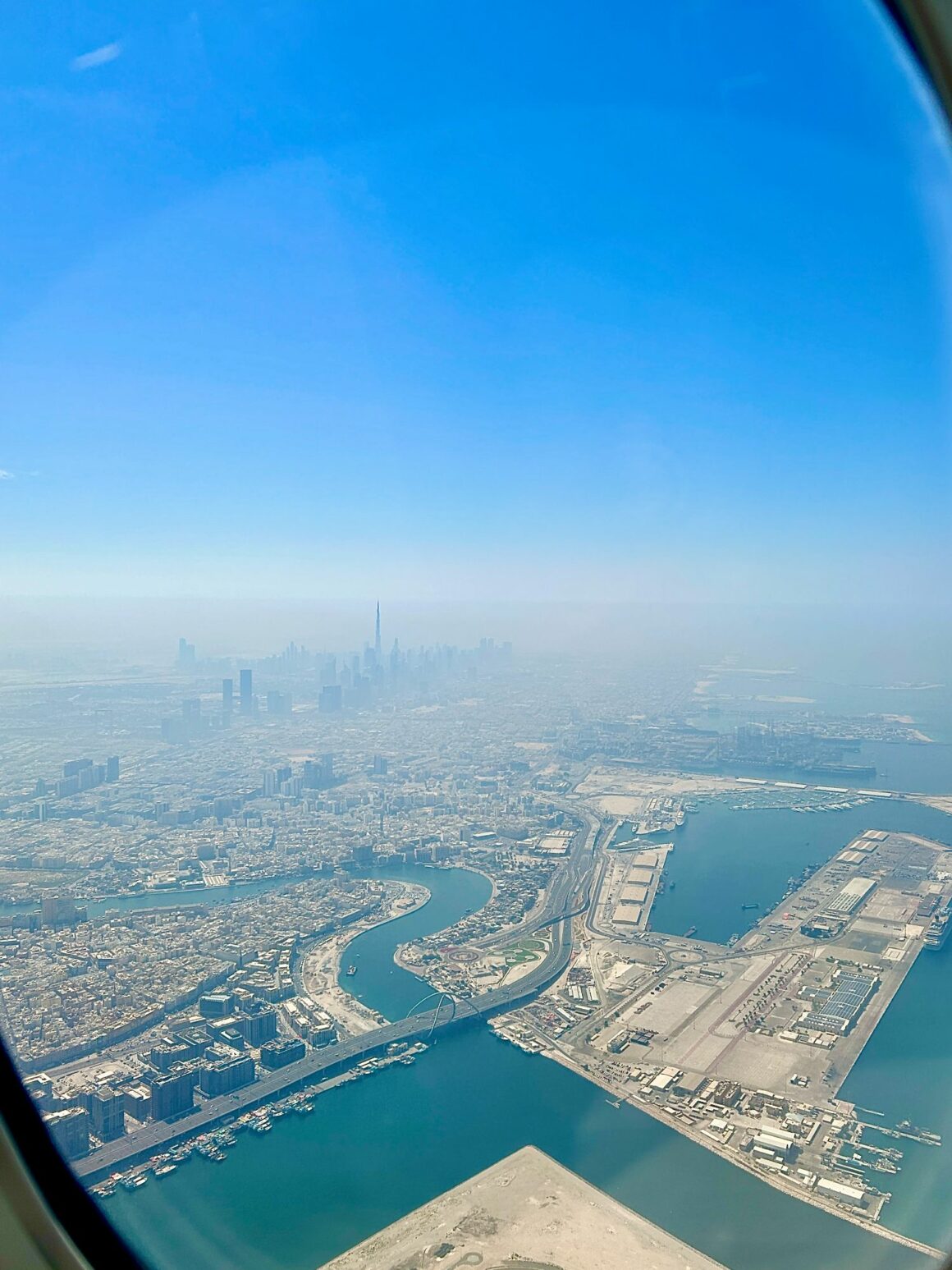 Seat and cabin of Air France B777-200ER business class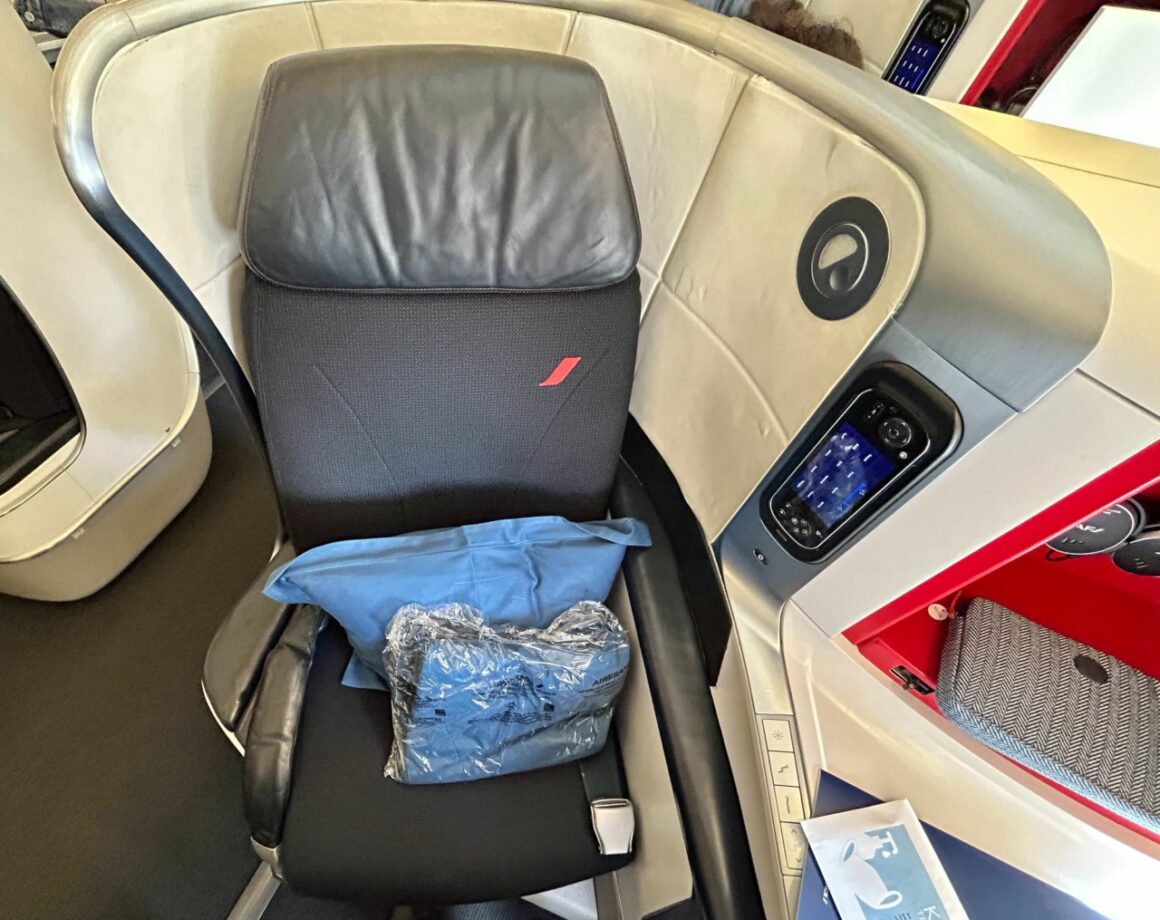 This was a 3-class B777 with two business class cabins. I decided not to go for the smaller back cabin as that's where the bassinet positions were, and being a day flight, I wasn't too bothered about noise. I went for 5A as there were not that many seats left by the time I booked mine.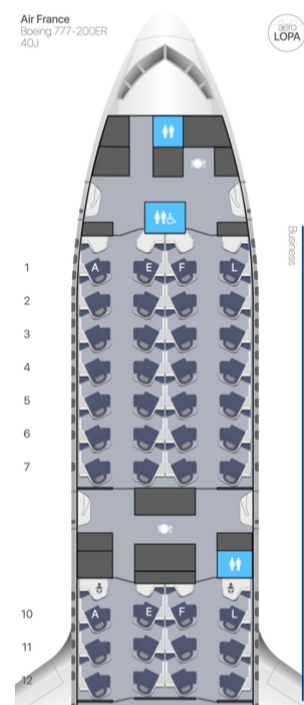 The Air France B777-200ER business class seats were a standard reverse herringbone, but I found them very comfortable due to the wide foot well, which makes all the difference. The footrest was also well-padded and soft, which made it easier to rest.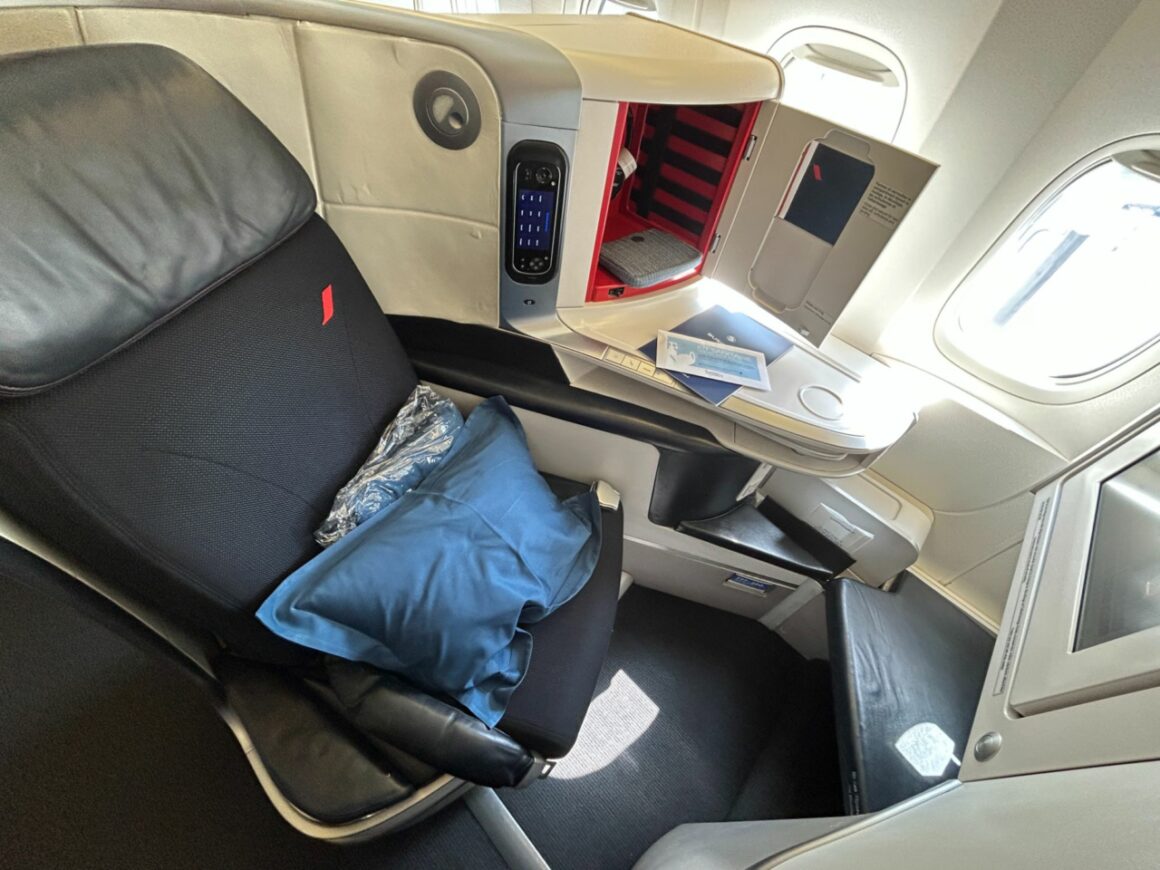 I liked that the head height cupboard actually had room to store things as well as holding the noise-cancelling headphones. There was also a mirror which is always handy before you venture to the loo and find you look a fright!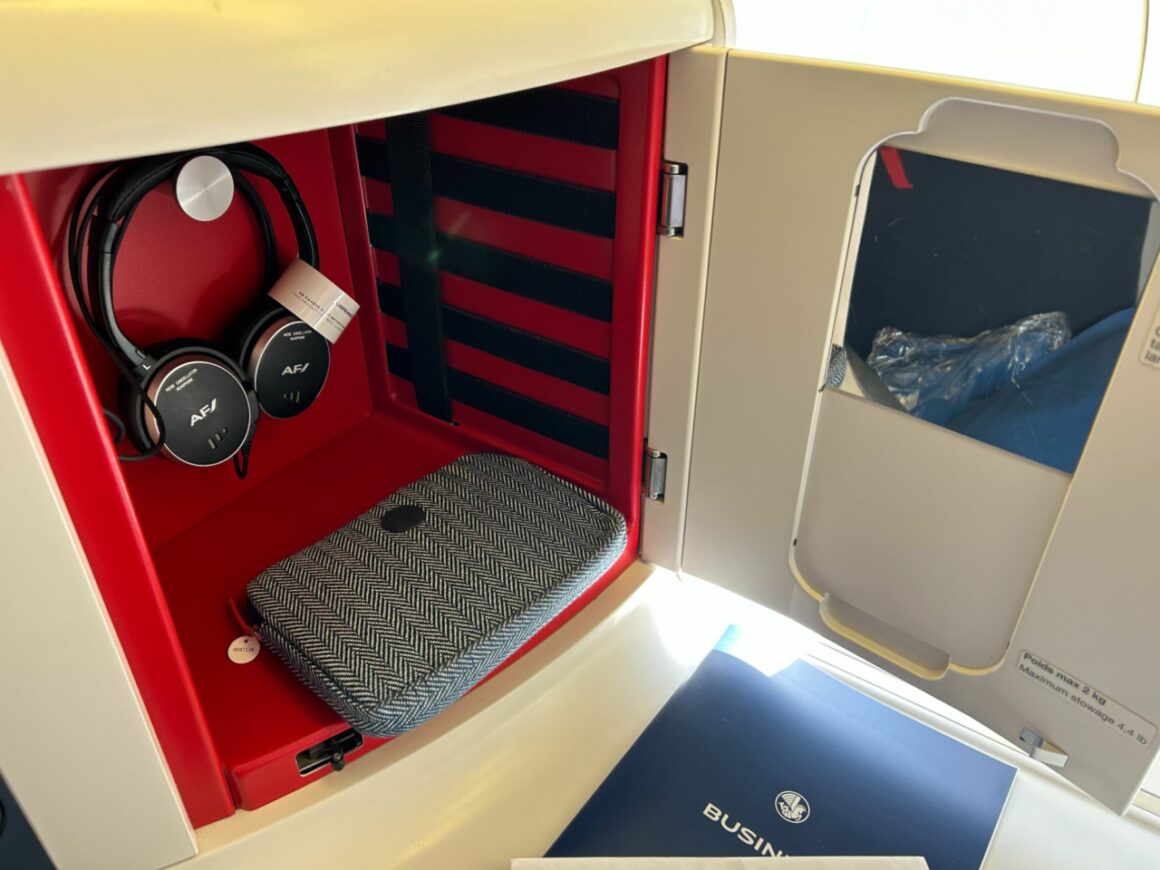 The seat was well padded and was similar to KLM in the way it could be adjusted. There was not a separate leg rest that could be controlled but I could reach the footrest without reclining much, so it was not so important. There were buttons for bed mode, to move the seat backwards and forwards and to go back to upright position. So you could have any position in between lying down and being upright.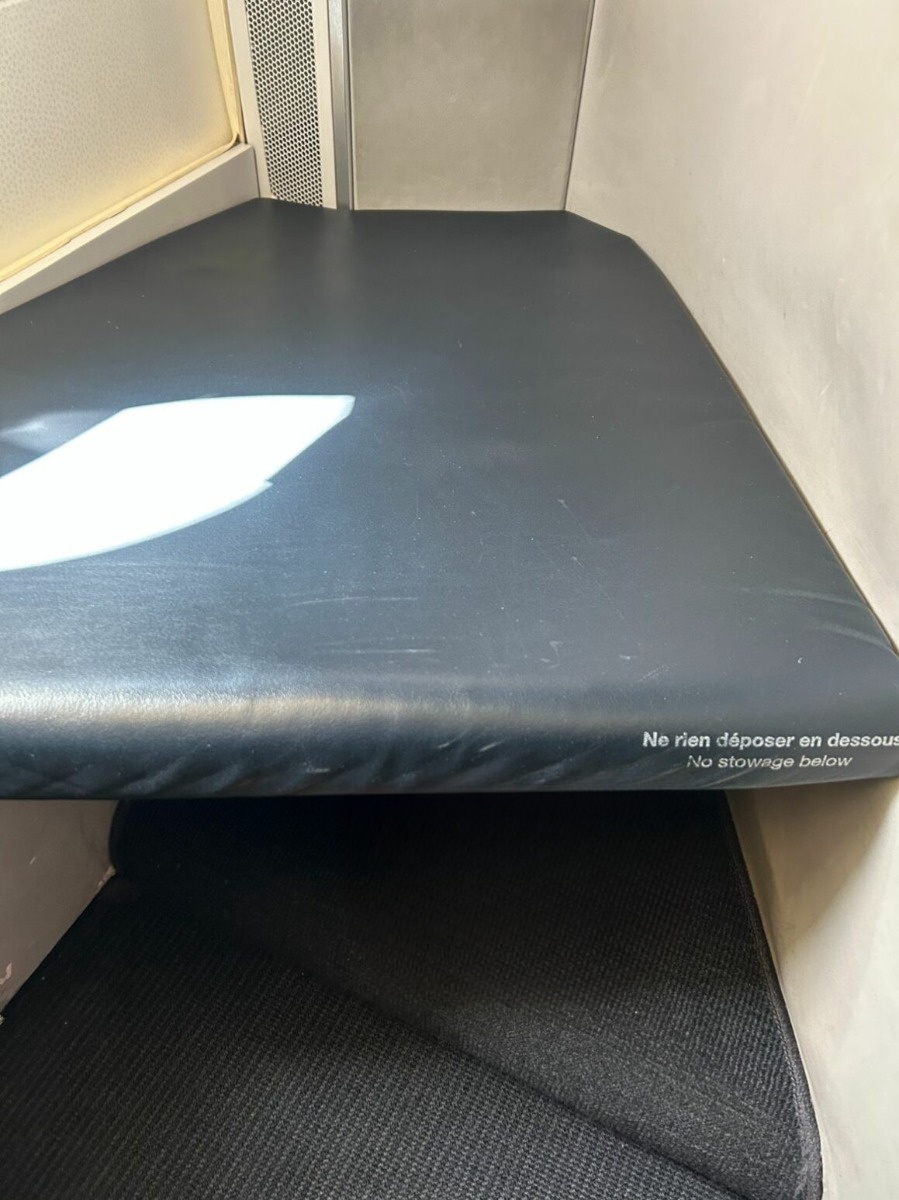 A reasonable size pillow was provided, and a light quilt but no mattress topper. However, the seat was soft enough that it didn't matter, and I managed to have a lovely nap later on in the flight. Having such a wide footwell made a difference, as you could lie on your side without feeling cramped in your lower legs. It was also handy to store your shoes underneath during the flight.
Although there was no door, it was pretty private, and I could only get a glimpse of the person across the aisle. However, I could see enough to see that there were on their laptop the whole way through taxiing with no comment from the crew, which I thought was poor.
The toilets had a nice selection of Clarins products with one of my favourite unisex fragrances Eau Dynamisante which is an energising treatment fragrance that hydrates as well as smelling very refreshing. There was also toner and cotton wool, pads in there. I would have liked some hand cream as there was only facial cream in the amenity kits. I also found the toilets very clean every time I visited, and it looked like the crew were regularly tidying them.
Food and drink at Air France B777-200ER business class
The service started with a champagne service which I thought was quite clever as it speeds things up if you deliver champagne to most people and then just have to get a few drinks at the end. I thought it was nice way to start the service, and the drinks came with some very moreish cheesy snacks in a smart box.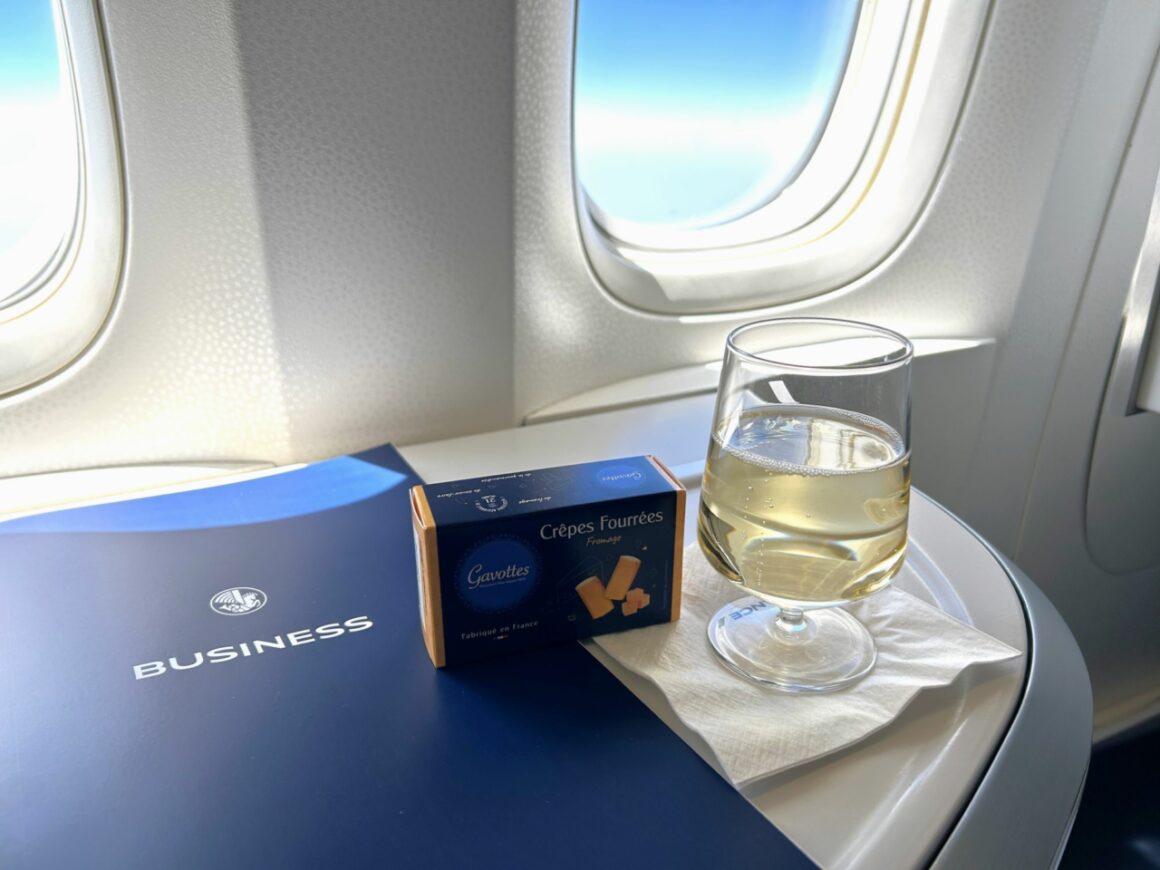 As you would expect, there were some high-quality French wines to choose from on Air France. The champagne was one of my favourites, Joseph Perrier, which I always find very enjoyable.
The menu also looked good. I will point out now, before I get crucified again by those worried about animal cruelty, I did not choose the foie gras; there is no choice of starters. If you are offended by foie gras, then you will either have to order a vegetarian meal or fly another airline.
Here is the menu:
The tray that came had the starters, dessert and cheese already on it. It's funny how we all complained (myself included) about BA's one-tray service but actually, there is a middle ground such as this, KLM and Finnair's service. As long as there are a few starters on the tray and the same with desserts, I am happy to get a selection on one tray provided the main course comes separately so it doesn't go cold.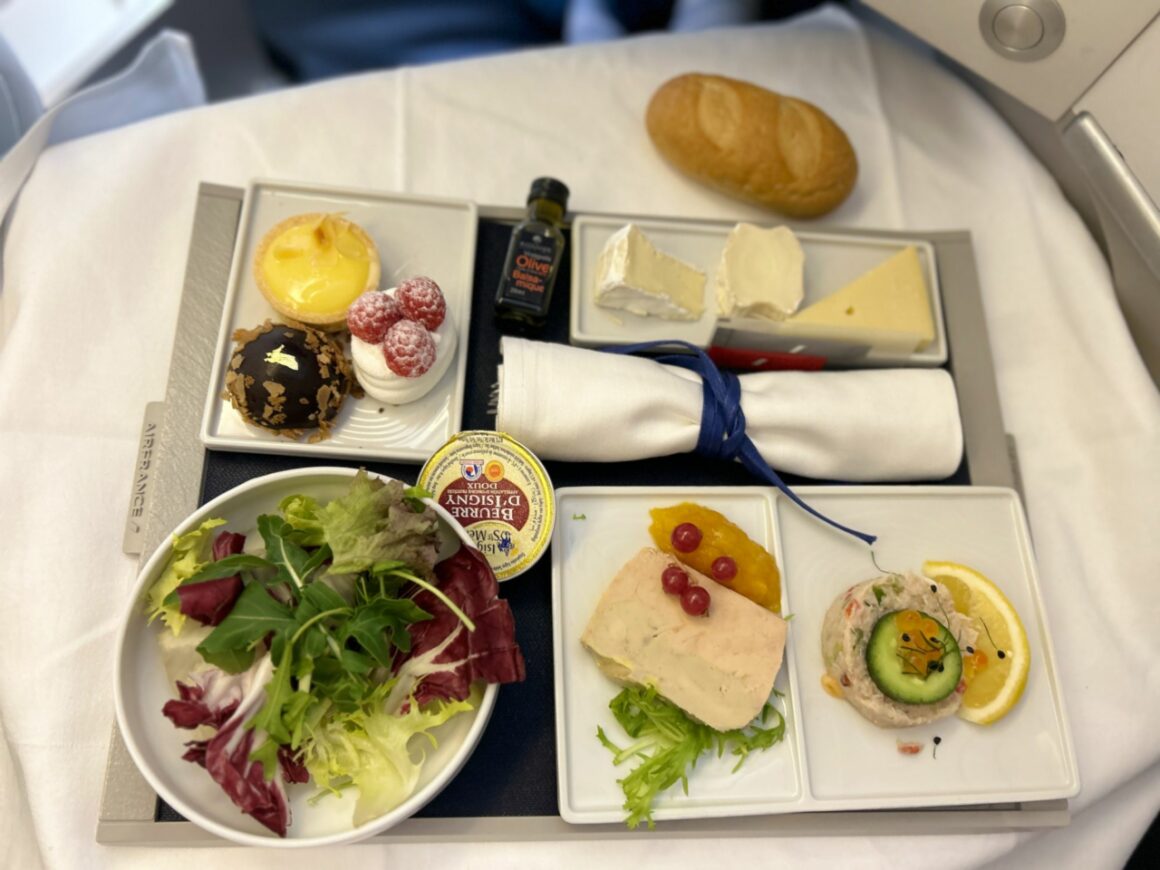 I thought this was pretty impressive both in terms of how it was presented and also the quality of food. Naturally, there were warm mini baguettes which were offered three times during the meal. Plus, there was some excellent Beurre D'Isigny to smother it in. They also came over with freshly ground black pepper, which was the first time I had seen that on an aircraft.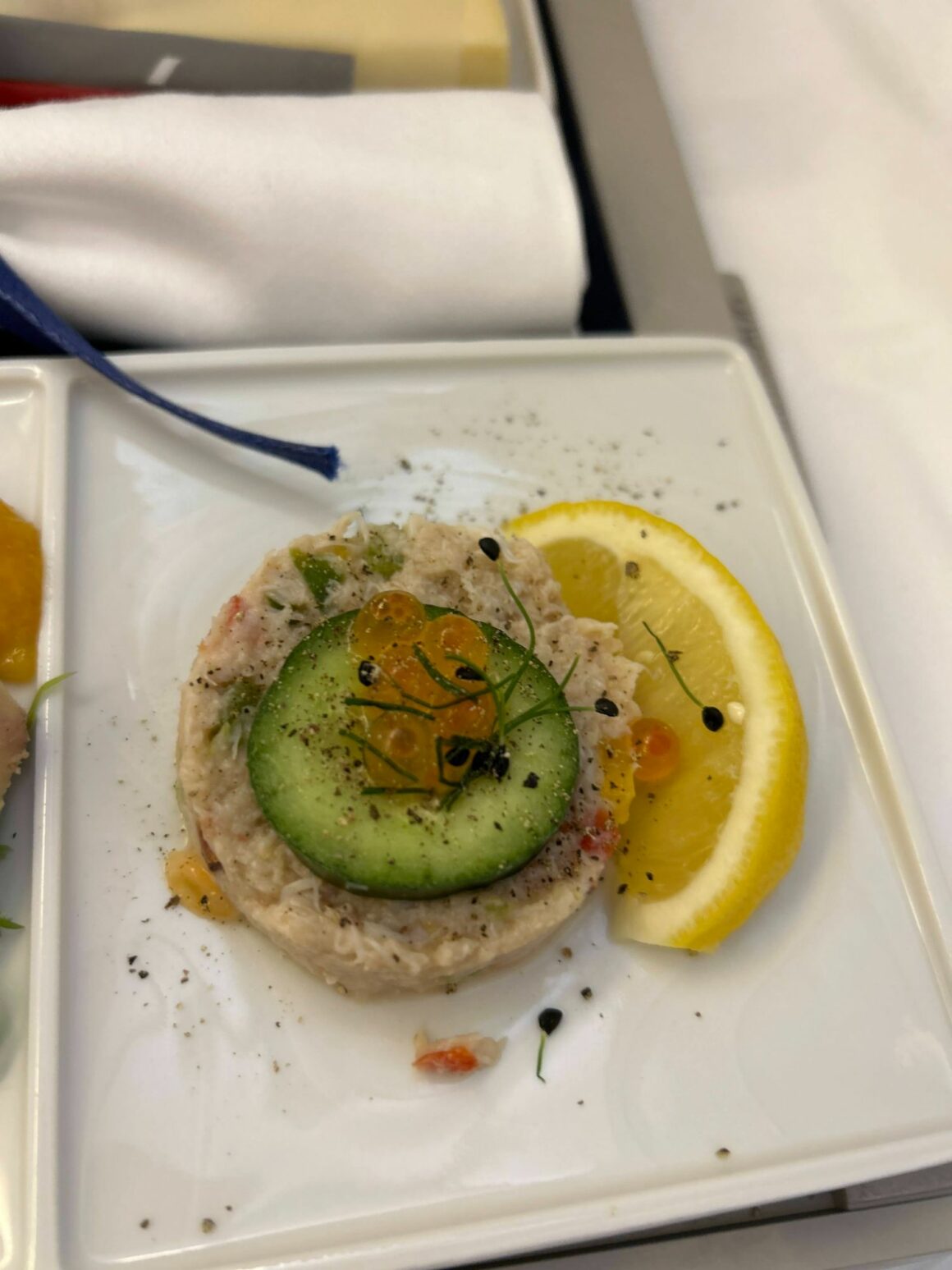 The crab salad was delicious and tasted fresh. The salad was also good. The service was exemplary the whole flight. Every time I had a course, I was asked if everything was OK for me. The crew were very friendly and efficient. I could not fault them at all. At one point, I had an issue with the seat that was caused by the seat belt getting caught, and the crew could not have been nicer or more helpful.
I tried the Pouilly Fume, which was good but not memorable and the Pauillac, which was excellent. Every time I chose a wine, they brought it over, presented the bottle and gave me a taste. It felt like I was in a restaurant with the service I received.
Although it seems that they were also having supply issues as they did not have the cognac as stated on the menu (I got excited at the sight of XO).
For the main course, you could pre-order with a choice of four options, including vegetarian, beef and fish. I had pre-ordered the prawns in a spicy sauce. I thought all the options sounded good and I like that they prompt you a few days before the flight to choose which you want.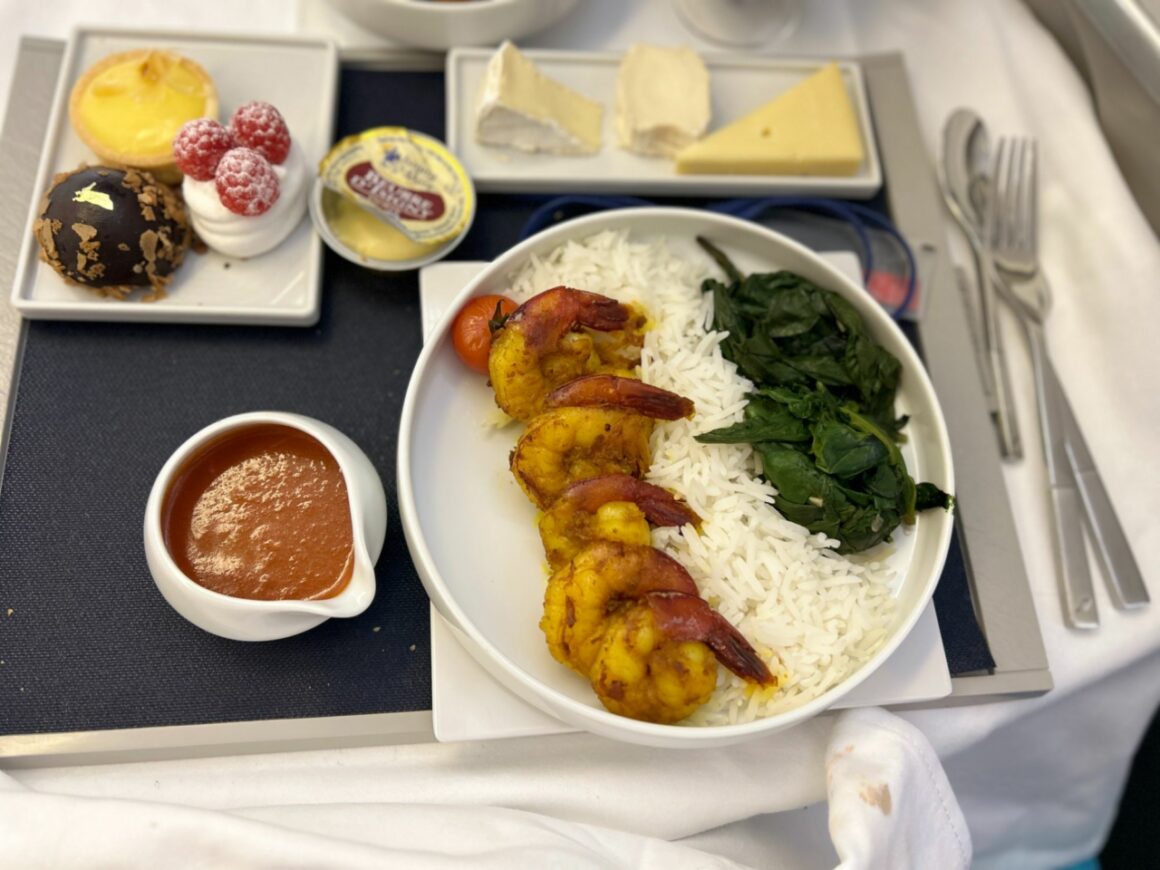 Again, I liked how the food was presented with a jug of sauce which also helps the dish not to dry out. The rice was fluffy and the spinach tasted fresh, so there were no complaints from me.
The desserts were cute little mini pavoloa, lemon tart and chocolate mousse cake and the cheese were also excellent quality too. I really don't have a bad word to say about the food.
During the flight there was not much to snack on except some of the cheese snacks and some soft drinks laid out in the galley but it was a fairly short flight at under 7 hours.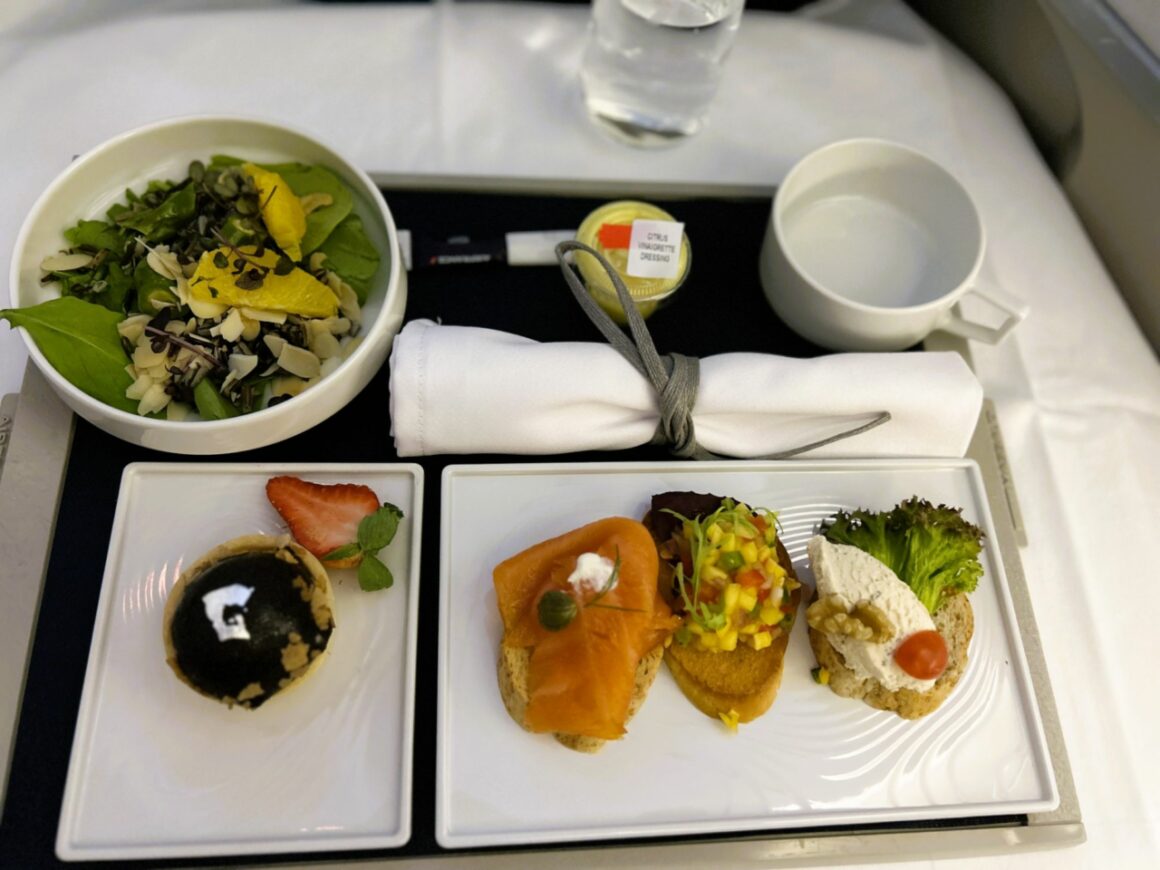 For the second meal there was a selection of open sandwiches. The mango salsa one was a bit odd as I'm not sure that belongs on bread, but the rest was tasty. I also enjoyed the salad, which was quite substantial with nuts and grains with fresh orange. My only complaint was that the dessert was the same as lunch more or less.
The crew kept me topped up and every time they cleared something away they asked if I needed something else.
Entertainment and Wi-fi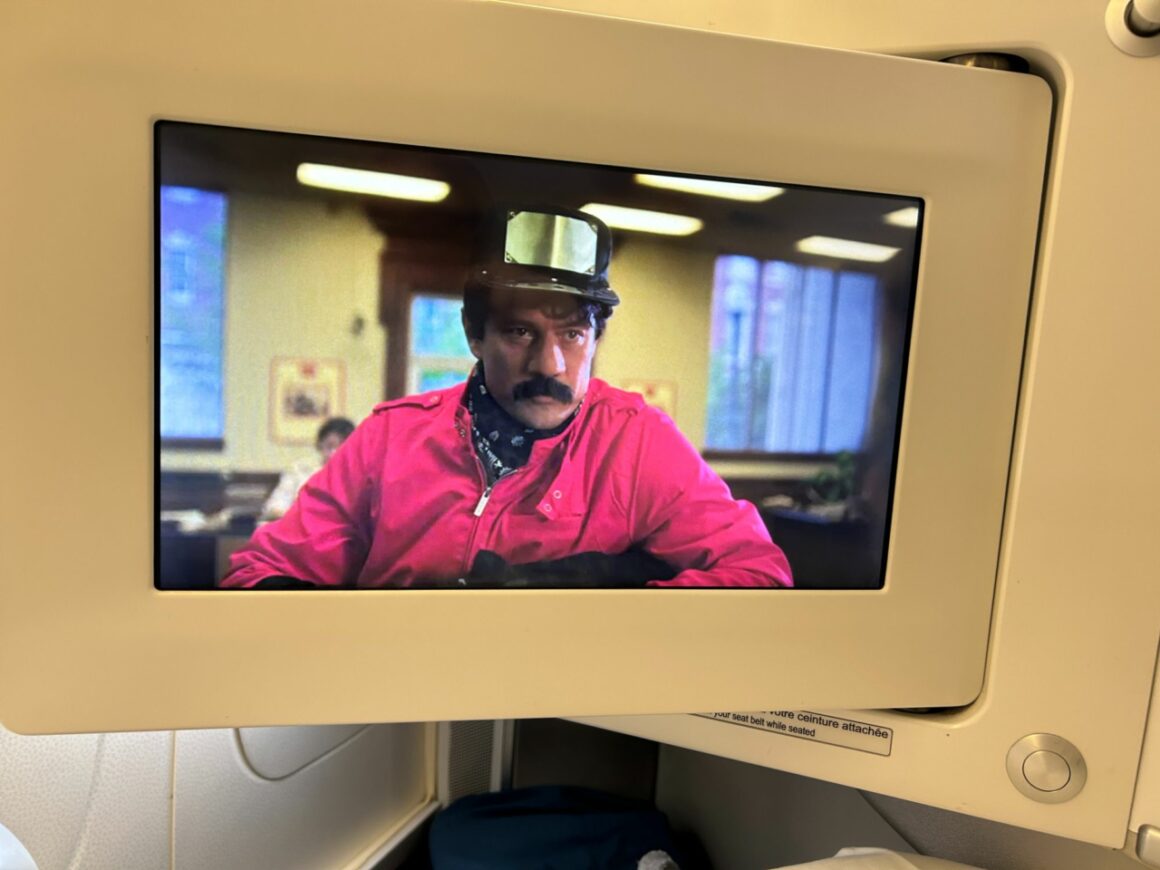 For some reason, there was no Wifi on the flight. I don't know if was broken or it was not equipped as Air France still has 10% of their fleet that doesn't have Wifi. When they do have Wifi, the messaging service is free, which is great, and it worked well on my connecting flight. They also offer reasonably priced packages for the whole flight. There was a USB charger and a multi-country socket which were easy to reach.
Air France B777-200ER business class' screen was not the largest I have seen but definitely a reasonable size with good definition. There was a good range of recent films and TV shows. I watched Bandit with Josh Duhamel, which was a true story about one of the most prolific bank robbers in the US and Canada and how they finally got him. I really enjoyed it, so have a watch if you get the chance to see it. The headphones were pretty comfortable and managed to partially drown out the screaming baby and child shouting across the aisle constantly.
The controller was a modern one with a separate screen that you could use to display a different picture, like the moving map.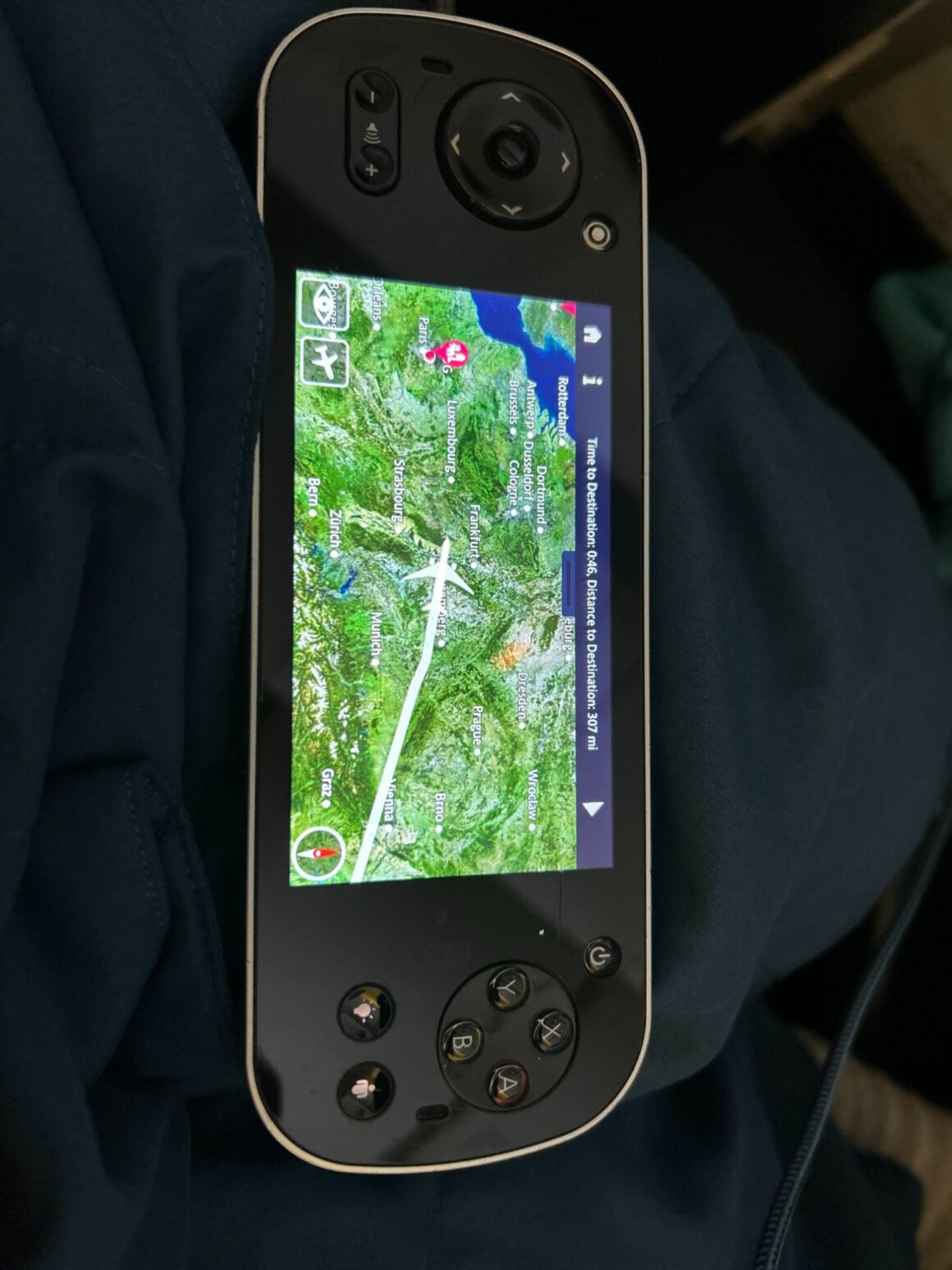 Conclusion for Air France B777-200ER business class
At the end of the flight the crew came around and thanked each person in the cabin for flying with them. I have Skyteam Elite status, but I am not even sure that it was showing on my booking since I flew the day after Virgin became part of Skyteam, where I get my status from. But I felt more valued as a customer than I do with BA as a Gold Guest List holder.
I can't really fault anything with the food, seat, drinks or service (apart from the lack of cognac). I am definitely converted to Air France and would definitely fly them again. I'm sorry BA, but this was far, far superior to anything I had in Club recently, even when I had a great crew. Yes, the seat had less storage and privacy than the Club Suites, but as an overall package, I'd rate Air France higher.
Like our Air France B777-200ER business class review? You can read more flight reviews here.