More details on international travel restrictions
There is still some confusion on international travel resulting as the PM's speech was rather vague. I have now had time to read through the very length roadmap document. I updated yesterday's article a few times, so for those that did not see the latest version – here are some key points.
Until 17 May international travel will be "prohibited".
Currently, the legislation to "stay at home" is due to be removed on 29 March. This is the only legislation that makes travel illegal.
However, the word prohibited sounds like they are planning to introduce new legislation but nothing has been confirmed
From 8 March you will have to apply online for permission to leave your own country which is likely to last until 17 May.
By 12 April there should be a roadmap for reintroducing travel. The earliest this could happen would be 17 May.
The official roadmap says,
Following 12 April recommendations , "the Government will determine when international travel should resume, which will be no earlier than Step 3. The decision on when international travel can resume will be dependent on the global and domestic epidemiological picture, the prevalence and location of any Variants of Concern, the progress of vaccine rollouts here and abroad, and what more the Government has learned about the efficacy of vaccines on variants, and the impact on transmission, hospitalisation and deaths."
The only good news is that it does sound likely that travel will reopen at some point this summer. Let's just hope it's deemed safe to open by 17 May.
Win a million Virgin Points!

Virgin Red has launched a new competition for its members where one lucky winner will become a Virgin Points millionaire. There are also one hundred chances each day to win Virgin Points and all you have to do is sign up to Virgin Red, spin the wheel and see if you're an instant winner.
By entering the prize draw, not only can you become a points millionaire, but there's also the chance to win anything between 200 and 5,000 Virgin Points every single day. Members can enter once a day across the two-week competition period to see if they are an instant winner and also be entered into the prize draw to win a million Virgin Points at the end of the competition fortnight.
1 million points would give you enough to book for you and 7 friends to travel to the Caribbean in Upper Class or 10 return trips to the East Coast of the US in Upper Class.
Here are some other suggestions for a year in the life of a Points Millionaire!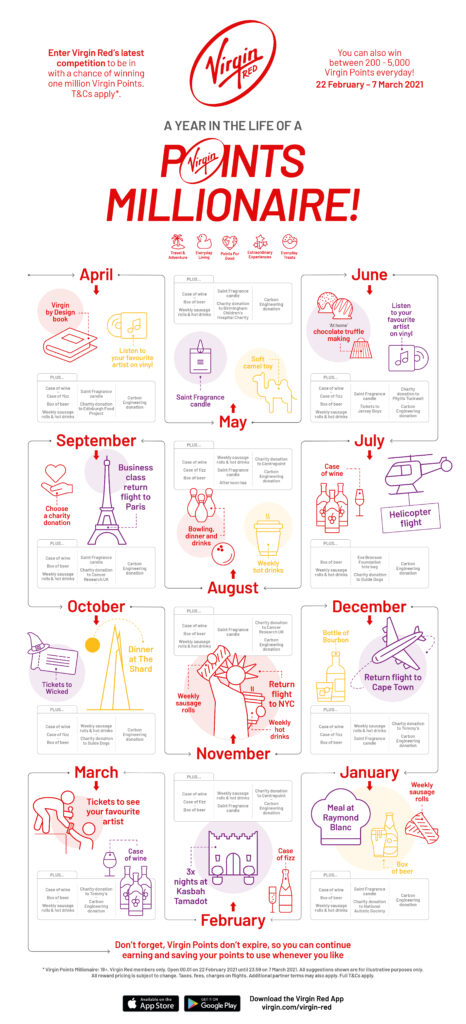 You can read more about Virgin points in this article or join Virgin Red here.