Huvafen Fushi debuts stunning new underwater dining experience
Opened in July 2004, the stunning Huvafen Fushi is situated in the Malé Atoll. It features the world's first underwater spa rooms and provides guests with a choice of over forty modern villas.
The property has now launched 'Immerse… Latitude 4°', which is an intimate, carefully designed underwater dining experience.
Located a full eight metres below the surface of the Indian Ocean, the new 'pop-down' restaurant has transformed the underwater spa experience into a unique, private gastronomical experience, where guests can enjoy dining on incredible food whilst surrounded by tropical waters and marine life.
The menu is fully customisable, tailored to each individual guests' culinary preferences and dietary requirements.
Huvafen's executive chef will consult with guests in advance to design an individually tailored gastronomic journey perfectly attuned to their tastes; while the resort's resident sommelier will also be on hand to present wine pairing recommendations to accompany each chosen dish.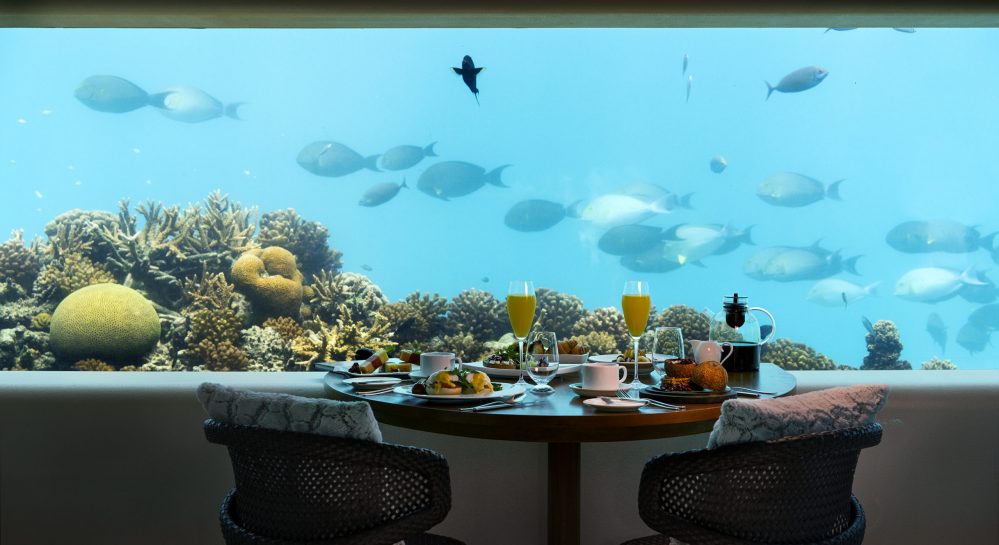 The restaurant is only several steps below the boardwalk and features a panoramic window with a single set table, allowing guests to experience everything the reef nightlife has to offer. The abundance and diversity of Huvafen Fushi's marine life is incredible at any time of day; however, the night-time landscape is vastly different, including bioluminescent plankton, beautiful fluorescent coral and exciting predators.
The experience also allows guests to better understand the Huvafen Fushi's coral conservation and propagation programme; the spa reef is home to several mature coral frames that have 'graduated' from the resort's coral nurseries. It also allows guests who may be reluctant to dive or snorkel the chance to experience the world under the sea.
The Immerse… Latitude 4° private dining experience is priced at USD495++ per person, excluding beverages, for advance reservations only. Private breakfast experiences also available on request.
Virgin Hotels announce plans to open three new US properties this year
Virgin Hotels have unveiled their plans to open new properties in three different USA locations this year.
Set to open in Spring 2021, the first up will be the Virgin Hotels Las Vegas. Next will be the Virgin Hotels New Orleans in summer, and finally the Virgin Hotels New York City in the autumn.
Additionally, Virgin Hotels Edinburgh and Miami have been planned for 2022 and beyond, with a bunch of hotel management signings expected to be announced before the end of the year.
According to Raul Leal, the chief executive of Virgin Hotels:
"As evidenced by our openings this year in these major cities, we are very optimistic about the return of travel despite the tremendous difficulties posed by Covid-19. We are not only thinking of the out-of-towner but also focused on providing the unique Virgin Hotels experience to the communities we call home.

"By leveraging our exclusive Chamber (room) design, forward-thinking technology, food and beverage offerings, and entertainment, we are able to ensure a delightful stay while keeping our travellers safe."
After being in charge of the company for more than ten years, Mr Leal has announced he will be stepping down.
Currently part of the Curio Collection by Hilton, the Virgin Hotels Las Vegas will be a re-imagined, lifestyle casino resort, with 1,504 exceptionally appointed Chambers, Grand Chamber Suites, and Penthouse Suites, all of which include the Virgin Hotels patented bed and in-room technology.
The on-site casino will measure around 60,000 feet, to keep punters happy.
The stunning Virgin Hotels New Orleans, set to open in summer, will be taking the place of the 'Warehouse District of New Orleans' and is located at 550 Baronne Street, near the Central Business District.
The area is full of exciting new restaurants, galleries, and shops, and the newly-built hotel will feature over 230 rooms and suites, as well as the brand's centrepiece, Commons Club, a rooftop pool and lounge, gym, and dedicated meeting and event spaces.
Home to the iconic Virgin Megastore in Times Square, New York City is the ideal location for a new Virgin property.
The Virgin Hotels' new flagship is set to open in the NOMAD neighbourhood at 1227 Broadway between 29th and 30th, and will be home to over 460 different rooms, including multiple concept suites.
Also offering a roofscape pool, and numerous dining outlets, including Commons Club and a rooftop bar, this is definitely one to watch for the future.
Hilton will be honouring new members bonus for all sign ups through December 31, 2021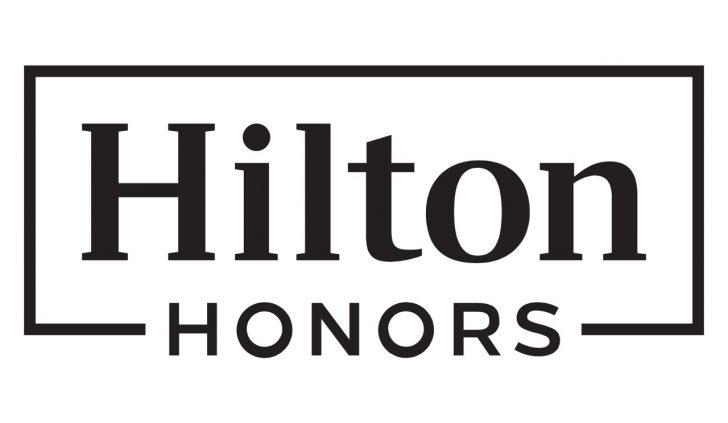 In order to encourage new member sign-ups, Hilton have launched their new offer for the popular guest loyalty program.
Any new members who join up between now and December 31, 2021 will receive 2,000 bonus points for their first and 5,000 for the second stay if consumed within six months of joining the Honors program.
As an extra bonus, this offer can also be combined with any other Hilton Honors bonus points opportunities.
Here's how it works: new members can earn a maximum of 5,000 bonus points with the incentive, earning 2,000 with their first stay, and a further 3,000 from their second stay within the six-month period.
This is one of the only programs to offer bonuses to new members.
In the terms and conditions, the main things to note are:
The offer is only valid for customers enrolling in Hilton Honors on or after Jan 1st, 2020 and prior to or in Dec 31st, 2021.
Offer is valid for any eligible stays booked directly with Hilton through Hilton-approved booking channels and completed within six months. Portfolio All stays must be completed in the 6 months following enrollment date to earn Bonus Points. Any stays with a checkout date after the Promotional Period end date will not count towards earning Bonus Points.
Hilton reserves the right to decline any application at any time for any reason. Hilton may require additional validation in its complete discretion and this may take an additional 5 -7-business days.
This offer may be terminated without notice. Bonus Points do not count toward elite tier qualification. Please allow six to eight weeks from completion of your stay for Bonus Points to appear in your Hilton Honors account.
Hilton Honors™ membership, including the earning and redemption of Points, is subject to Hilton Honors Terms and Conditions.