British Airways moves Bermuda flights
In an unsurprising move, British Airways has announced it will move their flight to Heathrow instead of Gatwick. This has been rumored for a number of months but it has been confirmed it will begin on 28 March 2021. BA originally flew from Heathrow to Bermuda until 1989. The daily service will be on a 4-class B777-200ER The schedule is:
BA159 LHR 1455 – 1825 BDA
BA158 BDA 2010 – 0655+1 LHR
If you fancy going, there is a lot of availability to Bermuda in both First and Club over the winter and in Spring when the Heathrow service starts.
Details on Qatar's new change of destination policy
Yesterday I wrote about the great extension to Qatar's Travel with Confidence policy. Today I am going to have a look at the changes to the "change destination" policy. Previously you could change to any destination within 5000 miles subject to a potential fare difference. The new rules will be a problem to those with Asian flights that were hoping to move destination as the choices are only within the same region which for the Far East does not leave much choice.
The new policy is a lot stricter. For a start, you can only use it when your travel has been "impacted". Fortunately, this has a fairly broad set of circumstances: flight cancellation for operational reasons and/or airport closures; schedule changes; travel restrictions imposed by governmental authorities; passenger testing positive for COVID-19.
Secondly, it is no longer 5000 miles. There is also a difference between Qatar Airways Privilege Club members and non-members. Since it is easy and free to join, you may as well just join if you need to use the looser rules.
If you are a Qatar Airways Privilege Club, you can change the original destination within the same country or same region. Regions are: Africa, America, Australasia, Europe, Far East, GCC (inclusive of Levant, Iran, Iraq), Indian Subcontinent. It looks like the Indian Subcontinent includes Maldives and Sri Lanka which may be of use to some people.
If you are not a Qatar Airways Privilege Club member, you may change the original destination within the same country or a 500 (five hundred) mile radius from the original destination within the same region. I would just join the Privilege Club!
Rerouting is not possible free of charge if the original booking was on a fifth freedom route not touching Doha.
Has Jet Blue secured Heathrow slots?
Jet Blue are due to launch their flights to the UK next year, which is not the best timing. Jet Blue has a great product in the US, particularly with its Mint first class service with private suites. Hopefully Jet Blue launches next year still when I am not chasing tier points and can try it out! At the moment it is expected that Jet Blue will launch in winter 2021 with flights to Boston and JFK.
According to UK Aviation News the airline has managed to secure slots at Heathrow, which may be down to pandemic. It is not known how they acquired these slots and it is yet to be officially confirmed by Jet Blue. JetBlue's new transatlantic service will be on the Airbus A321LRs that the airline has on 13 of order. The plan is to install business class with all aisle access.
The airline recently revealed their tailfin design for the A321LR which is based on a jetstream.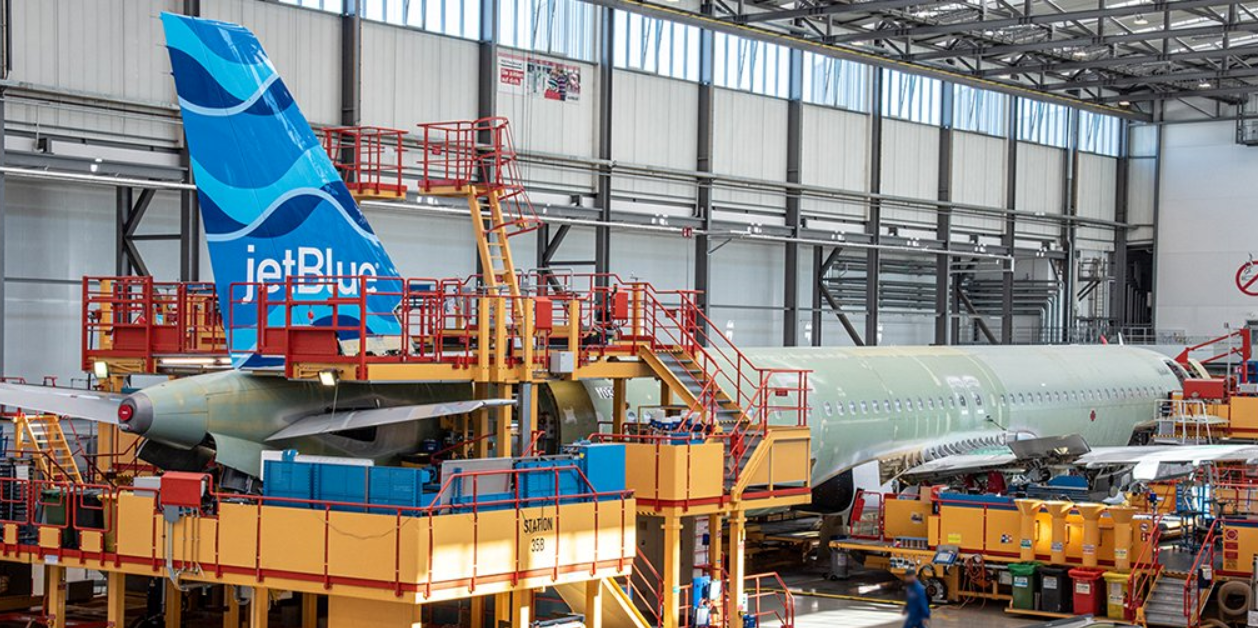 Both Logan and Eastern Airways to fly Manchester – Newquay

Given the rise of the staycation and the sold out hotels in Cornwall this year, perhaps it is no surprise that two airlines have decided to fly the Manchester Newquay route. Eastern Airways will operate 4 times per week on Sunday, Monday, Thursday and Friday operated by a BAE Jetstream 41 aircraft year round starting from 23 October 2020.
The Loganair service will be seasonal and launch on 28 March 2021 daily with an ATR72-600 aircraft.
British Airways are now operating a daily year-round service from Heathrow.