BA trial Avios airport upgrades
According to God Save the Points, British Airways are due to trial a new way to upgrade at the airport which will be for Executive Club members and priced in Avios. The trial is due to take place at Heathrow Terminal 5 for certain flights for the rest of June 2019. Customers who are Executive Club members can ask if upgrades are available on their flight at check-in. If so, they will be redirected to a special desk for processing. These are basically the standard Airport Upgrade Promotion fares or AUP as they are known. Assuming the Avios upgrades will follow the AUP rules, you can upgrade most cash tickets including part pay with Avios and Hand Baggage Only although the price may be higher for HBO.
We know that these will not be priced at the regular Avios prices, so my guess is that they may well be more expensive as AUPs use dynamic pricing. Or could busier flights be cheaper if they need to upgrade people anyway? It is interesting if you have looked at the proactive upgrade prices (offered before departure) for busy cabins. If the cabin you are booked in is or is predicted to be full or overbooked, often the price for an upgrade is very cheap as they will have to upgrade people anyway. The question will be whether they are a good use of Avios or whether it is better value to just pay the cash upgrade. As it always, it depends on your individual circumstances – if you are Avios rich you may not care and just want an opportunity to use them.
The upgrades will initially only be available on weekdays between 08.00-21.00 as this when the Executive Club is open so that they can confirm you have the Avios available.
HT: Gilbert from God Save the Points
BA Avios redemptions in First
Getting redemptions in First on Avios has often been tricky and requiring booking when seats are released at D-355. Unlike Club redemptions, BA do not guarantee to release a set number of First seats per flight, or indeed any First seats. In the last few days, it appears that the numbers of seats being released has substantially increased with up to 6 tickets being available on some days to New York. The extra seats seem to be mainly be in North America.
There also seems to be extra Club availability of some North American routes too. Let's hope this is not in anticipation of the introduction of dynamic pricing!
The cities that are showing multiple days with 2 or more First Avios seats available are (although not every month):
New York
Boston
Las Vegas
Chicago
Miami
Los Angeles
San Francisco
Vancouver
Washington
Houston
Dallas
Austin
Dubai
Abu Dhabi
Shanghai
Tokyo
Beijing
Tel Aviv
I recommend using Redemption Finder to find availability quickly over multiple dates. If you have dates in mind, you search on British Airways here.
HT: Flyertalk
British Airways introduces new BA fizz

British Airways is celebrating its centenary year with the launch of its own English Sparkling Wine.  Customers will be able to enjoy the bubbles from the award-winning Hattingley Valley from July 1 and raise a toast to the airline's birthday.
British Airways' team of wine experts worked with Hattingley Valley's talented crew of wine makers to create a 2015 Blanc de Noir that will be exclusively available to customers from this summer.
The wine is a Pinot Noir dominant blend that will work well at altitude.  The grapes were hand-harvested and gently pressed, before being bottled at Hattingley Valley's winery in Hampshire.
Kelly Stevenson, British Airways' Wine and Beverage Manager, said: "There's no better, or more British way to toast our milestone year than with an English Sparkling Wine.  We've loved working with Hattingley Valley to create something really special for our First customers and this will be the first time we have ever served an English Sparkling Blanc de Noirs on board. This blend will excel at altitude as the notes of red apple skins and light red fruits really shine through."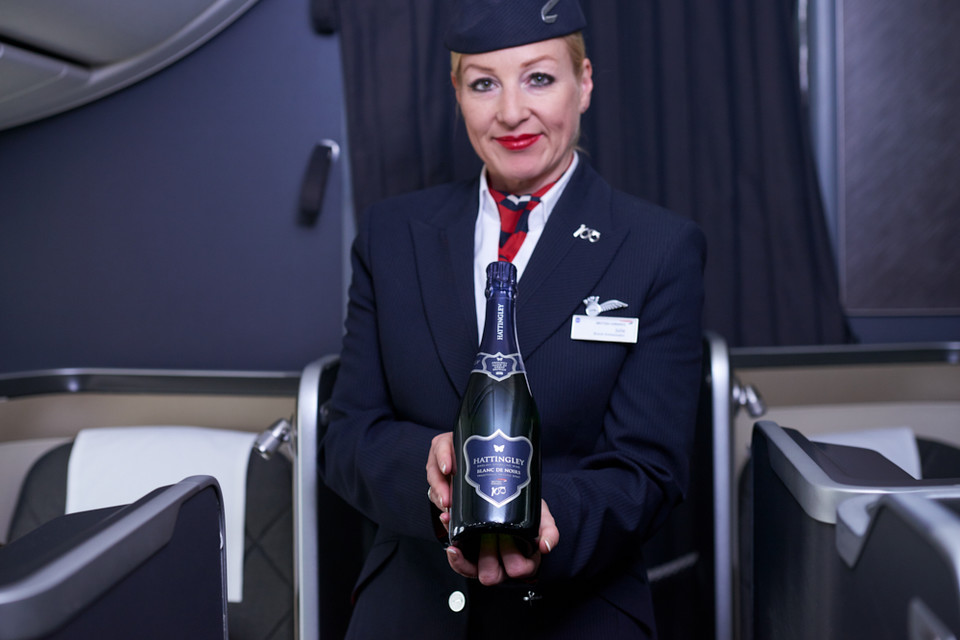 The sparkling wine will be available exclusively in British Airways' First cabin as well  The Concorde Room in Heathrow Terminal 5, from July 1. You can get a very first taste of the new sparkling at the winery's Mad Hattingley Tea Party pop-up at TASTE of London in Regents Park from June 19 to June 23.
Founded in 2008, family-owned Hattingley Valley specialises in making premium English Sparkling Wine with distinctively rich flavours. A hallmark of their style is fermenting a small proportion of each year's wine in oak barrels, creating award-winning wines including the Classic Reserve, Rose and Blanc de Blancs.
Qatar ex Scandinavia flights to Australasia
Qatar seems to have a permanent sale on from Scandivaia at the moment which is no bad thing! The latest fares to Australasia are good value. The majority of airlines now charge around £3000+ from the UK in business class with the exception of China Southern who often offer it for around £2500. These fares are from Oslo and Stockholm which feature the B787 and A350 which have good seats in a 1-2-1 configuration. You can read our article on flying from Scandinavia here. 
The fares are from :
Oslo-Auckland £2297 (QSuites)
Stockholm-Melbourne £2107
Stockholm-Perth £2660
The rules are:
Book by: 30 June 2019
Travel:

outbound – permitted Sun through Thu.
inbound – permitted Mon through Fri

Minimum stay: 5 nights
Maximum stay: 1 month
Transfers: Unlimited
Stopovers: one free in Doha of up to 96 hours
Refundable: For a hefty fee
Changeable: For a fee
You can book direct with Qatar Airways here or find the cheapest online travel agent price with Skyscanner.