Cathay Pacific cuts first class from many flights
There seems to be a trend amongst Asian airlines to reduce or eliminate First class with both Korean and Asiana making announcements recently.  Cathay Pacific is the latest airline to make an announcement. They currently only have first class on about half their B777-300ERs. The majority of the first class routes are long haul premium routes with London and Paris being among them. I will be trying out the service from Hong Kong to New York later in the year.
They have also offered first class on a number of short-haul routes which has always been a good way to experience first with a limited number of Avios. The routes included Toyko and Beijing with inconsistent offerings to other airports. The issue has been as I have found out, that they often swap aircraft at the last minute meaning there is no first class available which understandably doesn't go down well with booked customers.
This week Cathay announced that as of this week, they will no longer sell first class on any regional routes, apart from Hong Kong to Beijing and Tokyo Haneda. The good news is that they are not removing the first seats and select passengers (probably premium cardholders in their own Marco Polo club) will be able to get seats in the first cabin but with a business class service.
Earn up to 12 Avios per £1 on hotels
One of the easiest ways of earning Avios without flying is to so all your shopping through the BA E-Store. This can yield up to 30 Avios per £1 spent and includes travel and retail partners. Hotels.com have a current promotion with the BA e-store of a very generous 12 Avios per £1 spent before 30 June.
You will earn a lower reward if you chose to receive Hotels.com Reward Nights. Make sure you complete your booking without signing into the Hotels.com site as this will automatically add Reward Nights.
If you use a voucher code (including codes by Hotels.com) or a gift voucher to make the booking you will not be eligible for a reward. All rewards are applied to the hotel cost, minus taxes and fees. Rewards will not be approved until 90-120 days after you have completed your stay. Multiple bookings for the same hotel stay will not be rewarded nor when bookings are deemed to be not genuine personal customers' bookings. If any changes are made to your booking (i.e. changing of the hotel, room upgrade or amending the date of the stay) it may cause the rewards to be invalid.
Marriott Bonus
Marriott Bonvoy has launched its second promotion of 2019 called "Endless Earning." When you register for the promotion, you will get 1,500 bonus points on stays of two nights or more in any of 7,000 participating Marriott Bonvoy properties. There are plenty of luxury brands to choose from such as St Regis, Ritz Carlton and the Luxury Collection. The bonus is for stays between 2 July 2 and 16 September 2019.  The registration period is from 18  June – 2 September 2019. Only one room per hotel is counted toward a member's nights or stay.
Homes & Villas by Marriott International®, ExecuStay®, Marriott Executive Apartments® and Marriott Vacation Club® owner-occupied weeks are not eligible for bonus points, and nights spent while redeeming an award are not eligible for bonus points.
To register or learn more about Marriott Bonvoy, visit https://www.marriott.com/loyalty.mi.
Lufthansa – Business Plus – the ultimate spin?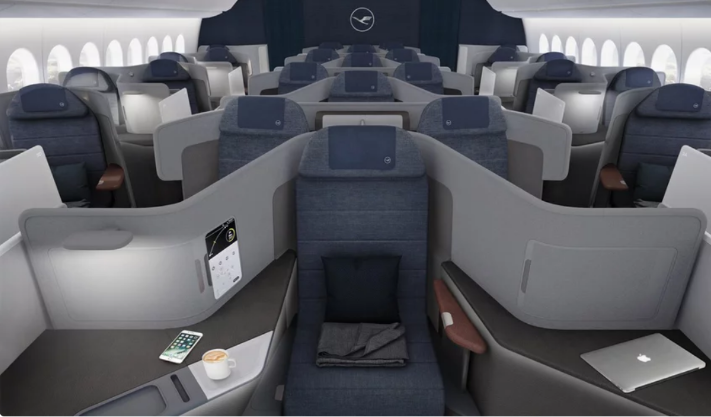 Lufthansa will be the launch customer of the new B777x and have revealed a much-improved business class cabin for the aircraft. The aircraft are due to start delivery in 2020 and will finally see an end in sight for Lufthansa's rather lacklustre business class seats.
While Emirates recently announced a more basic business class product that would be cheaper, Lufthansa are approaching it from another angle with business plus. However, it all has the same end result – not having everything included in the business class price. Lufthansa will be offering the chance to buy the most coveted seats at an extra cost. They may be trying to say it's not unbundling but it sounds like it to me! Basically, they are pretty much spinning that they are introducing a charge for booking quite a few of their better business class seats. Swiss have been reserving their throne seats for their high-status passengers for free a while now – everyone else has to pay around £140-170. BA, of course, charge to reserve all seats in business class unless you have status with more desirable ones commanding a higher price.
The business class plus option would see an extra charge for seats that are more desirable such as those with added privacy, longer beds, or extra space. The prime example is the so-called 'throne' seats shown in the photo which are in the centre of the Boeing 777X cabin. As you can see these are both private and have a lot more space, but of course you lack a window.
It will be interesting to see with Emirates, BA and Lufthansa all charging for seat selection in business class in one way or another, how many other airlines follow suit.