Etihad new business class photos
I wrote last week about Etihad's new business class for their B787s, and we now have some official photos to share.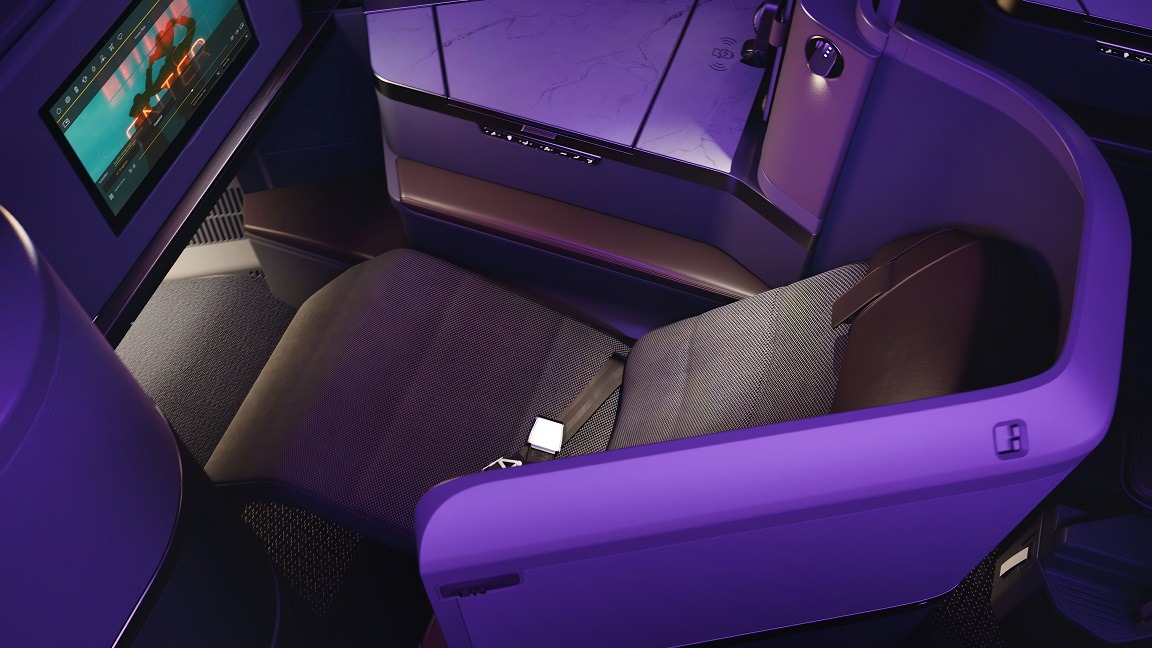 I really like Etihad Airways, and they seem to have rebounded after a difficult period pre-Covid and now have a good onboard service. You can read our reviews of Etihad business class here.
The first new B787 with the business class seats will join Etihad's fleet in the third quarter of 2023 adding to the 39 Dreamliners Etihad already operates.
"Etihad's new 787 Dreamliner cabin interior showcases further enhancements to our award-winning and industry-renowned cabins. Our new Business class takes the guest experience to new heights with the second evolution of the Business Studio which was launched on the Airbus A350-1000 last year," said Antonoaldo Neves, Chief Executive Officer, Etihad Airways.
The Business cabin features a customised version of the Elements seat manufactured by Collins. Etihad is the first airline in the world to introduce the Elements seat on the Boeing 787.
The new seats will provide guests with added privacy from a suite door. The height of the suite has been further increased from the A350's model, offering even greater privacy.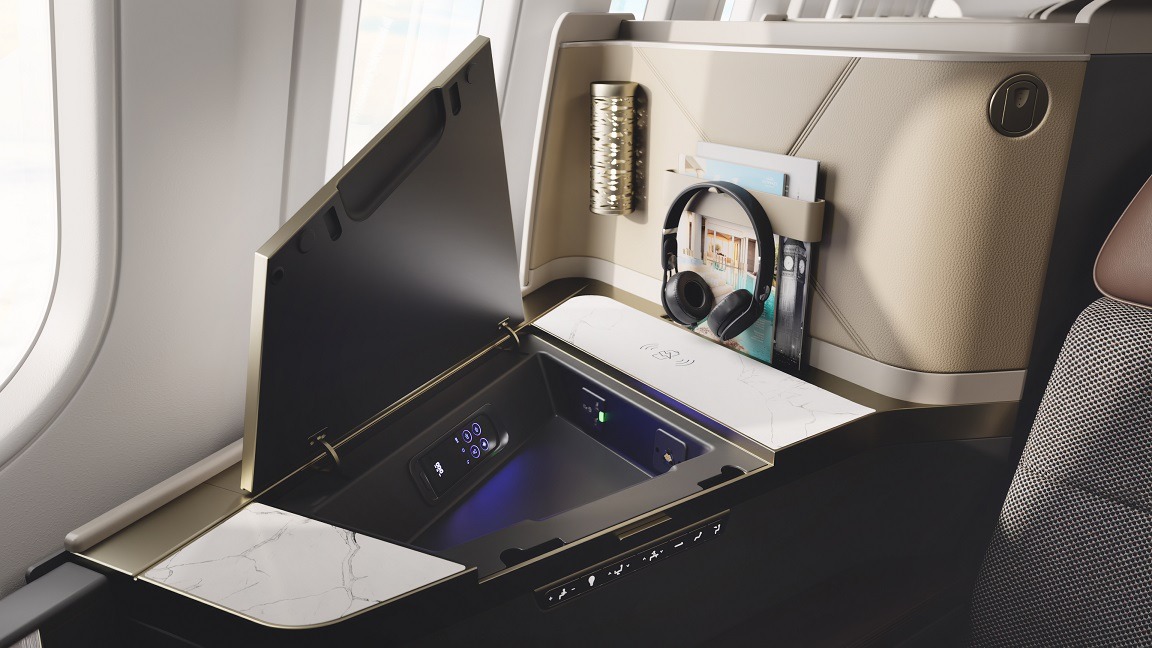 Each of the 32 Business seats has direct aisle access with the cabin designed in a 1-2-1 configuration. The seats recline to a fully lie-flat-bed 78" in length and feature a 17.3" 4K TV screen, Bluetooth headphone pairing, multiple charging ports and wireless charging, as well as plenty of storage.
The new 787 Dreamliner provides the latest in inflight entertainment technology from Safran. New features include Rave Ultra 4K monitors, Bluetooth headphone pairing and the option to pair personal phones and tablets to the screen and use as a remote.
The 787 Dreamliner is fitted with a new connectivity solution from Viasat using Ka-band technology which offers high-speed Wi-Fi with streaming capabilities on board as well as Live TV, including news and sport channels. Etihad also introduced new Wi-Fly packages on its wide-body fleet with Chat and Surf packages offering unlimited data. Etihad Guest members, including those who enrol instantly just before the flight, are rewarded with free 'Chat' packages while they fly.
Etihad's partnership with Armani/Casa has now fully rolled out across the airline's Business class cabins, providing bespoke dining ware and soft furnishings designed in collaboration with designer brand Armani/Casa.
Etihad and Emirates new partnership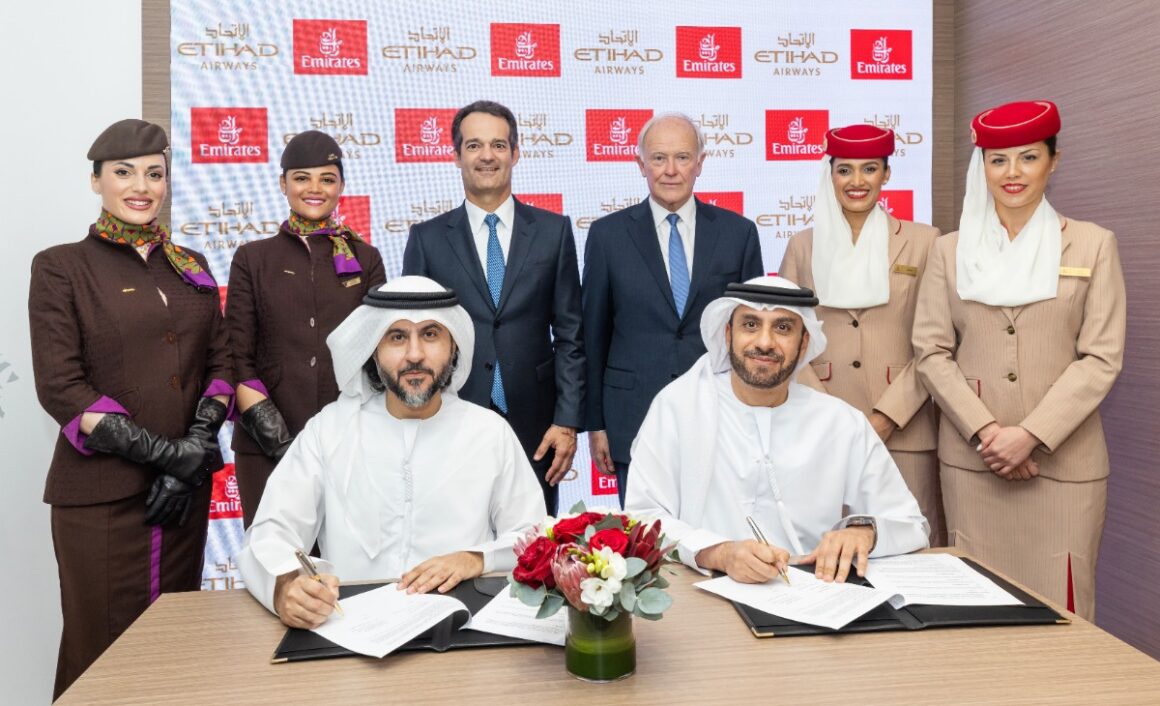 Emirates Airline and Etihad Airways have signed a Memorandum of Understanding to expand their interline agreement and allow visitors to experience more than one destination in a single itinerary.
This summer, customers of each airline will be able to purchase a single ticket to fly into either Dubai or Abu Dhabi, with a return via the other airport. The 'open jaw' arrangement will allow visitors to save time by removing the need to fly home via their arrival airport. Customers travelling into the UAE also have the option of 'multi-city flights', with the choice to travel from one city on both carriers' networks, and returning to another point served by either Emirates or Etihad.
This seems a great idea to me as although the two Emirates are only around just over an hour apart, it's not a very interesting route and adds unnecessary cost and time to return to the original airport. Although it does not explicitly say so, I'd hope that this will allow you to earn miles on either airline on the codeshare tickets which also may attract people that would usually not fly both airlines due to being a member of one of the loyalty programs, Etihad Guest and Emirates Skywards.
Marriott Resort Fees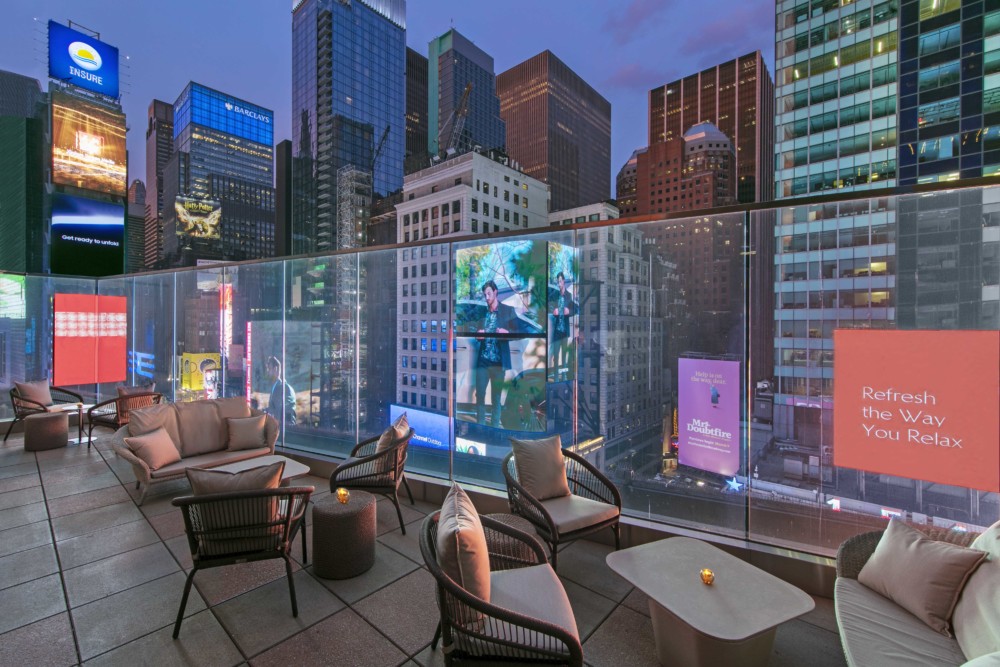 Joe Biden recently declared war on resort fees and other fees that he feels mislead consumers. Resort fees or destination fees in cities, have got completely out of hand in the US in the last few years with more and more places adding them on. They typically cost $30-50 per day which you also then pay tax on as well. These resort fees usually cover things that you would expect to be included in the price of the hotel such as Wi-fi or gym access. And sometimes they cover a load of things you would not want anyway. They are mainly found in resort hotels in places like Las Vegas and Florida and major cities such as New York.
The main issue is that hotels don't display them in the headline price, which can be very deceiving when you are trying to work out the true cost of a hotel. It can add a substantial amount to your final bill too.
Several US states have been taking hotel chains to task over this with individual lawsuits as there seems to be no action at a county-wide level. Pennsylvania was one such state that took Marriott to court and won. So from 15 May, Marriott will display the total prices with the resort fees shown on their own website and app.
Marriott will be the first major hotel chain to do this, and we can only hope that it encourages more companies to do it. Personally, I don't think it goes far enough, as there is no point in having a resort fee at all when there is no option to opt-out. It's not like unbundling an airline ticket with baggage charges, as you can choose not pay them by only taking hand baggage. I'd like to see them absorbed into the main price of a hotel room.
If you want to check if a hotel has a resort or destination fee, there is a specific website to check.