Maldives business class from £1150
The Maldives is a tricky place to get cheap business class flights to and prices are usually £2000+ from the UK. Italy has traditionally been a source of cheaper fares to Male but usually in the region of £1600 upwards. There is a fantastic offer on currently but be aware availability is very limited!
The fare starts in Milan but the drawback is that you would be flying with Alitalia which may not be everybody's cup of tea in terms of their current bankruptcy status. Obviously, there are various protections should the worse happen such as paying with a credit card so you would get your money back. However, the consensus is that it is unlikely that Alitalia will stop flying in the short term.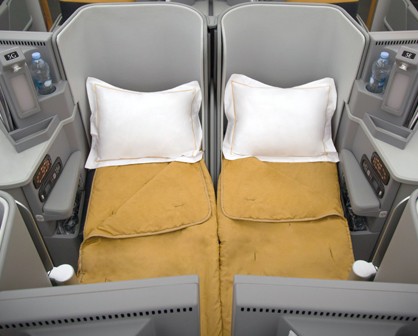 So what does Alitalia offer in business class? Their A330 aircraft had a revamp a few years ago and actually, it is not bad at all. The aircraft is configured in a 1-2-1 layout and each seat is 1.85 metres long, fully-flat and has an in-seat massage function. There is a privacy divider for the centre seats and each seat has universal power and USB sockets.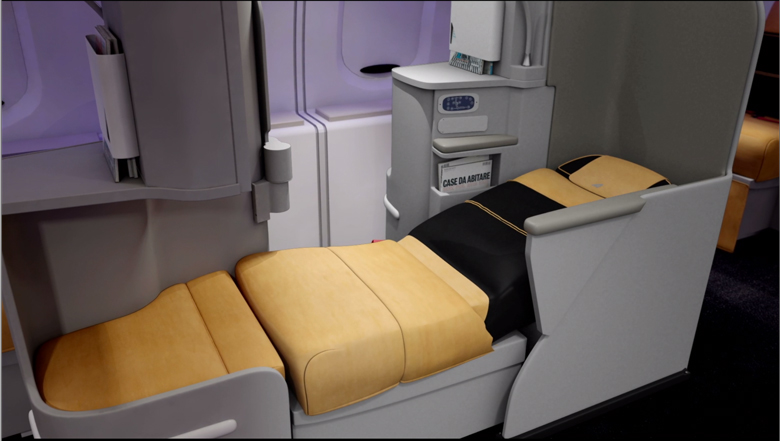 Business class feature Frette bedding, and Ferragamo amenity kits as well as dine on demand and turn down service.
Fare rules:
·       Minimum stay requirements: 4 days
·       Travel dates:  30 October – 10 December 2018. Travel must be completed by midnight on 14 December
·       Book by:  31 October 18.
·       Cancellations:  non-refundable
·       Changes: For a fee
You can book with Alitalia here.
If you don't fancy this deal it could be worth a look at Oman Air as they have an offer for £1527. I am actually writing this on an Oman Air flight and have been impressed with my flights so far. The service to Male starts at the end of October via Muscat. Look out for my review of Oman Air business class soon.
You can book with Oman Air here.
HT: Loyalty Lobby
British Airways reveals summer schedule changes
For summer 2019 British Airways will be launching new routes from Heathrow to Preveza in Greece and Bastia in Corsica as well as adding more flights to leisure destinations.
Flights to Preveza from T5 will be on Wednesdays and Sundays from May 26 through to September 29, 2019. Fares start from £71 one-way in Euro Traveller and £198 in Club Europe. Tier points have not be confirmed yet but are likely to be 80 points each way.
Preveza is ideally positioned as a gateway to both beach and mountain escapes, sitting just 20 minutes north of the island of Lefkada, a famous summer yachting haven and windsurfers' area. Preveza is also located just 60 minutes away from the Pindus mountains, where you can trek the alpine trails or explore the UNESCO protected Vikos Gorge.
Flights to the Corsican gateway of Bastia will operate every Saturday from May 25 to September 28, 2019 and will be the second airport BA will serve on the French island following the launch of Figari this year. Fares start from £48 in Euro Traveller and £128 in Club Europe one-way. Tier points should be the same as Figari at 40 each way.
BA are also increasing the number of flights it operates from Heathrow to other leisure destinations next summer, with more flights to Marseille, Budapest, Gibraltar, Palermo, Amsterdam and Malaga and a new service from Gatwick to Kos taking off from May 15, 2019. It will be interesting to see what BA do with their excess slots at Gatwick next summer. The airline bought Monarch's slots when they went bust and has been struggling to find enough aircraft to fill them leading to a number of wet leases. They also leased some of the slots to other airlines such as Qatar.
Flights from London City will also be boosted, with additional frequencies on Ibiza, Edinburgh and Berlin.
Timetable:
Preveza
Route
Flight number
Days of Operation
Departure and arrival times
Dates
LHR-PVK

PVK-LHR

LHR-PVK

PVK-LHR

BA674

BA681

BA674

BA681

Weds

Weds

Sun

Sun

08:20/13:45

14:45/16:10

11:25/16:50

17:45/1910

26 May 19 to 29 Sep 19
Bastia
Route
Flight number
Days of Operation
Departure and arrival times
Dates
LHR-BIA

BIA-LHR

BA586

BA587

Saturday

Saturday

07:40/11:00

11:50/13:10

25 May 19 to 28 Sep 19
Will all airlines start offering paid lounge access in economy?
More and more airlines seem to be jumping on the bandwagon of offering paid lounge access to their own lounges for economy passengers. The latest to start is a rather surprising option, Cathay Pacific. It is only available to members of its loyalty scheme, the Marco Polo Club, but obviously, anyone can join at the basic level. Members can now pay HK$600 (US$75) fee per visit in Manila, Melbourne and Vancouver. Given the steep prices, I can't see there being a huge demand for it which hopefully serves to control capacity.
A number of airlines allow passengers to pay in order to access their lounges. Plus many use third-party lounges which are also open to paying guests such as Air France's Skyteam lounge at Heathrow's T4 and the new Etihad lounge 'The House, home of Etihad Airways and other leading airlines' also at T4 by No 1 lounges. Emirates allow paid access to their lounges in Dubai,  London Heathrow and Gatwick. You can read about which airlines allow you to buy lounge access in this article.
So will other airlines start doing it such as British Airways? I think it is highly likely that this will roll out across other airlines but I suspect the application will vary across the airlines. BA already feels it has an issue with overcrowding and over guesting at its lounges at Heathrow at certain times and has been looking at various options to ease this. However, the fact that it allows extra guesting in school holidays show that there is capacity.
The airlines that have been allowing economy paid access have been doing this subject to capacity which is basically making money out of times when the lounge is quiet. I think for BA it will be tricky at Heathrow as the lounges are full most of the day except during school holiday periods. However, there is little reason for them to not offer this at quiet times in order to increase revenue but it depends on how much they want to encourage people to aspire to BA status. If you did a tier point run to get Silver with the main objective to get lounge access in economy, would you bother if you thought you could just buy it?
Now that Cathay has started this, it will be interesting to see if other Oneworld airlines apart from Qatar follow suit.