Qatar's amazing rebooking options and voucher update
Firstly, we previously reported people had been having trouble with using Qatar vouchers on discounted flights. If you struggle to use the voucher by phone for a promo fare, there is a way around it. Put the booking on hold and then phone atar to make the booking. The issue is down to agents not being able to make the booking by phone rather than not being allowed to use the vouchers for promo fares.
The airline also announced an amazing deal for its new booking and rebooking policy. It is so good some people thought it was a typo, but the airline has confirmed it is correct. For me, Qatar has been leading the way in the crisis in may respects, with providing preparation flights, full service on board and bonuses for taking a voucher. With this offer, they have continued to make me consider them as my airline of choice in the future.
The offer is for new bookings or rebooking valid for tickets issued on/before 30 September 2020 for travel up to 31 December 2020.
The options are:
Keep your ticket and use it when you are ready with the extended ticket validity, now valid for 2 years from the date of ticket issuance. You need to call to extend the validity.
Unlimited changes. You can change your travel date or destination free of charge, as often as you need, for travel until 31 December 2020. You can change your origin to another city within the same country or any other destination we fly to within a 5,000 mile radius of your original destination.
Swap your ticket for Qmiles and redeem them towards reward flights, extra baggage or cabin upgrades. For every 1 USD, you will earn 100 Qmiles that are valid for at least three years, so you can have the flexibility to choose how, when and for whom to redeem them.
You can exchange your ticket for a future travel voucher with 10% additional value. Vouchers are now valid for two years from the date of voucher issuance.
So what is so amazing? Well, apart from the unlimited changes which is great as I have a booking for November which I may wish to change, the big deal is the 5000 miles. For context, the distance between London and Las Vegas is 5200 miles. So that gives you huge scope to change your bookings. And you can change the booking as many times as you want until the end of the year.
If you were thinking of booking a trip to Australia for example. There would be nothing to stop you booking a trip to the cheapest place in S E Asia and then just moving the destination. Bear in mind you can't change the country of origin, only the destination, but you can change the origin to another airport in the same country.
Here is an example:
Stockholm to Singapore: £1411
Stockholm to Sydney £2373
It seems almost too good to be true but it says in the T&C you can reroute for free. I'm reminded of the crazy Iberia Avios promotion, but we are in crazy times. If you do plan to visit Australia or New Zealand but are flexible in dates, this also gives you an option to book for somewhere else you fancy nearby and then rebook if and when the borders reopen.
You can book with Qatar here and find the whole policy here.
BA reveals the extent of refunds and criticizes the government
You may remember earlier in the week I wrote about Willie Walsh appearing before the transport select committee. Willie has now responded to Huw Merriman the chair on the outstanding amount of refunds. However, BA employees estimate that the total is closer to 70,000 refunds outstanding. You may be waiting a while….
Here is the letter: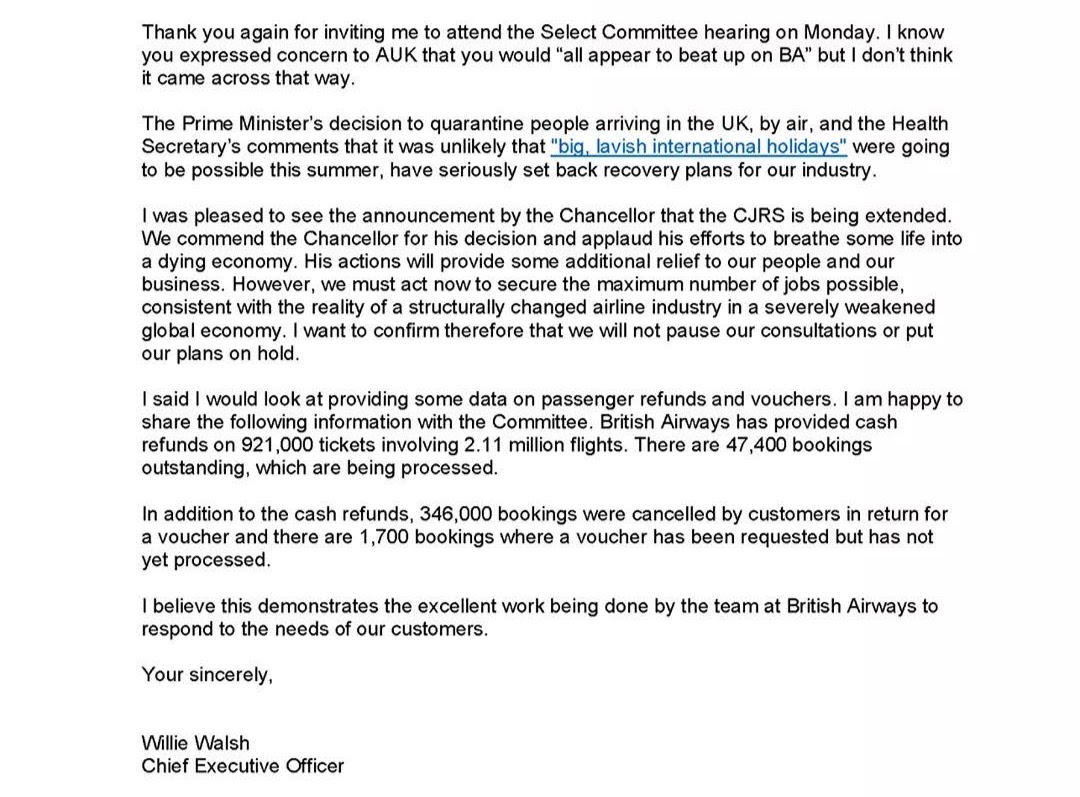 I do actually agree with Willie on one respect, what Matt Hancock said was pretty stupid, does he mean then that you can only go somewhere a bit rough abroad? Nowhere lavish on the cards…. Magaluf anyone? Or that he views holidays abroad as "lavish". He has clearly never been to Magaluf with Ryanair.