Qatar Airways' new routes – another bucket list one for me!
Qatar Airways announced new destination plans for 2020 on the opening day of the Kuwait Aviation Show. The stand out for me is Siem Reap in Cambodia. If you want to visit Angkor Wat which is one of the seven wonders of the world, this is the closest airport. I will, of course, be monitoring any ex EU bargains flying there for you all! (and myself). Cebu is also an interesting one for me as it has some amazing beaches, islands and diving nearby.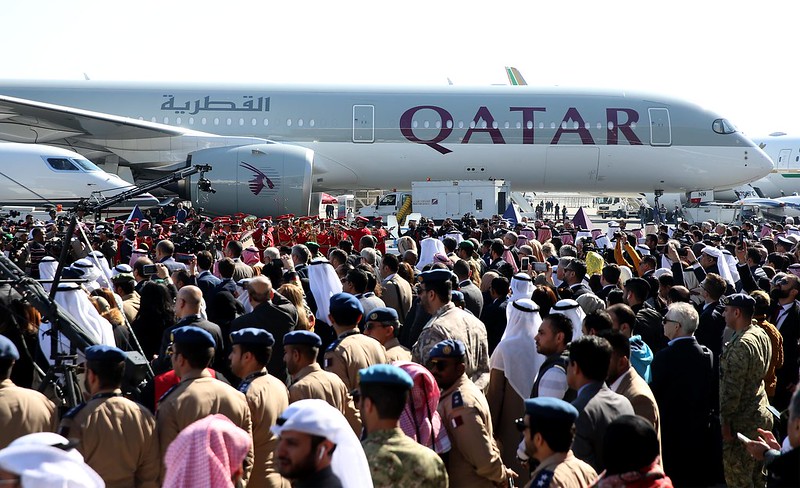 Qatar Airways Group Chief Executive, His Excellency Mr. Akbar Al Baker, said: "The Kuwait Aviation Show is the perfect platform for us to kick start the New Year and unveil some of our exciting plans for 2020.

"Eight new destinations will be joining our network this year in addition to the recently announced gateways of Santorini, Greece; Dubrovnik, Croatia; and Osaka, Japan. With these new routes, our operations will expand to 177 destinations around the world, reinforcing our position as one of the world's most connected airlines. This ensures we can continue to provide our passengers more options and flexibility when planning their business and leisure travel."
New destinations:
Nur-Sultan, Kazakhstan – Two weekly flights (starting 30 March 2020)
Almaty, Kazakhstan – Two weekly flights starting 1 April 2020, increasing to four weekly flights from 25 May 2020
Cebu, Philippines – Three weekly flights (starting 8 April 2020)
Accra, Ghana – Daily flights (starting 15 April 2020)
Trabzon, Turkey – Three weekly flights (starting 20 May 2020)
Lyon, France – Five weekly flights (starting 23 June 2020)
Luanda, Angola – Four weekly flights (starting 14 October 2020)
Siem Reap, Cambodia – Five weekly flights (starting 16 November 2020)
Royal Air Maroc joining oneworld 1 April
Royal Air Maroc will join the oneworld® alliance effective 1 April 2020, becoming oneworld's first full member in the African continent and bringing even more destinations and benefits for oneworld's frequent flyers.
The entry of Royal Air Maroc into oneworld from 1 April follows a 15-month implementation programme to integrate Royal Air Maroc into the alliance. The airline's regional subsidiary Royal Air Maroc Express will also join as a oneworld affiliate member from 1 April.
Royal Air Maroc will add 39 new destinations in 23 countries to the oneworld network, offering more flights and options for the frequent flyers of the alliance's member airlines. The national carrier of Morocco, Royal Air Maroc connects its base in Casablanca with over 100 destinations in more than 50 countries over six regions – Africa, Asia, Europe, Middle East, North America and South America. These include oneworld hubs at Amman, Doha, London Heathrow, Madrid, Miami, Moscow Domodedovo and New York John F Kennedy. It will be a handy edition for Casablanca as BA does not fly there currently.
Effective 1 April, oneworld frequent flyers will enjoy the full range of oneworld benefits and services when travelling with Royal Air Maroc.
The new upcoming top tier level Safar Flyer Platinum will offer to its cardholders oneworld Priority Emerald privileges, which include access to First and Business Class lounges, First Class priority check-in, priority boarding and fast track at select security lanes. Safar Flyer Gold cardholders can look forward to oneworld Priority Sapphire privileges, including access to Business Class lounges, Business Class priority check-in and priority boarding. Safar Flyer Silver cardholders will have access to oneworld Priority Ruby privileges, including Business Class priority check-in among other benefits.
It will be interesting to see whether this means that Royal Air Maroc will finally start using Avios as their miles currency which they have been talking about for quite a while, but failing to deliver. Their business class product is actually pretty good so it could be a source of cheap oneworld fares as well.
Flights operated by Royal Air Maroc will be available as part of the oneworld Explorer and Global Explorer fare products beginning 1 April.
W Hotels Worldwide unveils its new unisex amenity line
One of the things I always liked about staying at W hotels was the Bliss Lemon Sage amenities. Sadly this is changing as W Hotels Worldwide yesterday unveiled its new unisex amenity line with Italy-based, luxury sustainable beauty brands, Davines. W and the Davines Group will havesustainable skin and hair care products available at all W locations in 2020.
From sink to spa, the new line-up of in-room hair and skin care (which replaces the brand's long-time amenity partner, bliss) will now include Davines and /skin regimen/ best-sellers as well as exclusive new formulas, available only to W guests:
Davines MOMO Shampoo
Davines MOMO Conditioner
Davines MOMO Shower Gel (W Exclusive)
/skin regimen/ Body Cream (W Exclusive)
/skin regimen/ Cleansing Cream
/skin regimen/ Vegetable Soap (W Exclusive)
"W takes a bold approach to self-care and this new brand collaboration is no exception," said Anthony Ingham, Global Brand Leader, W Hotels. "In choosing a new amenity line, we road tested many brands and formulations and not only love the way the Davines Group products look, smell and feel, but the values they stand for as a company. We are very excited to bring these products to all of our guest rooms across the globe."
From a shampoo and blowout at W's AWAY Spa to an in-room shower after a long FUEL workout, W guests will now have access to an elevated line of luxury beauty products with a highly sustainable edge. From natural ingredients like yellow melon extract found in their signature "MOMO" products, to their world class research lab in Parma, Italy, Davines Group artfully blends science and nature, harnessing the power of both to offer products that are as effective as they are refreshing.
It is unusual to see a cleansing cream as part of hotel amenities, whether this will be available in all rooms remains to be seen. I do welcome the addition though as it is one less thing to pack in my already full bag! The products sound very covetable and I like the modern packaging. It is also interesting that W do not seem to be following the trend for eliminating small size toiletries in hotels.
In addition to being the in-room and in-suite brand of choice at W hotels globally, /skin regimen/ and Davines products will also be used at all W Away Spas starting in 2020 alongside sister brand, [ comfort zone ]. Davines is a certified B Corporation and CO2 neutral company that supports reforestation to offset its carbon emissions. In addition, all products are sulphate- and paraben-free. As part of Marriott International's initiative to reduce its hotels' environmental impact worldwide, W plans to offer the new amenities in waste-reducing, full-size bottles by the end of 2020.
All Davines and /skin regimen/ products that make up the exclusive W Hotels line are available for sale online at W Hotels The Store or visit whotels.com for more information.