The UK government's travel policy has had more flip flops than a summer weekend on Bondi Beach! Today we have two more u-turns in policy if they both turn out to be true.
UK Quarantine could be reduced to 8-10 days with testing
The decision to bring back a 14-day Quarantine for people arriving from Spain including the islands which have a very low level of COVID-19 has been met with dismay by the travel industry and those who had holidays booked.
I am being quite vocal that I believe that this is not the way forward long term. WHO, who always said that travel bans were not the way forward are now being clear in the need to open borders and resume international travel. In a recent press conference they said,
"It is going to be almost impossible for individual countries to keep their borders shut for the foreseeable future. Economies have to open up, people have to work, trade has to resume,"
Instead WHO advocates measures such as face masks, social distancing, and track and trace to control the virus.
Although the government still seems to be flip-flopping all over the place with their travel policy, there is some good news on the horizon According to The Telegraph, the Government hopes to announce this week a new policy of testing arrivals from high-risk countries that are subject to the 14-day quarantine. The test would be carried out eight days after the traveller lands. If they test negative they will be allowed to come out of self-isolation after a further two days to allow for the results. It is not clear what happens if you can get a test with quicker results?
This knocks at least four days off the 14 day period and depending on how you time your travel, could mean much less time off work. It is still at odds with many other countries that do testing on arrival or within 72 hours of arrival. The government believes that this is safer due to the potential incubation period of the virus. Heathrow was due to be trialling testing on arrival to allow people to avoid quarantine when they got a negative test result.
In some communications, the government said that there had been travellers returning from Spain with COVID. They said that the imported cases were "statistically significant". It turns out that 10 people came back from Spain and tested positive. Given that over 600 people a day here test positive, how can they be sure that they even caught Covid-19 in Spain anyway? There are few places in the world that have zero risk of COVID. Being high risk myself, I do believe in safety first but as with anything it needs to be balanced. If we believed in zero risks we would not drive cars or fly anywhere as both have risks attached. Regional travel corridors and testing on arrival are two ways to balance the risks without stopping travel altogether.
Now the government says they ARE looking at regional airbridges!
I am beginning to think that the government may actually not know what they are doing in terms of travel…… After vigorously defending their last-minute decision to impose quarantine on returning passengers from Spain this weekend, it appears another u-turn may be about to happen. The government had been criticised by travel companies and the Spanish government for including the Balearic and Canary islands in the quarantine and FCO advice against travel. Spain's current outbreak is mainly confined to the northern region and levels elsewhere are low.
The rate of Spanish cases is shown here in a diagram: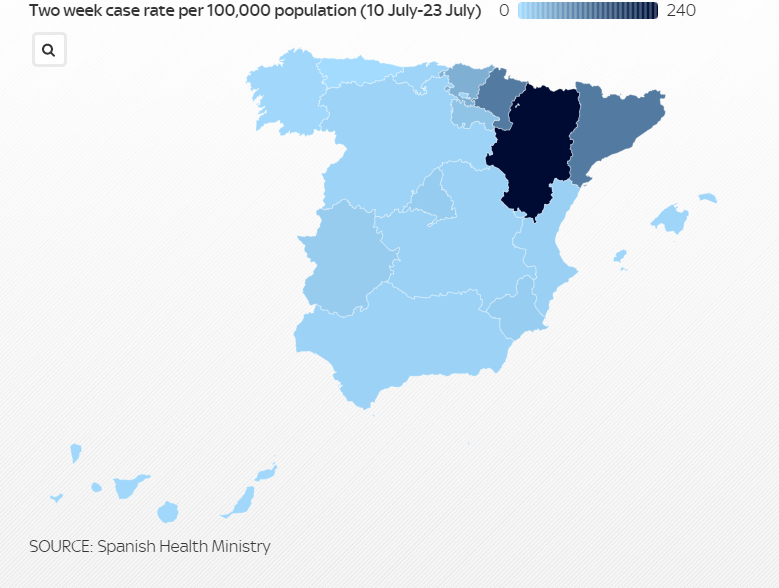 In parliament, today Transport minister Baroness Vere of Norbiton confirmed that they were considering setting up regional travel corridors to let those travelling from low-risk areas escape quarantine. Previously they had said that this was not going to be considered as it there would be nothing to stop people travelling into higher risk areas once in a country. Errr, you mean exactly as someone could drive from France to Spain now?! Or could fly home from Gibraltar which is not subject to the quarantine?
Baroness Vere said to parliament "For the time being, we are taking the approach by country for border measures but it is the case that it could be that we put them in place for regions in the future. We are not there yet but we are certainly looking at it because it is an appropriate consideration."
Until there is a vaccine, COVID is sadly here to stay. We need to find safe ways to live with it whilst suppressing it as much as we can. Regional intervention is already the way forward in the UK, so why not apply that to travel to?