Virgin Atlantic has been one of the airlines that I think have done well during the pandemic with catering. Last time I flew with them the service was back to normal minus a bread roll!
Now Virgin Atlantic is rolling out enhancements across its inflight food and drinks offering. All cabins will be treated to a new on-board menu, with a pre-order option returning for those travelling in Upper Class.
Last week, Virgin Atlantic introduced a brand-new menu across its entire network from 1st April. This new menu aims to offer a balance of British home comforts, as well as destination-inspired dishes such as Hot Smoked Salmon, Truffle Butter Breaded Chicken, Garlic Ginger Prawn Curry, Fig and Goat's Cheese Tart accompanied by a delicious Passionfruit and Chocolate Dome or a Warm Apple and Blackberry Crumble. I'm very pleased to see the return of the hot desserts on Virgin as this was always one of my favourite parts of their onboard service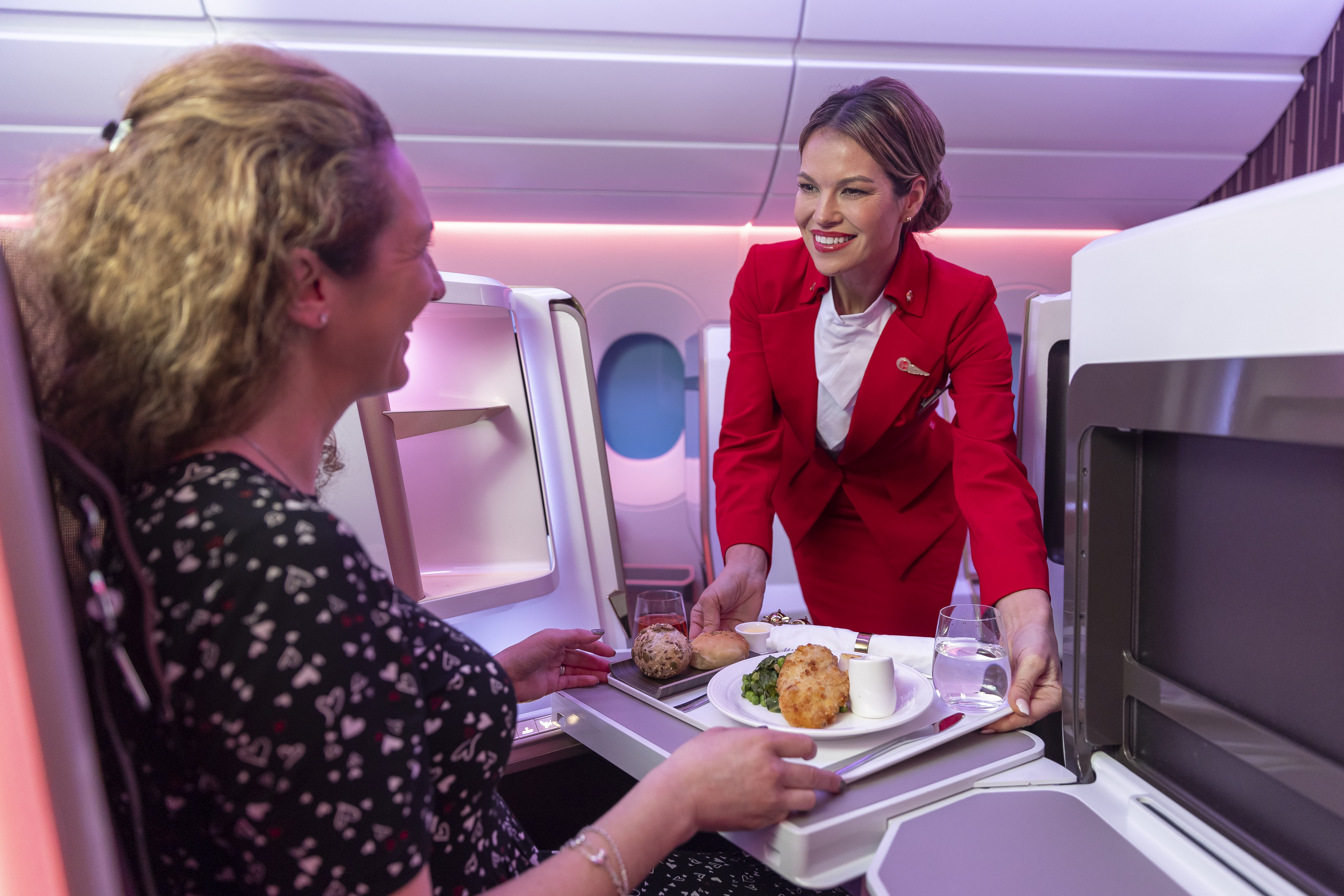 To top it off, you can also sample fine British cheese offered with Port. Further options across Upper Class include Garlic and Stir-Fried Oriental Chicken, Chicken Achari Curry, and Pork and Parmesan Meatballs, which are available on selected routes. Hands up who is hungry now after reading that!
The food offering will be complemented by a refreshed Upper Class wine selection with Virgin Atlantic's new wine merchant partner Jeroboams. A new spring/summer selection of cocktails will also be available in Upper class.
Enhancements to the airline's Mile High Tea were also introduced from 1st April. All customers in Economy and Premium will be treated to warm scones and finger sandwiches, whilst those in Virgin Atlantic's Upper Class cabin can tuck into burgers, superfood salads and crab cakes, as well as cream tea. The introduction of cake will be available in Economy, whilst a new duo mini patisserie will be available in Premium.
From mid-April, Upper Class customers on outbound flights from the UK will also have the option of pre-selecting their inflight meals between 72-24 hours of departure. This was previously available but removed in March 2020 due to the pandemic. Customers flying from Belfast, Edinburgh, Heathrow and Manchester will be invited to a pre-select platform where they can pick their menu choices. By the summer, the pre-select option will also be available to customers flying in Premium.
Rival British Airways is yet to reintroduce pre-order and plans to serve the single tray service in Club World until November.
Corneel Koster, Chief Customer & Operating Officer, Virgin Atlantic said:
"We're incredibly pleased to announce an enhanced food and drinks service on board, which brings a personalised, unique Virgin Atlantic experience for every one of our customers.
"Creating magical moments for our customers is what we do best; delighting them from the moment they step on board to when they land into their destination. We are all about creating memorable moments for our customers and will continue to develop our inflight offer, while travel moves forward, and many more customers take to the sky once more."