Virgin Atlantic's Heathrow Clubhouse reopens – what's on offer?
This week Virgin Atlantic Upper Class and Flying Club Gold members, as well as Delta's eligible customers, could once again enjoy access to the airline's Clubhouse lounge, Revivals lounge and Upper Class Wing when Heathrow's T3 reopened.
Since the Clubhouse has been closed, there have been a few changes. Following in BA's footsteps the spa has sadly gone. This was one of my favorite features as you could always get an appointment including for hairstyling or nails. Virgin says it could reopen in the future but not for now. Instead in a slightly odd twist, they have installed several Peloton bikes. You can reserve these via the app for a 45-minute session. If you have considered buying one it's a perfect way to try one out or if you have a long wait for your flight and want to get your daily exercise in. Personally, I'd much rather have the spa!
Similar to BA, they are also looking at doing a sleep area with sleep pods and a relaxation area.
Fortunately, the food and drink has stayed very similar apart from the way that it is served. Everything is ordered via an app or customers will still have the option to use a single-use printed menu and order via the Clubhouse's waiter service.
The Deli is open but again you need to order via the app for these options:
Fruit Salad (VE)

melon, pineapple, kiwi, blueberries & strawberries

Smoked Salmon Board

smoked salmon, beetroot salmon, capers, lemon, multi seed bread

Cheese Board (V)

brie, red leicester, stilton, fruit chutney, grapes, crackers

Kale Caesar Salad (V)

parmesan, Caesar dressing, croutons

Grilled Carrot Salad (V)

puy lentils, creme fraiche, mixed seeds, coriander leaves, cress

Charcuterie Board

salami, chorizo, ham, artichokes, olives, cornichons, sourdough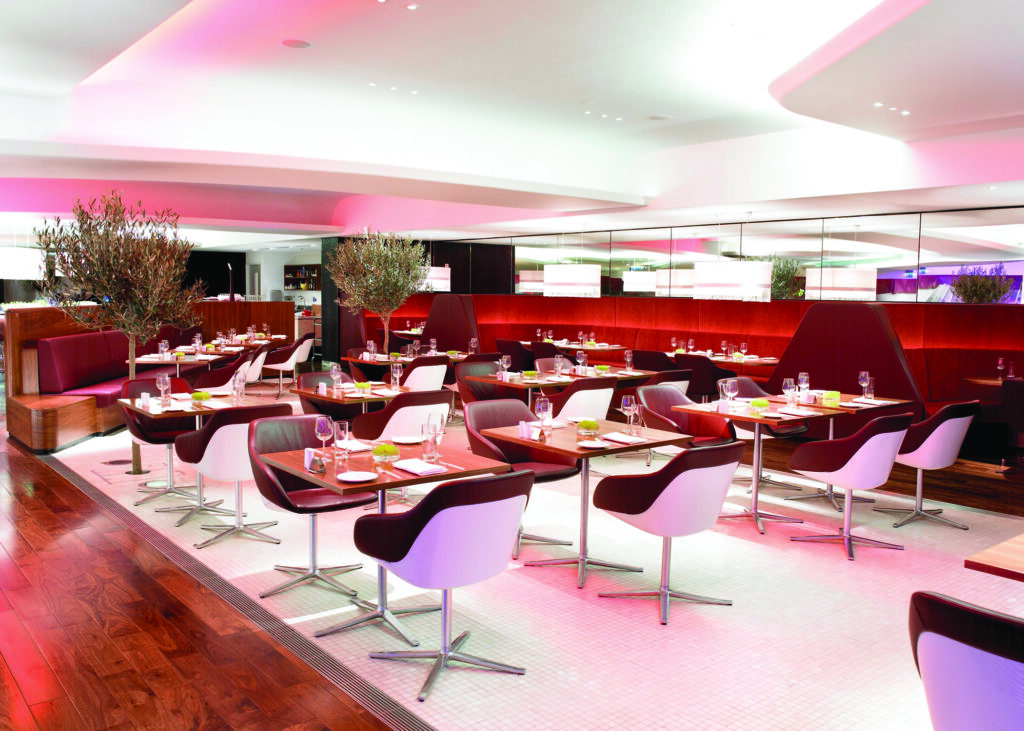 Then there is a selection of small and large plate dishes such as:
Potted Salmon – sourdough crostini and tartare salad
Baked Chicken Wings
Vegetable Gyoza (VE)
Grilled Salmon – shaved fennel, tomato salad, walnut, basil butter
Clubhouse Chicken Burger – cabbage slaw, baby gem, spicy mayo, tomato ketchup, chips
Clubhouse Plant Burger (VE) – mustard mayonnaise, lettuce, red onion, tomato relish, chips
Chicken Tikka Masala
Afternoon tea is also available.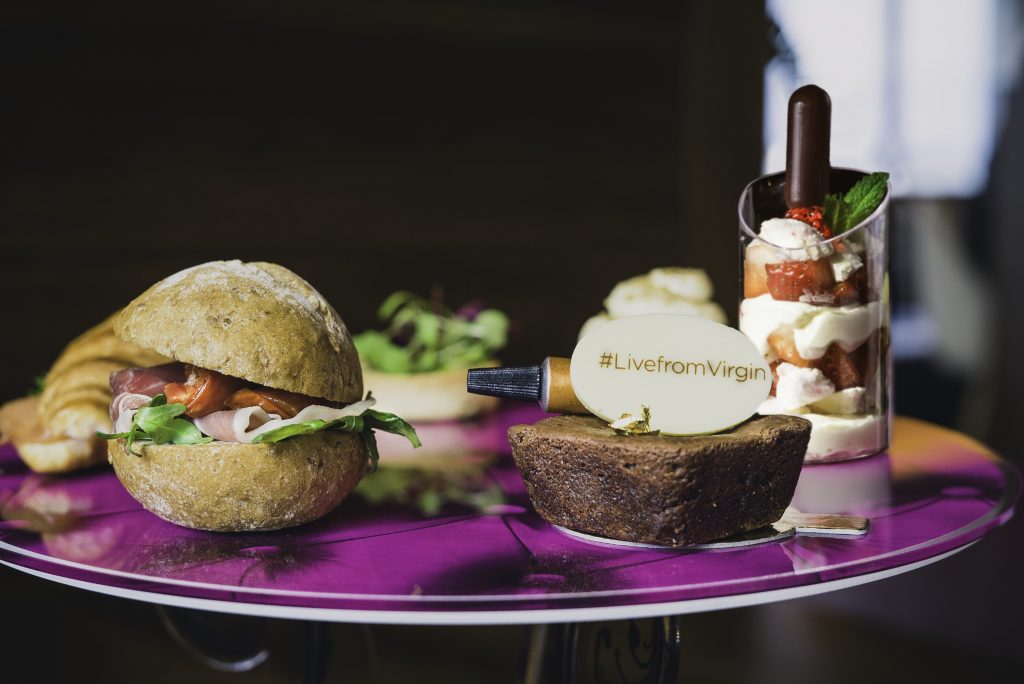 The well-loved cocktails such as the Bramble and the Virgin Redhead still feature along with Lanson Pere Et Fils NV and Lanson Rose NV champagne or Prosecco for those that love their bubbles!
Via the same app you can read a selection of newspapers and magazines which features many of the well-known titles unlike some random things you see in lounges like "What hot tub monthly"!
Showers are also available and can be prebooked at 45-minute intervals via the app.
The roof terrace is open for those that fancy a little plane spotting.
And the mezzanine level with a pool table which is usually good for some peace and quiet if no one is playing!
Virgin's New York Clubhouse reopens

Virgin Atlantic's Clubhouse at New York JFK airport will also open from 19th July 2021. Upper Class customers, Flying Club Gold members as well as Delta's Gold, Platinum, and Diamond Medallion members, can once again enjoy access to the airline's flagship North America lounge with a la carte menu featuring five-star dining, tapas dishes and afternoon tea plus a wide selection of cocktails, wine and soft drinks.
In the morning you can choose from a selection of breakfast favourites including eggs benedict, avocado on toast and a full English breakfast and for those visiting later in the day, the chicken tikka masala and the famous vegan Beyond Burger are on offer, with a selection of drinks including the iconic Virgin Redhead cocktail. Customers will be encouraged to remain in their seated areas and enjoy table service from the Clubhouse team.
Plaza Premium to run most Virgin Atlantic's Clubhouses outside UK
Virgin Atlantic has also announced a new partnership with Plaza Premium Group which will now be responsible for the day-to-day running of the JFK Clubhouse under the guidance of the Virgin Atlantic team. Virgin Atlantic will also work with Plaza Premium for the Clubhouses in Boston, San Francisco, Washington and Johannesburg once they reopen as travel restrictions around the world start to relax.
A statement has been made saying that the paying public will be allowed in like most Plaza Premium lounges. What is not clear is pricing and timing which is due to be revealed next week. There is already a precedent with two other of their lounges where Priority Pass customers can access the lounge outside the main Virgin and Delta flight times. It would be great if you visit with an Amex Platinum can access Plaza Premium lounges with a guest for free as you can do for other Plaza Premium lounges. With demand down, this allows them to keep the lounges open by getting additional income.
Corneel Koster, Chief Customer and Operating Officer commented, "We're delighted to welcome
customers back to our Clubhouse at New York JFK offering the signature Virgin Atlantic experience we
know they have missed over the past 18 months. With the friendly faces of our Clubhouse team, enhanced
health and safety measures at every touchpoint and our innovative food and beverage offering, we will
ensure our customers fly safe and fly well.

"We look forward to expanding our partnership with Plaza Premium Group to our Clubhouses in North
America and South Africa. Our shared values of top-notch hospitality, the most hospitable teams in the
industry, a pioneering mindset and dedication to innovation will ensure our customers enjoy every
moment of their journey as travel restrictions begin to relax and demand for global travel returns fast."
Virgin Atlantic and Plaza Premium Lounge have also agreed on the co-development of lounges in other key hubs within the airline's network. Details will be announced at a later date.