Virgin's flight school
If you are wondering how to keep the kids entertained, or even yourself, Virgin have launched a series of 'Flight school' videos on Instagram. Today features Henry, who designs the interiors of the aircraft. The videos go live around 1 pm each day. The final session is tomorrow with engineering. You can catch up with the videos about being a pilot and a Cabin Crew Supervisor below.
.Just follow @virginatlantic on Instagram
Emirates rapid COVID testing
Yesterday I wrote about Etihad's new self-service health screening. Emirates have also launched rapid COVID testing for passengers. Emirates is the first airline to conduct on-site rapid COVID-19 tests for passengers. The test involves a simple pinprick to get a blood sample.
The quick blood test ware being conducted by the Dubai Health Authority (DHA) and results are available within 10 minutes. The first flight to use this was to Tunisia. This test was conveniently done at the Group Check-in area of Dubai International Airport Terminal 3. The plan is to use it for countries that require proof of COVID-19 tests. It is an interesting development that may pave the way for travel to reopen if passengers can prove they are COVID free. Emirates are also requiring passengers to wear masks at the airport and onboard.
Adel Al Redha, Emirates Chief Operating Officer said: "The testing process has gone smoothly and we would like to take this opportunity to thank the Dubai Health Authority for their initiatives and innovative solutions. This would have not been possible without the support of Dubai Airport and other government authorities. We are working on plans to scale up testing capabilities in the future and extend it to other flights, this will enable us to conduct on-site tests and provide immediate confirmation for Emirates passengers travelling to countries that require COVID-19 test certificates. The health and safety of staff and passengers at the airport remain of paramount importance."

HE Humaid Al Qutami, Director-General of the Dubai Health Authority (DHA), said: "We are glad to work with Emirates on the successful implementation of rapid COVID-19 testing at the airport for departing travellers. To tackle COVID-19, we have been proactively working with various governmental organisations and the private health sector and we have implemented all necessary measures from public health protection to provision of high-quality health services in line with the latest international guidelines. We believe strongly that the most effective solutions require close partnerships with other public and private sector organisations."
Emirates simplifies their refund policy
Emirates have decided to simplify their refund and changes policy. They have not gone down the route of offering an additional bonus for taking a voucher thought, unlike many airlines that are desperate to keep customers' cash. I also like the fact that they say of you have opted for a voucher or to keep your ticket you can also still then choose to take a refund. This is the first time I have seen an airline offer this, and it is a pretty strong incentive to receive a voucher, knowing you can get a rerun. Plus with Emirates, I would not be worried that they are likely to go out of business.
Emirates is offering three options to its customers affected by flight cancellations and travel restrictions:
1 – Keep your ticket: all Emirates tickets booked before 31 May for travel up to 31 August will be automatically extended for 760 days. However, you need to travel within two years of when your ticket was originally issued. You can just rebook when you decide to travel. The ticket will be accepted for any flight to the same Emirates destination or to another city within the same Emirates region with no fees for changes. If you want to book to a different region n you can but will need to pay any difference in fare.
2 – Request a travel voucher: Travel vouchers are valid for one year from the date the voucher was issued and can be extended for a second year. The voucher can be used for any Emirates product or service, such as for flights to any destination in any cabin class, or other services. No change fees apply to this voucher, so customers will have more flexibility to reschedule when they are ready to travel again.
3 – Refunds: Customers who have opted to keep their ticket or opted for a travel voucher can still apply for a refund if they are unable to travel. There will be no refund penalties.
Emirates has also made it easy for customers to request these options online through a simple form.
For more information, or to apply for any of the above options, customers can visit emirates.com. Customers who have booked through their travel agents should contact their agents for assistance – the same waiver policies will apply.
Cathay Pacific scraps fuel surcharge
When oil prices fall, funnily enough, airlines are not as quick to take off fuel surcharges as they were to put them on. This is partly understandable as airlines "hedge" their fuel which means buying at a set price a long time in advance so they can predict how much they will spend. Cathay Pacific has done the right thing and passed on the reduction in fuel prices to its customer quickly. If you look at the cost of crude oil, you might hope that other airlines would follow. Given the fight for survival, most airlines are in, I don't they will be quick to pass on the saving.
From 1 May 2020, the fuel surcharge is removed from almost all routes: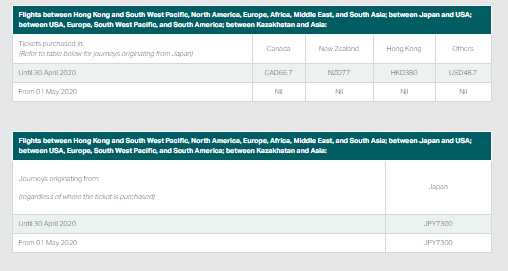 American Airlines to resume some London services
Although there is currently a ban on anyone who has physically been in Europe in the last 14 days entering the US, unless they are a US resident, AA has started to plan more flights. The US travel ban was originally only for 30 days, but there is also a UK FCO warning against all but essential travel anywhere outside the UK. I would as ever take these with a pinch of salt as things are likely to change as time moves on. June does seem to be the timescale that most airlines (other than the Middle East airlines who are already resuming services) seem to be working on restarting some sort of service. Jet 2 have said they plan to start flying again in June.
The scheduled flights for May onwards are:
Boston – London Heathrow

Planned service resumption from 28 March 20 postponed to 24 October 20, 1 daily 777-200ER

Charlotte – London Heathrow

eff 07 July 20 Service resumption, reduce from 2 to 1 daily. A330-300 operating (2nd daily to resume on 24 October 20)

Chicago O'Hare – London Heathrow

eff 04 June 20 Service resumption, 1 daily 787-9. Eff 18 August 20 2nd daily resumes with 777-200ER

Dallas/Ft. Worth – London Heathrow

07 May 20 – 03 Jun 20 787-8 replaces 777-300ER, 1 daily
04 June 20 – 07 Jul 20 777-200ER replaces 777-300ER, 1 daily
eff 08 July 20 2nd daily resumes, 1 daily each 777-200ER/-300ER (summer peak season reduces from 4 to 2 daily)
eff 07 October 20 Increase to 4 daily (pre-Covid19 S20 schedule)
eff 07 October 20 3rd daily resumes with 787-9 (4th daily in summer season cancelled)

Los Angeles – London Heathrow

eff 04 June 20 Service resumption, 1 daily 777-300ER (2nd daily resumes on 07 October 20)

Miami – London Heathrow
New York JFK – London Heathrow

eff 04 June 20 Service resumption, 1 daily 777-200ER
eff 07 July 20 2nd daily service resumes with 777-300ER (Peak season reduces from 4 to 2 daily)
eff 24 October 20 3rd daily resumes with 777-300ER

Philadelphia – London Heathrow

eff 04 Jun20 Service resumption, 1 daily A330-300 (2nd daily resumes on 07OCT20)

Raleigh/Durham – London Heathrow

eff 04 June 20 Service resumption, 1 daily 777-200ER
HT: Routesonline