Reader Max has had a difficult journey when he boarded his flight to Madeira with BA just at the start of the new COVID variant border closures. Max has been kind enough to share his story with TLFL and it was also featured in the Daily Mail.
Our Daytrip to Madeira – 21st December 2020
"As all of our children are now married and came to us last Christmas, they were all planning to go to their in-laws this year. So, in February, we decided that for the first time ever, we were going to go away for Christmas and started researching where we would like to go to. After a lot of research, we chose Madeira and booked a holiday with British Airways, with Club Class flights and staying at the 5 star Cliff Bay resort near Funchal. (Michele – the February booking date is significant – it's outside the BA Book with Confidence window which means if you cancel you get nothing if you could have travelled).
Our dates were 21st to 28th December and as the outbound flight left at 07.35, we booked to stay at the Sofitel Heathrow to stay the night before and park our car in their car park, so we could make the flight in good time. Due to all the latest issues going on around Covid and the latest lockdown and Tiering, we were somewhat concerned that maybe our trip may be cancelled, but BA assured us that our flight would go ahead and we would be able to go to Madeira.
We took Covid Tests with Halo, at the Sofitel and had the results back confirming we were Negative, by 06.00 on Monday 21st December.
So, we went to the airport and checked in, all the passengers were on the aircraft in good time and we took off nearly on time. We were very aware that many other flights to Europe and other places, had been cancelled at fairly short notice, but we were assured our flight to Madeira was still fine to take us there.
Arrival in Madeira
The flight was fine and we landed at 11.30 in Madeira. At this point, the captain came out and addressed us all as we were ready to disembark.
He started by telling us he had just received some bad news. He announced that within the past half hour, he had been told that unfortunately, we would not be able to disembark at all, as the Portuguese Government had decided to ban any UK citizens from entering Madeira and only Portuguese nationals would be allowed to get off of the plane.
At this point a couple of Police officers came on board and then the Portuguese passengers were allowed to get off, I would say it could have been as many as 100 people. This left about 20 or so of us UK citizens who were not allowed off. I believe most of us, had taken Covid tests and could prove we were negative.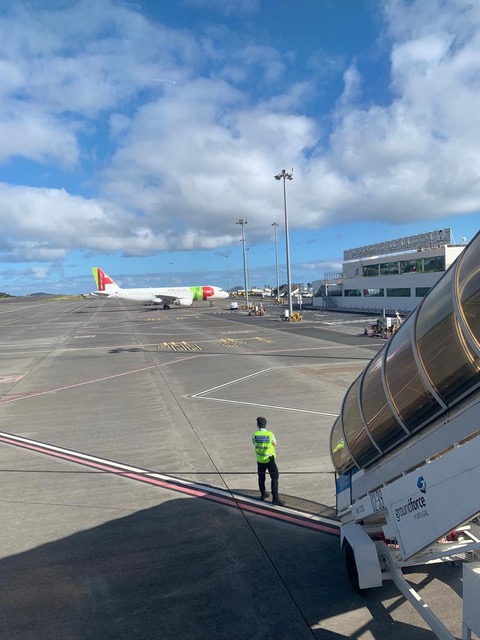 However, they didn't want to know about any of this, but were quite happy to let off the Portuguese nationals, who may well have come from Tier 4 areas in the UK and maybe didn't even have Negative tests. This in itself doesn't make sense and is very unfair.
The captain then told us that sadly we would have to go back to the UK and as soon as the other passengers had boarded, we would be heading off. He said this should be within the hour.
We were asked to stay in our seats and keep our masks on. He hoped we would be away in about an hour. We were all very upset about this news, but we all behaved well and reluctantly accepted our dreadful situation and by this point, we just wanted to get back home.
However, this was not to be, and every half hour the captain came on to apologise again for the delays which were all put down to BA's systems back in the UK that was struggling to do the "re-ticketing".
Return to Heathrow
We were finally ready to depart, along with a fresh intake of returning passengers, some 3 hours after we had landed, in all this time we were meant to stay in our seats, with masks on and nothing to eat or drink other than water or orange juice.
Just before we took off, another British Airways plane landed and parked up next to us. How on earth could another flight have been allowed to take off and travel to Madeira, BA must have known about the issues before that flight took off?
Our return flight was uneventful, and we were given a hot dish of dried-up Pork and white rice; there was no other choice. It looked like something you might get in prison and tasted very tough and bland. Not at all what you would expect in Club Class. (Michele – at a small airport like Funchal, getting spare meals for extra passengers at short notice is not easy – they would only have catered for the expected number of passengers).
Once we landed the captain told us there would be representatives from the BA Customer Relations team to meet us and help us with any queries. When we did disembark we eventually found this person, who was the BA Customer Experience Manager.
We were hoping for a sympathetic person who would help and reassure us that we would not only be refunded but would also be compensated for our wasted time, disruption, and stressful experience, but he was quite the opposite, he was blaming everyone else other than BA and said we may or may not get a refund, but we certainly would not get any compensation as it was all beyond BA's control.
We kept our cool and I simply asked him to please give us some direct contact details for someone within the senior Customer Relations team so we could easily make contact and discuss our unhappiness with this situation. He refused to do so and said we needed to go through the main number, like everyone else.
I explained that I have had some very bad experiences doing this and in fact, I am still awaiting a refund for a previous cancelled trip some 10 weeks ago and have been promised that the refund would have been made by several deadlines, all of which have failed to happen, and I still do not have these refunds or the associated vouchers, despite several phone calls and emails all of which just fob me off. Our overall impression of the handling of the situation was diabolical, we were stressed passengers and we felt he was unsympathetic towards us, not a good example to be set.
In the meantime, we spoke to other passengers that were in the same situation as us and they all felt the same as us."
So how did the flight manage to take off if the border was closed to non-Portuguese nationals/residents?
Max has done some digging since he returned home and found the official document from the Portuguese Government issued at 21.23 on Sunday 20th December, entitled "Medidas aplicáveis aos voos provenientes do Reino Unido".
This document confirms that no-one other than Portuguese nationals will be allowed into Portugal from 00.00 on Monday 21st December.
The FCDO (The UK Government website), also confirms that:
Since 23:59 (GMT) on Sunday 20 December 2020 the Portuguese government has placed restrictions on all passenger travel into Portugal from the UK, with the exception of Portuguese citizens and those legally resident in Portugal (and their family members).
The changes were also reported by Sky News and CNN, so as Max says, it raises an interesting question as to what information source BA is using at this point when borders are closing so rapidly.
Airlines normally use something called Timatic from IATA which advises them on the entry requirements such as visas, COVID tests etc, and is constantly updated with alerts being sent of any changes. It is likely that something went wrong in this process leading to the UK citizens being allowed to board. Normally this would be flagged up at check-in.
The other question would be, is there any way that airlines check this information is up to date in such a volatile situation? I suspect with the news coming out so late on a Sunday evening and with so little notice, that there is some human action that did not take place with regard to Timatic. With so many changes in such a short time (over 50 countries imposed restrictions within the first couple of days), there is no way that individual staff could have kept up to date with what was happening and they would have had to rely on the information BA was using. Hopefully, BA has now worked out what caused the issues and remedied it.
BA told the Daily Mail "The flight departed before airlines received official notification of a change in entry requirements from the authorities."
Fortunately, Max and his wife managed to get back safely, unlike many people who have been stranded abroad due to the current changes. BA has said that will receive a full refund of their holiday, but no additional compensation for the aborted start to the holiday.