A lot of people don't think about using an arrivals lounge on their return journey to Heathrow unless they are heading straight to work. Although I am normally heading straight home, I often pop into an arrivals lounge if one is available. Firstly, if you arrive at rush hour, I prefer to spend time in the lounge before heading off rather than sitting on the M25 car park. Secondly, having a reviving shower before a long drive home always makes me feel so much better after a long haul flight. Finally, on shorter night flights I usually prefer to sleep rather than have breakfast so I would usually head to the lounge for something to eat.
Access and Arrival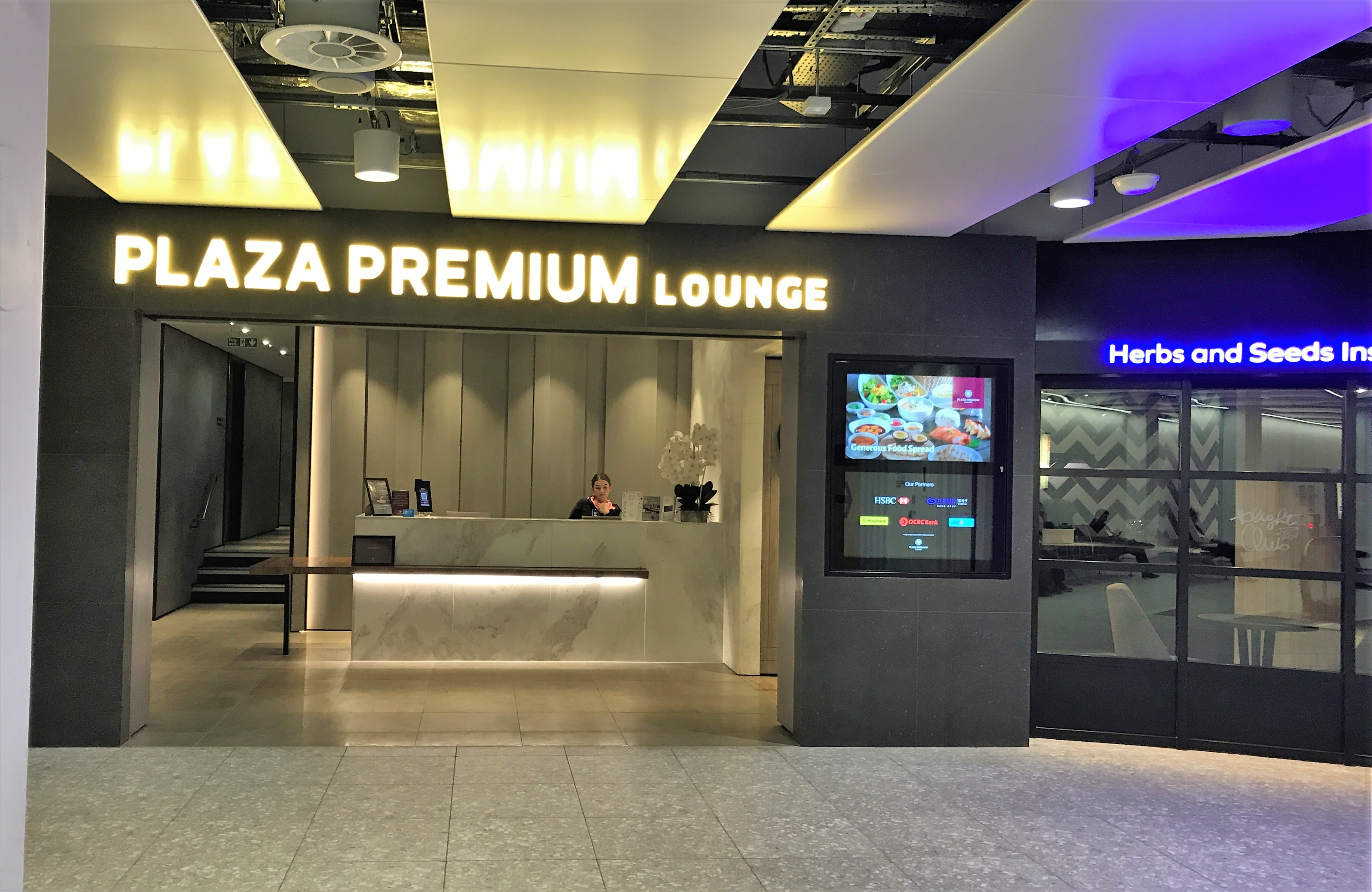 The Plaza Premium Arrivals lounge at Terminal 4 is well signposted even though it is slightly tucked away after you leave arrivals. You can access the lounge with a Priority Pass, your American Express Platinum or paying for access through a variety of channels such as loungebuddy. Lounge buddy is my favourite airport lounge app as it will show you what lounges are available both for airlines and pay to use lounges. You can then look at photos and reviews of the lounges before purchasing access to one. You can also book direct via Plaza Premium.
I used Priority Pass (comes with the Amex Platinum) on this occasion. The check-in was warm and friendly. The receptionist gave me a menu to take with me. She then explained where everything was and how it worked.
The lounge
At this time of day (around 6pm) the lounge was virtually empty with maybe only 2 or 3 other people in there who soon left (hopefully it wasn't my arrival!). I was very impressed with the lounge. The décor was super smart and modern, like most of the Plaza Premium lounges. Everything was spotlessly clean and it had the feel of a 5* hotel lobby.
Looking around there were plenty of plug sockets dotted around and several areas that would be suitable for working. The long table was the ideal place to work as well as being close to the bar to keep yourself topped up. There was also a good-sized meeting room which could be very useful for some privacy.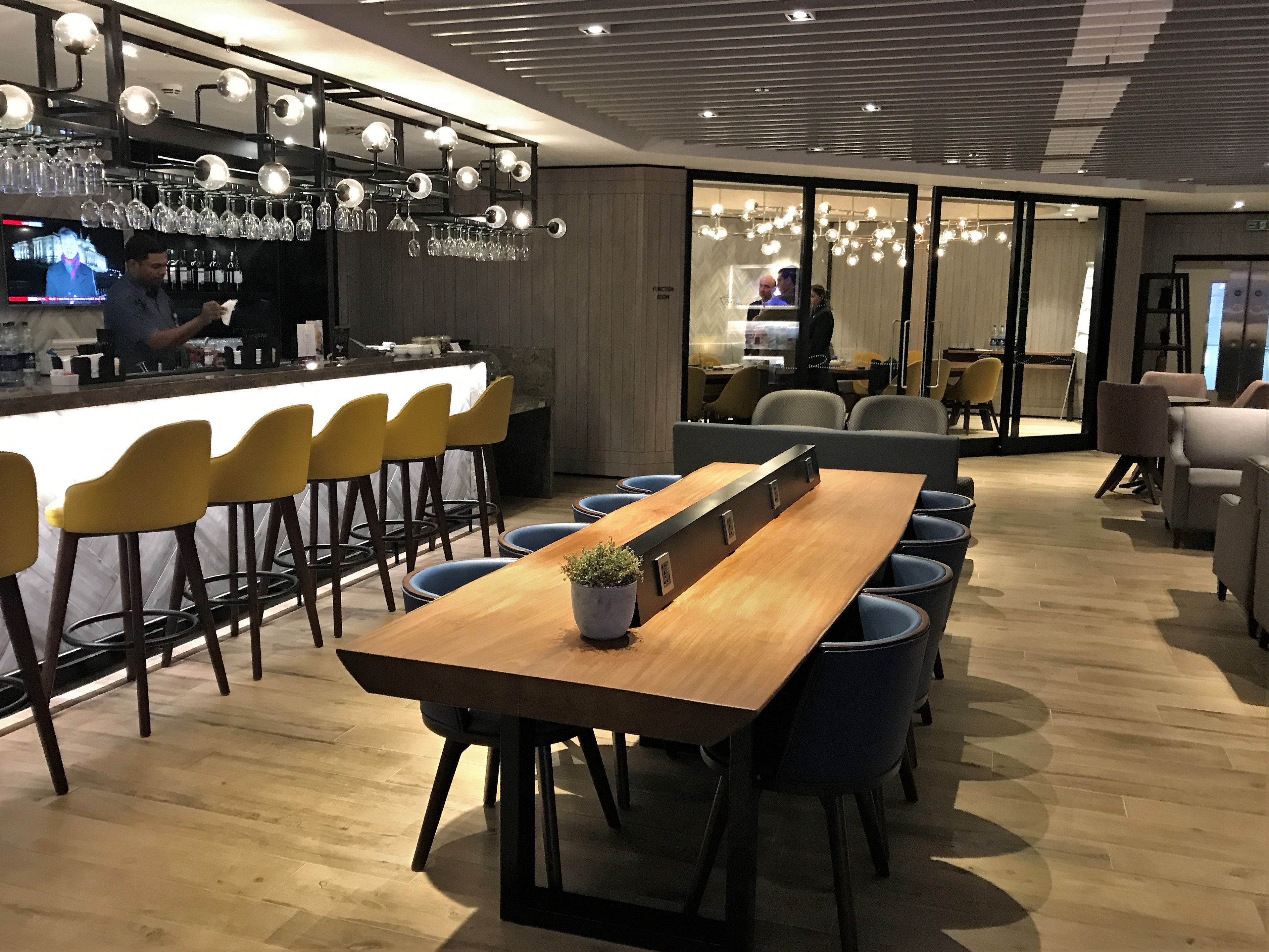 The toilets and showers were equally impressive. My only complaint is that there wasn't a dedicated place to leave luggage, but the staff were very helpful and said they would keep an eye on it whilst I popped to the toilet.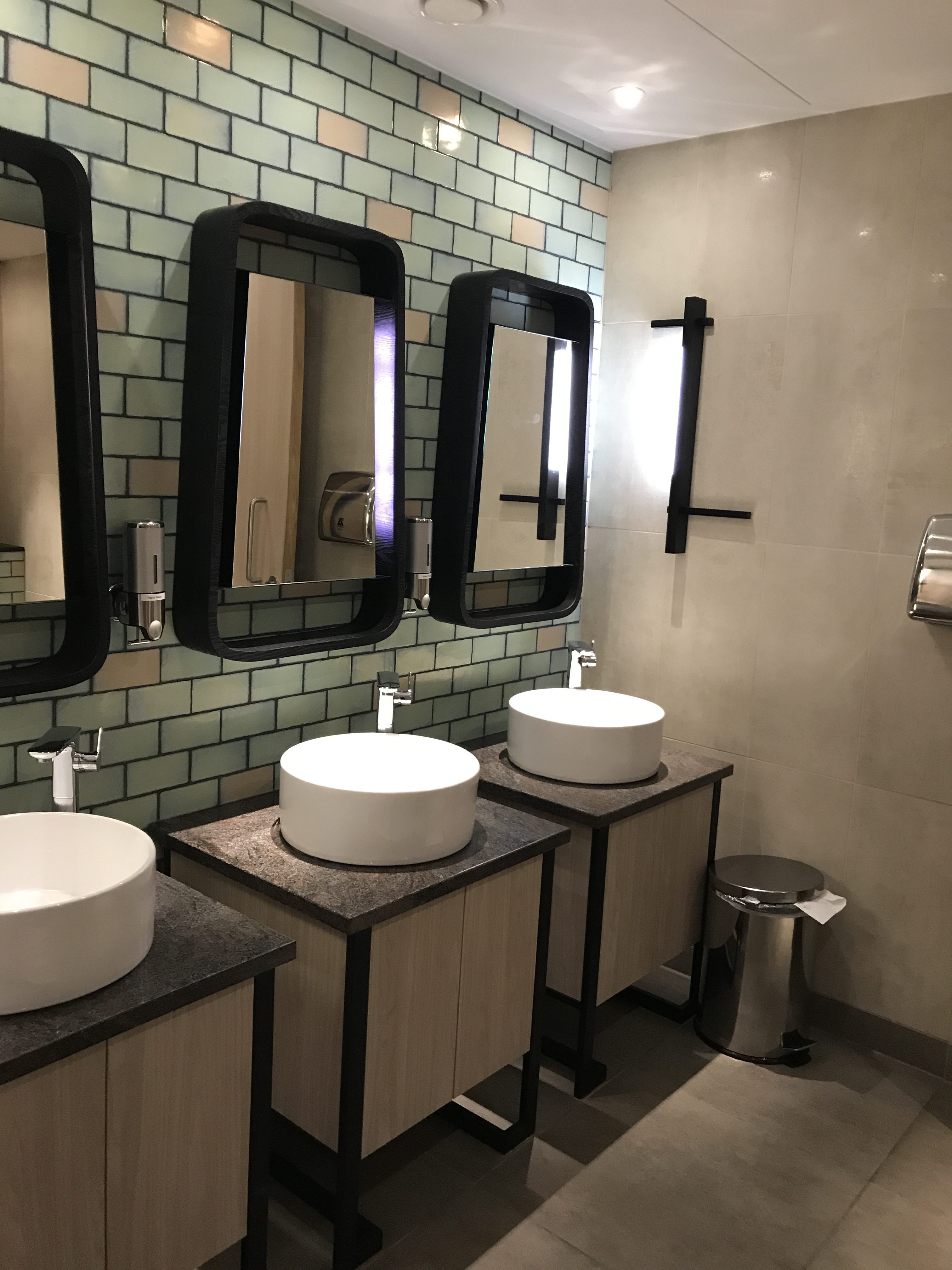 There was a large number of showers and although this time I wasn't bothering, I looked in on one to suss it out. Again, it was modern and spotlessly clean. There was a large bench for changing or to out your carry on. All the necessities were provided such as toiletries and a hairdryer. The cubicle was also well lit (although not necessarily a good thing in front of a mirror after a long haul flight!).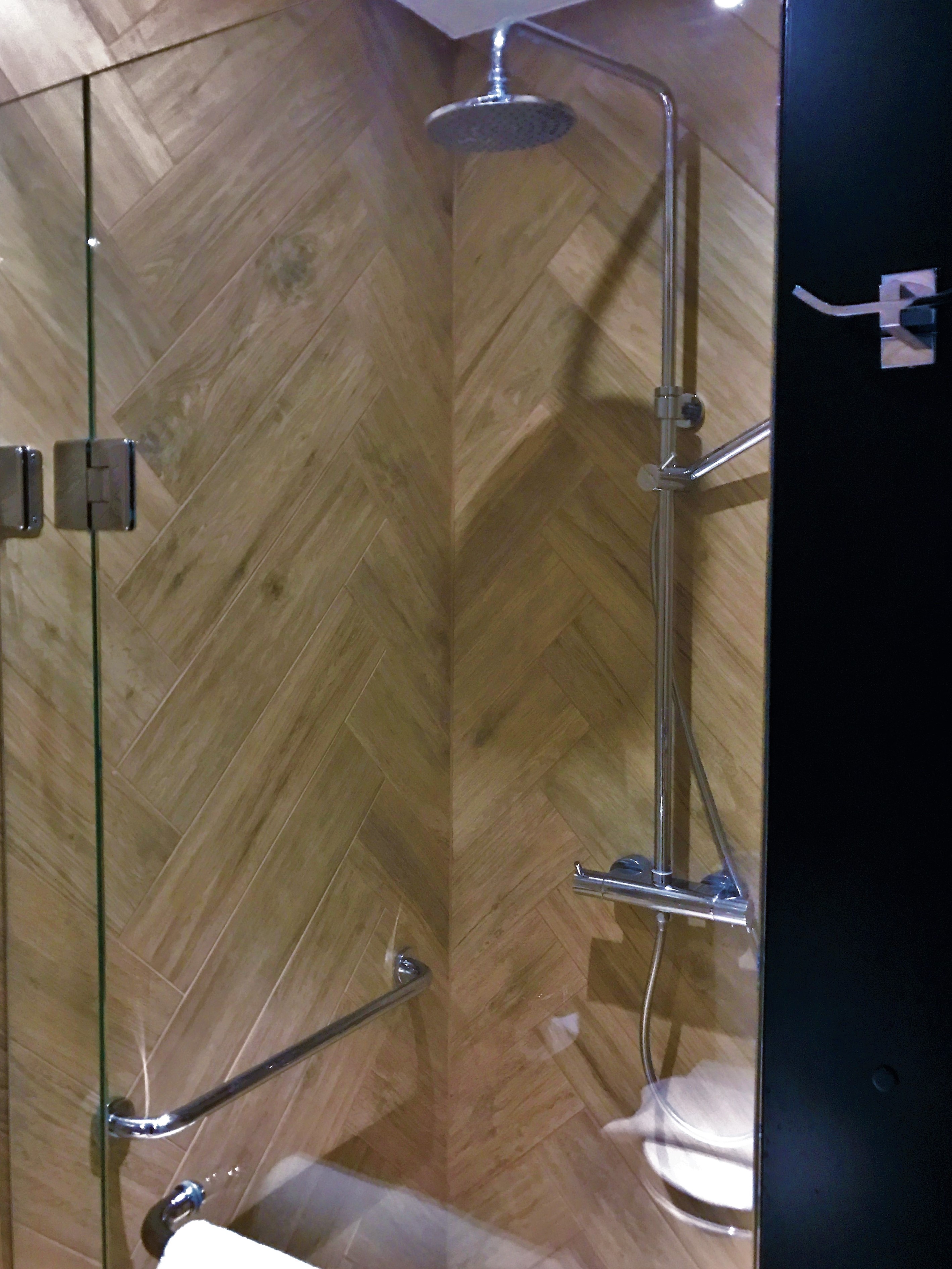 Food and drink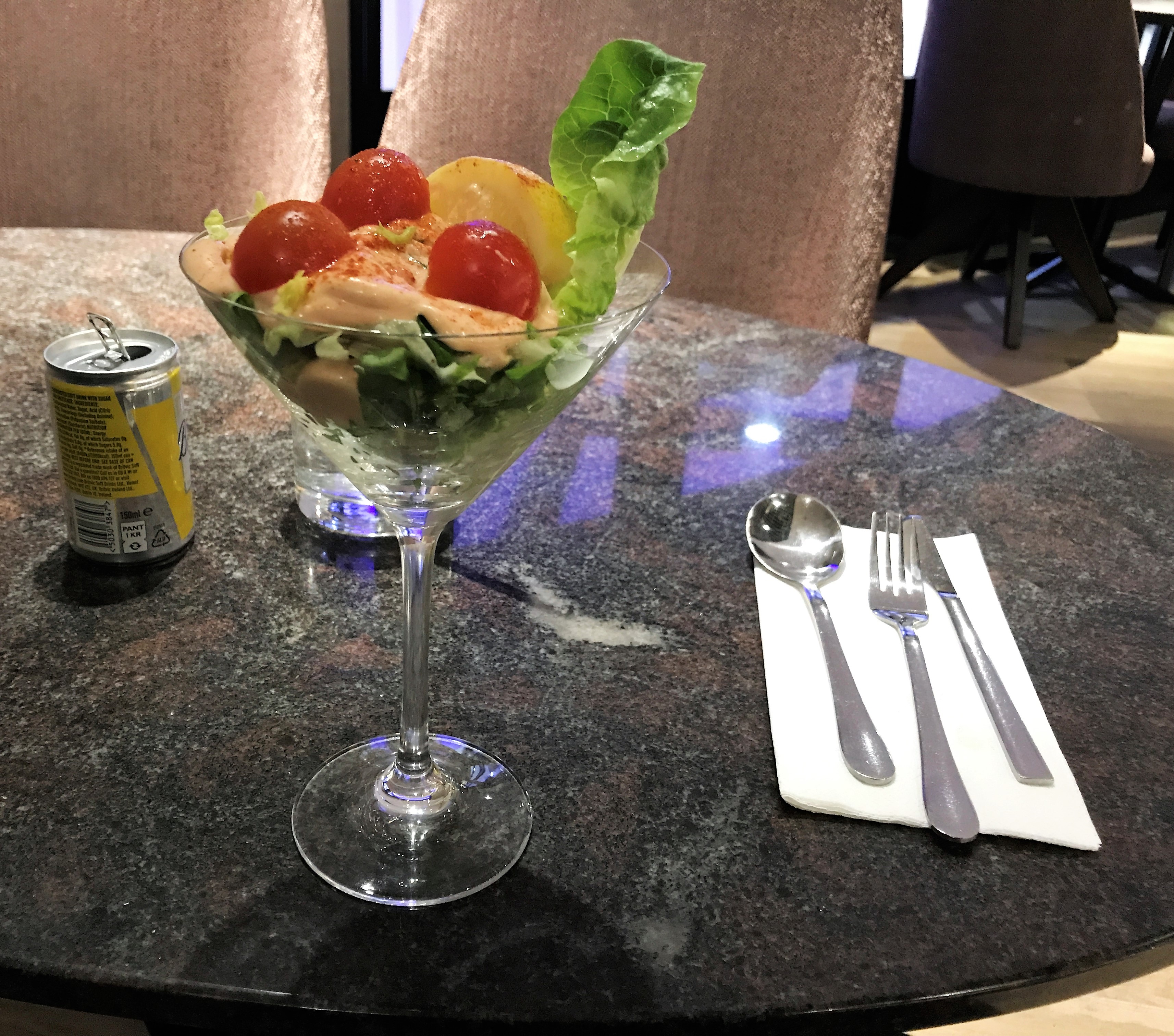 There was a small self-service area with a fridge of soft drinks and white wine but other that, everything had to be ordered from the bar. The barman was very helpful and made sure I understood how the system worked. The menu was fairly clear that you had some free items and some items that you had to pay extra for. The only thing I would have expected to be free but wasn't was Prosecco. Since I had just been drinking good champagne on Etihad First, I wasn't too worried, so I opted for a refreshing G&T. There was a choice of 2 red and 2 white wines which weren't terribly exciting.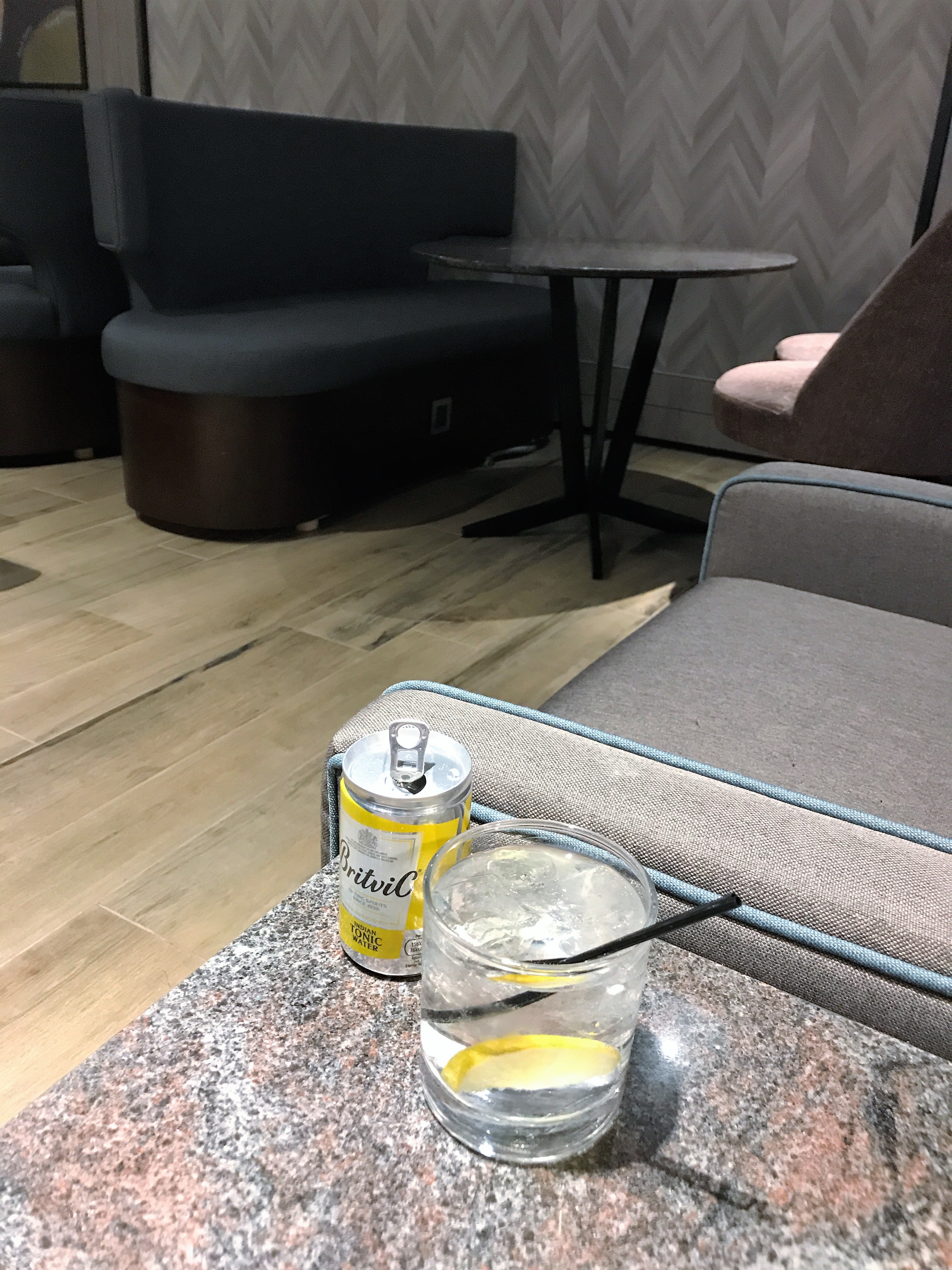 Food-wise there was a small selection of salads, soups, starters and mains plus a couple of puddings. If you were arriving in the morning, there was a cooked breakfast option too which was available all day. The food is cooked to order, so you need to factor the time in. I ordered the prawn cocktail which whilst taking slightly longer to appear than I expected, was well presented and tasty.
Conclusion
After the American Airlines lounge at T3 with its free champagne, this is the next best arrivals lounge at Heathrow. The staff were extremely helpful and friendly which is not always the same in pay-for lounges.  The decor is modern and elegant too. It is well worth popping into to freshen up after a long flight or grab something to eat.
You can find more information and book via LoungeBuddy website or app or direct with Plaza Premium.