Firstly an update, the more keen-eyed and tech minded people may have noticed that the site did not transition to a secure site on Friday as originally planned. It is currently scheduled for Tuesday but I will confirm on Monday whether there will any new posts on Tuesday.
Secondly, you will notice once the site transitions that if you are an email subscriber I will be trialling sending the emails as an excerpt of the post rather than the whole article. As the website has had some technical issues recently I have avoided doing this before now. My thinking behind it is that often I update the article once or twice during the day of publishing as more information emerges on offers etc or if I spot a typo. This way by clicking through you will always get the most up to date version of the article.
Now onto my review….
Qantas business & first lounge Heathrow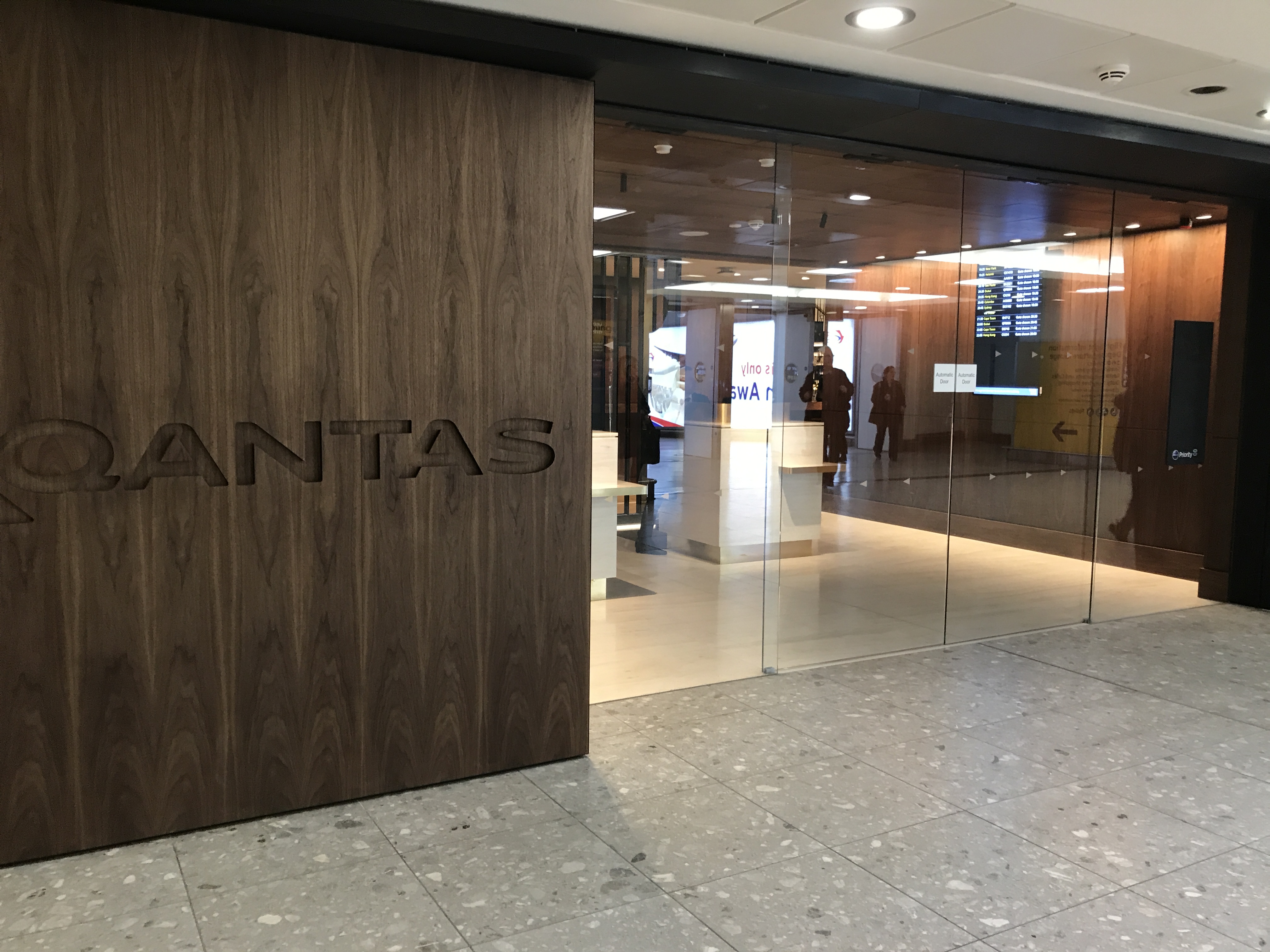 Last November Qantas opened their new business and first class lounge at London Heathrow terminal 3. As usual I prefer to review the lounge once it has bedded in as you never get the true picture at a press launch.
There is now an impressive 4 lounges to choose from in T3 for oneworld if you are travelling in business, first or have oneworld status. In this article I will review the Qantas lounge and later in the week I will look at which lounge you might want to choose when you are visiting T3. Funnily enough, the most asked question over in the Facebook BAEC Gold & GGL group that I moderate (feel free to apply to join if you hold Gold or above status in BA) is which lounge at T3 is best?
First impressions were good when I arrived. Brad greeted me warmly on the desk and asked if I had visited before. When I said I hadn't he proceeded to escort me into the lounge and give me the lowdown on what was available. As there was no need to remain anonymous now, I asked to take some photos of the evening menus. Brad was extremely helpful and took me round the lounge to make sure I saw everything that was available.
Service
All the staff I interacted with (most didn't know I was writing a review) were exceptionally friendly and service was on par with any of my top lounges at Heathrow and far better than BA. Every time you passed a member of staff they said hello or enjoy your flight when you were leaving. If you ordered a drink, they told you to take a seat and they would bring it over. Whenever I was seated at a table I was asked if there was anything they could get me. Empty plates and glasses were cleared immediately. Obviously it helped that it was a quiet time of day as the Qantas flights don't go depart until the evening.
Design and decor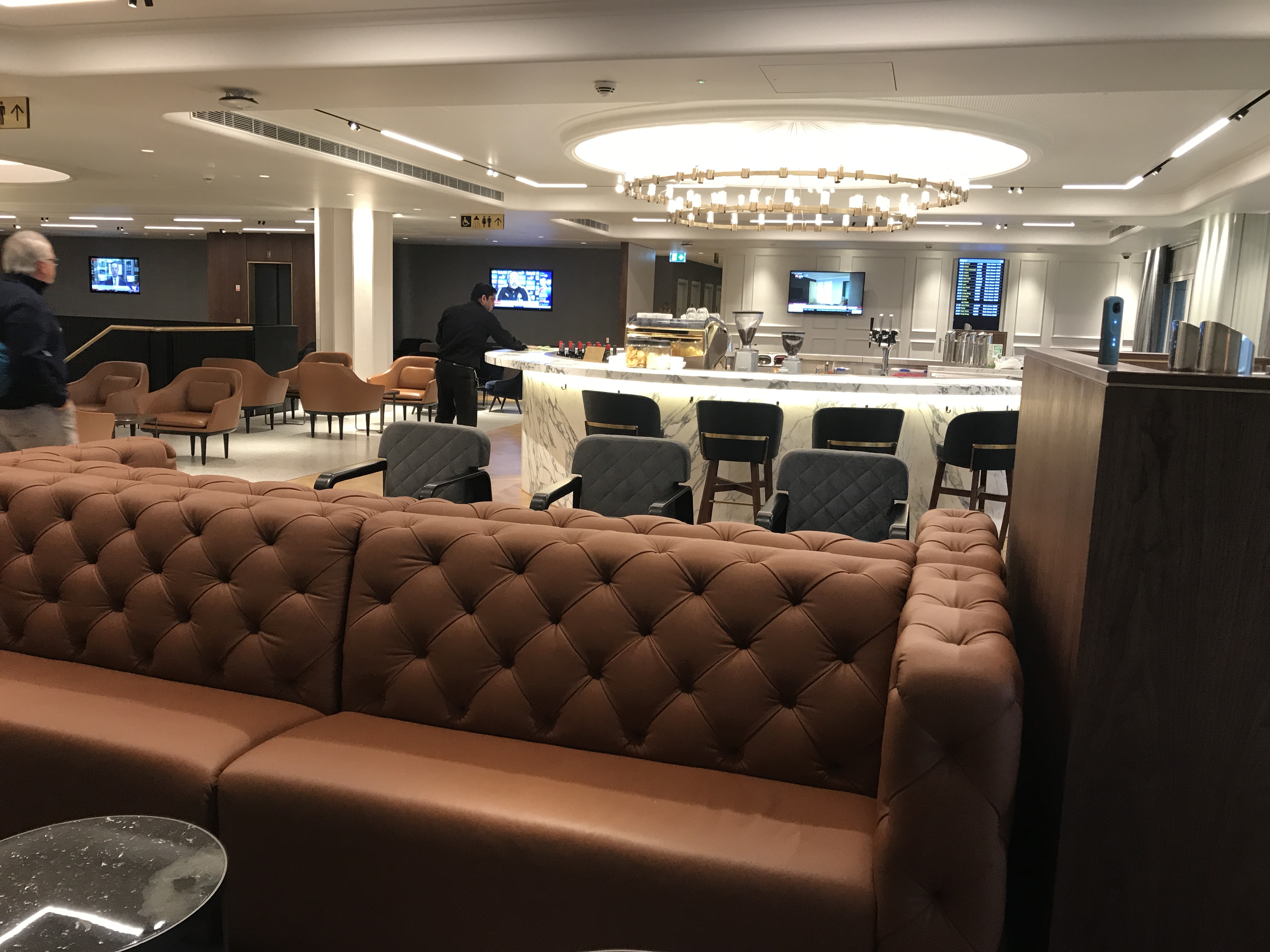 The lounge has a light and modern feel to it and is split over two levels with great views of the runway. It follows the same concept as Qantas' international lounges in Hong Kong, Singapore, Los Angeles and Brisbane, with the food and interior design taking inspiration from the city it is located in.
The interior was inspired by London at twilight with deep greens and rich blues throughout the furniture, while warm-coloured timbers, stone and brass represent the historic architecture of the city. There have used lots of beautiful marble and stone throughout including the staircase and bars. I also liked the parquet floor and padded seats.
If you wanted some peace and quiet or to enjoy great views of the airfield, there are armchairs lined up by the windows behind the upstairs bar.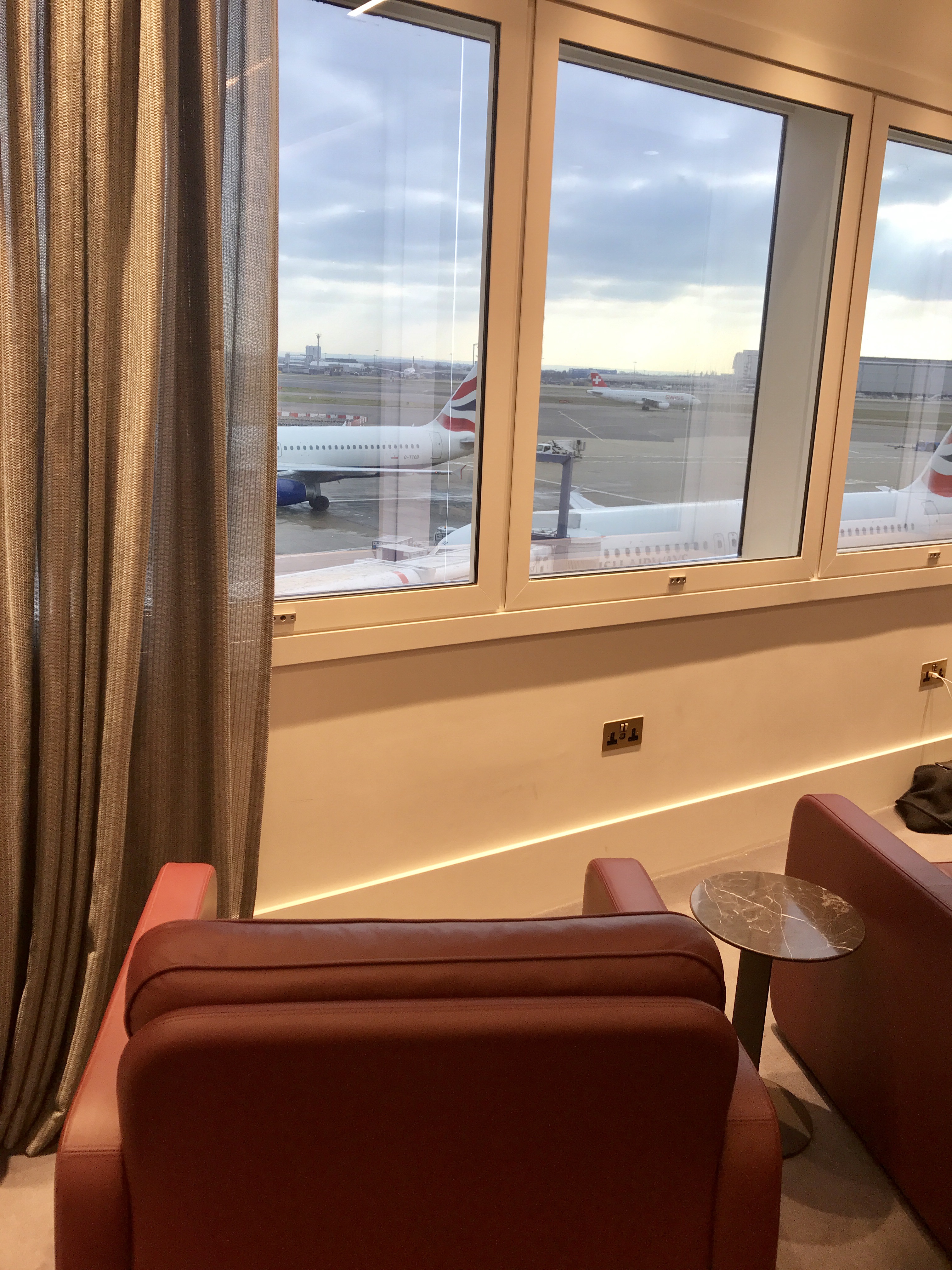 The gin bar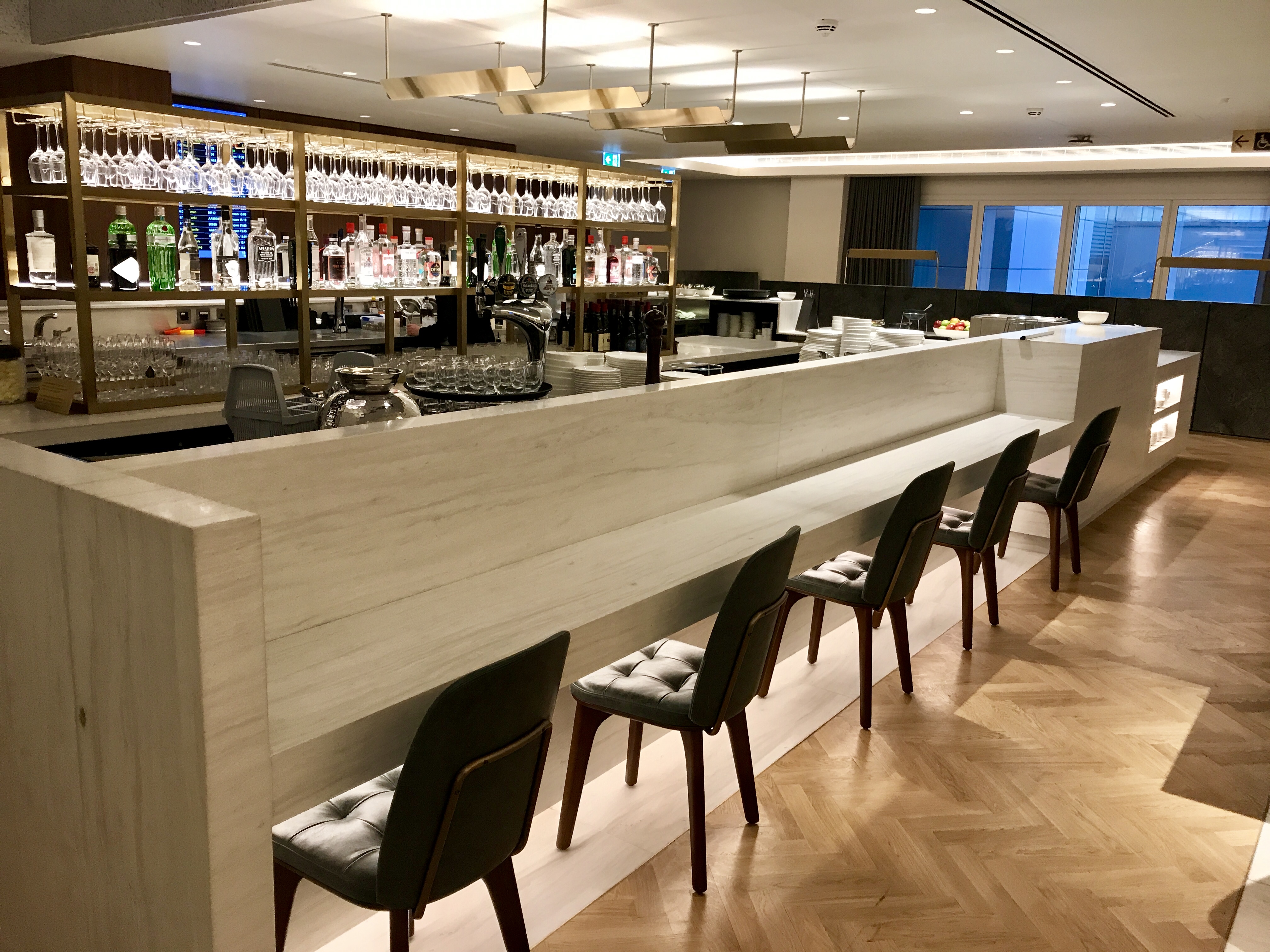 As you enter the lounge downstairs you arrive in the gin bar. This has 14 different gins to try including the Four Pillars gin from Australia and the famous Green Ant gin which does actually contain real ants. Other gins include the Botanist, Hendricks, Ophir, Aviation and Portobello and Tanqueray Ten.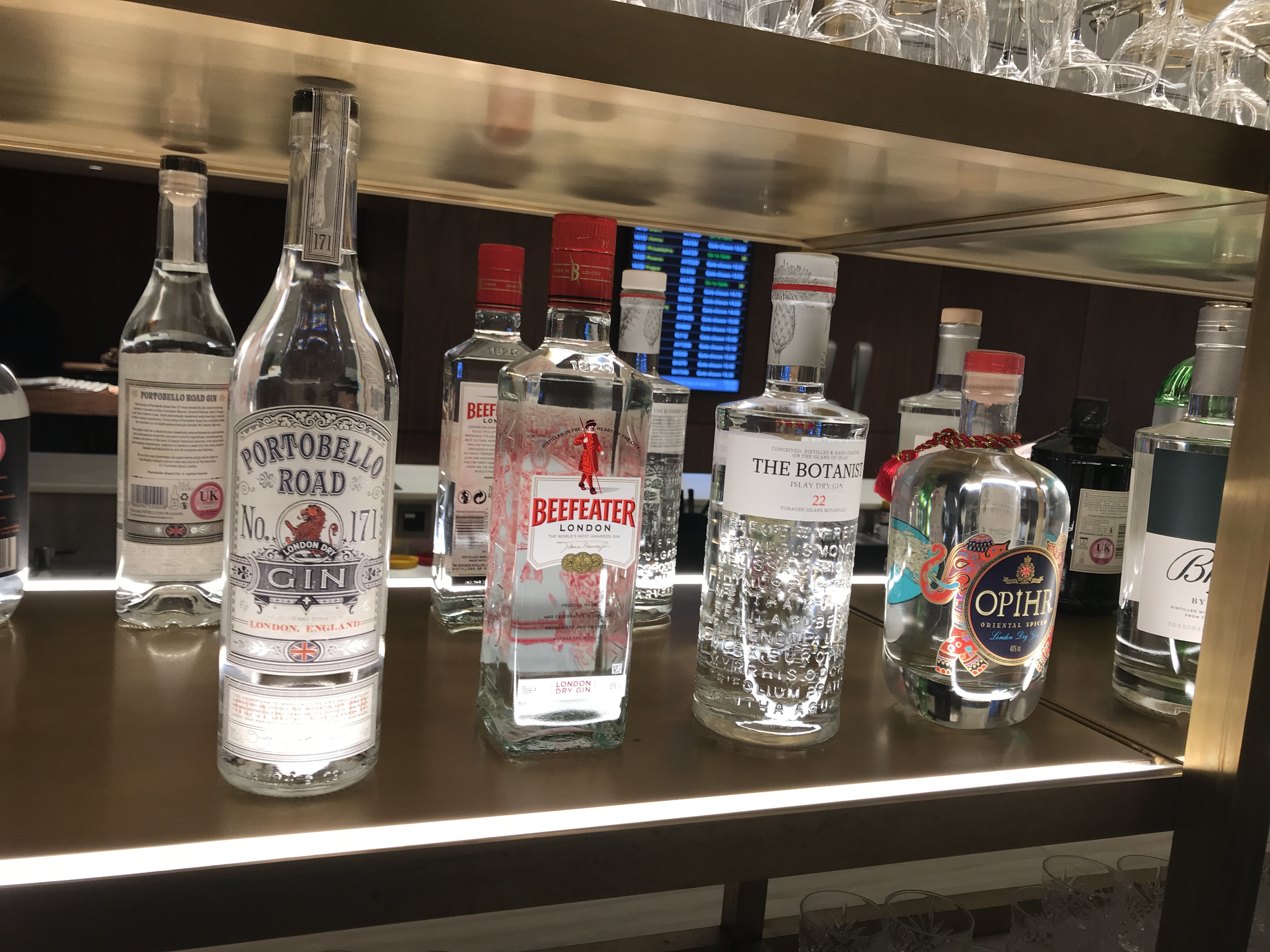 There is a menu of their recommended gins which are each served with appropriate accompaniments to match the botanical elements. The gins are all served with the tonic of the moment, Fevertree. In the name of research I gamely tried 2 different gins even though I have been a bit bored with gin recently.
Both of these gins were delicious and reinvigorated my love for gin (not necessarily a good thing!). The Four Pillars gin (Australian) was very smooth but with clear hints of citrus and slightly spicy. It was served with white grapefruit and an olive. The Green Ant gin was very different with a slightly sweeter flavour with lime notes and accompanied with thinly sliced lime. Green ants are considered traditional Australian bush tucker that are believed to have medicinal properties.
My gin order was taken at the table and I liked that I was given the choice of a single or a double. The bartender was also swift to offer a top up as soon as she noticed that I had finished my drink.
Here is the full gin menu: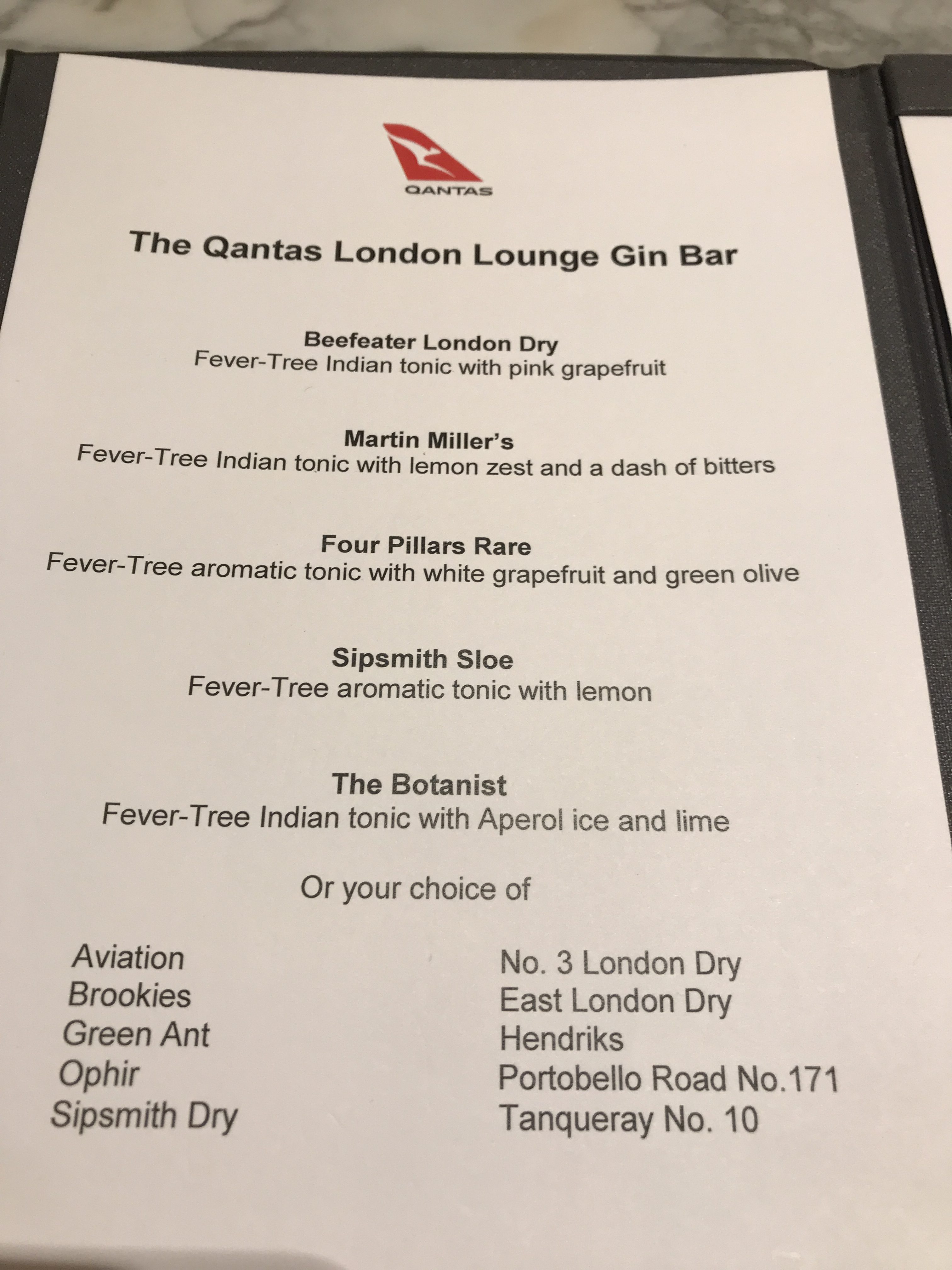 If you wanted a snack with your gin then there was a small selection of dips, nuts and fruit to help yourself to.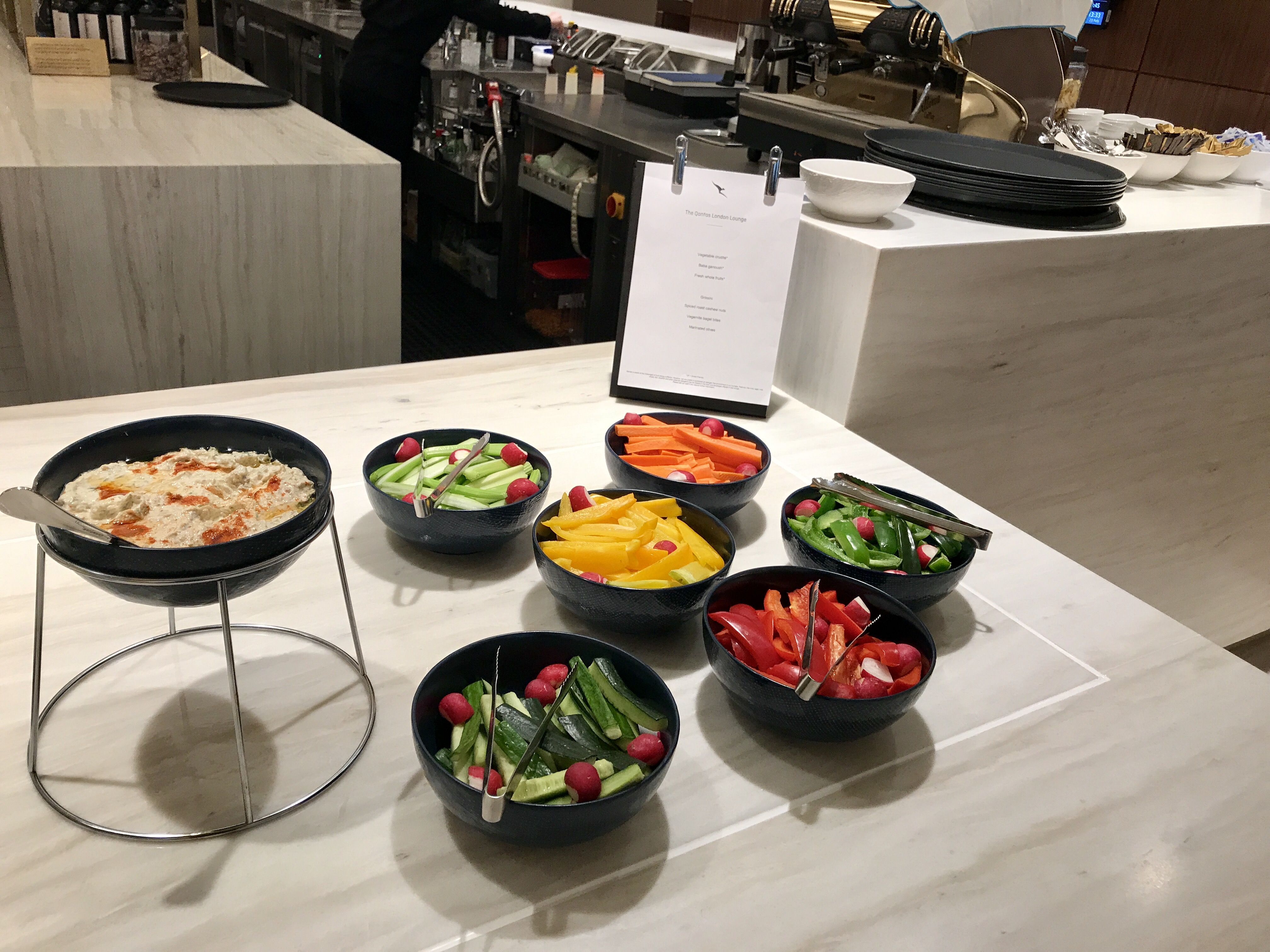 The bar and other drinks choices
Post from RICOH THETA. #theta360 #theta360uk – Spherical Image – RICOH THETA

Next I headed up the impressive staircase to my favourite design feature, the bar.  It reminds me of the BA Boston lounge bar with its circular shape and views of the airfield. Here you can order cocktails, a glass of wine or all the usual drinks. The cocktail list is fairly limited to just their signature cocktails but I am sure they would make you any well-known cocktail. The signature cocktails were designed by mixologists from Australia's famous Rockpool restaurant.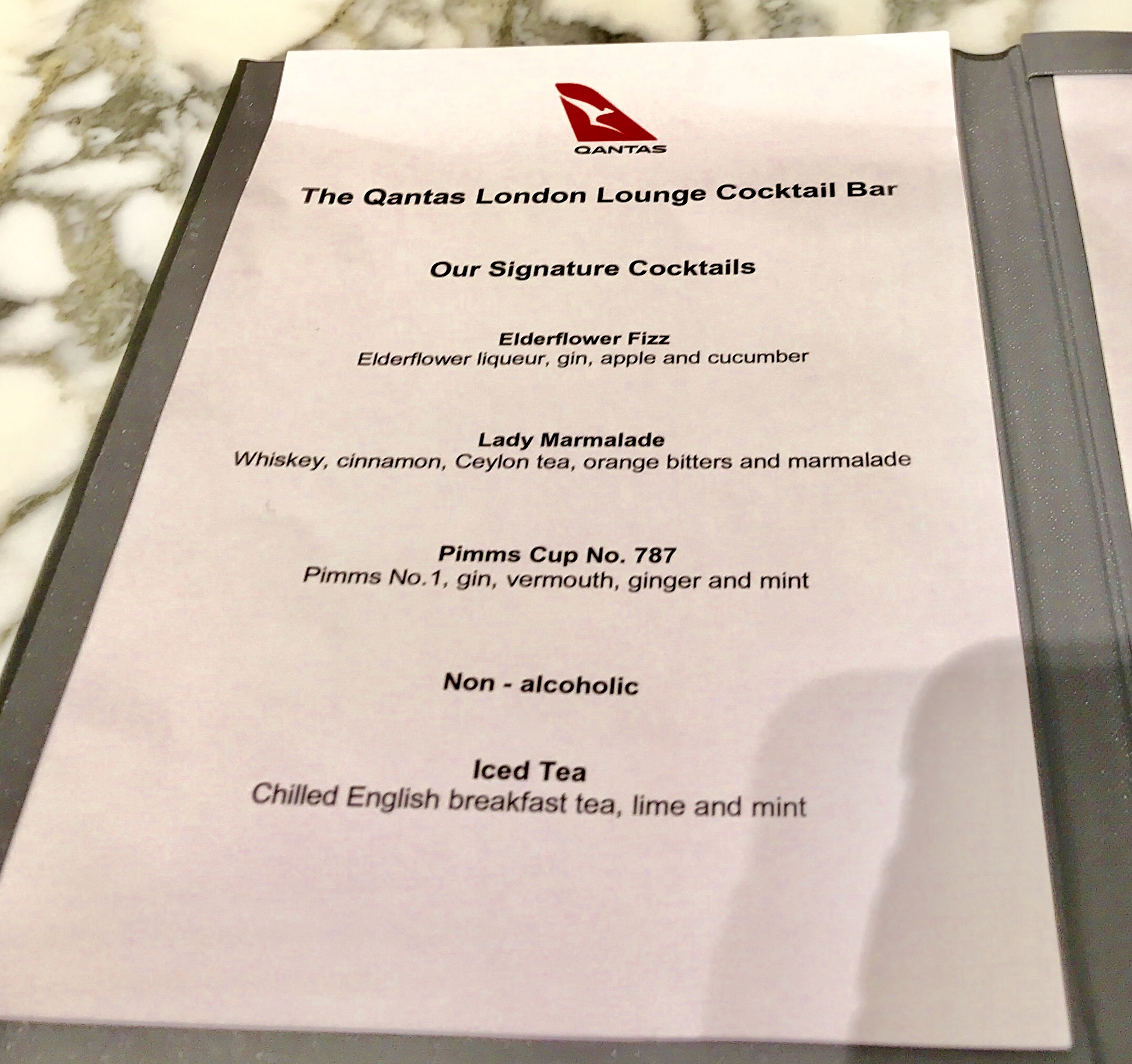 Qantas don't have champagne unless you are travelling in First or are Chairman's lounge/Platinum One member of Qantas's frequent flyer scheme. They can order a glass of Perrier Jouet champagne by showing their boarding pass. I tried a glass of the Croser Sparkling wine which I actually enjoyed. It was quite light and fruity but still dry. It is made by the founder of Petaluma wines. It's not Krug but it was something you could enjoy a few glasses of quite happily.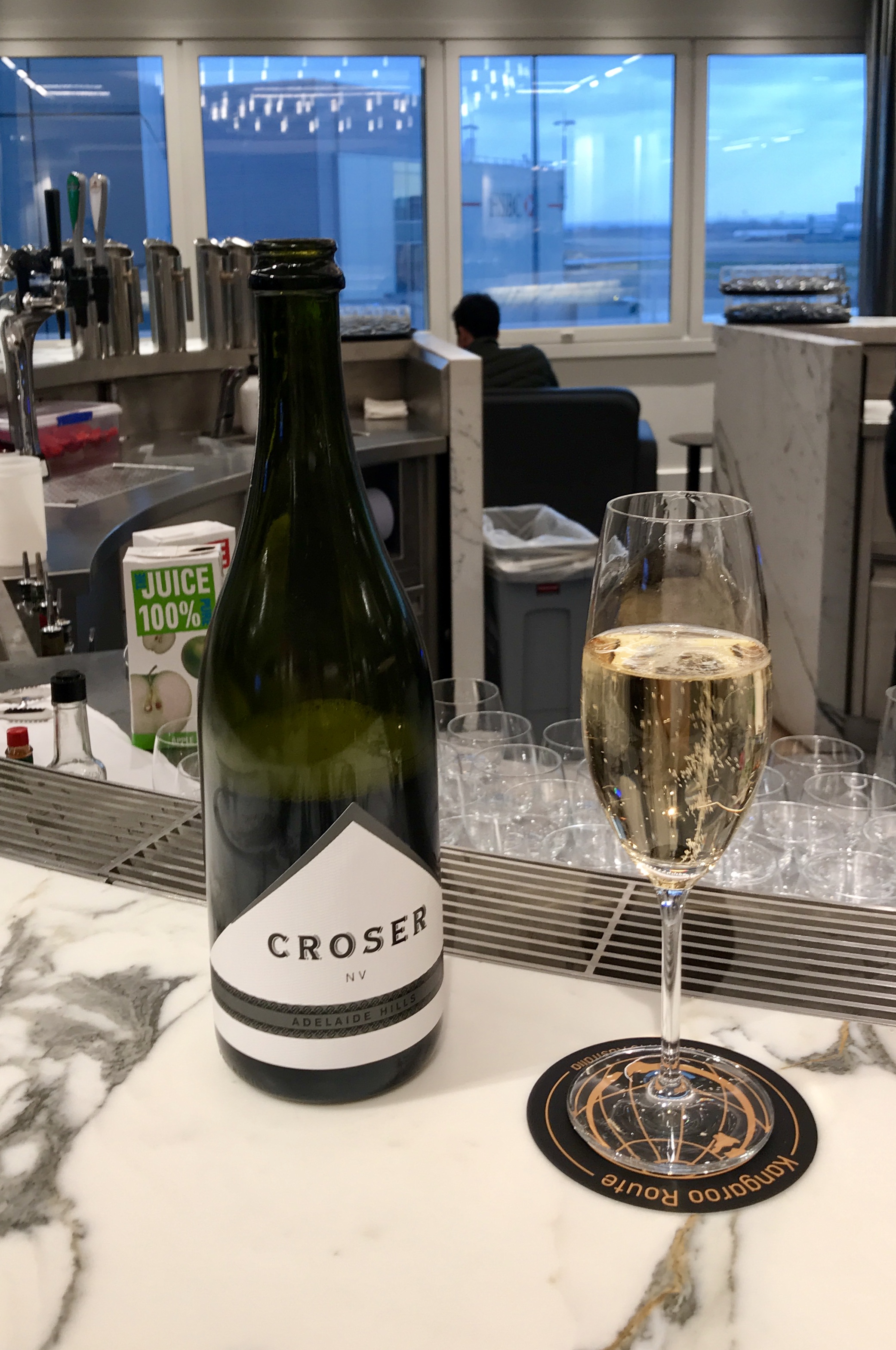 There was a great choice of wines with 3 red, 3 white, a sparkling wine and a dessert wine. The majority of the wines are Australian or Kiwi.
Here is the full list: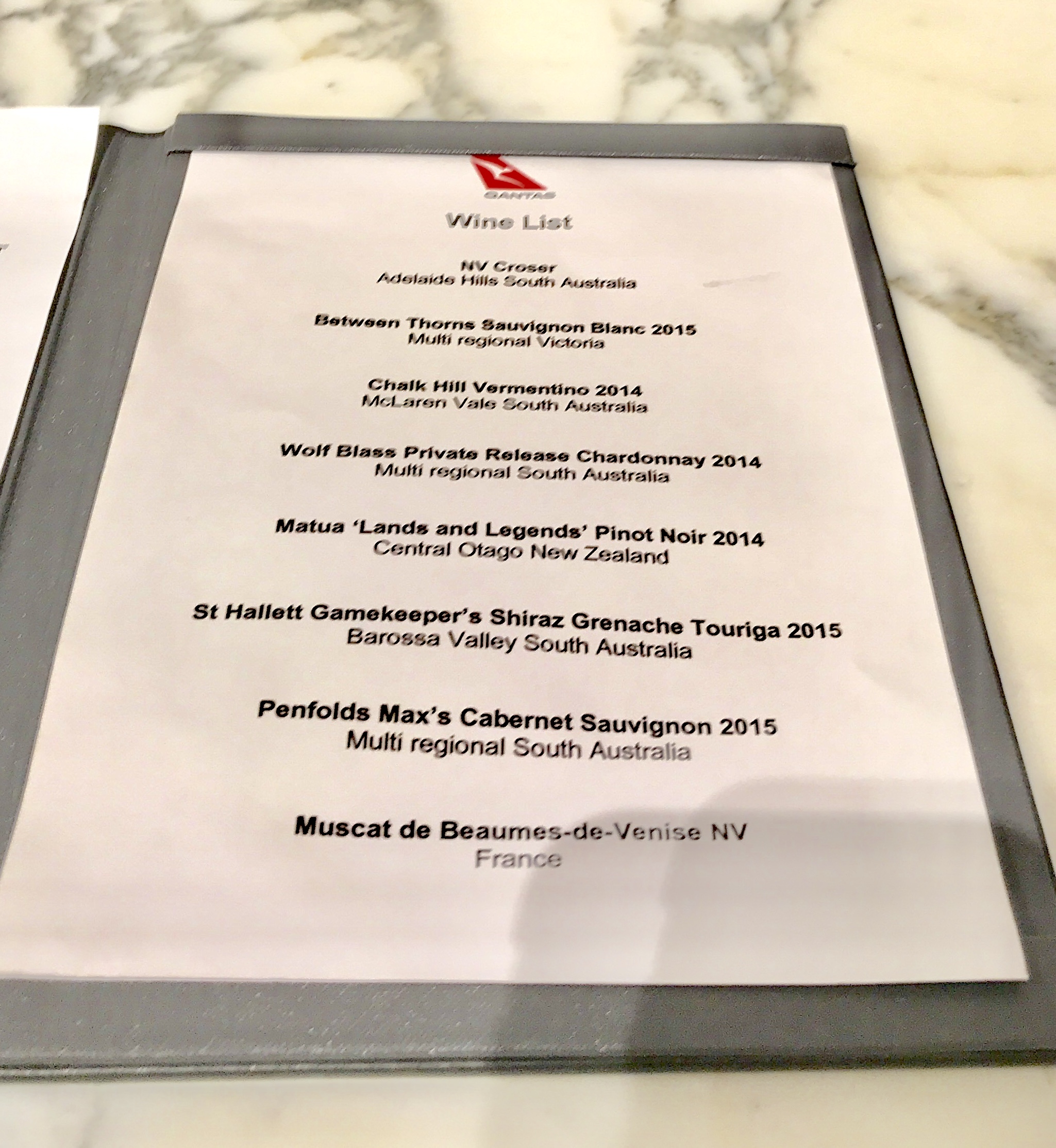 There are 3 beers on tap; Morretti, Heineken and Theakston Bitter.
If you need to refresh yourself or rehydrate after all those drinks there is a 'Quench' hydration station with tisane, fruit infused water, and sparkling water.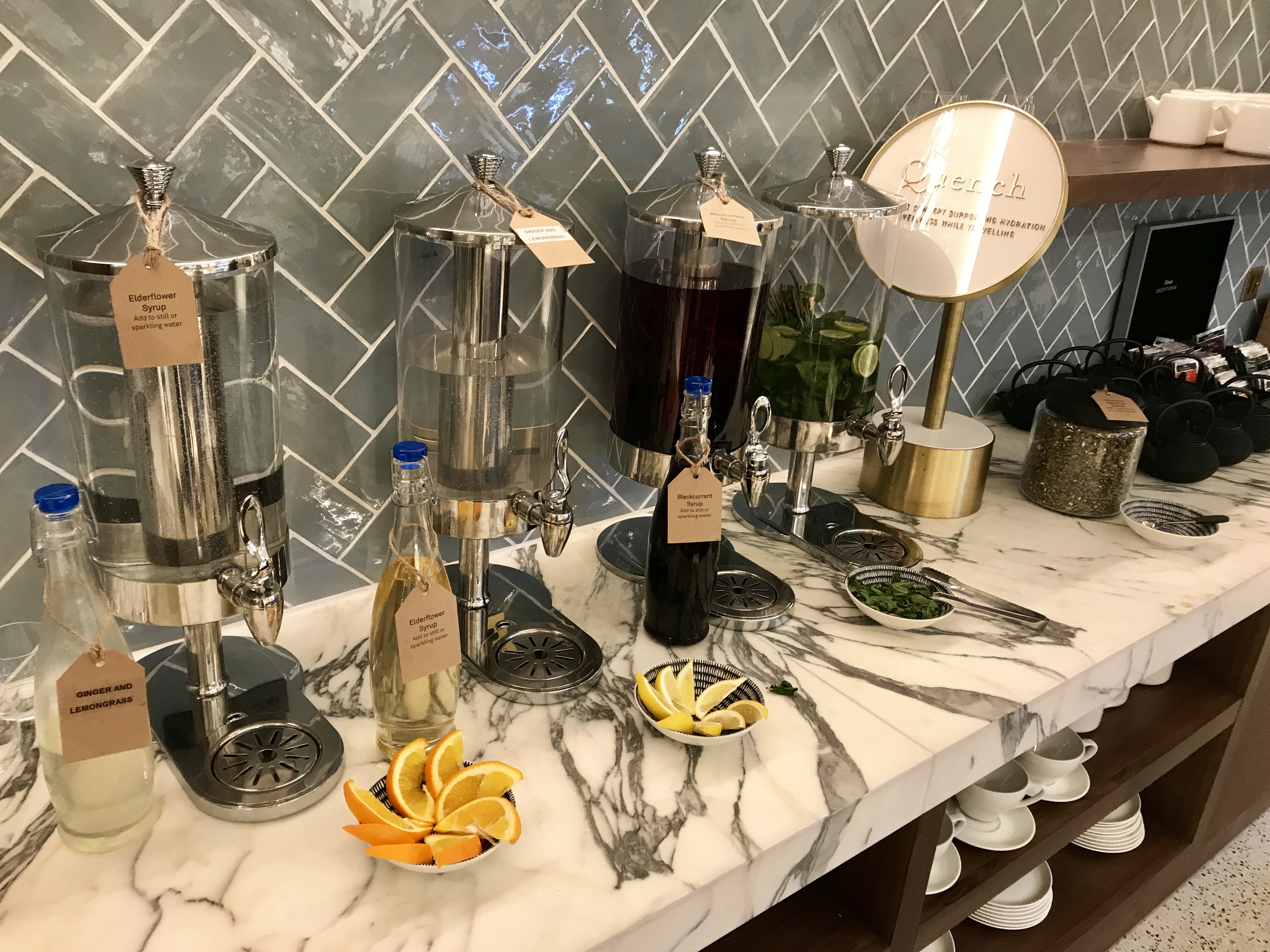 Dining

If you venture into the lounge in the afternoon you will find only the buffet selection of hot and cold items. The a la carte menu is only available after 5.30pm. Qantas aim to provide lighter meals as they have found with their evening departure time people tend to only want to have a snack before boarding as they plan to eat on board.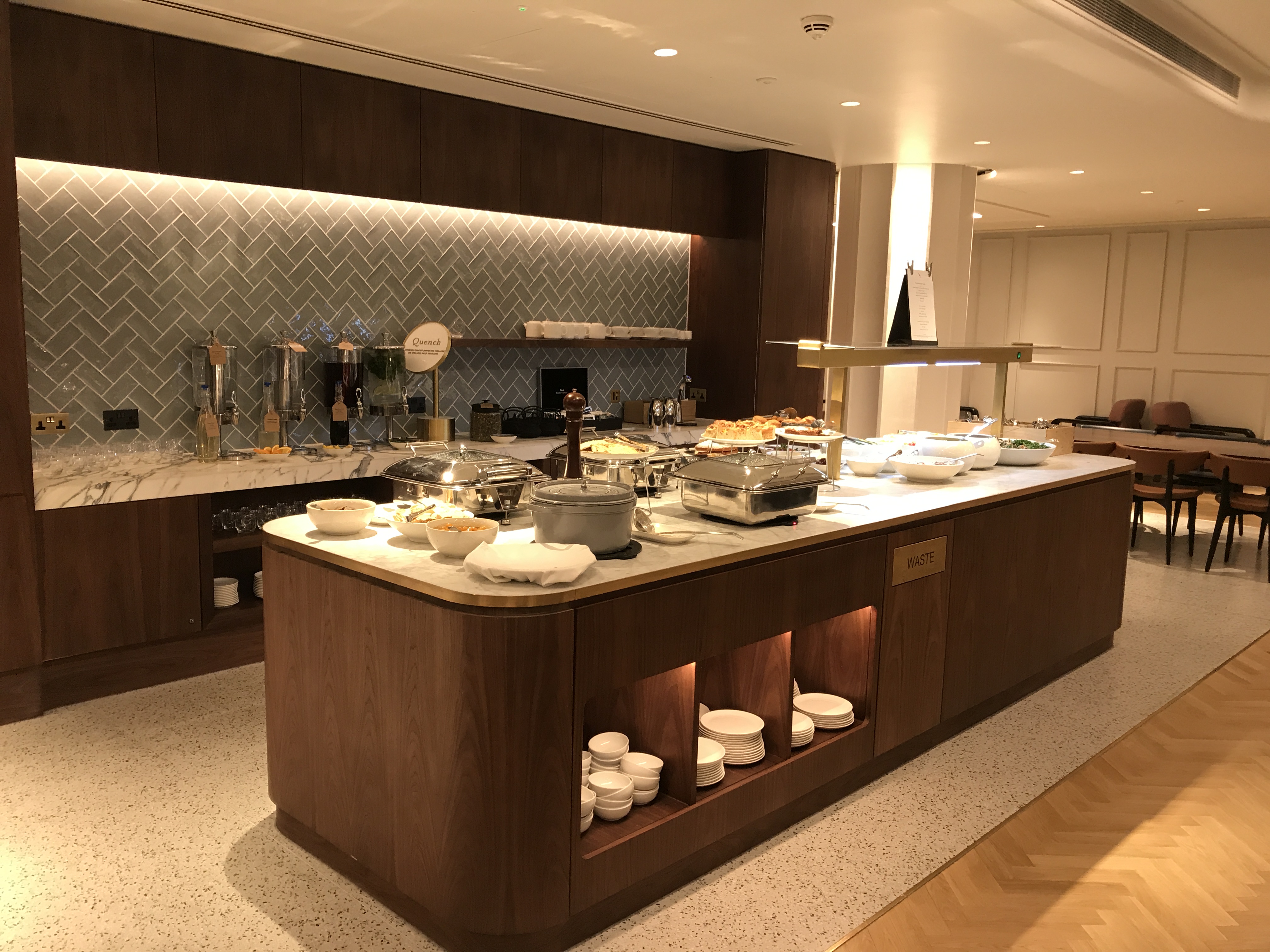 For the afternoon buffet there was a range of healthy looking salads and dips, soup and a lamb curry that didn't look particularly appetising but was tasty plus accompaniments.
To reflect the English influence there was an afternoon tea selection with scones, big bowls of clotted cream and jam, the most enormous and juicy, sweet strawberries and some cakes. I tried a scone which could have been a bit lighter but when smothered in cream and jam it went down well with my glass of fizz!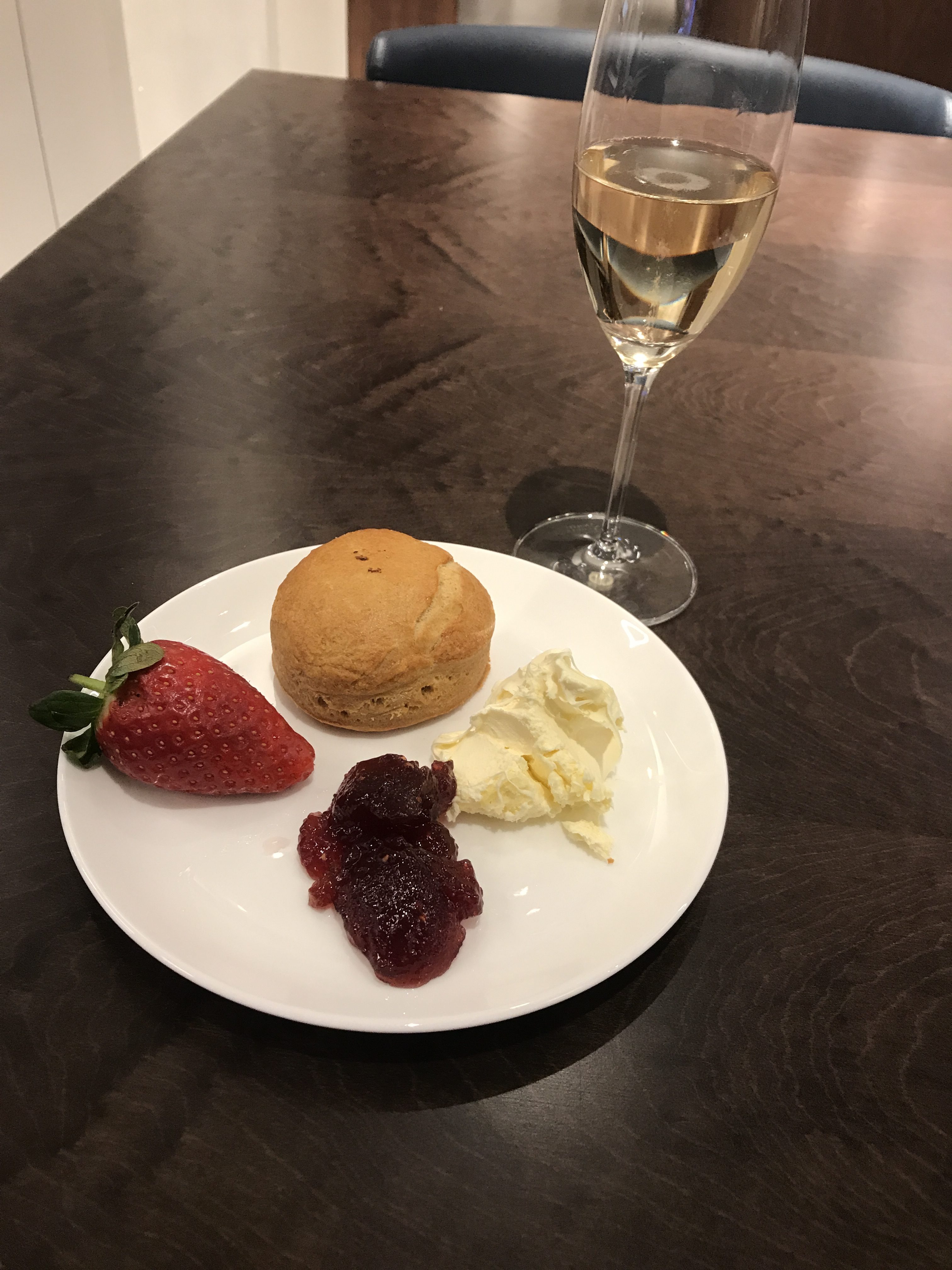 In the evening here is a sample of what you might get on the menu: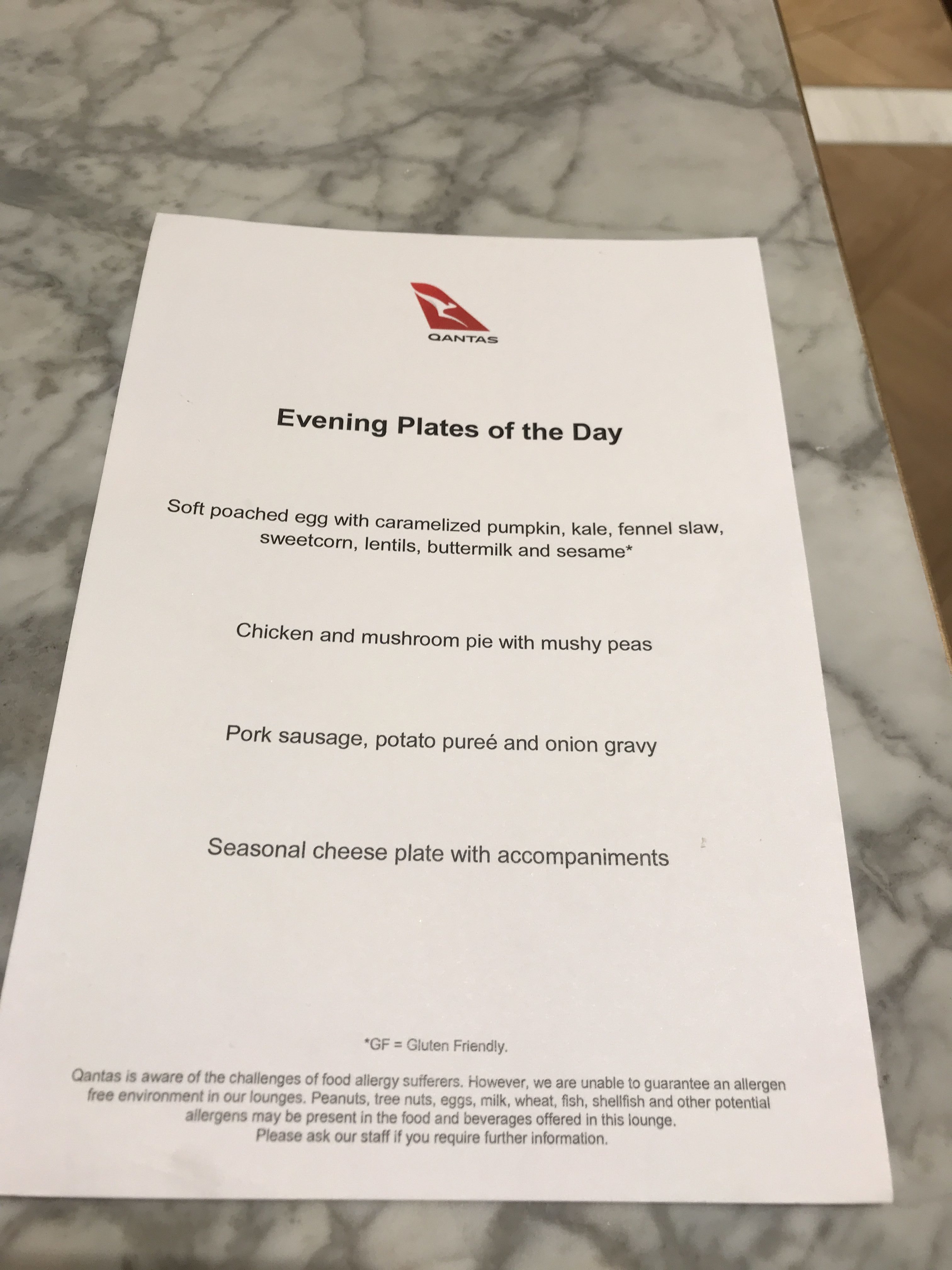 There were plenty of places to sit and eat with dining tables and chairs plus more casual booth areas by the buffet.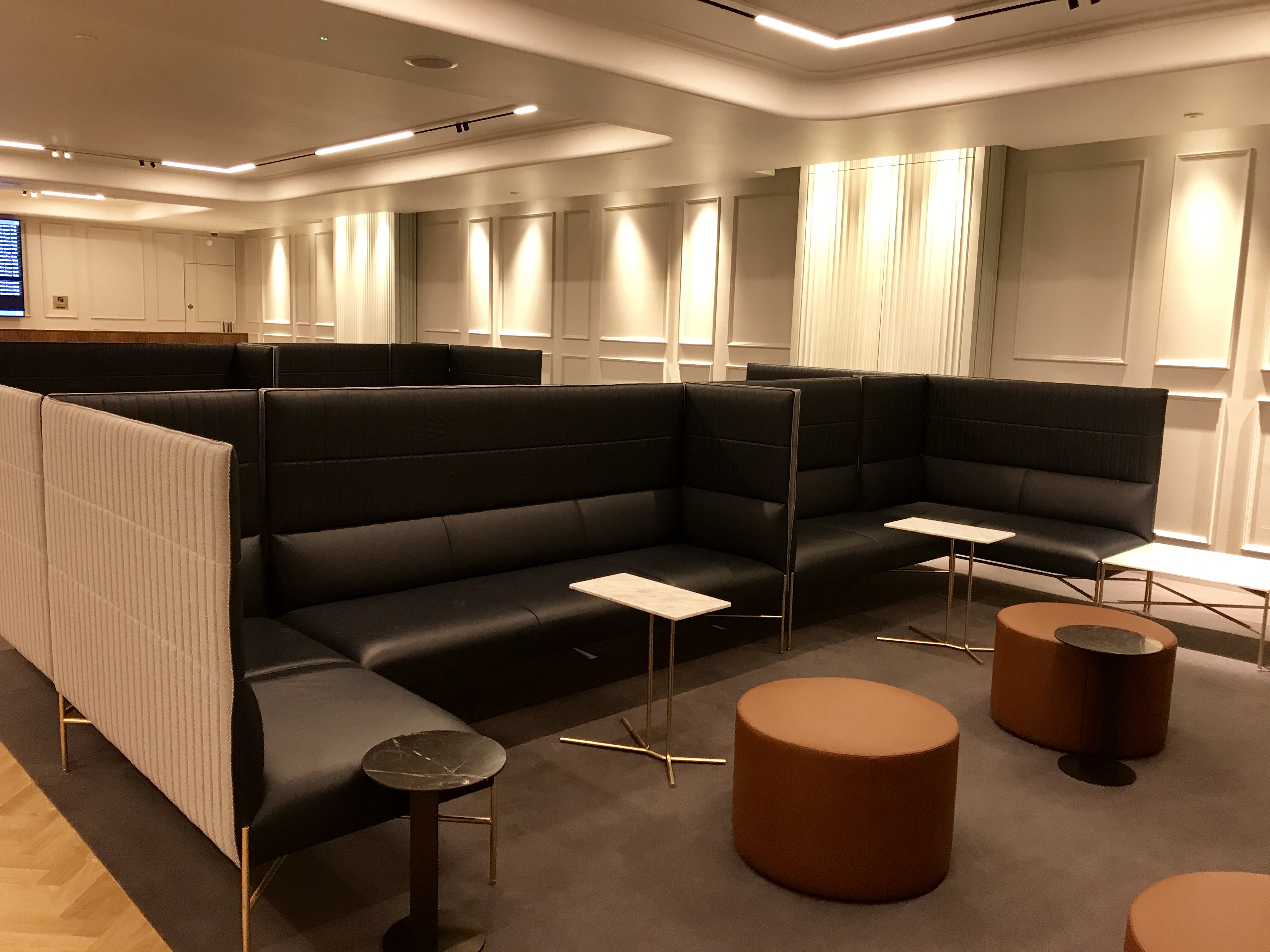 Facilities
There are 6 very smart and spotless shower suites which come with Aurora Spa amenities. The toilets were designed in a very similar style and had the same toiletries. I liked the fragrance and quality of the Aurora Spa hand wash and cream which seemed similar to Aesop.
If you need to work there are good business facilities including Wi-F plus flexible work spaces and workstations. There is a Mac computer too if yours is playing up or you haven't got one with you.
There are also private rooms available if you want some privacy or wanted to make a call. They are usually reserved for First and premium tier Qantas frequent flyers. It is obvious a lot of attention to detail has gone into the lounge with the beautiful china for tea which is available in the private rooms and lounge.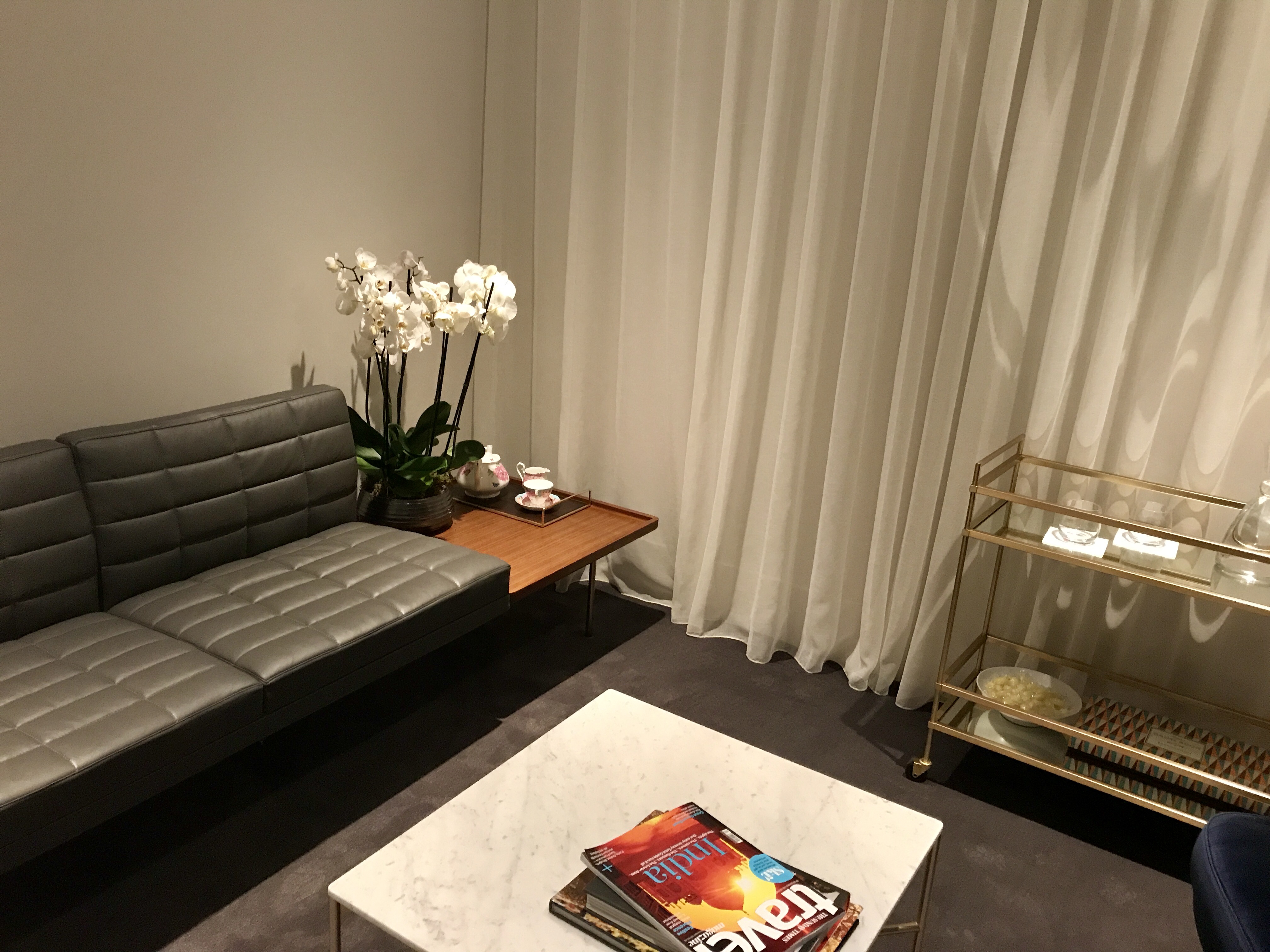 Opening hours and entry
The Qantas London Lounge is open daily from 07.55–20.35 to Qantas customers travelling in First and Business and Qantas Platinum One, Platinum and Gold Qantas Frequent Flyers and their guests. It is also open to eligible oneworld Emerald and Sapphire customers, Emirates Skywards Platinum and Gold customers and Qantas Club members and their guests.
There is more information about the lounge on the Qantas website.